Why You Should Be Dropshipping With AliExpress
Last modified: October 21, 2023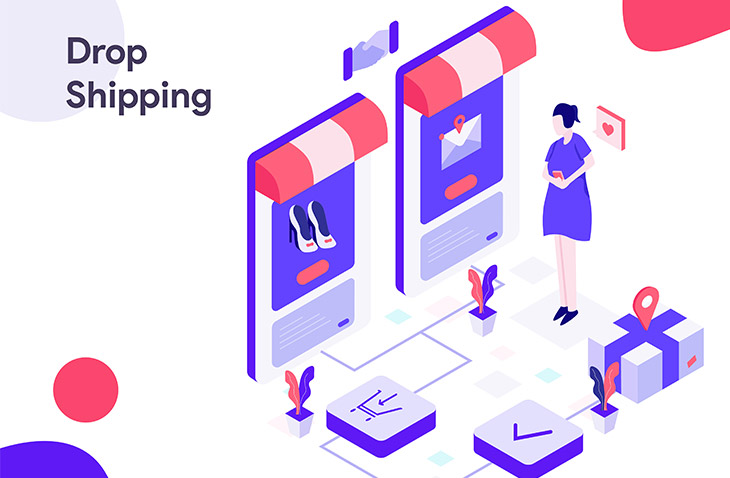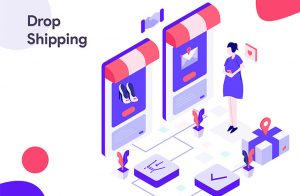 Starting an eCommerce business can be a challenge. And when you buy in stock and store it, it can be a real drain on financial resources. That is why so many small businesses are now using the dropshipping model to start their eCommerce business.
Dropshipping is really simple. You create a website, list some products, and then market your products. Orders are fulfilled by your supplier and the money is split.
If you're stuck on where to start dropshipping, then you should really consider dropshipping with AliExpress. They are one of the premium dropshipping companies, able to offer your store potentially thousands of products to sell, reviews to build trust with audiences, and more.
If you want to learn more about how you can start your own dropshipping website with AliExpress, then read on.

Key Takeaways
1
AliExpress dropshipping allows sellers to start with low investment, offering a global market reach and no inventory hassles.
2
Avoid brands, fakes, or knockoffs to mitigate legal risks and licensing issues.
3
Choose items with high sales volume and ratings to ensure reliability and quality.
Recommended: The 10 Best Aliexpress Dropshipping Shopify Apps – [2023]
#
Name
Image

Get a Free Custom Shopify Store
1

DSers‑AliExpress Dropshipping

2

AliExpress Dropshipping&Source

3

Dropified ‑ Dropshipping

4

Automizely Dropshipping App

5

Oberlo ‑ Dropshipping App

6

Aliexpress Dropshipping & More

7

Ali Orders AliExpress Dropship

8

Zendrop ‑ Dropshipping App

9

Dropshipmate ‑ Dropshipping

10

Expressfy Aliexpress dropship

Show More
What Is AliExpress?
AliExpress is a massive marketplace, similar to Amazon, that offers products that can be shipped across the world. AliExpress uses sellers that offer products through their website. But due to the fact that most of the suppliers are based overseas in countries like China, the prices are very competitive.
The products found on AliExpress are numerous. For instance, you can find clothing to pet supplies and electronics to home decor.
What Is AliExpress Dropshipping?
As well as selling directly to customers, AliExpress offer other businesses to sell products listed on AliExpress to their customers. All you have to do is to add the products onto your Shopify store and set a price (with a decent markup).
When an order is made, you pay the wholesale cost for the product. The seller then ships the order directly to the customer. You don't need to touch anything.
Why Should You Use AliExpress Dropshipping?
AliExpress often positions itself as a retailer that deals directly with customers through their online store. However, most sellers on AliExpress realize that the majority of their customers are resellers. Therefore, AliExpress and their vendors see massive potential in the dropshipping process.
Unlike with other dropshipping companies, the process of dropshipping with AliExpress is easy. There is also limited upfront cost or fee. So you can assess the profitability and popularity of products without too much risk.
In fact, using Shopify apps like Spocket, allows you to establish a new website with AliExpress products within minutes for free. It only takes a few clicks and you don't even need to write any product descriptions, create product media or anything.
You can also use AliExpress to import reviews that allow you to improve conversion rates and improve revenues for your business.
However, if you want to improve your business' performance you might want to invest in certain areas, such as better product imagery, descriptions and even build your own reviews.
Finally, fulfillment of your orders is easy when you're dropshipping with AliExpress. All you have to do is place the order on AliExpress and input the customer's details.
Why Would Customers Buy From You When Products Are Cheap On AliExpress?
There are numerous reasons why customers buy from brands online. If you're using AliExpress to start a dropshipping business, you can be sure that you're going to lose two options: price and uniqueness of products. However, losing these as potential USPs aren't exactly devastating, in fact, these can be liberating as you can find a more unique and profitable niche to help you grow.
You can win through great customers service, operations and marketing. But these are slim advantages. However, there are other ways that you can build a great dropshipping brand.
One option might be to build a community. This can be done through your great social media (like Instagram) content, building a forum, blog or other community element. Or you could use video to create excellent content that can inform your audience on important industry trends.
However, in addition to these elements, you will need to build a strong presence on search engines. About 70% of your traffic should come from search engines like Google and Bing. However, that amount of traffic will only happen when you can start to rank your site on the first page and preferably towards the top.
There are lots of SEO apps that can help you with this, but you should be spending several hours a week in improving your website's SEO.
Finally, you can also win customers with great customer support. Research has shown that customers are willing to purchase more often and at higher prices if there is good customer service with a brand. Therefore, if you can get your customer service right, then you can win a rewarding, long term relationship with your core audience.
Establishing Your Shopify Store To Start Dropshipping With AliExpress
There are several steps to building your Dropshipping store with AliExpress. Here are those steps and some helpful tips that can help you be a success.
Step One: Finding A Niche For Your Business
When you establish the desire to start a new business, you need to develop a strong identity and niche for your website. Niches allow you to focus on a specific customer demographic and content for marketing. This allows you to be more efficient and build a good chance of generating long term revenues.
There are several ways you can find your niche. You could use your passion. This is a great option because you are experienced in this area and you know the best products/types of products that are going to sell and are high quality. You should also know rough prices and what customers are going to pay for them.
The problem is that your passion might not be profitable. And this is sometimes where many businesses fail because they follow their passion and there is not enough demand/too much competition.
Another option is to look for trending options. This can be where a lot of revenue can be made. But sometimes trending stores can succeed fast, earn lots and then crash. This means that you might need to look for a new business niche/website later on in order to maintain your revenues.
Step Two: Create A Keyword List
Next you need to produce a great keyword list. There are lots of options on how you can complete this task. You can start by creating a list of keywords you think are important in your niche. Then you need to take these words and enter them into an SEO tool. While lots of people use Google Keyword Planner, Uber is by far one of the more reliable tools for this task.
Uber doesn't just tell you volume of searches on a monthly basis, it tells you the competition for that keyword on SEO and PPC. You can also see how many people are clicking through on results on search result pages.
To use Uber for free, go to their website.
All you need to do then is to enter in the first keyword from your written list earlier into the keyword box and select the territory where you want to sell. For those looking to sell internationally, then it is preferable to select the country where you expect the most sales or select the United States as the default.

You'll then be given some of the general statistics for that keyword. You will also be given some other varieties that you can use. These suggested keywords will have statistics that tell you the competition and the chances of your success. It will also say how many people are using that search term on a regular basis.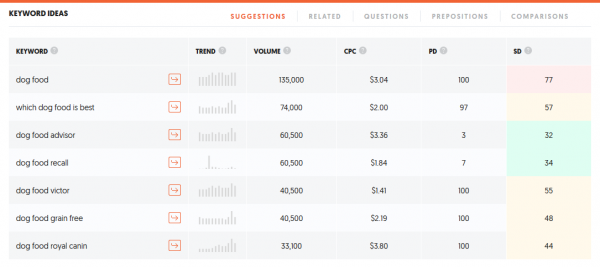 The holy grail of SEO and products is to find a keyword that has high traffic but low competition. High traffic is something that has 5,000 plus searches per month and low competition is often under 40. That is very hard to do and often you have to compromise.
If you need to compromise, it is better to use lower searches (2-4,000) with low competition or high searches with medium competition (40-60).
Step Three: Selecting Your Products
Now you can go to AliExpress, through Oberlo on your Shopify store, and select your products. You can search for products using the keywords. There is often a massive selection of products you can choose from. This can make it seem overwhelming and you might not know where to start, but there are several methods that can help you find good products from reliable sellers.
The first thing to do is to reject any brands, fakes or knockoff products. These are a headache as they can lead to legal action against you, concerns over licensing and other issues that just put your business at risk. This might limit your product choices, but it is a good way to save you lots of time sorting out trouble when it arises.
The next thing to look for is free delivery. This can help you improve revenues and be more attractive to audiences. Epacket is a great option, because they offer economic and timely delivery to the US. Many vendors specify who delivers for them and ePacket is one of the best options.
However, if there are products that can't be delivered through ePacket but there are suitable options, then you can still consider them. You might also want to select products that are delivered by ePacket but not free delivery.
You also want to look at the number of orders. Typically, you want to find products that have had a lot of sales, namely more than 300. The more orders that a product has, the more reliable the seller is and it tells you that the product's quality must be high. The product probably has a few repeat customers.
That doesn't mean that you can choose products with limited sales. But ensure that the product hasn't been on the market for years with just a few sales, that normally says that the product isn't good.
Next you need to make your selection based on rating. There are two things you need to look for here. One is the seller rating, for this you can use a browser extension called AliExpress Seller Check. The other is looking at their product rating. The products should be rated more than 4.5 stars. This shows that customers have had great experiences with the product and the seller.
Finally, you should look at profit margins. Profit margins are vital when it comes to dropshipping. You need to find products that can offer you a profit margin of between 40 and 70%. However, it can be hard to realize what this is. So look at the wholesale price and then look on other marketplaces, like eBay and Amazon to see what those products are selling for on that channel.
Then you can estimate what you can sell the product for and what profit margin you can get. Concentrate on building a catalog of products that have the higher range of profit margins. This allows you more flexibility with coupons, sales and special discounts. Therefore, you can increase conversions. It also means you might be able to entice customers with free shipping, even if you have to pay shipping.
What The Sellers Should Give You
You also need to think about the sellers. What they give you can help you build a strong brand. For instance, have they offered a lot of unbranded product photos for you to use? Is there a product video that can be used on your site? These can really help you build a profitable website.
You also need to speak to the sellers. Ask them questions about their products. If they're quick to respond, you have a great seller on your hand. If they don't respond or take a long time to respond, then you might have a problem and you might have to look for other products.
Step Four: Adding The Product To Your Store
Next you need to add your products to the store. With Oberlo, adding the products to your site is easy. It is just a few clicks of a button. However, that isn't where the journey ends. You also need to edit those products.
You should start by re-writing the product descriptions. There are numerous reasons for this. First of all, duplication is not liked very much by Google and if you have the same product descriptions as there are on AliExpress and other sellers, you could be penalized on search engines.
In addition, the command of English for some of the sellers isn't great. You want to have product descriptions that are easy to read and have the right words that will sell.
You should also let customers know that they need to wait a while for their products. Because many products are from China, delivery can take three or more weeks. If you aren't upfront about this, then customers can get annoyed with your brand, demand a refund and cost you money.
You also want to get some of your own product images. Therefore, you might want to buy your own copy of the products and get professional images made. Maybe in action or being used by customers. You can also create videos with the products and use the video on YouTube and your site.
You should also add a price. Remember to price appropriately so there is plenty of profit in it. Aim for 70% profit margins, but be sure you're not too expensive that customers won't consider your brand.
Ensure You've Got Order Tracking
Next you need to look at how you're going to track your orders. Customers from time to time will not have read your delivery info. Therefore, you need to track orders so you can tell them exactly at what stage their order is at. There are plenty of tracking apps available. The best one, in our opinions, is Tracktor.
Fulfilling Orders
Oberlo can help you fulfil orders too. When you have the Oberlo app installed on your website, the app will order the products for you when there is a sale and add in the customers details. Oberlo will even help you manage stock and prices.
The automation of Oberlo allows you to spend more time marketing your brand. Therefore, you can generate more traffic and revenue. Remember that marketing isn't just about future customers. You can make more money by selling to old customers as they are cheaper to convert and more likely to purchase from you if they've had a positive experience.
Therefore, be sure to collect customer emails and ask permission to send them regular email campaigns. Then you can sell to them later and increase the customer lifetime value and your businesses revenues.
Enhancing Your Dropshipping Journey with AliExpress
Pros of AliExpress Dropshipping
AliExpress has become a popular choice for dropshippers, and for a good reason. The platform offers a low-cost entry point, eliminating the need for a significant initial investment.
There are no minimum order requirements, allowing sellers to offer a diverse range of products without the burden of holding inventory. The ability to start small and scale gradually provides flexibility for newcomers and seasoned entrepreneurs alike.
Dropshippers have access to a plethora of trending items, enabling them to keep their stores updated with products in high demand. AliExpress's global reach ensures that sellers can tap into international markets, broadening their customer base and enhancing their potential for profit.
The platform's user-friendly nature and the absence of overhead costs associated with traditional retail make it an attractive option for aspiring online entrepreneurs.
Cons to Consider
However, it's essential to weigh the challenges associated with AliExpress dropshipping. The low profit margins require sellers to generate a high volume of sales to realize substantial earnings.
Long shipping times, particularly for products sourced from China, can impact customer satisfaction and necessitate effective communication strategies to manage expectations.
Dropshippers must also contend with a lack of control over inventory and potential issues with supplier reliability. The competitive landscape of AliExpress means that differentiation and value addition becomes critical for sellers aiming to carve out a niche in the crowded online marketplace.
Strategies for Success
Success in AliExpress dropshipping hinges on strategic planning and execution. Selecting a profitable niche, building a follower base through social media, and choosing reputable suppliers are foundational steps.
Keeping the store's design updated and leveraging the AliExpress app can enhance operational efficiency and customer engagement.
Good customer service remains a cornerstone for building and retaining a loyal customer base.
Negotiation skills to optimize shipping costs, a focus on quality over price, and a cautious approach to selling branded products can further bolster a dropshipper's prospects for success.
Navigating the Complexities of Returns and Refunds
Understanding Return Policies
One of the nuanced aspects of AliExpress dropshipping is navigating returns. Most suppliers on the platform do not offer returns due to the complexities associated with international shipping.
Dropshippers need to establish clear return policies to manage customer expectations and ensure a smooth post-purchase experience. Issues such as non-delivery of orders or damaged products require effective resolution strategies.
Prompt refunds, clear communication, and collaboration with suppliers to address underlying issues are essential to maintaining customer trust and safeguarding the business's reputation.
Building Supplier Relationships
Building strong relationships with AliExpress suppliers is a critical aspect of managing returns and ensuring product quality. By selecting suppliers with positive reviews and a track record of reliability, dropshippers can mitigate risks associated with product defects and delivery delays.
Open communication lines with suppliers facilitate the resolution of issues and enhance the efficiency of order fulfillment. By fostering collaborative relationships, dropshippers can optimize their operations and enhance the customer experience.
Things to Consider
AliExpress dropshipping offers a viable avenue for entrepreneurs to enter the e-commerce space with minimal investment. By understanding the platform's intricacies, weighing the pros and cons, and implementing effective strategies, sellers can navigate challenges and capitalize on the opportunities presented by this dynamic online marketplace.
Conclusion: Why You Should Be Dropshipping With AliExpress
Now you have a fully functioning store that you can start dropshipping with AliExpress. This allows you to start building a brand and earning a good living. However, you should always be improving your business and looking for ways to grow your portfolio. This might mean that you need to build more than one dropshipping store.
Or you need to push marketing on your current store.
Alternatively, you might want to look at other dropshipping options, like Spocket. Spocket offers you suppliers in the EU and US that offer high-quality products and better delivery times. However, prices can also be higher. Therefore, it is recommended that you learn your new trade by dropshipping with AliExpress first, where risks and costs are smaller before looking at other options.
Keep on reading about Dropshipping on Shopify. For example How To Create An Online Store and How To Sell On Amazon Using Shopify. Both part of our Shopify Dropshipping Apps and Shopify Dropshipping Themes lists. You can read more about Dropshipping on Shopify with our ultimate Dropshipping on Shopify guide.
FAQs
How can I manage long shipping times when dropshipping with AliExpress?

Ensure effective communication by offering accurate shipping information on product pages and considering tracking services. Prioritize ePacket delivery for timely and cost-effective shipping, boosting customer satisfaction.

What steps can I take to optimize my profit margins while dropshipping with AliExpress?

Optimize profit margins by selecting high-margin products for promotions and discounts. Compare AliExpress wholesale prices to eBay and Amazon to gauge potential profits, and use discounts and coupons to attract and convert more customers.

How can I ensure that I'm choosing the right products on AliExpress for dropshipping?

Select non-branded items to avoid legal issues, prioritize ePacket or free delivery for customer satisfaction, and choose products with high orders and 4.5+ ratings. Aim for 40-70% profit margins to allow for discounts and promotions when selecting the right products.
Avi Klein
Vast experience in the online world. Shopify Expert, SEO expert, Web developer and consultant to several online companies. Read more about
our approach
to reviewing themes and apps.