How to Create a CBD Dropshipping Business in [2023]
Last modified: July 4, 2022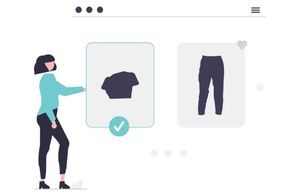 There are many ways that you can learn how to create a CBD dropshipping business. In this article, we look at the simplest way that you can do this without having to invest too much into building your business.
Why Create a CBD Dropshipping Business?
There are numerous reasons why you will want to create a CBD dropshipping business. The first is that you want to create a business that is easy to run. With dropshipping, there are limited actions you need to take. For instance, you only really have to manage the website and customer interactions.
When an order is made, you send the details to the supplier who handles the fulfillment. This is really simple to do and often requires only a single button click.
There are other benefits as well as reduced costs. For instance, there is no purchasing of stock. You pay for stock only when you have an order and only for what you need.
How to Create a CBD Dropshipping Business
So here are the steps that you need to take to create a CBD dropshipping business.
Step 1 – Sign Up to Shopify
The first thing that you need to do is to sign up for Shopify. There are numerous benefits to using the Shopify platform, such as predictable costs, flexibility, and lots of useful themes and apps that can help you build a good business.
Costs for the Shopify plan are also relatively low cost and do include your hosting.
Step 2 – Build your Website
Next, you need to build your website. There are lots of great themes on Shopify that can help you build a website. Some of the best are from supplement stores, especially for this product. There are also a couple of free themes that you can use.
Build your website with good pages such as the home, about us, delivery, terms and conditions and more.
Don't forget to add a blog to your website. Those websites that blog more than 15 times a month will generate more than 70% more leads.
Step 3 – Connect your Store to Dropshipping App
Now you need to find the right dropshipping app and connect that to your store.
Step 4 – Add Products, Prices, Etc.
Now you can add the products, prices and more to your store so your customers can make a purchase. This is a relatively quick process and most dropshipping apps can be imported directly to your store. You just need to make some changes.
Step 5 – Market your Website
Now you can start to market your website with ease. You should concentrate on social media, email marketing, SEO and blogging. These are free, easy to use and can also yield good returns. The average Shopify website takes about 14 days to make its first sale, so be prepared to wait.
Final Word: How to Create a CBD Dropshipping Business
Above are the instructions on how to create a CBD dropshipping business. This is a simple process that can be completed quickly and easily.
Avi Klein
Vast experience in the online world. SEO expert, Web developer and consultant to several online companies.
Read more...
. Read more about
our approach
to reviewing themes and plugins.