How to Dropship CBD in the USA in [2023]
Last modified: July 4, 2022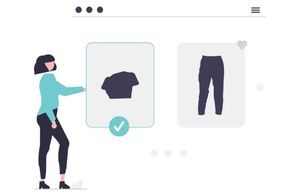 If you want to know how to dropship CBD in the USA, then here are some of the aspects that you might need to consider with the process.
What is Dropshipping?
Dropshipping is the process where you sell a product to the customer that is then fulfilled by a third party. You have no stock or fulfillment process to complete. All you have to do is to market the product and then tell the supplier when you have an order.
The profit margin is the price difference between what the customer pays you and what you pay the supplier for the shipping and the product. Therefore, you can earn a lot of profit by charging a good price on CBD products.
There are numerous new businesses set up to sell CBD products. So there is a lot of competition. America is one of the fastest-growing areas for this type of business.
Is Dropshipping CBD Legal in the USA?
Numerous federal laws allow you to dropship CBD legally in the USA. Unfortunately, some states have different laws to government laws. Therefore, you have to be sure that you have the rights and legal access to certain states.
Luckily, using platforms like Shopify allows you access to specific apps that can restrict access to your website from certain locations. Therefore, you can sell to only those states that allow you to dropship CBD products in the state.
Another factor you might want to consider is the legal age. Again there are options where you can restrict access to your website to those who are too young. This can be a good way to protect yourself legally.
The Best Platform
Numerous platforms allow you to dropship CBD products within the US. However, the best platform is Shopify. There are numerous apps and themes that are perfect for your business. This includes templates that are specifically for the supplements and medical-related industries.
Some apps can help you build your website's marketing flows to help you generate lots of income. This can include apps for email marketing, auto-posting on social media and improving your SEO.
Another factor is that Shopify is built for dropshipping products. It has the costs at a reasonable price, good infrastructure and more.
Final Word: How to Dropship CBD in the USA
If you're looking to learn how to dropship CBD in the USA, there are numerous considerations. In practice, it is no different to dropshipping any other products. You just need to make sure that you're legally allowed to import into certain states as laws between the rules between states can be very different. If in doubt, contact a local lawyer who can help you.
Avi Klein
Vast experience in the online world. SEO expert, Web developer and consultant to several online companies.
Read more...
. Read more about
our approach
to reviewing themes and plugins.