How to Dropship CBD Pet Products in [2023]
Last modified: March 19, 2023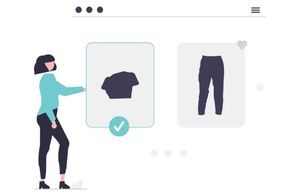 CBD pet products are becoming a sought after treatment for dogs and cats to help relieve pain naturally. Therefore, there are sellers across the US that are now offering these products. In 2021, the sales of CBD pet products were worth $629 million. So if you want to know how to dropship CBD pet products, then you should read further on.
Step 1 – Check you Can
The first thing to do is to check that you can supply CBD pet products to your audience. While CBD products have been legalized across the US, UK and Europe, there are still laws that may prevent sales within a certain territory.
Step 2 – Choose a Dropshipping Partner
The next step is to choose the dropshipping partner that can best supply your product. They might be able to help you with step one because they will have the latest legislation. But remember that it is you who is responsible for the sale.
There might be a way around certain legal issues by working with suppliers within the state. Some states don't allow CBD products to cross state lines but allow for dropshipping from within the state. Therefore, consider your options and speak to suppliers and partners. They can help you.
To help manage this on your store, use geolocation apps to restrict which vendors customers can order products from.
Step 3 – Create a Shopify Account
Now create a Shopify account. This is a simple, easy platform that allows you to start with a 14-day free trial. You can also take orders during this early period, so you can start to earn revenue and cover costs before the end of the free trial.
There are lots of benefits to using Shopify. The tools, themes, apps, and more that can help you run a successful business website. And the platform is affordable.
Step 4 – Connect your Domain
Step 5 – Build your Website
Build your website starting with a theme. Some great themes would be perfect for a CBD store. These themes include Booster, Shoptimized and other supplement store themes.
After installing and activating the theme, you can customize the website. Numerous elements are customizable including the colors, text, images, videos and more.
Step 5 – Add Products
Now you can add products to your website. Some suppliers might be connected to an app, which would make it easier. Others might require you to use a CSV spreadsheet.
Step 6 – Apps
Now add apps to your store to make the website more functional. You should, at least, be adding apps that can help you manage social media, email marketing, SEO and other marketing elements. Apps can be free or you might need to pay a subscription for the app.
Final Word: How to Dropship CBD Pet Products
Are you looking into how to dropship CBD pet products? Above are the steps you can take to make this happen and start your new business today. Just be sure that you can take the action.
Avi Klein
Vast experience in the online world. SEO expert, Web developer and consultant to several online companies.
Read more...
. Read more about
our approach
to reviewing themes and plugins.