How to Dropship CBD Skin Care in [2023]
Last modified: March 19, 2023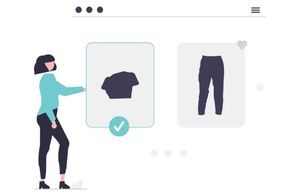 There are numerous CBD skin care products that are available online. And dropshipping them might be a great way for you to build a business with limited costs and within a short period of time. Therefore, in this article, we discuss how to dropship CBD skin care.
Why Dropship CBD Skin Care Products?
There have been numerous benefits shown about dropshipping CBD skin care products. The first is that you can start the business with limit funds. You only really need to have access to a computer, the internet and the funds for your website.
Unlike with traditional eCommerce models, you don't need inventory. And you're only charged for stock when an order is made and only for the amount shipped to customers. Therefore, it is a far less risky model.
In addition, many of the roles that traditional eCommerce brands undertake are removed. You don't have to deal with fulfillment or stocking. Therefore, you can spend more time on your brand's marketing and customer service. This allows you to build a better revenue stream and really concentrating on growing your own business.
What Platform is Best for Dropshipping CBD Skin Care Products?
There are numerous platforms that you're able to use to dropship skin care products. Amazon even allows it, to be done through their platform. But the problem is that many platforms will take a substantial cut and you can be competing with lots of different sellers who sell the same product.
Therefore, you want to have a platform that you can control. Shopify is one of the best platforms for this. It is very affordable, with different pricing tiers for your business, there are lots of designs and you're in complete control.
You can also use apps and other tools to help you manage your website and marketing, to spend less time doing manual tasks.
Therefore, Shopify is a great option.
How to Use Shopify for Dropshipping
There are numerous ways that you can establish a Shopify store. However, one of the best processes is the following the set instructions.
Step 2 – Connect Domain Name
Now you should connect your domain name to the Shopify account.
Step 3 – Build a Website
Now you need to build your website. There are lots of great themes available, including those for supplements. These vary in price, including some free options.
Step 4 – Add Products
Now add the products that you want to dropship. Some products might not be able to be imported by an app. However, you might be able to upload the products via a spreadsheet.
Step 5 – Add Additional Apps
Now you can establish more function on your website through additional apps. This can include email marketing, social media marketing, SEO and more.
Final Word: How to Dropship CBD Skin Care
If you want to know how to dropship CBD skin care products, then above is a simple process for you to follow and why you might want to start today.
Avi Klein
Vast experience in the online world. SEO expert, Web developer and consultant to several online companies.
Read more...
. Read more about
our approach
to reviewing themes and plugins.