10 Tips To Improving Affiliate Marketing Results On Shopify – [2023]
Last modified: July 4, 2022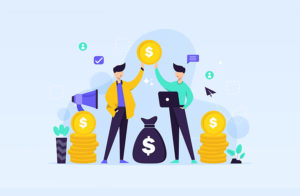 If you're considering affiliate marketing on Shopify, then you must be thinking about how you can maximize the results from your campaigns. There are several advantages of affiliate marketing over other forms of business. For example, you're advertising a product that you don't have to manufacture, buy or send. Therefore, your costs are lower. In addition, the merchants can often provide you with numerous pieces of content to help you match the style of the product and to build content.
However, there's a lot of work that you need to do as an affiliate marketer. And at times it can seem rather challenging, especially if there is limited success. So, here are 10 tips to improve your affiliate marketing results on Shopify.
1. Ensure You Have The Right Theme
The look of your website is one of the most important elements when it comes to convincing audiences to trust you online. A website that doesn't have the right mix of colors, navigation or anything is going to struggle to attract audiences and retain them. There are lots of great themes on Shopify, including those that are designed specifically for blogging, which are great options when you're running an affiliate marketing business.
What you have to consider is what you want from your website. Do you want something that displays certain features like post/product feature or do you want something that tells a story. Or do you want a one-page Shopify theme that can ensure audiences see what you have to offer.
The theme should also be optimized for search engines. Most of your traffic is going to come from Google and other search engines, so your theme's code needs to be clean. The cleaner the code the less time that your theme will take to load.
This will also improve results. A faster theme improves user experiences and leads to a greater number of people completing deals.
2. Choose Numerous Affiliate Programs
The best affiliate marketers aren't just using one affiliate program, they're part of several programs, often from numerous merchants. This allows you to build a strong content set that can help in building a larger audience and convert more people.
The advantage of having numerous affiliate programs is that you can also expect regular payments from many different merchants and that you aren't reliant on one product. And you can have a great product mix that doesn't seem bias. And then there are plenty of great options for specialism for your website.
Of course there are some disadvantages. For instance, the Amazon affiliate scheme will pay out if someone makes a purchase on your site within a set period of time, even if it is not the same product that you referred them to.
Therefore, you can recommend one or two products on Amazon and collect commissions on lots of different products. This is the same with other eCommerce sites and therefore a few sites can offer big rewards.
3. Choose The Best Affiliate Commission Rates
You should also make sure that you're choosing the best affiliate commission rates for your niche. Rates for commission can vary substantially. For example, some eCommerce stores can offer you just 1-2% of the sales of the qualifying products. Therefore, the average eCommerce order in the US would earn you just $1-2. You'll need to make a lot of conversions every day for a good income.
However, there are also other commission schemes that are worth 25-50% commission. While these are often associated with digital products that are of lower value, this isn't too bad. Even if the software costs $20, you'll still get between $5 and $10 for each sale, meaning you have to attract less buyers.
This also converts into traffic. The average conversion rate for retail is about 3%. Therefore, to get the same return on commissions, you would need at least 2.5 times the traffic for low commission as your would for high commission.
This is a massive undertaking. For one sale in software, you would need about 33 visitors and that would mean more than 110 visitors to get the same level of commission for retailers. And to earn $100 a day, you would need about 5000 visitors to your site per day for retail or just 700 for software.
Therefore, it is clear to see that you need to have at least some high-commission schemes within your mix for affiliate marketing. It allows you to earn more in less time.
4. Create Lots Of Content
All the top affiliate marketing businesses are creating lots of content for their websites. This is the form of blogs, podcasts, videos and more. The more content you make, the greater the reach you'll have online. There are several reasons for this.
First of all, there is more chance for you to have a longer list of keywords that you can use. This gives you a wider chance to be discovered on search engines. For instance, if you're an affiliate marketer for science-fiction DVDs, then you can use content to promote specific science fiction franchises like Star Trek, Star Wars, Stargate, etc.. And you could also do general keywords for science fiction.
And by mixing content types (video, audio, text, images, etc.) you can appeal to a wider audience and attract more people to read your content. If you look at some top affiliate marketing brands, like WhatCulture, they have a YouTube channel where they publish daily videos. They also have the same content in a picture gallery format and a long blog post. This allows them to bring in more traffic to their site and attract audiences to their affiliate links.
Some example of the content that they produced include things like 'Top Ten Harry Potter Moments', 'Ten Times Star Trek Went Dark', etc. Replicating this style has proven to be very popular as there are dozens of brands that do this including Looper, CBR and more. By using YouTube and your Shopify account as a blogging platform, you can do the same.
Research has shown that the best strategy is to publish as often as possible. Those that publish content more than 15 times a month. However, more is often better. One brand showed how more content is better for traffic. They published content once a week for months. Then the bloggers added content five times a day and saw their traffic increase tenfold.
5. Utilize Social Media
Social media is one of the most important elements when it comes to your marketing. Most consumers expect you to have at least three social media profiles and those to include Facebook and Instagram. These are rather easy to integrate into your Shopify store, so your store can showcase your latest feeds for added social proof.
The biggest problem with social media is that you don't get to have the wide reach until you have a high number of followers and this can be difficult to start with. Therefore, you will need to promote your brand. Ideally, you will want to be spending about $2 every day increasing the number of followers on Facebook. This will equate to between 6 and 10 new followers a day. The rate of improvement should increase as you get more followers.
This will also help you reach a great audience. There is an algorithm that determines how many people you will have organically see content on your Facebook page. This is often between 5-12% of your followers. This number can increase with different types of content (video/images) or with engagements.
Therefore, more followers of a page is equal to more visibility on your site.
You can use social media to promote your latest content, new deals from merchants and more. And ideally you should have about 1-2 Facebook posts per day go out and 5-6 Instagram posts per day.
6. Push Notifications
Push notifications are becoming an important part of mobile marketing and a great way to get past visitors to your site to return. Push notifications work by telling the customer through their mobile device or desktop browser that there is new content or a brand new deal on the site.
Shopify has plenty of great Push notification apps that can help you run these campaigns and bring customers back with ease. One of the best is Push Owl Notifications. However, there are others you might also want to try out.
Push notifications are used by many top affiliate marketers to bring customers back for certain types of content. For instance, if you notice that there is a specific genres that some groups prefer, lists can be segmented so they only see the content for a specific genre. This is more effective, and costs less than doing a huge notification list where lots of contacts won't care for the content.
Push notifications are also relatively new to audiences and can be more effective than emails; especially when sent via mobile devices. Therefore, it is something that you should really consider adding to your branding.
7. Email Marketing
Email marketing is one of the most successful digital marketing channels you can use. It has the highest ROI and with certain email marketing programs it can be free to send up to 10,000 emails per month spread out between 2,000 contacts. This number is more than enough to spread the news about new content, new offers and other activities that might be important for your audience.
Affiliate marketing and email marketing go great together and you should be building a strong email marketing list. In fact, you can often get a lot of business by telling potential affiliate partners how much traffic you have to your website and how many people you have on your mailing list.
However, you need to consider your marketing strategy. Email marketing should be sent about 1-2 times a week at most and you should look at being sure to regularly check the list for inactive users. Every month check to see if there are those who haven't opened or read your content for three to four months. Send them a re-engagement email. If they respond to this, you can consider keeping them on your mailing list. If not, you should remove them.
Also, you should consider segmenting your list. This is when you group audiences based on specific identifiers. For instance, you might want to segment your lists based on country of origin or what lead magnet they subscribed from. Segmentation can be done within certain email marketing software programs, or through email marketing apps that available for Shopify.
8. Make Your Shopify Store SEO-Friendly
When it comes to traffic there is going to be one channel that is going to draw in the most traffic: search engines. Therefore, you have to be sure that you've got all the necessary things in place to make your store SEO-friendly. This is a significant job and there are lots of apps out there, like SEO Booster, that can help you. However, you might need to use two or three apps in some cases as different apps have different strategies.
In addition, you will need to look at other aspects of your SEO in order to generate the best results. For instance, you should be looking at the keywords that you are using on your website to rank. You should carefully select one keyword for each page and blog post on your website, without repeating them more than once on your website.
The keyword needs to be included about once every 100 words on a page, with pages being at least 1000 words in order to perform better on Google and other search engines. You should also include the keyword in the title meta data, and meta description of the page. All images should include the keyword in the title, description, Alt-text and caption (if possible).
Finally, you need to look at the speed of your website. Most themes are built for speed for Shopify, but Booster is one of the fastest themes that you can get. It also has lots of other functions that make it a powerful option for Shopify affiliate stores.
9. Sell Merchandise
While the focus of the whole website should be on the affiliate products, many affiliate marketers, especially those who have large social followers, find that they can increase revenues through the use of merchandise.
A classic example of this would be Oversimplified on YouTube. For every video that they produce, they have an affiliate which they promote, in a unique way for each video. However, they also advertise their own merchandise.
Selling merchandise doesn't mean that you have to manufacture the products yourself, you can simply use a print-on-demand service to produce and ship the products for you – like many of the other social sellers there are.
This small increase in the revenues can make the difference between you just making enough revenue to being a great success.
10. Think About Marketing On Other Sites
While the major focus should be on creating content for your own site, you can also generate content for other websites. This guest posting is a good way to build inbound links to your store and reach new audiences.
It is important to know a few things about potential partners of this. First, do they have the traffic. Second, how will they promote you. And third, how much do they cost. Sometimes, the cost of the guest posting is completely unjustified. You can get a lot of information about the traffic levels from the site and places like ahrefs or Ubersuggest.
Final Word: 10 Tips To Improving Affiliate Marketing Results On Shopify
Affiliate marketing is one of the most interesting business models that you can partake in. However, it is not easy and you need to be dedicated to the business model and try a few things out. In the early stages, you're unlikely to make a lot of money, but at some point you should be able to earn a regular income from your website that you might want to start a second and then a third. Use the tips above to make a success of your affiliate marketing business on Shopify and be sure that you can earn enough revenue to make a great career out of it.
Avi Klein
Vast experience in the online world. SEO expert, Web developer and consultant to several online companies.
Read more...
. Read more about
our approach
to reviewing themes and plugins.