The 10 Best Shopify Apparel Store Themes
Last modified: April 15, 2023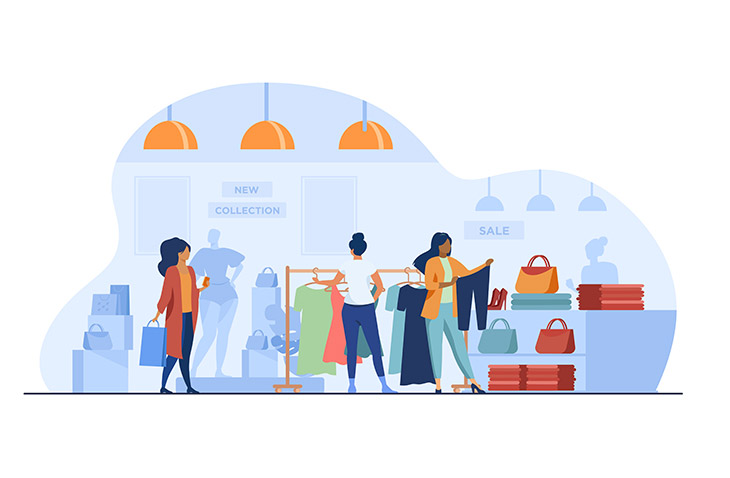 #
Image
Name

Get a Free Custom Shopify Store
1

Booster

2

Fashionopolism

3

Boost

4

Story

5

Artisan

6

Broadcast

7

Boundless

8

Streamline

9

California

10

Testament

Show More
Apparel is one of the top-selling niches on eCommerce. Everyone needs clothes and there are so many different styles and demands from customers, that there are lots of variations that you can run an eCommerce business from. In addition, apparel will change so often that a store can always feel fresh and new. There are lots of themes that are available for your Shopify store, here are just 10 of the best Shopify apparel store themes.
What are you Looking for when Buying One of the Best Shopify Apparel Store Themes?
While there are lots of options and you need to tailor the final choice to what you need, there are certain aspects that you need within the Shopify apparel store themes. For one, you should make sure that your store theme has plenty of options for images. Most people buy clothing items based on their look. Without good images, you're going to struggle to make sales on your website.
The next issue is to ensure that there is lots of great SEO potential for your website. The majority of your traffic will be generated by search engines, about 70-80% of your traffic. The better the performance of your website on search engines, the more traffic you get and the more you can sell.
There are also needs to ensure that you have good social media connectivity on your store. Customers like to share content on their profiles, especially of clothing items that they might like. Therefore, you should ensure that there is the option to do this. Most themes will come with some connectivity automatically installed on them. However, there are other themes that will have better connections to Instagram, Facebook, YouTube and more.
Finally, you need to make sure that you have speed on your website. For every second that it takes for your website to load, you're losing about 7% of your revenue. Therefore, you should ensure a fast loading time. There are many factors that affect the performance of a website and its speed. And there are apps that can help with website speed.
So, what are the 10 best Shopify apparel store themes? Here are some of the options for you.
Filter between free and paid
Booster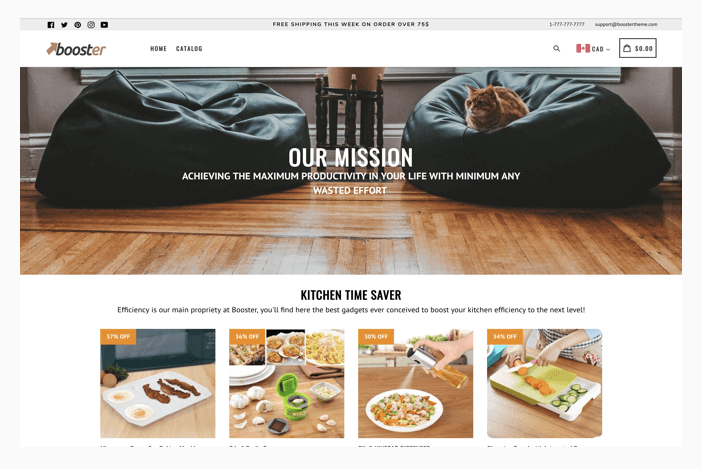 Booster is one of the best apps for Shopify websites. It is more than a theme, it is also a complete set of tools that can be really useful for marketing your brand and getting it to rank highly on Google and other search engines. This prevents you from having costly apps that can reduce your profitability. The developers of this theme reckon that the average eCommerce shop owner can save approximately $2000 a year on subscriptions just by using this app.
There are numerous features on this theme that make it really useful. For instance, there are currency conversions, A/B testing and great building environments to get your website off the ground and built with ease. The app is also perfect for those who rank to rank high. Its fast speed and clean programming make it one of the top options for building a strong, steady and relevant stream of visitors to your website.
Booster Highlights:
You're able to save more than $2000 on apps with all the additional functions to your
This is one of the fastest themes for building a website on.
Reduce cart abandonment on your website that improves revenues.
Excellent when you want to attract lots of mobile customers.
Fashionopolism
This theme is a great option for those that are looking to build a fashion website. There are lots of options available to help you improve your branding and increase traffic to your website. You can utilize the sticky navigation, product quick view and you can choose between four different styles to add a unique look to your website.
There is a product image zoom. This allows your customers to see your fashion items with clarity and in great detail.
There are also two menu options that you can utilize. You can have a horizontal menu or a sidebar. The choice can often depend on what you would like to have on your website.
Fashionopolism Highlights:
Allows for product zoom into your website for customers to see products in great detail.
Promote brands with a video on the home page.
Display products within a slideshow.
Is optimized for mobile and search engines.
Boost
This theme should not be confused with Booster mentioned above, as it has a similar name. This app is available on the Shopify Themes store but Booster is not. This theme is very fast. This is important because every second that your loading is delayed will cost you about 7% of your revenue. This theme does this through clean code and fast loading speeds. There are also lots of other options that you can use to improve your site's design.
The app uses image hotspot linking capabilities to create link labels between images and products on your website. You can direct customers from any page, blog post and more that can help you, direct customers, to your website.
You can also use custom promotional tiles. This allows you to utilize sales, discounts and feature specific products to make more sales and revenues. The design of these promotional tiles is aesthetically pleasing and will improve the trust and professional look of your website.
To improve the shopping experience for the customer there are predictive search options. This live search option is great for brands that have large catalogs as well as customers who are looking for a quick shopping trip on your website. You might also want to use the related products/blog posts on the website.
Boost Highlights:
Use color swatches to display variants of your clothing lines on the website.
Perfect for SEO with fast loading times and improved ranking features.
Integrate your social media with icons that can help connect store visitors to fans on social media.
Use the free stock images from Burst on your store to help populate your store.
Story
Story is a great theme that gives your brand a background story that can improve your brand's performance with consumer engagement and more. You can use a story to emotionally engage the audience and improve the conversion chance with them. The story can be about your brand or it can be something about your products. The more engaging and interesting the story is, the more emotional weight you can add to buying your products.
In order to help your brand sell more there are lots of other features of this theme. For instance, you can use custom made contact forms that can be made to tailor for your specific needs. You can also use collection filtering to help improve the customer's shopping experience. Filters can be applied that limit the visibility of products based on brand, price, color and more.
There's also a lookbook feature that allows your website to have that old-style catalog feel. Yet the modern touch on the computer makes this a great option.
Story Highlights:
Allows you to engage your audiences through storytelling.
Showcase the creative team that works in your brand with unique staff pages.
This is optimized for search engines, helping you to bring in more traffic.
It is completely mobile-friendly, allowing you to attract more mobile users and those using different screen resolutions.
Artisan
Artisan has three modern and aesthetically pleasing styles that you can choose from. These are the best starting part that allows you to start building a website to sell your clothing items. While this has not been specifically built for this niche, it definitely has the potential to be used by those in this area. The template comes with an image gallery that can show content in a masonry-style layout. There is also the potential to integrate images with your Instagram account. This is really important for fashion brands.
If you're looking to draw the attention of the audience to a particular product, then you can feature one product on any collection page. This can help attract the attention of the audience and improve sales without any additional costs. The app also includes a pricing table that allows you to offer product comparisons. Details on these tables can include features, pricing and any bundles.
To help you build trust on your website, there is a testimonial section that customers can use to share feedback. You can also use this area to publish feedback and reviews you've had from other customers. There is also a great custom form that customers can engage with to ask a question.
Artisan Highlights:
An aesthetically pleasing design that has three styles for you to choose from.
You can draw the attention of the audience to specific products with images.
Optimized for search engines to help increase sales and improve traffic levels.
Reduce loading times and improve conversions and revenues with ease.
Broadcast
Broadcast is one of the top options when it comes to building a fashion store online. It is great for attracting a wide and large audience to your website with lots of imagery that allows you to showcase your website's style with ease. You're also able to market your brand with the use of an Instagram account. This allows you to create posts and centre them on your products. You can include posts on your home page for more engagement. You're also able to use a homepage video to showcase the best products you have in store. You can use a featured video setting or a background video.
There are lots of trust elements that are added to this theme. These elements include a customer testimonial section and a Disqus blog comments that can take your site to the next level of engagement.
Finally, there are lots of different ways that you can use this app to improve conversions rates. There is a product quick view that will speed the shopping process from customers. And you can use the inbuilt color swatch that can help you display variants on your website with ease. This is a great tool for fashion websites.
Broadcast Highlights:
Rank high on search engines with the optimized coding and design that is perfect for Google.
Can use color swatches that allow you to have variants on a single product with ease.
It has been optimized for mobile visitors, giving you a larger audience in which to sell to.
You can use the free stock images on your website that are supplied by Burst.
Boundless
This is a free, minimalist Shopify theme that's one of the best for those who are on a really tight budget. There are lots of great features that you would normally find in a paid Shopify theme. For example, you can use the sticky navigation, this allows customers to find their way around your website with the menu always staying visible at the top of the page as they scroll down the website.
The theme has also been optimized for displaying large images and lots of products on a website. The high-resolution images can help you showcase the best products on your catalog with ease. And you can use a homepage slider to help feature your best products. The great fading effect can improve your website's professional feel.
Finally, you're able to showcase the products within a hero video on your front page. Those websites with videos can convert more traffic.
Boundless Highlights:
A great free theme that allows you to save costs while having professional features on the websites.
Use a slideshow to showcase the best products and brand ideals that you have.
It optimized for ranking on search engines and displaying on mobiles.
Make the most of your images with this theme.
Streamline
This theme is one of the top themes for having a minimalist approach to your branding. It is a very popular theme among those brands that want to sell clothing online. The product pages have been designed to tell a story about the products, a great way to add emotion and engage audiences with ease. If customers get emotionally attached to the product they're more likely to purchase it. Stories can include different media like text and images.
The theme also has quick view product options. This is a popup window that allows you to speed up the shopping experience for customers. This can help you improve the conversions of your website and improve the success of your store.
The theme has been optimized for all search engines. This allows you to rank high and attract the traffic levels you need to get more sales on your website. You're also able to build traffic to your website through the use of Instagram. Integration is really simple and this is often a great way for fashion brands to reach a larger audience.
You can also add life to your brand through animated content. This can improve engagement on your website. This can help you build conversions and revenues.
Streamline Highlights:
This theme has a mobile-first mentality that allows your site to look good on any device or screen resolution.
There is a sticky checkout that is always visible to your website page for the customer.
Animate the text, images and videos throughout the store.
Integrate your store with Instagram for your website's long term marketing.
California
This is one of the top Shopify apparel store themes available on the Shopify store. It helps you visualize the story of your brand. There's a header slideshow right on the homepage that can help you display the best-branded images about your products or just images of the products themselves. You're also able to promote your products on social media networks like Instagram. You can also integrate Instagram feeds into your website.
To ensure that customers can find what they're looking for, you can use the product filtering options. Customers can filter products based on price, type and bestseller status on the collection page.
This theme is built for mobile devices with an aesthetically pleasing design that translates well into any device or screen resolution.
California Highlights:
Built for search engines that allow your site to rank highly on Google and other sites.
Has a mobile-first design philosophy that can help your website look great on any device.
You can use lots of images on your website that can help promote products with ease.
Can integrate Instagram with your theme.
Testament
Testament is a popular theme for fashion stores. It comes with lots of great features and a perfect design that can help you promote your store with ease. The product quick view is great for allowing your customers to view products without the need of loading a new page. There is also a great color swatch that can be used for variants on your website.
Navigation is one of the best aspects of this theme. The sticky navigation option allows your menu to follow the user as they scroll down the page. This allows you to build a multi-column menu that can help users navigate around your store with ease.
There is also the opportunity to use a home page video to promote your website with ease. You can host the video on YouTube or Vimeo and display it on any page. This can help you bring your brand's story a new voice and look.
Testament Highlights:
This app allows you to have great navigational options for your website.
There is a quick look option for products, allow you to sell with a faster shopping experience.
There is the option to use a front page video to sell your brand.
Optimize your website for search engines and bring in more traffic.
Final Word: The 10 Best Shopify Apparel Store Themes
When it comes to choosing between the best Shopify apparel store themes, there's a lot to consider. Above are 10 of the best fashion themes that you can use. Which of these themes will you use? Let us know in the comments below.
Avi Klein
Vast experience in the online world. Shopify Expert, SEO expert, Web developer and consultant to several online companies. Read more about
our approach
to reviewing themes and apps.