Top 10 Shopify Fulfillment Apps – [2023]
Last modified: July 4, 2022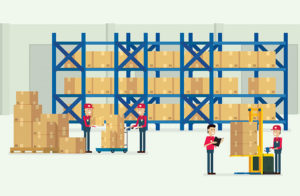 Fulfillment can be a stressful part of operating an eCommerce business. There is a lot to think about. How to get the products there, packaging, tracking, notifying the customer and more. While there are order tracking apps that can be used to help customers stay relaxed, you might need more to help you manage the whole process. For this there are several Shopify fulfillment apps available on the store.
How Can You Use Shopify Fulfillment Apps On Your Store?
Shopify fulfillment apps are numerous and can help you in many ways. For instance they can help you find the best carrier for the best price. Or help you by providing a fulfillment service. The problem is not finding the app, but finding an app that is suitable for your business' needs. For instance, do you want to dropship all your products or have a fulfillment center (like Amazon's) take care of the work for you?
Also, do you want the customer to use the same system to track their orders and how do they do that? These are all questions that you need to ask before you choose between the Shopify fulfillment apps. However, if you choose the right one for your brand, you could be earning significantly more with your brand.
When you deliver your products in good condition and on time, customers will be happy. This will build trust and retain customers better. This in turn will increase the life time value of the customer and improve the long term profitability of your business.
So, what are the best Shopify fulfillment apps that are available?
#
Image
Name

Get a Free Custom Shopify Store
1

Shippo Shipping App

2

Easyship

3

ShipHero Fulfillment

4

Auto Fulfill

5

Auto Multi‑channel Fulfillment

6

ShipMonk | Order Fulfillment

7

Amazon FBA Shipping: ByteStand

8

Easy Fulfillment

9

Pay‑Per‑Order Custom Packaging

10

DPD Integration

Show More
Filter between free and paid
Shippo Shipping App

This is a very powerful multicarrier shipping app that can be used with any Shopify website. There are lots of benefits that can help you deliver orders with ease and please customers. For instance, there are shipping label printing options and automation of paperwork that can help you with international shipping.
This app can also help you with returns, which can save you time and provide you with a better customer service model. And it will help you with your conversions as research has shown that one in four customers won't make a purchase if you don't have a good returns policy. In addition, 30% of shoppers don't want to pay for returns, which is where this app can really help you standout against the competitors.
There are numerous carriers that are available through the app. The shippers included are: UPS, FedEx, DHL, USPS, Canada Post, Newgistics, OnTrac and Deutshe Post. The app also offers you a free and pay-as-you-go basis for the subscription. If you have a significant volume of orders, you can make additional savings, provide additional customer service support and pass on savings to customers making you more competitive.
Shippo has a good reputation, however there are some that report that the app isn't compatible with every theme or app. This can be problematic. However, there are plenty of eCommerce businesses who have successfully used Shippo to offer better shipping to their customers.
Shippo Highlights:
• Can help you print Shipping labels.
• Connects with dozens of shipping companies across the world.
• Low cost for shipping labels.
• Easy to install.
Easyship
Easyship is a free Shopify shipping app to install, although there are charges with use of the app. The app gives you an advantage when you're shipping internationally, that allows you to open up to a wider world of customers that can improve revenues and generate more profits. It also allows you to make more of your social media marketing and build a larger, more effective email marketing list.
The app is super consumer friendly. It doesn't allow for the customer to be shocked by unexpected import taxes, VAT, GST or any other fees that may be required for the destination. Therefore, it eliminates the number one reason why customers abandon carts: unexpected shipping costs.
Easyship operates in numerous countries including US, Netherlands, Australia, Hong Kong and Singapore. And it is super easy to install and use on your site. There is excellent customer service provided by their team and the savings made from using the app for fulfillment can be really good.
EasyShip Highlights:
Automatically works out all of the taxes and shipping costs for your customers and displays them conveniently, protecting you from abandoned carts.
Allows for international shipping, giving you a chance to operate across the world.
Is a free download, you only pay for what you use.
Limited to a set number of countries that you can based in, but you can ship anywhere in the world based on that.
ShipHero Fulfillment

Take the hassle out of shipping out orders by using this fulfillment center. This app allows you to use another company to store products and ship them out automatically for you. There are several benefits to this. For one, it saves time, allowing you to market your business and service your customers more. Secondly, it can save costs by reducing the floor space needed and staffing costs that are needed for fulfillment operations.
This company provides a free app and a pay as you go operation. The app will keep all your stock levels synchronized, so you never oversell your products. There are no minimum quantities of orders nor is there a setup fee. The process works that as soon as an order is placed on your store, one of the conveniently placed warehouses across the US will pack the order and send it out.
You can keep access to all the important data within the app. For instance, you can keep track of inventory and shipments in real-time. You can also update or cancel orders for customers instantly, without affecting the operations of the warehouse. Finally, you can track all billing and payments just by looking at the dashboard. The company is very experienced in these operations and have already processed over $2 billion of eCommerce orders.
ShipHero Fulfillment Highlights:
A free to install app.
Orders are fulfilled by a third party, saving you time.
No need to have warehouses.
Save on costs associated with space, staff and storage.
Auto Fulfill

This app allows you to automatically mark when orders have been fulfilled to keep your store's records up-to-date. It works well when you have a multi-vendor website or are a dropshipper. It works by sending orders to vendors automatically when an order has been placed on your site. It will also update your order list with the right tracking code in a simple page that is designed for vendors.
Any changes to the delivery of an item can be automatically added to the notes section of the orders. Vendors can enter this directly themselves. And finally, the order can be marked as fulfilled when it has been delivered.
All of this automation allows you to protect your time. You can then spend more time marketing your business, offering more business to your store and your vendors. Therefore everyone wins when you use this app. At the same time, customers can be happy because information about their order is updated quicker, so it is more relevant.
Auto Fulfill Highlights:
Save time by having the notifications and updates done automatically for you.
Can help you keep customers more informed with automated updates of order status.
No need to use CSV files to keep your order list updated.
Vendors can enter in information themselves.
Auto Multi‑channel Fulfillment
This app allows you to automatically ship your orders through Amazon. Making the process automatic improves your time efficiency and reduces staff costs. The app will also allow you to have the fulfillment through Amazon FBA system globally, allowing you to reach a wide range of customers without too much issue and can help you ship faster.
The app has several functions that make it a perfect too for your website. For one, it can synchronize products between your store and Amazon. It can also synchronize inventory and tracking information to help you keep customers updated on where their order is.
The dashboard is easy to understand, and allows you all the information you need to submit and synchronize orders with Amazon.
Auto Multi‑channel Fulfillment Highlights:
Connects your store with Amazon's FBA system.
Synchronization between your store and Amazon's systems.
Eliminates the need of manual work.
Saves on processing costs.
ShipMonk | Order Fulfillment

ShipMonk order fulfillment allows you to integrate your store with the ShipMonk system, preventing you from having to import orders to a fulfillment center and allowing a third party to pack and send out orders for your brand. The app allows for real-time shipping rates, ensuring that neither you nor the customer are paying too much for shipping.
In addition, the fulfillment center can have order tracking added for you, real-time inventory management, account notifications and more for an easier management of your store.
ShipMonk uses more than 30 discounted shipping options, therefore, shipping can be more cost effective for your store. Discounted shipping rates are with major couriers, so you're not shipping with a second-rate carrier, but rather a recognizable courier that will ensure the safe delivery of your orders. You can also choose between the slowest, cheapest carriers or the fastest carriers.
There are also dedicated customer support teams to help you deliver an excellent customer service to your customers.
Charges for the service are based on the amount of storage you're using per day. So, if your products aren't in stock on a day, there are no charges. Finally, there is a returns management system that allows you to keep customer satisfaction high while also being efficient and hassle-free for you.
ShipMonk | Order Fulfillment Highlights:
Have ShipMonk take care of the fulfillment process of your business for you.
Live shipping costs for your business, to keep rates as low as possible.
Choose the carriers you use depending on your specific criteria: cheap or fast.
Efficient returns process enabled.
Amazon FBA Shipping: ByteStand
Let the pickers at Amazon do all the hardwork for you by letting them fulfill the orders when you get them. This app connects your Shopify account with the FBA Shipping system in the US and abroad for an easier system to ship your products out. The app can handle multi-channel fulfillment, meaning you can use international FBA centres without the need of having more apps, the app can just select the right warehouse that you need.
The app allows for updates on order every five minutes, therefore, you can always see at what stage your order is at. And the app will automatically update your customers via email when their items have been shipped. Therefore, there is a lot of manual work that can often make your operations inefficient.
By working across the world, you can also be sure that you're reaching a global audience, which allows for an expansion of your branding and increase in revenue.
Amazon FBA Shipping: ByteStand Highlights:
Integrate your store with the Amazon FBA system across the world, allowing you to effortlessly expand your business.
Sends updates on order status every five minutes to your Shopify dashboard.
Send emails to customers automatically about when their order has been shipped.
Cost effective solution to make management of your fulfillment process easier.
Easy Fulfillment
This app allows you to bypass problems associated with using a local carrier that is not supported by Shopify out of the box. Therefore, you can save time by having them tracking links added automatically for your store and orders. The app also allows for bulk updating of your orders to ensure that you are spending less time doing the administrative tasks of the business and adding value to your business.
Tracking numbers can be added to the store in bulk using a CSV file. This will then create automatic tracking links for the custom carriers that you use. The app will also allow you to send shipping confirmation to your customers automatically.
Easy Fulfillment Highlights:
• Allows you to have custom carriers on Shopify.
• Bulk update tracking information.
• Use CSVs to update orders in bulk.
• Easy to install and use.
Pay‑Per‑Order Custom Packaging

This app allows you to have a packaging and fulfillment solution that allows you to have your orders packed in unique boxes. The process works only for those addresses that are within the UK, but it can help remove foreign objects from sellers or vendors that aren't based in the UK and offer UK customers a unique, eco-friendly packaging that can help build your branding.
What happens is that when the order is placed, you can have the company fulfill the order for you or get them to receive the package first, allow them to customize the packaging and remove any unwanted items from package. They will then add in any custom thank you messages you have, etc. and then finally send it onto your customer.
All orders are tracked and insured. You only pay for each order and there are no minimum number of orders that have to be ordered per month. Plus, if you're a dropshipper, then you can have all the products reach the customer at the same time by having them bundled together at the fulfillment centre when they're coming from different vendors.
Pay‑Per‑Order Custom Packaging Highlights:
Bundles products together when coming from different sources.
Pay only for what you need.
Improve brand image by having the custom packaging.
Orders arrive within 48 hours after the fulfillment centre sends them out.
DPD Integration
This app allows you to save time used to fill in shipment forms for your store. When you have a DPD account, you can use their API to generate a link between your store and their account. The app works in 12 countries including the UK, Ireland, Russia, Romania, Slovenia, Czech Republic, Croatia, Estonia and more.
When an order is completed, the app will automatically fill in the DPD form for you. And the shipment will also be created for you. Therefore, you can save time and spend more time servicing the customer.
The app will also track all orders for you. And it will provide all the shipping labels you need, ready for printing.
DPD Integration Highlights:
Allows you to automate the booking of shipping orders, saving you time.
Provides you automatically with all tracking information.
Gives you the shipping labels automatically.
Works in 12 countries.
Final Word: Top 10 Shopify Fulfillment Apps
Fulfillment is an important part of eCommerce. It can also be a headache. Using one of the Shopify fulfillment apps above can help you bypass some of the challenges and make your business more effective. Which of the apps will you choose?
Avi Klein
Vast experience in the online world. SEO expert, Web developer and consultant to several online companies.
Read more...
. Read more about
our approach
to reviewing themes and plugins.