The 10 Best Amazon Shopify Themes
Last modified: September 8, 2021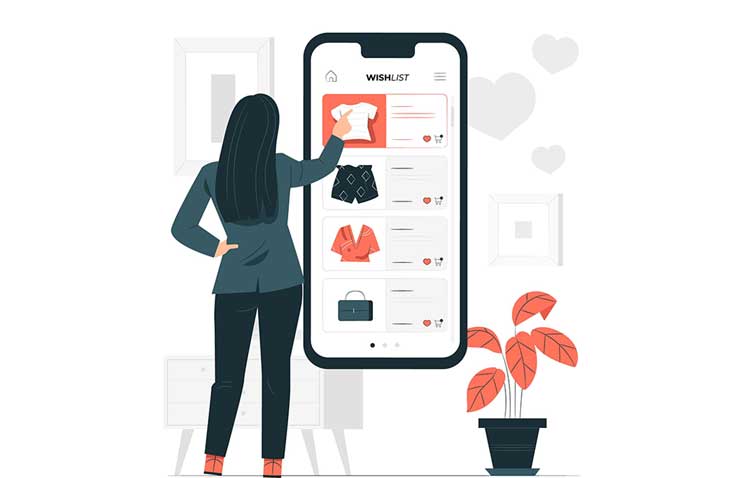 #
Image
Name

Get a Free Custom Shopify Store
1

Parallax

2

Venture

3

Trademark

4

Symmetry

5

Booster

6

Warehouse

7

Boundless

8

Empire

9

Supply

10

Expanse

Show More
Amazon has grown to be one of the top eCommerce websites on the planet to buy almost anything. And you can capitalise on the platform's success by either dropshopping with Amazon or being an affiliate marketer with the eCommerce store. However, to make this work, you will need one of the best Amazon Shopify themes.
What are you Looking for when Buying Amazon Shopify Themes?
There are numerous different elements that you need to consider when you want to buy one of the Amazon Shopify themes. The first is that you will want a theme that is easily customizable. You don't want a store that looks exactly the same as others on the market. It can confuse audiences and reduce the trust in your brand. However, with some simple customizations, you can have a unique website that is branded for your store.
You will also want your website to rank well on any search engine. Competition can be tough on search engines with the top results getting the best and most traffic. Those who rank in the top three of a search query will get about 80% of the traffic. If you rank in the bottom five of search results, on the first page, you will only get 2.5% of the traffic at most.
Search traffic can contribute about 70% of your website's traffic. Therefore, it is really important for you to get your website ranked as high as possible. If your website has a low position in searches or it drops it's position, you can lose a lot of potential revenue by not having enough traffic to your website. You can also add features like popups, quick buy, predictive search and product filters to make your website more effective and help you grow your business.
Finally, you need to have a website that loads fast on a browser. This can help you rank higher on search engines but it can also help with revenues. For every second that it takes for your website to load, you will lose 7% of your revenue. The average eCommerce website takes between 8 and 11 seconds to load which can cost businesses up to three-quarters of their revenue. However, you can lose less than 7% if you use some of the best themes that are included on this list.
So what are the best Amazon Shopify themes available? Here are some of the top options you can use.
Filter between free and paid
Parallax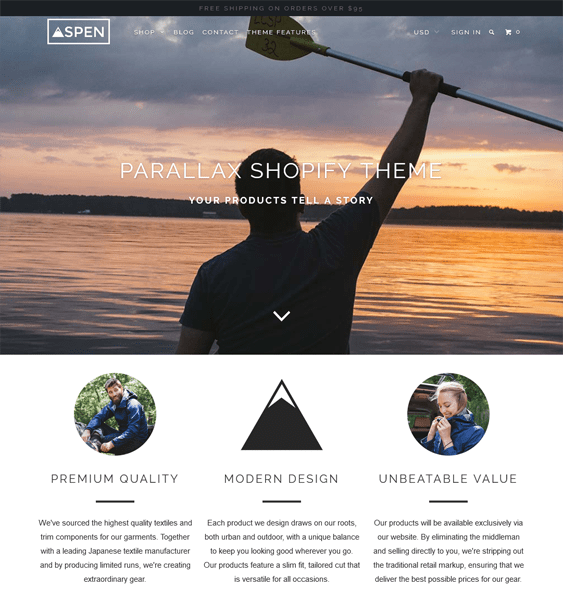 Parallax is one of the top themes that's very popular and well respected. The approval rating for the app is 99% which makes it the top-rated on the Shopify theme store. One of the reasons for this is that visitors are offered a great experience as soon as they land on your website. The flow of the design is awe-inspiring as the customer scrolls down your website with easy navigation that gets customers to any page on your website.
To help sell the brand's values, products or services to your visitors, there is the option to utilize the full-width video on the homepage. This can highlight the brand or product story that can create an emotional appeal with the customer. You're also able to engage the audience on social media by integration with Instagram.
There are other ways that you can engage audiences on your website with Disqus. This can help you improve your website's ranking on search engines.
Parallax Highlights:
This is a very popular theme that is used by numerous brands on your website.
There are social media integrations available that can help keep customers engaged with your brand.
Utilize videos on your homepage to create an emotional pull to your brand,
Keep customers engaged with Disqus commenting system.
Venture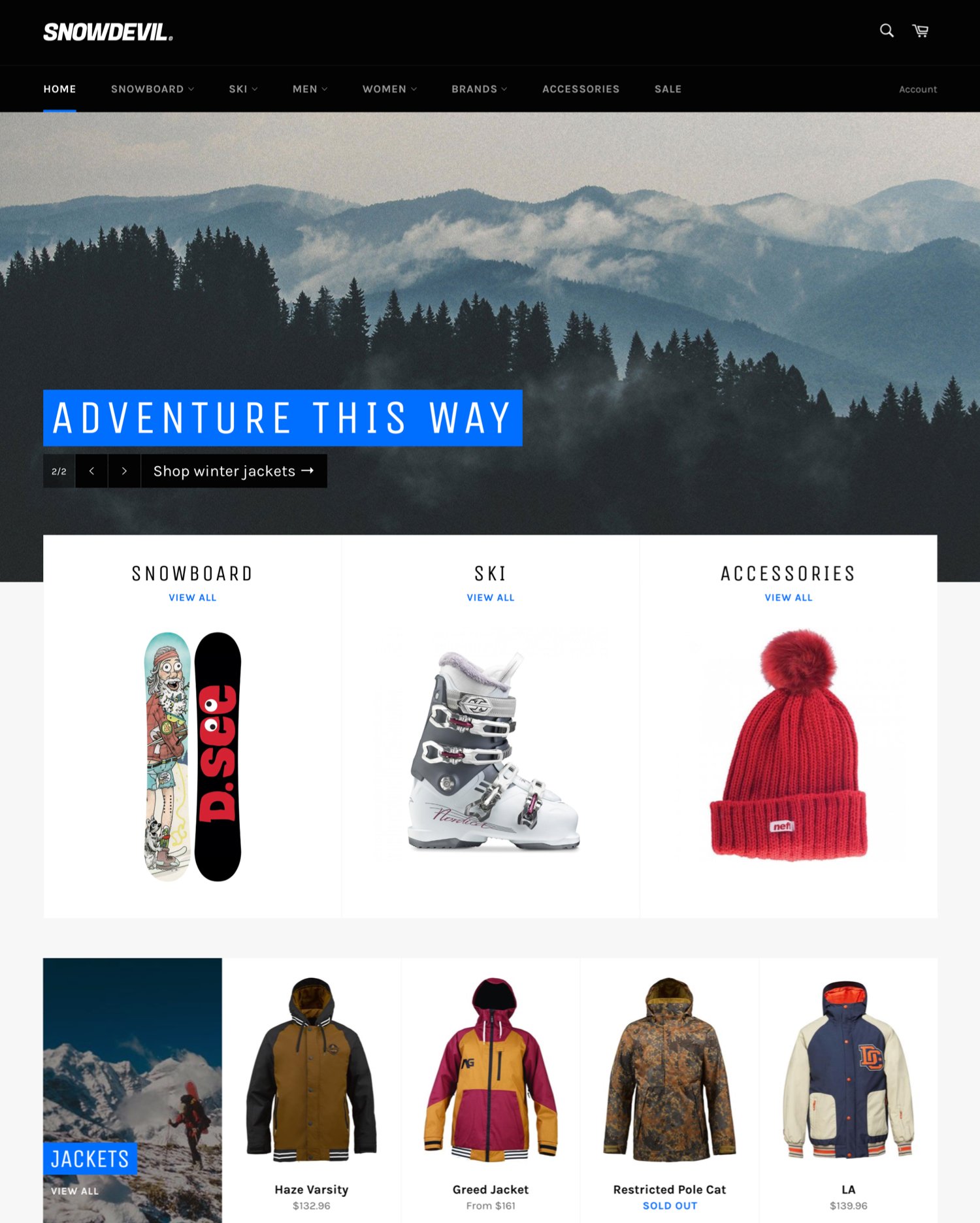 Venture was specifically built for those stores that want to have large catalogs. It is great therefore for those who want to do dropshipping or affiliate marketing. Or you can have lots of products yourself that you sell regularly to customers. To help customers navigate around your store to find the products that they want, you can build a multi-column menu on your website within just a few clicks.
There is a promotional banner feature on your website's homepage. This can include information about the latest deals that you're running, promotions, discounts, featured products or more. The banner can appear at the top of the homepage and you can also turn this into a slideshow.
For customers looking for specific items on your website, you can use the product filtering system. Customers will be able to reduce the selection on the screen based on the price, brand, collection, color and more. You can also promote a single, favorite product on the homepage that can be featured on the center of the page.
Venture Highlights:
A perfect theme for those who want to host lots of products.
Use promotional banners to highlight the best deals on your website.
Let customers find the products that they want by implementing a product filtering system on your website.
Promote a key product on your homepage.
Trademark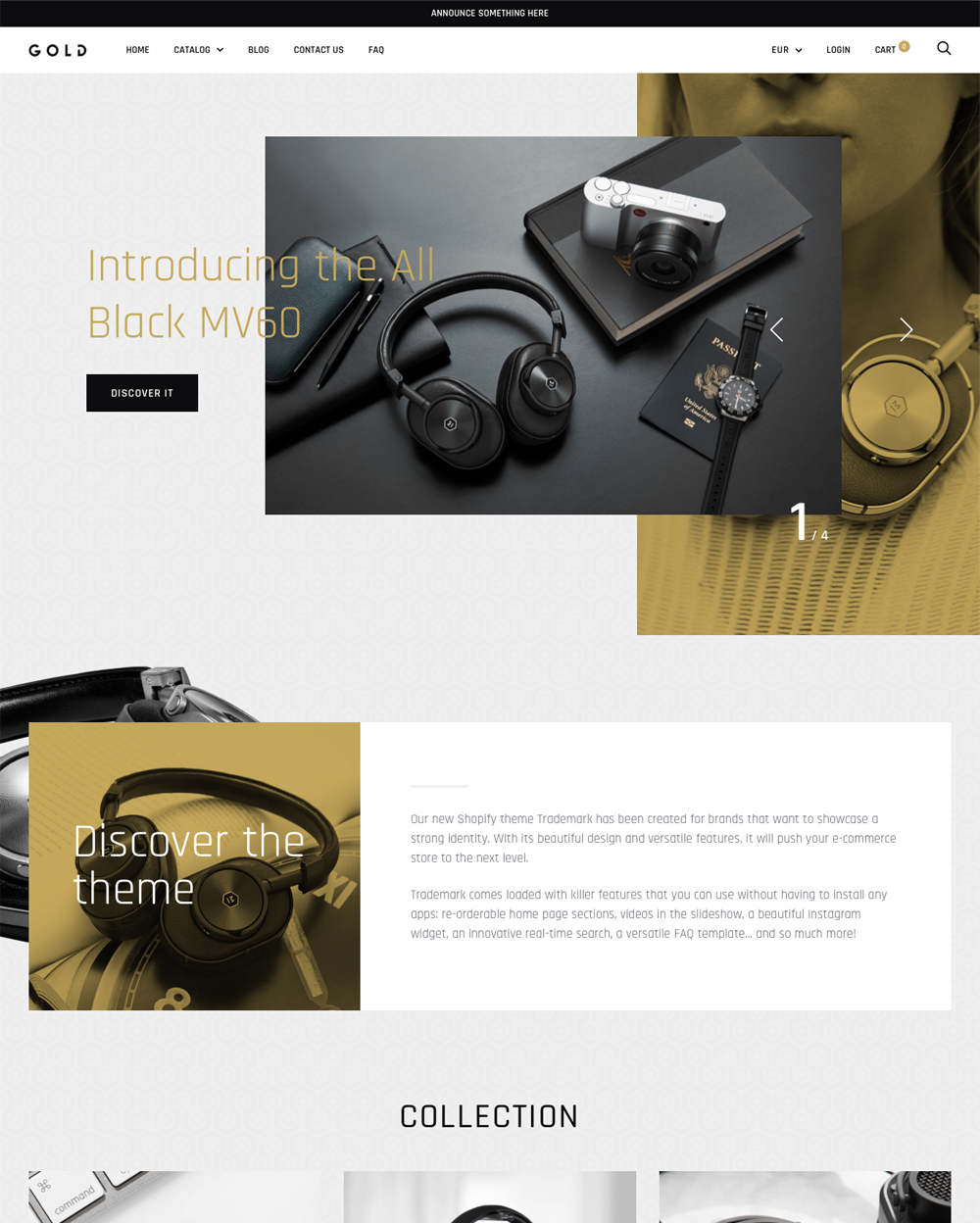 Trademark is one of the best themes for those that want to use lots of images to promote their products. There are two basic style options that can be used on the website. These styles can be customized to make your final website design unique and aligned to your brand.
The theme also includes a live search feature that can help customers to find products on your website with ease. There are also great menu options that will help customers to navigate across your store with ease. This will improve your site's performance and the user experience.
The theme will allow you to promote your brand through images, videos and text. You can add these to a slideshow that is interactive and can feature animations that can build a professional image on your homepage. There is also the ability to have a versatile blog slider. The slider can showcase the latest news, advice and more to your users.
Trademark Highlights:
The theme includes an Instagram feed that allows you to build a social media following.
Optimize your website for Google and search engines.
Showcase your products on the website and make them easy to find with live search.
Perfect for speed and improving conversion rates.
Symmetry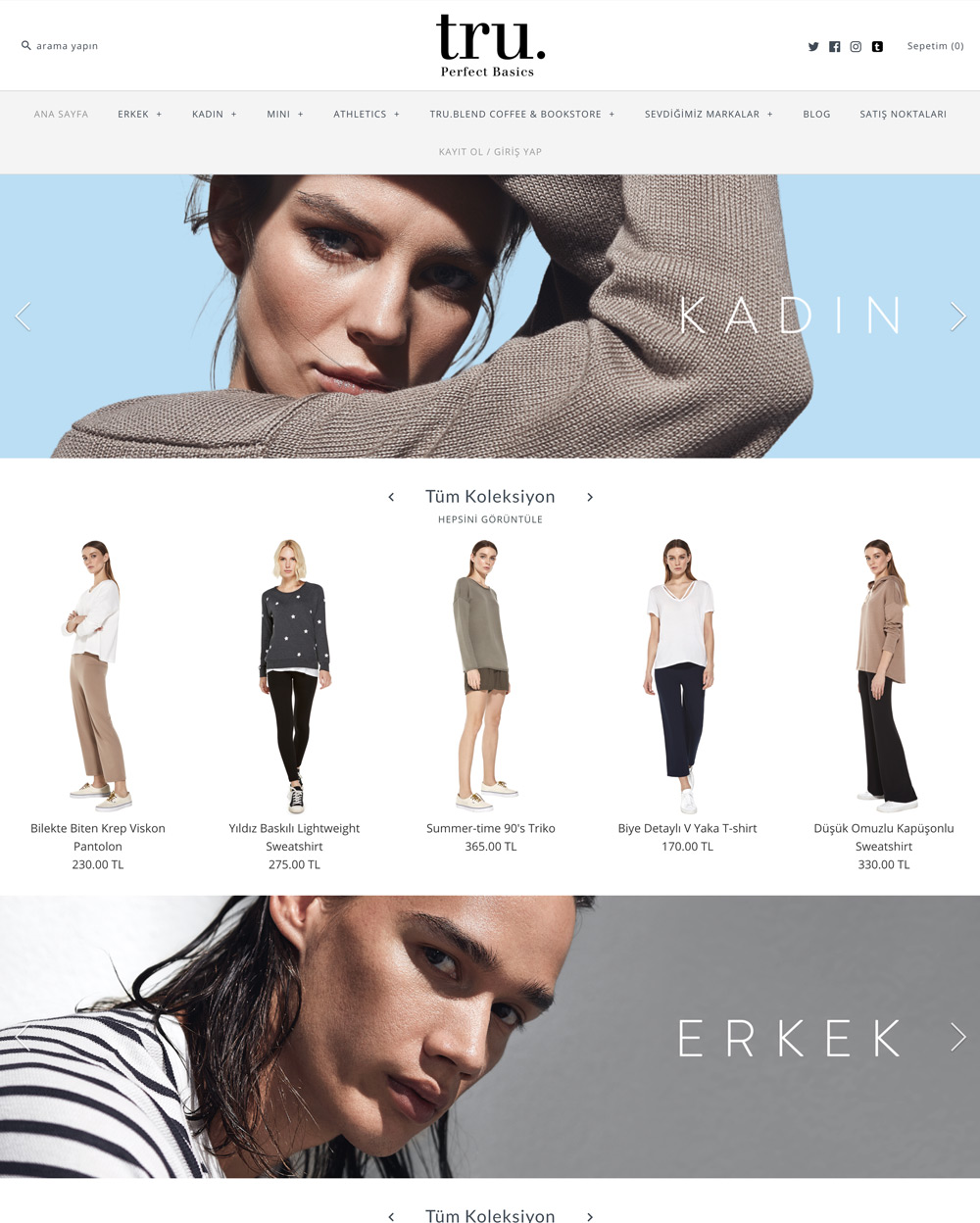 Symmetry is one of the most responsive themes available. It has sleek, modern and trusting designs that customers will respond positively to. Visitors will be impressed by the design of your website and this can lead to some great returns on your website. The theme is also fast, which can help you improve your conversion rate as well as the rank on Google and other search engines.
The theme has been coded perfectly for high ranking, good speed and great experiences. There are also features that are included to help you sell more by offering better navigation around your site. With the multi-column menu, your customers can get to any page within just a few clicks. There is also a quick buy feature that is perfect and works like the Amazon system.
There are lots of options to help you integrate your store with social media channels. To start with, you can integrate an Instagram feed that will list your latest content. This is a great way to improve engagement with your audiences.
Symmetry Highlights:
This is a mobile-friendly theme that looks perfect on all devices and screen resolutions.
Use free stock images from Burst to populate your store.
Advertise products on social media.
There are four basic styles that can help you build a great website with no technical experience.
Booster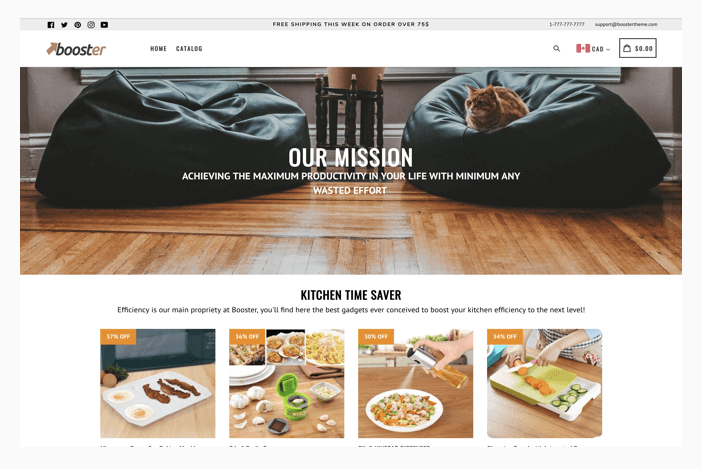 Booster is one of the best themes for any Shopify store, whether you're trying to emulate Amazon or be their affiliate. There are lots of reasons why Booster is so good and it has to do with the number of features, speed and design potential of the theme. With the added features of this theme, you can actually save more than $3000 a year on apps.
Some of the features that are included with the theme include currency conversion, social proof, live chat, review, popup building, countdown timers and more. These are often found in apps that need to be installed and paid for.
This theme is also perfect for improving the speed of your website. The average eCommerce website can take 11 seconds to load. However, this theme speeds up the loading of your website and can allow your site to load in less than a second. Therefore, this site can allow you to have 11 times the revenue.
Booster Highlights:
Save more than $3000 on apps that you don't need to install on your website.
A very fast theme that speeds up the loading of your website for better experiences.
Perfect for ranking on Google and other search engines.
Responsive design so your website looks good on all devices.
Warehouse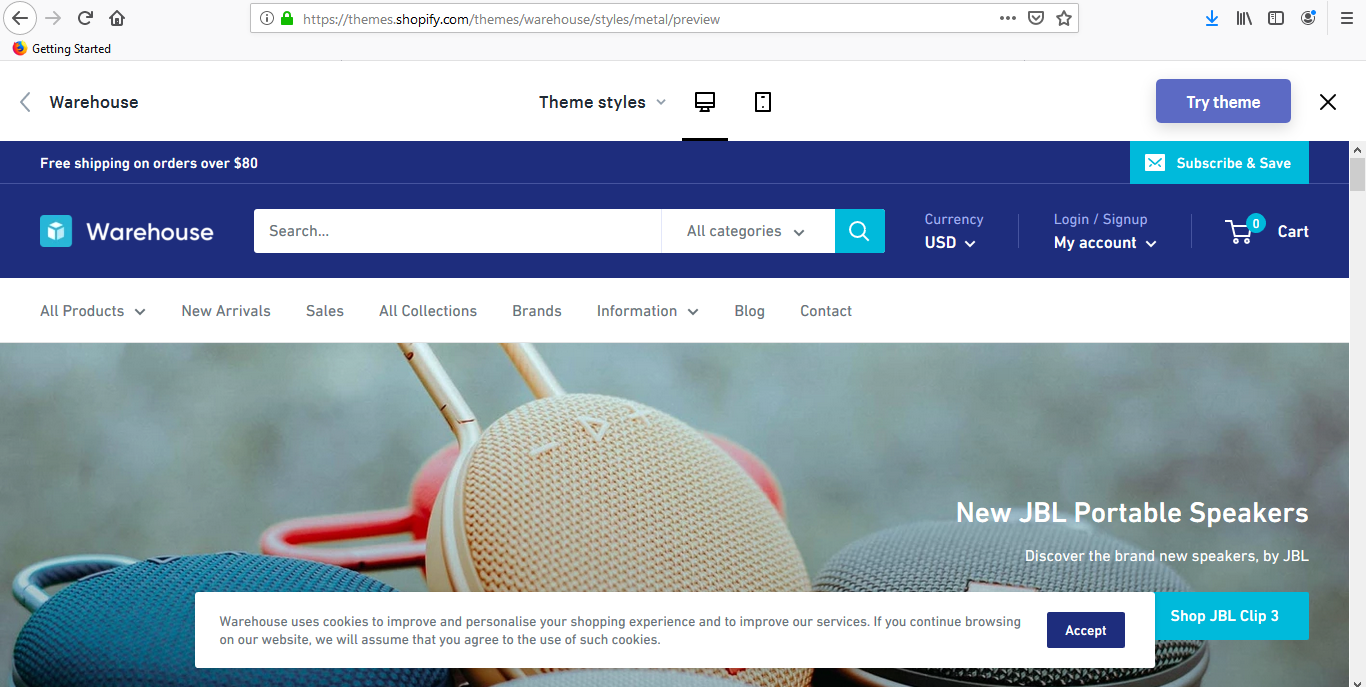 Warehouse is a great option for businesses that want to promote large catalogs. The theme has been built also for those who want to have a lot of variation. There are two main basic styles that you can use on your website, these can be customized to make the website more unique to your company.
To help improve the shopping experience on your website, you're able to utilize the custom promotional tiles. These can be edited so you can promote sales, discounts and other best selling products on your homepage. You're also able to get customers to land on specific product pages by building awe-inspiring slideshows.
Customers will also have an excellent experience shopping on your website with the live search feature that can be included on your site. It will refine the available product options and reduce the time they need to spend on your website to make a purchase. You can also improve conversion rates with urgency thanks to the stock level indicators.
If you're worried about visitors trusting your brand, you can combat this by using trust badges across your store. There is also the chance to convert visitors into long-term subscribers with the exit popup on your store.
Warehouse Highlights:
Live search features that can help improve the shopping experience of guests on your website.
An exit popup function that can help grow your email marketing list.
One of the top themes that can be used for brands with large catalogs.
Completely optimized for all devices and search engines for improved traffic levels on your website.
Boundless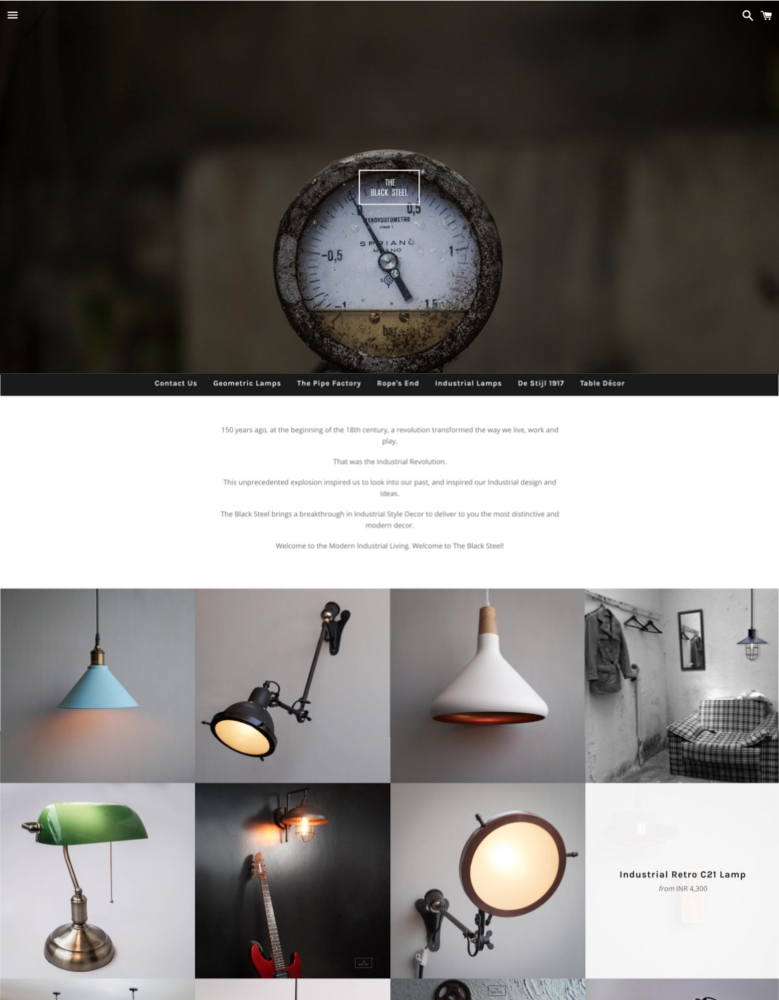 Boundless is one of the best minimalist Shopify themes, this theme is also free, making it a great option for those brands on a tight budget. There are numerous features that you can use that can only be found on premium themes, normally. This includes the sticky navigation bar that will remain at the top of the user's browser as they scrolls down the page.
The theme has been optimized for large images. The high-resolution images look great with any product and can really help you sell more products on your website. You can also enhance the experience of your visitors with a great homepage slideshow that can have a neat fading effect that can help you look more professional.
Finally, you're also able to highlight the best parts of your business and products through a hero video. This can be displayed on your website's homepage.
Boundless Highlights:
A free theme that is great for those on a tight budget.
Perfect for those brands that want to use a hero version on the homepage.
Use a slideshow to increase the promotional space of your website.
Minimalist design for better loading and ranking potential.
Empire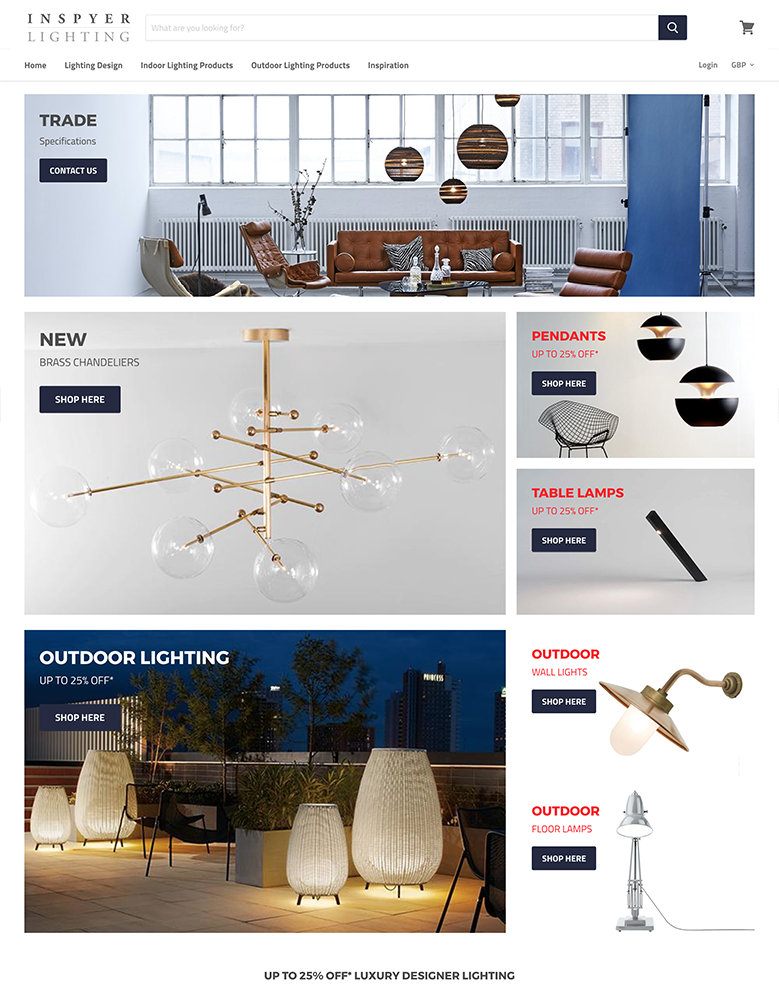 Empire is one of the top themes for any Shopify brand. There are three unique styles that you can use on your store. These basic designs can then be customized and this can help you make your website with ease and branded to your company's identity. The final result can therefore be one that will build trust with your audience.
The theme has been built for those businesses that have large catalogs. But there are ways that your customers can find the products that they're looking for. The first is by using the predictive search feature. This can speed the process of shopping. In addition, there is also a filter that can reduce the products on display based on brand, color and more.
There are also ways that you can maximize sales on your website. There are quick buy features and more options that can progress your customers to the checkout page quicker.
Empire Highlights:
Has been optimized for search engines and mobile devices.
Populate your website the best free images that are supplied by Burst.
A quick buy feature that allows your customers to complete transactions quicker.
Lots of great options to allow your customers find the products they're looking for quicker.
Supply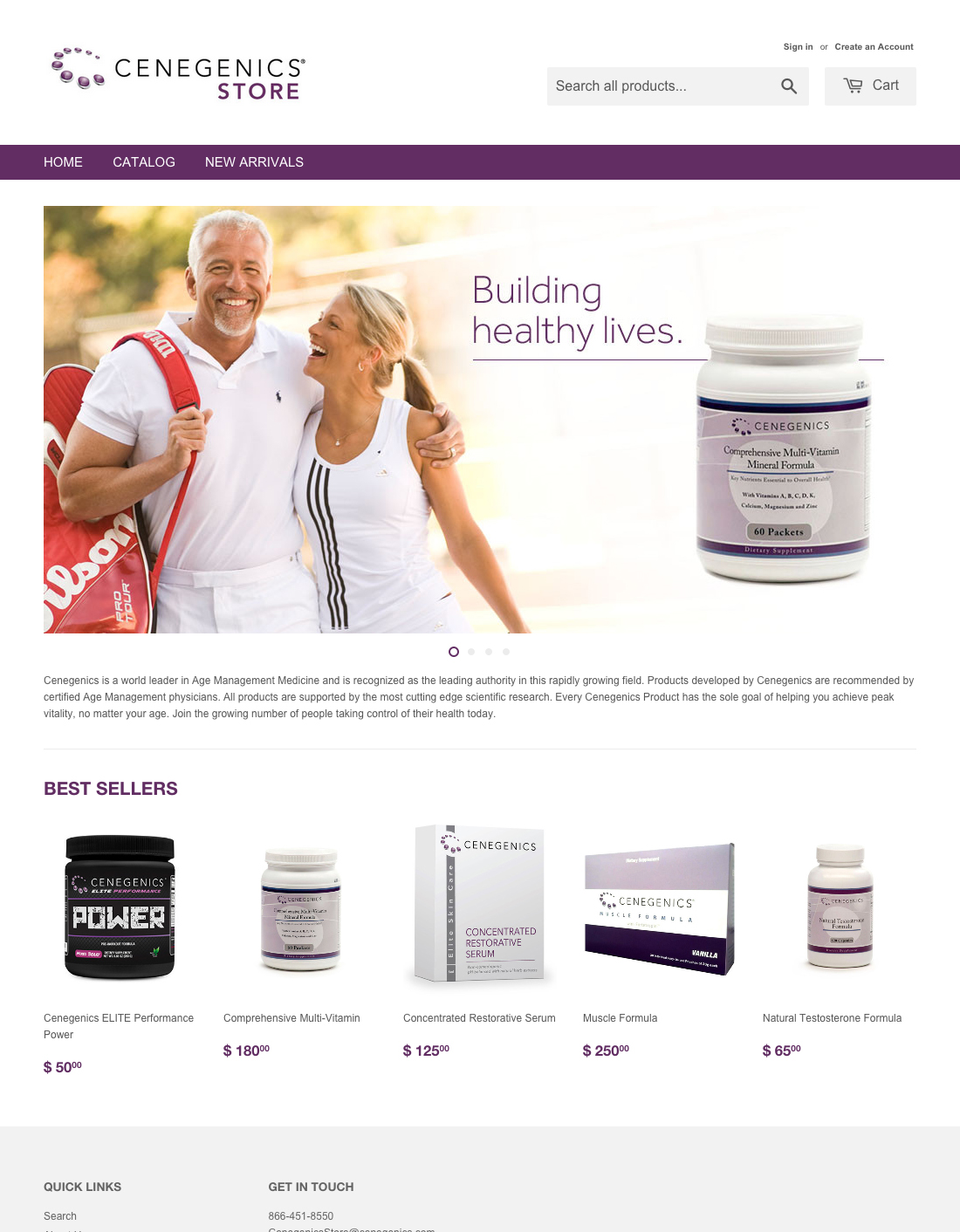 Supply is another one of the best free Shopify themes that you can use. It is perfect for those who are on a tight budget but are also looking for the capability to showcase a wide range of products on the website. The theme is really easy to use, if you don't have experience building Shopify websites, then you can still use this theme without problems.
In addition, this theme has lots of great features that you can use to improve the experience of users on your website. To start with there is a product filtering system that allows customers to limit the products that are visible on the shop page. Filters can be applied to products based on what collection, brand, price, color and more.
You can also build your website's brand through an aesthetic slideshow on your website. This can showcase lots of different things about your brand, products, promotions, deals and more. This can be added your website's homepage with ease.
Supply Highlights:
A perfect theme for those who don't have a high budget.
Showcase the products you want on your homepage with a slideshow.
Get customers to find the products they want with the use of a product filter.
Optimize the website for any device, improving SEO and traffic.
Expanse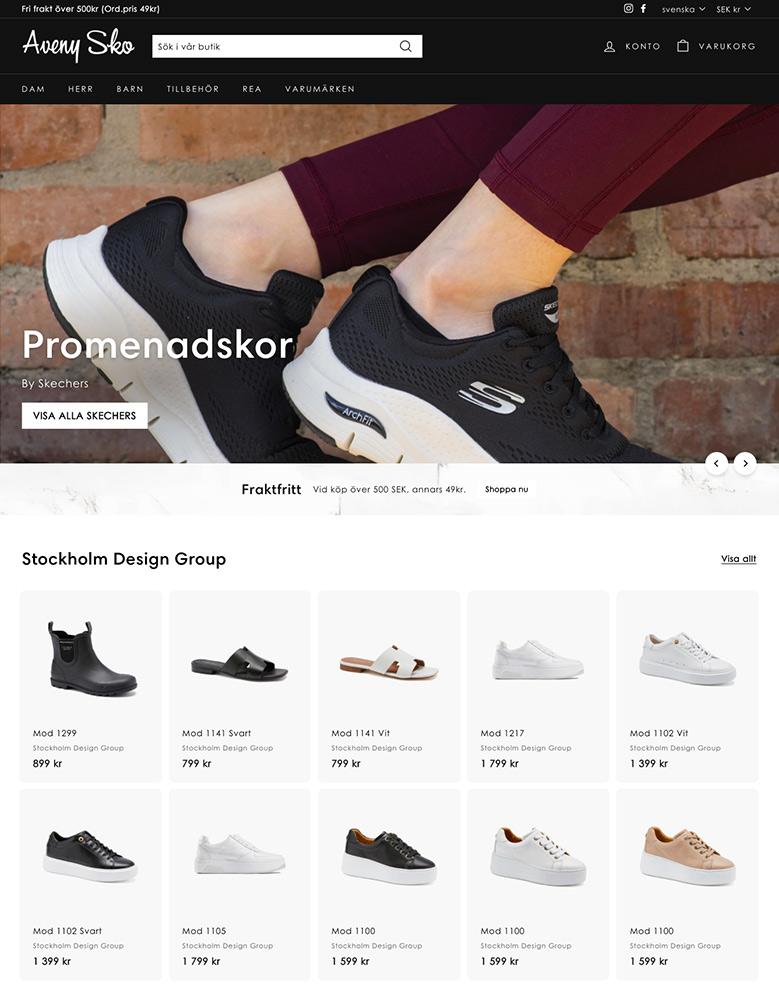 If you're looking for lots of products to be featured on your website's homepage, then you can use this theme with ease. Customers can view products on the front page and then use the quick buy feature to add them directly to the cart. They don't need to access the product description page.
You can also cross-promote collections by using custom collection tiles that can be included within the other collections. This cross-selling is a perfect tactic for growing your website. This area can also be used to promote sales, discounts and promoting your favourite products to visitors to your website.
Navigation and product discovery is really important. There is a menu list that can help customers to find your products and other pages with ease. There is also a filter that can help you increase the usability of your website.
Expanse Highlights:
Perfect for navigational controls for better customer interactions.
You can promote sales, discounts and best products on your store in promotional tiles.
You can allow customers to pick up products from a local store if possible.
This is perfect for brands you want to dropship, affiliate marketing and sell customized products.
Final Word: The 10 Best Amazon Shopify Themes
If you're looking for one of the best Amazon Shopify themes, then look above at these ten options. They're some of the best Shopify themes that are available. Which one you choose is up to you. So which one will you use?
Avi Klein
Vast experience in the online world. SEO expert, Web developer and consultant to several online companies.
Read more...
. Read more about
our approach
to reviewing themes and plugins.