10 Best Icon Shopify Theme Alternatives – [2023]
Last modified: December 7, 2022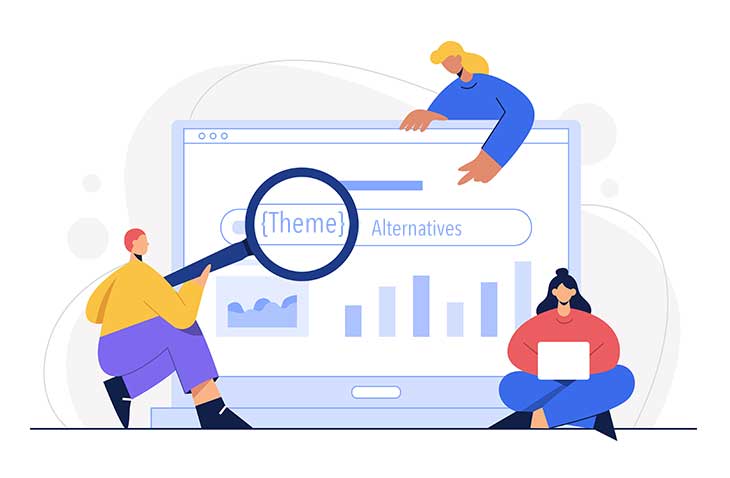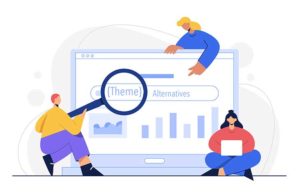 #
Image
Name

Get a Free Custom Shopify Store
1

Booster

2

Polaris

3

Blockshop

4

Startup

5

Boost

6

Palo Alto

7

Boundless

8

Handy

9

Parallax

10

Shoptimized

Show More
Icon is a fast parallax theme that is great for high-resolution images, but it isn't the theme for everyone. There are some limitations and there are some features that you might not enjoy and would rather move to an Icon Shopify theme alternative.
Why Move to an Icon Shopify Theme Alternative
There are many reasons why you might want to have an Icon Shopify theme alternative. The first is that you might want to upgrade your Shopify theme to add more features that can help you sell more on your website. Or you might want to rid yourself of a feature on Icon that you don't use and find annoying that it is there.
There are lots of different themes that you can use on Shopify. Many have a range of features, functions and styles that can be suitable for your needs. Those that are featured on this list are perfect for those in many different niches.
In terms of functions, you want to ensure that the three core: speed, website ranking and conversions are met. All of the themes on this list offer good rewards in these areas.
Speed is required because it is directly related to ranking and conversions. Websites that load fast will rank higher and conversions will also be greater. Research has shown that for every second that it takes for your website to load, you will lose about 7% of your revenue. That can be disastrous for those brands that take an average of between 8 and 11 seconds to load. Just cutting loading times to four seconds can double revenues.
In addition, ranking on search engines is vital. The higher you've ranked the more traffic you will get. The difference between the first and last place on the first page of Google can result in 30 times more traffic for those at the top spot.
Finally, you want conversions on your website. Conversions are how many people who access your website will become a customer. The higher your conversions, the more money you get without attracting more traffic. There are lots of tools available that can help you here. For instance, there are countdown timers, swatches and more.
So what is the 10 best Icon Shopify theme alternative? Here is a list of ten potential solutions.
Filter between free and paid
Booster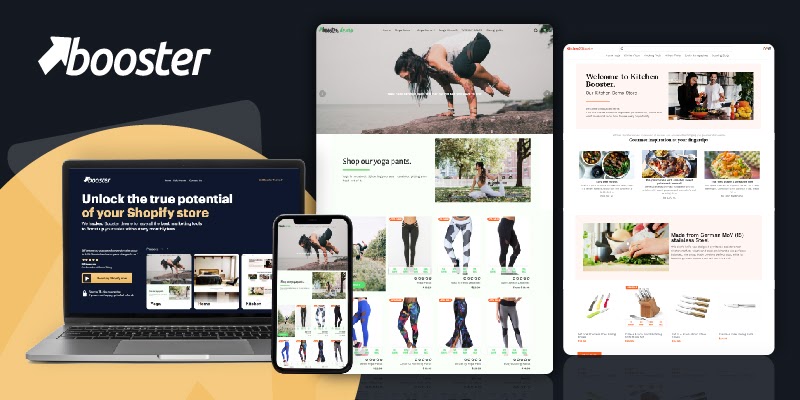 Booster is one of the best options when it comes to Shopify themes. There are lots of impressive features within the theme that allow you to grow your audience and convert them into customers. One of the best features is speed. The theme has clean, minimalistic code that allows for the fast loading of pages. Developers have got loading times as low as 0.6 seconds. This is so fast customers won't notice the loading. And this will have an impact on your success.
But Booster isn't just about speed. There are other features that are included with this theme that include countdown timers, call to action buttons, a popup builder, social proof and live chat functionality. With all the numerous features that are included on the theme, developers reckon that you can save more than $3000 on app subscriptions.
In addition, there are options to help your theme to reduce the abandoned cart rate on the website. This can help you improve revenues on your website.
Booster Highlights:
You can save more than $3000 on app subscriptions with the additional functions included with the theme.
This is a highly responsive theme that loads within one second on most devices.
More traffic can be driven to your website through higher rankings on your website.
Lots of features including social proof, live chat and more.
Polaris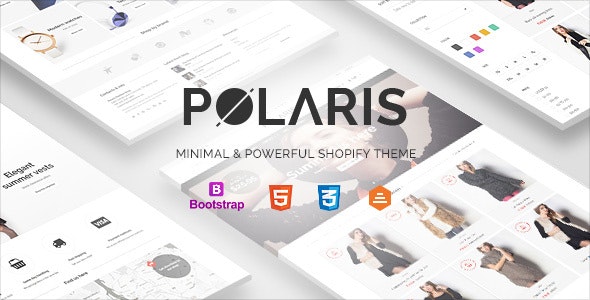 Polaris is a minimalist theme that works within any niche that you can think of. The theme has been built to focus the attention of the audience on the product rather than other content that often fills a website. So if you have a good product, this could be one of the best theme options for you. It can also help you to convert more of your traffic and earn more revenue.
Polaris has lots of great options for maximizing your sales. One of the features is a filtering system that allows audiences to search your catalog for a product that matches their criteria. Elements that they can use in the filter are varied and you can customize them. There are also ways that you can improve the shopping experience with quick buy features.
This theme is a great way to build long-term relationships with customers. You can subscribe your audience to a mailing list and use this app to manage that. Perfect for long term strategies.
Polaris Highlights:
One of the most powerful minimalist theme designs that will load quickly on any device.
You can rank your website high on Google or other search engines to help improve traffic levels.
There are lots of great features to help you improve the experience for shoppers.
Use Google Maps to showcase where store locations are in the real world.
Blockshop
Blockshop is one of the top options for those that like to have an aesthetically pleasing website with lots of features. This theme has four unique styles that can be applied to your website. Each style can then be customized with changes made to the text, images, colors and more on your website. These can make your website match your existing branding. There are also ways you can add video to your website to help you sell more products.
There are some great blogging features on this theme. You can rank higher and bring in more traffic with good blogging as those sites that publish more than 15 articles per month will see a 70-80% increase in performance.
The theme utilizes a wide layout style. This has become very popular with website builders and has proven to help with conversions. Images on your website, as a result, will look big, bold and beautiful. There are also ways that you can add slideshows and more to your website to impress guests.
Blockshop Highlights:
This theme has been optimized to rank high on all search engines.
There are lots of different opportunities to help you have engagement points on your website.
The theme has been optimized for mobile devices, allowing for faster loading times.
Add a blog and video content to your website with ease.
Startup
Startup is a great option for those that want to have a modern Shopify theme with a small catalog. The theme utilizes a modular-style design that is perfect for those new to building a website to make the changes necessary for them to create a branded website. Elements within the modulars can be customized with new images, text, videos and more.
To help you build trust with your audience you can add a testimonial section. You can also display your products with ease thanks to the large imagery. This allows customers to see the finer details.
Videos can be hosted on YouTube and Vimeo and then used on your website. By hosting them this way, you can have the videos without slowing down your website. In addition, videos have been shown to improve conversions on a website.
Startup Highlights:
Startup has been optimized for all devices, this allows you to attract a wide audience to your website.
This theme allows you to rank higher on Google and other search engines for more traffic.
There are lots of features to help you build trust including a testimonial section.
Use one of four basic styles that can be the base of your website before you make customizations.
Boost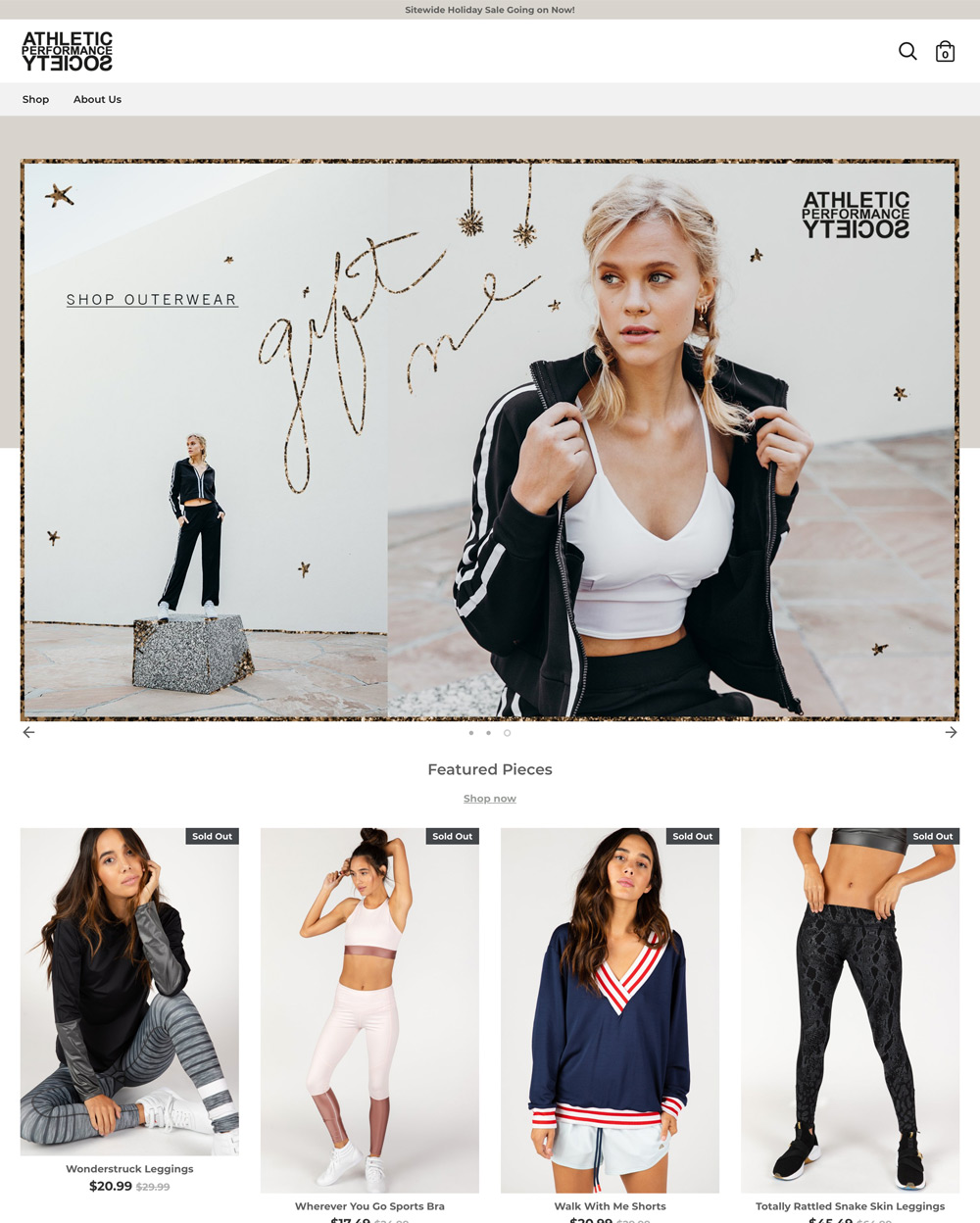 Boost is not to be confused with Booster, mentioned above, but there are some similarities. Boost is a fast theme that allows you to improve audience experiences and rankings on Google. The theme has been developed with coding that is minimalized for fast performance and good rendering on devices like mobiles, desktops and laptops.
The theme comes with a unique feature, an image hotspot option. This is when a link is created between an image and the product it represents. This link will direct customers to the product with just one click and little engagement. It is a nice conversion tool.
You can also use the custom promotional tiles as well. These can be used to promote a wide variety of products from bestsellers, discounts, vendors and more. You can also customize the tiles so they are better matched to your brand and style.
You can improve your store's shopping experience on your website through predictive search. This is when a customer will start typing in the search box and suggestions come up. This is perfect for those with large catalogs.
Boost Highlights:
Boost is one of the fastest loading themes available.
It can help website owners rank high on Google and other search engines for better traffic levels.
You're able to integrate this theme with your social media profits with ease.
You can improve the professional look of your website with lots of great features.
Palo Alto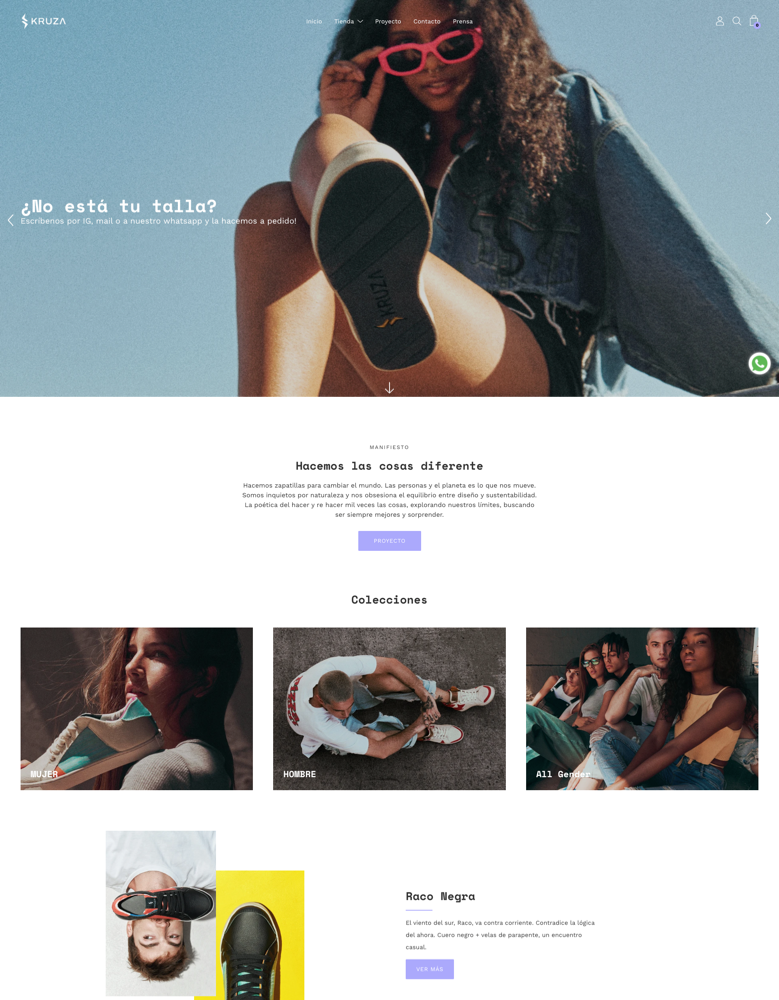 Palo Alto is a great theme for those with a small store and a limited number of products. There is a choice between three basic styles that can be applied to your website which can form the backbone of your website's design. These styles can then be customized, helping you to create a design that is perfect for your website and brand. Customizations can be made to the colors, text, images, videos and more.
This theme has lots of options to help customers get closer to products you have for sale. You can add high-resolution images that provide customers with a better impression of the products. You can also showcase your brand's core messages and product key features in hero videos. The videos can be located in various locations including product pages and the homepage. This helps to build trust.
There are also options to help customers to trust you with a testimonial feature.
Palo Alto Highlights:
This is a perfect theme for those that want to have a highly responsive theme on their website.
Fast loading times for improved conversions and ranking on Google.
You can promote your best products in a hero video on your homepage.
Easy customizations for your website.
Boundless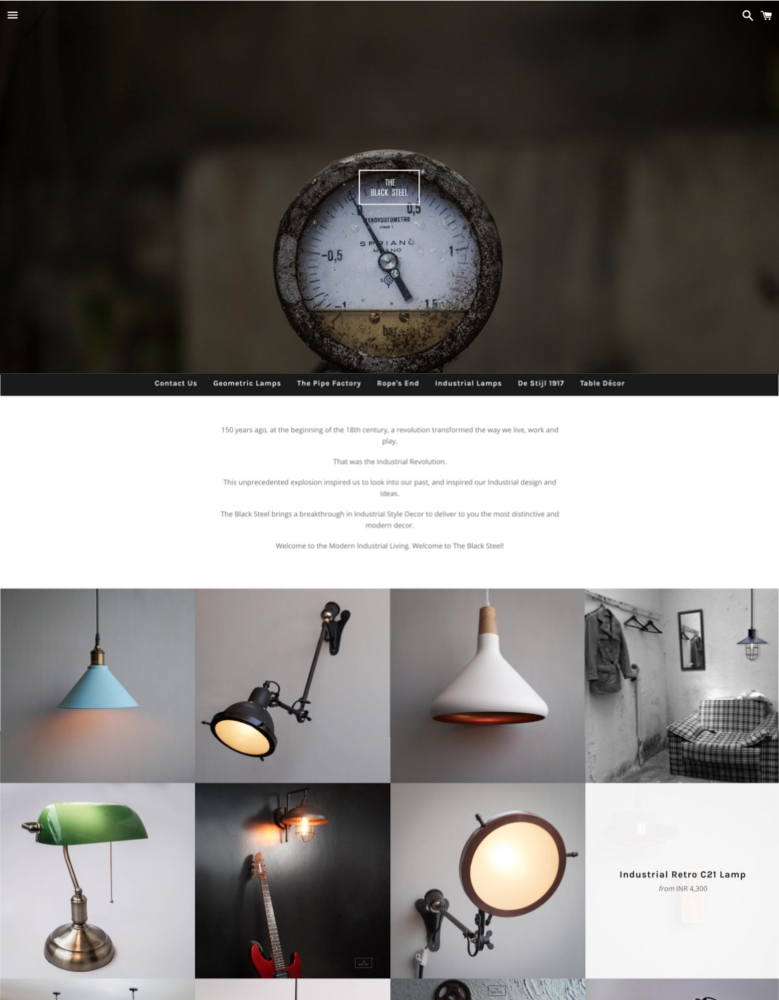 Boundless is a perfect free theme that has lots of premium features included. It is a minimalist theme that has sticky navigation that allows a menu to stay at the top of the browser as the customer scrolls down. This reduces the rate at which customers abandon a store and can improve conversions on your website.
The images on this website can be uploaded and displayed in high resolution. Then you can showcase your products in great detail to help your customers improve their decision-making process. There is also a great, professional homepage slider that can help you to feature the best products on your website. Or you can use the slider to deliver brand messages quickly.
There are also options to add a video to your front page. This can help with ranking on Google and also convert more of your audience. The video will be hosted on YouTube or Vimeo to protect your website's speed.
Boundless Highlights:
This is one of the best free themes available and can be used on any niche/brand.
The professional design will impress guests, visitors and customers to your website.
High-resolution images can be used to promote your products in more detail.
Add a video to your homepage to bring your website to life.
Handy
Handy is one of the best themes for Shopify and is great for those who have lots of images they want to share. It has been designed for the modern audience with lots of space for images and coding that makes it perfect for any device. Nearly half of all website traffic is not gained by mobiles, so this feature can help you become a success.
There is also the ability to give customers a better product discovery experience. You can use the search focused menu to help customers find the products they want. Or you can implement the multi-column menu to organize your website with ease.
Handy Highlights:
This has been designed for mobile device users, allowing for better traffic levels.
You can use the contact bar to make contact with more of your audience.
Lots of advanced navigational options allow your website to find the products they want.
Three great styles you can choose from and then customize to match your brand.
Parallax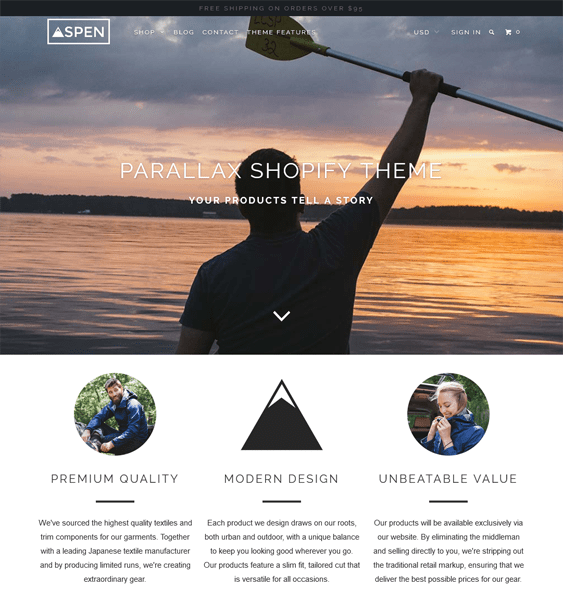 Parallax is one of the most popular themes on Shopify. It has an approval rating of 99% and can be considered a high performing option. One of the reasons why it is so successful is that it offers customers a great experience. The flow and professionalism of the theme design is perfect and customers will be impressed as they visit your website.
On the homepage there is a full-width video. This can highly the best parts about your brand. It can also be used to tell an emotionally engaging brand store, feature product benefits or to deliver core messages to customers. There is also the chance to connect your website to your store's Instagram account.
The theme contains lots of other features. If you're looking to blog, you can engage readers with the Disqus commenting system.
Parallax Highlights:
A highly popular theme that has all the elements you need to make a great website.
Add social media links to your website to encourage growth in these areas.
Utilize videos on your homepage to build trust and improve conversions.
You can engage audiences with the Disqus blog comments system.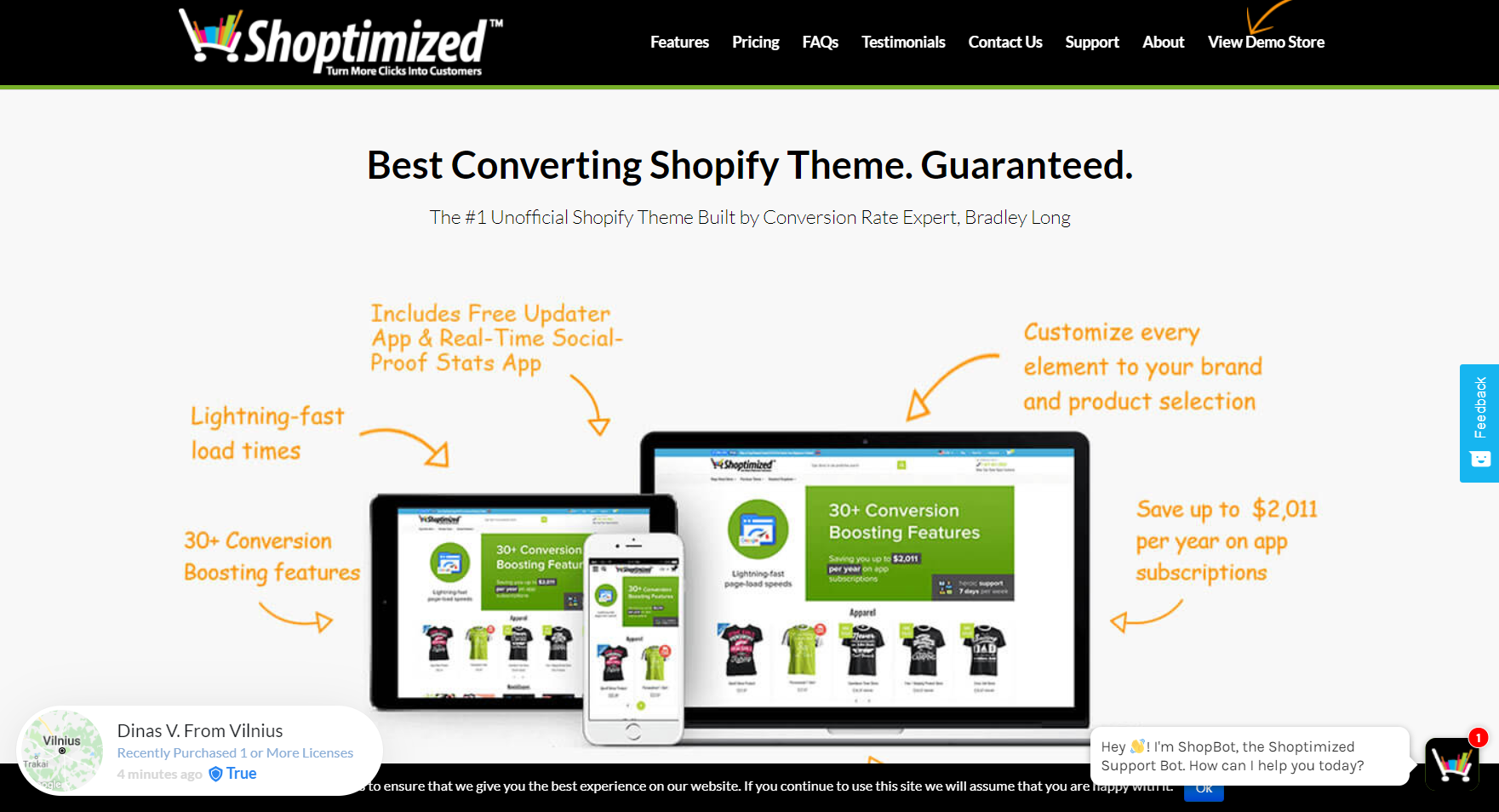 When you want to have an all-inclusive theme, Shoptimized is one of the best themes available. The theme comes with lots of stylish options that allow for a fantastic website that can help you convert more traffic into customers without too much trouble. The theme was built for mobile devices, allowing users to use whatever device they want to visit your website. The website loading times can be less than a second which help you to rank highly on Google and other search engines.
To help you design your website, there is an easy builder that can be utilized by even the most novice Shopify users. The website can be built within a few hours, features added and you can be making your first sale within 14 days.
There are lots of new features that you can use on this theme too. The developers have calculated that you can save about $2000 on app subscriptions with the theme. Some of the features that are included are those to help improve urgency like countdown timers, stock counters, etc. and there are also email marketing features to help you build a long time following.
If you want to sell internationally, there are also options for this including Geo-IP functionality and a currency switcher.
Shoptimized Highlights:
Save more than $2000 on app subscriptions with additional features included with this app.
You can improve conversions with lots of urgency tools.
Market to your audience over a longer period with email marketing functionality.
Sell across the world with international tools that allow you to reach a wider audience.
Final Word: Which of these 10 is the Best Icon Shopify Theme Alternative
If you want to have an Icon Shopify theme alternative, then there are lots of options. Above are ten of the best that you can immediately use to make your website better. Which one will you use? Let us know in the comments below.
Avi Klein
Vast experience in the online world. Shopify Expert, SEO expert, Web developer and consultant to several online companies. Read more about
our approach
to reviewing themes and apps.