10 Best Print on Demand Shopify Themes
Last modified: May 26, 2023
#
Image
Name

Get a Free Custom Shopify Store
1

Palo Alto

2

Polaris

3

Symmetry

4

Startup

5

Artisan

6

California

7

Highlight

8

Booster

9

Woodstock

10

Avatar

Show More
Customizable products are very popular because customers can get a unique product that can't be replicated. There are numerous print on demand apps that are available to help make it happen. In addition, you can enhance the experience for your audience by using one of the best print on demand Shopify themes.
What are you Looking for in Print on Demand Shopify Themes?
There are many aspects that you want out of any of the print on demand Shopify themes that are available. The first thing that you need is something that will improve the experience of your customers. Many businesses that offer print on demand products have lots of different products. Therefore, you might want filter and live search features. Though there might be other elements that you might need more.
For one, you will want to have your website easy to find on search engines. There are numerous parts of a website that make it easy to be found on Google and other search sites. One thing is good code. The less code that you have on a theme the faster it will load within browsers and the higher you will rank.
The higher your rank the better. Research has shown that those who are within the top three search results get more than 80% of the traffic. Those in the bottom five of the first page on Google results will only get about 2.5% of the search traffic. Search traffic can be high converting, so you need to improve your rank whenever you can.
In addition, speed is very important. The faster your website, the more revenue you will get. For every second that it takes your website to load, you will lose about 7% of your revenue. Most eCommerce websites take between 8 and 11 seconds to load. Therefore, some eCommerce stores can lose up to 77% of their revenue.
Some of the themes on this list can load in less than a second, allowing you to improve revenues by nearly two or three times. So what themes made it onto our list for the 10 best print on demand Shopify themes?
Filter between free and paid
Palo Alto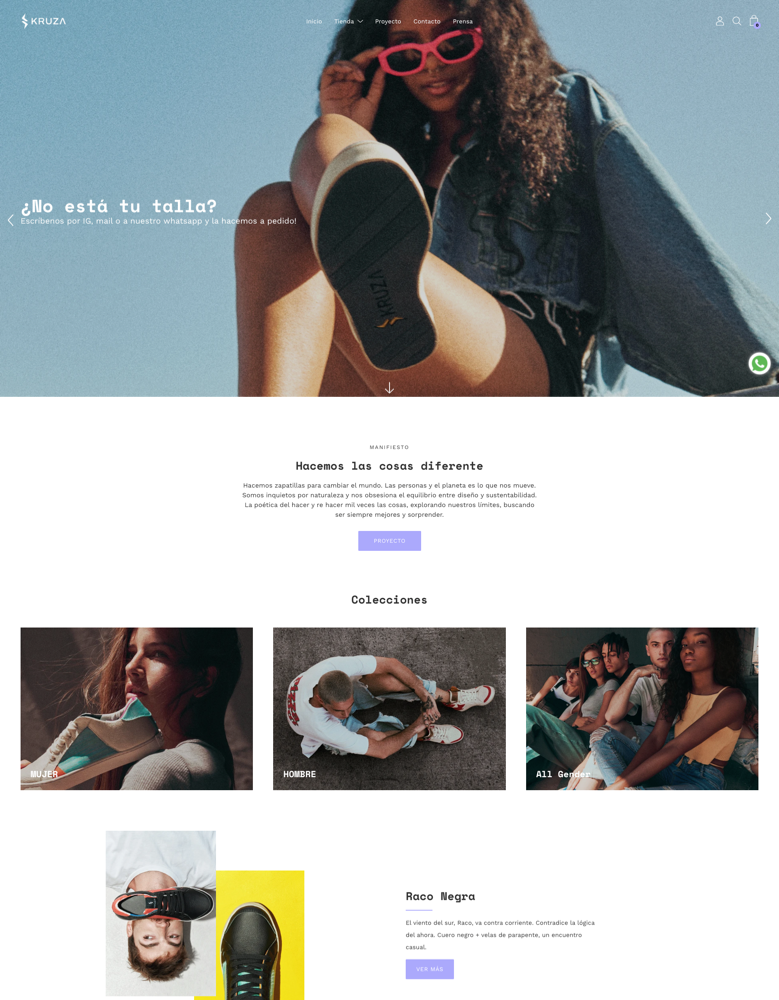 Palo Alto is great if you've got a smaller store where you want to have a limited catalog. There are three basic styles that can help you create the initial design of your store. You can then customize the basic design of your website with numerous elements that can have text, images, colors and more changed. This can help you brand your website with a clear and concise message.
The theme is also perfect for audiences to view products on your website in great detail. You're able to add high-resolution images that give a better view of the products on your store. You're also able to showcase the brands best points and the reasons why customers should buy from your brand. This is done through a hero video that can be located in several locations across your website. You can include the video on product pages, homepage and other pages that you would like the video to be shown. This can help you build trust with your audience and this can increase revenues.
There are also other ways to help build trust with your audience. You can utilize customer testimonials that can be displayed on your website with ease.
Palo Alto Highlights:
Perfect theme for those who want to make their website responsive and viewable on all devices.
This is a fast loading theme that can help you reduce bounce rates and improve conversions.
Promote your store's core values with a great hero video that you can add to anywhere on your website.
Feature the best products in your store with a masonry-style grid on your homepage.
Polaris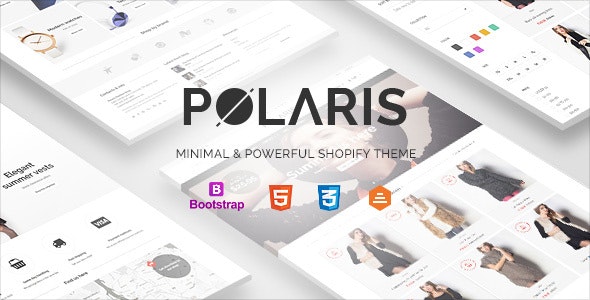 Polaris is one of the most popular minimalist themes available on the Shopify store. If you're looking for a theme that will perform well on mobile devices, then this is a great option for you. There is limited coding and is responsive, therefore you can have a faster website that will display perfectly across all screen resolutions. The theme has also been designed to be used across niches, even those that sell customized products.
Polaris has some of the best features that you can have for a website if you would like to grow. The first is a great product filtering system that can allow customers to reduce the number of products displayed based on the choices that you set. You can set the choices based on color, brand, price and more. This can reduce the decision fatigue of your customers and therefore reduce the number of people who abandon their cart on your website. You can customize the filter to your specific needs.
There are also ways that you can build a long term relationship with customers. This can be through a newsletter popup that subscribes visitors to your website into mailing list contacts. This can help you build long-term sales and with great review features, you can also build trust with customers. You're also able to engage more with audiences through social media integration that is included with this theme.
Polaris Highlights:
Is a minimalist design that allows you to have a great, fast website that is easy to customize.
It can load very fast on any device and it can adjust to any screen resolution that your customers might be using.
All customers to find your local store or a collection point using the Google Maps integration.
This is perfect for those store owners who have no experience with website design.
Symmetry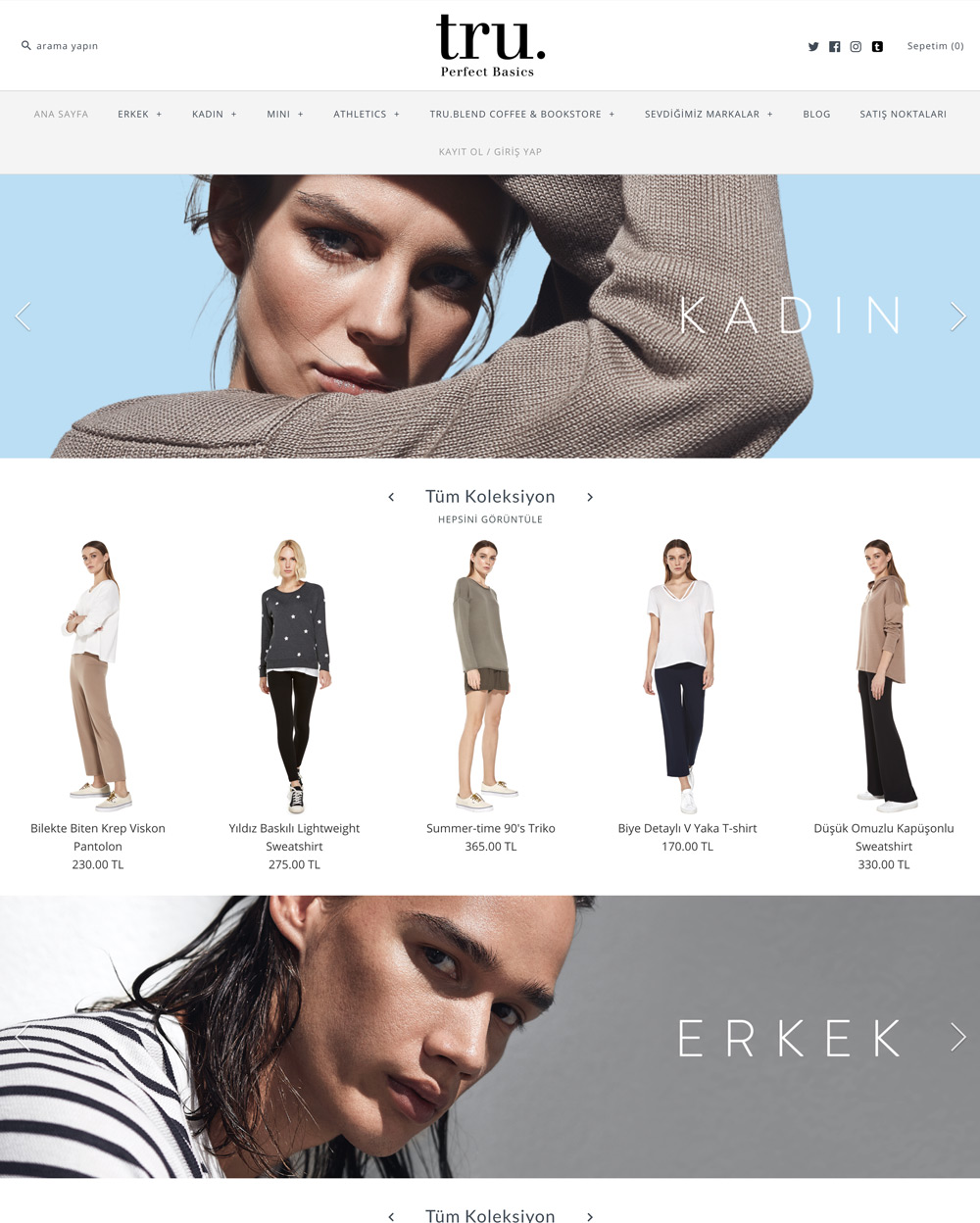 Symmetry is one of the top responsive themes available on the Shopify store. It is a sleek, modern design that can help you build a trustworthy store. It takes just minutes for you to get your website theme loaded and your website designed. Therefore, you're not wasting time getting your website going. When visitors arrive on your website they will be impressed by the design and you can see some great conversions. The theme is also perfect for attracting lots of traffic as it has all the features to help you to rank well on Google.
To help you design the website there are lots of great core features to utilize. For instance, there is a multi-column menu option that will improve the user's experience on the website and help them navigate across your store, finding the products and other information they need. You can also speed up the purchasing process through the use of a 'quick buy' option that allows customers to move from the product page to the checkout with just one click. This is very similar to how Amazon works.
To help you improve engagement across your store, there is an Instagram feed to help your website attract long term social fans. This is a great addition to the store and is perfect for those brands with high visuals.
Symmetry Highlights:
This is a mobile-friendly theme that looks great on any device with any screen resolution.
You can use free stock images on your website that can help you improve the professional look of your website.
Advertise your products through social media channels and get more information about your brand out there.
You can choose from four different styles that can help you get more out of marketing.
Startup
Startup is one of the top themes for those small businesses that want to sell specialist products or small lines of customizable products. Therefore, if you want to have a small online offering, this can be one of the best choices for you to use. It has been used by numerous businesses that have small catalogs and is perfect for integrating with marketing campaigns and platforms to grow audiences and sales.
The theme utilizes a modular design that allows you to easily customize your website. If you're new to owning a Shopify website, this makes it the perfect option. To help you get started there are four different styles that you can choose from.
The theme includes some great successful relationships with audiences. There is a customer testimonial section that can promote what your past customers have stated about your brand. You can also further enhance the experience with review apps, though this isn't necessary, it can make a big difference in your sales.
You can showcase your products on a wide layout. For this to work, you need to have lots of big images that can show off your product in fine detail. This can help improve sales and convert more visitors on your website.
You're also able to integrate this theme with videos. You can use one video on your homepage that can portray more information about your brand, products and the process. Videos have also been known to increase the conversion rate on websites.
Startup Highlights:
Optimize the website for use on any device for perfect engagement with audiences.
You can optimize the website for search engines, giving you higher levels of traffic from Google and other search engines.
You're able to use free, professional images from Burst to populate your store.
Four basic styles can be used as a base for your website's design and then you can customize them.
Artisan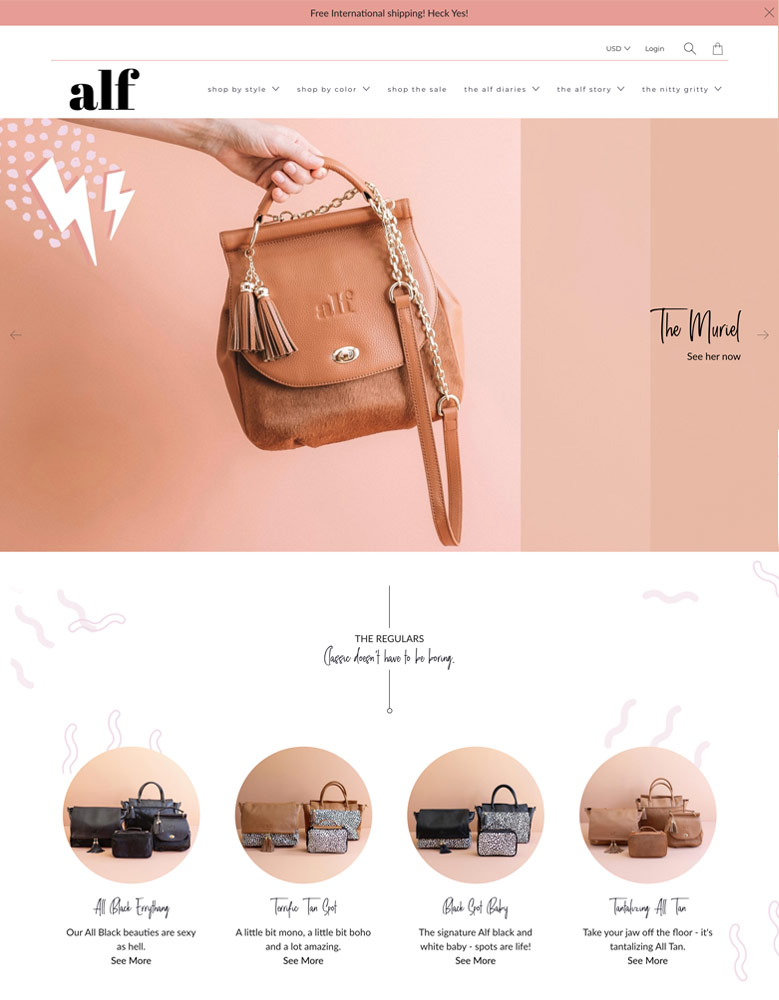 Artisan has three modern and aesthetically pleasing styles that you can use for your website's basic design. This hasn't been designed specifically for customized products, but it can certainly deserve a place on your shortlist. There are lots of areas where this theme can help you sell more products. The focus of this product is on imagery and there is an image gallery that can help you display your products with clear precision.
You can also integrate your website with Instagram for added social media attention. However, to draw attention more to your high-value products, you can feature these on your collection page. This can help you increase the sales on your website and improve the profits of your website. You can also showcase different products side-by-side so that customers can see the products in comparison to make informed decisions. You can include key features, pricing and other bundle information on the comparison page.
To help you build trust with your audience you can use the customer testimonial section of your website. You're also able to share comments and quotes from past customers. When customers want to ask a question about your products, then there is a custom form for communication that they can use.
Artisan Highlights:
This is one of the best-looking themes with three amazing styles that you can choose from.
Draw attention to your products with a featured product image.
Optimized for search engines, to help you grow your traffic.
This is one of the fastest loading themes available.
California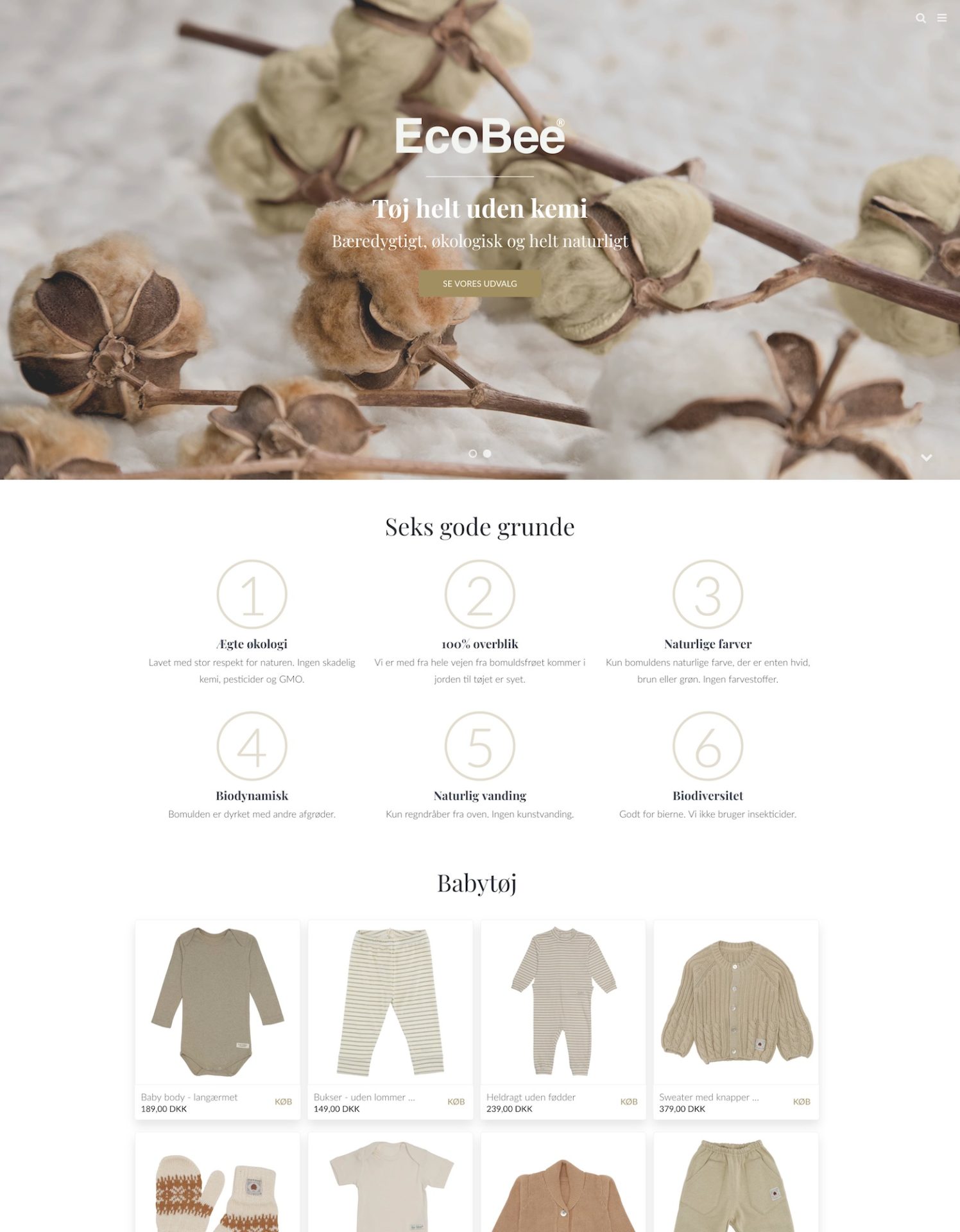 California is one of the most used Shopify themes that helps you build a visual story of your brand. It is perfect for selling to fashion-conscious people who want to have customizable products. There is a great header slideshow that can be featured right on your homepage. This can display brand images or multiple products to showcase what you have on offer. You're also able to promote products through an Instagram feed that has been designed into the theme's core code.
To help customers find products on your website, there is a product filtering system. Customers can restrict the visibility of products based on numerous elements including whether they're a best seller, price, color, brand and more. You can also customize the options to make them more unique for your brand and products. This helps reduce the customer decision fatigue that can happen on some stores.
California Highlights:
Has been built for search engines, allowing you to have more traffic from Google and other sites.
Has a mobile-first design, helping your website look great on any device.
There are lots of image options to help your site promote your products with great images.
Instagram functionality has been built into the theme's core design.
Highlight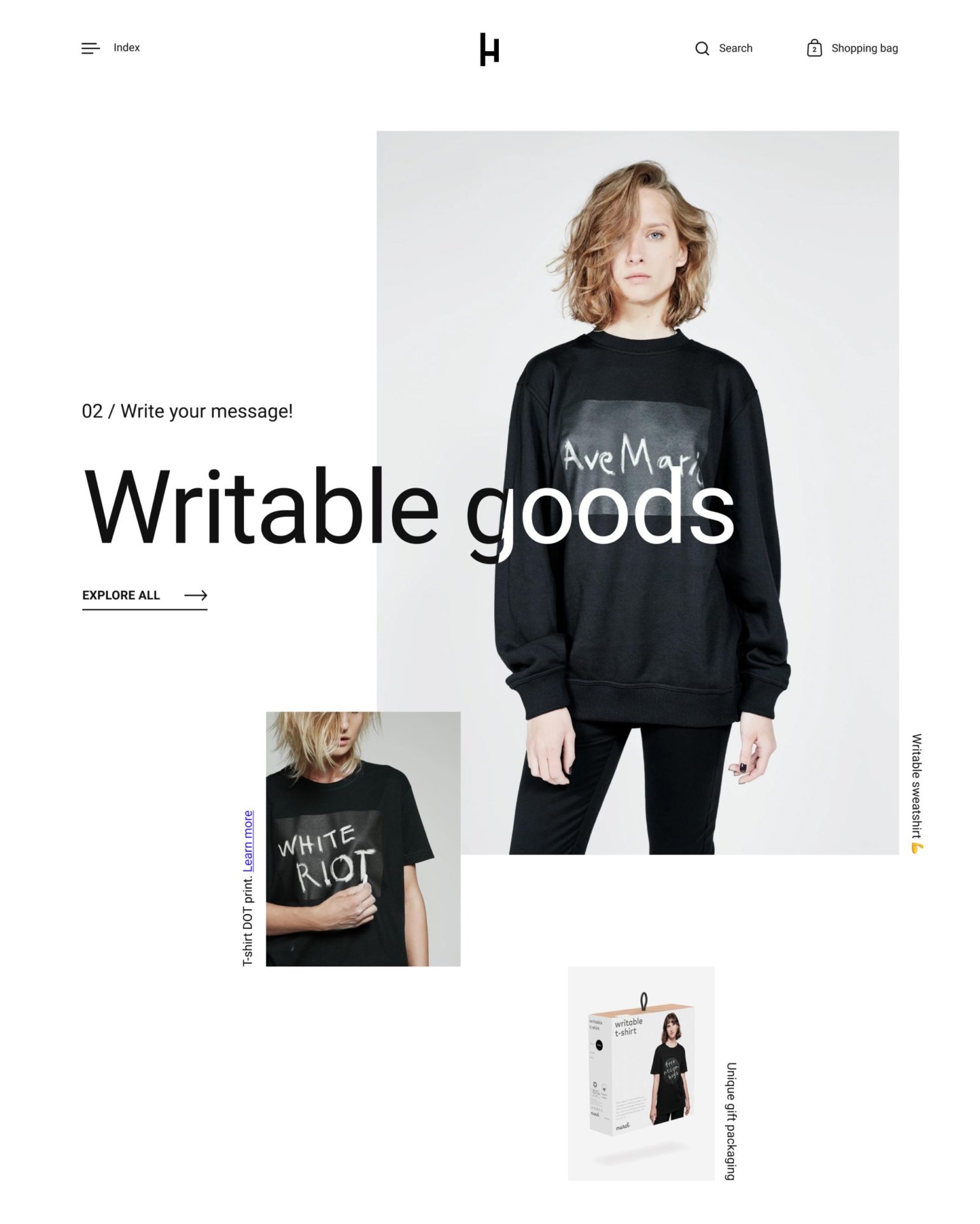 Highlight is one of the top themes for numerous niches. There are great styles that can be created with this theme that can be perfect for your website. The theme has been designed for those with smaller catalogues and therefore you can concentrate your marketing into a select few options. To help you sell there is a parallax slider that can look really impressive to guests. It also ensures that customers don't miss out on anything on your website.
To help your website improve the promotion of products, there is an asymmetrical product grid. This allows all products to stand out and you can customize the design to make it more detailed and specific to your needs. You can also highlight key product features, benefits and more with a simple image slider and icons.
The app can also include features to allow for longer-form text. For instance, you can help customers find out more about your website's products and more.
Highlight Highlights:
This is a minimalist design that is perfect for converting with lots of white space utilization.
Optimized for displaying products in great designs.
Optimized for speed and search engines to help you convert more and get more traffic.
There are numerous features to help you build a better website.
Booster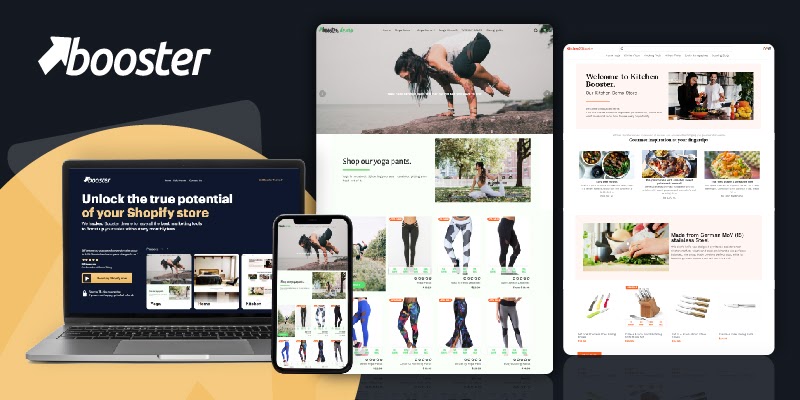 Booster is one of the top-rated Shopify themes that you can use on your website. It is fast, has lots of great functions and has good speed. The developers of this theme have calculated that the theme can save users about $3000 per year in app subscriptions.
Some of the functions that can be found with the theme include countdown timers, currency conversion, popup creation and more. You can also have live chat on your website with ease.
To help build trust there are social proof elements as well.
The theme is really fast. Loading times for pages are often less than one second. Customers won't even notice a delay as they move around your store.
Booster Highlights:
You can save more than $3000 on apps with all the added functionality on the website.
This is a fast theme that allows you to have pages load within a second.
Improved ranking on Google and other search engines can help increase the levels of traffic to your website.
This has a mobile-friendly design to help your website be seen on any device with any screen resolution.
Woodstock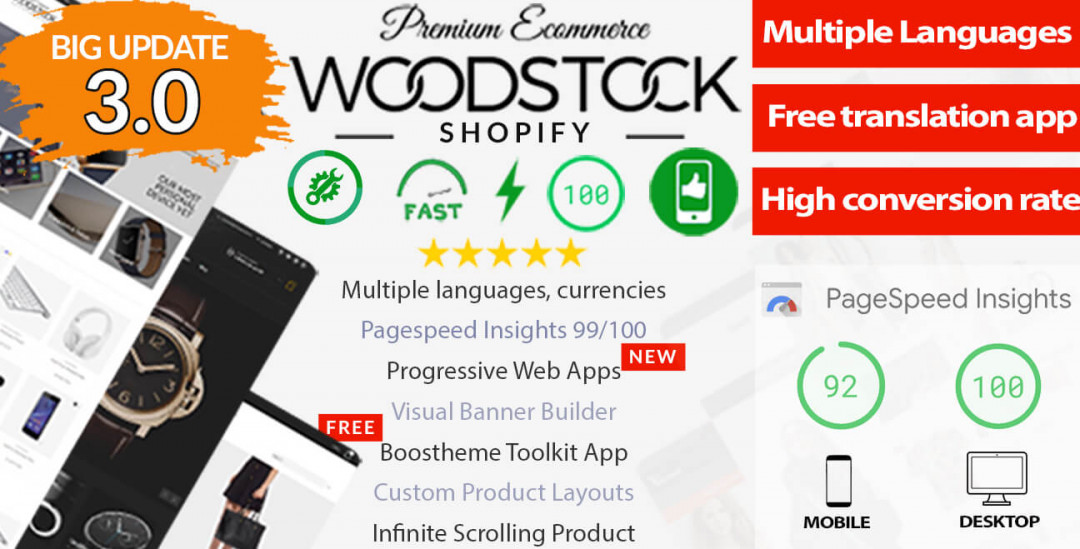 Woodstock has been specifically design for numerous niches in eCommerce. It is perfect for customized products and it has great SEO potential as well as enhanced speed for the perfect experience for users.
You can use any of 12 homepage styles that are available. Each of these styles are the starting point of your website build. You can then customize them, changing text, colors, images and more to build a website that is more aligned to your brand and business needs. This can help you look more unique and the website aligned to your branding.
You can also increase navigational experience on your website through mega menus and showcase your best products, brand messages, discounts and more through a product slideshow.
Woodstock – Electronics Shopify Sections Theme Highlights:
One of the most responsive themes that you can use on your website.
There are lots of added features that can help you get the most out of theme.
Perfect for viewing on any device and those with varying screen resolutions.
The theme has been extensively tested across platforms.
Avatar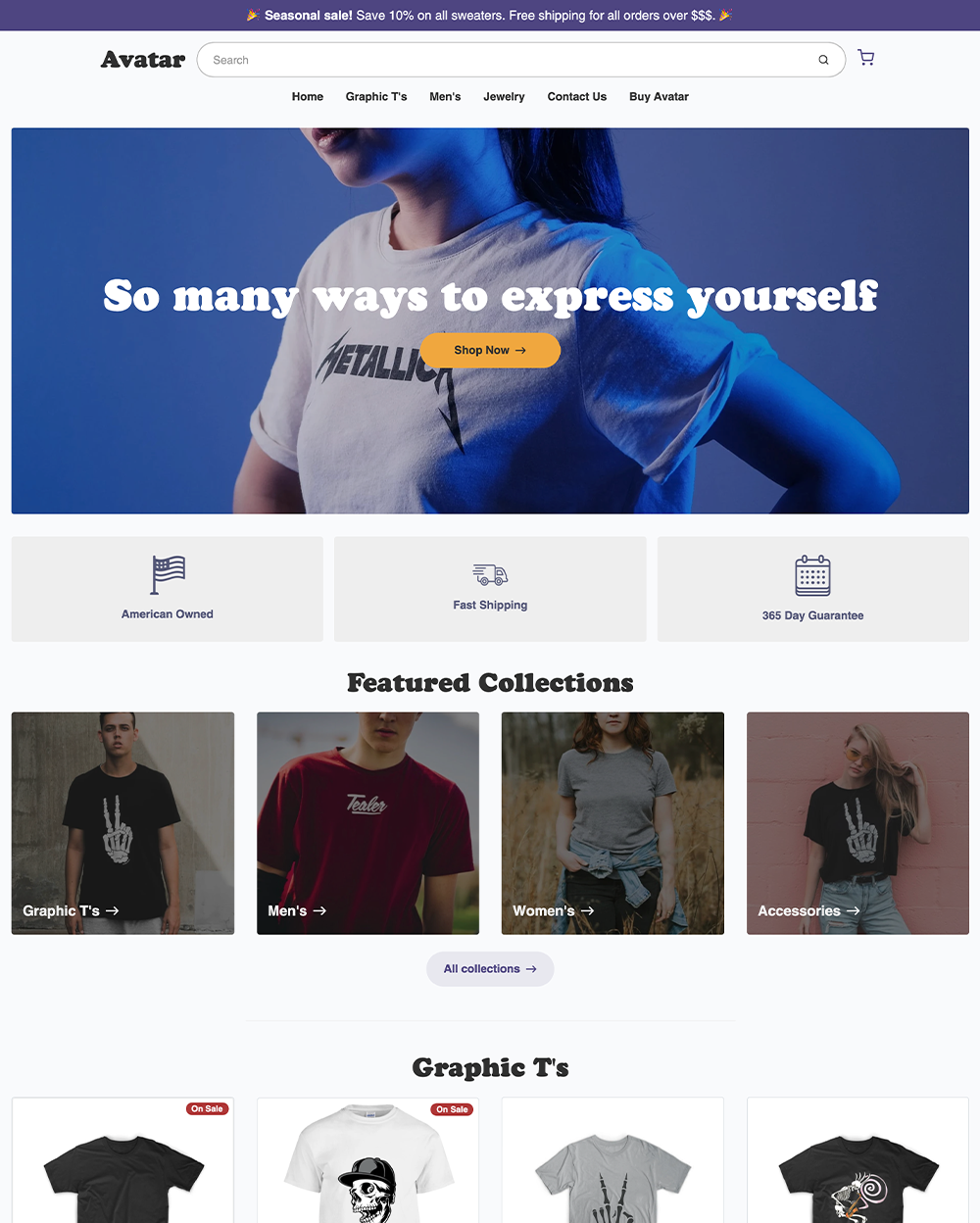 Avatar is one of the top-performing Shopify themes with a clear fashion focus that looks modern, sleek and perfect. There is a perfect set of tools that allow you to have a website set up within minutes and you can get it aligned to the brand's story. This can emotionally invest your audience, improving your chances of conversion.
Avatar is mobile-friendly with great social media integration, allowing you to be viewed on any device, and you can promote your store across platforms.
There are two basic styles that you can use to get started. These can then be customized for your website's specific needs. You can add images, text, change colors and more.
Avatar Highlights:
Is optimized for use across devices and with any screen resolution.
Optimized for ranking across search engines for higher levels of traffic.
Visual brand storytelling, helping you to make more about your brand and emotionally pulling in your audience.
Easy to install and use with two basic styles to choose from.
Final Word: The 10 Best Print on Demand Shopify Themes
If you're looking for one of the best Shopify print on demand themes, you need one of the ten options above. They're easy to install and can be customized without an issue. In addition, they can help you generate more traffic and convert more customers. Which one will you install?
Avi Klein
Vast experience in the online world. SEO expert, Web developer and consultant to several online companies.
Read more...
. Read more about
our approach
to reviewing themes and plugins.