Top 10 Shopify Amazon Product Feed Apps – [2023]
Last modified: July 4, 2022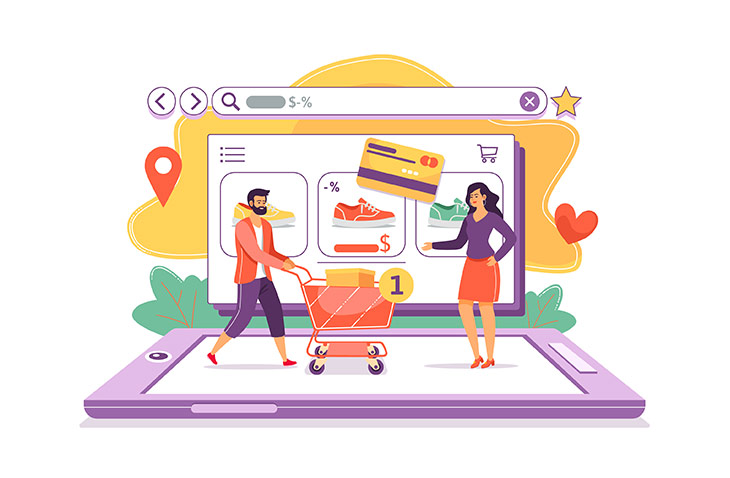 #
Image
Name

Get a Free Custom Shopify Store
1

Linksis - Amazon Importer

2

Connectr for Amazon Sellers

3

Multichannel Importer

4

Amazon Associate Connector

5

Amazon Integration Plus

6

Zonify ‑ Amazon Dropshipping

7

Linkify ‑ Amazon Importer

8

Amazon channel

9

Product Feed Generator

10

Spreadr App ‑ Amazon Importer

Show More
Are you looking to have your Shopify store used as a shop front for Amazon products? Amazon offers a very comprehensive affiliate package that allows you to sell products that are on Amazon and collect a commission while Amazon fulfils the order for you. For this, you might want to use one of the Shopify Amazon product feed apps.
What can Shopify Amazon Product Feed Apps do for Your Store?
Shopify Amazon product feed apps allows you to showcase a selection of Amazon products on your Shopify store. The customer then buys these products from Amazon via your website and you get a commission. Sometimes, the customer is taken to the checkout page on Amazon.
Therefore, you don't have to touch the product, shipping or other element of the process. You just market the product and sell it through your store to get the commission. The advantage of this system is that the product can often change on Amazon, and this can cause problems if you're using information you've just copied with a custom button affiliate link. These apps can do all the work for you and keep the data up-to-date.
Some other apps might allow you to copy the products from Amazon onto your store, make small adjustments to your site's content and sometimes you can even sell the products yourself. But for this you will need to have the products yourself to sell. You can't expect to be able to buy the product yourself from Amazon. You might find that the product is gone and you'll disappoint your customers.
So, what are the best Shopify product feed apps for your store? Here are some of the best options we've seen.
Filter between free and paid
Linksis - Amazon Importer

This app is one of the most perfect for those that want to dropship with Amazon. You can use Shopify as if it is an affiliate site and then earn money from the commissions of the sales that you make. Linksis is a trusted and perfect app for those new to the practice as well as those who've operated affiliate marketing before.
To make your life easier, when you create a catalog on your site, the products are linked to their Amazon pages on the website. All you have to do is then advertise your brand and website. When customers want to check out the products, which can be stored on a cart on your website, they're taken to the Amazon checkout page. This makes it a lot like dropshipping as well.
The app allows you to import your chosen products from the eCommerce giant directly into your Shopify store. The products will be synchronized as needed. This will include the latest stock information, product images and other information that might be needed to ensure you can sell your products. It also means that your products are up-to-date and that there can't be times when customers will be disappointed.
You can also integrate product reviews into your store, building trust and improving conversions. You can also have smart search facilities on your website.
Linksis – Amazon Importer Highlights:
Synchronize products on your site in real time with the Amazon marketplace.
Use Amazon like a dropshipping partner and collect commissions with not shipping or stock costs.
Customize your 'Buy Now' button.
You can bulk import the products you want from Amazon into your store.
Connectr for Amazon Sellers
You don't need any technical skills to use the Amazon Seller product importer. All you need to do is to connect your Shopify store to the Amazon seller's account you use. Then click a few buttons and you can import any product you sell on the marketplace into your website. The simple app will take care of everything for you, from variants, high resolution images, stock levels, descriptions and categories.
When changes need to be made to products, the app can also help there. Changes, like a change to product description, stock levels, etc. are made on both platforms simultaneously. Or you can ask the app to check for changes on both channels and synchronize the product descriptions every 24 hours.
To improve trust between your brand and your customers, you can direct visitors to your Amazon Seller's page. There customers can purchase products from you, see your rating on Amazon and more. This is great if you need to improve your conversion rate.
The app supports numerous marketplace stores, like those in North America, Europe and is moving into other areas like Japan and Australia.
Connectr for Amazon Sellers Highlights:
You can manually or automatically synchronize products on Amazon.
Import all your products from your seller's account on Amazon.
Take orders through your website, but have them fulfilled by Amazon for better processes.
Improve trust by linking your website to your Amazon Seller's profile.
Multichannel Importer

The multichannel importer is a very comprehensive app that does more than just import products from an eCommerce channel. It allows you to import products from numerous sources at one time, including Amazon, eBay and more. All the details for the products can be imported in one action. The imports can include product descriptions, images, inventory, price and other important aspects that can help you sell the products.
When products have been imported into your website, they're instantly available to be bought by customers. And you can have numerous images attached to products, this can improve conversion rates and reduce returned items as customers can see more clearly what they're getting and expectations are set better.
You can synchronize all prices and stock levels with the merchants that sell the products. Therefore, you can never sell more than you can provide to customers. So you won't upset customers and give your brand a bad name. All synchronization can be done on a daily basis, to keep your website up-to-date.
Multichannel Importer Highlights:
You can manage and fulfill orders with Fulfilled by Amazon system.
Can import from numerous different marketplaces, not just Amazon.
Synchronize all the stock levels of your products every day,
Free to install the app on your site, there are costs which are applied during certain processes.
Amazon Associate Connector

Amazon Associate Connector apps is designed for those using Shopify who want to sell an Amazon hosted product on their site and earn an affiliate commission. This allows you to focus on just one aspect of the selling process: marketing. Amazon will handle all of the shipping and after sales care. While you have the commission and can move on to growing your business.
This app allows you to import products directly from Amazon with just one click. You can handle products that have variants with ease or you can import them as different products: the choice is yours. You can also synchronize all inventory and pricing from Amazon to your Shopify store, preventing you from trying to sell a product that is now more expensive or not available any more and losing out on that commission.
This app only works with the Amazon Associate Program and will not work with your Seller's account. However, this app will add the 'Buy Now' button that will include the affiliate link to the specific product pages. You can also have your own products mixed in with Amazon products on your site.
All app users get access to a dedicated account manager who they can contact through email and Skype. If you need any help with the app, the account manager can assist you.
Amazon Associate Connector Highlights:
A dedicated account manager who can help you with anything app related.
Import any Amazon product from the Amazon associates profile.
Synchronize pricing and stock levels with Amazon.
Takes just one click to implement.
Amazon Integration Plus

Another approach to having an Amazon product feed is to be on the Amazon Plus system. This app allows you to do this for numerous compatible categories like fashion, technology based products, culture, games and more. The app allows you to have your products registered on the Amazon Plus marketplace, giving you exclusive access to some customers.
The app will also allow you to synchronize stock between your store and Amazon. Therefore, you will never sell more than you have. You can also import orders manually or automatically through a scheduled task. The app is fully compatible with the 'Order Printer' app.
The app also allows you to sent notifications of shipping, tracking numbers and more through the Amazon email system to customers. You can use numerous carriers including DHL, Fedex, UPS and more.
Amazon Integration Plus Highlights:
Sell your products on Amazon through the Amazon Plus program.
Compatible with several couriers across the world.
Import orders from Amazon manually or on a scheduled list.
Compatible with other apps to make workflows easier.
Zonify ‑ Amazon Dropshipping

Zonify allows you to significantly increase your store's revenues while also automating much of your workload to save time, money and energy. Therefore, you can have a better experience running your eCommerce store. The app allows you to instantaneously import products from Amazon. It takes just a few clicks. Then Zonify, will semi-automate the fulfillment process as if Amazon is a dropshipping partner of your business.
To add a product, all you need to do is to visit Amazon while using the Zonify Chrome Extension. Find the products you want and then click on the 'Add' button on the products you would like to import to your store. This will take care of the rest for you.
You can edit product information if you would like. For instance, you can edit the product name, description, add images and more. This editing takes no time at all. Zonify works across numerous different Amazon stores, not just the US and Canadian stores. So you can sell across the world.
Zonify ‑ Amazon Dropshipping Highlights:
Easy to select the products you want from Amazon and add them to your store.
Available in multiple territories.
Reduces the product import time from Amazon.
Edit the product information to ensure that you have unique copy and better for SEO.
Linkify ‑ Amazon Importer

Linkify allows you to import any product that's hosted on the Amazon website into your Shopify store within one click. There's an option to use the Amazon Affiliate or Amazon Dropshipping program for you. To add a product all you need to do is login to Amazon.com, choose the product you want and copy the Amazon product link to paste into the Linkify dashboard. As soon as that is done, the product will be added to your store.
You can host products of your own alongside products that are on Amazon. Therefore, you can make more money. You can choose to use the dropshipping method or the affiliate marketing business model to ensure that your business is making the most of the revenues it makes and you're happy.
Linkify ‑ Amazon Importer Highlights:
Create an Amazon dropshipping or affiliate marketing account on your website.
Easily add products with just the product link.
Easy to install.
Easy to use.
Amazon channel

This app allows you to sell on Amazon, the world's largest online marketplace by creating listings for products on your store or linking your existing listing on Amazon to your Shopify store. You can manage all inventory on Amazon and Shopify and you can fulfill Amazon orders within the Shopify environment.
To use this app you must sell in either USD or CAD. You must also have an Amazon Professional Seller Account that is enabled on Amazon.com or Amazon.ca. There is a monthly cost for this account, but it is different on each platform. You're also limited on what categories you can sell with. You can check with Amazon what categories are as these can change at any time.
Amazon channel Highlights:
Add your products to Amazon to sell on their platform.
Link current Amazon hosted products to your products using the app.
Requires you to be operating in US or Canada only.
Can only sell in certain categories, ensure you match requirements with Amazon.
Product Feed Generator
This app is designed to help you sell more on other platforms, including Amazon, Google, Bing, Facebook, Instagram, Snapchat and more. You can generate and manage all shopping feeds from one dashboard, allowing to you have an easy control over your multi-channel sales business without the need to have to switch dashboards all the time.
All the information about your products can be synchronized based on the information as it changes. For instance, price, images, descriptions and more can be altered in one place and the changes pushed through to all the feeds that you're currently listing the product on.
Product Feed Generator Highlights:
Convert the weights of your products into other acceptable units.
Optimize your titles for better ranking on Google and other sites.
Inventory rules can be applied.
Easy to manage multiple shopping feeds across numerous channels.
Spreadr App ‑ Amazon Importer
This app allows you to import any product from the Amazon store directly into your Shopify site with just one click. When a customer purchases a product on your store, the order is fulfilled by Amazon and you receive a commission for the sale. You need to signup for the Amazon Affiliate Program for this to work. However, this program is free.
Therefore, with this app you can expand the number of products you have on offer on your store. You can also improve conversions that other affiliate marketers can struggle with because you can give more detail about the product than other customers.
The app allows you to change the title and description of the imported products on your store. Therefore, you can improve the products' potential ranking on Google. This can lead to more traffic and better revenues for your business.
Spreadr App ‑ Amazon Importer Highlights:
Import any product from Amazon with one click.
Collect a commission every time someone makes a purchase.
Host your own products alongside Amazon products.
Customize the Amazon product listings for better SEO or more alignment with your own brand.
Final Word: Top 10 Shopify Amazon Product Feed Apps
Amazon is the world's largest marketplace online. There are millions of products hosting on the sites and you can use these, through the Affiliate marketing schemes or dropshipping programs to grow your business without having to do too much work. Use one of the top Shopify Amazon product feed apps above to help you take that step and grow your business with ease.
Avi Klein
Vast experience in the online world. SEO expert, Web developer and consultant to several online companies.
Read more...
. Read more about
our approach
to reviewing themes and plugins.