10 Best Shopify Bag Store Themes
Last modified: July 6, 2021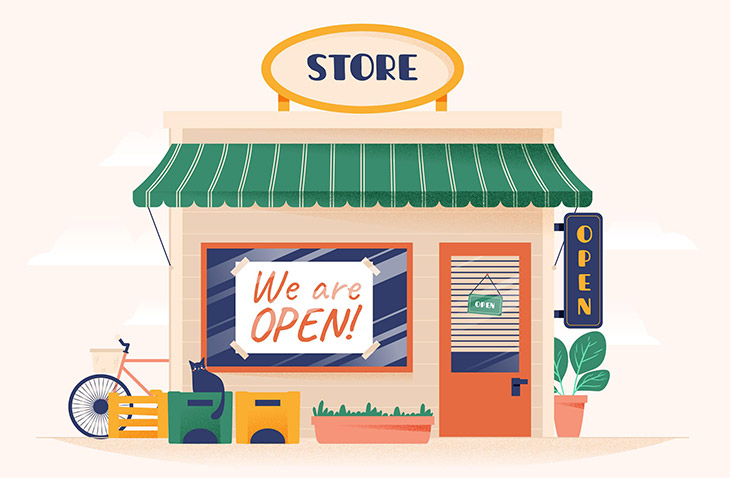 #
Image
Name

Get a Free Custom Shopify Store
1

Blockshop

2

Artisan

3

Broadcast

4

Streamline

5

Boundless

6

Fashionopolism

7

Supply

8

Booster

9

Retina

10

Parallax

Show More
Bags are a very popular accessory and there are lots of people who will buy multiple bags and store them in their wardrobe. Therefore, if you have a bag brand, you have an excellent chance to earn a good level of revenue online. But to help, you will need to have one of the best Shopify bag store themes.
What Are You Looking For In Shopify Bag Store Themes?
When you start looking to buy one of the Shopify bag store themes, you need to make sure you're getting a theme that is most suitable for your brand and needs. There are lots of different requirements for your website to be a success. You will need speed, optimization for search engines and high conversions. At the same time, you need to have the functions to improve management.
The first element speed has a direct relationship to conversions and ranking. A faster website is seen as a better experience for customers therefore Google will reward brands by ranking them higher. A website that ranks at the top of search results will get 25% of the traffic. If you rank between five and ten on a page, you will get about 2% of the traffic. About 70% of your website traffic should come from search engines.
A website that loads fast is also going to generate a lot more revenue. For every second that it takes for your website to load, you will lose 7% of your revenue. Most websites take between 8 and 11 seconds to load, but a lot of great themes can help you load in less than 4 seconds. Therefore, by using one of the best Shopify bag store themes you can double the revenue.
In addition, you need to look for ways in which you can increase conversions on a website. There are many ways that this can be done. For instance, you can use urgency, good design and more. Every theme has a different set of features that can help you.
So what are the best Shopify bag store themes? Here is a list of our suggestions.
Filter between free and paid
Blockshop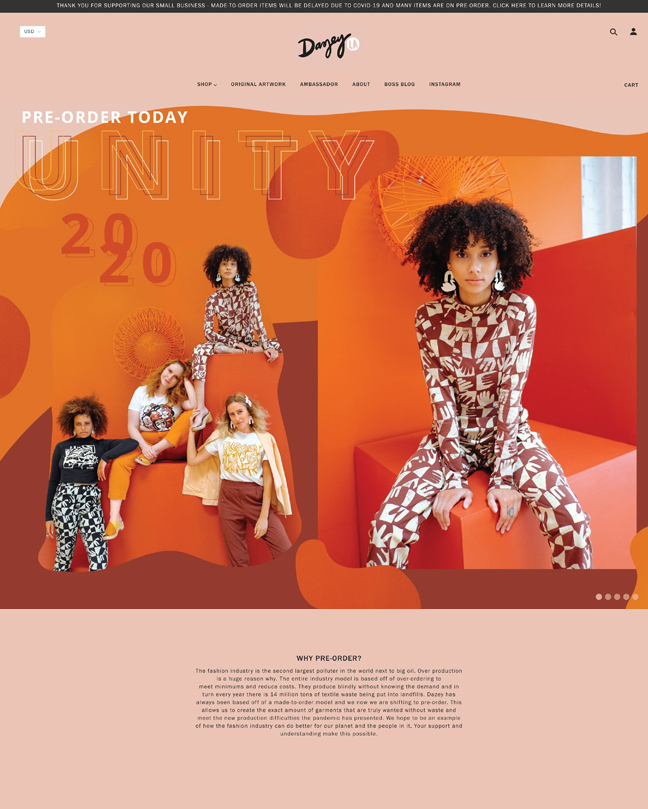 Blockshop comes with a set of four fantastic styles that can help you with the basic design of your blog and get your website building going quickly. There are lots of features that are image and video-based, which is very important in the fashion niche. There are also some really good blogging aspects to this theme that can be very helpful for building your ranking as those brands that blog will get more traffic. One key aspect of this theme is the video. You can have a video hosted on YouTube or Vimeo and displayed on your homepage.
You can also use a wide layout design. This can help you make the most of the imagery for your website and brand. All images can look big, bold and beautiful and this will improve the product's attractiveness and increase sales. There is also the option to have multiple slideshow on your homepage. These slideshows can be used to promote products on your store or enhance your branding. Slideshows can also be used across your website on other pages. Instagram feeds can also be applied.
For navigation, there is a great multi-column, dropdown menu that can help customers find what they're looking for.
Blockshop Highlights:
This has been optimized for search engines, so you can be found on Google and other search engines.
You're able to have your theme optimized for mobile viewing for increased user experience.
Perfect for those who are looking to engage audiences with lots of touchpoints.
There are free stock images provided by Burst to help populate content on the website with professional imagery.
Artisan
Artisan has three modern styles that can be applied to your website. There are some great starting points that allow you to build a fantastic website for your bag store. While this has not been specifically built for the fashion niche, it has all the features and design elements that make it a great choice. One of the best features of this theme is the pricing table that can display bags against each other for comparison. There is also the ability to integrate your Instagram account into your website.
To draw attention to your brand's best products with audiences, you can feature one product on any collection page. This can improve the conversions and sales of items that you might want to sell more. This could be because they have higher profit margins or you wish to discontinue the product soon and would like the stock to go.
There are also options to build trust on your website. There is a testimonial section that customers can use to find and share feedback about your brand. You're also able to engage audiences through a customizable contact form.
Artisan Highlights:
There is an aesthetically pleasing set of styles you can use for your website.
Direct the attention of the audience to featured products.
Optimize your website for search engines to increase traffic levels.
Reduce loading times that can improve conversions and revenues.
Broadcast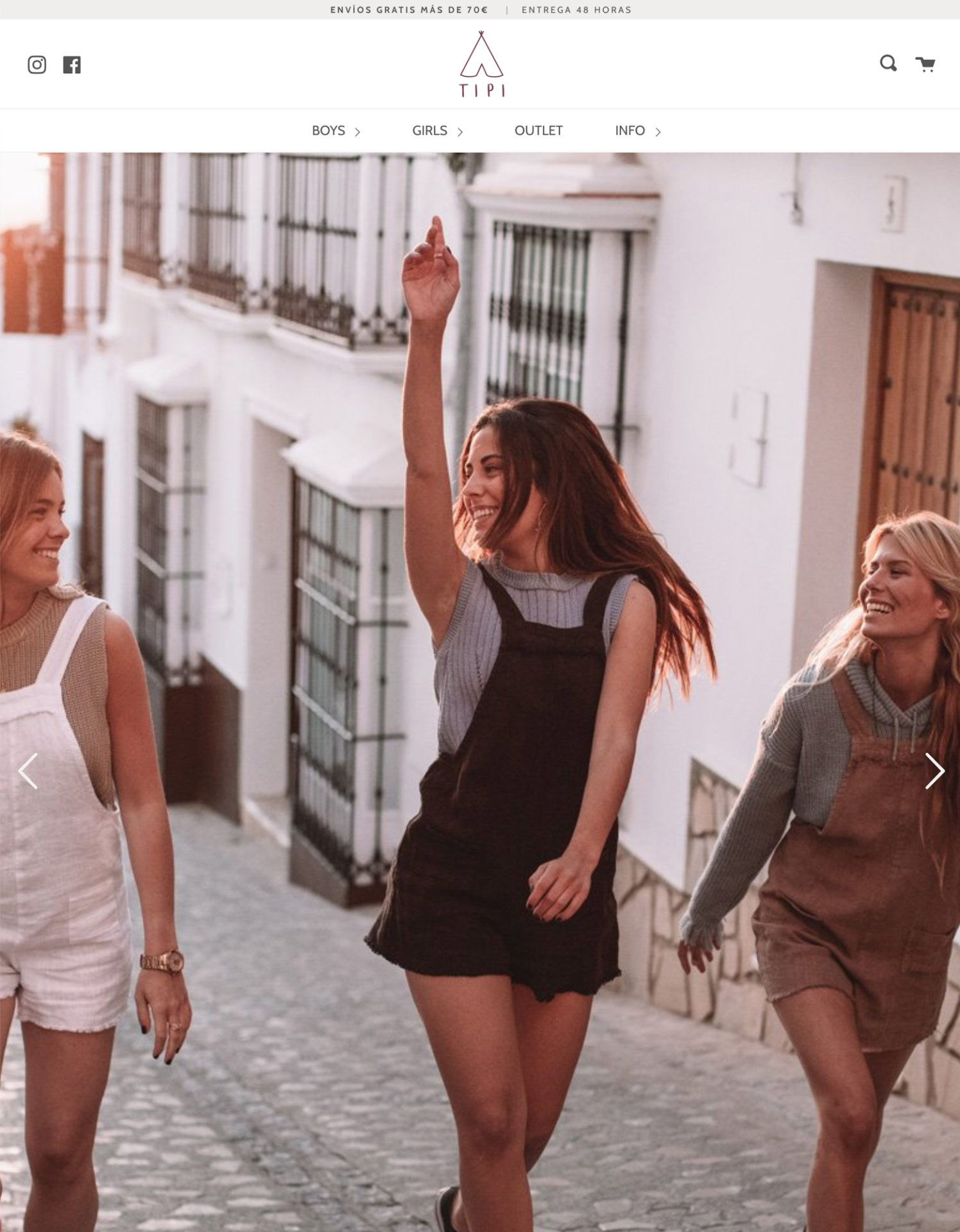 Broadcast is one of the best Shopify bag store themes that can be used for your website. It will help you to connect with the audience and then sell to them with confidence. Most of the features of this theme are about engaging the audience and that is why it is a great choice when you want to blog a lot too. Those that blog more than 15 times a month will get a significant increase in traffic to the website and improve lead generation and sales.
The theme also features a Lookbook style that is perfect for connecting with audiences looking at fashion. And with the popular social media network Instagram integrated into your store, there is no reason why you won't be successful.
To further help with engagement, and conversion, then you can use video on your homepage. This can be a featured video that showcases your brand/products or a video that plays in the background. To help further improve the trust between you and your audience, you can showcase what your brand has done for other customers.
To improve the speed of the purchasing process, you can enhance the store collection pages with 'quick view'. And you're able to use color swatches to help showcase variants in less space.
Broadcast Highlights:
Offers a fantastic blogging experience for you and your audience.
You can enable Disqus commenting for better engagement with your audience.
Optimized for mobiles, so your site will display perfectly on any device.
Improve your rank on Google and other search engines with great features.
Streamline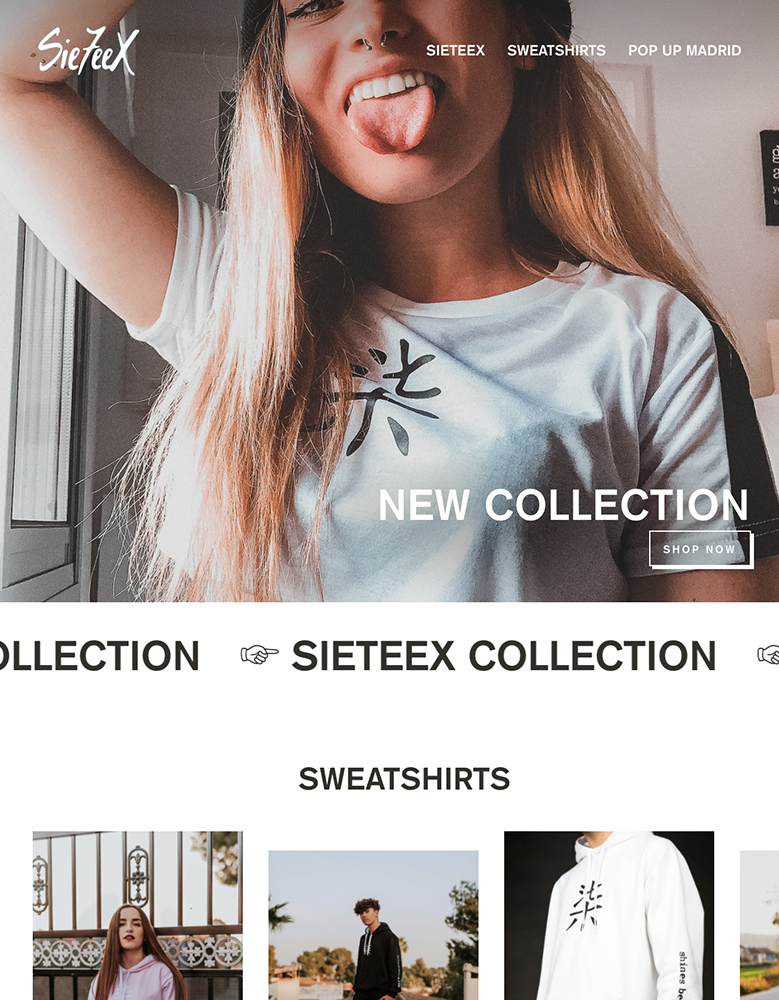 Streamline is one of the top themes for any website. The minimalist design helps reduce the amount of code that is used to render a website and therefore your website will load quicker. This will improve ranking and reduce the abandoned carts that occur on your website. The minimalist design can also improve the focus on your website's products, rather than on the design elements of the website.
The theme also has a lot of ways to tell a narrative. Adding stories to your brand and products improves the engagement there is with your audience and therefore, the chance they will convert. Customers will also be able to shop quicker with 'quick view' product options.
To further help with traffic on your website, the site has been optimized for all search engines. The more traffic to your store, the higher the number of sales. You can also integrate Instagram with your website for better engagement with your website.
Streamline Highlights:
Animate content on your website to improve your engagement with audiences.
Mobile-first mentality, allowing your site to look perfect on any device.
A sticky checkout that is always visible on your website.
Integrate Instagram with your store for better marketing with audiences.
Boundless
Boundless is a free minimalist Shopify theme that is great for those brands who are on a really tight budget. There are features included within this theme that would normally only be found within a paid Shopify theme. Therefore, you can expect the same high-quality website for a much better price. The theme includes features like sticky navigation, where the menu scrolls down the page with the audience as they scroll through your website.
The theme has been optimized as well for displaying your product images on a large scale. If you have a lot of products, this can be a good way to display products in finer detail to help customers choose between options. And you can use the homepage slider to feature the best products that you have to offer. There is an aesthetically pleasing fading effect that can be applied to the slider.
Finally, you're able to showcase products within a professional hero video on your front page. Those sites with videos are often better at converting visitors into customers.
Boundless Highlights:
This is a great, free theme that will help you rank high while not costing you anything.
Use a slideshow on your website to showcase the best products you have.
Optimized for ranking on your search engines and displaying on any device.
You can make the most of your images with this theme.
Fashionopolism
Fashionopolism is a great option for those who are building a fashion brand online. There are lots of options that can help you improve the branding on your website and increase traffic levels on your website. For instance, you can utilize the sticky navigation on your website and allow customers to see products on one screen with a 'quick view' option. Four fantastic styles can be applied to your website.
To help customers see more of your products, then you can utilize the product image zoom. This is perfect for those who want to showcase why their bags are better than others.
Finally, two menu options can be applied to your store. You can have the traditional horizontal menu or a sidebar. The choice can depend on what you prefer as there is little performance difference for a website.
Fashionopolism Highlights:
A product zoom that allows you to have better viewing of your products on the product description page.
You can promote your brand with a hero video on your homepage.
Display products within a slideshow that can be displayed on your website's homepage.
Completely optimized for mobile devices and search engines.
Supply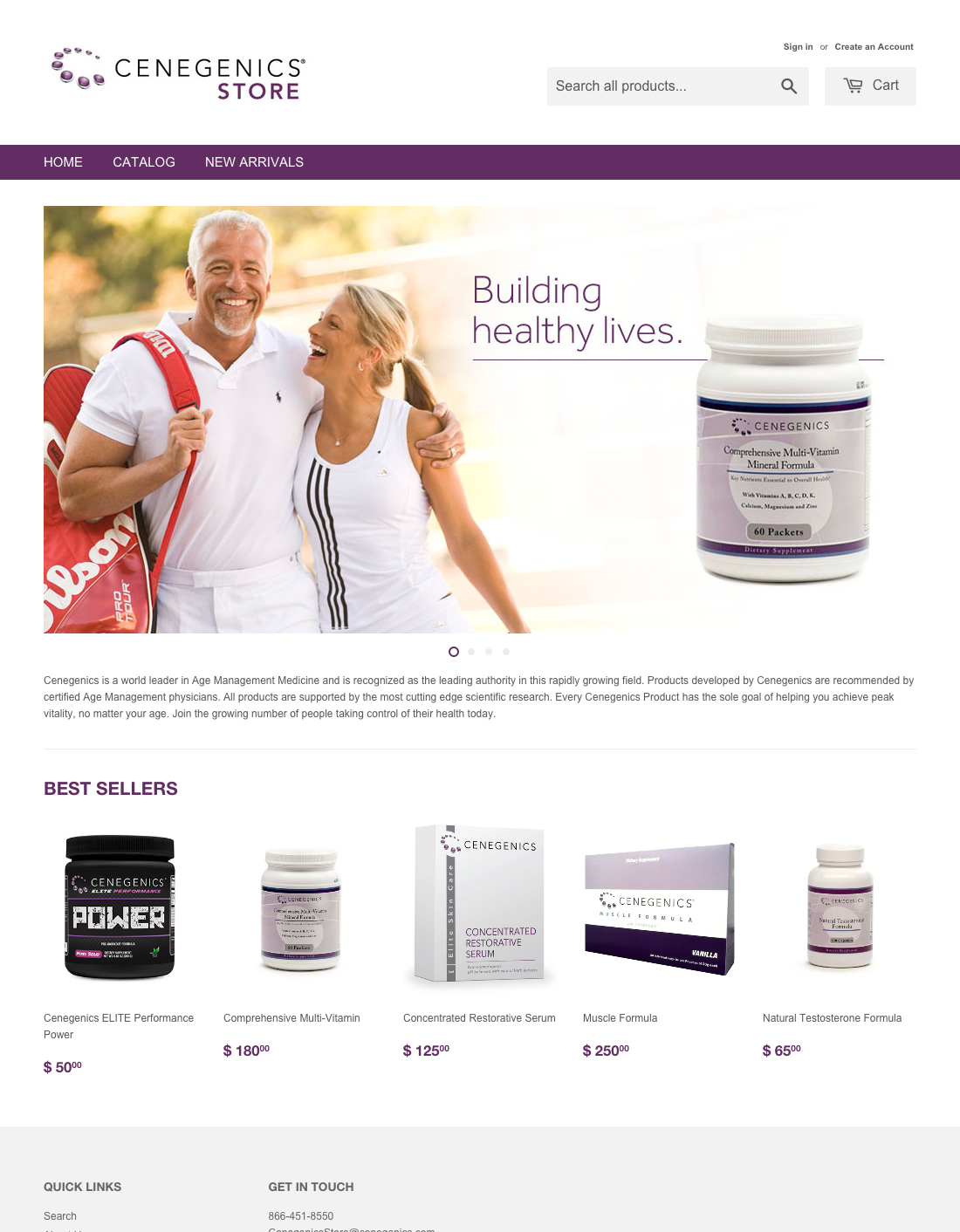 Supply is one of the top free Shopify themes that you can use for large catalogues. There aren't a lot of features with this theme, which make it an easy theme to use for those new to website building. However, it is worthwhile for those who are on a tight budget. For instance, you can use collection filtering that allows customers to restrict the products on the shop page to only those that meet specific criteria they set. Criteria can be based on collection, brand, price, colour and more.
You're also able to build your brand through a fantastic slideshow option. This can be used to showcase your brand's history, best products, deals or more. This can be added directly to your website's homepage.
Supply Highlights:
This is a free theme, so perfect for those who are on a tight budget.
You can showcase the products you want directly on your homepage.
Customers can filter products through numerous options on your website.
Optimize the website for any device, so customers can view it perfectly.
Booster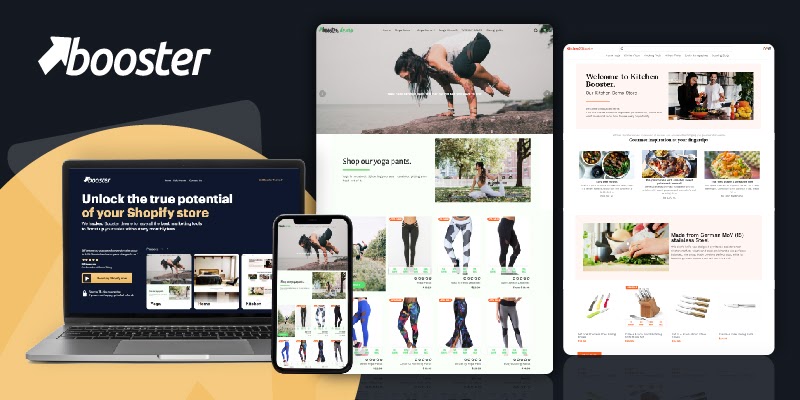 Booster is one of the best Shopify bag store themes that are on offer. However, it isn't just a theme, it has a whole suite of tools that can help with marketing, search engine optimization and conversions on your website. These features are often only found on apps, but by using Booster you can reduce the costs on your website by up to $3000 a year.
Some of the features that you might want to use from Booster include the currency converter for taking your website internationally or the social proof to build trust with your audience. The theme is also great for speed. The average website takes between 8 and 11 seconds to load, but Booster websites can take less than a second. This means that you're not going to lose much traffic and will rank higher.
This theme is one of the best that is available and you're bound to find ways to use the live chat and other features to increase engagement with audiences as well as improve sales.
Booster Highlights:
Save more than $3000 on apps that you don't need to use because of this theme.
Is a very fast theme, loading pages within one second for better performance.
Is great for SEO, so your site can generate more traffic from search engines.
Is an excellent option when you have lots of mobile customers.
Retina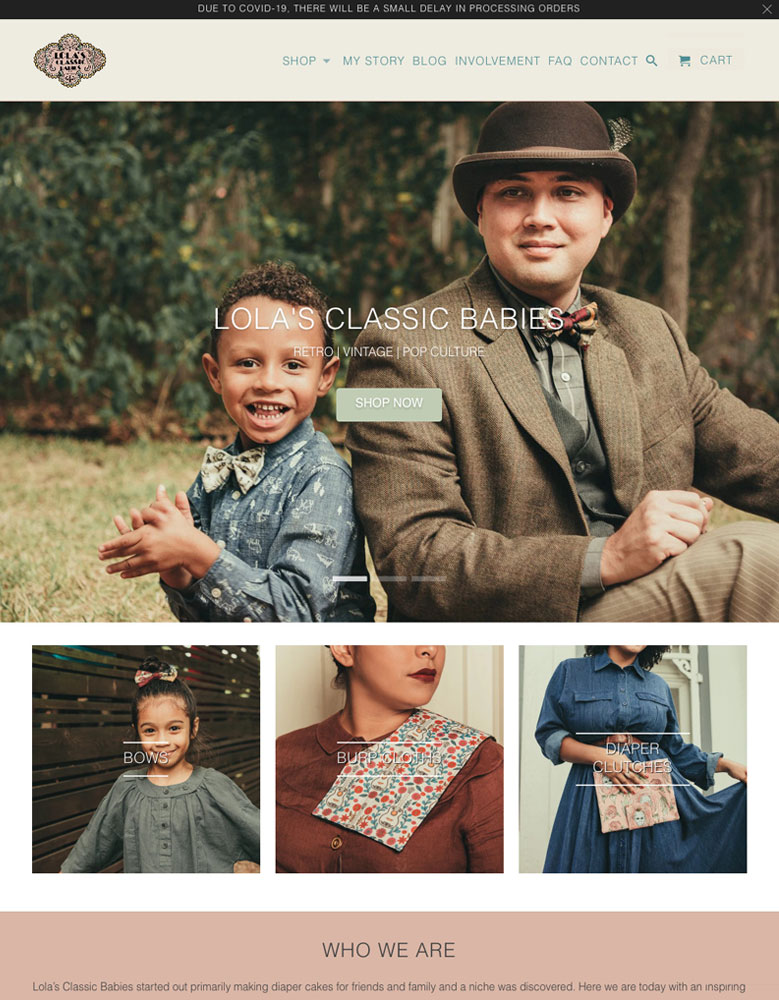 This is another top-rated Shopify theme for any fashion brand. It can help you create a highly visual website that is powerful and engages audiences. There are found, aesthetically pleasing styles that you can use with your website that can help you get started with designing your website. You're also able to use this theme to help tell your brand's story. This can emotionally draw the audience to your brand and can help with conversions. Part of the process is having a full-width video on the homepage.
Videos are a big part of this theme. On all product pages, you can host a video and this can increase conversions on your website. There is also a 'quick buy' button option that can make selling much easier on your website.
You're also able to engage audiences on your website through an Instagram account integration. This can showcase how active you are and can attract new audiences on the platform. For those who blog, there is also a Disqus blog commenting support system. And to help users navigate around your website, you can use the sidebar that can display multiple menus and custom content.
Retina Highlights:
Create a highly engaging site that will improve trust between you and your audience.
Is a highly visual design, perfect for those who are in the fashion industry.
You can use a lot of videos to help you tell your brand's story.
Optimized for Google and other search engines, to help your website get more traffic.
Parallax
Parallax is one of the best themes that can be found on Shopify and 99% of users recommend this theme for other stores. One of the reasons for this is because of its ease of use and good design. Many store owners find that their store will rank better on Google and convert more traffic.
The parallax effect is very popular online at the moment and the animation with this theme is one of the best. As users scroll down the page, they will be impressed by your website's design. In addition, you're able to add engagement options for your audience including the high-rated Disqus commenting system.
To promote your brand, you're able to use a full-width homepage video. Videos can improve conversion rates on any page and these videos can be about your brand or products on your website. For navigation, there is also a beautiful dropdown menu that can support customers as they search your store for the information and products they need.
Parallax Highlights:
This theme is very SEO-friendly, allowing your store to rank highly for relevant search terms.
There are great social media icons to help connect your store to your social media profiles.
It is a very clean design that helps with loading times.
Engage audiences with several features.
Final Word: 10 Best Shopify Bag Store Themes
When you're looking at the Shopify bag store themes options available for your website, you might be overwhelmed by the options. If you look above, you will see ten of the best options to help you make a decision. What you decide in the end is up to you, but you can let us know your final choice in the comments below.
Avi Klein
Vast experience in the online world. Shopify Expert, SEO expert, Web developer and consultant to several online companies. Read more about
our approach
to reviewing themes and apps.