10 Best Shopify Chocolate Store Themes
Last modified: July 21, 2021
#
Image
Name

Get a Free Custom Shopify Store
1

Trademark

2

Startup

3

Plain

4

Blockshop

5

Booster

6

Polaris

7

Symmetry

8

Palo Alto

9

Streamline

10

Avenue

Show More
Chocolate is one of the top-selling products online. According to statistics, the size of the market in the US alone is 135.65 billion and it could grow by about 50% in the next five years. There's a great opportunity for online businesses to sell chocolate whether in bulk or as a specialist store selling unique gifts. To do this, you should use one of the best Shopify chocolate store themes.
What are you Looking for in the Best Shopify Chocolate S'tore Themes?
When you want to sell confectionery online you must have one of the best Shopify chocolate store themes. There are lots of things that can help you build a great store to sell chocolate. Looking at the basics you need help in converting visitors to your store. The more conversions you get, the more revenue you will get.
Another thing you will need is the potential for your brand's website to rank online. The higher it can rank online, the more traffic you will generate. Those in the top spot will get at least 25% of the traffic. In comparison, those who are ranked 10th will get only about 2.5% of the traffic. This can relate directly to your revenues online.
In addition, you need to ensure that your website has lots of great features to market your brand. This could be anything from popup subscription forms to countdown timers. These can increase mailing lists that can help with long term sales and other elements that can improve conversions through urgency and the fear of missing out.
So what are the best Shopify chocolate store themes? Here are some of the options that we recommend.
Filter between free and paid
Trademark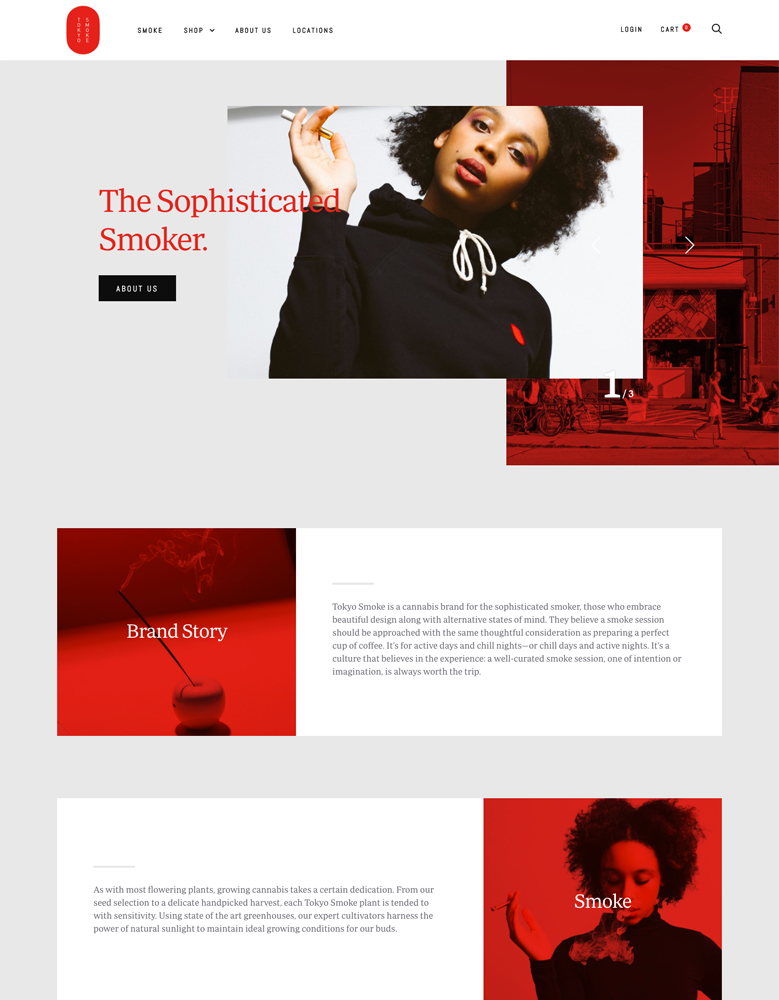 Trademark is one of the most used Shopify themes. It was built for those who love to showcase their products and grow. It has an elegance within the design and is stylish enough to impress your guests. It can also be good at converting visitors to customers and getting you revenue quickly. If you're looking for a design that will sell, this is a good option for your website.
There two beautiful styles that you can choose from when you're building your website. This allows you to get your website design off the ground. Then you can use the great features to turn the store into a great converting website with high-performance levels and good revenues.
There is a live search feature that can help customers to discover the chocolate of their dream. And there is a multi-column menu that can allow you to build better navigation across your website. These can help improve the website's user experience. The theme also has the option to use images, videos and text to promote products on the website through slideshows that can look awesome. There is also a versatile blog slider that allows you to showcase the latest news, developments, advice and more from your blog in a neat style that will impress.
Trademark Highlights:
This is a fully optimized theme for search engines. It can help you to attract more traffic easily.
This website built for speed, allowing you to increase revenues.
An elegant design that allows you to impress guests with your products.
If you have a large catalog of chocolate products, this theme can handle it.
Startup
If you're a niche chocolate company, then this might be the best Shopify theme for your brand. It has been designed for those with small catalogs to sell more of a smaller group of products. To help with this there is a modular-style homepage. This makes it easier to customize your website and improve the design. There are also four basic styles that you can use for your design, this can be a great place to start your website's look.
This theme is designed for building trust with audiences. There is a customer testimonial section that can be enhanced with a great review app.
To showcase your products in finer details, there is a wide layout structure. This allows for larger images that can tempt your audience with the products you have on offer. You're also able to improve the conversions on the website through the use of video on the homepage. The video must be hosted on a popular video-sharing website like YouTube or Vimeo.
Startup Highlights:
Optimized for any device, allowing your customers to view the website on any device.
Get ranked highly on any search engine for higher levels of traffic and more sales.
You can use lots of free, professional images that can be used on your store.
There are four well-designed styles that can be used on your website.
Plain
This is an aesthetically pleasing Shopify theme that is perfect for many niches, including those that are selling chocolate. The designs are impressive and allow you to showcase your brand to visitors to your website. There are lots of aspects of this theme can also allow you to improve your conversions, therefore it is great for a brand that needs lots of sales on the website.
There are two options for your website's logo. The first is to have your existing logo and upload that. This can be used as your custom favicon too. Doing this can improve your website's ranking on search engines and help improve trust. Another option for your branding is that you can use the theme's inbuilt logo maker. This logo will be text-based.
The website's customizations tools are really good as well. You can match the background to your website with the brand colors, this takes just a few clicks. And you're also able to use customized call-to-action and buy buttons that can improve your website's conversion. There are lots of options for you to get your website looking great.
Plain Highlights:
Numerous menu options can help users to navigate across your store.
Great social media integration available for your store.
Optimized theme for search engines allowing you to rank higher on Google and others.
Lots of features to help you improve your website's revenue.
Blockshop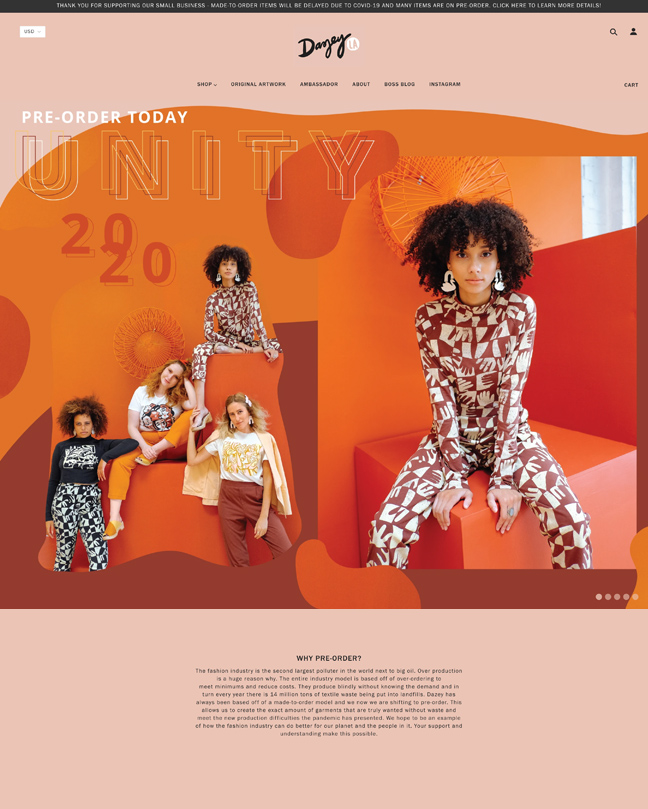 Blockshop comes with four aesthetically pleasing styles that can be applied to your website. There are also numerous features to customise the design of your website. Two of these features are image and video-based. This is very important for online shopping.
There are also some effective blogging features that can help build your ranking. Brands that blog more than 15 times per month will get the highest levels of traffic.
You're also able to use a wide layout design. This allows you to make the most of the imagery whether this is about your products or a general branding image. This improves the product's attractiveness and increases the conversion rate on your website. There is also the option to have numerous slideshows on your website. These slideshows can be used to promote products, sales, discounts and more on your store.
For navigation, theres a great multi-column, dropdown menu that can help customers find what they're looking for.
Blockshop Highlights:
This has been optimized for Google and other search engines.
An optimised theme for mobile users for improved experiences.
Perfect for those who are looking to engage audiences with lots of touchpoints.
There are free stock images provided by Burst to help populate content on the website with professional imagery.
Booster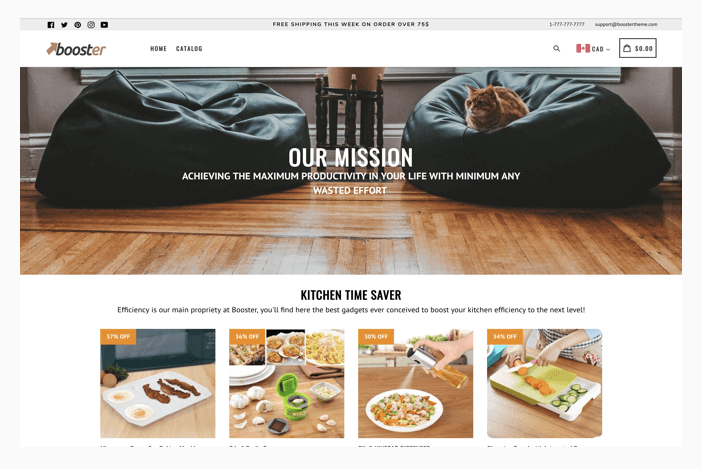 Booster is an excellent theme that is available on Shopify that can help you grow your business and save costs. This theme is an all-in-one tool that includes enough for you to save on app subscriptions. According to the developers, there are potential savings of about $2000 a year.
There are lots of different features such as countdown timers, social proof, currency converter and popup creators. Many of these elements can be used to build trust between you and your audience. This is vitally important as higher trust levels can increase the number of orders taken and the average value of those orders too.
At the same time, Booster can be a fantastic choice for those looking to have a fast website. Loading times for your pages are directly linked to revenue. For every second that it takes for your page to load, you will lose 7% of your revenue. Therefore, you want a website to load really fast. Most companies can lose 70% of their potential revenues because some websites take up to 10 seconds to load. With Booster, loading times can be less than 1 second.
Booster Highlights:
One of the top themes for Shopify.
This is one of the most perfect themes for high ranking on Google.
With a mobile-friendly design, this theme is perfect for viewing on any device.
Can save up to $2000 per year on apps by using the theme.
Polaris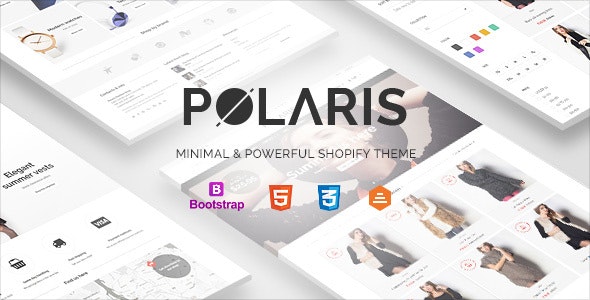 Polaris is one of the best options when you want to create a sales funnel on your website. This minimalistic theme has all the style and design is perfect for focusing the attention of the audience to exactly where you would like them to concentrate. This could be on your products, a call to action or a review for your brand. The theme is also fast, which can reduce the bounce rate of your brand and improve revenue.
The theme contains a great product filtering system that allows you to have a large catalog without leaving customers overwhelmed. Customers can use the filtering system to find the product that they're looking for by limiting the number of visible products.
There are also other ways that you can improve the experience of the user. The first is by using the 'quick shop' feature. This can help customers to add products without accessing the product page. This can speed up the purchasing time for your website. You can also monitor the abandoned cart rate by using this feature.
The theme also includes an easy-to-use newsletter popup. This will help you build a large marketing list that can increase touchpoints with customers. You'll also be able to build trust with a reviews system.
Polaris Highlights:
This is a minimalistic theme that is designed to make your website faster.
Product filtering can be enabled on your website to improve the user experience.
Rank highly with great SEO features.
The theme is completely responsive, allowing you to have your customers view your website on any device.
Symmetry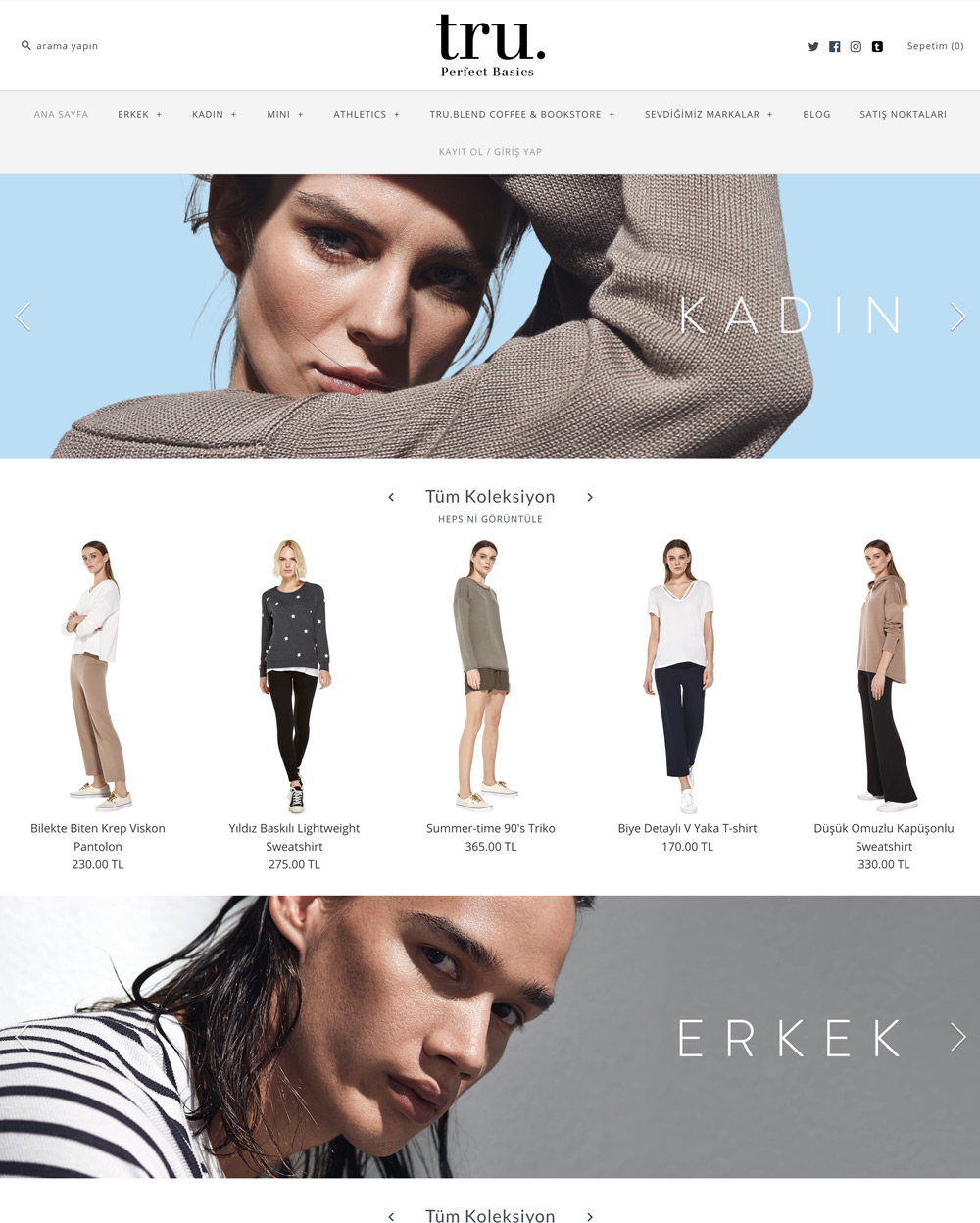 Symmetry offers you a great responsive design that will impress guests and rank high on Google searches and is good at converting. This is one of the best options for many brands. There are four great styles that can be used for your initial design, and then you can customize your website so that your store can have your unique branding.
To help with conversions, there is a great multilevel menu option that will allow you to get visitors to the best products and pages on your website. In addition, you can use the 'quick buy' to increase the speed at which purchases can be made on your website.
In addition, you can use the theme's Instagram feed feature. This can improve engagement with audiences through one of the most popular social media channels. This can help you convert more customers with ease. And this means you don't need to use an Instagram app to have these features on your website.
Symmetry Highlights:
This is a mobile-friendly Shopify theme design,
There is the option to use free stock images provided by Burst.
There are lots of social media integration options for you.
Use one of four styles to help you match the website design to your brand.
Palo Alto
Palo Alto is a great theme that is perfect for a small store with a limited number of products. There are three basic styles that will help you start designing your website. Then you can customize the sections on the website. This can help you make your website branded closer to your company. Customizations can include color, text and other aspects to make the site more effective.
This theme also allows customers to get up close and personal with products. With high-resolution images, you can give customers a better impression of your website's products. You're also able to showcase your brand's strong points through the use of a great hero video. This can be placed on your website's product pages and on the homepage. This is also a good way to build trust with your customers.
There is also a customer testimonial feature on the website.
Palo Alto Highlights:
This is a perfect theme for those who want a responsive website.
Loads fast, helping to improve conversions and reduce bounce rate.
You can promote your products on the front page to increase sales.
Feature your best products on the front page with the masonry-style grid.
Streamline
Streamline has three theme styles that you can use to get started when building your website. Streamline has lots of story-focused elements that can allow you to tell the story of your brand or the products. This can be done through additional images or text on the product pages.
This theme has been designed with mobiles in mind. It is light on code and responsive. Therefore, no matter what device your customers are using, they're going to view the website in its best light. This also makes this theme one of the fastest on the market and this makes the theme great for conversions.
You're also able to animate content with this theme. You can do this to text, images and other page animations. You're also able to showcase products and brand messages through multiple homepage videos. These can help grow trust with brands and convert more visitors.
Streamline Highlights:
This theme is optimized for speed.
There are free stock images available to help you start building your brand.
Use one of the three theme styles for the basic brand style.
Can customize sections on your website with ease.
Avenue
This is a theme that was designed for large catalogs. This fast-loading theme is great for those who want to sell lots of products over a large inventory of potential solutions for customers. With the use of advanced product filtering options, customers can find the products that they need within seconds. There are numerous characteristics that can help them find the products they want.
You can also sort the products within your catalog into sublists. And when using the theme's breadcrumbs on your website, you can improve navigational aids and support your SEO. This can improve your website's cart abandonment rate and improve conversions.
There are other ways revenues can be improved too. Customers can add multiple products to the cart simultaneously. This can improve the speed of your customer's purchasing journey. An improved customer journey can increase satisfaction.
Avenue Highlights:
Optimized for search engines that can help bring more traffic to your store.
Clean code for better loading times and more revenue.
Great navigational options to help customers get around your store.
Lots of social media icons to improve brand engagement.
Final Word: 10 Best Shopify Chocolate Store Themes
If you're opening a confectionery store, then using one of the best Shopify chocolate store themes is necessary. This allows you to build revenue and earn a better living from your business. Which of the ten themes will you use?
Avi Klein
Vast experience in the online world. Shopify Expert, SEO expert, Web developer and consultant to several online companies. Read more about
our approach
to reviewing themes and apps.