13 Best Shopify Mobile App Builders – [2023]
Last modified: August 8, 2023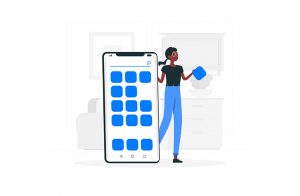 #
Image
Name

Get a Free Custom Shopify Store
1

Drobile ‑ Mobile App Designer

2

Mobile App Builder Plobal Apps

3

Mobile App Builder ‑ JCurve

4

Mobile App Builder - Appmaker

5

Mobile App Builder ‑ Vajro

6

Mobile App Builder by Venn Apps

7

Shopney

8

MobiApp ‑ Mobile app builder

9

Apptuse ‑ ECommerce Mobile App

10

MageNative Mobile App

11

Tapcart ‑ Mobile App

12

EasyMobile ‑ Mobile App

13

PWAfy ‑ Mobile App

Show More
When it comes to website traffic, more than half of all traffic comes from mobile users. This causes some problems. Websites, especially large eCommerce stores, can sometimes have lots of data that takes time to download and sometimes, web browsing can be painful for customers.
That is why you need to have a Shopify Mobile app builder. This can help you get a mobile app for your store that makes it easier to shop on your store or even provide easier access to features on your store.
What Features Do You Need For A Shopify Mobile App Builder?
There are many features that are necessary for a Shopify mobile app maker. You want it to be able to showcase products, take payments and support analytics. Apps should offer a better experience for audiences on your site. Research has shown that about 70% of Shopify store visitors are using a native mobile apps can help increase conversions threefold.
A feature that you should definitely be looking to add is the push notification marketing avenue. This is when customers are reminded of brand by messages sent via the app to their mobile device. This can include new products, sales and potential discounts they could take advantage of. This is a great way to market to existing customers.
While many people think that a Shopify store app creator or a team of Shopify app creators will require a lot of technical skills, many of the apps on the Shopify app store don't require any knowledge or skill. Therefore, you can build a great mobile app for your brand easily. Then you can get it to customers who will prefer to use an app.
So, what is the best Shopify Mobile app builder on the market? Here are some options with affordable Shopify mobile app pricing.
Filter between free and paid
Drobile ‑ Mobile App Designer

Drive more traffic to your brand, get them to shop and spend money with you with this easy to use app which allows you to turn your Shopify store into a mobile app. The design is done for you, so you can focus on marketing your business. This also means that your mobile app is personalized for your brand, from the login page to the checkout.
If you want changes to be made, these can be implemented within seconds. Therefore, your app can be maintained and be relevant regardless of what changes you have. There are also lots of great features you can add into your mobile app. This includes having push notifications to direct customers back to the app when you have a sale/new product.
You can also reward customers with a great system. This can encourage return custom and lots of loyalty. To know how your mobile app is performing, there are custom analytics. Numerous payment gateways can be included too.
Drobile Highlights:
Can use a variety of languages and currencies.
Can market to your customers directly with push notifications.
There is an integrated rewards program to help you bring back customers.
Custom analytics so you can see how well your app is performing.
Mobile App Builder Plobal Apps

Plobal apps promises that you will see an increase in the number of sales and conversions as it helps create a native mobile app. The quality of the programming is very good and the app is trusted by numerous brands, including some high-profile brands like Sniper Gang, Ravin and more. As the code app builder developers say, they don't just don't build apps, they also help brands with their m-commerce.
There are lots of benefits that help you push your brand out to customers. For instance, you can send automated push notifications to those using your app. This can include flash sale information that can be further promoted with the use of flash sale banners on the app.
When customers want to purchase a product, the Apple Pay integration allows for a faster, smoother process that improves customer experiences. You can also sell in many currencies automatically.
To further enhance the shopper experience there are many features to personalize the experience of the user. There is an AI-powered product recommendation segment that can help increase order values and your revenues. You can also optimize layouts and banners to improve engagements and conversions.
The developers also offer lots of help including 24/7 customer support, a dashboard walkthrough demo and a free tool to help increase the number of organic installs there are of your mobile app.
Mobile App Builder Plobal Apps Highlights:
Unlimited number of products and categories can be hosted on your mobile app.
In-app barcode scanner can be offered.
Works with android apps.
Recommend related products that can help improve order values.
Use push notifications to increase number of orders.
Mobile App Builder ‑ JCurve

JCurve have create a great mobile app builder for your Shopify store. It is easy to use and will help you reach those audiences that would rather you use an app than a mobile-friendly website or desktop computer.
The JCurve app is so easy to use, it uses a lego-block style builder to create iOS, Android app and you can see how the app will look with a live preview.
Once the app has been finished, you can offer unrivaled customer support with Whatsapp and Facebook Messenger. These live chat systems allow you to speak to customers live and directly and therefore, improve orders.
Through push notifications and with scheduling, you can increase your revenues and engagement with the audience. Scheduling also allows you to set marketing campaigns and then let the program do the work while you complete other tasks.
There is a fantastic 14-day free trial, that allows you to sample the software without limitations. And when you do decide to buy the app, you can cancel at any time. There is no annual subscription, you just pay on a month-by-month basis.
To make the most of the app, you can launch your iPhone or Android in more than 100 countries. And you can see how users are interacting with your mobile app with advanced analytics. This can tell you what products are popular and which need to be given more attention. In addition, it will also tell you when push notifications are more successful.
Mobile App Builder ‑ JCurve Highlights:
Advanced analytics suite to help you make more revenues.
Launch your mobile app across the world with just a few clicks.
Push notification ability so you can market sales and new products with ease.
A 14-day free trial to check you're happy with the app.
Zero code app builder.
Mobile App Builder - Appmaker

To create mobile apps for their businesses, Shopify store owners no longer need to engage expensive Silicon Valley developers. With ease, convert your Shopify store to native Android and iOS mobile apps! .
Appmaker simply builds a mobile app version of your website that you can quickly and easily customize prior uploading to the Google Play Store and/or the Apple App Store. Even better, it synchronizes your mobile app with your website automatically.
Appmaker, the DIY-native app builder, allows anyone to create beautiful apps using drag-and-drop blocks and then publish them on the Google Play Store and App Store.
Appmaker Shopify front app will be in actual sync with your Shopify store, allowing you to manage and update your inventories. You can easily reduce cart abandonment by turning your Shopify business into an app.
Appmaker Shopify mobile app makes it easy to share push notifications to your consumers, encouraging them to finish transactions through the Shopify store's mobile app. It helps you to engage your consumers with bespoke discounts, promotions, and deals through the Shopify iOS or Android app, increasing customer loyalty.
Mobile App Builder ‑ Appmaker Highlights:
Unlimited Push Notifications
Real-time preview of the native app
Auto Sync 1000s of products & Collections from your Shopify Store
Easy drag & drop block elements & pre built themes
Mobile App Builder ‑ Vajro
There are lots of features of this Shopify mobile app builder that allows you take your shop to the next level. Design your mobile app with an intuitive builder than allows you to create something within minutes. There are more than 20 themes and a theme builder that helps you take your brand to the app.
Then you can start to build a business with your app. You can create an unlimited number of push notifications to help bring customers back to your app. With your push notifications you can use animated images and videos to make them standout and be more engaging than what your competitors might be using.
You can also help reclaim abandoned carts with notifications to bring back customers. You can also build engagement with inactive users with great campaigns. You can also welcome new users with a unique campaign.
If you're a worldwide brand, then you can limit the campaigns to specific locations in order to make campaigns more relevant. And if you sell in numerous territories that have different languages, you can be sure that your mobile app will be displayed in the right language as there is support for multiple languages.
You can build trust thanks to review campaigns.
The Vajro mobile app does have several marketing features that all your app to improve sales. For instance, there is deep linking, social media ad integration, live video sale, reorder functionality and product recommendations.
Finally, there are some great functionality tools. You can see the total number of sessions, product sales, which products are being added to the cart most, who is uninstalling the app and so much more. This can help you make improvements to your app that will help it grow more.
Mobile App Builder ‑ Vajro Highlights:
Lots of great marketing features to help you sell your products.
See all the analytics of your store's performance.
Easy-to-use builder that helps you build a website within minutes.
Send an unlimited number of push notifications to app users.
Mobile App Builder by Venn Apps
With more than four years experience developing mobile apps for some of Shopify's leading brands, Venn Apps have built an app to help you give yourself an outstanding mobile app. The app has all the tools you need to help you build a website app that can improve conversions by up to 300% and have 20% higher average order values when compared to traditional websites.
There are numerous templates that you can utilise to help you get started and you can customise your homepage, shop menu, product display pages and even the theme.
If you want to support, there is an in-house team that can help you have a custom built app for your website and there are lots of integrations and unique design features to support your app. Some of the features that you can integrate with include customer reviews, advanced search, multi-language and multi-currency and much more.
Mobile App Builder Highlights:
Can send notifications for schedules, abandoned cart, back in stock and more.
Analyse user behaviours on your website, including conversion tracking.
Provide personalised experiences for shoppers to improve conversions.
Excellent customer support and in-house teams to help you with any issues.
Shopney
Shopney is the best-rated mobile app builder for Shopify and Shopify Plus with +380 real-customer reviews. It offers an outstanding customer support and a very easy-to-use dashboard to keep everything simple for merchants to build an app. With preview mode, you can test and use your app in your own device with full functionality. And you don't need to commit anything to see an actual app of your brand on your phone within 30-day trial period.
There are unique features that make Shopney stand out in the competition such as theme options and in-app live chat functionality. Alongside these unique benefits, Shopney offers a great overall product which satisfies the needs of any Shopify or Shopify Plus store with different plan options.
With theme options, you can pick a great layout for your mobile app according to your store and inventory type. So you can make sure your products are looking in the most appealing way in PDP and PLP. In other words, this feature helps you increase sales by making your products look more attractive.
When it comes to in-app live chat, it's a great benefit to personalize your customers' mobile shopping experience. Because you can send personalized discounts, draft orders and customer-specific product offers. On top of all, it helps your customers ask questions and get answers instantly. So you can provide support while they are on their shopping journey and drive them towards sales.
Besides all above, Shopney has everything and more you can expect from such technology. From automated push notification campaigns like abandoned cart and back in stock, to premium integrations with other popular Shopify apps. Very importantly, Shopney delivers highest-quality mobile apps.
If you want to turn your Shopify or Shopify Plus store into a mobile app, Shopney seems to be a great bet to keep on growing your business with the power of mobile.
Last but not least, Shopney's 24/7 customer support and great support video library keeps the entire process frictionless. Even after launching your app, Shopney provides additional support and guidance on marketing your app, increasing sales and overall success with it.
Shopney Highlights:
Theme and Layout Options
In-app Live Chat
Automated Push Notifications
Premium Integrations
Free Mobile App Banner for Website
30-day Free Trial
MobiApp ‑ Mobile app builder

This app allows you to build your app with many options to brand it to your own unique style. There's a selection of layouts and designs to create a fantastic app that will keep users coming back for more.
And you can keep your app updated with product synchronization, so if you've got products out of stock or new products in, you can easily update your app without potentially missing out on revenues or disappointing customers.
As with most apps, you can send an unlimited number of push notifications to those who've downloaded your app. Therefore, you can promote sales to those who are using your app early. To increase sales via your app, you can also offer app users a unique code to get a discount on purchases.
MobiApp ‑ Mobile app builder Highlights:
App users will find your app easy to use with fast speed.
Easy to manage your app, customers and orders on your Shopify admin dashboard.
Style the app with your own unique branding.
Push notifications help you sell more to app users.
Apptuse ‑ ECommerce Mobile App

Apptuse is one of the simplest app builders to use. There is no additional configuration required when setting up your mobile app, it will work with your existing site and payment gateway. And for those new to programming, there is no worry, no coding is necessary.
The app promises to work on all platforms and devices, making it a universal app builder that can be used by anyone who wants to have your store on the go. And with powerful sort and search functions, you can get customers effortlessly to the products they want.
To grow your business, there is the standard push notifications option as well as social media options such as sharing content on social media channels. Users can also call, email or message you from inside the app. This allows you to build a strong customer-focused sales approach that will yield positive results for your revenues.
Apptuse ‑ ECommerce Mobile App Highlights:
Let your customers select and shortlist favorite products they would like to buy in the future.
Easy-to-use app that allows you to build your own mobile app for customers.
Customers can filter products by set tags.
An advanced analytics suite allows you to make informed, data-driven decisions.
MageNative Mobile App
MageNative is a great option if you want to create a mobile app for Android and iOS users. The app guarantees high performance apps that give customers exactly what they want: a fast buying experience.
For you, there are a lot of options that not only help you provide an excellent buying experience, but can help you manage your store on the mobile app. There is real-time synchronization, that will ensure that no out-of-stock products are left on your app, that could disappoint customers.
The app also has several payment options available including Andriod Pay, Apply Pay and can take credit cards. Therefore, you can be ready to take money almost immediately.
Customers can add products to their wishlist, search and sort through products and more as they navigate through your beautifully created mobile app.
MageNative Mobile App Highlights:
Push notification functionality to help you sell to mobile users.
Lots of analytics to help you understand user behaviors.
High-end customer functionality like search, sort, filter and wishlists.
Fast performance.
Tapcart ‑ Mobile App

Used by more than 7,000 stores across Shopify, this app offers you the chance to take your site to the mobile app market. Designs are done through an intuitive platform that has plenty of functionality you can easily create an app that matches your branding.
To help with sales there is a push notification option that will allow you to engage customers quickly and purchasing is made quicker with a single page checkout. The customer can also pre-populate all the essential details that allows for a faster, more streamlined experience that will reduce abandoned carts.
Tapcart ‑ Mobile App Highlights:
Allow customers to buy in seconds with Apple Pay.
Integrate your app with other Shopify apps.
Match mobile app to your site's branding.
Push notifications can be used to re-engage users who use your app.
EasyMobile ‑ Mobile App
One of the more basic options, this app still allows you to build an m-commerce store from your Shopify site. Customers can then use Apple Pay to buy products from you on their mobile in seconds and you can build a loyal, high-spending set of customers.
You can send personalized messages, making marketing more relevant to the customers and more rewarding. Therefore, costs to acquire can be significantly lower. You can also use push notifications to engage with audiences quickly.
EasyMobile ‑ Mobile App Highlights:
Allows for offline access to your store.
Give customers the chance to use Apple Pay for transactions.
Keep customers informed with personalized messages.
Use push notifications to get customers back to using your app.
PWAfy ‑ Mobile App

One of the less expensive options on the list, this app allows you to create an app for users to download and use on their mobile devices. It has all the functionalities that you would expect from a mobile app builder, without a hefty price. However, there are some limitations.
For instance, while there are push notifications, analytics are more basic than with other options on the market.
In addition, this app works without the need for the customer to download your app. While first-time users might appreciate this, it does make it harder to retain customers.
PWAfy ‑ Mobile App Highlights:
Easy to use and configure.
Low-cost option.
Push notifications can be sent to mobile users.
Quick access for new customers.
Final Word: Which Is The Top Shopify Mobile App Builder?
The top Shopify mobile app builder is a hard choice. There are so many great options for mobile app development where a Shopify mobile app developer is not needed, that you're spoilt for choice. The only thing that is known, is that if you don't have an Shopify store mobile app yet, you'll need one. More customers are using mobile app stores to make purchasing decisions and complete transactions. So, to reach the next level as an online retailer, be sure that you're using one the top Shopify mobile app builders as mentioned above.
Avi Klein
Vast experience in the online world. SEO expert, Web developer and consultant to several online companies.
Read more...
. Read more about
our approach
to reviewing themes and plugins.