10 Best Shopify Restaurant Apps – [2023]
Last modified: November 7, 2023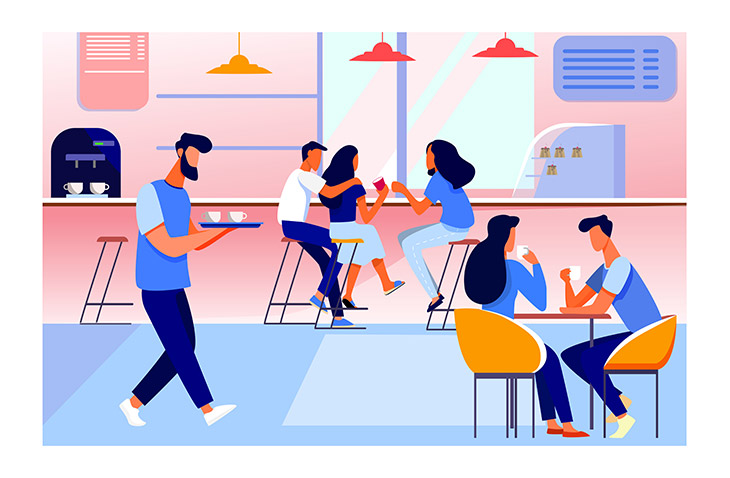 #
Image
Name

Get a Free Custom Shopify Store
1

Foodlify

2

Elfsight Restaurant Menu

3

Nutrition Facts

4

BookThatApp

5

Timlify

6

UbarTab

7

Staffy ‑ Employee Management

8

Booking App by Webkul

9

Restaurant Table Management

10

Table Booking

11

Rentals and Reservation

Show More
When you operate a restaurant, you might want to add some additional functions to your website. Luckily, there are numerous Shopify restaurant apps that you can install on your site. These apps can do a multitude of important functions for your business.
What Functions Can Shopify Restaurant Apps Do?
There are numerous important functions that your eatery could benefit from by using Shopify restaurant apps. For instance, you could have an appointment-setting app that allows customers to book tables at your restaurant for set times. This can reduce the workload on your staff and allows you to take bookings 24/7.
In addition, you can attract audiences to your restaurant with menus. Finally, there are apps that can help you manage staff. This can include staff timetables, paying them, and more.
In this list, we've got 10 Shopify restaurant apps that will help you run your food-based business. This list doesn't include any Shopify SEO apps as you can find those here. This list contains menu apps, staff management, and booking apps.

Key Takeaways
1
Shopify restaurant apps can enhance customer service and potentially increase profits.
2
They offer functionalities like table booking, which can be done 24/7, reducing staff workload.
3
These apps enable showcasing menus online, attracting customers with visual and detailed food options.
10 Highly Recommended Shopify Restaurant Apps
Filter between free and paid
Menu Lists
At the end of the day, people will eat at your restaurant because they like the food you sell. Therefore, selling your restaurant's food is very important. Here are some Shopify restaurant menu apps to help you showcase the food you offer your patrons.
Foodlify

This easy to use app is a great way for you to create food menu pages from the backend of your Shopify store. You can add links to your menus from any page on your store to allow customers to see what they can order.
The app allows for customers to see what they can buy in-restaurant and order takeaway, allowing you to add a revenue stream to your business. You can display the name, image, price, quantity and description for every food item.
For those that want to order online, you can have a nice add-to-cart function which allows several food items to be added to the cart in one go. If you offer lots of different styles of food, or want to group food items by theme/region/etc. Then you can create multiple food menus to make it easier to organize and view the menus. Each menu is given its own unique page.
Customization of the menus is also super easy. The page title, color, title background color, menu title alignment and more can be customized to help you brand your menu.
Foodlify Highlights:
No need to have a developer or change any code on your website.
Customize the menu with ease.
Allows online orders to help you expand your revenue streams.
Allows you to create multiple menus in your store.
Elfsight Restaurant Menu
Make managing your menu online easy. You can show the variety of your dishes and drinks with this one simple app that allows you to bring in customers to your restaurant. You can really make the food appealing by showing dishes with vibrant images.
This plugin is very versatile. You can showcase an unlimited number of menus with a large range of dishes and drinks. And it handles smaller menus just as easily. There are two main menu settings you can use to showcase dishes or customize the look with lots of color choices. And you can continuously change your menu by adding items, updating prices, or even create a whole new menu with ease.
To make sure that your menus stay organized, you can collect dishes into groups, or you can list everything together. The choice is completely yours. All menus can have lots of detail added to them. For instance, you can include prices, pictures, descriptions, nutritional information and other items that you think is valuable to your audience.
This menu is responsive, so it can be viewed by customers on their desktop or mobile device. Perfect for those brands in tourist hotspots where patrons can often come off the street after searching online using their phone.
Elfsight Restaurant Menu Highlights:
Group your menu items into relevant sections, or list them in one long list.
Customize the color scheme of your menu.
Easy to add, remove and edit menu items.
Highly responsive, so will look good on mobile devices like phones and tablets.
Nutrition Facts
Customers like to know what's included within their meals. Including this on your website can allow you to attract patrons to your restaurant. It also tells customers if there are any allergens within the food, ensuring that your customers are safe.
This app makes it very easy to add the nutritional information about your menu items on your site. It's displayed in a standard, well understood and easily formatted option.
The nutritional facts are added as a separate tab on your store. Making it standout and prevents the information being lost in a mass of content. The nutritional facts can be added to any product page or standard website page. This makes it easy for you to promote new dishes for your restaurant in a blog post or your home page.
The app specifically caters for US and Canadian restaurants and food sellers. However, other restaurants across the world can also benefit from this app, and if you're in a high tourist area for Americans or Canadians, then this app could be very useful. However, always be sure that you're following local regulations first.
The app supports vitamin and mineral information, ingredients, allergens and dietary labeling.
Nutrition Facts Highlights:
Showcase a wide range of information to help customers make informed decisions.
Easy to add to product/menu items and any other page.
Is ideal for restaurants in North America.
Complies with standard food labeling in the US and Canada.
BookThatApp

This easy to use, versatile app makes booking tables easy for your customers. They can book a table on your restaurant from their desktop or mobile even when you're not open, so you don't miss out on potential covers.
The app allows your customers to view real-time availability of your tables, showing the dates and times that are available in a clear, easy to see panel. This also means that if another customer takes a preferred time slot of another, the option for the second customer disappears immediately. This prevents customers getting annoyed when they find their table is no longer available mid-checkout.
The app gives you control over your table schedule. You can set 'opening hours' how long table bookings last and you can restrict days when you're not open. You can also set 'lead times' to prevent customers booking a table immediately if they're not available to take it immediately.
When customers have made a booking in advance, you can remind them with email and SMS notifications. And when the customer has attended their booking, you can send a follow-up email to get feedback or a review.
To help you manage your bookings, there is an admin section that allows you to see the booking in daily, weekly and monthly formats. Therefore, you can really plan your staffing and supply needs.
BookThatApp Highlights:
Compatible with all themes, including grid-style and the latest trending, colourful themes.
Customers can book a table whenever they want to.
You can manage bookings from inside Shopify.
Allows you to place restrictions on bookings.
Timlify

This is a very versatile app that allows you to create time slots for your tables and then customers can book these tables on your website. You have complete control when it comes to the availability of your table. You create the time slots or schedules, blocking out when tables aren't available.
The app allows for flexibility in your booking schedules. You can set everything in the backend and benefit from knowing customers can book tables without your help. And the client-side is fully responsive. Customers can see the available slots whether they're using a mobile, tablet or desktop.
If you have any experience with websites, you can also improve the functionality of the app with custom-CSS.
Timlify Highlights:
Automatically generate time slots for your tables.
Fully responsive.
Can add custom CSS to make it more functional.
Lots of options to help you manage tables.
Restaurant Management
Managing your restaurant is not easy, especially if you have multiple software programs for managing different aspects of your business. Yet there are apps available that can help you manage certain aspects of your business. Here are two options.
UbarTab

UberTab was built for the Shopify POS. It allows you to add menu items to a customer order (i.e. their table) in order to create a bill at the end of the meal. You can track any current list of the dishes and drinks ordered and allows you to retrieve those carts at the end of the meal to bill the customer.
It allows for you to track any 'tab' on any device. So waiters can add the items on a mobile device that connects directly with the order on the website. If your customer is taking advantage of any discounts, then you can quickly add them to the orders.
This app isn't just good for restaurants tables. It can also be used in your bar area. This app makes it quick for you to service customers and make it simple for customers to pay in one go.
UbarTab Highlights:
Allows customers to pay for drinks and dishes in one go.
Items can be added to a tab from any device.
Built for the Shopify POS system.
Easy to use.
Staffy ‑ Employee Management

Your staff are one of the greatest assets in a restaurant. They greet the customers and make their experiences in the restaurant. Using this app allows you to manage your staff through shift management, communications and payroll.
The app allows for quick and easy scheduling of shifts. You can add appointments and events using an easy-to-use drag and drop editor. You can also create tasks for staff through tasks files that can be shared and in-app chats between staff.
To help you pay staff properly, you can calculate salaries accurately and produce reports. You can then use an integrated payroll system, via PayPal, to pay employees. If you use a shift clock, this can be enabled for your staff, so they can clock in and out as they turn up for work. This can be used in salary calculations.
Staffy ‑ Employee Management Highlights:
Set working schedules.
Pay staff for the work they do.
Share files and have in-app chats between staff.
Create reports on working hours.
Booking App by Webkul
This is a very versatile app that allows you to book customers into many different rentable products (i.e. tables). Therefore, this could be a great option if you're a restaurant owner who not only has tables but also private rooms for hire. For instance, you can add appointment booking for tables, assigning a set amount of time for the table, or arrange a rent type booking where customers can book out the entire restaurant or a private room.
Your website can have an 'add booking' feature on the products. Therefore, your customers should be allowed to book tables on your website. If there are times or dates when you don't want customers to book tables, you can block these off.
From an admin point of view, you can approve, reschedule or cancel any customer booking on your website. You can also send reminders, notifications and more through your website.
To help you manage the sales in your restaurant, the app is completely compatible with your Shopify POS system.
Booking App by Webkul Highlights:
Approve, amend or cancel bookings from your Shopify website admin panel.
Use your Shopify POS in conjunction with this app.
Users can book their own tables.
Can be used to rent out private rooms or the whole restaurant.
Restaurant Table Management
This app helps you to manage the occupancy of your restaurant and manage orders within your Shopify POS application. There are numerous features of this app that allow you to manage your restaurant in different ways. This includes table management, allowing you to book customers into your restaurant and managing capacity of your restaurant. You can also see the availability of tables, so you can pre-book customers into tables or assign them to tables when a customer arrives to eat.
When customers arrive, you can add orders to the table, so they can have an itemized bill at the end of their stay with you. From the orders menu, you can see all the orders at the tables and past orders. Within this, you can see the total cost for the stay, and what they ordered.
This Shopify restaurant app allows you to also complete advanced analytics to make informed business decisions. Some of the decisions that are included on your site include: total orders, recent orders and much more.
Restaurant Table Management Highlights:
Manage tables with ease from your Shopify POS.
Keep table orders all in one place and process payments through your Shopify store.
A free 7-day trial to help you see if the app is right for your website.
Statistical analysis for you to see the trends in your restaurant.
Table Booking

A successful restaurant will always have bookings and won't rely on footfall from the street. Most times restaurants require the customer to book a table by calling your waiting staff and manually booking a table.
There are two problems with this: firstly, mistakes can be made and this can annoy customers. Secondly, it consumes the time of your staff which could be better spent welcoming guests or servicing them for higher customer satisfaction.
That's why you should consider a table booking app, most of which are called appointment setting apps. We've listed a few of them before here, but here are the best which are most suitable for restaurants.
Rentals and Reservation
This powerful and easy-to-use booking system allows your customers to book tables at your restaurants and prevent booking conflicts. The app offers lots of booking options, including offering customers an up-to-date availability of all products to enable them book their preferred time. The app will also prevent double booking and it will enforce any reservation policies you might have (i.e. timings, numbers, etc.).
This app is more suitable for those restaurants that have few covers and sittings.
When it comes to bookings, you can blackout times when you don't want bookings and you can set specific lead times on your bookings. You can also set pricing for reservations, if your restaurant requires a deposit for sitting.
Rentals And Reservations Highlights:
Easy to use app.
Can add numerous restrictions to table bookings.
Great for those with limited sittings and covers.
Can request up-front payment, great for those with a set menu.
Conclusion: Top 10 Shopify Restaurant Apps
Running a restaurant is very complex. Use some of these Shopify restaurant apps to help you manage your business and grow it. Everything from online menus to staff management can be managed easily through your Shopify store. So, which apps will you use?
FAQs
Do these Shopify Restaurant Apps have offline functionality in case of internet outages?

Offline functionality varies by app; some Shopify restaurant apps may offer limited features that can be accessed without an internet connection. It's important to check the individual app's description or contact the developer for specific offline capabilities.

Do these Shopify restaurant apps have the capability to manage multiple locations for a restaurant chain?

Some Shopify restaurant apps are designed to handle operations across multiple locations, offering centralized control for bookings, menus, and staff management. It is essential to check the specific features of each app to ensure they meet the requirements of managing a restaurant chain.

How do these Shopify restaurant apps impact the speed of my Shopify store?

While apps can add functionality, they can also affect site speed; it's advisable to monitor your site's performance after installing any new app.
Avi Klein
Vast experience in the online world. Shopify Expert, SEO expert, Web developer and consultant to several online companies. Read more about
our approach
to reviewing themes and apps.