10 Best Shopify T-shirt Themes [2023]
Last modified: October 19, 2023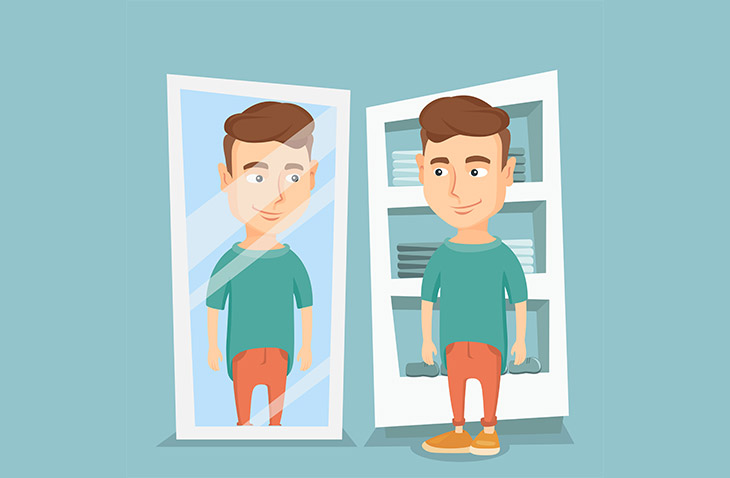 #
Image
Name

Get a Free Custom Shopify Store
1

Booster

2

Broadcast

3

Streamline

4

Boost

5

Boundless

6

Testament

7

Fashionopolism

8

California

9

Artisan

10

Story

Show More
Fashion is always going to be popular when it comes to selling online. Customers love to buy clothes. It is how they show identity, value, and other aspects of their lives. That is why if you want to start an eCommerce business, having a t-shirt, or other fashion website, can be a good option.
However, if you want to succeed, you will need to make sure that you have one of the best Shopify t-shirt themes with your store. Why? Because while it is a good business idea with lots of potential, only the best can survive in a competitive fashion market. You need to have a website that is fast, functions well, and looks fashionable.
What Are You Looking For In Shopify T-shirt Themes?
When you start looking at Shopify T-shirt themes you need to make sure that you're getting the best for your business. There are lots of different possibilities. However, there are a few traits that you will need to be sure that you're getting within that theme.
The first is speed. All sites need to be fast. Just a four-second delay in loading times and you could lose 25% of your revenue. Another factor is good SEO. With lots of competition, you want to make sure that people can find you first. The difference between ranking at the top of page one and the bottom can be very significant. Those at the top can expect to get 70% of search traffic, while those between 5th and 10th can expect only 1-3% of all search traffic.
Finally, you want to make sure that your Shopify t-shirt theme is specific to your industry. There is little point in having a theme that can display lots of features about a device when you're selling t-shirts.

Key Takeaways
1
Choose a fast, well-functioning, and fashionable theme to stand out in the competitive fashion market.
2
Select a theme specific to the t-shirt industry to effectively showcase your products.
3
Consider themes with built-in marketing tools to enhance conversions and sales without needing multiple apps.
Best Shopify T-shirt Themes – Here's Our Selection:
Filter between free and paid
Booster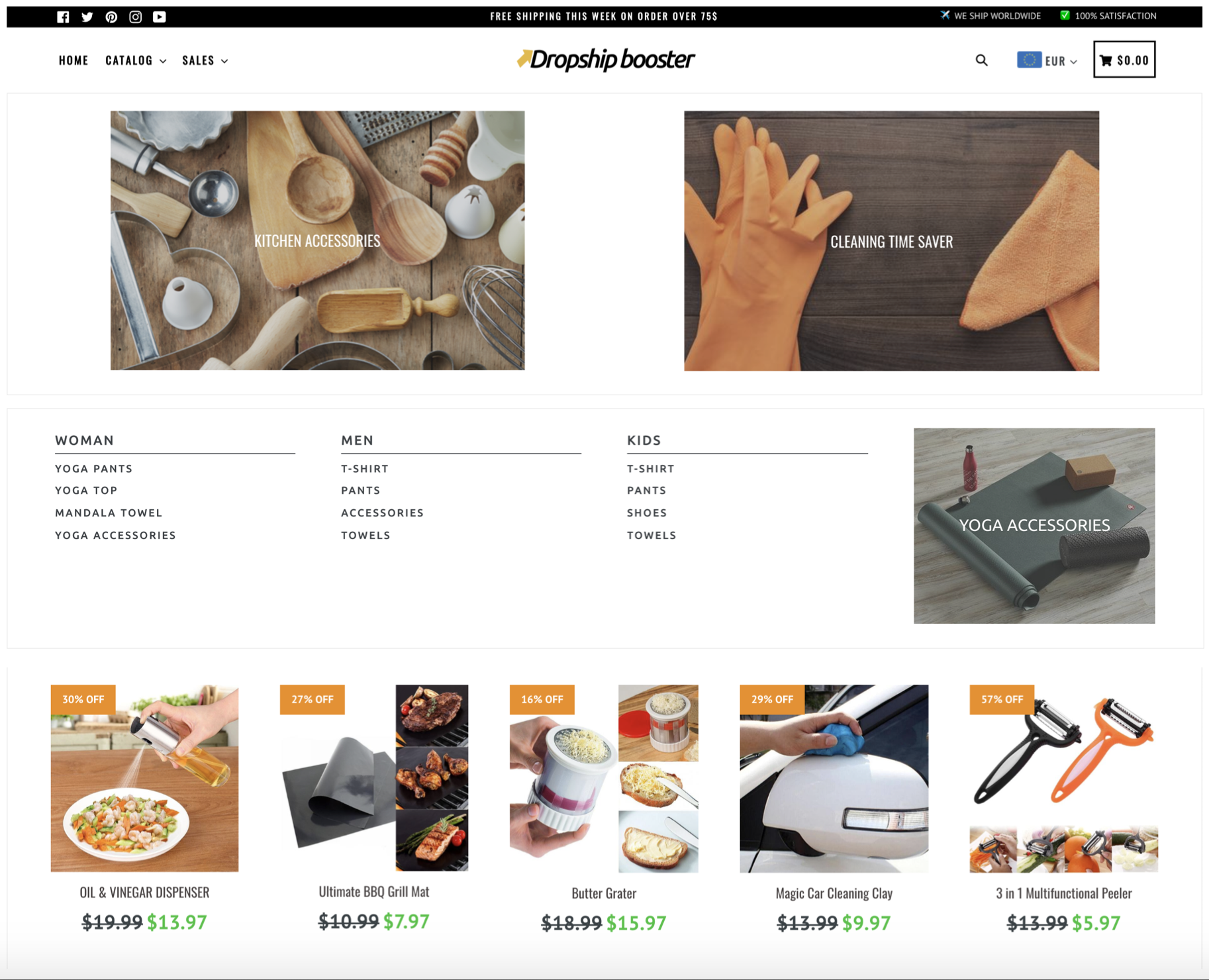 This is definitely one of the most interesting themes on offer for Shopify as it is more than a theme, it is a complete marketing package as well. It has a wide range of functions inbuilt into code that allows you to save time installing lots of different apps and give you lots of functionality to increase conversions and sales. For instance, it includes a currency converter for easier international selling, countdown timers, social proof and more.
The developers behind the theme have estimated that with all the functionality they've included, it will save the average business about $2000 a month. This is a significant amount, especially when you are new to business.
This makes it a great option if you're wanting a store theme that will help you generate more sales and it will become a powerful force that will help you compete. In addition, the theme is coded excellently. Therefore, you can be assured of a fast-paced theme that will improve conversions and grow your sales. It will also rank well on search engines.
The beautiful layouts and designs of Booster is also good. It looks impressive and performs well, making it a great theme for any venture.
Booster Highlights:
You can save more than $2,000 on apps with all the functionality of this theme.
Fast theme, so you can stop customers abandoning your store due to lack of loading.
Good for SEO, so your site can be found on search engines.
An excellent option when you have a lot of mobile customers.
Broadcast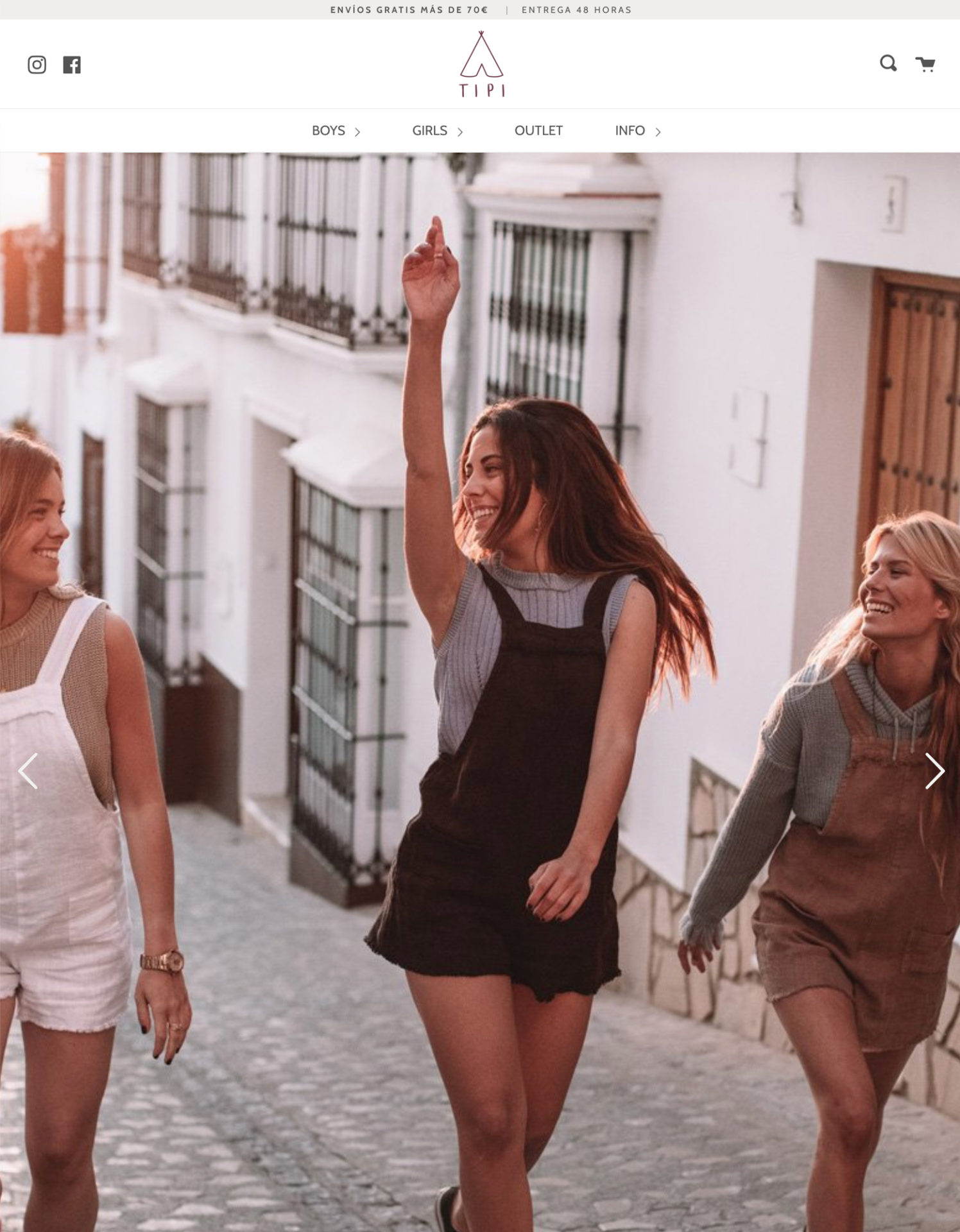 Broadcast is a great fashion style Shopify theme that will allow you to sell to a wide audience your t-shirts. One of the key elements that makes this a great theme is the imagery. You can connect your Instagram account to the theme and then create posts centered on your products that can be displayed on your homepage for extra social integration. You can also use a home page video to showcase your fashion items and the associated lifestyle. This video can be a featured video or an auto-playing background video.
To help build trust there are some great features such as the customer testimonial section and the Disqus blog comments that take your site to the next level of customer engagement.
Finally, to help sell there is a product quick view that allows all the details of the product to be displayed in a popup on the current page. The customer doesn't need to move away. Finally, for when you have different colors for fashion items there is a great inbuilt color swatch for your website.
Broadcast Highlights:
Optimized for search engines, so you can be found on Google and other search engines with ease.
Let customers choose the variant they want of your t-shirts with the swatches.
Mobile friendly so your site will look perfect on all devices and screen resolutions.
Free stock images supplied by Burst.
Streamline
The name might be streamline, but the features on this theme certainly aren't. This theme is very popular amongst fashion brands and it seems to have been perfectly developed for any brand selling clothes. The product pages are centered around the story of the product, adding emotional weighting to the purchasing decision. Stories can include text and images for additional strength.
There are also quick view product pages, to speed up the shopping experience for customers. This can really help you increase conversions and improve success of your store.
The theme is fully optimized for search engines, so you can rank on Google and others with ease. And to help you build more traffic, there is a great Instagram integration option, something that is perfect for fashion brands. The Instagram posts can include a link to the product page to help followers buy products mentioned in your content.
Finally, all content on the website can be animated. This adds a layer of engagement and makes your website a little more interesting than some others on the market.
Streamline Highlights:
A mobile-first design, so your site will look good on any device or screen resolution.
A sticky checkout that is continuously available to the customer, but still encourages further shopping.
Animated text, images and videos throughout your store.
Free stock images from Burst to help you develop content on your store.
Boost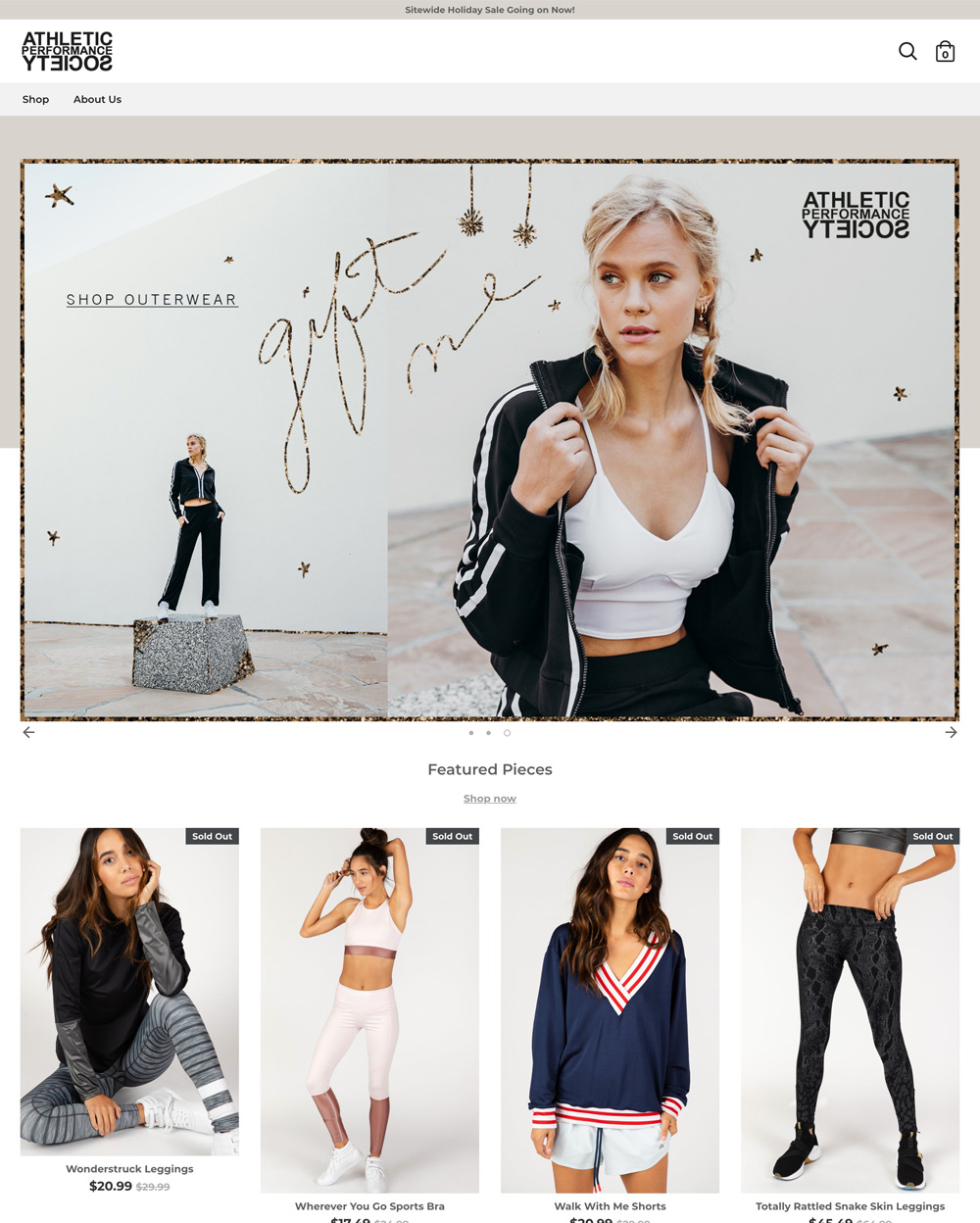 Not to be confused with Booster, mentioned above, this is another theme that promises a fast experience for your customers. This is important as just a second delay will cost you 7% of your revenue. But as well as clean code and fast speed, this theme has a lot of options.
There are image hotspots linking capabilities that allow you to create link labels between images and your products. Great for those who are reading your blogs or content elsewhere on your site and want to know more about a product.
There are also custom promotion tiles. This helps you to promote sales, discounts and feature specific products on the homepage in a unique promotional tiles layout. This is aesthetically pleasing and grabs the attention of the user. It will help you sell more.
To help customers further find the products that they want, there is a predicative search option. This live search option is great for those with large catalogs to get customers to the products they need. And for additional help, there is the related products/blog posts feature on the website.
Boost Highlights:
Got t-shirts in lots of different colors? Not a problem, color swatches included.
Integration with social media with great icons to promote your social media channels.
Great SEO potential, so your site can be found.
Free stock images supplied by Burst.
Boundless
This free, minimalist Shopify theme is one of the best for those who are on a tight budget. There are lots of features that you would normally find in a paid Shopify theme. For example, there is a sticky navigation, so customers can find their way around your website with a menu that moves with them as they scroll down the screen.
The theme is optimized for large images and lots of products. The high-resolution images will showcase your t-shirts in perfect clarity. And you can further feature your products in a great home page slideshow that has a neat fading effect.
Finally, you can showcase your products in a great video, displayed on your front page.
Boundless Highlights:
A great free theme that is perfect for those who are on a tight budget.
A great slideshow that brings your products to life.
Optimized for search engines and mobiles.
Lots of image options to make your products standout.
Testament
Testament is another popular choice when it comes to building a fashion centered website. And there is little surprise as to why. The product quick view option allows customers to view the finer details of potential products without the need to leave the current page. There is also a great color swatch option that allows them to choose from variants on your website.
Navigation is easy on this theme with a sticky navigation option that allows the menu to follow the customer as they scroll down the page. And you can also build a multi-column menu that can help users navigate around your store with ease.
Finally, there is the opportunity to promote your store with a home page video. This can be hosted on YouTube or Vimeo but displayed on your front page. Give your brand's story a voice and pull in the customers with your emotional rise in business.
Testament Highlights:
Great navigational options that allow customers to find exactly what they want.
Quick-look options for products, allow for a faster shopping experience.
Front page video to sell your brand's story.
Optimized for search engines.
Fashionopolism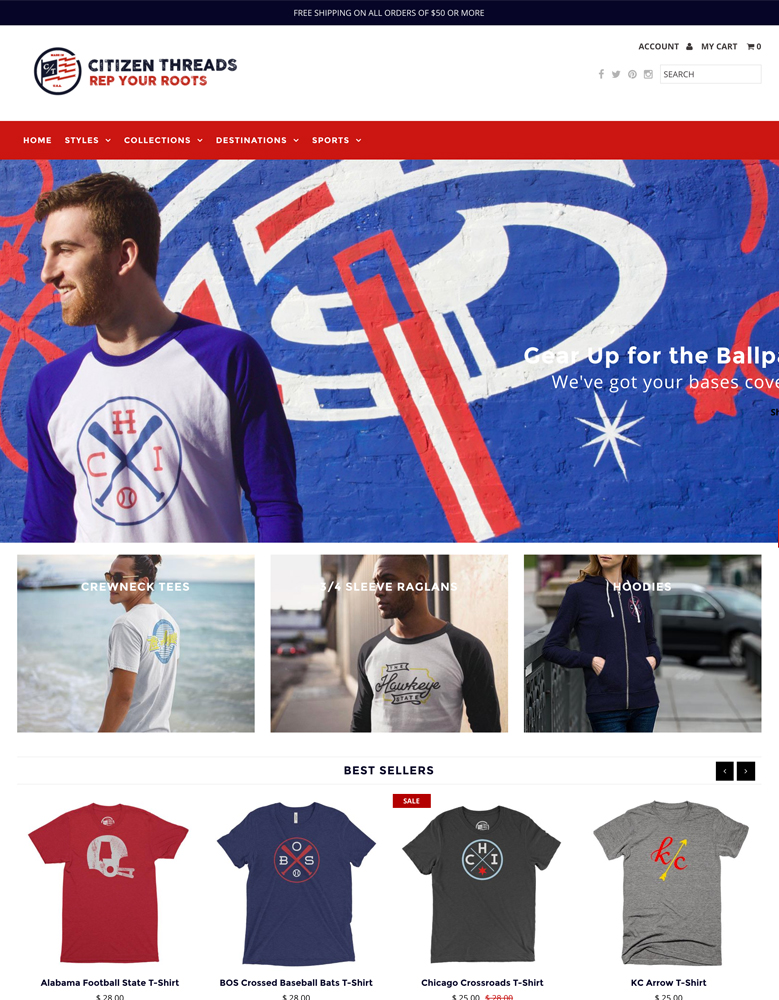 This theme is one of the best for those who want something with more options than you get on a free Shopify theme, but also don't have a high budget. There are still lots of great features on this theme, such as the sticky navigation and the product quick view, but between the four styles included in the theme, there is little difference.
Some other highlights of the theme include two menu options. You can either have it as a horizontal menu or a sidebar, depending on what you think the customers will prefer. And, unlike some other options, there is a product image zoom option, allowing your customers the chance to see your t-shirts in perfect detail.
Fashionopolism Highlights:
Give customers the chance to zoom into your products to see them in great detail.
Promote your brand with video on your homepage.
Have your products on a slideshow.
Optimized for mobile and search engines.
California
California is one of the best Shopify t-shirt themes if you're looking to build a visual story of your brand. There is a header slideshow right on your homepage that can display brand images or multiple products to showcase your offerings. You can also promote products on an Instagram feed built right into the theme's code.
To help customers find those products, there is a great deal of product filtering options. Customers can search for products based on best sellers, price and type right on the collection page. Therefore, customers won't be lost when you have a lot of products that you want to showcase.
California Highlights:
Built for search engines, so your site will be found on Google and other sites easily.
Mobile-first design, so your site will look great on any device.
Lots of image options, so your site can really promote the visual attraction of your t-shirts.
Instagram functionality built into the theme.
Artisan
With three modern and aesthetically pleasing styles to choose from, Artisan might not be specifically built for selling t-shirts, but it certainly deserves a place on this list. There is a lot of focus on the images with this theme with an image gallery that can be shown in a masonry-style layout. There is also integration with Instagram, something that is vital for fashion brands.
To draw attention to a high-value product, you can feature it on any collection page. This can help you attract the attention and improve sales for products with the highest profit margins. And if you want to showcase different products side-by-side there are some handy product tables you can use. With these you can identify key features, pricing and any bundles.
To build trust there is the customer testimonials page that allows you to share comments and quotes from customers. And when customers want to ask a question, they can use a custom form that you can design specifically for your needs.
Artisan Highlights:
Great looking theme that has three styles to choose from.
Draw attention to specific products with the featured products image.
Optimized for search engines, so you can be found online.
Fast loading for better user experience.
Story
Stories can be a powerful selling tool when it comes to fashion. Many TV commercials often promote their clothing ranges telling the story of the people wearing them. And this is where this Shopify t-shirt theme, named Story, is trying to place itself. It aims to help you tell the brand story, so there is an emotional connection between you and the customer. This should help convert more visitors to your site.
To help you there is a custom form that allows you to tailor contact forms exactly for your brand's needs. Therefore, you can get all the information you need to answer the questions of customers more precisely. In addition, you can use the collection filtering in the sidebar to help customers find the products they want. Filters can be set so products are limited to numerous aspects including: brand, price, color and more.
To help with marketing there is a great Lookbook feature. Therefore, you can display collections in a unique modern way that helps to sell.
Story Highlights:
Tell the story of your brand and the products in this unique app.
Showcase the creative team behind your brand with unique team pages.
Optimized for search engines, so you know that you can rank your site.
Mobile-friendly website design, so your store can be viewed on numerous devices and screen resolutions.
Choosing the Best Shopify T-Shirt Theme
Understanding Your Audience
Knowing the target audience is the first step in selecting an appropriate Shopify T-shirt theme. Consider the demographics, preferences, and shopping behaviors of the prospective customers.
A theme should cater to their specific needs and preferences, offering a tailored shopping experience that encourages purchases. Analyzing data and insights on customer behavior can inform the selection, ensuring the theme aligns with the audience's expectations and preferences.
Feature-Rich Themes
A theme's features can significantly impact the functionality and performance of an online T-shirt store. Essential features to look for include customization options, mobile responsiveness, and SEO-friendliness.
Additionally, features like quick loading times, easy navigation, and user-friendly interfaces enhance the shopping experience. Evaluate the features in light of the store's objectives and the customers' needs to ensure a balanced and effective e-commerce ecosystem.
Evaluating Support and Updates
Support and updates are crucial aspects often overlooked in the selection process. Opt for themes that are backed by robust support and regular updates. This ensures that any issues or challenges encountered can be promptly addressed, and the store operates optimally.
Regular updates also mean that the theme is continually improved and enhanced to meet evolving e-commerce trends and customer expectations.
Optimizing Your T-Shirt Store's Aesthetics
Theme Customization
Customizing the look and feel of your Shopify T-shirt store is essential in attracting and retaining customers. The visual appeal, layout, and design elements play a pivotal role in enhancing the user experience.
A well-designed theme should offer customization options that allow store owners to modify colors, fonts, and other visual elements to align with their brand identity. It's not just about aesthetics; it's about creating a visual harmony that resonates with the target audience and encourages engagement and conversions.
Mobile Responsiveness
In today's digital age, a significant portion of online shopping is done via mobile devices. Ensuring that your Shopify T-shirt theme is mobile-responsive is not a luxury, but a necessity.
A mobile-responsive theme adapts to different screen sizes, offering a seamless shopping experience on smartphones, tablets, and desktops alike. It ensures that the design elements are displayed optimally, making navigation intuitive and the shopping experience enjoyable.
User Experience Enhancement
The user experience is paramount. It goes beyond visual appeal to include the functionality and usability of the online store. Features like easy navigation, quick loading times, and user-friendly interfaces are integral.
A theme should facilitate an effortless journey from browsing to checkout, ensuring that customers can easily find what they're looking for, add items to the cart, and complete purchases with minimal clicks and delays.
Strategies for Boosting Sales With Best Shopify T-shirt Themes
SEO Best Practices
Search Engine Optimization (SEO) is a cornerstone in driving organic traffic to your online store. A theme that is built with SEO best practices in mind not only ranks higher in search engine results but also offers visibility to a wider audience.
Elements like clean code, optimized images, and user-friendly URLs are essential in enhancing the store's SEO. Implementing these elements effectively contributes to increased visibility, traffic, and ultimately, sales.
Conversion Optimization
Conversion optimization is the art and science of turning visitors into customers. It involves tweaking various elements of the online store to make the shopping experience as seamless and enticing as possible.
This includes clear call-to-actions, easy navigation, and a straightforward checkout process. A/B testing can be employed to test different elements and layouts to identify what resonates most with the audience, leading to higher conversion rates.
Customer Engagement
Engaging with customers is crucial in building relationships and fostering loyalty. Incorporating features like newsletters, social media integration, and customer reviews can significantly enhance engagement.
Providing platforms where customers can share their experiences, give feedback, and connect with the brand fosters a sense of community and trust, leading to increased customer retention and word-of-mouth referrals.
Conclusion: Top 10 Shopify T-shirt Themes
If you want to get into fashion and looking for one of the best Shopify t-shirt themes, then the ones in this article are a great selection. They all have features that will help you focus the attention of the audience on your products and help you sell. Just which of the great themes listed will you choose?
FAQs
What kind of support and updates are available for Shopify T-shirt themes?

Support and updates for these themes are typically robust, with developers providing regular updates to enhance functionality and security. Users can also expect timely support to resolve any issues, ensuring their online store remains operational and efficient.

How do Shopify T-shirt themes handle product variations?

These themes are equipped to handle product variations effectively, offering customers a straightforward process to view and select different sizes, colors, or styles. The intuitive design ensures that product options are displayed clearly, enhancing the overall shopping experience.

How can the choice of a Shopify T-shirt theme impact the store's SEO?

The theme's structure and coding quality directly influence store SEO, affecting loading times and mobile responsiveness. Themes with built-in SEO features enhance visibility and drive organic traffic.
Avi Klein
Vast experience in the online world. Shopify Expert, SEO expert, Web developer and consultant to several online companies. Read more about
our approach
to reviewing themes and apps.