The 12 Best Shopify Theme Statistics
Last modified: May 26, 2023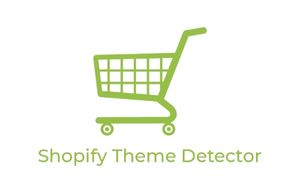 Shopify themes are a cornerstone of owning a Shopify eCommerce website. Without a theme, there isn't a design for your website and it is the design that can make or break your website's conversion. 97% of consumers are influenced by the design of a website. However, there are lots of things that many people do not know about Shopify Themes.
What is a Shopify Theme?
A Shopify theme is a simple framework for you to build the basic design for your website. Most Shopify themes have a lot of features included within. For instance, some themes include feeds for Instagram, sliders, and even different types of carts.
The Shopify themes offered on the Shopify theme store are great for working on mobiles, tablets, and desktops with ease. A theme that works on all platforms is really important as numerous customers shop now on their mobile devices as well as on desktops.
However, there are also ways that you can make your mark on themes. Themes can be customized with different colors, styles, layouts, texts, images, and videos. These can be changed within a simple drag-and-drop builder on Shopify. There are also great Shopify theme drag-and-drop page builders that can help you transform the basic design of the store.
There's no coding required to install a Shopify theme. Instead, you get to install the theme with one click. Some themes allow for custom CSS to be entered into the theme for unique elements to be entered within the theme.
Where do you get Shopify Themes?
Most Shopify store owners will buy a Shopify theme from the Shopify theme store. This location has numerous themes that have been vetted by Shopify and can be installed on the website with just a single click. Shopify theme store options are offered as a one-off payment.
However, there are other platforms where you can buy or subscribe to themes that are not from Shopify. There is some risk from not buying on Shopify in that you have to trust the developers to maintain the best security. It is also harder for you to install the theme. However, those not sold on Shopify tend to have more features. For instance, Shoptimized and Booster have features that usually require you to have lots of apps, which can save you $2000-$3000 a month by using them.
Shopify themes are also known to be highly converting with some Booster considered one of the best for converting visitors to the website.
So what are some of the statistics that are important for Shopify themes?
1. There are 97 Themes on the Shopify Theme Store
The Shopify Theme Store has approximately 97 themes on the store at the time of writing. This can change as new themes are added every so often and old themes are removed. Before Shopify upgraded to its 2.0 operating system, there were more themes on the store. However, some of these themes were not convertible to the new system and they were removed.
Most of the themes are premium and you must pay a one-off fee for the use of the theme. However, there are also nine themes that are free to use. While free often means poorer quality, that is not the case when it comes to the themes on Shopify. Some of the themes in the free section have features that otherwise require a premium app. Therefore, there are ways that you can save money on the website.
In addition, other themes are not on the Shopify theme store. You can buy themes that are on theme stores across the internet. Some of these are less expensive but can come with a wider range of features.
Installing a theme that is not on the Shopify store theme can be much more challenging, especially if you don't have technical skills for website design.
2. Only 0.97% of Shopify Users have a Custom Theme
There are lots of options when you want to choose a Shopify theme. There are 97 themes on the Shopify theme store and other options, even so, you would think that there would be a significant number choosing a particular theme option. However, there seems to be a rather even spread.
The most common type of theme that is used is a custom theme, i.e. one where a developer has designed a theme for the store from scratch. There are advantages to this as the theme's coding can be streamlined for better loading and the custom functions can be added if a good developer has been added.
For those off-the-shelf options, there are several popular options such as Debut and Dawn. However, most website themes on Shopify can be adjusted to your specific needs. This can be used using page designers or hiring a designer who can create a custom theme or edit an existing theme.
3. The Cost to Hire a Shopify Theme Designer is $20,000
Some Shopify store owners do think that the cost of one of the themes, which can be $200 to $300, is rather expensive. Consider that some WordPress themes can cost as little as $30 to $70. However, the cost to hire a developer to create your theme can be much more expensive. Some design studios will charge between $10,000 and $20,000.
Some Shopify sites, mainly for large brands, have cost over $100,000. The cost is partly explained by the level of skill that is required by the designers. They need to know liquid and how Shopify works.
The cost might be high, but there are some benefits. For one, many developers can add functions to a website that normally have to be added through expensive apps. The average Shopify app costs about $20 per month and there are normally about 6 added to each store. Therefore, numerous stores can spend about $120 per month on the app. Therefore, the custom designer route can be more cost-effective if the shop is active for more than seven years.
4. The Average Shopify Theme Loads within 2.5 Seconds
Shopify is known to have lots of fast-loading themes. Speed is vital for success. For every second that it will take for your website to load, you will lose 7% of your revenue. Therefore, you need to use a fast-loading theme. Tests done on all the themes have found that some can load within a second like Prestige (0.5 seconds), Express (0.6 seconds), and Masonry (0.7 seconds).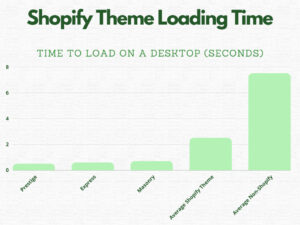 However, when you want to look for a theme that has a high Google Page Speed score, you want to have Sunrise which has a score of 99.
In comparison to other websites across the internet, Shopify is very fast. The average eCommerce website can sometimes load in 15.3 seconds on mobile devices. For desktop sites, the average loading time is 10.3 seconds.
Therefore, Shopify themes tend to be much faster. And this can be a significant benefit for Shopify store owners as they get higher levels of conversions. About seven out of every ten consumers admit that the loading times of their website will impact their purchasing decision.
And it isn't just whether the customer will purchase from the brand. Some customers continue to make a purchase but will reduce the amount they spend on the website. Therefore, speed isn't just about getting new customers, but maximizing revenues when they come to the website.
5. Startup has a Fast Desktop Loading Speed, but Very Slow Mobile Speed
Startup is a very popular Shopify theme and that is because on a desktop it will load on average within just a second. However, on mobile devices, it will load incredibly slowly (more than 15 seconds). This can be a big problem for brands.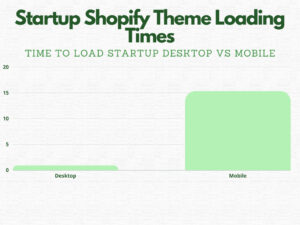 Recent research has shown that Shopify mobile stores are vital. About 71% of all sales made on Shopify stores are made via a mobile device. Therefore, using a theme such as Startup can be very challenging for brands as they can lose a lot of sales.
To combat this there are other options. For instance, you could use a mobile app. This is where your store is an app and not just a website. This can then be downloaded to a mobile device and the customer can use the app on their phone and buy directly from there. Numerous apps can do this, using your theme to help you create a design, or they have a unique set of themes.
6. 0.64% of Organic Traffic to Shopify is for Shopify Themes
Shopify themes are one of the most popular terms that are used to generate traffic for the eCommerce platform. About 0.64% of their traffic uses the keyword 'Shopify Themes' which is the fifth most popular keyword for the platform. Even the top option, Shopify, only gets just under 15%.
In the last six months of 2020, there were more than 422 million visits to Shopify. Therefore, 2.7 million people were looking for Shopify themes in that period. Therefore, Shopify themes are big business, and the average store must think about or change its theme regularly.
There are many reasons for this. The one-off cost of a Shopify theme might seem a huge investment, but when compared to the services of a web developer or a custom Shopify theme developer, the $120-200 price tag isn't too high. A Shopify store owner could buy two or three of these and still be saving money compared to a custom developer.
At the same time, it means that there are potentially lots of great themes that can help brands sell. Shopify is known for driving a significant amount of revenue, 11.8% of all dropshipping sales are made on Shopify websites, which makes them the third largest dropshipping platform in the world.
7. A Shopify Theme Developer can Earn $11,000 per Theme Every Year
Shopify allows individuals to create and submit their own themes all the time. Those who are successful, and there is a strict criterion for joining, can earn a 70% share of the sale price, with 30% going to Shopify.
It is a model that has worked well and developers who sell on Shopify can earn $11,000 on average per year on the platform. That doesn't sound a lot, but often developers will produce three or four themes for the platform and this can earn them $33,000 to $44,000 per year. And there are no marketing costs as Shopify does that for you.
However, this is low compared to the average US salary. But for developers in countries like India, the average income from one theme is worth double the salary of an average Indian employee. Therefore, getting a theme published on the platform can be very lucrative.
A good theme developer in the US can still earn good money. They can sell the themes privately, and get more of a cut. Or they can offer secondary services for their theme like offering custom installs, customizations, additional support services, additional apps, etc.
8. The Average Conversion in 1.5%
Shopify stores have an average conversion on all themes of about 1.5% (for themes on their Theme store). Some of the stores using the Shopify Theme store options can achieve a 2% conversion rate, but this is not common. In contrast, the average conversion theme across the internet is about 2.5%.
Therefore, Shopify themes aren't known for their conversions in some markets. There are numerous reasons for this. Design is part of the problem, but also the relevance of traffic could be another. SEO is a major factor in all search traffic. However, if you don't get the right audience to find your products, then conversions are going to be low.
Despite this low figure, that doesn't mean that a store can not have a better conversion rate. Custom themes like Shoptimized tend to have a high conversion rate. There are numerous reasons for this. Partly it is because the theme includes lots of premium features, like stock counters, countdown timers, and more to help build conversions.
Another factor is that Shopify stores are often designed by those who aren't experienced in building websites. Without proper training or design work, conversions are often lower and so those who are building a Shopify website store should take time to learn more about conversions and how they can improve them.
9. Shopify Themes are Often Very Secure from Hackers
Because of the way that the infrastructure for Shopify is done, Shopify themes are very secure from digital hackers. There have been, in the past, DDoS attacks against all of Shopify. In 2015 and 2018 these were rather successful and the company decided to invest in its security.
Therefore, Shopify invested in ethical hackers to check all the routes on their website. This cost Shopify more than $850,000 and as a result, the website platform is more secure.
There are several reasons why this is important.
For one, it means that any brand that is using Shopify is going to be more secure against data theft. Having data stolen isn't just an inconvenience. It can break the laws in some countries and brands can face large fines, many of which are so large that brands do not recover.
Another factor is that any DDoS is going to cost the brand lots of money in lost sales and also recovery. Therefore, any steps that are there to protect the brand from an attack are only good news.
10. Most Mobile Versions of Themes Have More Data
When you compare the data needed to display a website on a desktop or a mobile device, you can be mistaken to think that most mobile versions will have less data. In fact, the opposite is more true. The amount of data to display Express on mobile is 5% larger than the data needed for a desktop version.
There are relatively few themes where the mobile website version is smaller. One exception is Avon where the mobile version is 30% smaller than the desktop version.
While this might seem irrelevant, as we've mentioned before, speed is vital. The more data that is required to display a website, the longer it will take. Mobile devices, like mobile phones or tablets, also have less power and so take more time to display a website that has the same amount of data. Those websites that have more data for mobile versions will require even more time to download.
That is why there might be some challenges in loading times between desktop and mobile devices. Desktops tend to be above industry standards but the same themes can be below industry standards for mobile versions.
That being said, some great themes are available with great mobile versions.
Mobile data levels are important for SEO as well as traffic levels. The better the loading time of your mobile versions, the higher you will rank, not just for mobile traffic, but also for your desktop versions.
In addition, you might also want to consider that a good loading time on mobile will help to convert more of your traffic.
11. Debut Has the Fastest Cart Page
There are many important pages on your Shopify website. One that is vital is the cart page. This is the page where your audience will look at the products they added, make a few last changes (if any), and then proceed to the checkout. A slow checkout page can be a disaster for any business. It can cause the abandonment of the order.
The average abandoned cart rate on Shopify is 69.57%. This is roughly on average for eCommerce, though some brands suffer higher rates than this using other platforms. Brands can reclaim some of these abandoned carts by using Abandoned Cart apps. However, avoiding them in the first place is best as well.
One of the reasons why customers will abandon their cart is because the time to generate the cart can take a long time. Customers want the page to load within one or two seconds. That is fast. Most themes on Shopify can do this and this compares to other platforms where the average can be six seconds or more, this is a good time.
However, there are themes on the platform that exceed this. For instance, Debut has one of the fastest cart page loading times on the Shopify theme store. They have a loading time of just 0.5 seconds on average. Even on mobile, they have a fast loading time with speeds of about 2.9 seconds.
Other fast cart loading page themes include Kingdom and Simple which both load within one second. However, Kingdom has a poor loading time for mobile customers, with cart pages loading in 4.3 seconds on average.
Therefore, using a Shopify theme can help reduce abandoned carts.
12. Shopify's Express has the Fastest Loading Shop Page
When you want to sell lots, you need to have product pages that load fast. The longer it takes for website product pages to load, the fewer customers are going to place within their basket. This can be a massive problem for brands as the best way to maximize profits is to sell more to existing customers.
The fastest-loading product pages on Shopify come from Express. These product pages can load within 0.5 seconds on each page, which is well within the expectations of customers. Even mobile pages can load within 2.5 seconds.
Other themes like Cascade and Kingdom also have product pages that load within one second. However, both of these have mobile product pages that load in 4.4 and 5.1 seconds respectively, which is relatively slow for mobile devices.
Other themes have worse product page loading times. For instance, Debut has a product page loading time of more than 10 seconds. So does Symmetry. Considering that most sales on Shopify happen on mobile devices, then these themes might be ones that you would want to stay away from.
Kingdom has a great benefit for mobiles, however. Their desktop product pages require 11.3 Mb to display. However, their mobile product pages only require 0.31 Mb. Therefore, 97% of the data is reduced to display the product.
One reason why product page loading is important is that this can help your product pages to rank on Google. Most brands find that SEO is one of the most effective ways to sell online. So by ensuring that product pages load fast, then you can improve your website's traffic and sales.
Final Word: The 12 Shopify Theme Statistics
Numerous Shopify themes are available for your store online. Some of these themes are going to be good for you. They will have the right style for your brand, and product and have the speed to help you to convert. Others will be less right. However, Shopify themes from the store are at a cost-effective price.
When you use a theme that is not on the Shopify theme, the cost can be very different. Some, like Booster and Shoptimized, can save you money by including features that can only be otherwise found in Shopify apps. However, others like the custom theme options can be very expensive and it can be years before the costs are less than they would be using an off-the-shelf option.
Using the statistics above, you can make a more educated analysis of which theme is going to be best for you. And while the custom theme is often the more utilized option, it isn't often the most cost-effective when you are new to the business. So always be aware of some of the other available options.
FAQs
How many Shopify Themes are Shopify 2.0 Compatible?

Since Shopify moved to the new 2.0 operating system, there has been a reduction in the number of themes that were available on the Shopify theme store. There used to be more than 100, but that number has now been reduced to just 97. There are still fewer than 10 which are free. However, there are also dozens available on other marketplaces that are 2.0 optimized.

Do Shopify Themes Rank well on Google?

Shopify aims to deliver Shopify themes that will perform well on Google and other search engines. However, that doesn't mean that you don't have to put in some work to help them to rank higher on those platforms. For instance, you still need to optimize images, use good meta descriptions and improve internal/external links to make ranking easier.

What makes a good converting Shopify theme?

Shopify themes have been designed for speed. Therefore, they have a lot of potential to convert more. However, that doesn't mean that you can rely on that. Shopify themes like Booster and Shoptimized are best at converting because they include features to help conversions. These features can also be found on Shopify apps.

How much does it cost to have a Custom Shopify theme?

A custom Shopify theme is a very expensive option for Shopify store owners. Large brands can afford these relatively easily, but the average Shopify user doesn't usually have the financial resources to make it work. However, if you're looking for a custom Shopify theme, you should budget between $5,000 and $10,000.

What is the most popular Shopify theme?

Numerous themes are very popular on Shopify. However, a custom theme is the most popular option on the platform with just under 1% of all Shopify themes using this option. And this is nearly double the number of brands that are using the next popular theme which is Debut.

What Shopify theme is best for conversions?

Numerous themes are considered to be great for conversions. However, there are some problems with this data as themes can be customized with numerous apps that make them convert better. However, themes can sometimes be generally better like Shoptimized. You can check with reviews to see what other brands think of the theme.

Can you transfer a theme from WooCommerce to Shopify?

No, you cannot use a theme that has been used on any other platform on a Shopify theme. Shopify themes are built using Liquid and so cannot be used on other platforms and other themes from WooCommerce cannot be translated with ease. The other option is to use a custom theme developer for your store.

What is the cost of a Shopify theme?

There are lots of themes on the Shopify theme store. These are available for between $120 and $240. However, there are other places where you buy themes for your Shopify store. You can buy from individual websites and also other marketplaces where prices range from just $60 to $200+. It all depends on your budget.

Can you customize a Shopify theme from the store?

Shopify themes from the store can be customized. There are several ways that this can be done. A Shopify page builder can be used to customize the look and design of a theme. These page designers can be used on a home page, other pages, and even product pages. Another option is to add custom CSS and JavaScript, which may require you to install a new Shopify app.

How many themes can you install on your website?

You can install any number of themes on your Shopify website. However, you can only activate and use one at a time on your website. The rest are just connected to your website and in the dashboard of your website. To help you, most themes only need a one-off payment and not having a subscription like with Shopify apps.
Avi Klein
Vast experience in the online world. Shopify Expert, SEO expert, Web developer and consultant to several online companies. Read more about
our approach
to reviewing themes and apps.