10 Best Colorful Shopify Theme To Choose From In [2023]
Last modified: October 19, 2023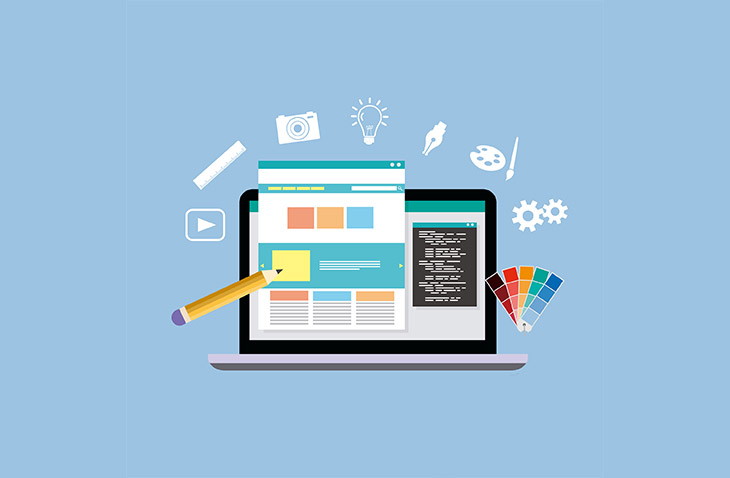 #
Image
Name

Get a Free Custom Shopify Store
1

Booster

2

Venture

3

Capital

4

Toytown

5

Baby Planet

6

Kutty Kids

7

Magic World

8

Kinder

9

Sunrise

10

Kagami

Show More
While minimalistic websites are very popular with users and search engines, they aren't suitable for all industries. A good example would be those catering for toys, games, and other children's activities. These want to be created in bright colors to attract the attention of the audience.
There are numerous options if you want a colorful Shopify theme. All of them have some of the basic features that make Shopify themes great for an eCommerce website. However, not all of them have the same features which can make it challenging to compare them.
Therefore, you have to consider what you need in your colorful Shopify theme and then select the theme that matches your requirements.
What Other Features Might You Need From A Colorful Shopify Theme?
There are numerous features that you might need in your theme. One of them is the SEO potential of your website. The greater the potential that your website has to rank on Google and other search engines, the more traffic that it will get. This will lead to more leads and sales.
In addition, you want to have high customization options. Colorful Shopify themes are going to have certain color schemes. These might not match your brand and therefore, you need to ensure that you can change the colors so they match your branding and therefore don't confuse customers.

Key Takeaways
1
Colorful Shopify themes are ideal for industries like toys and games, enhancing visual appeal and engagement.
2
High customization options are essential to align the theme's color schemes with your brand, avoiding customer confusion.
3
Speed and performance are crucial; select a theme that ensures fast loading times and optimal user experience.
Best Colorful Shopify Theme – Here Are Our Top Options:
Filter between free and paid
Booster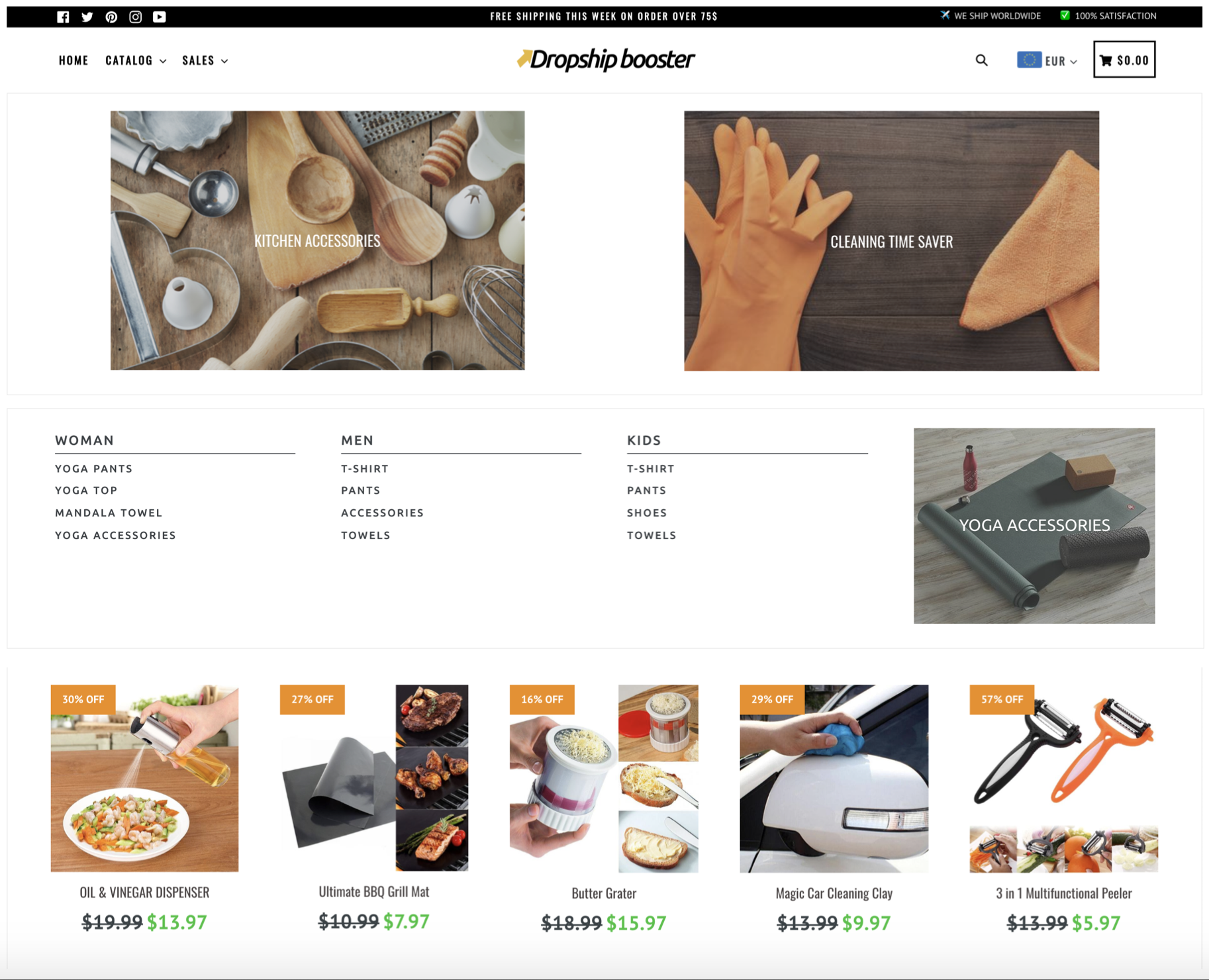 This is a great theme that has a lot of options for you to make the most of your Shopify store. Booster isn't just a theme, it is a collection of features and functions that make it an incredible theme that will give your business a real chance of success. A lot of the functions allow you to save on apps, the developers estimate that businesses can save more then $2,000 a year from the functions that are included within the theme.
Examples of the functions include countdown timers, social proof and currency conversion.
Therefore, if you want a cost-effective way to start your new business' website, this is a great option. The design elements are also great for booster and it can help you create a colorful and visually striking website.
Finally, you'll find that your website will perform well. Its speed is great and the SEO features allow it to rank higher.
Booster Highlights:
Save more than $2,000 on apps with all the functionality.
Fast theme, so your pages will load quickly on most devices and browsers.
Good for SEO, so your site can be found on search engines, including Google.
An excellent option when you have a lot of mobile customers.
Venture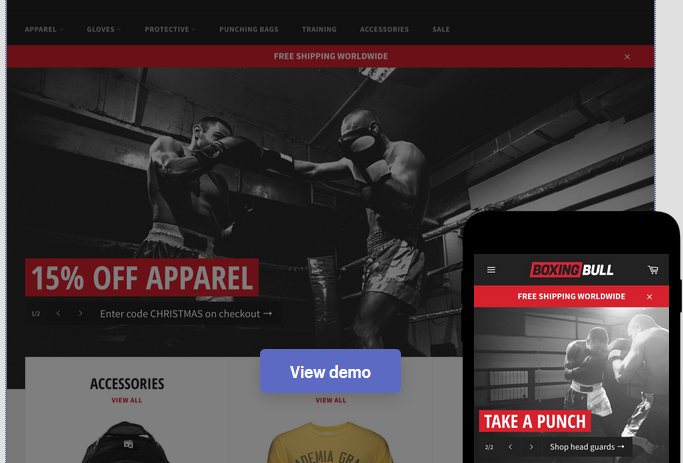 Venture is an excellent option if you want something that has a little color. The free theme comes with three great styles that are centered on specific sports. These themes are snowboards, outdoors and boxing. This colorful Shopify theme is one of the best free themes for large catalog. To help with navigation around your website, there is the multi-column menu setting, which users will appreciate. You can also add a product filter. The filter can reduce and sort products based on type, popularity and price.
On the home page there are numerous features that can make your website impress guests. The feature slideshow is a great feature that enables you to showcase your best products or important brand messages. This can be a winning feature as this places your best content right in front of your audiences. You can also have a promotional banner to highlight great discounts that will increase conversions and improve revenues for your store.
Finally, you can highlight your best product, like the one that will earn you the most profit, or one that sells the best, right in the center of your home page. This can help improve your revenue without too much changes.
Venture Highlights:
Mobile friendly design that allows your site to be viewed perfectly on any device.
Three distinct styles to choose from.
Optimized for search engines, so your site can be found on Google and other searches engines.
Great set of features that can help you promote your products.
Capital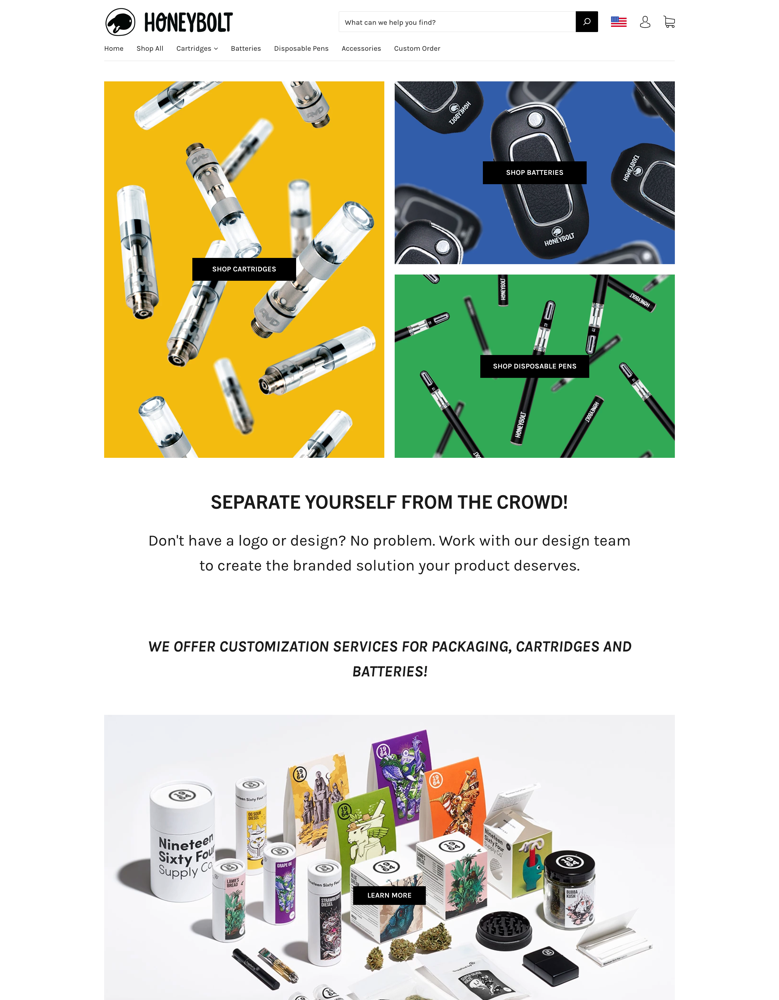 Capital is one of the best themes when you're looking for a colorful Shopify theme for a large catalog. There are three great styles to choose from that would be suitable for any brand, regardless of its niche. This theme was specifically built for larger catalogs. You can tell by the way that they've developed the user navigation that the developers had the buying experience at the forefront of the design process.
There's a multi-level menu that makes it simple to select a product category or sub-category. In addition, there is an advanced product filter that allows customers to see the products that are most relevant to their needs. Finally, there is a live search function, making the whole browsing process easy, convenient and better for your site's visitors.
There are some great features as well that puts this theme on the shortlist. For one, there is an Instagram gallery, that has a hover over effect. You also have the more product information functionality that makes it easier for customers to see your product's details.
Capital Highlights:
Three styles available with this theme to help you find the perfect look for your website and brand.
Free stock images, supplied by Burst so you can populate your website with professional images.
Optimized for search engines so you site can be found on Google and other search engines.
A highly responsive theme, so will look good on any device.
Toytown
One of the best things about toy themed Shopify apps, is that they are brightly colored and are very attractive. This is because they are designed to appeal to younger minds, which are often attracted to bright colors. Toytown is one of the best themes for this with numerous features for your website that will help it grow.
It has a drag and drop interface that you can use to customize any of the three home page styles. The theme has a clean design that includes kid-orientated typography and great shopping functions.
For shoppers there is a blog section, coupon area, and wishlists, so they can plan their purchases with great detail. There is also a comment section and a reviews section that will help you build trust with audiences.
The theme's functionality is great. It is compatible with all browsers and the responsive design makes it a perfect website to display on any mobile device or desktop. You can also add a great looking slider with images and an unlimited number of banners for your store.
Toytown Highlights:
A highly responsive Shopify theme that displays perfectly on all devices and browsers.
Use the product slider module to showcase the best products in your catalog.
Highlight when the end of discounts are going to be with a fantastic countdown timer, urgency can be a powerful element to increase sales.
Showcase brand reviews on your website and impress visitors with how others feel about your brand.
Baby Planet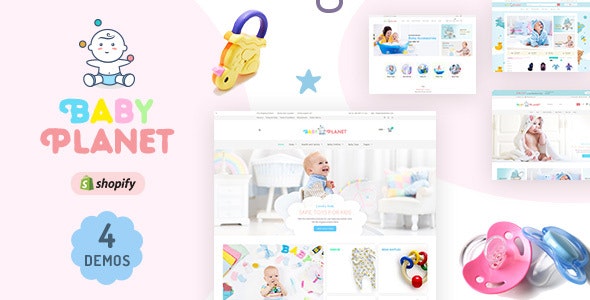 Baby Planet is a fantastic theme used by brands selling toys, clothes and other accessories. However, it can be used within numerous niches. The responsive coding for the colorful Shopify theme allows for your site to look great on any device or screen resolution.
Customization of the theme can be done thanks to the professionally designed elements. These elements can add numerous functions to your website that can help to increase engagement on your website as well as make it convert more visitors. Therefore, it can add value to your business and be a great asset.
To help visitors around your website there are some features like the mega menus. Superior navigation is linked to improved user experiences. And this can also help with high search engine rankings as well. When it comes to your business website's performance, a mega menu can create the right signposts to increase revenues for your business.
There are also several aspects of this Shopify theme that allow users to search for products on your site better. If you have a large catalog of products, then the search functionality is a must. This is also a great theme for those who want to sell internationally as there is a great currency exchange function on the theme.
Baby Planet Highlights:
A responsive Shopify theme can look great on any device or with any screen resolution.
There is a fantastic newsletter popup that can help you collect the details of visitors.
Can track orders that have been made on your website.
Design the perfect site for your brand with drag and drop home page blocks.
Kutty Kids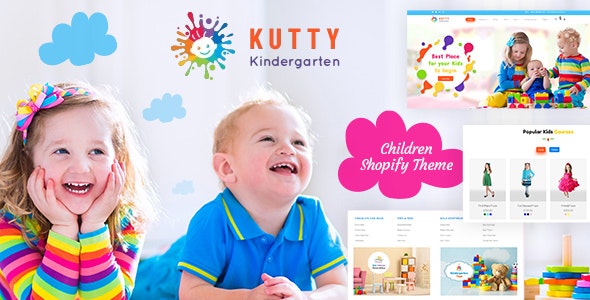 This theme is a theme aimed at an older age group than most child centered themes. However, that doesn't make it any less colorful. In fact, it is one of the brightest themes on this list and certainly more bright than the standard Shopify theme.
There are lots of theme styles you can choose from to help match your brand including five styles of mega menus to help your visitors to navigate your store. There is also functionality for product search and a newsletter popup.
To help convert your visitors into paying customers, there is a quick view that can display more information on products without the user leaving their current page. There is also a choice between displaying your products in a grid or list format. If you have lots of products, we really recommend the grid format.
To add urgency to your website, there is a countdown timer and you can build trust with a review setting.
Kutty Kids Highlights:
A powerful admin center that will help you manage your website's look and feel.
Can sell internationally so you can increase your reach, revenues and profits.
There is a wishlist functionality so you can plan better what stock you need for your business.
Build a mailing list quickly, so you can sell to your customers over the long term.
Magic World

The bright color schemes of Magic World are there to emulate some of the best performing websites across the world. The easy-to-follow content can direct customers to the products, information or section of the website that they need. The easy navigation will improve conversions and increase order values.
The theme has lots of great SEO potential with a fully-responsive design that will look great on any device including all mobiles and tablets. Considering that many people are now using their mobile devices for shopping, this is a really important aspect to consider.
There is also a great blog section that can help you improve traffic to the site and keep customers informed on the latest news, advice and more. Research has shown that 15 or more blogs per month can increase lead generation significantly.
You can also use the fantastic slider option to improve engagement on your website. You can direct customers to specific offers or products without the need for them to find the content below the fold. Finally, the theme offers sorting options so customers can see the products that are the most relevant to their needs.
Magic World Highlights:
Sell across the world with multilingual and multi currency functionalities.
Use social media to generate traffic and reach your target audience with social media integration.
Have a physical store? Direct customers to your location with the helps of Google Maps integration.
Clean coding for better search ranking and speed on your site.
Kinder
If you want your website to really look impressive with a wide range of bright colors? Then you should really consider Kinder. This is primarily designed for toy shops, but there is no reason why you can use this Shopify theme for other niches. Branding is certainly easy to implement.
To make your website standout from the rest of the crowd, there is a fantastic slider function that allows you to promote numerous products, sales and more information into one small space. The theme also comes with a currency converter to help you sell internationally.
Another great benefit is when you have sorting options to help customers rank products to what is most relevant to them. When you implement this, you are bound to see your revenues rise.
Kinder Highlights:
Blog aspects to help you improve engagements and better SEO ranking.
Online chat facilities to engage audiences who have issues.
Responsive website theme, so your site will look great on any device.
Great SEO potential.
Sunrise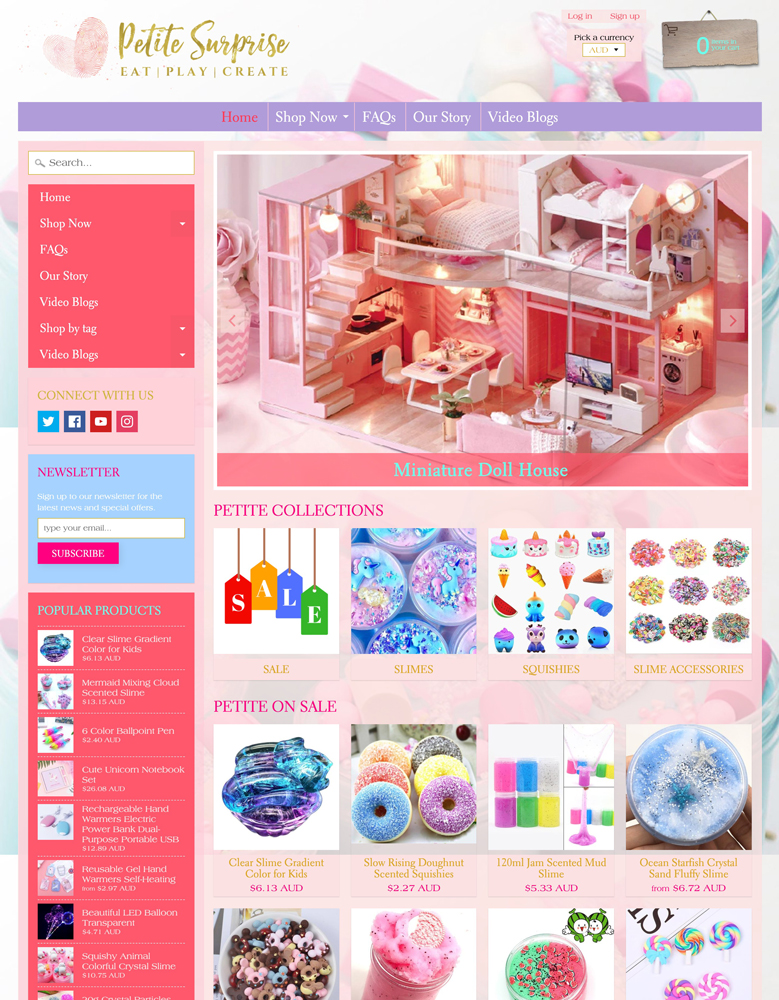 This is a very bright Shopify theme that will certainly attract the attention of your target audience. There are lots of features that will also help you sell more online and increase the value of your website.
For instance, there are several ways to showcase your products. There is a beautiful slideshow and an amazing promotional banner area to help you improve your onsite marketing efforts. You can also allow customers to see the finer details of your products with a great zoom feature.
You can also improve navigation on your site with the help of awesome multi-level menu.
Sunrise Highlights:
A very colorful theme with four different style options for optimization and more variance.
A grid-style layout that allows you to display products, posts and others in a grid style.
Allow customers to see your products in great detail with your zoom feature.
Great for SEO, so your site can be found online.
Kagami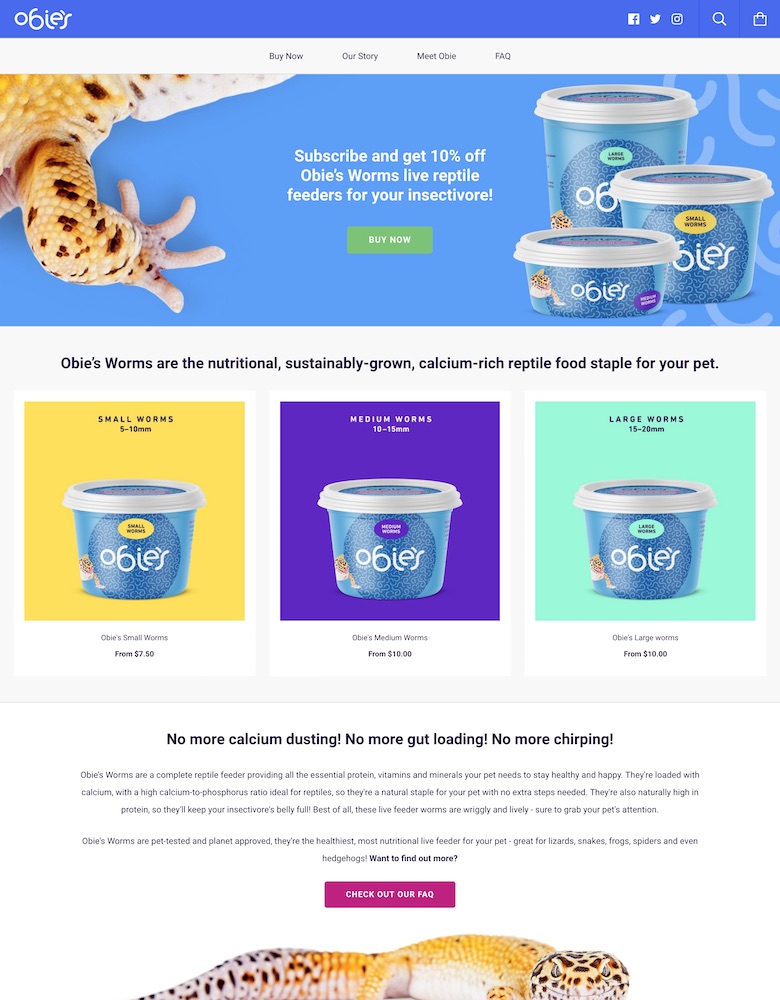 If you're looking for colorful Shopify themes, then this theme should be on your shortlist. It has bright colors and fantastic options to help you sell more on your website. There are two menu options, which include the traditional horizontal menu or a slide out sidebar. In addition, you can add video content to your home page or product pages.
The collage-style layout is amazing and really makes this theme standout from others on the list. The FAQ section is also a great feature.
Kagami Highlights:
A very colorful theme for your website.
Highly responsive, so your website can be viewed on any device or screen resolution.
Convert customers with videos across your site.
Great for SEO, get your site ranking fast.
Choosing the Perfect Colorful Shopify Theme
Factors to Consider
Selecting a colorful Shopify theme requires a thorough evaluation of various elements to ensure alignment with brand identity and an enhanced user experience.
The nuances involved in this selection process are influenced by the product category, the size of the product catalog, and specific feature requirements. For example, the design needs of a clothing store will significantly differ from those of an online course provider.
Official Shopify Themes
The quality and reliability of official Shopify themes are well-recognized. These themes are subjected to rigorous testing to identify and rectify any quality issues or bugs, ensuring an easy setup process for creating professional-looking stores.
Certain themes are noted for their flexibility, contemporary design, and an array of features that augment the shopping experience and elevate conversion rates.
Customization and Support
The emphasis on customization and support is paramount. There are themes known for their aesthetic allure and extensive customization options.
The support accompanying these themes is noteworthy, facilitating a seamless process to modify the store's appearance and functionality to meet distinct needs, eliminating technical obstacles.
Enhancing User Experience with Colorful Shopify Themes
Visual Appeal and Functionality
The intersection of visual appeal and functionality is crucial in a Shopify store. There are themes celebrated for their captivating designs and user-centric features.
Innovations like the parallax scrolling effect and contemporary sections, including Banner grid with video and Quick view, amplify visual storytelling and user engagement.
Optimization for Conversions
In the eCommerce landscape, the emphasis on conversion is paramount. Certain themes, celebrated for their visual allure, are also engineered for conversion optimization.
Features like quick view, multi-column menu, and promotional banners play a pivotal role in simplifying the shopping journey and incentivizing customer purchases.
Adaptability and Performance
The essence of adaptability and performance cannot be overstated in eCommerce. Themes crafted for high-volume stores, equipped with features that streamline international and flash sales, are integral.
The adaptability of these themes ensures efficient traffic management during surges, upholding optimal performance.
Advantages of Colorful Shopify Themes
Enhanced Visual Appeal
A colorful Shopify theme serves as a visual magnet, drawing in visitors with its vibrant and engaging design. The strategic use of colors not only elevates the aesthetic appeal of an online store but also accentuates the products, making them more enticing to potential buyers.
The visual stimulation created by a well-curated color palette can effectively highlight product features, special offers, and key call-to-action elements, leading to increased engagement and interaction.
Psychological Impact on Buyers
Colors have a profound psychological impact, influencing buyers' emotions and perceptions. A carefully selected color scheme can evoke specific emotions, encouraging visitors to connect with the brand on a deeper level. For instance, warm tones can instill a sense of comfort and positivity, while cooler tones can convey a sense of calm and trustworthiness.
By understanding the psychology of colors, store owners can tailor the visual experience to align with the brand's identity and values, fostering a stronger emotional connection with the audience.
Improved Conversion Rates
The incorporation of diverse and vibrant colors in a Shopify theme can significantly enhance conversion rates. A visually appealing store with a well-thought-out color scheme not only retains visitors' attention but also guides their journey through the site.
By strategically placing contrasting colors for call-to-action buttons and promotional banners, store owners can draw attention to key actions, such as making a purchase or signing up for a newsletter. This visual guidance aids in simplifying the navigation, leading to an improved user experience and increased conversions.
Conclusion: What Is The Best Colorful Shopify Theme?
When you have a need for an attractive, eye-catching website, then you need a colorful Shopify theme. There are numerous available. The best are listed on this article and they will help you generate more revenue and profits. So, which theme are you going to choose?
FAQs
How do I install a colorful Shopify theme on my store?

To install a colorful Shopify theme, go to the Shopify Theme Store, select a theme, and click on the "Add theme" button to install it directly to your store. You can also download the theme file and upload it via the "Upload theme" option in your Shopify admin's "Themes" section.

Are colorful Shopify themes mobile responsive?

Most Shopify themes, including colorful ones, are designed to be mobile responsive, ensuring a seamless shopping experience on various devices.

How do colorful themes impact the user experience on my eCommerce store?

Colorful themes can make your store visually appealing, potentially increasing engagement, retention, and conversion rates.
Avi Klein
Vast experience in the online world. Shopify Expert, SEO expert, Web developer and consultant to several online companies. Read more about
our approach
to reviewing themes and apps.