The Top 10 Single Product Shopify Themes
Last modified: February 6, 2020
Business leaders and advisors are often talking about the need to sell numerous products to make money. However, that isn't always the case. Sometimes you just need one product. This can be the case for inventors and product developers or those who operate in a super-niche.
As a result, many people don't think of Shopify as a great platform for their one product. But nothing could be further from the truth. Shopify is a great platform for brands with just one product and there are themes designed to help. These single product Shopify themes come in all kinds of shapes and sizes.
Why Use One Of The Single Product Shopify Themes?
There are many reasons why you might want to use one of the single product Shopify themes on your site. However, the main reason is that they allow you to focus your efforts on just one product, highlighting the positives and increasing conversions. Other store themes might detract from the one product and confuse visitors into thinking there are more products that are out of stock.
As usual, you want to make sure that your single product Shopify theme is fast. Speed helps with ranking and that can help drive traffic. The one drawback with single product websites is that they have a narrow opportunity for SEO, so what you do have, needs to be good to gain traffic.
So, what are the top single product Shopify themes we recommend? Here are the ten on our list.
Filter between free and paid
Booster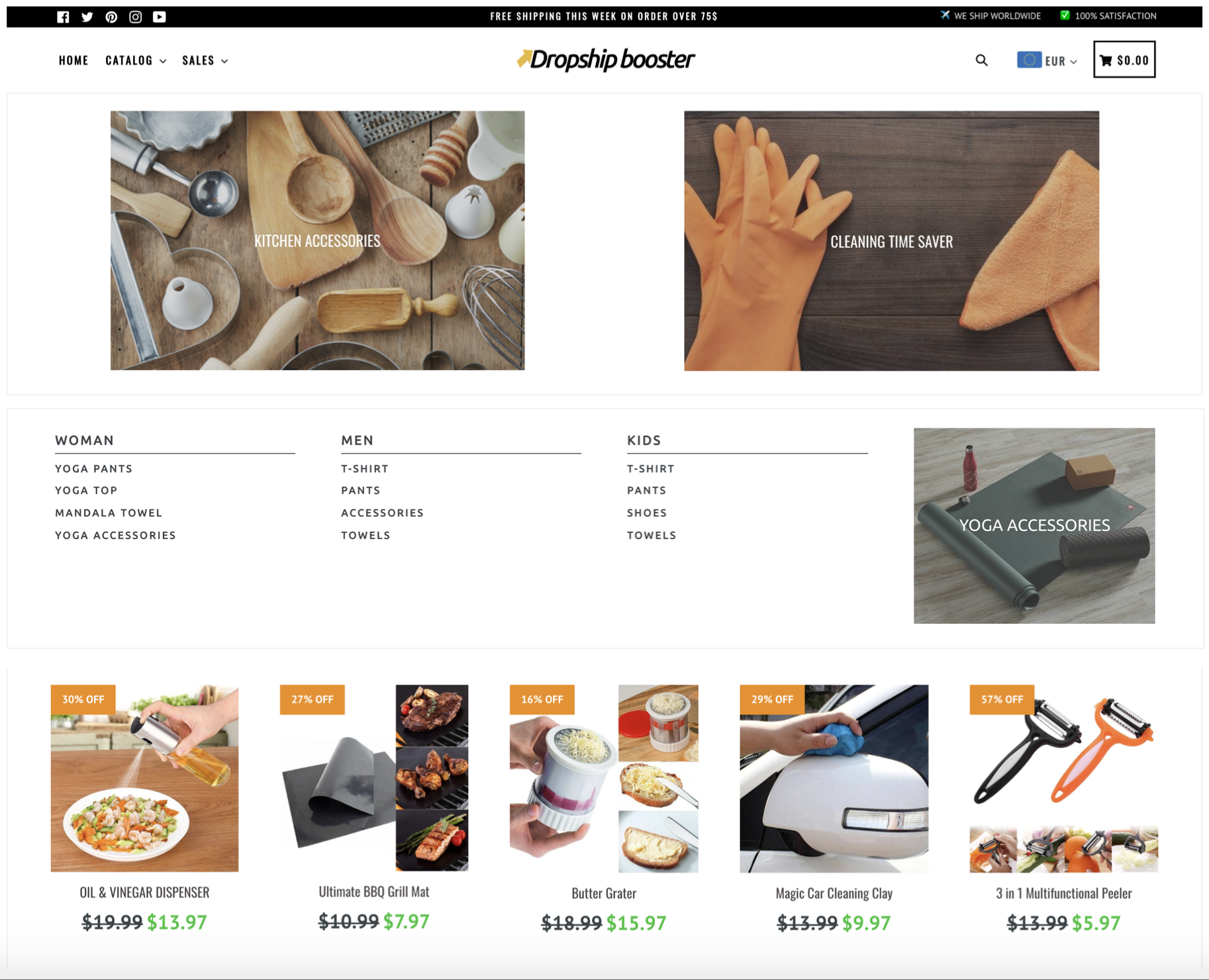 Booster is a theme that is suitable for numerous occasions and niches. And a single product site is no exception. Booster isn't just a theme. It is a collection of features and functions to power your brand to the next level. With all the features, you'd think that design would go out of the window, but that isn't true, the theme is as aesthetically pleasing as it is functional.
According to the developers, the number of apps included within the theme can help save your business about $2,000 a year. They can also help you speed up your website. And boost already claims that it is 2.1 faster than other themes.
There are two great features that are really good when it comes to selling single product items. The first is social proof. You need to build trust quickly with a single product, and 81% of customers will trust social proof signals more than your own marketing content. You can also have a currency converter on your website, useful for selling your one product to a wide audience.
You can also have email list building functionality on your site, helpful for developing a strong sales funnel.
Booster Highlights:
Save more than $2,000 a year on apps with the included functionality of this theme.
Developers claim it is up to 2.1 times faster than other single product Shopify themes.
Optimized for mobile visitors, so your site will look awesome on any device or screen resolution.
Optimized for search engines, so you can drive traffic to your website from any search engine.
Startup
While not technically a single product Shopify theme, it is one that suits the job perfectly. It has been designed with a modular-style, easy to customize, home page that you can turn into the perfect selling front for your one product. There are four different styles you can use straight away and all look beautifully rendered.
To focus the attention on your product, you can use the wide layout and large images. This can make your product pop on the screen. You can also add a video to your home page to tell the story of your product or to highlight its features. The video can be hosted on video sharing websites like YouTube or Vimeo.
The theme is designed to help businesses build trust and develop a relationship with audiences. You can showcase what people have thought of your product and brand with a great looking, highly engaging testimonial section. This can also be enhanced with a few review apps.
Startup Highlights:
Optimized for mobiles, so your website will be rendered beautifully on all devices and screens.
Be found online with great SEO features that can help you rank for certain keywords.
Free images are available from Burst.
Four styles to choose from, to set the right mood for your brand and product.
Maker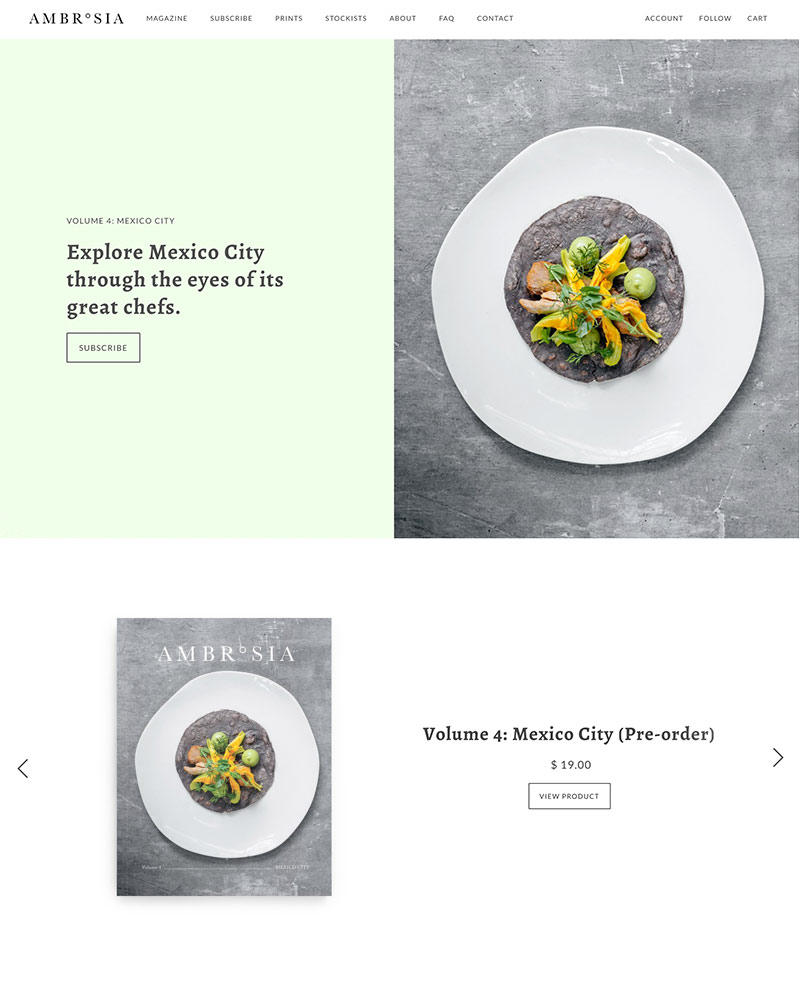 Maker is a theme that has been designed to tell a story. Storytelling is the best way to sell a single product, because you can really engage the audience and convince them that you have the solution for them. The developers have really paid attention to imagery on this site, and therefore, product images can look stunning without too much problem. You can also use the editorial-style layout to impress visitors with a visually stunning website.
You can place a featured product video on your front page. This is the perfect place to showcase the products benefits. The video can be hosted on YouTube or Vimeo. This reduces the chance that your site is slowed down by hosting a video.
You can also add numerous slideshows across your website. These can feature your brand's story or your product. And this is a really good way to grab the attention of your audience.
Maker Highlights:
Tell the story of your product and brand with lots of visual displays.
Users can comment on any blog content you publish using Disqus.
Your site is SEO-friendly, so your site can be found on all the major search engines.
Very responsive, your website will look good on desktops, laptops, tablets and mobiles.
Palo Alto
This is a great theme for those looking to sell a single product or a product with lots of accessories. There are three basic styles for this theme that can help you get the basic design for your website. You can customize all the sections of the website, to improve conversions. Simple changes that can be made include the color, text and other aspects.
Your products can be put up front and central to the consumer online with high-resolution images. This is a great way to showcase your brand's strong points and you can further enhance them with a hero video on your home page.
There is also a customer testimonial feature to help you build trust with your audience.
Palo Alto Highlights:
A fast, responsive theme that can display perfectly on any laptop, desktop, tablet or mobile device.
Great for ranking on search engines, so you can attract higher levels of traffic to your site.
Feature your product on your front page with big, high-resolution images.
Use a masonry-style grid for any accessories that you might sell.
Narrative
Narrative was built for small catalogs and is therefore great for those brands with a single product. It has been designed for those that want to rely on good imagery to promote their product on the website. You can use customizable image blocks, quote slides and other elements to showcase your product.
You can promote that one product with the help of a hero video. This can be displayed on the fullscreen and set to autoplay. Or it can be at the top of the home page. You can make use of a vertical slideshow to display all the important information that you want for your product. This can be displayed on your home page.
You can also provide a better browsing experience with a sticky menu. This will allow your menu, logo and cart to scroll down the page as the user does.
Narrative Highlights:
Built for small catalogs and single product brands.
Focus on visual storytelling for your site.
A free theme.
Free royalty free images provided by Burst.
Label
Label is built for small catalogs or those with one product. There are lots of features that are great for promoting your business and product. For instance, there is a single featured product element that can be showcased on your front page. All images on your website can be displayed with full-width.
If you have a lot of events, or go to trade shows, you can showcase these with upcoming dates and events right on your home page. This is a great way to get your customers to come and meet you in person and buy a product direct from you.
The theme also comes with a slide-out menu that appears throughout your store.
Label Highlights:
Built for those with one product, ideal for promoting your brand image.
Promote events you're going to on your home page.
Free stock-images provided to you by Burst.
Great SEO elements to help you get ranked on Google and other search engines.
Motion
Motion is a great theme for those who want to create an online shop and promote just one product. You can animate your content, whether it is text, images or a whole page with great looking, snazzy, animations. These will engage your audience and entice them into learning more about your product.
To help further, the theme allows you to feature multiple auto-play videos that can be hosted by YouTube or Vimeo.
With all these visual benefits, it is no wonder why many of those using this theme consider that their best option for promotion is visual storytelling. There are just so many options to tell your product's and brand's development story.
If you want to add to your inventory later on, you can benefit from the quick product filtering. However, this theme was designed to suit brands with few products anyway.
Motion Highlights:
A theme designed for visual storytelling, so you can use high-resolution photography.
Optimized for search engines, so you can get your brand and the products found on Google and other search engines.
Feature your product on the home page to grab the attention of your audience quickly.
No coding or developer help needed.
Handy
This theme was designed for those who have a lot of visitors using mobiles or tablets to browse their store. As a result, it is a minimalistic design but this can be a real benefit for those looking to promote one product as all the focus can be directed to that one product.
The theme comes with a multicolumn menu that can help with navigation. This can be really beneficial if you have a lot to say about your niche. In addition, you can use custom promotional tiles to showcase offers, deals and sales that you're running on your store.
To help customers keep in contact with you, there is a quick link contact bar available. This displays all the information that the customer needs to speak to you, displayed in an attractive looking bar with stylish icons.
Handy Highlights:
A great theme for those who are operating a website for a single product with featured product options.
Allow customers to find your contact details with a great looking contact bar.
Great SEO potential, especially when combined with an SEO app.
Fast loading, minimalist theme.
Kagami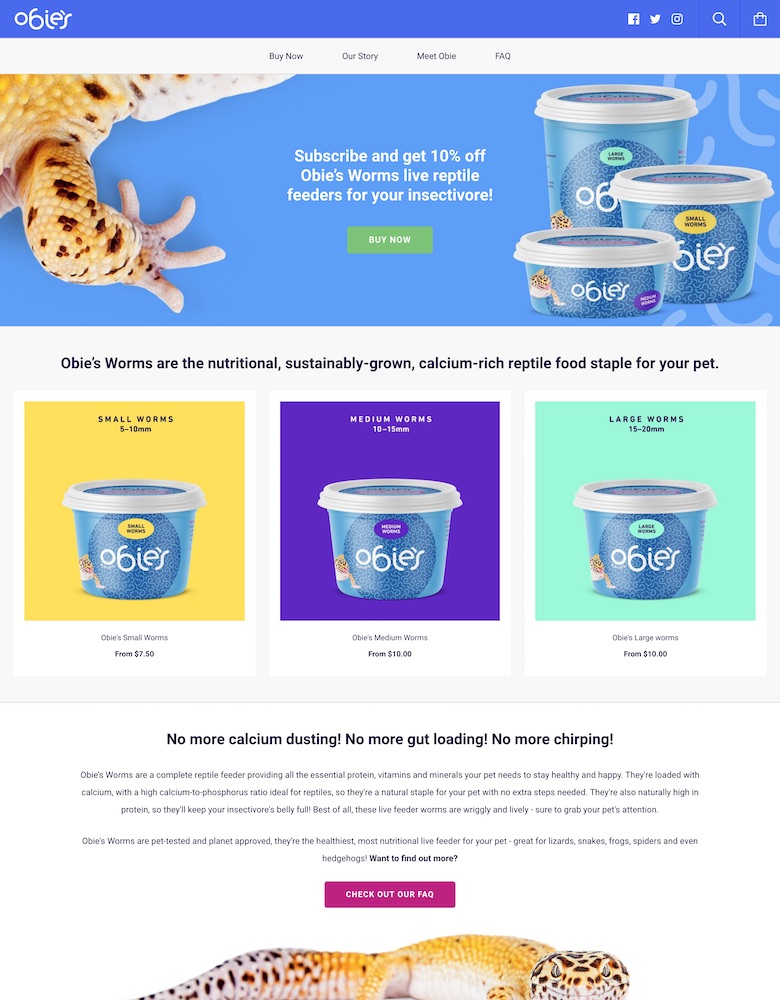 This colorful Shopify theme is a great option for those wanting to sell a single product in style. You have the potential to showcase your one product with bright colors and with fantastic options that will push sales on your website.
There are two menu options that allow you to choose a style that is perfect for your website, brand and product. You can have a traditional, horizontal menu that with some help can become sticky or a side menu that slides out.
You can further promote your product with the help of a video. Videos can be placed on the product page and on the home page. To help with ranking, they can be hosted on YouTube or Vimeo, to prevent your website from being too slow to load.
There is also a great FAQ section option that allows you to put forward common questions asked by customers and answer them.
Kagami Highlights:
This very colorful theme is perfect for showcasing a single product.
Highly responsive, so the website will display perfectly on desktop, table, mobile and laptop.
Ranks well on social media sites thanks to good coding, fast loading times and other elements.
Add videos across your site to improve conversions.
Artisan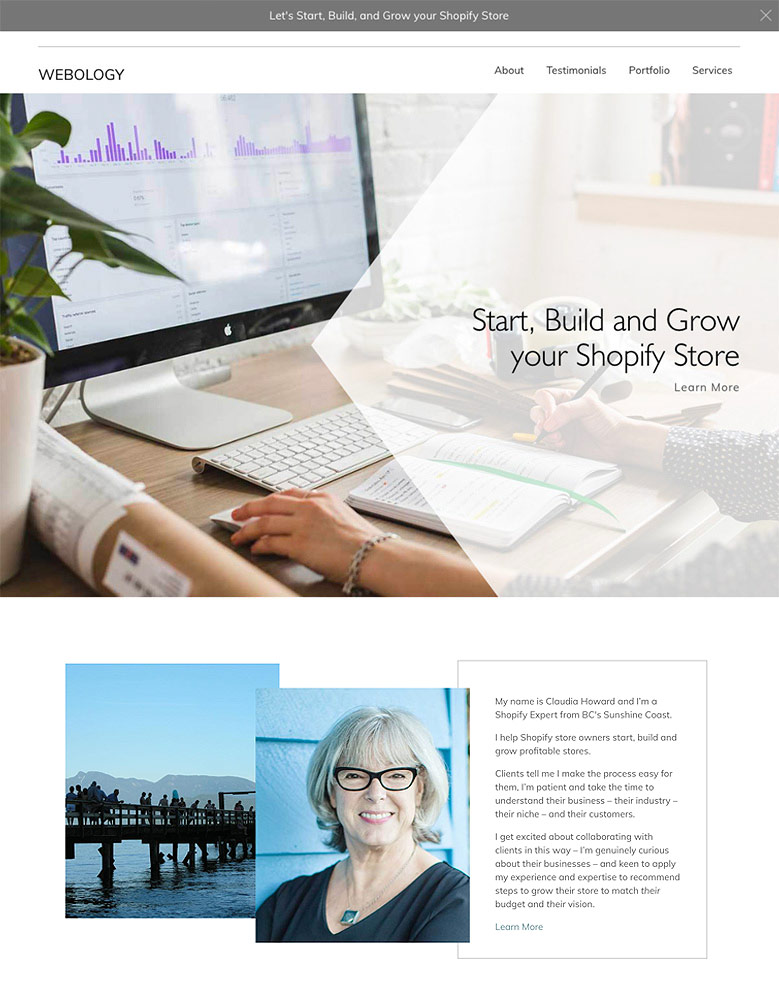 Artisan was initially built for services, but it does nicely as a single product Shopify theme. There is a customer testimonial area, where you can promote your products through the reviews and recommendations of past customers. You can also get customers to ask their pre-sales questions with the use of a custom form that you can create and place on your website.
You can show off your product with an elegantly designed image gallery that has a masonry-style layout. And you can show off why you think your product is better with a product table where your product is put up against leading competitors. You can demonstrate why your product is more valuable and does the job better.
Finally, you can showcase your product on your home page with simple featured product settings.
Artisan Highlights:
Show off your products with numerous features.
Use a product table to create a comparison table so you can show why your product is better than competitors.
Great for one product businesses, or those who sell services via Shopify.
Fast and great at ranking on search engines.
Final Word: The Top 10 Single Product Shopify Themes
Shopify isn't just for those stores that want to sell hundreds or thousands of products. There are places for these stores, but there is also space for brands that sell just one (or a few) products on their website. These often need special themes so these products can be better highlighted.
The single product Shopify themes that we've included in this list have a range of benefits that will help you promote your one product to a large audience. This will help you increase sales and, hopefully, make your product a household name. So which theme will you choose?
Avi Klein
Vast experience in the online world. SEO expert, Web developer and consultant to several online companies.
Read more...
. Read more about
our approach
to reviewing themes and plugins.