10 Best Shopify Barber Themes [2023]
Last modified: October 30, 2023
#
Image
Name

Get a Free Custom Shopify Store
1

Booster

2

Broadcast

3

Streamline

4

Boundless

5

Testament

6

Venture

7

Loft

8

Trademark

9

California

10

Story

Show More
Today's modern world is geared toward the internet. All services are now being promoted online using websites to promote, sell, and book services. With appointment apps, any barber shop can use Shopify to operate a successful website. Using one of these top Shopify barber themes will make that process much better.
What Are You Looking For In The Shopify Barber Themes?
There are many different aspects that you're looking for when you want to buy one of the Shopify barber themes. The first is speed. The faster your website, the fewer people will abandon your website when they land on it. Plus, with a great SEO app, you can be sure that a fast website will rank your site highly on Google and other search engines.
You might want to add other features to your website, such as Google Maps to help customers find your barber shop. You might also want to ensure that your theme is compatible with appointment apps and more.
In addition, you can use any of the Shopify barber themes to sell additional products related to your services. For instance, you can sell hair care products, grooming products, or gift vouchers that can increase revenues for your business.

Key Takeaways
1
Using Shopify barber themes can enhance the online presence of barber shops.
2
A fast website speed can reduce visitor abandonment and improve SEO ranking.
3
Features like Google Maps integration and appointment app compatibility can enhance user experience.
Top 10 Shopify Barber Themes
Filter between free and paid
Booster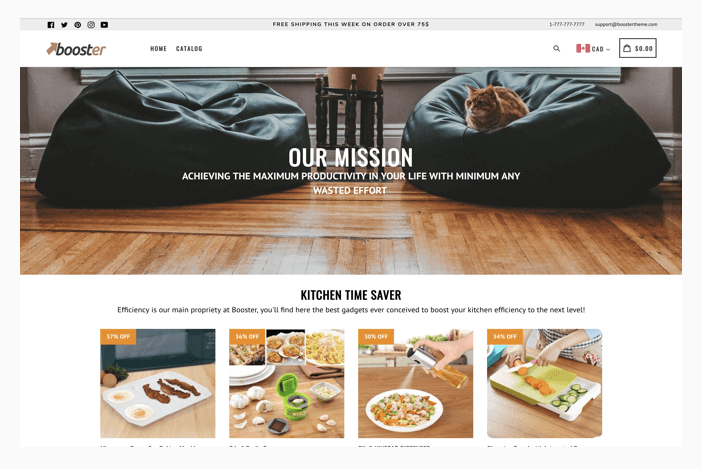 One of the most interesting themes available on Shopify, this is more of a complete marketing package than just a theme. It's a complete marketing and website package as well. There's a wide range of functions built into the code, which means you can save time and money on other apps. For instance, there are countdown timers, social proof functions and more.
According to the developers, Booster users could save more than $2000 a month. With these savings, you can also improve your brand's sales potential. When you're starting a website, this can be very helpful for maximizing returns.
The theme can also help you rank highly on search engines with beautiful layouts, designs and more. An impressive website designed with this theme will certainly help to grow your business and it will perform well with any venture.
Booster Highlights:
Save more than $2,000 on apps with all the functionality included with this theme.
Fast theme, that improves abandoned cart rates.
Great for SEO, improving page rank on Google and other search engines.
Responsive theme design, so can be viewed perfectly on all devices and screen resolutions.
Broadcast
Broadcast is the perfect Shopify barber theme. It allows you to sell to a wide, local audience with an aesthetically pleasing website with great elements to showcase your work. The imagery on your website can be supplied though a connection to your Instagram account. You can also showcase your brand's work with a video. This can be a featured video or a background video that autoplays.
To help build trust there are some great features such as the customer testimonial section. The Disqus blog comments that take your site to the next level of customer engagement when you write a blog.
Finally, to help sell complimentary products (hair treatments, grooming products, etc.) there is a quick view that displays all the details of a product within a popup on the current page. This improves stickiness so the customer doesn't need to move away from the current page.
Broadcast Highlights:
Optimized for search engines, helps to improve your website's rank on search engines like Google.
Very visual, so you can showcase what work you've done before.
Responsive, so your site will look perfect on all devices and screen resolutions.
Free stock images supplied by Burst.
Streamline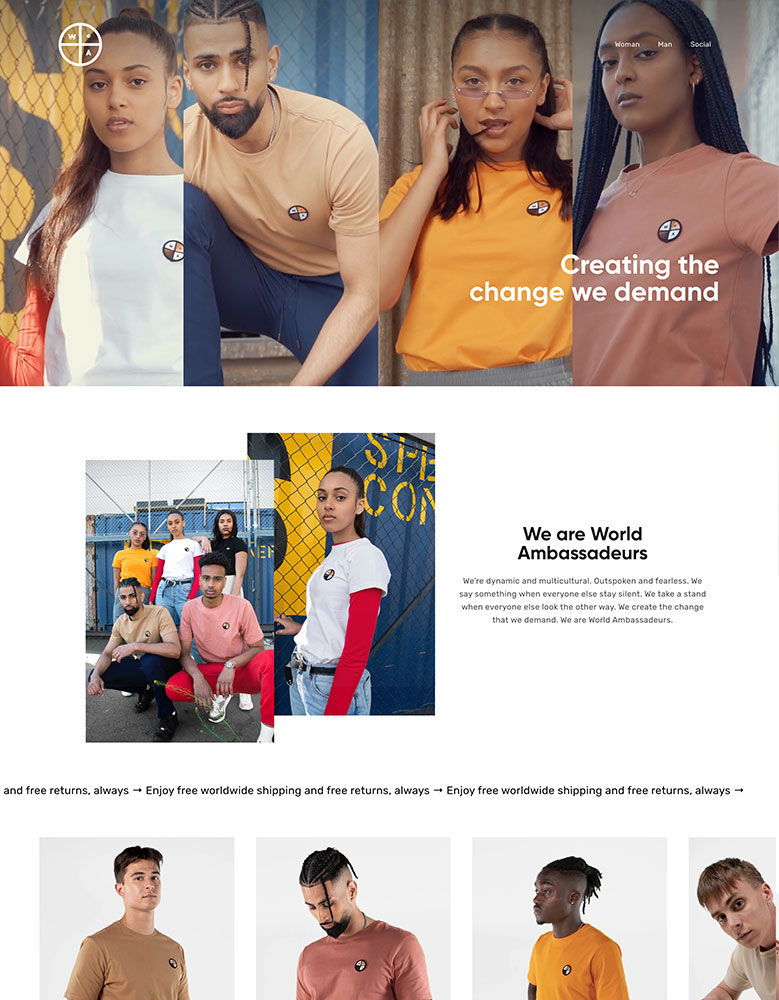 While its name might make it seem like it's a simple theme, the feature-packed theme is excellent. It's very popular among many niches and is perfect for those who want to describe a story of their brand, service or product. The storytelling adds emotional weight to the purchasing decision. Stories can include text and/or images for additional strength.
The theme is fully optimized for all search engines. Your rank on Google and others can be improved significantly. And to help you build more traffic, there is a great Instagram integration option, something that's perfect for beauty brands. Instagram posts can include a link to the product/service page to help followers buy products mentioned in your content.
To add engagement to your website, all content can be animated. This can make your website more interesting.
Streamline Highlights:
Designed to be viewed on mobiles.
A sticky checkout that is continuously available to the customer, but still encourages further shopping.
Animated text, images and videos throughout your store.
Free stock images from Burst to help you add interest to a webpage.
Boundless
You don't have to have a feature-packed Shopify barber theme for your website. Sometimes the simpler website themes are the best. This theme does have some of the features that are normally only available on premium Shopify themes. For example, there is a sticky navigation, so customers can find their way around your website with a menu that moves with them as they scroll down the screen.
The theme is perfectly optimized for large images of your services and expertise. The high-resolution images can showcase your past work that can help to build trust with audiences. And to add more interest to your website, you can further feature your work in an aesthetically pleasing home page slideshow. This will include a neat fading effect.
Finally, you can showcase your brand in a great video, displayed on your front page.
Boundless Highlights:
A free theme, perfect for those who are looking for a low cost option for their website theme.
A great slideshow that brings your barber brand to life.
Be found online with great SEO potential.
Great navigational options that help customers find their way around your store.
Testament
Testament is another popular choice when it comes to building a lifestyle business website. If you sell add-on products, like hair products, combs and other grooming products, this can be a great theme for you. There's a product quick view option, allowing customers to view details of products without leaving the current page.
You can also add a color swatch option that allows them to choose from variants on your website. This can be used to showcase colors of the products or perhaps the flavor of the products.
Navigation is easy on this theme with a sticky navigation option that allows the menu to follow the customer as they scroll down the page. To help further with navigation across your store, you can build a multi-column menu.
Finally, there is the opportunity to promote your store with a home page video. This can be hosted on YouTube or Vimeo and displayed without lag on your front page. Give your brand's story a voice with a video and see how emotionally charged your customers get.
Testament Highlights:
If you want great navigation, this is the brand to choose from.
Quick-look options for products, allow for a faster online shopping experience.
Tell the story of your brand with this great
Optimized for search engines.
Venture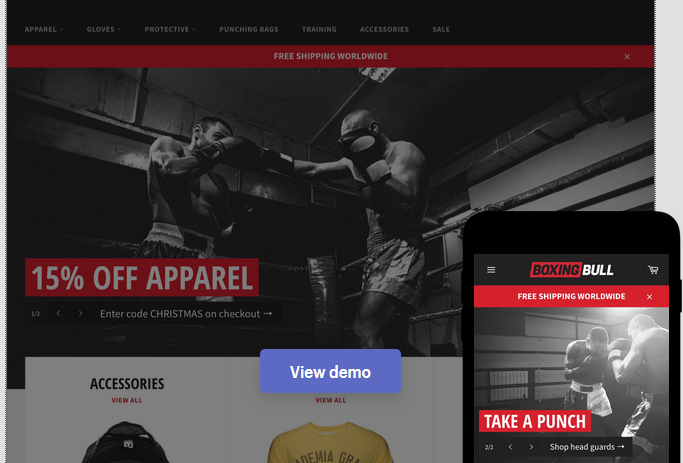 If you like the grid style website, you can use Venture. This free theme offers great grid layouts and will add a splash of color to your website. Don't be put off by the high use sports on the theme page websites this theme is highly adaptable and is suitable for other projects.
While this colorful theme is perfect for large catalogs, it is also good for those offering services. The aesthetically pleasing multi-column menu helps users with navigation across your site and can improve ranking for you.
There are great features for your home page to make it more appealing and reduce bounce rates. The first feature is the slideshow. You can showcase important brand messages and get customers to relevant pages quickly. You can also add a promotional banner to showcase some of the best deals you have on the website. This is a great way to improve conversion rates and fill your diary of appointments.
Venture Highlights:
This theme has a mobile friendly design so your site can be viewed without disruption on any device.
There are three styles to choose from that can make your website fit your brand better.
Optimized for search engines, so your site can be found on Google and other search engines.
For a free theme, this has a lot of great features to help you sell online.
Loft
This theme has style and elegance in it and is perfect if you want your Shopify barber theme to have a grid style. This theme helps you get more bookings through the art of storytelling. Your storytelling can start with an excellent Instagram feed, embedded into your theme and the story can continue on the product/services pages.
Stories immerse visitors into your brand story and are a great way to encourage bookings. There's a multilevel menu option to help customers navigate around your store, which is good for keeping customers on your site and improves ranking.
Any products that you sell can also be featured on your website's homepage clearly and well defined.
Loft Highlights:
Storytelling helps showcase your product's history and story in one place for an immersive experience.
The perfect theme for those who have a large catalog of products.
High resolution images do really well on this theme.
Optimized for mobiles, so your site will look great on any device.
Trademark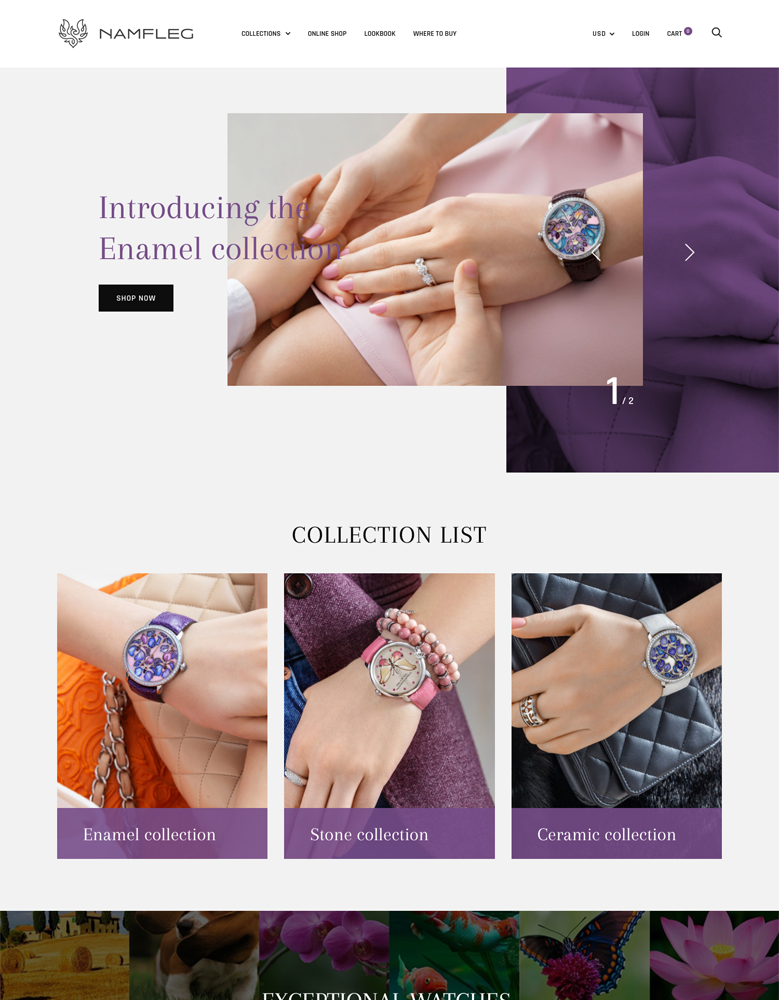 Trademark is a great way to design an elegant Shopify website, and not be worried about coding or experience in building a website. It's perfect for many industries, including those who are in the lifestyle, beauty and fashion industries.
There are two style options that include lots of great features for your site. These visually attractive themes are going to make an instant impression on visitors.
There are lots of great navigational options to make your site more functional and impressive. For instance, there is a live search that can help customers locate and view products/services that they're really interested in. There's also a multicolumn menu option that can feature images for services to help with navigation around your website.
You can promote your brand's core message and any featured products with images, videos and texts within a beautiful slideshow feature. You can animate and locate the slideshow on your homepage to welcome visitors to your site. There's also a blog slider to give visitors a chance to see your advice/latest news.
Trademark Highlights:
Insert a full-width Instagram feed to showcase your previous work and any of your latest social media posts.
Optimized for search engines, your site can rank higher on Google and other search engines.
Navigational options makes this site easy to go round.
The theme is fast, which reduces loss of earnings through visitors abandoning your store.
California
Normally associated with t-shirt brands, this theme is very versatile and has a lot of options that can help you build a successful Shopify barber store. There is a header slideshow right on your homepage that can display brand images or multiple products/services to showcase your offerings and expertise. You can also build trust by promoting your portfolio on an Instagram feed built right into the theme's code.
When installed on your Shopify store, you can choose between four different, high-quality theme styles that look unique and are aesthetically pleasing. This theme is also very adaptable and many apps can be added with no problem. So, you can add appointment apps, Google Map apps and more.
California Highlights:
Be found on Google with a great optimized theme for search engines.
Responsive theme, so will look great on any device or screen resolution.
Lots of image options, so your site can really promote the visual attraction of your work.
Instagram functionality built into the theme.
Story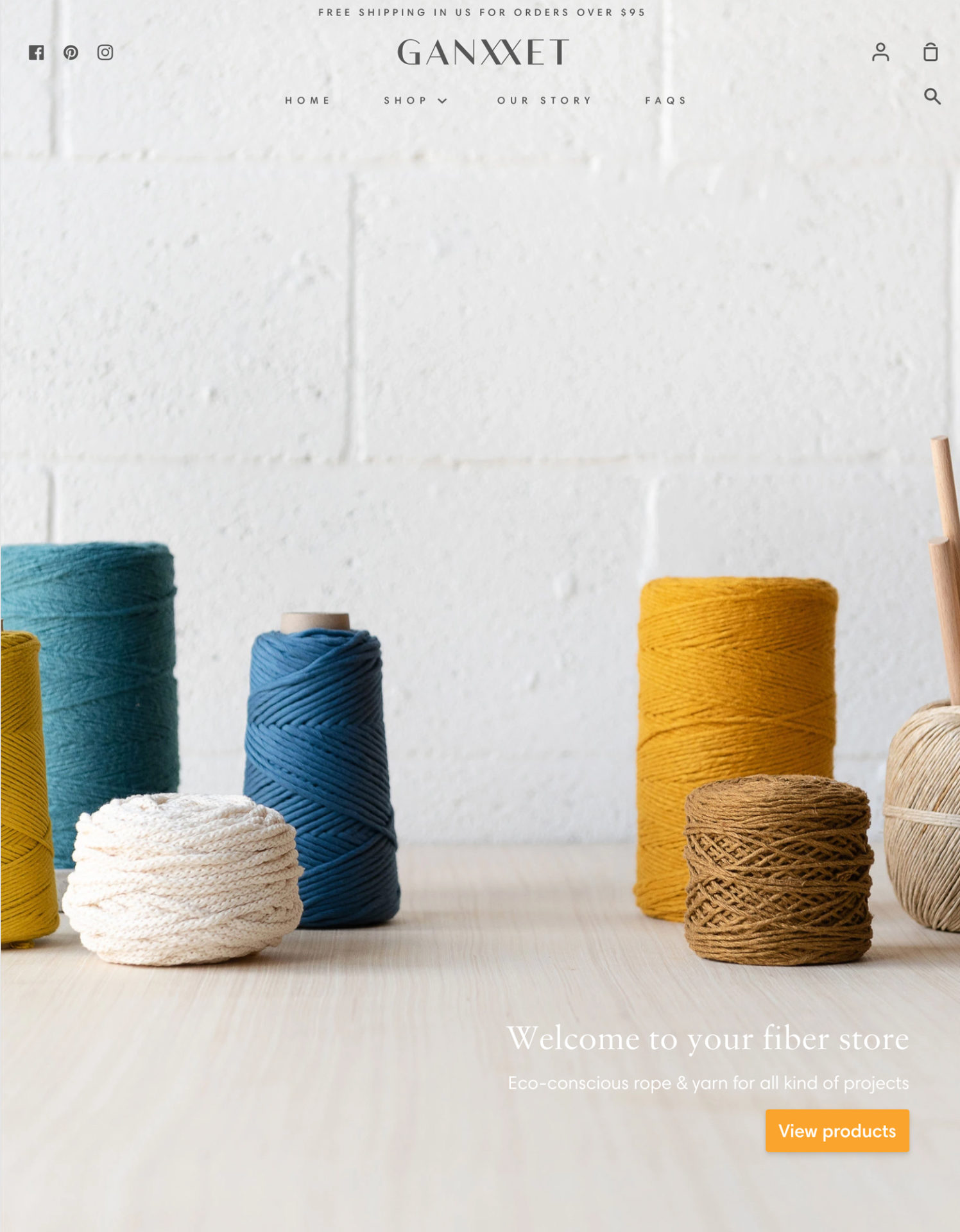 Getting your hair cut can be a story and you can use those stories to sell your products. This is where this theme can help. Your brand can also help you to develop the brand story for your company. This will endear your customers more to your company. When there is an emotional connection between your customers and you, you'll see greater brand loyalty.
To help customers speak to you, there is a custom form that allows you to tailor contact forms exactly for your brand's needs. Therefore, you can get all the information you need to answer the questions of customers more precisely.
To help with marketing there's a great Lookbook feature. Therefore, you can display your portfolio to improve the trust customers have in your abilities as a barber.
Story Highlights:
Reveal the story of your brand and the products in this unique app.
Showcase the team behind your brand with unique team pages.
Optimized for search engines, so you can improve the Page Rank of your site on Google.
Responsive website design, so your store can be viewed on numerous devices and screen resolutions.
Key Features of Shopify Barber Themes
Responsive Design
A responsive design ensures that the website adjusts seamlessly to various screen sizes, from desktops to mobile devices. This adaptability is crucial as more customers use mobile devices to browse and shop online.
SEO Optimization
Search Engine Optimization (SEO) features help barber shops rank higher on search engines. A well-optimized theme can drive organic traffic, leading to increased visibility and sales.
Customizable Layouts
Shopify barber themes often come with drag-and-drop builders, allowing for easy customization. This flexibility lets shop owners tailor the look and feel of their website to match their brand identity without needing coding expertise.
Integrated Blogging Platform
Content marketing is a powerful tool for businesses. An integrated blogging platform allows barber shops to share industry insights, hair care tips, and other relevant content, fostering customer engagement and loyalty.
Multi-Currency Support
For barber shops aiming to cater to a global audience, multi-currency support is essential. This feature allows customers to view prices and make transactions in their preferred currency, enhancing the shopping experience.
Product Showcase Features
High-quality visuals are vital for showcasing products effectively. Features like product zoom, carousel displays, and quick view options allow customers to explore products in detail, leading to informed purchase decisions.
Things to Consider when using Shopify Barber Themes
User Experience
Prioritize the user experience. Ensure that the theme offers intuitive navigation, clear product images, and a straightforward checkout process. A positive user experience can lead to higher conversion rates and repeat customers.
Mobile Optimization
With a significant number of users browsing and shopping on mobile devices, it's essential to choose a theme that's mobile-optimized. This ensures that the website looks and functions well on smartphones and tablets.
Customization Capabilities
While pre-designed themes offer convenience, it's crucial to have the flexibility to make tweaks. Ensure the theme allows for easy customization to align with the brand's aesthetics and requirements.
Load Time
Website speed can impact search rankings and user experience. Opt for themes that are optimized for speed, ensuring that pages load quickly, especially on mobile devices.
Support and Updates
Regular updates ensure that the theme remains compatible with the latest Shopify features and security protocols. Additionally, reliable support can assist in resolving any issues or queries that arise.
Integration Options
Consider the theme's compatibility with essential plugins and tools. Whether it's email marketing integrations, review platforms, or SEO tools, ensure the theme can seamlessly work with other software to enhance the store's functionality.
Conclusion: Top 10 Shopify Barber Themes
When you want to have a barber shop website, you'll need to have one of the best Shopify barber themes. These can help you sell your services, take appointments, and sell other products that can improve your brand's success.
The above 10 themes are some of the best available on Shopify. They will help you rank well on Google, deliver quality online experiences to customers, and improve revenues for your business. The only choice is which of the 10 Shopify barber themes will you choose?
FAQs
How often are Shopify barber themes updated?

Theme developers regularly update themes to fix bugs, improve performance, and add new features, ensuring your website remains modern and functional.

Are Shopify barber themes mobile-responsive?

Yes, most Shopify barber themes are designed to be mobile-responsive, ensuring a seamless experience for users across devices.

Do Shopify barber themes support multiple languages?

Many Shopify themes offer multi-language support, catering to a global audience. Always check theme details for specific features.
Avi Klein
Vast experience in the online world. Shopify Expert, SEO expert, Web developer and consultant to several online companies. Read more about
our approach
to reviewing themes and apps.