10 Best Shopify Boutique Themes
Last modified: July 15, 2021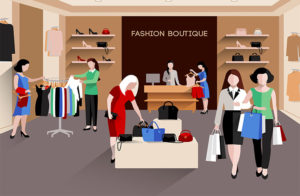 #
Image
Name

Get a Free Custom Shopify Store
1

Fashionopolism

2

Parallax

3

Testament

4

Booster

5

Broadcast

6

Supply

7

Artisan

8

California

9

Boundless

10

Kinder

Show More
An online store for your boutique is where you get to showcase all the fantastic designs in your collection. Apparel is such a high selling industry for eCommerce and there is so much scope and variation. You will be updating your store regularly with changes to your products and this will give you the opportunity to make sure your website remains fresh, modern and user friendly. There are many Shoppify boutique themes to choose from when it comes to designing an apparel store.
You might already have an established collection or be looking to start your clothing business from scratch. Either way, your website will need a great theme relevant to your industry.
What are you Looking for when Buying One of the Best Shopify Apparel Store Themes?
Your biggest focus for your store is getting found by potential customers and therefore your theme needs to be great for SEO (search engine optimization). The majority of your customers will find you by searching online for you so you have to make sure you can be easily found. You will need a modern theme, great performance and your site needs to be fast. There are apps that can help with this but it's important that your website works well on mobile as well as desktops.
To support your SEO you need to make sure your theme has good social media connections. Statistically, it takes 15 interactions with your brand before someone makes a sale so the more opportunity they have to share your clothing products on their social media and to their friends the more likely they are to become a converting customer.
Some themes have better connections to social media, like Instagram and Facebook than others so this is something to check when you find a theme you like. There are apps that can support this so there are other options here.
While there are lots of options and you need to tailor the final choice to what you need, there are certain aspects that you need within the Shopify apparel store themes. For one, you should make sure that your store theme has plenty of options for images. Most people buy clothing items based on their look. Without good images, you're going to struggle to make sales on your website.
Here are 10 of the best options for a great apparel store theme.
Filter between free and paid
Fashionopolism
There are also two menu options that you can utilize. You can have a horizontal menu or a sidebar. The choice can often depend on what you would like to have on your website.
This is a great theme for apparel websites with four different styles to choose from. There's a quick view product option, you can zoom in and out so the customer can get a really good look at your items and get a better idea of the fabric.
There's the option for sticky navigation so the menus will scroll down as visitors scroll down the page. This is a great option for stores with large catalogs where customers might be scrolling through lots of items. It helps your visitors be able to easily navigate your website.
You can include promotional videos on the homepage. This would be useful if you store a variety of fashion brands. It doesn't specifically focus on connectivity to social media but this is something you can rectify with apps.
It has 96% positive reviews as a theme so it has plenty of happy online store owners who testify to its advantages. This would make a great theme for your boutique.
Fashionopolism Highlights:
Product zoom to aid detailed viewing of your products.
Slideshow to highlight products and promote discounts customers can have your website.
Can include promotional videos on the homepage.
Is optimized for mobile devices and search engines.
Parallax
This popular theme has a fantastic rating approval of 99% and you can see why because it offers such a high-quality experience for visitors to your site especially if you are selling products.
The Parallax effect is very popular as visitors scroll down your page the images flow together in a seamless scrolling motion. While the dropdown menu enables easy navigation of your site. You can have a full-width video on the homepage to highlight your brand's story. You can also showcase your Instagram feed to further enhance the storytelling of your boutique.
It is also a great theme for engaging with your audience with the Disqus blog comments option. This comes highly rated and will also support your blogging which is so important for your SEO.
Parallax Highlights:
Popular Parallax effect that can offer fast speed on a stylish website.
Social media links to help keep customers engaged with your brand across the internet.
Full-width homepage video ability that can help increase conversions.
Disqus blog comments option that can help you engage audiences on your website.
Testament
Testament is another great option for your online boutique. You can host your Youtube or Vimeo videos on your homepage which means that you have an embedded link so the videos don't slow down your site. This is great for SEO and for showcasing the stories behind your products and brand.
This theme will allow your visitors to move seamlessly around your online store, especially with the sticky menu navigation option. This ensures your menu will stay with them when they scroll through all your products. You can also include multi-column menus, ideal for a boutique that offers a wide range of products with lots of different sub-categories.
Products can have the quick view option which enables people to find out more about each product without having to leave the main search page, there's also a color swatch option so customers can easily compare different options for products.
Testament Highlights:
Showcase your videos to tell your brand's story and build an emotional bond with visitors.
Optimized for all devices so no matter what your customers are using, they can view your website perfectly.
Column menus for easy access to your collections and other websites.
Search engine optimization is well worked to increase the traffic to your website.
Booster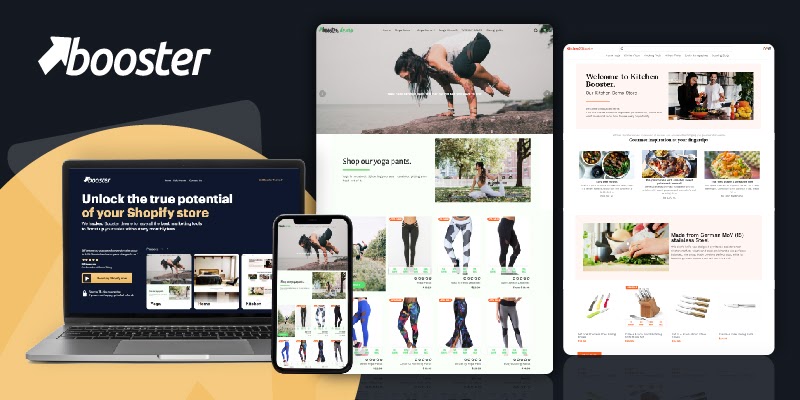 The beautiful layouts and designs of Booster are also good. It looks impressive and performs well, making a great theme for any venture. Booster is not just a theme, it is a toolkit of features and software that can help you manage and improve your website. It is easy to use.
A great choice for your theme, Booster has been estimated to be able to save the average business about $3000 with all the functions that they have included. You will save so much time which you can better allocate to grow your boutique. This also prevents bulky code from slowing down your website.
The load time is less than 0.6 seconds load time which means you'll have a great responsive website, perfect for search engine optimization so your website ranks highly.
Some of the additional functions it offers are popups, social proof, look book effect and messenger chat to name just a few. All of these additional functions make Booster a great option, particularly if you are new to running an online business and have not designed a website before.
Booster Highlights:
You can save more than $3000 on apps with all the functionality of this theme.
A fast and responsive website for good displaying on any device.
Can help you try to build higher levels of traffic through good SEO.
Beautiful layouts and designs to choose from.
Broadcast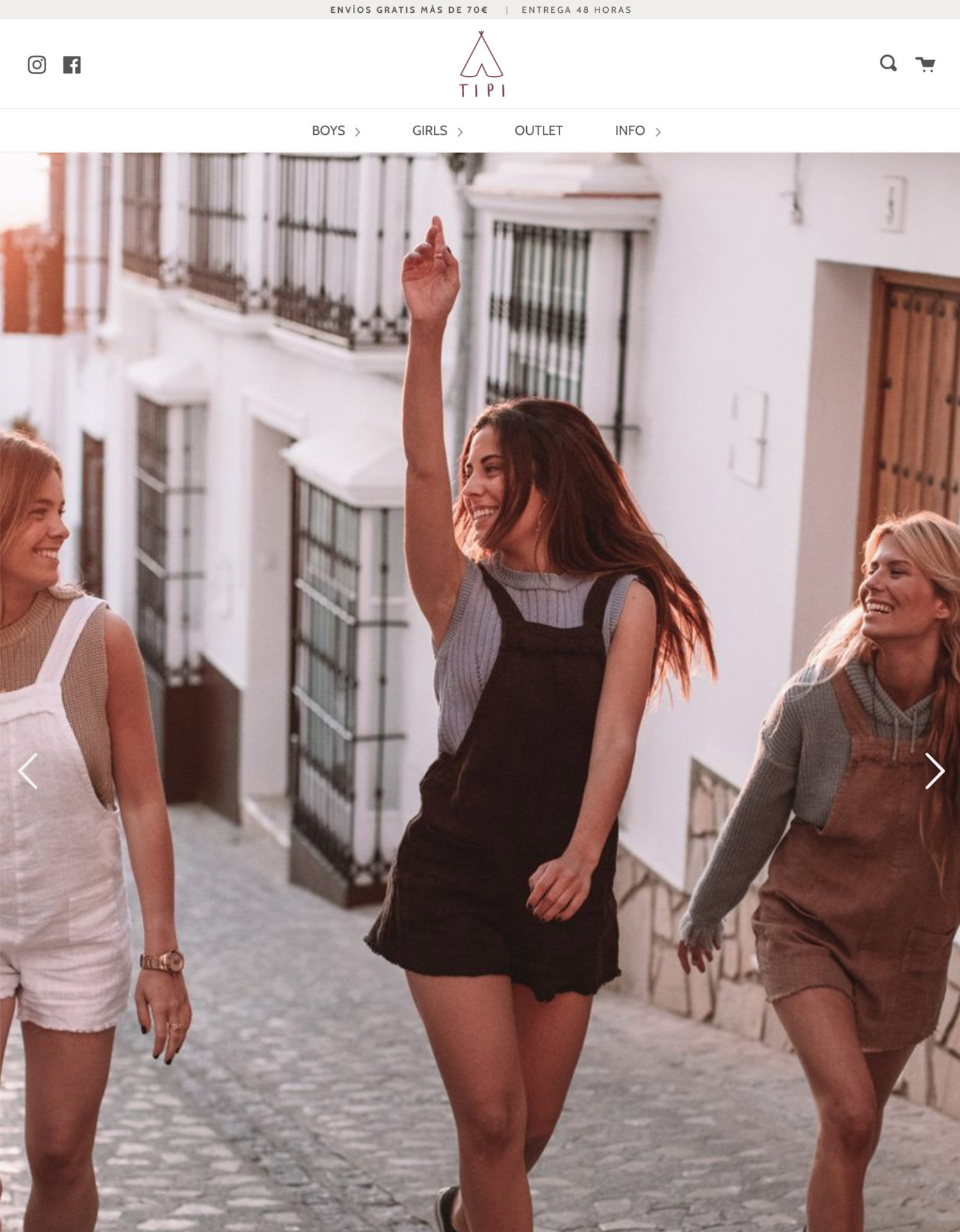 This is a great App for products in your boutique. The Lookbook feature enables you to connect your store to Instagram and you can highlight key items on your homepage to showcase. You can have an auto-playing video or a featured video to watch also placed on the homepage.
This theme is ideal for those who wish to tell a story about their products and connect with your audience. You can showcase reviews and testimonials through the special setting that looks like a Twitter feed. You also have Disqus commenting available which allows you to comment, especially in your blog section.
The Quick View option for products will enhance your product pages making it quick and easy for visitors to view your products, find out more and compare them without having to leave the page with all their search results on it. Swatches can help you provide different options for colours and patterns all on one page.
Broadcast Highlights:
Offer a great blog experience with enabled Disqus commenting and better traffic levels.
Option to have your video showcased on the homepage.
Mobile optimized for improved viewing across all devices.
Lookbook design that helps you have a modern website with a traditional feel.
Supply
If your boutique has a large catalog of stylish products then this theme could be for you. You can feature collections on your homepage and showcase them on a slideshow. Your audience can also use the filtering sidebar to limit the products shown to just those collections that they're interested in. They can also be filtered by price, brand and any other options that you have customized.
It doesn't have a huge amount of features but it is a good option for people on a limited budget. It will still give you a store that works well on both desktop and mobile and one that loads well and is therefore going to support your ranking on search engines.
Supply Highlights:
Can cope with a large catalog as well as those brands that sell a small inventory.
Displays well on mobile and desktop.
Product filtering with customizable categories.
A free theme that allows you to have a website on a budget.
Artisan
This stylish theme with three attractive styles to choose from is a great option for your boutique. It offers a masonry-style layout image gallery with the option to feature best-selling products on any collection page. You can also integrate these images with Instagram, an essential aspect for any fashion brand.
Pricing tables will enable your customers to make comparisons while shopping on your online boutique and this can be a great way to highlight any bundles or discounts you offer.
This theme is not specifically designed for the fashion industry but it definitely has a lot to offer. The testimonial section is a great way for your customers to review your products and provide their feedback and by asking questions you can engage with the audience and build trust.
Artisan Highlights:
A great image catalog that can impress guests.
Three great styles to choose from for a good website design.
Search engine optimized for higher levels of traffic.
Testimonial section to grow trust with your audience.
California
California is a really popular theme on Shopify and could be a great match for your boutique. It focuses on telling the story of your brand. The header slideshow on the homepage will help you display images of your best products or to show your story.
The design is aesthetically pleasing and it also looks great on mobile screens. Your audience will also easily be able to see your Instagram posts through your website on a feed. This is a great way to engage with audiences across platforms.
Customers will be able to easily find the products they're looking for with the product filtering options. You can filter products by type, price, bestseller etc.
California Highlights:
A popular theme that is loved by numerous brands on Shopify.
Translates well on mobile for better viewing across all devices.
Great SEO for better ranking on Google and other search engines.
Links to Instagram for engagement with your audience.
Boundless
An excellent free, minimalist theme that offers an excellent choice if you're on a tight budget. Excitingly, they are functions with this theme that are usually only found on paid themes such as sticky navigation. This means that the menu will move down the page as the viewer scrolls through your products. This makes it a great option for those with a large catalog.
The images will also be high-resolution so you can really show off your boutique's products. You can choose whether to display large images or lots of images on a page. The homepage slider will enable you to feature products from your best collections and the fading effect will add to your professionalism.
You can also add a video to the homepage which can help with SEO and increase conversions. Videos are hosted on YouTube and Vimeo and then displayed on your webiste.
Boundless Highlights:
A free theme that is perfect for those brands which are on a tight budget.
A professional style that can provide you more trust with the audience.
High-resolution images can be used to promote your products better.
Add a video to your homepage to convert more customers.
Kinder
This is a child-centered blog so this is more of a niche theme for boutiques specializing in children's apparel. It will also support a more advice-led and social brand as there is a blog and chat facilities so you can talk to parents if they have any questions such as sizing questions. Blogs are great for increasing SEO as long as you regularly upload interesting content. Those website that publish content for 15 articles per month can see a 70% increase in traffic.
There is a sorting function to rank products and highlight favorites. Comparison options can be great for increasing revenue by reducing cart abandonment.
To help with designing your website, you're also able to make changes to the color scheme on the website. There are several options for you, all are children friendly.
There is a currency converter for global brands and a product filter to help customers find what they are looking for with ease. The bright, colorful design will match your children's brand perfectly.
Kinder Highlights:
Online chat to engage with customers and improve your customer service.
A blog to support your search engine ranking that can bring more traffic to your website.
A great theme that works well on mobile devices as well as desktops.
A bright, colorful design that is very attractive.
Final Word: The 10 Best Shopify Boutique Store Themes
There is so much choice when it comes to choosing a theme for your online boutique. Most of the stores offer similar options but you make have a specific feature in mind that you are looking for. Here we highlight the best features of these themes so have a look and see what you think. Let us know in the comments which one you decide to use and how you get on.
Avi Klein
Vast experience in the online world. Shopify Expert, SEO expert, Web developer and consultant to several online companies. Read more about
our approach
to reviewing themes and apps.