The 10 Best Shopify Themes for a Boutique Store
Last modified: August 21, 2021
#
Image
Name

Get a Free Custom Shopify Store
1

California

2

Avatar

3

Fashionopolism

4

Booster

5

Artisan

6

Broadcast

7

Streamline

8

Supply

9

Parallax

10

Boundless

Show More
Boutiques are one of the most popular online stores that you can find. There are lots of different niches that you can fit your brand in, to give you more specialism and reduce the direct competition with you, though there will always be other options for the customer. To ensure that you stand out in the marketplace, your website should look good and therefore, you will need one of these Shopify themes for a boutique.
What to Look for in the Shopify Themes for a Boutique Store
There are many different aspects that you're looking for when you want to buy one of the Shopify themes for a boutique store. The first thing that you want to look for is the potential to rank on Google and other search engines. This is called SEO and it is a very complicated matter. However, there are a few things that you can look out for, for instance, speed and navigation are key aspects of the performance.
You should also look for different content media. By using images and videos on your website you can rank higher on Google. But you will likely need to use a Shopify SEO app for top ranking. However, videos and images are really important for conversion, which is another factor that you should be looking for.
Conversion rates on most websites are between 1-5%. There are lots of ways you can increase conversion, but many elements can be included within the theme that you're using.
Finally, you want a theme that can be good for editing. While you can use page builders, the easier you can make your job of editing your website the better.
So, what are the best Shopify themes for a Boutique store? Here are some of the options for you.
Filter between free and paid
California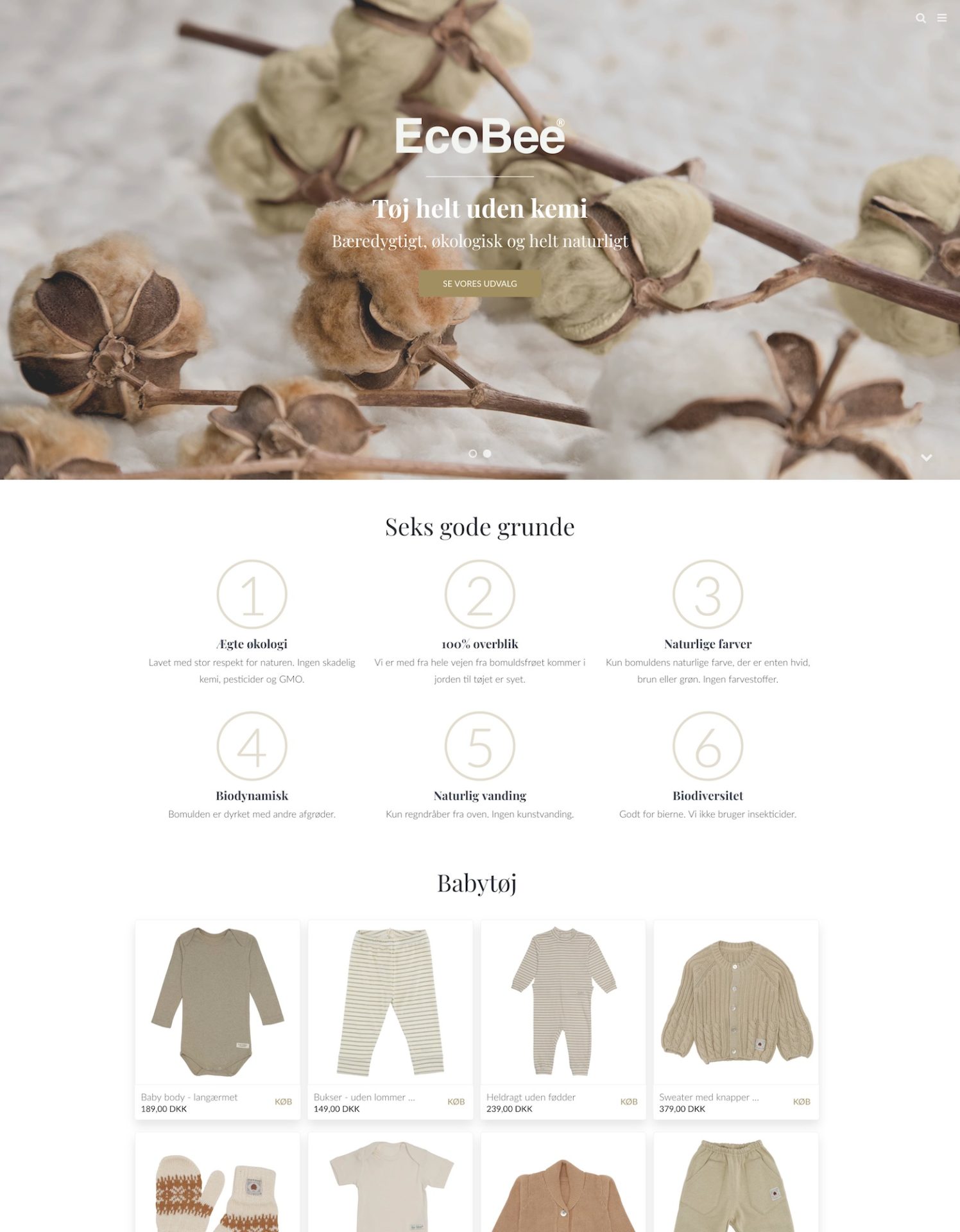 This is one of the top Shopify themes for a boutique because it was specifically designed for brands with a fashion boutique. It allows you to visualize a story for the customer about your brand and products. There is a header slideshow that can be placed right on the homepage that can help display the best images for your products and brand. This can help promote specific lines that you're carrying in your catalog. You're also able to use the integrated social media functions to promote specific products on Instagram.
To ensure that customers are able to find the product that they're looking for, customers can use a product filtering feature. The filter can reduce the number of products that are on display based on price, type and bestseller status within a collection page.
The theme has been built to be highly responsive, without losing any of the aesthetic appeal of the design. Therefore, customers can see your website using any device or on any screen resolution.
California Highlights:
This theme has been built for great SEO, allowing you to rank higher on Google and other sites.
Uses a mobile-first design to ensure your website can be viewed on any device.
There are lots of places to add images to your website to give a visual representation of your collections.
Easy integration with Instagram to help you promote your website.
Avatar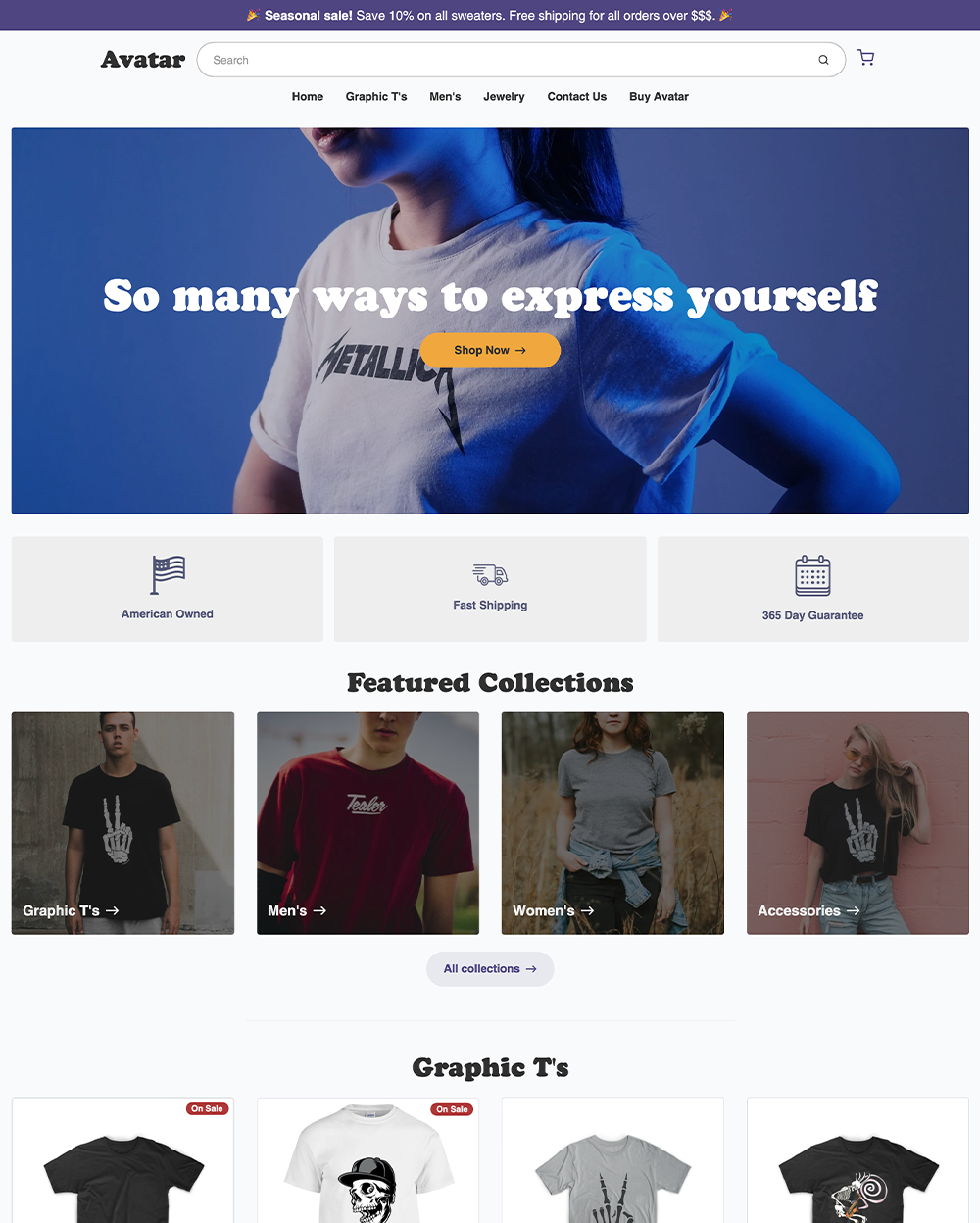 Avatar is a quick and simple theme that can be set up within just a few steps to allow for a quick launch. The very minimalist theme allows for your audience to concentrate carefully on the collections that you can have.
The main design includes a banner at the top of the page that can display branded images or product images. Avatar is also good for storytelling through lots of visual supports.
As a Shopify theme, you're guaranteed that you have access to Burst and their large library of royalty-free images. You can also be ensure of a fast website, this theme has been tested against the latest Google signals.
Avatar Highlights:
A theme that has been designed for quick setup and publishing.
Don't pay for the theme until you make your website live.
Designed to showcase your brand's story visually.
Easy to customize for your brand.
Fashionopolism
Fashionopolism was specifically designed for anyone who is looking to build a fashion centred brand. There are lots of options to help you brand your website and sell your products online. You can utilize the sticky navigation that keeps the menu bar at the top of the page as they scroll down to see more content. There is also a product quick view that can speed up the purchasing journey for the customer.
When designing your website, you're also able to choose between four different styles. These can help you to create a unique brand and website that can help you differentiate yourself from competitors. All the styles allow you to deploy a product image zoom that can allow customers to see your products in closer detail. This can make sales much easier to achieve.
There are also two ways that you can have menus appear on your website. The first is a horizontal menu and another can be a sidebar. The choice can often depend on your own preference and neither will impact SEO.
Fashionopolism Highlights:
Allows for product zooms to be added to your website for customers to see products in greater detail.
Promote your website's branding with a video on the homepage.
Display products that are bestsellers or are on offer within a homepage slideshow.
The theme is completely optimized for mobiles and search engines.
Booster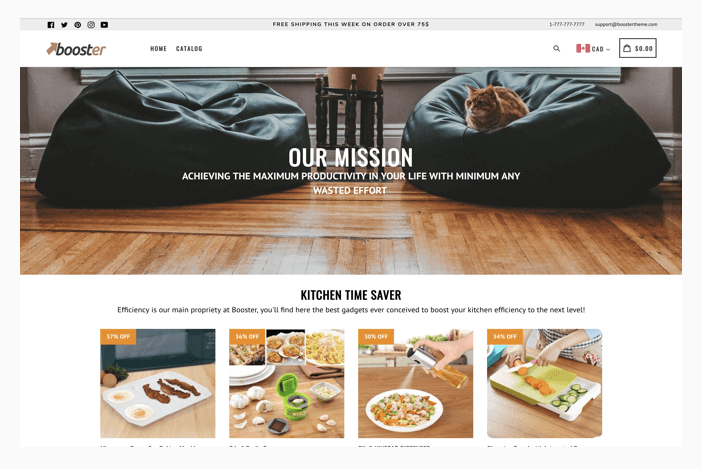 Booster is one of the top Shopify themes for boutiques or any other fashion niche. It has the look and design to impress guests as they land on your website and improve the conversion rate with ease. Part of this success is because the theme doesn't just include the basic design of the website, it includes a host of features that are often only available through Shopify apps. The developers reckon that the average website owner can save up to $3000 a year using Booster.
Some of the features that are included with the theme allow you to take your website global with a currency converter, for example. Or you can build trust with your audiences thanks to social proof and review options. The theme can also add chat functions to your website, urgency with countdown timers and more.
The theme has also been able to improve the speed of Shopify stores. The average eCommerce website can take up to 11 seconds to load. For every second that it takes for your website to load, you will lose about 7% of your revenue. With Booster, the speed of a website can be less than one second, so your revenue can be improved significantly just by using this theme.
Booster Highlights:
You can save more than $3000 on apps that you don't need because of the extra features of this theme.
The theme is very fast, with loading times for a page less than one second.
Is perfect for ranking on Google and other search engines, allowing you to get more traffic.
Utilizes a responsive design so the website looks good regardless of the device that is being used.
Artisan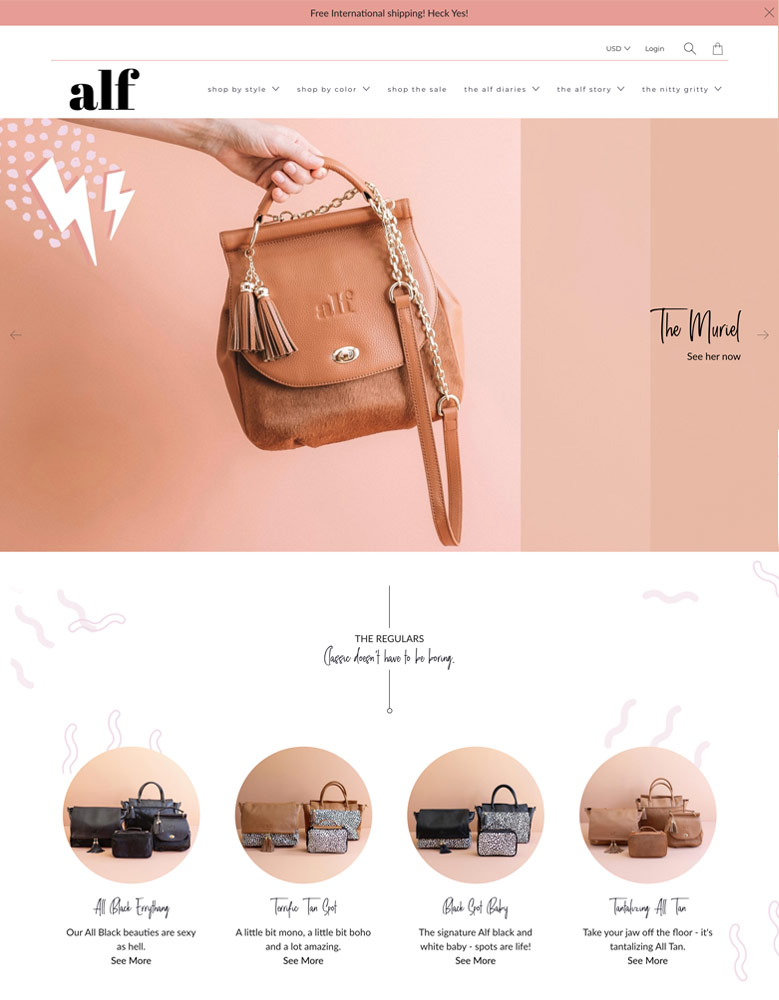 There are three modern and beautiful styles that Artisan has to choose from when you want to build a website. These are the best starting point and all are good for a fashion website. Each of these styles also has numerous customizations available that allow you to differentiate your brand from the competition and stamp your branding on the website.
To help you promote your website, the theme comes with an image gallery that can showcase the best products, content and more within a masonry-style layout. There is also the potential to integrate all media with Instagram to allow you to share products on the popular social media channel.
If you're looking to get your audience to pay attention to one specific product, then you're able to feature a product on any collection page. This can help boost sales for particular items. This can be perfect if you have specific seasons (like prom, wedding, etc.). The app also features a pricing table that allows you to offer product comparisons. The pricing tables can feature elements like product descriptions/features, pricing and bundles.
To help you build trust with your audience, there is a testimonial section. Customers can share their feedback with you on the website and new visitors can read what others have said. This can increase sales as 81% of your customers trust the opinion of their peers more than your marketing content.
Artisan Highlights:
Allow customers to contact you with a customizable contact form that can be added to your website.
Draw the attention of visitors to specific products on any collection page.
The theme has been perfectly optimized for search engines.
There are three fantastic styles that you can use on the theme.
Broadcast
Broadcast is one of the top themes for a boutique store. The lookbook feature enables you to connect your store to Instagram and also highlight the key products in your collections on the homepage of your website. You're also able to add a video on your website which can play automatically in the background or add as an explainer video on the homepage.
The theme is ideal for those who want to create a brand identity through storytelling. Storytelling can also extend to specific products for customers. The theme also includes reviews and testimonials through special settings that look like a Twitter feed. There is also the option to add comments to your blog through the popular Disqus system.
To help make a sale on your website, customers can quickly view products through the 'Quick View' feature. This has products display in a popup on a collection page rather than the customer having to visit the product description page. You can also display variants with ease thanks to the swatches feature.
Broadcast Highlights:
Offer your customers a great blogging experience with perfect commenting systems.
Optimize your website with a video that can be showcased on your homepage.
The theme is completely optimized for mobile devices.
The lookbook design is perfect for a brand that is selling fashion items.
Streamline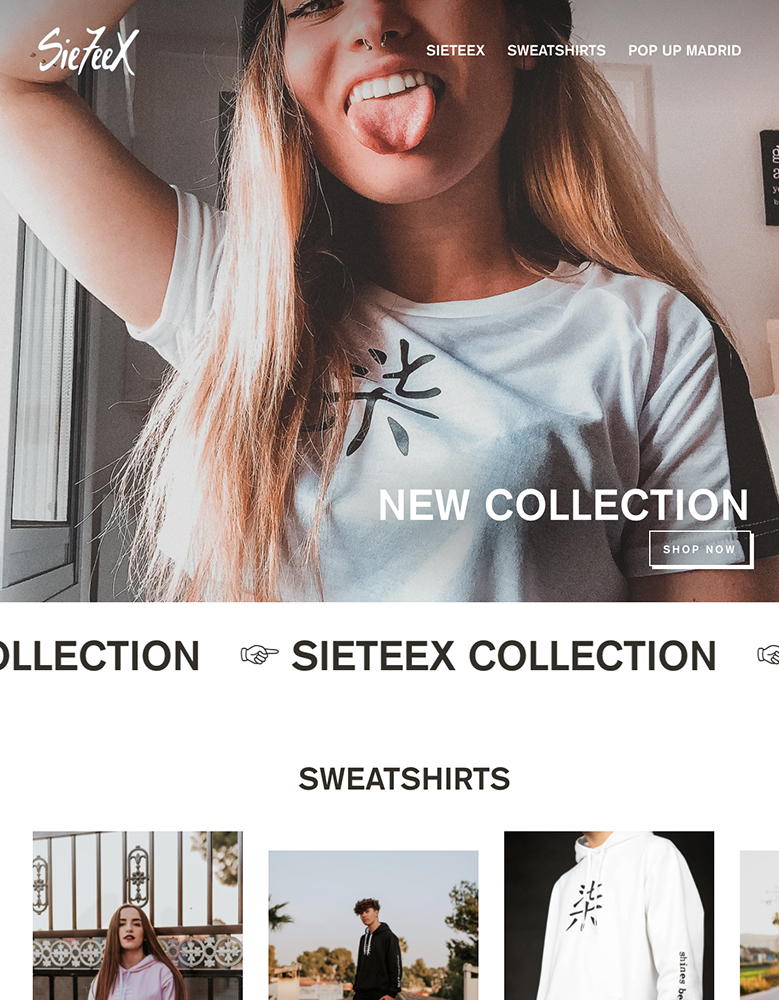 Streamline is one of the top Shopify themes for boutiques that allow you to have a minimalist design but a powerful sales platform. The product pages have been designed to help sell through the power of storytelling. This creates an emotional pull with the audience and engages them. Customers will find it harder not to buy after reading a story. Customers who get emotionally attached to a product are more likely to make a purchase.
The theme also utilizes a great quick view option. This popup window looks great and doesn't negatively impact the shopping experience of the customer. It can help increase conversions and reduce the abandoned cart rate on your website.
Streamline has be optimized for search engines with fast speed and lots of customization options. You're able to connect your store to your Instagram account and can use animated content to make your website look more engaging.
Streamline Highlights:
This theme is a mobile-first design, allowing you to have a site that will appear good on any device.
There is a sticky checkout that is always visible on the website that the customer can use.
You can animate the text, images and videos throughout the store.
Integrate your store with Instagram for your website's social media content.
Supply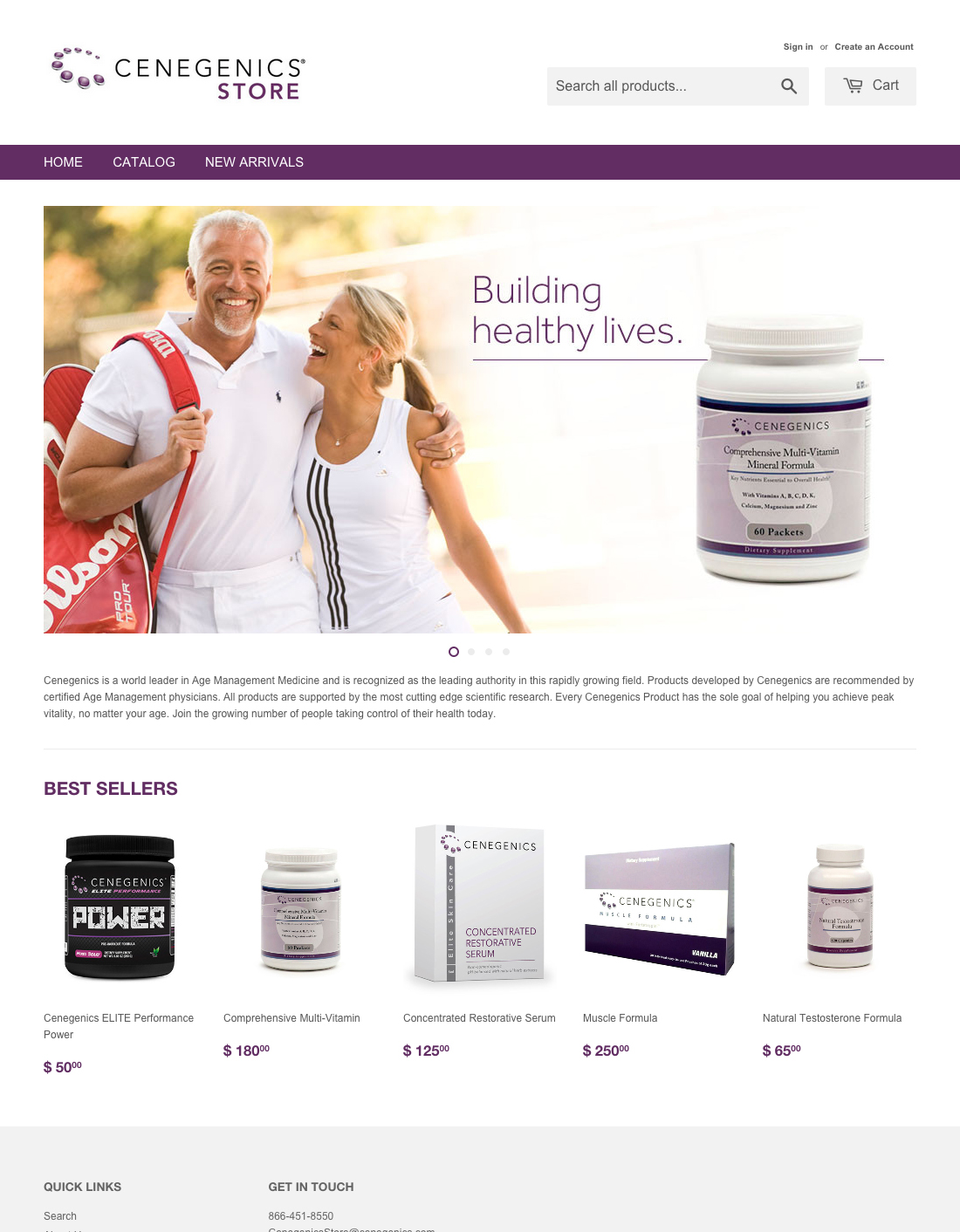 Supply is a free theme that is perfect for those stores that have a large catalog and want to run a website on a tight budget. You're able to use featured collections on your homepage and showcase them on an aesthetically pleasing slideshow. The theme also allows for better browsing on your store with a sidebar product filter. This filter can limit collections based on brand, size, color and more. You have the option to customize the filter options.
The theme isn't very feature rich. But that is a benefit. The more features a website theme has but you don't use, the more code that is included. This can slow down the loading of your website, which is not a problem with this theme. This theme is also perfect for mobile and desktop viewing.
Supply Highlights:
Can cope with large catalogs as well as those stores that are selling a few niche products.
Can display perfectly on mobile and desktop devices.
Perfect for those brands who are on a tight budget.
There are product filters for quicker shopping times for customers.
Parallax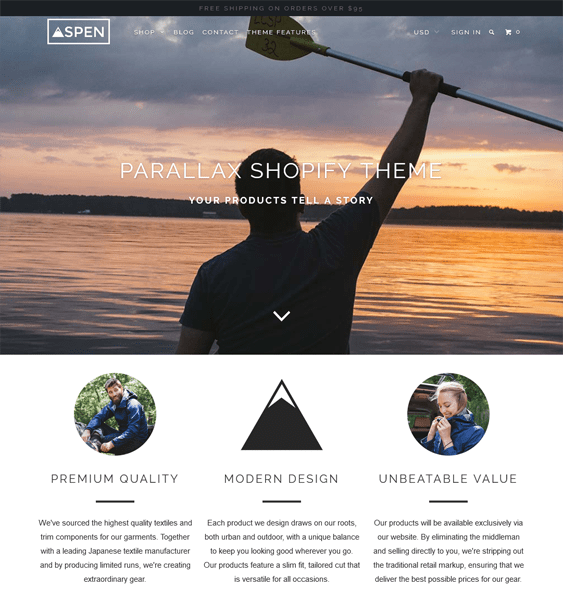 Parallax is a popular theme that has a high approval rating of 99%. One of the reasons for this is that visitors are offered a great experience when they're on your website. The flow of the design as customers scroll down your website is perfect and there is a perfectly designed menu that enables easy navigation across your store.
To help sell your brand and products to visitors, you can utilize the full-width video on the homepage to highlight the brand or product's story. There is also the chance to connect your store to Instagram to showcase the social posts you're promoting and publishing.
The theme also contains all the necessary elements you need to engage audiences on your website. There is the chance to connect your website with Disqus. And this can help with SEO and blogging is a very important part.
Parallax Highlights:
A highly popular theme that has lots of great elements to add to your website.
Social media links and features to keep customers engaged with your brand.
Utilize videos on your homepage to build a rapport with audiences and tell your story.
Keep engaging audiences with Disqus blog comments.
Boundless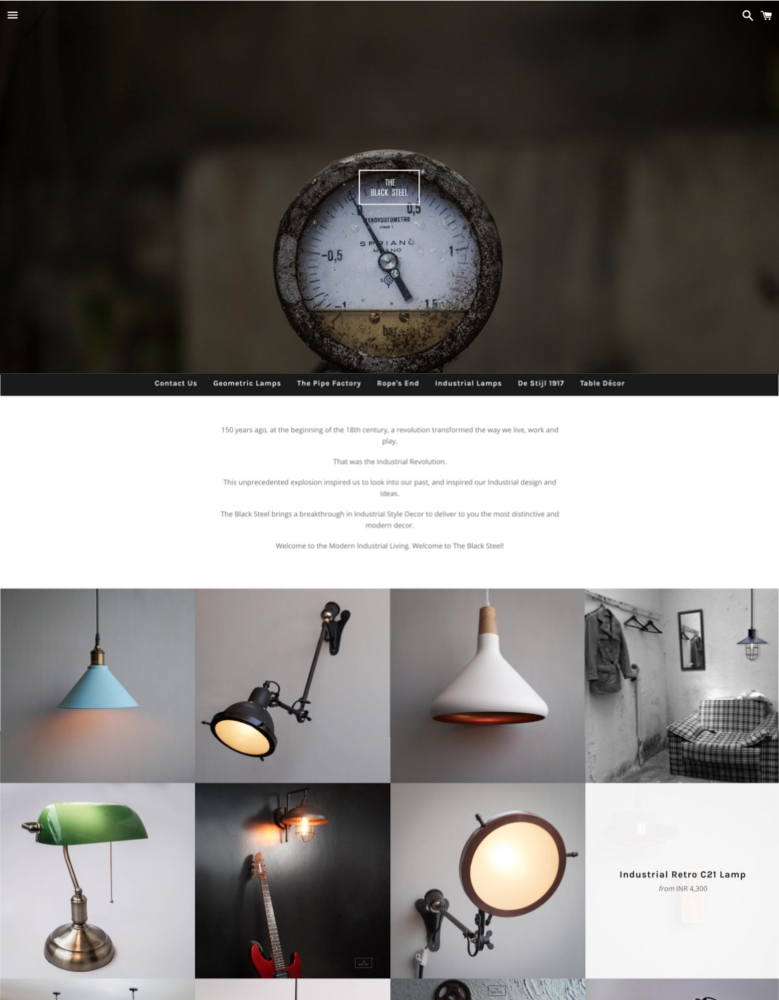 Boundless is a free, minimalist theme that is one of the best for those who are on a tight budget. There are lots of features that would normally only be found when you have bought a premium theme. For instance, there is sticky navigation that allows customers to travel around your store with ease and see the pages/products they want without getting lost.
The theme has also been optimized for large, high-resolution images. You can also host a lot of products on your website. This can help you showcase your entire collection with ease and sell more. There is also the homepage slider to help you feature the best products you have. The fading effect on the slider is perfect for adding that professional touch.
Finally, you're able to showcase the products within a 'Hero Video'. This can be added to your homepage and videos are known to increase conversions.
Boundless Highlights:
A free theme that has numerous features that are often found only within premium themes.
Use a slideshow on your homepage to showcase the top products you have on your website.
Optimized for ranking your website and products on Google and other search engines.
Utilize a 'Hero Video' to promote your brand and convert more visitors into customers.
Final Word: The 10 Best Shopify Themes for a Boutique Store
There are so many choices when it comes to choosing between the Shopify themes for a boutique. Above are ten of the best options that you can use today on your Shopify website. Each has its advantages, so which one will you use? Let us know in the comments.
Avi Klein
Vast experience in the online world. SEO expert, Web developer and consultant to several online companies.
Read more...
. Read more about
our approach
to reviewing themes and plugins.