12 Best Toy Store Shopify Themes [Sep, 2023]
Last modified: September 3, 2023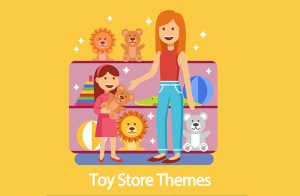 If you run a toy store, you will know that competition from online retailers is getting tougher. Shops like Amazon and other retail giants are selling baby toys online because more people are now shopping via the internet. If you haven't yet, you are probably thinking that you need to establish an online store. Using Shopify is a great idea, as it is a ready made eCommerce solution that allows you to have a presence online, as well as sell your toys to parents and children at your store.
If you're aiming for success with your new venture, choosing one of the top-notch toy store Shopify themes available is essential. With many options to choose from, it's important to consider the advantages and disadvantages of each.
What Are You Looking For In The Toy Store Shopify Themes?
There are many things to look for when choosing between toy store Shopify themes. For instance, you need something that will load fast. Research has found that for every second it takes your website to load, you'll lose 7% of your revenue. This can be a big difference on your profits. Just a four second delay can cost you more than a quarter of your online revenues.
Speed is also an important factor for your website's ranking. Getting to the first page of Google is vital for traffic. Being in the top spot can help you earn 33% of the search traffic. If you're on the first page, but between 6th and 10th, you will have just 1% of the traffic. The conversion rate for your website is also lower when you're ranked further down the results page.
A poor performing website will also ruin your physical store's reputation. So, always be sure that you're choosing one of the toy store Shopify themes to improve your brand's identify.
In addition, you want to have a theme that can emulate your current branding. Some of the people who are coming to your website will have visited your physical store. They will want to see continuity between the two different elements of your business. Aspects to consider include coloring, font and style of the purchasing process.
You also have to choose whether you are going to offer a lot of products on your site or just a few. Some themes are perfect for small, independent stores that only have a few products while others are better suited to larger brands with hundreds of products.
It is important to take time to choose your website's theme. The cost of changing a theme on Shopify can be expensive. The new theme alone can cost between $140 and $180. However, there are 9 free themes you can select.
With so many toy store Shopify themes available, it can be overwhelming to choose the best option. Keeping these key factors in mind can help you narrow down your choices.
#
Image
Name

Get a Free Custom Shopify Store
1

Booster

2

Toytown

3

Baby Planet

4

Kutty Kids

5

Toyc

6

Magic World

7

Kinder

8

Sunrise

9

Reach

10

Pop

11

Canopy

12

Shoptimized

Show More
Filter between free and paid
Booster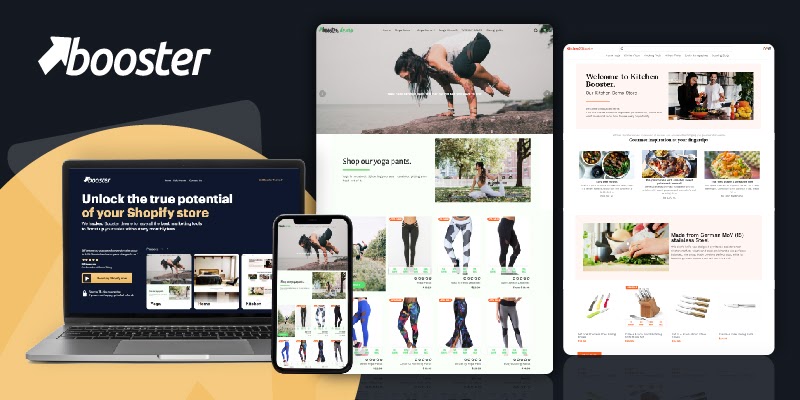 Booster is a highly impressive theme for Shopify. There are numerous functions which are often found only in premium apps. Therefore, you can save more than $3000 on app subscriptions. So you can not only have a fast website, one that loads within less than a second, but one that offers more profitability.
The theme includes countdown timers, call-to-action builders, social proof, popup builders and more. You can also have elements that can reduce your abandoned carts, helping you to earn more revenue from the traffic you already have.
Booster also includes lots of great ways that you can build your website. You can add all the color and elements you like to help you build a kid-friendly website.
Booster Highlights:
Save more than $3000 on apps with numerous features.
A fast and mobile responsive theme that can improve your website's performance.
Rank higher with better SEO functionality.
Easy-to-use theme design tools for a better website building experience.
Toytown
If you're looking for a toy store theme that caters specifically for younger children, then this is one of the best toy store Shopify themes on our list. With drag and drop interface you can customize the three home page styles. The theme is perfectly designed for younger children with the clean, light color scheme, kid-orientated typography and the shopping functions.
You can sell lots of kids related products including, barbie doll clothing, kid related clothing, toys and educational equipment. You can also enhance this theme with the Shopify app store.
For shoppers there is a blog section, coupon area, and wishlists, so they can plan their purchases. There are also comment sections and reviews to build trust between you and your audience.
Its functionality is great. It is compatible with all browsers and the responsive designs makes it a perfect website for use on mobile devices and desktops. You can also add a great looking slider with images and you can add an unlimited number of banners for your store.
Toytown Highlights:
Responsive Shopify theme that can be seen on all devices and browsers.
Product slider module to showcase your best products to website visitors.
Can highlight the end of deals with a countdown timer.
Impress visitors with brand reviews on your store.
Baby Planet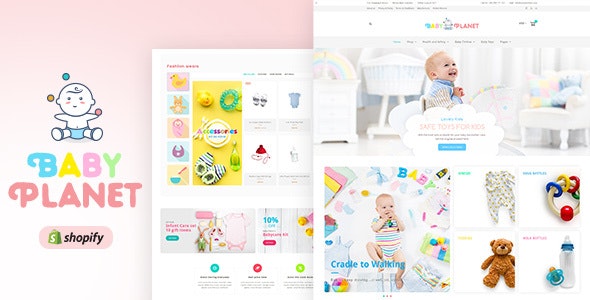 Baby Planet is another great theme that can be used by brands selling toys, baby kids clothing and other accessories. This responsive theme looks great on any device with neutral colors for younger children. The theme can be customized with beautifully developed and professionally designed elements that can add functionality to your website as well as places of high engagement.
To help visitors around your website there are some great mega menus. Superior navigation is linked to improved user experiences and if you create the right signposts in your mega menu, you can increase revenues.
In addition, there are several aspects of the toy shop Shopify theme that allow users to search for products on your site. Therefore, if you have a large catalog of products, this might be the theme for you. This is also a great theme for those trading across the world. There is a fantastic currency exchange system that allows you to display prices across the world.
Baby Planet Highlights:
Highly responsive web design so can be visited on a desktop, mobile or tablet.
Newsletter popup to help you capture the details of visitors.
Order tracking functions available.
Drag and drop home page blocks.
Kutty Kids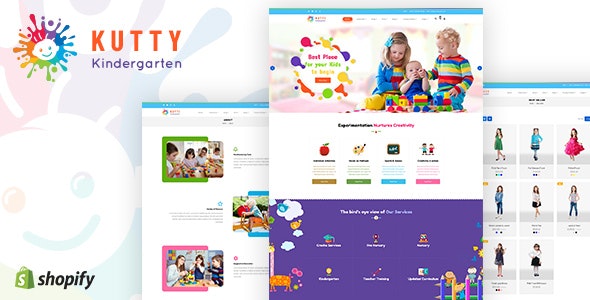 This Shopify toy shop theme is aimed at a little older age group and the colors of the basic theme do match. The colors are brighter to attract that specific market. For the theme, there is a lot of functionality that makes it a great choice as a toy shop for young school children. Firstly, there are five styles of mega menu to help visitors navigate around your store. In addition, there is search functionality and newsletter popup.
In addition to this there is a quick view for customers who want to see products while still on the main shop page. You can also choose to display products in a grid or list format, whatever your preference. A grid format is best if you have lots of products.
To help you increase revenues there are some really great features such as a countdown timer that will put urgency into deals. There is also a reviews app that can help build trust between you and your audience.
Kutty Kids Highlights:
A powerful admin center to help you manage your website.
Allows international customers to expand your online potential.
Wishlist functionality.
Can build a mailing list quickly for excellent long term sales prospecting.
Toyc
This excellent theme offers lots of different styles for your website that will make it an excellent choice for your toy store. It is fully responsive and can be set as a parallax style website. The theme itself has a clean and minimalist look that makes it fast to load and improves your customers' experience. This leads to higher revenue in both terms of less carts being abandoned and more revenue with each order.
In addition, there are several other features that make this a great option for toy shops. There is Google Map integration, so your website visitors can also visit your physical store. This is a good option if you offer a pre-order and collection service on your website and customers want to know where to go to collect their orders.
The theme is also multilingual and currency, so you can also sell internationally.
Toyc Highlights:
Clean code making the website extremely fast and great for search engine ranking.
Sell your products across the world and in many different languages.
Great product search facility.
Wishlist functionality for your store.
Magic World

Magic World is a theme that tries to emulate some of the biggest online shops in the world with blocks showcasing specific content across the page. It has bright colours and easy to follow content, therefore you can direct customers to the best products/information on your website without too much trouble.
The theme is fully responsive, and is a pleasure to look at on any device, including mobiles and tablets. The search functions, that allow visitors to look for specific products, are a great addition and will help to improve order values for you.
You can keep visitors informed about the latest news, releases and offers through the integrated blog. Blogs are also a great way to improve traffic to your website. Research has shown that 15 or more blogs per month can increase lead generation significantly.
There is a great slider option, so within one space you can showcase lots of information/products. It is also a great way to direct customers to specific offers without needing them to scroll down to somewhere else on the page. The theme also offers sorting options so customers can see the products that are most relevant to their needs first.
Magic World Highlights:
Sell in many countries with multilingual and multi-currency functionality.
Lots of social options giving you new ways to reach your customers.
Let customers find your physical store thanks to Google Maps.
Clean code helping the site to be highly responsive, fast, and rank well on search engines.
Kinder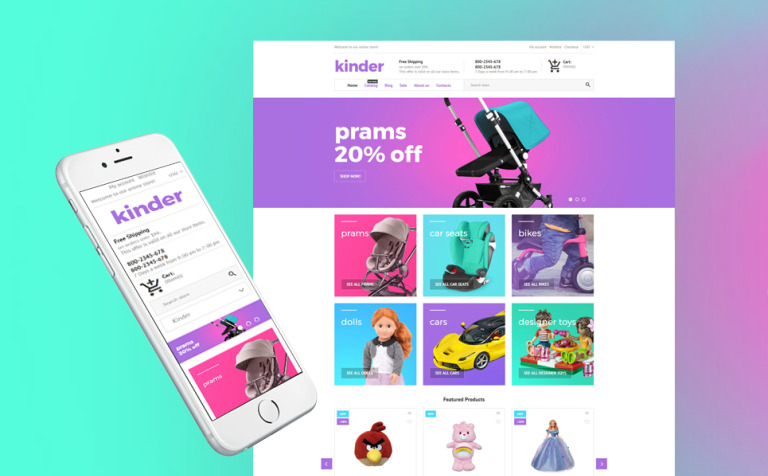 Make your website perfectly fit your other branding thanks to the excellent customization options that are available through Kinder, a great toy shop Shopify theme. This theme allows you to change the color scheme of the website with one click, making branding easy. If you're a new business and struggling for photos, you can use the free stock photos that are included with your theme.
To help you sell, there is a great looking slider function on the theme that flows naturally on your website. You can also sell internationally thanks to the multi-currency options that are included within the coding of the theme. You can also push specific products by assigning them certain badges such as sale discounts, new in or best seller tags. This can really increase conversions on certain products.
Customer expectations will be surpassed thanks to neat features such as the great sorting options which changes the order of the products without the need to reload the page. This makes the shopping experience much more streamlined for your audience.
Kinder Highlights:
Blog elements to help you maintain visitor engagement and better SEO results.
Responsive website theme so it will display well on any device seamlessly.
Has online chat facilities.
Responsive so will display perfectly on any device.
Sunrise
Sunrise might not just be used by toy stores, but it is a perfect theme for an online toy shop. The bright colors, intriguing design and excellent functionality of the theme make it an excellent choice for those with lots of products.
To promote your latest deal, sale or other information, you can take advantage of the promotional banner. This neat feature will help you convert more of your customers with simple messages that create urgency. You can further enhance the shopping experience for website visitors when you use the slideshow function that allows you to showcase multiple branded pictures or products on your homepage. These can be linked to specific products/pages for your visitors to find out more information.
To help with user navigation you can have a multilevel menu. This helps customers find the products they want faster and looks really good. When customers do find the products they're looking for, they can have a closer look by clicking on and then zooming in on the product images.
Sunrise Highlights:
An excellent theme with four different styles and lots of great functionality.
Use grid-style layouts to improve your website's look.
Search engine optimized to help you appear in search results.
Great speed for quick loading.
Reach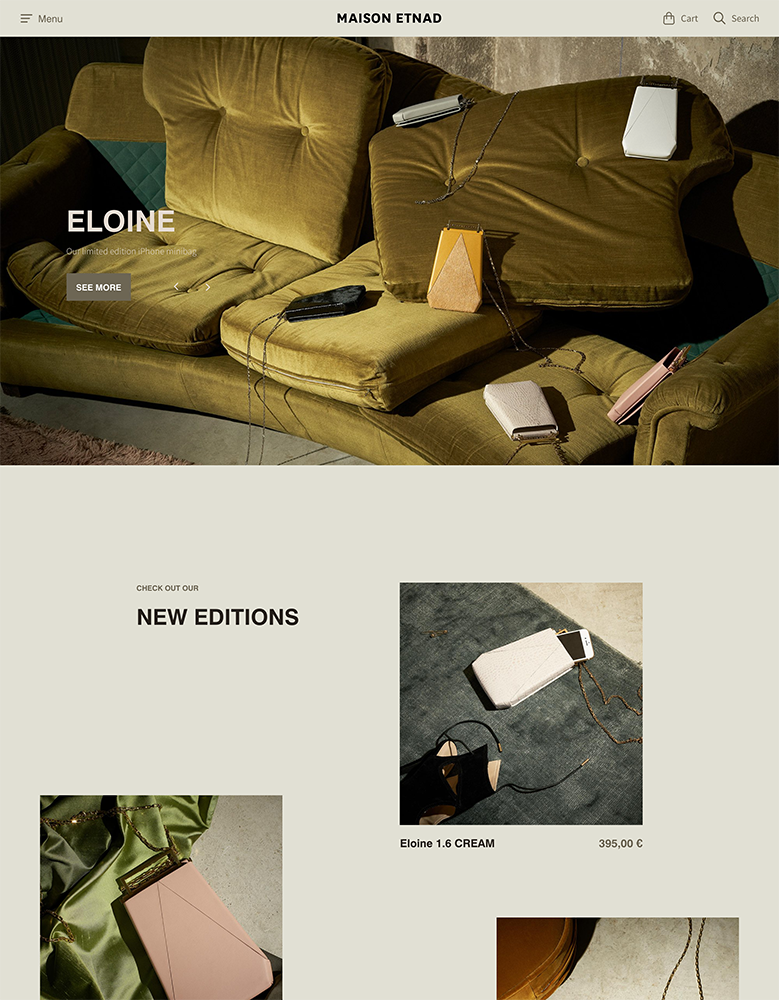 Reach is a lovely theme that was designed specifically for mobile users that will help you reach new audiences while they're on their mobile devices. There are three main styles for this theme, each of them unique and beautiful.
The theme has many features that can help you sell, including product focused testimonials that can help you build trust with your audience quickly. In addition, the visual storytelling helps to add focus to your brand's story and the products you're trying to sell. This is therefore a great option for those stores with only a small selection of products.
There are lots of animation effects with this theme, that make it display well and give it a modern feel while maintaining a traditional look. Finally, you can reach new audiences with the help of the social share functions included with the theme.
Reach Highlights:
Highly responsive theme that will look good on many devices.
Free stock images.
Optimized for search engines so will appear in search results.
Mobile first design.
Pop is a free Shopify theme available directly from them. There are two styles that are available with the theme: bone and toy. Toy is a nice style that is elegant and basic with natural colors that emulate younger years.
The theme has a few functions that make it a great choice for your online store. Firstly, it has a sidebar menu option, allowing you to maximize space at the top of pages. Another fantastic function is the slide-out cart that allows visitors to see what they've placed into their basket without leaving a product or a shop page.
You can also add a homepage slideshow to showcase your best products, deals and information, to help build trust with your audience. Finally, you can display your products in the best detail with product zoom functionality.
Pop Highlights:
A free theme available direct from the Shopify theme store.
Mobile friendly design, so will look good on any device.
Optimized for search engines to help you rank.
Social media icons are included with the theme.
Canopy is a good choice if you're looking for a theme that has some great functions and styles to make your store more attractive to visitors. The theme is perfect for product promotion and can really highlight a few products and increase their sales. Despite this, this theme is excellent for those with large product catalogs.
You have a choice of three theme styles to start with: Elda, Thread and Kiln. These can be easily customized like lots of other Shopify themes.
There are lots of ways that this theme can help you sell more products. Firstly, you can use a video on your homepage to tell your brand's story or promote a specific product. You can also lower abandon cart rates with the quick buy option that helps customers checkout when they are in a rush.
Canopy Highlights:
Two menu styles that can include one mega menu at the top of the page or side menu that is multi-level.
Highlight responsive, so will look good on any device or browser.
Showcase up-to twenty images on your homepage in a gallery.
Free stock photos available.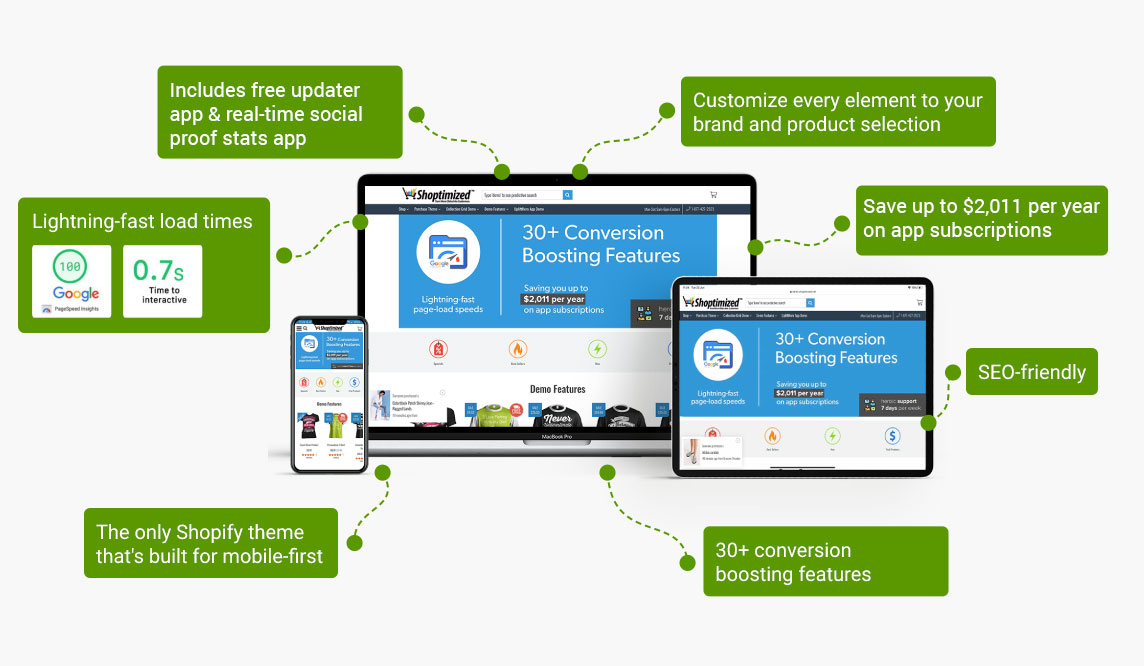 Shoptimized is a great theme for adding numerous features and functions to your Shopify store.  It is optimized for mobile devices which helps with the speed of your website and improves your search engine optimization.
Some of the features include countdown timers to create urgency and stock counters to let browsers know when there are low stock levels and, therefore, to purchase soon. There is also a GEO-IP function and a currency switcher to support international sales.
There are so many features included with Shoptimized that you will be sure to save money by not needing to purchase apps for different functions. Shoptimized theme also comes with a great page builder to customize your website by color, images, text etc. You don't need web developer skills to do this and it doesn't take long to create a website to match your brand.
Shoptimized Highlights
Save more than $2000 with the number of features included
Create urgency to convert more traffic to your website
Great for SEO with fast loading times
A Sleek and attractive design
Final Thoughts: The 12 Best Toy Store Shopify Themes
When you own a toy shop, you should use one of the best toy store Shopify themes or a Shopify doll theme for your website. These often include lots of functions to help you sell your products and generate interest in your brand. We've featured a lot of different options for you in this article, and there are others like the default dawn theme. Each is great, so which Shopify e commerce toy template will you choose?
Avi Klein
Vast experience in the online world. SEO expert, Web developer and consultant to several online companies.
Read more...
. Read more about
our approach
to reviewing themes and plugins.