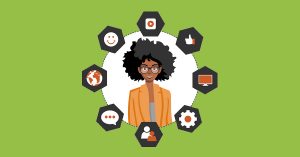 15 Best Product Review Shopify Apps
Last modified: October 21, 2021
When you run an eCommerce business there are several things you need to do to improve conversions. One of the most important aspects is building trust with audiences. There are many ways to complete this. The first is to add trust indicators on your website like SSL certificates, chat services and membership to groups. Another is to use some of the product review Shopify apps that are available to you.
Why Are Product Review Shopify Apps So Important?
Shopify reviews are important because they tell potential buyers what other customers have thought about the product they're viewing. As customers are more likely to trust the opinions of their peers than your own, using product review Shopify apps are an important step in providing that information.
A lot of product review Shopify apps will display the opinions of past customers and some of them will also collect the information from the customers for you. The more reviews you have on products, the higher you can expect conversions to be, assuming that there is a general positive trend for your products.
There are two main reasons why customer reviews act as a catalyst for sales. The first is proof of purpose, if people like a product, then it must be good so shoppers trust that past customers have found satisfaction in the product. The second is that it is unbiased information. When you post content about a product, you're trying to sell it. When a customer posts information, they have no benefit from the review.
Why You Shouldn't Use Fake Reviews
In the past few years there has been a trend of businesses using fake reviews to boost sales. Some high profile authors were found to be reviewing their own books in countless fictional names, a couple of these were on the New York Best Seller lists. This practice is very frowned upon and against many terms and conditions across selling platforms.
Amazon, for instance, will remove your products if you are found to promote fake reviews. While you are free technically, to use fake reviews on your own site, there are groups out there that look out for these fake reviews. Should you use fake reviews in the promotion of your products, you can be shamed on social media and traditional media and this can cause issues you'll never recover from.
You also need to be careful of importing reviews. Some sites, like Amazon, will claim reviews as their own property. Using them on your website can mean legal action against your business.
This is why you should be using one of the product review Shopify apps that are listed in this article. When you're starting out you will have very few reviews. But these apps can help you generate more reviews and proudly display them to your website visitors. They can also import them from the correct websites to ensure you don't break copyright laws.
So, what are the best product review Shopify apps that we recommend? Here is our list.
#
Name
Image
Shopify

More Info

1

Wiremo: Product Reviews Photos

More Info

2

VITALS | 40+ apps in one

More Info

3

Judge.me Product Reviews

More Info

4

Loox - Photo Reviews

More Info

5

Editorify - Product Reviews

More Info

6

LAI AliExpress Reviews App

More Info

7

Opinew

More Info

8

Testimonials & Product Reviews

More Info

9

Growave ‑ Reviews, Loyalty ++

More Info

10

Rivyo Product Review

More Info

11

Ali Reviews AliExpress Reviews

More Info

12

Enorm Reviews - Photo Reviews

More Info

13

AliExpress Review Importer

More Info

14

MyReviewfy ‑ Product Reviews

More Info

15

Reviify ‑ AliExpress Reviews

More Info

Show More
Offers & Promos