The 11 Best Shopify Customer Support Apps – [2023]
Last modified: July 4, 2022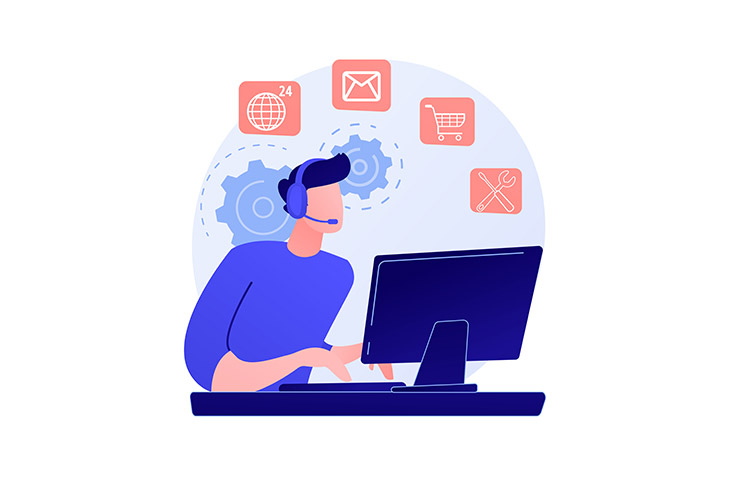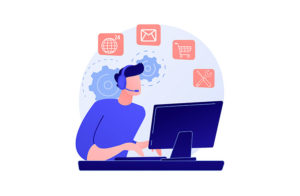 #
Image
Name

Get a Free Custom Shopify Store
1

Tidio Live Chat

2

Re:amaze Live Chat & Helpdesk

3

Gorgias ‑ Live Chat & Helpdesk

4

Floplug ‑ Live chat & Support

5

HelpCenter app - Live Chat, FAQ, Help Center, Product Tabs

6

Relish AI Chatbot, Quiz, FAQ

7

Help Center HQ / FAQ HQ

8

Atlas ‑ Help Center / FAQ

9

FAQ Accordion | Help Center

10

Live Chat, Help Center & CRM

11

Live Chat & Customer Service

Show More
It doesn't matter what you sell, whether it's t-shirts or computer hardware, there are going to be times when you need to provide some form of support to customers. This can be done in several forms, such as live chat, forums, FAQ centers, ticketing support and more. However, to make this work, you're going to need one (or more) of the best Shopify customer support apps available.
What are the Benefits of Using one of the Best Shopify Customer Support Apps?
Customer support apps can help you add a personal touch to your website that customers want to see. They want to know that if they have a question or problem, there is a support option available that can help them find a solution. It might be that they want to reorder something that they can't find, do a return or make a complaint. Without Shopify customer support apps, this might be more challenging to complete.
There are numerous benefits to using an app. The first is that it becomes more manageable. With apps, records of the conversations and the outcomes can be connected. The apps can also collect vital information to save time like customer name, contact details and order information. This prevents you from having to request from the customer or find the information yourself in the sales history.
In addition, customer support apps can sometimes offer you some automation. This can save you time and therefore costs. Helping you to run a more effective and profitable business.
Finally, some Shopify customer support apps have been tested and found to improve conversion rates. This allows you to earn money from the visitors you have and not having to find new visitors to your website to earn more. This can be a more cost-effective solution and reduces costs associated with abandoned cart emails (i.e. discounts, sending emails, etc.).
So, what are the best Shopify customer support apps? Here is a quick selection for you to consider for your store.
Filter between free and paid
Tidio Live Chat

Tidio Live Chat is one of the big apps available on Shopify and has been tested by numerous brands. The results have shown that by integrating the app into the stores, brands can improve sales by up to 40%. This is through live chat, chat bots and marketing automation. It makes running a website so much easier and improves the customer experience that increases the chance that you can retain the customer for lower customer acquisition costs.
The live chat element of the app is great. It doesn't just turn on and wait for someone to respond. It is active when an admin or business user is logged into the website and only then. Therefore, you know that there is someone there to speak directly to customers.
The rest of the time you can turn on the bots. The AI of this app is one of the best. It analyzes and can respond accurately to 43% of the most popular inquiries that happen on a website. This level of automation can save time and ensure that even when your office is closed, many customers can get the support they need for your website. For instance, the bots can check delivery dates/times, product stock levels and offer tracking codes. If a bot cannot answer a question, they will transfer the conversation. The AI has also been programmed to help reduce abandoned carts. Therefore, you can improve revenues with ease.
If a customer has not been able to get the answer that they would like, you can then get back in touch with them. This can be done through email or Facebook. These systems are integrated into the app.
Tidio Live Chat Highlights:
Multilingual app allowing you to provide support in numerous different languages.
Chatbots can answer nearly half of the most popular customer queries on your website.
Any queries that the AI bot cannot answer can be transferred to a human operator.
Helps in recovering abandoned carts and improves conversions by up to 40%.
Re:amaze Live Chat & Helpdesk
Re:amaze is another very popular app on the Shopify platform that has been tested and found to increase conversions by up to 25%. The app can be applied to multiple stores as well, allowing you to manage numerous stores in one location. Great if you have numerous stores to cover different geographic regions or different niches or various websites. You can implement this app on your website within less than 30 seconds, and there is no need to have any experience to make it work on your website.
Re:amaze doesn't just offer live chat functions for your website. Although this is a major part of the program. It is also includes a helpdesk ticketing system and marketing automation. The live chat can handle conversations across platforms including email and social media. The app is also perfect for offering responses by giving you the information you need to resolve the query with ease. For example, if the customer wants an expected delivery date, the app will provide that for you.
The app also keeps lots of records about your business. You will get more information about the browsing history, current cart contents and more. You can use this information to determine what support they need and help with resolving problems. The live chat function also includes a cancel/refund option to help you manage customer orders with ease.
To help you save time, there are chatbots available on your website. This can reduce the need for manual operation by about 40% by answering numerous common queries for you. In addition, you can establish a Help Center area that can have SEO optimized questions/answers to help them as well.
Re:amaze Live Chat & Helpdesk Highlights:
A Chatbot that can reduce the need for manual operation by about 40%.
Improve your store's sales by up to 25% with ease.
Can automatically send surveys to customers to collect their opinion of your brand.
SEO-optimize help center can be created for customer self-service.
Gorgias ‑ Live Chat & Helpdesk

This app is another one of the big Shopify customer service apps that is available on the platform. It includes help desk and live chat functions to help you improve the experience of the visitors to your store. It will help them with any queries they might have and can help to make your customer service more efficient to improve profitability. Those that have used this app have often found that they can reduce response times and improve the effectiveness of the customer service operations.
With the app you can offer support via email, live chat, phone, Facebook, Instagram and a contact page in one location. Therefore, you can stop having to log into different locations and manage everything in one place. Every query comes with a lot of information to help you manage your queries. For instance, you can see all the order details and then use this information to offer refunds, cancellations, duplications and more and you won't need to leave your store or app to do it. You're also able to connect this app to recurring payment, loyalty and other apps to use their functions with customers.
The app comes with chatbots too. This can reduce the amount of work that customer service team members have to complete. For instance, the customer can ask when an order is expected to arrive and the bot can collect and display this for the customer. The AI can also be programmed so certain keywords will flag customer queries to get human attention immediately.
Gorgias ‑ Live Chat & Helpdesk Highlights:
You can integrate third-party apps into the customer service app to make your offerings better.
Train your AI to answer numerous questions without human direction.
You can offer refunds, loyalty points and more to your customers from inside the chat app.
Integrate a wide range of communication channels into your website and use them all in one place.
Floplug ‑ Live chat & Support

The average time that a visitor is on your website is approximately two minutes. Making the most of this time is important for your business. If you can use this more wisely you can improve revenues without having to increase the number of visitors to your website. The app does this by allowing you to create a chatbot that has predefined flows and automated responses that can help direct a visitor on their purchasing journey.
The biggest aspect of this app is that it has been known to improve customer responses. Research has shown that about one in five customers suffer from confusion over products. This app can be programmed to alleviate this with ease. It can also recognize when customers might be confused and automatically set up to help.
There are also advanced features. For instance, you can use push modules, upselling and more. And if there is something that the chat bot can't help with, then it will pass the customer to a human operator.
Floplug ‑ Live chat & Support
This app allows you to engage customers who are confused on your website.
Chatbots can answer customer queries with ease.
Is an easy to use app that offers quick installation without any coding need.
You can upsell to customers automatically with ease.
HelpCenter app - Live Chat, FAQ, Help Center, Product Tabs
With the HelpCenter app, e-commerce businesses on Shopify can easily add automated customer support solutions to their online store. The HelpCenter app comes with a list of features including live chat, product description tabs, and help desk ticketing system.
The HelpCenter app is one of the easiest solutions on Shopify to enhance and automate your customer service and customer experience. HelpCenter app is a free to sign up omnichannel solution where all inquiries from emails, live chat, and Facebook Messenger are all under a single HelpDesk. The app works well with several Shopify stores under the same account.
Thanks to its seamless integration with Shopify, the HelpCenter app can be easily downloaded and implemented. What is more, drag and drop editing of the FAQ builder offers easy implementation with no coding skills needed.
Businesses who have used this app for their Shopify store have reported ease of use and improved response times. German audio electronics brand Sennheiser, for example, started using the HelpDesk ticketing system to speed up their customer service processes and accelerate response times. Since, they have reported improved operational processes and accelerated their customer response times using features like Templates and Ticketing.
HelpCenter app – Live Chat, FAQ, Help Center, Product Tabs Highlights
Free to sign up and use the basic plan.
Easy to implement e-commerce customer service solution for Shopify stores.
Offers easy to use drag and drop FAQ builder – set up under 10 minutes!
Easy to use with no coding skills needed.
Excellent customer support team to help with set up.
Works great with several Shopify shops under the same account.
Omnichannel solution let's you manage all inquiries form emails, live chat, or Facebook Messenger all under one single HelpDesk.
Full plan including all features comes at a meager $14.92 / month.
Offers order management and customer purchase history.
Relish AI Chatbot, Quiz, FAQ
This app allows you to utilize AI to support customers no matter what time of the day it is. Therefore, you can offer round the clock support to customers and improve conversions, helping them find the right products, find deliveries and process refunds. Customers can become happier with the service that you're offering and improve the performance of your website.
In fact, the performance improvement on your website can be seen in the figures collected by the developers of the app. They've seen conversions increase by up to 25% and reduce support requests by 30%. Therefore, you can improve profitability and sales with ease.
The app takes just minutes to set up on your website. You don't need any website development or coding knowledge to make it work.
Relish AI Chatbot, Quiz, FAQ Highlights:
Helps to improve conversions on your website by up to 25%.
Can reduce the support requests on your website by about 30%, saving you time.
Can use Chatbot templates that have already been developed.
Increases your website's profitability and efficiency.
Help Center HQ / FAQ HQ
This app is about you building an FAQ center to your website that can act as a self-service help center for your customers. It takes just minutes for your website to have one established as you can enter just a few items to get started. You don't need to have any specific experience to create the help center, just write the questions and answer them.
The app is known to improve customer retention, conversions and make customers more satisfied with their experience on your website. The information that can be collect with this app is also important. For instance, you can find out the most common questions to what is making them happy. This allows you to make improvements to your website to increase conversions.
Help Center HQ / FAQ HQ Highlights:
You can build a strong FAQ center that can be deployed within minutes.
Monitor the performance of the FAQ section of your website to make improvements.
Improve customer satisfaction, retention and the number of orders made on the website.
Reduce the number of times a customer needs to contact you.
Atlas ‑ Help Center / FAQ

This app allows you to create a self-service online library of questions and answers that can help customers find out more about products, services and shipping. It is easy for you to use and create the Help Center that you need for your website. All help pages can be indexed with ease and can be listed on search engines, therefore, it can also help build traffic to your website.
Customers can also search articles and questions with a search function to find the solution they're wanted.
This app also has a widget that is like a messenger.
Everything about this app can be aligned to match to your store's theme. There are also two other themes that can come with the app. And there is additional customization that can be applied with custom CSS. There is also a support service offered by the app developers if you should need it.
Atlas ‑ Help Center / FAQ Highlights:
Track the performance and behaviors of the customers on your website to ensure they're happy.
Integrate the service with third-party apps like MailChimp.
You can customize the look of the help center with ease, including with custom CSS.
Questions and answers can be indexed and found via search engines.
FAQ Accordion | Help Center

This app allows you to create and organize the perfect help center for your website. You can also host FAQs anywhere on your website to help with an advanced customer support service that can reduce the need for contact with your customers and save you time, money and improve results on your website.
The FAQ can include shipping details, refund policies and more to offer a wide variety of commonly asked questions about your services. The app can also display FAQs in an accordion style, allowing you to not have to worry about a page that is too long.
Questions and answers on the apps can have links, text, images and videos to help make them better. You can also use as much or as little detail as you want. To help improve your website's performance, there is customer feedback options about FAQs on your website. The app works across devices and browsers.
FAQ Accordion | Help Center Highlights:
You can use text, images, videos and more in your answers.
You can get customers to rate your answers to see what is popular and not.
Accordion-style pages that are easy to create for your website.
This can be used across devices by your customers.
Live Chat, Help Center & CRM

This app has everything you need to offer great customer service to your customers. There are 10 ways that you can manage the service on this website, including responding faster on numerous channels (email, Facebook, live chat, Facebook, Instagram, WhatsApp, etc.) from one place. Each message can have all the information you need to service the customer. For instance, you can see the order and tracking information.
Within the system you can issue cancellations, refunds and even duplicate an order with ease.
The app measures all customer service metrics such as resolution times and other productive metrics. You can also collect more information through surveys and measure CSAT. You're able to resolve common queries automatically. And you're able to integrate third-party apps with ease.
Live Chat, Help Center & CRM Highlights:
Can manage all your communications from one area.
Allows for automatic resolutions of common queries.
Can issue refunds, cancellations, edit orders and more from inside the communication channels.
Easy to use and works across devices. Can also be used on multiple stores and numerous languages.
Live Chat & Customer Service

This free app has all the solutions you need for personalized customer service. It helps to reduce first response time, provide a proactive and personalized support to shoppers wherever they are at the purchasing journey. It can also help you by notifying you of when you should reach out to visitors in order to delight them. Therefore, you can also improve conversions and orders with ease.
This app allows you to use templates and Shopify macros to cut support time and improve customer experiences on your website. The app also has other powerful features like being able to offer discount codes to upsell and prevent cart abandonment, use an FAQ center on your chat.
When customers do chat to you, you'll get a full, advanced set of data about the customer. This can include where they are from, purchasing history, browsing history, cart preview and more. Therefore, you can improve your answers. You'll also able to synchronize all customer data with ease to make your responses more personalized.
Live Chat & Customer Service Highlights:
Improve conversations with personalized responses.
Find out about the customer and what they're doing on your website while they're in chat.
Issue refunds and more on your website's chat with ease.
Easy to install and free to use.
Final Word: The 11 Best Shopify Customer Support Apps
When it comes to keeping customers happy, you need to use one of the best Shopify customer support apps on your store. There are lots of them available, with different features. Above are ten of the best apps you can use. Which one will you try out?
Avi Klein
Vast experience in the online world. Shopify Expert, SEO expert, Web developer and consultant to several online companies. Read more about
our approach
to reviewing themes and apps.