4 Best Shopify Make An Offer Apps – [2023]
Last modified: October 25, 2023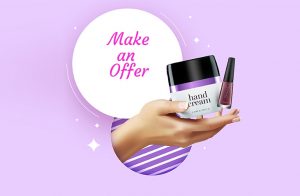 #
Image
Name

Get a Free Custom Shopify Store
1

Make An Offer

2

Negotio - Make Your Offer Now

3

Request A Quote

4

Request A Quote & Hide Prices

Show More
Not all businesses have to have set prices for products or services. One example would be art sellers or those with limited edition items/collectibles. Sometimes, the best way to sell these products is to invite the customers to make an offer. There are only a few Shopify make-an-offer apps available.
What Do Shopify Make An Offer Apps Provide Your Shopify Store
There are numerous functions that Shopify make an offer apps will provide your store. The first is that they will often hide the price of your items on the website. Apps will also invite the visitor to offer you an amount for the product.
You don't have to accept that price. So, if you don't like the valuation the customer has put on the product, you can reject their offer. However many offer apps do increase conversions and improve customer engagement.
While collectible products are best suited for this app, that doesn't mean that other industries can't use this app. In fact, most eCommerce websites could make use of this app. As long as you set a specific level of discount that you're willing to accept for any product, you can make a profit from these apps.

Key Takeaways
1
Not all businesses need to set prices; some invite customers to make offers.
2
Shopify Make An Offer apps can hide product prices on the site.
3
These apps allow customers to suggest a price that merchants can accept or reject.
Top Shopify Make An Offer Apps – Here's Our Selection
Filter between free and paid
Make An Offer
This simple app is easy to install, there is no code involved in the installation and the benefits that are on offer seem incredible. The app allows you to activate an exit intent popup on the cart page that can help convert those that have already shown they have an interest in buying. The popup and the button is designed by you, so it can match your branding and optimize the design for conversions.
When open, the app will allow the potential buyer to make an offer for the products. You don't need to manually accept all offers made to your business. They can be automatically accepted or rejected based on settings you make. These customized discount rules are set by you.
With every offer that is made, the customer must enter an email address. Therefore, even if the offer is rejected, you have an email lead.
There are two ways that you can encourage offers. The most prominent is by having the exit intent option, mentioned above. The other is to place a 'make an offer' button on the product page.
Make An Offer Highlights:
The customer can be invited to make an offer if they decide to leave the cart page.
Collect email leads, even if the offer is rejected.
Can delay the showing of the 'offer' button on product pages.
Free to install this app.
Negotio - Make Your Offer Now
This app allows you to set a price range at which you're willing to sell your products at. The customer can engage with the automated system and the price can therefore be negotiated. The app is easy to install and unlike the previous entry on this list, making an offer does not require the shoppers to enter their email address. This can increase the number of offers that are made for products. It can also help navigate legal issues such as GDPR.
The app is easy to configure. You can apply settings in the dashboard in seconds, and start selling more products, improving revenues and increasing profits for your website.
The app enables a 'Make Your Offer Now' button that is included on all product pages. When the shopper clicks on the button, they are invited to enter an offer price. If the offer price is within the price limits you've set, the app adds the item to the cart at the offer price.
There is also a counter-offer range, if the offer falls within the right parameters, the app will make a counter-offer. If the customer accepts that price, the item will be added to the cart.
Negotio – Make Your Offer Now Highlights:
Set an accept offer range and a counter offer range, that helps your website to negotiate automatically with shoppers.
Adds a button that allows shoppers to make an offer on your products.
Free to install but additional charges may apply.
Easy to setup and operate.
Request A Quote
This app is more about quotes, but can be used for products and other types of sellers on Shopify. It adds a button to product pages, email templates and more that can allow shoppers to negotiate a price with you. The easy to customize tool contains all the necessary resources to make it a great way for you to increase sales on your website.
What happens with this app is that the customer can add products to a 'quote list' which is sent to you, the merchant. Then you can offer special discounts and prices to the customer that they can accept and then complete the transaction. The quote form is easy to create and use, making it great for those with little or no technical experience.
Merchants and shoppers are notified of movement (acceptance, offers, counter-offers, messages) with the process instantly via email. You can also automate the process with certain products with rules set by you within the dashboard of the app.
Request A Quote Highlights:
Customer requests items that they would like to see a discount on.
Can make your best offer in an email to the customer.
Can reject certain products from the offer system.
Easy to install and use. Great for those with no technical experience.
Request A Quote & Hide Prices
This app allows customers to request discounts on products directly on the product page. The request is known as a quote. Each product and product variant has a 'send quotation' button that can be secured with Google's re-CAPTCHA code.
You will receive an email with the customer details, the products and what price they're willing to pay for the item. In your website's dashboard, you can agree or decline offers. If you agree, they are turned into orders.
If you're not happy with the offer, you can negotiate with the shopper to try and get a price that is acceptable to both of you. All communications are done through a comments section on the quote.
To make it easier for shoppers, you can hide several things on the website. This includes the 'add to cart' button, prices, quick view, wishlist and more.
If you offer numerous variants (like colors, size, etc.) your customers can add several variants to the quote with one button and get a quote for the whole order in one go. There is also a language translation option available for those who are operating in more than one territory.
Request A Quote & Hide Prices Highlights:
Hide specific elements on your product pages to direct customers to use the 'quote' features.
Manage quotes within a dashboard.
Connect directly with shoppers in the quote process.
Easy to install and configure.
Enhancing Customer Engagement with Make an Offer Apps
Benefits of Negotiation in E-commerce
Engaging customers in price negotiation can lead to higher conversion rates. By allowing customers to suggest their price, businesses can tap into the psychology of value perception. This not only makes the shopping experience more interactive but also gives customers a sense of control and satisfaction.
Automated Responses for Efficiency
Some apps offer automated response features. This means that based on the discount rules set by the store owner, the app can automatically accept or decline customer offers. This automation speeds up the negotiation process and ensures that the store owner's pricing boundaries are respected.
Strategies for Different Industries
While the concept of making an offer might seem more relevant to collectible or art products, it's versatile. Any e-commerce business, regardless of the industry, can implement this strategy. The key is to set a specific discount threshold to ensure profitability.
Emerging Trends in Make an Offer Apps
AI-Powered Negotiation
The integration of AI in make an offer apps is revolutionizing the negotiation process. AI chatbots can engage in personalized interactions with customers, leading to instant deals that satisfy both parties. This not only enhances the customer experience but also ensures that the business achieves optimal sales results.
Enhanced Customer Interaction
Modern apps are designed to keep customers on the product page longer. By encouraging interactions, such as making an offer or negotiating a price, businesses can improve SEO performance and overall user experience.
Maximizing Lead Potential
Capturing user intent is crucial in e-commerce. When visitors are allowed to suggest a price or negotiate, they are at a pivotal point in their decision-making process. By engaging them effectively at this stage, businesses can convert them into loyal customers.
Conclusion: Best Shopify Make an Offer Apps
If you want to sell more on your mobile responsive Shopify store, you can allow shoppers to make offers against products. These Shopify make an offer apps allow you to improve conversions while offering unique discounts to each customer that visits your store. The four apps we've highlighted here are the best on Shopify, so which one will you use for your website?
FAQs
How do make an offer apps integrate with the existing checkout process?

Most apps seamlessly integrate, allowing offers to be processed like regular orders. Some might require additional setup or adjustments to the checkout flow.

How do make an offer apps impact the overall customer experience?

These apps can enhance the shopping experience by giving customers a sense of control over pricing. It can also make shopping more interactive and personalized.

Are there any risks associated with allowing customers to suggest prices?

Yes, there's a risk of receiving lowball offers, which might undervalue products. However, merchants have the final say and can reject unsatisfactory offers.
Avi Klein
Vast experience in the online world. Shopify Expert, SEO expert, Web developer and consultant to several online companies. Read more about
our approach
to reviewing themes and apps.