10 Best Shopify Social Proof Apps – [2023]
Last modified: October 18, 2023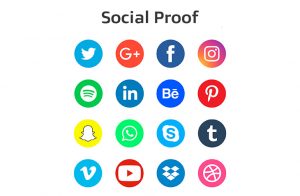 #
Image
Name

Get a Free Custom Shopify Store
1

Sales Pop up ‑ Social Proof

2

Urgency, Social Proof & Timers

3

ProveSource Social Proof

4

Social Proof Popup+Urgency+Bar

5

Sales Pop ‑ Popup Notification

6

Nudgify ‑ Social Proof & More

7

Sales Pop & Better Coupon Box

8

Bizzy Social Proof

9

Cozy Social Proof

10

Social Proof Signals

Show More
When it comes to improving the conversion rate of your Shopify store, you need to start thinking of the social proof of your site. This is where signals from other people demonstrate that your brand is trustworthy. There are numerous types of social proof, with reviews being one. However, a Shopify social proof app will help you take this to the next level.
What Other Social Proof Is There?
There are several elements of social proof that you can utilize. One of these is the number of social media followers that you have. In the past, this used to be the number one way to demonstrate your brand's trustworthiness. However, customers are now more than aware that the number of followers you have doesn't equate to how good you are. After all, a number of brands have bought followers on social media.
So, while social media is still an important part of your marketing for your website, and there are some great Shopify apps to help, you need a better strategy for social proof.
What Does A Top Shopify Social Proof App Do Then?
The typical Shopify social proof app now removes social media from the equation and looks at the behaviors on your website. There are several aspects of this. For one, there is the number of people looking at a particular product page, who (and from where) has bought the product recently, or how many sales have been made by the site or of the product in the past few hours.
These are key signals for a lot of customers, especially if they are new to your brand. It acts as a trust builder and it helps to convert new visitors to your website.

Key Takeaways
1
Social proof apps enhance Shopify store conversion rates by showcasing customer trust and engagement.
2
These apps display recent purchases, building trust and creating a sense of urgency among potential buyers.
3
Social proof apps are adaptable, offering design customization to align with different brand styles.
Shopify Social Proof Apps – Here Are 10 Of The Best
Filter between free and paid
Sales Pop up ‑ Social Proof

This Shopify app allows you to demonstrate that your website is an active shopping center online. It shows new visitors to your store what items have been purchased by others recently. This helps to build trust, create urgency and improve conversions on your website.
This app allows you to build a strong reason why visitors to your website shouldn't abandon carts. Therefore, you should see a strong increase in the number of people who convert. You can choose a design for the notification popups that appear to closely match your theme's design.
The app is very powerful. And it has a lot of features that make it more beneficial than some other apps. Such as the way that the frequency of the 'customer bought product' popup decreases as time goes on. This is to stop the announcements from getting annoying. You can also delay the time that the popup appears, to be more aligned to your particular brand style.
The notifications are excellent for mobile users too, ensuring that you aren't missing out on opportunities to sell to audiences who are using their mobiles.
Sales Pop up ‑ Social Proof Highlights:
Demonstrate recent sales to new visitors to your site.
Notification frequencies decrease over time.
Fully responsive, so will display great for mobile users.
Adjust the design to match your brand's website for more brand consistency.
Urgency, Social Proof & Timers

This is a great little app because it does more than just add notifications of who has bought products recently. It also adds other features that create urgency and improve order values with customers to your website. For instance, there is a free shopping bar minimum spend that countdowns how much the customer needs to add to their cart to qualify for free shipping. There is also a countdown timer for how long promotions are running for.
You can also add further urgency by adding low stock warnings and how many people are currently viewing the item or have bought it recently. This can really ensure that you're converting visitors to your website into full customers. These can be added to your product details pages and collection pages as well.
Therefore, you're maximizing the amount customers are seeing these warning and improving the amount that are converting across your website.
The social proof on this app is amazing. With a feed that shows what other customers have done that are interested in the same product. This is done without annoying popups that can damage the experience your customers have on your website and slow it down. Plus, you can further enhance the impact this app has on your website by split testing the app against not having the app.
Urgency, Social Proof & Timers Highlights:
Fully customize the look of the aspects of this app to showcase your brand in the best possible light and improve conversions.
Mobile friendly, so you can be sure to grab the attention of those shopping on a mobile or tablet.
Demonstrate who has recently bought a product to add urgency and peer pressure to increase sales.
Numerous other functions to increase the urgency on your website and convert more people into customers.
ProveSource Social Proof
This popular Shopify social proof app offers a lot of functionality that will help you to build trust with your audience and convert them. This app has a free and premium versions. The free version allows you to showcase those who have recently bought products from you to up to 1,000 visitors a month. Over this and you'll need one of the cost effective premium plans.
The notifications are displayed in an aesthetically pleasing and attention grabbing popup. It doesn't just show who has bought a product lately. It can also show how many people are looking at a particular product, and the total number of sales of a product recently. This can really create a sense of urgency and community on a product that can help sell more on your website.
The notifications are fully customizable with the look, timing and placement all up for customization. These designs are completely optimized for mobiles, so you won't lose out on that market either. Plus, if you're a global store, this can work for many countries. The app allows for your notifications to appear in 22 languages.
ProveSource Social Proof Highlights:
Aesthetically pleasing notifications that can be fully customized to your own tastes.
Demonstrates how many people have bought, who has bought or how many people are looking at a particular product.
Uses only real data to show visitors to your website.
A free plan is available, but more functions are available on the premium packages.
Social Proof Popup+Urgency+Bar
There are many ways that you can increase revenues with your store and through this app, you can really get people to trust your branding and add urgency to making a purchase. This store does it through two specific tactics. The first is to use the notify customers how the website has been recently busy. This includes using an activity popup notifications and a recent sales popup.
The app also uses a low stock or trending stock popup to add urgency. This is really important because popular products are more likely to be purchased. By showcasing how popular products are, people are going to worry about them going out of stock and then make a purchase early. You can also add cart timers, promo bars, and other promotional aspects to your site to increase the number of conversions on your website.
Social Proof Popup+Urgency+Bar Highlights:
Show the number of people who have bought a product recently.
Display the number of people who have been viewing a particular product.
Add lots of promotional bars/notices that increase revenue and reduce abandoned carts.
Improve trust with numerous tactics within just one app.
Sales Pop ‑ Popup Notification

This simple, and cost effective app, allows you to display details of customers who have recently subscribed to your mailing list or purchased from your store. It can collect data from more than two years ago to recreate a sense of a vibrant website, with a strong and active community.
This app has customization options that allows you to select on which pages and products you share information of past sales on. There are some great templates as well, so you can customize the look of the notifications to exactly how you want them to appear. There is no coding needed to get this app to work on your website.
Sales Pop ‑ Popup Notification Highlights:
A free app to help you sell more on your store.
Those with limited sales can collect data from more than two years ago.
Add social proof to your website.
Light-weight coding, and you don't need to know any more coding to make it work.
Nudgify ‑ Social Proof & More

There are lots of reasons why you might want to use this Shopify social proof app. Firstly, it has four types of notifications (called nudges on this app) you can use. The first is the popularity nudge, where you can tell people how many bought/viewed a product. An order soon nudge, where you tell them to order soon for delivery times. A low stock nudge for the products that have limited stock and you can also create custom nudges like special offers, price guarantees and others.
This easy to use app has a drag and drop workspace for designing and activating your nudges within just a few steps. Plus, you can have unlimited nudges on your website to maximize your reach with customers.
Nudgify ‑ Social Proof & More Highlights:
Four types of notifications to improve reach on your website.
Drag and drop configuration tool to make it easy to create and implement notifications on your website.
Fully customizable notifications from color to display position. You can even remove the app's branding.
Have as many notifications as you want on the store.
Sales Pop & Better Coupon Box
When it comes to converting visitors, this is a great app. It offers two elements: a social proof and a gamification option. The first shows how many people have bought/viewed a product within the past few days or hours. The next is a gamified exit offer and email popups to help you convert more customers and improve order values.
It is very simple app to use with features that will help you generate more revenue and improve conversion rates.
Sales Pop & Better Coupon Box Highlights:
Create a social buzz on your website with several notifications on your website.
Have an email popup to subscribe people to your list for longer retargeting.
Showcase how many people have bought/viewed products on your store.
Easy to use and implement on your website.
Bizzy Social Proof

Bizzy Social Proof is a great Shopify social proof app where you can display how many visitors have been looking at your products and taking actions. You show new visitors who has bought products from your store recently, and this creates a social proof that your brand can be trusted. At the same time, it also increases the peer pressure that people can experience when shopping that improves conversions.
The popup notifications with this app are elegant and subtle, making them nonintrusive to the shopping experience of your website's visitors. Whether you have a large or small store, this is a great contender for your store. You can set the time frame for recent orders have been placed from as little as 30 minutes ago to as many as 12 hours or even longer.
Another cool feature of this app is that it can be used to retarget individuals who have viewed products by showing them who has bought products they've looked at previously.
Bizzy Social Proof Highlights:
Easy to customize on your website so it fits in seamlessly.
Shows visitors who has bought products they're looking at.
Can collect data from as little as 30 minutes ago to over 12 hours ago.
Popup notifications are subtle, so they don't ruin the shopping experience.
Cozy Social Proof

This is a unique offering on this list and one of the better Shopify social proof apps on the market currently. The reason is because it is so good for smaller stores or new stores with limited sales. The app will notify customers of potential products they might want to buy when they are on any page. This can also help with stores that currently add products on a regular basis by improving the number of people who are looking at the new products and improving sales on these.
There are lots of customization options available for your store, which makes this a great choice for those who have specific brand requirements too.
Cozy Social Proof Highlights:
Great for new stores to attract customers to products.
Create social buzz for popular products.
Easy to customize and build a following.
Develop a strong sales technique with limited expense.
Social Proof Signals
This is a great app, offering four important functions to your website. Firstly, it adds social proof to your website by showing recent buyers and those who have added products to their carts. This improves the number of people willing to take similar actions for fear of missing out on popular items. It can also display the number of people who have recently bought, viewed or are currently viewing the product as they are on the site. Finally, this aspect of the app allows for low stock warnings to add urgency to purchases.
There is also an email signup element to this app. This means that you can grow your email marketing list which is an effective means of growing your website's long term revenue. Email marketing is by far one of the best ways to market online.
There is also an announcement function. This can be used to offer something like free shipping, or a limited time offer. This is a great way to display news that sets you apart from the competition. And you can also add a discount timer to ensure that people know there is a discount on your website and add how long they have to take advantage of it.
Social Proof Signals Highlights:
Four apps in one to improve conversions over the short and long terms.
Great way to promote current offers.
Grow your email marketing list quickly.
Add urgency into your sales tactics.
Factors to Consider When Choosing Shopify Social Proof Apps
Evaluating the Effectiveness
The effectiveness of a social proof app is paramount. It's not just about displaying notifications; it's about how those notifications influence customer behavior. Always assess the impact of social proof messages on customer engagement, conversion rates, and overall shopping experience.
Metrics are your ally in this evaluation. Look at the data, analyze the trends, and observe the shifts in customer behavior pre and post-implementation ensuring that every decision is informed, calculated, and poised to deliver optimal results.
User Experience and Customization
User experience is at the core of a successful online store. The integration of social proof should be seamless, non-intrusive, and aligned with the overall aesthetic of the store. Customization features are essential to tailor the notifications to resonate with your specific audience and complement your brand's identity.
Always advocate for a customer-centric approach, where the design, timing, and content of social proof notifications are crafted with the end-user in mind. It's a delicate balance to maintain – providing valuable insights without overwhelming the customer.
Privacy and Data Security
In the digital age, privacy and data security are not just legal requirements but also crucial elements of building trust. Always prioritize the confidentiality and security of customer data in every tool and strategy deployed. When integrating social proof apps, the handling of customer data should be transparent, secure, and compliant with legal standards.
Every recommendation and strategy is rooted in the principles of ethical data handling. Understanding the implications of data breaches and the importance of privacy, the commitment is to uphold these standards. In the field of social proof, building trust extends beyond showcasing customer activity – it encompasses the responsible and ethical management of data.
Enhancing Trust with Social Proof
Understanding the Power of Social Proof
We've been in the digital marketing and development landscape for years, and one thing that consistently boosts conversions is social proof. It's a psychological phenomenon where people mimic the actions of others, assuming that their behavior is correct. This principle is not new; sales and marketing experts have been leveraging it for decades to influence consumer behavior.
Subtle hints about what other people are thinking and doing can significantly impact online shopping behavior. Social proof is not just about showcasing reviews or ratings; it's about building a community around your brand, where new visitors can see and feel the engagement of existing customers.
Implementing Social Proof Effectively
While giants like Amazon have vast resources to implement intricate social proof systems, Shopify store owners can achieve similar results with the right apps. These applications are designed to showcase recent activity, such as sales, views, or reviews, enhancing the credibility of your store.
It's essential to choose an app that aligns with your store's specific needs and audience. The customization options, ease of use, and the type of social proof messages displayed play a crucial role in the app's effectiveness.
Key Features to Look For
From displaying recent sales notifications to showing low stock alerts, the features offered by social proof apps are diverse. Apps offering customization and A/B testing options enable store owners to tailor the social proof experience to their audience, leading to increased engagement and sales.
Real-time data is a cornerstone of effective social proof. Honesty and transparency in displaying recent customer activity can make or break the trust you're building with your potential buyers. Always prioritize apps that provide live, honest data, ensuring that the social proof showcased is genuine and impactful.
Optimizing Conversions with Social Proof
Types of Social Proof Messages
Our journey in eCommerce has exposed us to various types of social proof messages. From recent sales and popularity nudges to low stock and free delivery alerts, each type serves a unique purpose in nudging the customer closer to the purchase.
Customization is king when it comes to effectively communicating social proof. The ability to tailor messages to fit the specific context and audience of your store is invaluable. Tweaking and optimizing these messages to resonate with our audience has yielded nothing short of remarkable results.
Pricing and Affordability
Investing in a social proof app should not break the bank. A range of pricing options is available, ensuring that stores of all sizes can leverage this powerful tool, whether you're a startup or an established brand.
Ensuring value for money is a guiding principle, with every recommendation grounded in extensive testing and analysis to maximize your return on investment. The selections have been balanced for features, ease of use, and affordability, offering options that are confident to elevate your store's performance.
Implementing social proof is more than a strategy; it's an art. It requires a delicate balance of showcasing customer activity without overwhelming visitors.  Every piece of advice, every recommendation is born from years of hands-on experience, rigorous testing, and in-depth analysis.
Conclusion: Top Shopify Social Proof Apps
When it comes to adding social proof to your website, there is nothing better than one of these 10. When you install your choice of Shopify social proof app, you should see sales increase and this can only benefit your business. They mostly do the same, but there are some subtle differences to each. So, which app will choose?
FAQs
How do social proof apps impact the site's loading speed?

Developers optimize these apps to minimize the impact on loading speed, ensuring a smooth user experience.

How do Shopify social proof apps integrate with my online store?

These apps typically offer easy integration, with some requiring no coding skills. They can be customized to fit the store's theme.

Can I customize the notifications displayed by the social proof app?

Yes, many apps allow customization of notifications to ensure they align with the brand and are visually appealing to visitors.
Avi Klein
Vast experience in the online world. Shopify Expert, SEO expert, Web developer and consultant to several online companies. Read more about
our approach
to reviewing themes and apps.