13 Best Converting Shopify Themes
Last modified: January 10, 2022
When you operate a Shopify store, you want to make sure that you can make money from the store. For that purpose you want to be using one of the best converting Shopify themes. These are those designs that direct users to making an action that results in a purchase, signup or another conversion that benefits your business.
The better your website converts, the more valuable your site is. You could earn a regular income from your site or from the sale of your website, if that is your exit strategy.
What To Look For In The Best Converting Shopify Themes
There are many things that make a website good for converting visitors. Speed is a critical element for converting. For every second that it takes for your website to load on a browser, you lose about 7% of your revenue. The average load time for a website is about 8-9 seconds. Therefore, the average website is losing about half of its potential revenue.
Another great way to improve conversions is to create a design that draws the attention of the audience to call-to-actions. A good call-to-action can have a significant impact on your conversion rate. There are many ways to draw the attention of your audience to particular areas of your website. Firstly, you can change the size of the text, the color of buttons or perhaps where it is located on the website.
You can also help conversions with better navigational options on your website. Users want to get where they want to go on your website within two or three clicks. However, you can also improve conversion rates through great videos, images and storytelling. Finally, you can build conversions by adding trust factors to your website.
There are numerous options if you're looking for the best converting Shopify themes. Here we're listing some of our favorites.
#
Name
Image
Shopify

More Info

1

BoosterTheme.com

More Info

2

Shoptimized™ - Highest Converting Shopify Theme

More Info

3

Debutify

More Info

4

Retailer Multipurpose Fastest Converting Shopify Themes

More Info

5

Luce

More Info

6

Polaris

More Info

7

Jumpstart

More Info

8

Plain

More Info

9

Symmetry

More Info

10

Palo Alto

More Info

11

Korando

More Info

12

Pop

More Info

13

Everything

More Info

Show More
Filter between free and paid
BoosterTheme.com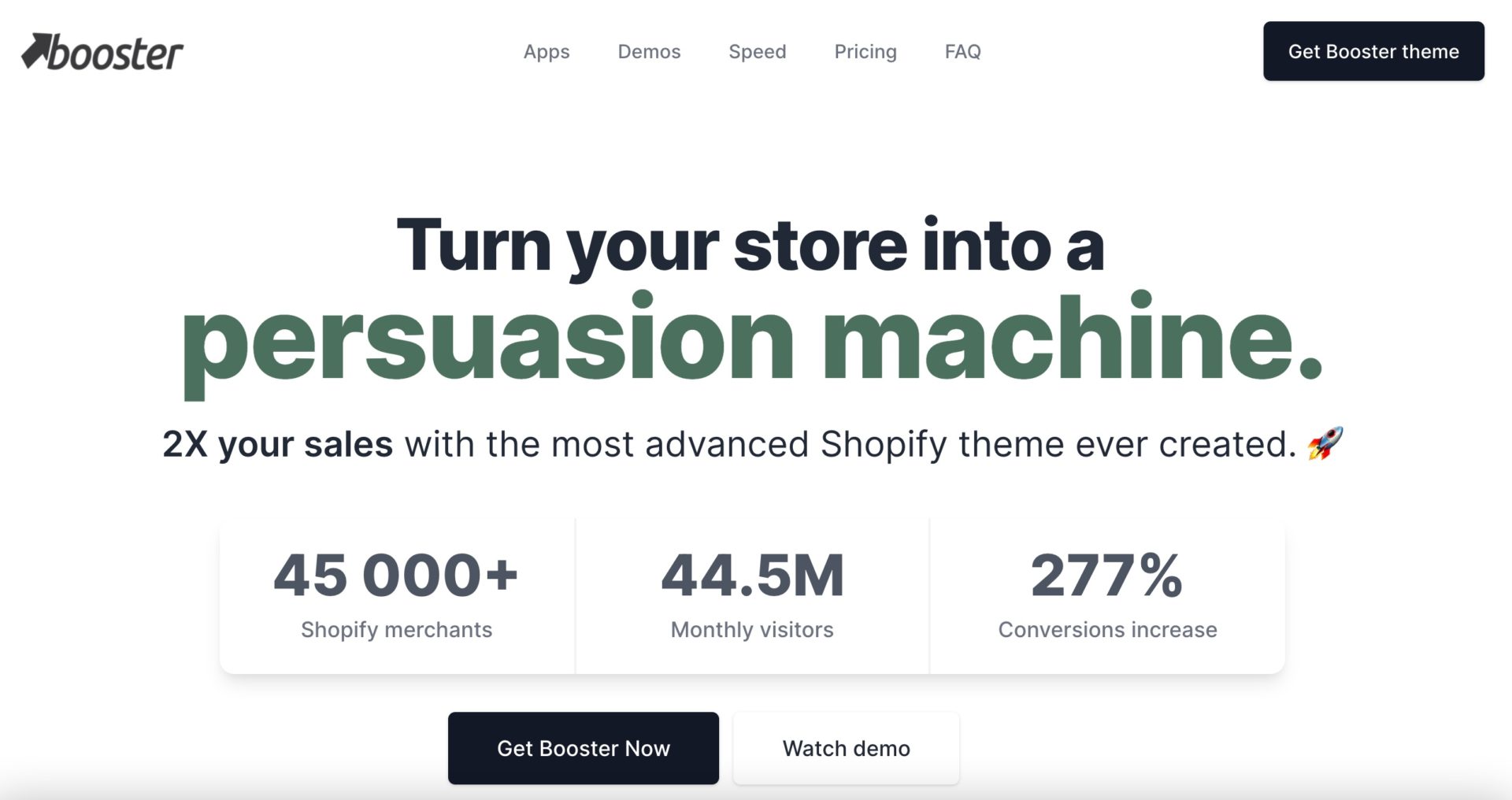 If you are planning on having your store load quickly so that you can maximize your Returns on Investment then Booster Theme is the one theme to solve all your problems. With its many functionalities, it gives the freedom even to the least tech-savvy of us to design a store that converts easily. Choose between user-friendly drag and drop options or pre-made demo stores where all that is left for you to do is import your products, put your personal touch, and start selling.
Benefit from 0.6-second page load, and never lose traffic again. You have fewer server requests, and grade A performance because your site is super light with Booster Theme. This results in a better user experience, no frustration, and quicker conversion.
Save more than $3000 per year on Shopify apps, and have a light-weight site that converts quicker. Plus with Booster Theme, you get access to built-in marketing tools designed by experts knowing what converts best.
User-experience is a top priority for Booster Theme's developers. Benefit from giving your customers Smart Mega Menu, Smart search suggestions, and apply the Smart Location Detection if you are selling products to various countries.
BoosterTheme Highlights:
Built-in marketing tools – Boost your sales with Amazon-like Frequently bought together, Cross-sell, Related products and give your customers reasons to buy more

Fastest Shopify theme on the market – 0.6-second page load, grade-A performance, super light, and user-friendly site

SEO Optimized – Advanced Structured Data Mark-up, Advanced Product Filters, Google algorithms optimized

No coding needed –  Drag and drop and more layout options than any theme on the market. Pre-made demo stores to import your products and start selling
Shoptimized™ - Highest Converting Shopify Theme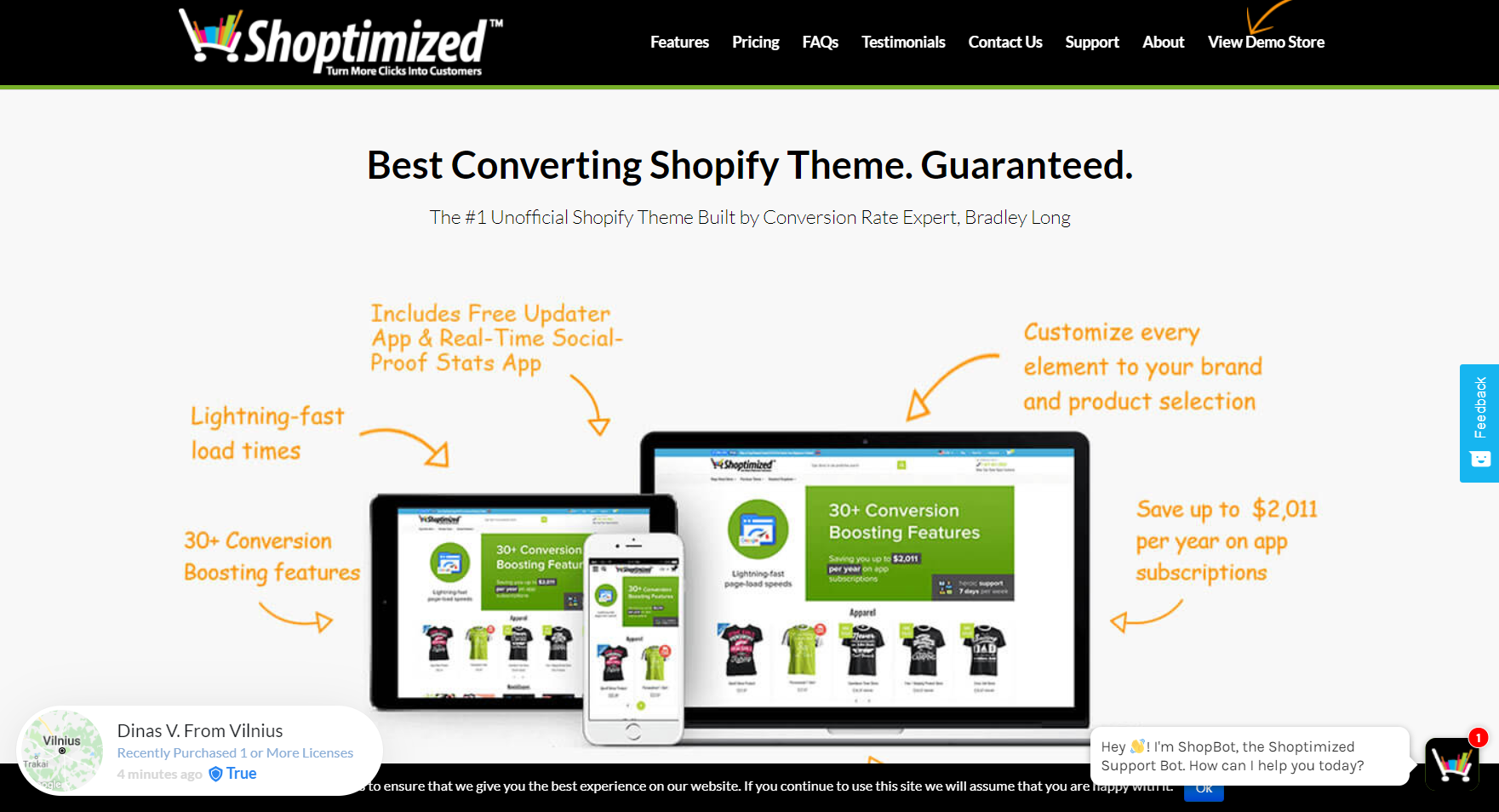 Shoptimized™ was created by the Conversion Rate Expert, Bradley Long and has quickly become the #1 unofficial Shopify theme.
As well as lightning fast page load speeds you can save up to $2,011 a year on apps you'll no longer need.  That's because Shoptimized™ has more than 30 conversion boosting features to help you turn more clicks into customers.
The theme also comes with a free app to give you real-time social-proof like '3 sold in the last hour' as well as 'John Smith from Atlanta just bought…' pop-up notifications.
You also get free updates via the app so you don't have to reconfigure the theme every time you want to upgrade to the latest version.
If you're  looking for a theme that's highly customizable, easy to use and will make you more money, Shoptimized™ is our number one choice.
Lately Shoptimized™ has launched a major update that will ensure your site will load in under 1 sec and get a 99/100 score on Google page speed insights on mobile.
(Keep in mind that you will have to check your own site on your own and the score and speed may fluctuate depending on images, apps, third-party scripts, etc.)
Debutify
Debutify is definitely one of those Shopify themes that will help you build your brand successfully while enjoying a high conversion rate. With Debutify you can either start your new ecom business from scratch, build a successful dropshipping brand or expand your already existing Shopify based brand. All of these can be easily achieved with Debutify.
Debutify Highlights:
Add to cart animations
Many cart additional functionalities
Collections
Countdowns
And many more add-ons to help convert your audience to buyers
Retailer Multipurpose Fastest Converting Shopify Themes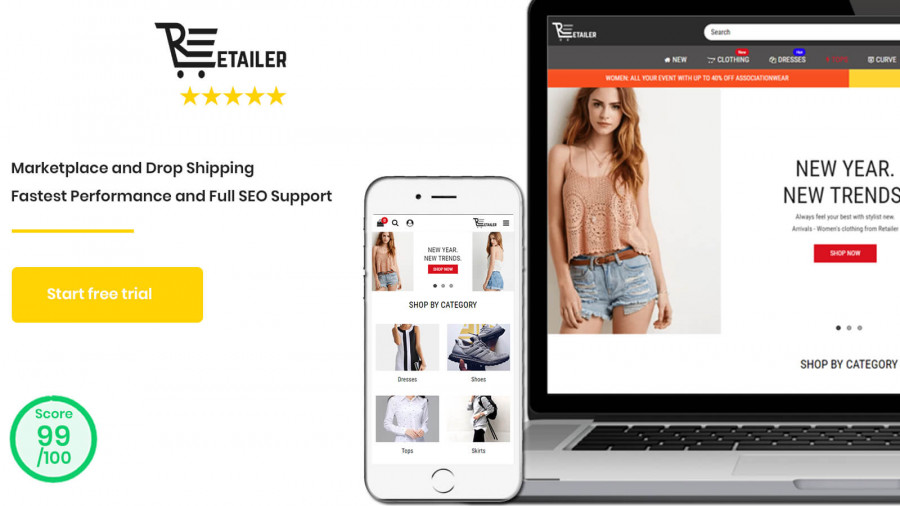 If you're looking for a great converting website, then you should be considering this Shopify theme. It is designed more for those in the fashion industry. However, it can also be used for other industries and niche. The theme has four different theme styles to choose from, these are all based on famous fashion sites. This adds value to your site as you can add trust to your website with familiarity.
In addition, your site can change the currency displayed to audiences due to the location of the visitor. This makes it easier for the user to determine whether or not they can afford the purchase.
There are several ways that you can design your website. This includes drag and drop sections that help to create a fantastic website design that looks aesthetically pleasing to audiences. The better the design of the website, the more trust you will also build with your audience.
Navigation is also helped massively with this theme. There is a great mega menu builder that allows you to help visitors get exactly to where they want to go. Navigation is one of the main reasons why some visitors will abandon their purchases.
Retailer Highlights:
Lots of functions that can help you convert visitors into subscribers or customers.
You can upsell and cross sell products with ease. There are lots of great theme options to help you promote other products.
Clean code that is mobile friendly. This helps your site to load fast and improve user experiences.
Lots of options to improve your search engine rankings, so your site can be found on Google and other search engines.
Luce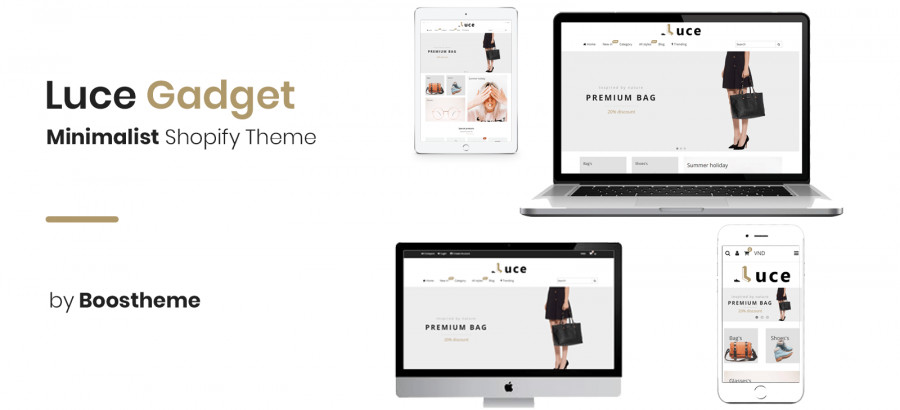 Minimalist designs are often known to be high converting. There are several reasons for this. For one, they minimize the number of elements that are on a page. This can be great because it means you can focus the attention of the audience on the key areas of your website. Minimalistic websites are also code light, this means that your website is fast at loading, which improves user experiences.
Luce is a minimalist Shopify theme that will impress you and your guests. It can handle international customers, providing them with prices that are in their local currency, therefore, making your shop a true international store. In addition, you can choose between different product page layouts and customize website pages with a drag and drop editor, so anyone, regardless of their experience level, can create a beautiful website.
This theme includes the ability to create some of the best headers on the web using the excellent Creator Pro app that in inbuilt into the theme. In addition, you can use one of five different headers on your site. This theme also allows you to utilize infinite scrolling products features. This can be implemented on your home page or the collections page.
Luce Highlights:
A website with clean, minimalist code that will help you rank on Google and other search engines.
Fast speed, to keep loading times down and conversions high.
Use any color so you can match website to your branding.
Don't need a swatches app, this functionality is included and you'll be able to improve conversions with this if you have products with variances.
Polaris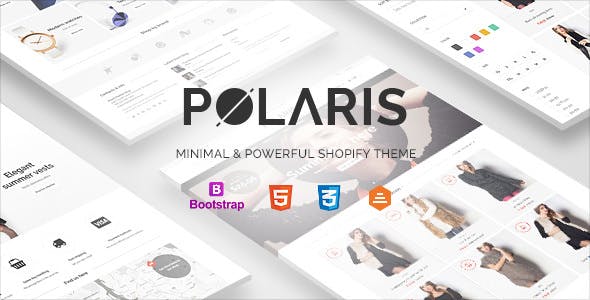 Polaris is a great minimalist Shopify theme. It will help you to attract the attention your business deserves and help convert your website with ease. The beautiful design is perfect for all business niches, but there is something about it that makes it highly suitable for fashion and luxury stores.
Polaris has some great features that will help you to convert visitors. The first off is the product filtering system. Products can be displayed and filtered based on their colors, sizes and other identifiers that you want to add into the mix. The product, cart and collection pages are powered by AJAX and this helps to offer a quick shop feature to convert more visitors faster through a streamlined purchasing experience.
In addition, those building long-term relationships with customers will be happy to see the newsletter popup that allows visitors to subscribe to a mailing list. This is a major feature that allows you to convert more customers to sell to the them later. On average it can take between five and twelve interactions for a visitor to purchase from you. If you don't subscribe them to a mailing list, you might never convert them to a customer as they'll forget your brand.
You can also build trust with audiences with a great customer reviews feature. This is added to the Shopify theme thanks to the free app included with theme. You can also help to convert customers via social media thanks to social media sharing tools.
Polaris Highlights:
A minimalist design that allows for your site to load quickly and rank highly on Google.
Lots of great features that improve the user's experience and allows you to convert more traffic into customers and subscribers.
Got a physical store as well? Then you can use the Google maps integration features to help direct customers to your shop.
A fully responsive design that will allow your site to be displayed perfectly on any device.
Jumpstart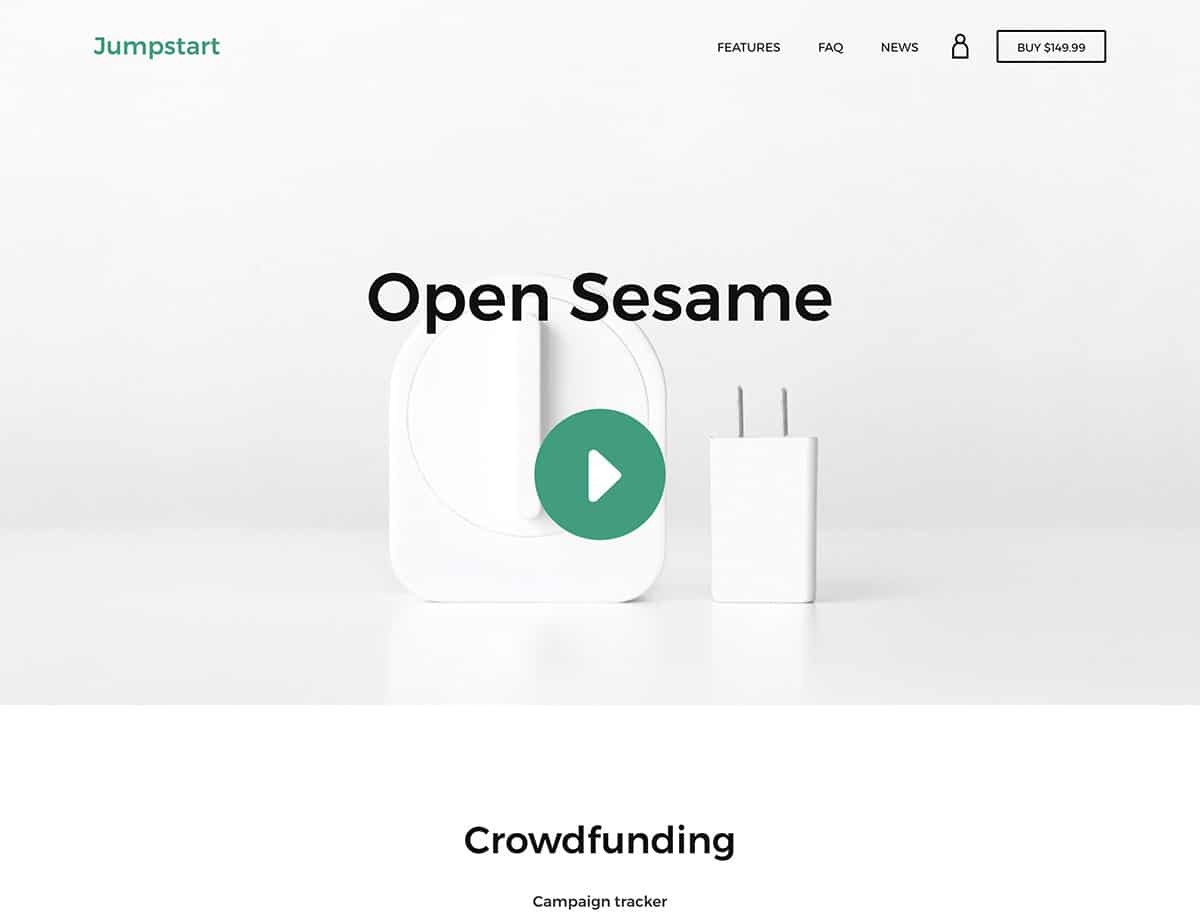 If you're looking for a website that converts a lot of the visitors that come to it, then you might want to consider Jumpstart. What is really good with Jumpstart, is that it is a free Shopify theme. This is great if you're on a budget.
The theme includes plenty of whitespace, adding to the minimalist design elements that you can expect from such a great Shopify theme. This whitespace allows you to focus the attention of visitors to specific call-to-actions. It also allows you to have a faster website, meaning that user experiences will be improved and ranking on search engines will be higher.
There are two great features that will help build trust with your audience and help to increase conversions. The first is a slideshow feature that allows you to showcase your brand's story or feature images/services. There is also a great 'as seen on' feature that allows you to connect products/services/your brand to recent media exposure.
In addition, you can help conversions with a great video that you can showcase on your homepage. This can be great for displaying videos about products/services or your brand's story. To help with the website's speed, you don't have to worry about hosting the video on the Shopify servers, you can do it from YouTube and Vimeo. This helps you to extend the reach of your business while also keeping your website fast.
JumpStart Highlights:
Optimized for search engines, so you can start to rank on Google and other search engines.
Drop down navigation support, making it easier for customers to find their way around your store.
A responsive design, so your site will work well on any device.
Free stock images from Burst, so you can be sure of professional images on your site.
Plain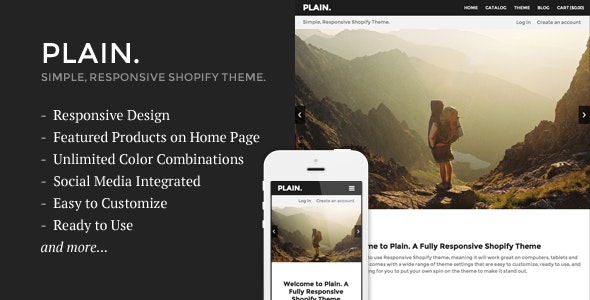 This is one of the most beautiful Shopify themes that will help you convert visitors into customers and subscribers. The revenues for your store are likely to increase and you should be making more money very soon. The theme is super-responsive, able to display perfectly on any device or screen resolution. There are lots of customizations that allow you to build a website that looks sleek and modern, something that converts customers.
You can build trust with your audience by uploading your existing brand logo. If you don't have a logo, don't worry. What makes this one of the best converting Shopify themes is that it helps you create a presence online. There is a logo designer that allows you to build a text based logo. You can also have a custom favicon for your website. This helps with your SEO.
To help build a clear brand identity, you can match the background of the theme to your brand's colors. You can also do this to the website's buy buttons. Of course, you can also test the colors of the buy buttons to find what colors convert the best.
Plain Highlights:
Help users navigate around your store with a great set of menu options.
Social media integration throughout the theme for better engagement with audiences.
Optimized for search engines, so your site can be found by users on Google and other search engines.
Improve order values with a great related products feature.
Symmetry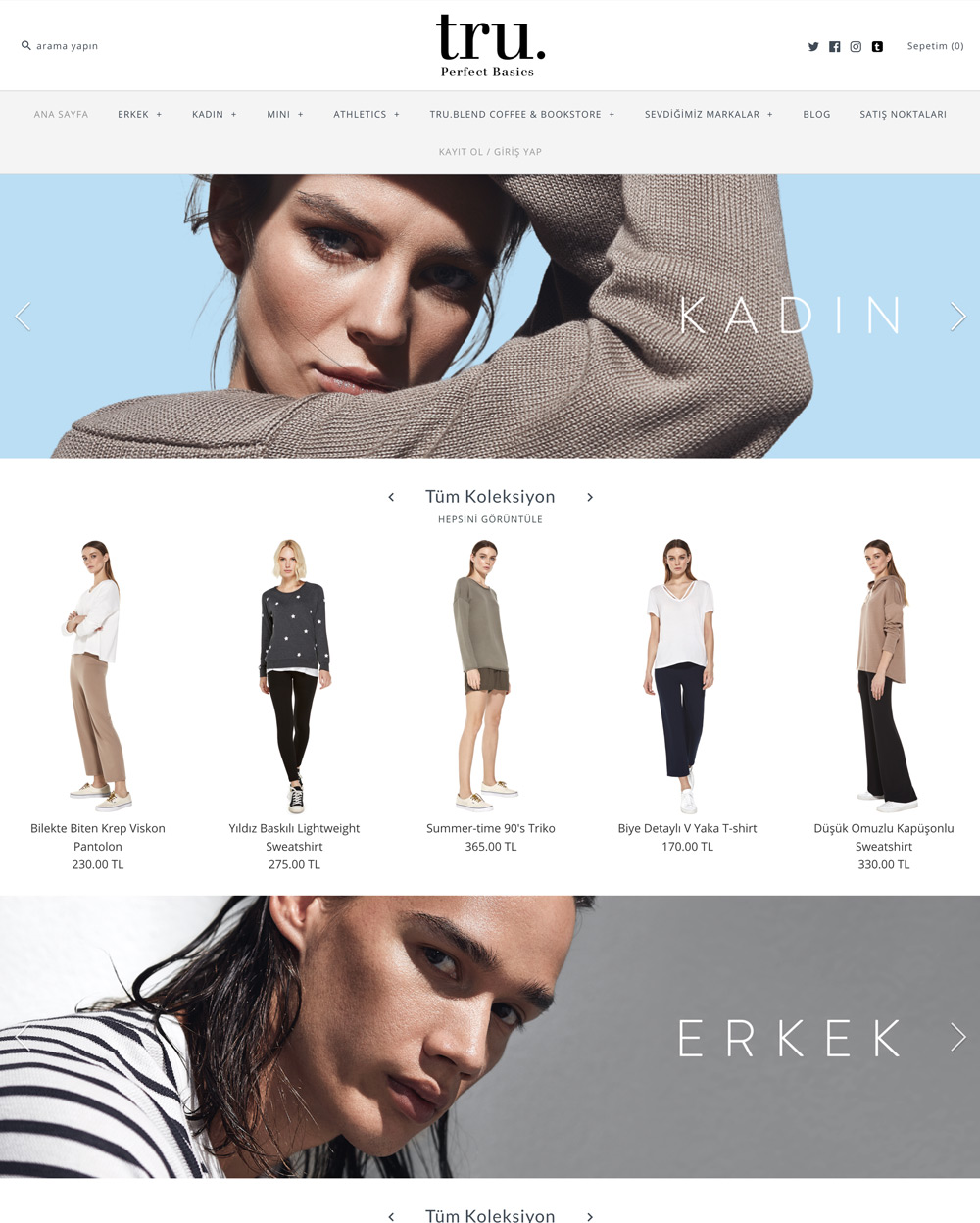 If you want something that will offer you a great responsive design, high rankings and great conversions, then Symmetry might be one of the best options for you. There are four styles to choose from, this allows you to design websites that are close to your company's branding and style.
To help with conversions there is a great multilevel menu option that allows you to get visitors to the correct positions on your website. There is also a great 'quick buy' feature that reduces the number of interactions it takes for users to go from browsing to buying, which helps to convert more customers.
To also improve interaction between you and visitors, there is a great Instagram feed feature. This is great, because social media, like Instagram can be a great way to improve customer loyalty. However, most themes don't have this as standard and your would need a Shopify Instagram app to implement it, which could slow down your store.
Symmetry Highlights:
A mobile friendly Shopify theme design that will look great on any website.
Free stock images provided by Burst, so you always have great images available for your website.
Lots of social media icons to make your website engaging with audiences.
Four styles to help you match website to brand, creating loyalty.
Palo Alto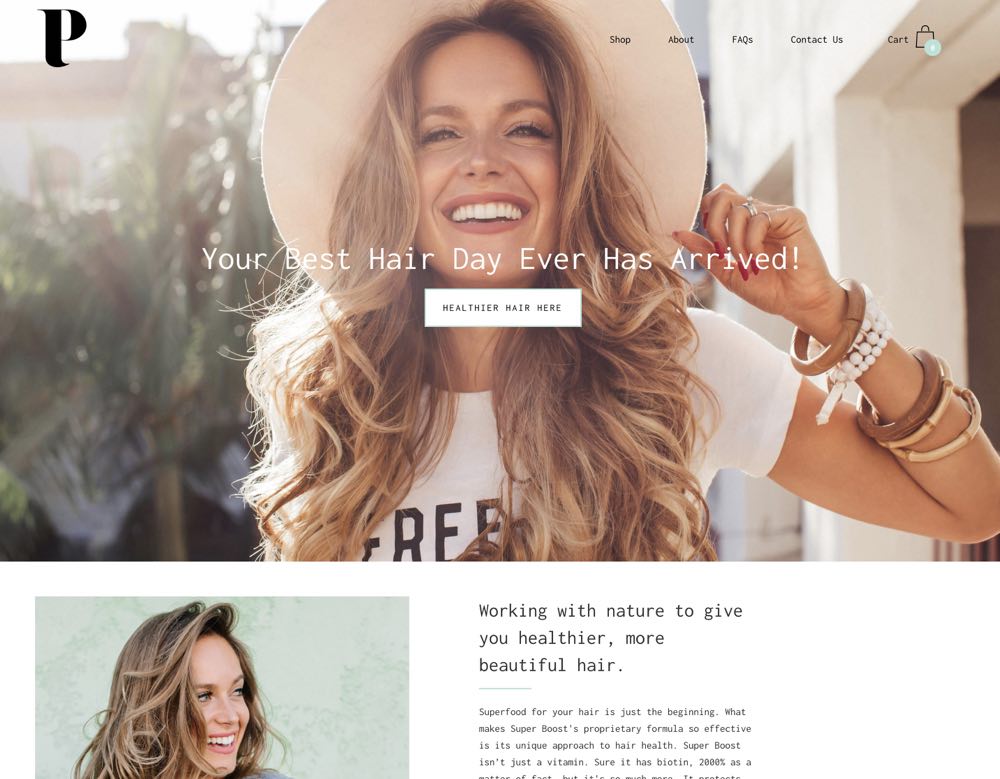 If you're looking for a great theme for your small catalog store, then this theme could be a great option. There are three basic styles to help you get started and you can have a contemporary look to your website which will make visitors feel at ease. All the sections on the website are fully customizable, so you can improve conversions simply by changing the color, text or other aspects to make it more alluring to visitors.
This theme also allows customers to get up close and personal with products with great high-resolution images. You can also showcase your brand's strong points with a great hero video that can tell visitors exactly why they should buy from you. As videos can be great ways to boost conversions, using a hero video is a must for all businesses.
Finally, you can improve customer trust thanks to a great customer testimonial feature.
Palo Alto Highlights:
A great, responsive theme that will display well on any device or screen resolution.
Fast loading theme that helps to convert customers and rank your site on search engines.
Promote your best product on the front page to help increase sales in one area.
Feature numerous products on one page with a masonry-style grid.
Korando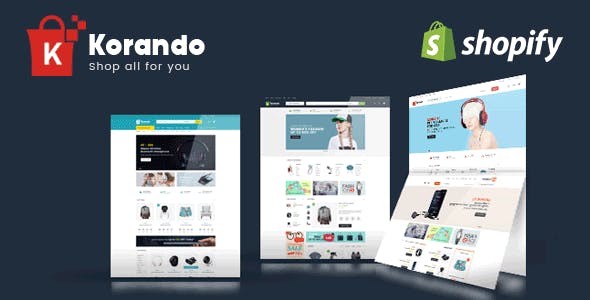 This modern theme has everything you need to create a high converting website. Its responsive design is perfect for any device or screen resolution and with five home page designs, you'll be sure of a great finished website.
Korando gives you great control on the final look of your website. You can have sidebars on the left, right or no sidebar at all. In addition, you can keep customers coming back to your store thanks to a great newsletter popup that will add the visitor's email details to your mailing list. There is also a notification bar that can help improve engagement with visitors.
Finally, Korando allows you to show why you should be trusted by offering testimonials about your business from previous customers. This is a great way to build a lasting relationship as shoppers trust their peers more than they trust your marketing content.
Korando Highlights:
A fully responsive Shopify theme that can be viewed perfectly on any device or browser.
An excellent product search facility that will help customers find the products they want to.
A great theme for those who are looking for a theme for dropshipping.
Great conversion features including newsletter popups, testimonials and perfect navigational tools.
Pop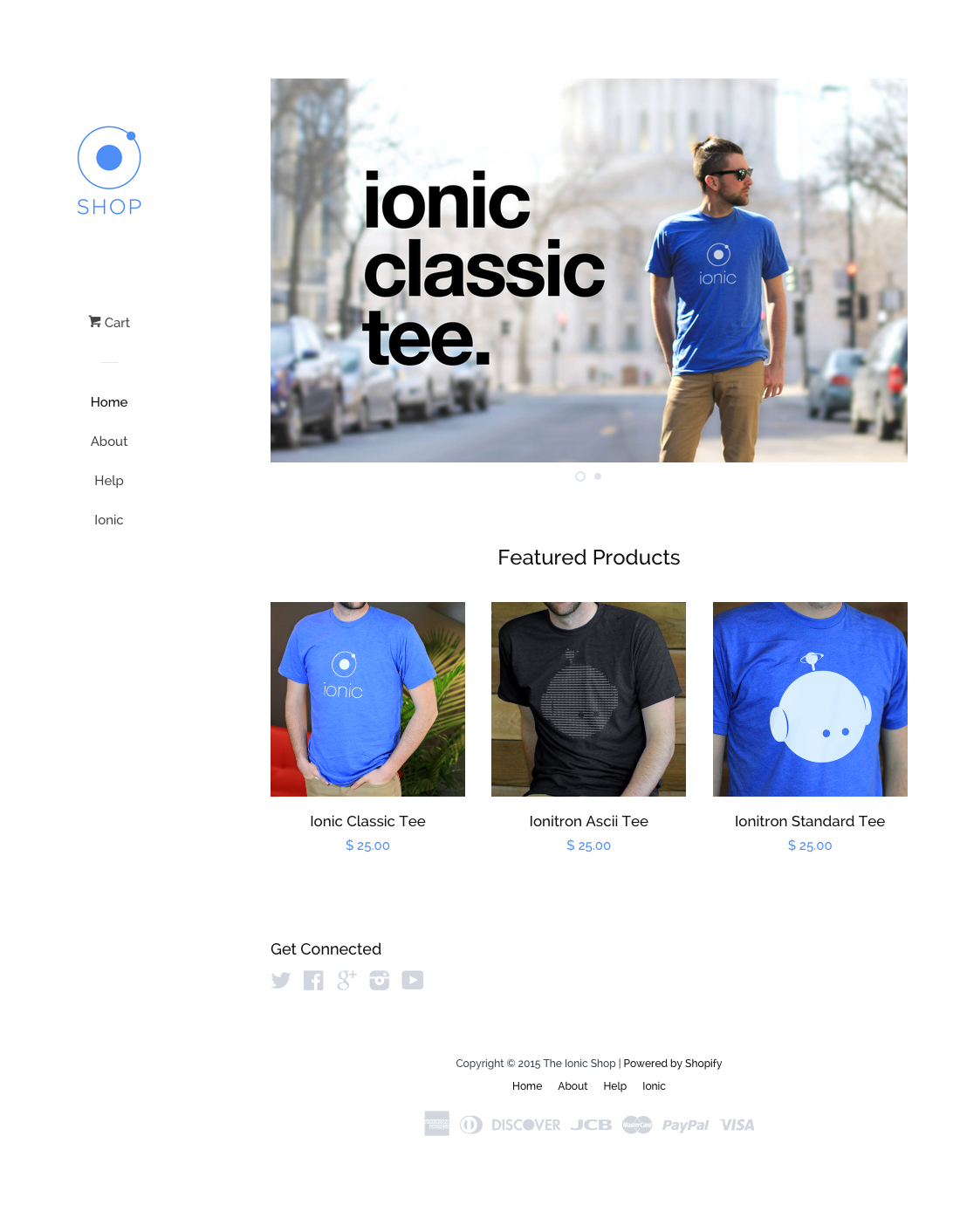 Pop is a free theme available on Shopify that helps customers progressing through the purchasing journey. There are two different styles that look great on any device or screen resolution and can really set a professional tone for your business. The minimalist design makes the theme super SEO friendly, and the speed it can load will impress guests.
The sidebar menu helps you to organize websites and navigation for better user experiences and the slide-out cart is an excellent feature that can help customers add items to shopping baskets without leaving a product's page. Product images can also be seen in greater detail with the great zoom feature.
Pop Highlights:
Display products on your homepage with a beautiful slideshow.
Excellent for mobile-first businesses, and those looking to offer customers a great customer experience.
A free theme, so great for those on a limited budget.
SEO friendly, so will rank well on Google and other search engines.
Everything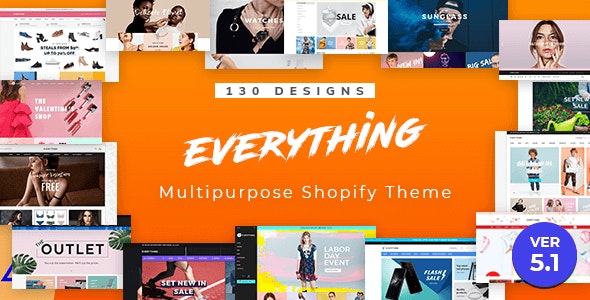 This highly-responsive theme has a lot to offer in its mobile friendly code that is verified against W3C standards. There are more than 100 designs that can be implemented to your website within just a few clicks. To help with navigation, there is a drop-down mega menu. This is easily translated for tablets and mobiles.
The theme has an advanced product filter that allows visitors to search for products relevant to their needs. This can also help to reduce cart abandonment.
Everything Highlights:
Optimized for mobile devices, so you can be sure your website will look great on any device or screen resolution.
Perfect for SEO-focused businesses, you can be sure your site can be discovered on Google and other search engines.
More than 100 designs to choose from, so you can make your store unique.
A popup message is displayed when a product is added to the customer's cart.
Final Word: 13 Best Converting Shopify Themes
You want to make money from your Shopify store. That is why you've got to use one of the 13 best converting Shopify themes. The above themes can be used for numerous business models, of different sizes, but they will all help you turn more visitors into paying customers or subscribers on your mailing list. Which theme will you choose?
Recap:
FAQs
How Much is too Much Text on a CTA Button?

Your CTA shouldn't be too long. Your call to action should be as short as possible but needs to include ownership for the reader, action and urgency. This can be done well within as little as two-three words and no more than six words. Any longer than this and you will lose conversions and waste potential revenues.

How CTA Affects Conversion

The CTA can have a massive impact on the conversion of a website. Everything from the position of the call to action to its wording and even the colour can affect the conversion rate of your website. Different themes on Shopify can have CTAs that have different factors. There is no unique CTA that performs better, it all depends on the audience of the website.

What does CTA Stand for?

CTA stands for call to action. It is the tool that is used to get those visiting a website to take action. The action being made can be anything from subscribing to a mailing list to completing a purchase on a website. CTA's are very effective at driving revenues on websites and can be changed to improve conversions.

What is CTA in Marketing?

CTA in marketing is also known as a call to action. It is the tool used by marketers and website designers to get the audience to take action on a website page. It can include anything from asking the reader to subscribe to a mailing list or to make a purchase. The CTA can include a button, image or just be plain text on the website page.

What is a Call to Action in Marketing?

A call to action in marketing is a term used to describe a tool that calls the audience to take action on a page. The call to action can be anything from asking the audience to subscribe to a mailing list to making a purchase. Call to actions can include buttons, images or just plain text. Improving your conversion rate often includes changing the call to action.

What Is a Call to Action in Writing?

A call to action in writing is the text that is used to persuade the audience to take action on a website page. Text can be included within a button or plain on a page. If it is included as just a line of text on the website, it is often inbetween two paragraphs. There are numerous ways that calls to action can be utilised and what they can say.

What is a Call to Action?

A call to action is an area of a website page where the visitor is instructed and encouraged to take any action that benefits the website's owner. For instance, 'Add To Cart' and 'Buy Now' are classic examples of call to actions. Call to actions can be short or long and appear as a button or simple text link. Optimizing a call to action can result in more conversions.

What is CRO in Marketing?

CRO is also known as Conversion Rate Optimization. It is the process of changing a website/page to maximize the number of visitors that will convert. A conversion can be anything from following you on Facebook to buying a product. It all depends on your goals and what you would like the page to do. Page design, purchasing processes and speed of the website can often make huge changes in this area.

What Shopify Theme Works Best with Oberlo?

Oberlo is a great app that allows you to use AliExpress to build an effective online dropshipping store. You can perform numerous tasks with the app and it is free. Oberlo is so good in that it will work with any Shopify theme that you install on your website from the Shopify theme store or a professionally built theme like Booster.

What is the Average Online Store Conversion Rate?

The average online store conversion rate depends on many factors. The niche of the business, the location of the business and other elements can completely impact what you can expect the average online store conversion rate to be. Taking a mean account of all websites, the average seems to be around 3-3.5% or one in every 30 visitors to your website will convert.

How to Calculate Facebook Conversion Rate

You can calculate the Facebook conversion rate by taking the number of people who have liked your campaign or made a purchase (depending on your Facebook goals) by the number reached by your advert. Facebook adverts don't tend to have a very high conversion, sometimes it can be as low as one, but for the cost, it can be very lucrative.

How to Calculate Conversion Rate Email Marketing

Conversion rate email marketing is worked out by taking the number of people from the email marketing list that made a purchase from a campaign and dividing it by the number of people who were sent the message. You must use the total list of the ones who received the email to find the conversion rate for an email marketing campaign and not those who clicked through on an email.

What is Conversion Rate Optimization?

Conversion rate optimization is the process of changing a marketing campaign or page design so that it converts more visitors into subscribers or customers. There are many aspects of conversion rate optimization such as minimizing the process of buying to changing the design of your website. Even the loading speed of your page is really important.

What is a Good Conversion Rate?

Many factors are considered to affect conversion. Websites operating in the UK tend to have a higher conversion rate than those in the US. Some industries have better conversions as do those that sell fewer products. However, generally speaking, you should aim for a conversion rate that is higher than 3%. This means about one in every visitors will complete a transaction.

What is the Conversion Rate?

The conversion rate is the number of visitors to a website that have visited the website and then bought a product on the site or subscribed to a mailing list. You can test a conversion rate based on product, landing page or an entire site. Segmenting the conversion rate depending on the page can often showcase where you might need to focus on changes.

How to Calculate Conversion Rate

Conversion rate is calculated by taking the number of people who performed an action (like subscribe or bought a product) and dividing it by the number of visitors to a website. It should use the number of users, not the number of sessions on a website as some people will leave a website to come back later (abandoned cart emails, for example). This will give a figure that should be less than 1. This number can then be multiplied by 100 to give a percentage.

How does Shopify Calculate Conversion Rate?

Shopify uses the number of people who have purchased on a website and then divides that by the number of people who have visited the store. The number that is given should be less than one. This number is then multiplied by one hundred and this gives a percentage. Depending on the niche, it will often be between 1-5%.

What is a Good Conversion Rate on Shopify?

There are variances between niches on what can be considered a good conversion. It also depends on your area of selling. UK websites have higher conversion rates than US websites. The average conversion tends to be around 3-3.5%. But some sites can have conversions that have rates above 10%. It all depends on the design of your website and your marketing.

How to Increase Conversion Rate on Shopify

You can improve your conversion rate on Shopify through several techniques. This starts by using marketing that targets the best audience for your product/service and ends with the design of your website. You can use videos, call-to-actions in the right place and good colors throughout your theme design. Different themes have specific items that can help you build a better website for conversion.

Does Shopify have any Data on Best Converting Themes

Shopify doesn't keep any data on what converts best on any website. And it would be really difficult to monitor and may breach data protection laws. Sometimes, however, it will conduct surveys with the permission of the website owners. The theme that you use is really important because they will have elements that have been included to help them convert. However, you can surmise what themes are best by which are being used by successful brands.
Offers & Promos