Top 10 Fast Shopify Themes
Last modified: June 15, 2023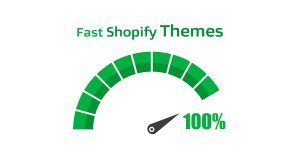 #
Image
Name

Get a Free Custom Shopify Store
1

Jumpstart

2

Simple

3

Streamline

4

Warehouse

5

Avenue

6

Story

7

Motion

8

Capital

9

Retailer Multipurpose Fastest Converting Shopify Themes

10

Luce

Show More
Did you know for every second that it takes for your site to load, you will lose about 7% of your revenue. The average website in the US loads in about 8-9 seconds. Which means that many e-commerce websites could be losing up to 50% of their potential revenue. There are several ways that you can speed up your website, but the best way to start is by installing one of the fast Shopify themes.
Why Do You Need One Of The Fast Shopify Themes?
When building a website, you're creating a sort of set of programs, that are contained in files. Those programs are made up of lines of code that tell a browser how to display content to a user. All code takes up memory. That all needs to be downloaded when a user visits your website.
Technically speaking, the more code that is used in building your website, the longer it takes for your site to load. However, there are other ways that your site can be slowed down. For instance, some sites can be slowed down because sites try to download everything before rendering it to a user. Or that images are also too large.
When you're looking to install fast loading Shopify themes, you're looking to solve these problems.
What Impact Will Fast Loading Shopify Themes Have On Your Website?
While there is an obvious impact of a fast loading Shopify theme on your website, like your site becoming faster. The benefits go far beyond this. Firstly, sites that are faster are more likely to rank higher on Google and other search engines. This can increase traffic, which will result in greater sales and more revenue for your business.
In addition, a faster website offers a better experience to users. Research has shown that if a website takes too long, users will abandon checkouts. Therefore, just a quick change to your website's performance can again help to increase revenues. If people are then happy with their purchases, they're likely to return to your for future purchases. Studies have shown that returning customers cost less to acquire and will spend more with you.
What Are You Looking For In The Fast Shopify Themes?
There are numerous things that you need to look for when it comes to fast Shopify themes. The first is making sure that you have clean code. The less code that is needed to render your website, the less memory that needs to be transferred from the website's server to the user's computer. The less memory used, the quicker your website. Clean code might be referred to as HTML, JavaScript and CSS optimized coding.
In addition, you need to look for themes that can offer asynchronized loading. This is when files are loaded simultaneously instead of one file being loaded at a time. This can speed up the loading speed. You can also look for themes that include lazy loading, when images are loaded only as needed.
Finally, with Shopify themes, the more apps that you have included on your site, the longer it will take to load. This is due to the additional code that is needed to integrate apps into your store. If you can buy a theme that has lots of functions that otherwise would have to be in an app, you can speed up your website.
So, what are the best fast Shopify themes? Here are our recommendations for consideration.
Filter between free and paid
Jumpstart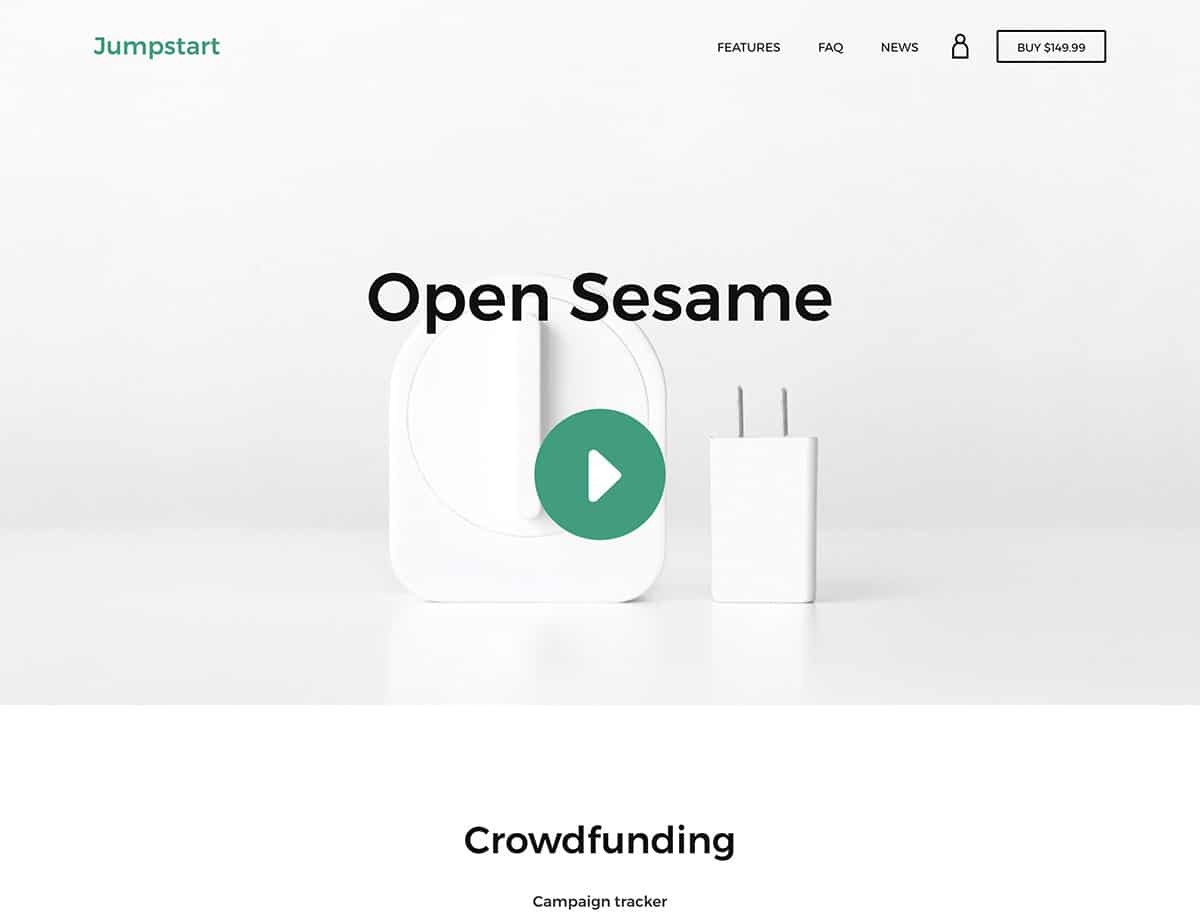 Jumpstart is a great looking theme that is perfect for those who are on a tight budget. It offers a lot of features that can help you sell your products/services and is simple to customize. Promotion on your website can be done via many of the promotional functions. These functions include a home page video that can play as soon as the visitor lands on your page. You can also highlight recent media shoutouts with an "as seen on" section.
You can use customized sections on your website where you can include promotions, FAQs and blog posts. These can be included on your home page. To add more content to your page you can include a slideshow.
This theme is perfect for those who have small catalogs, or just one product. It is also good for those businesses who are looking to crowdfund.
Jumpstart Highlights:
SEO-optimized, so it can be found on Google and other search engines.
Responsive theme, so it will look great on any device.
Free stock images provided by Burst.
Includes all the social media icons you need.
Simple
This minimalist theme has two styles to help you create an excellent website with a lot of potential. With a sidebar menu that is completed in an accordion-style, you can easily display products and collections to visitors to your website.
All products can be seen great detail on the product page with the extra hover over image. To add to the engagement of images, all images, whether product or branding, can be animated. This can be a great way to entice users to click on products and find out more. It also enables you to create a sleek, transition effect that is impressive.
To improve revenue on your store, you can display related products on the pages of other products. This can help improve user experiences too.
Simple Highlights:
SEO optimized for search engines, so you can improve your website's search rank.
Responsive design so it can be viewed equally as good on mobile and desktops.
Free theme, a great bonus for those on a tight budget.
Stock images are included.
Streamline
With three theme styles to choose from, you can be sure of a great, fast loading website with Streamline. The product pages are story-focused, allowing you to tell the stories of your brand's products. This can be done via additional images and text on the product pages.
The theme is designed for mobiles first. Therefore, the code is light-weight, making it one of the best fast Shopify themes. It also makes it easier for your visitors to buy from their mobiles, something that is becoming a bigger trend.
Your website will be enhanced with animated content. This can be done via multiple text, image and page animations. You can also boost conversions with multiple home page videos, which can help grow trust between your audience and the brand. It can also boost conversions and revenue.
This theme is best suited for those with medium sized catalogs. All products can be showcased with high-resolution images.
Streamline Highlights:
Optimized for speed, so it performs well across devices and on search engines.
Free stock images available, they are provided by Burst when you buy the theme.
Three theme styles to choose from, so you can customize your website to fit your brand's values.
Can customize sections on your website.
Warehouse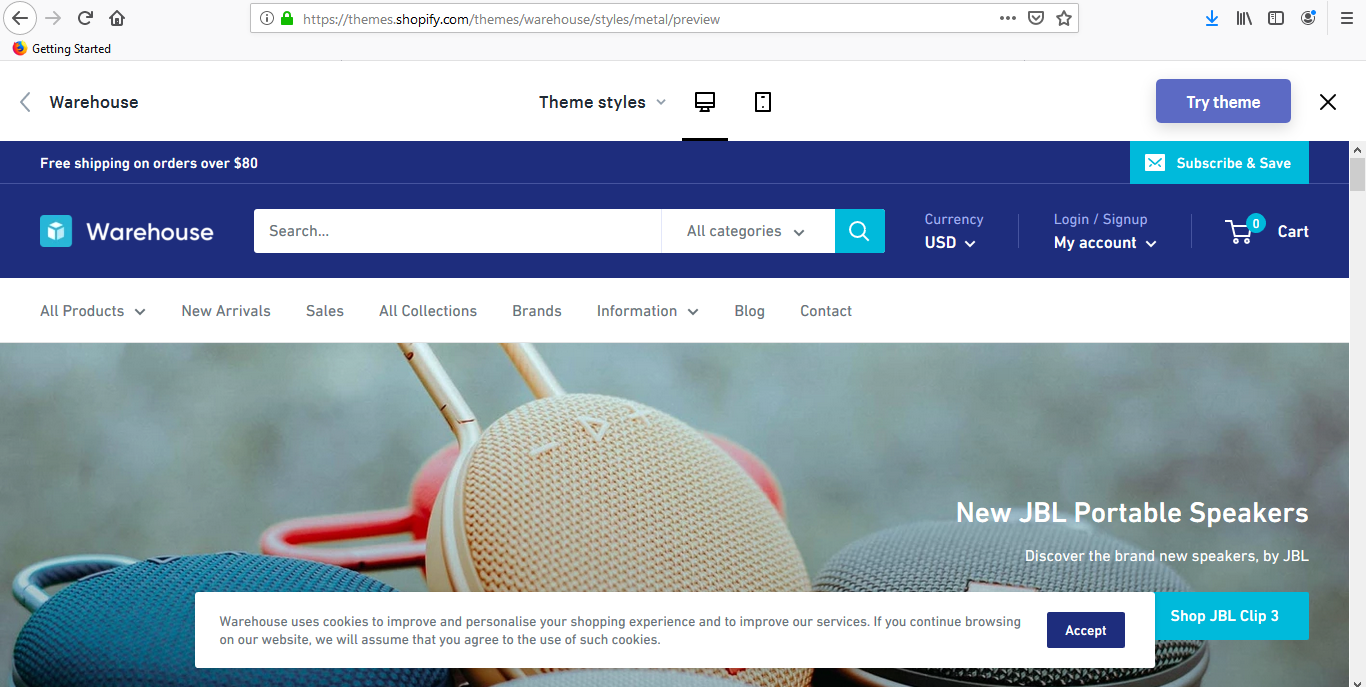 With two theme styles, Warehouse is the perfect, fast WordPress theme for those who are looking for a theme that can handle a large catalog. To promote your large range of products, there are custom promotion tiles. This can include the promotion of sales, discounts and even featured products in specific tiles to help drive traffic to high margin products, or those that you wish to remove from stock. To showcase how much stock is left, this theme has a stock level indicator to display how much stock you have of different products.
You can further improve your promotional marketing by adding trust badges to your site. And, should someone decide to leave your site without making a purchase, you can capture their details with an exit popup that allows you to market to them later on.
Your audience can also find products on the website thanks to a live search facility. The results can quickly link to products and store pages.
Warehouse Highlights:
Optimized for search engines and speed, so your rankings are high and performance is great.
Responsive design, so your website will look good on any device or screen resolution.
Excellent for stores with large catalogs.
Lots of great features that can help you sell your products.
Avenue
Another theme that is designed for large catalogs, this fast-loading Shopify theme is great for those who want to have lots of products, but make it easier for customers to find them. With advanced product filtering, customers can find products based on numerous characteristics including brand, type and others right from your home page.
You can also sort your products using sub-listing. Using breadcrumbs you can also improve navigational aids within your website to help customers get back to search results or specific collections with ease, lowering the rate customers will abandon your website.
To help improve your revenues, this theme allows customers to add multiple products to their cart simultaneously. Therefore, it speeds up the time it takes for your customers to shop, making their experience a more fun-filled experience.
Finally, you can highlight specific collections on your homepage using the featured collections section on your front page.
Avenue Highlights:
Optimized for search engines, to help audiences find your site on Google and others.
Clean code for fast loading times.
Multi-column menu to improve navigation throughout your store.
Social media icons to help improve brand engagement.
Story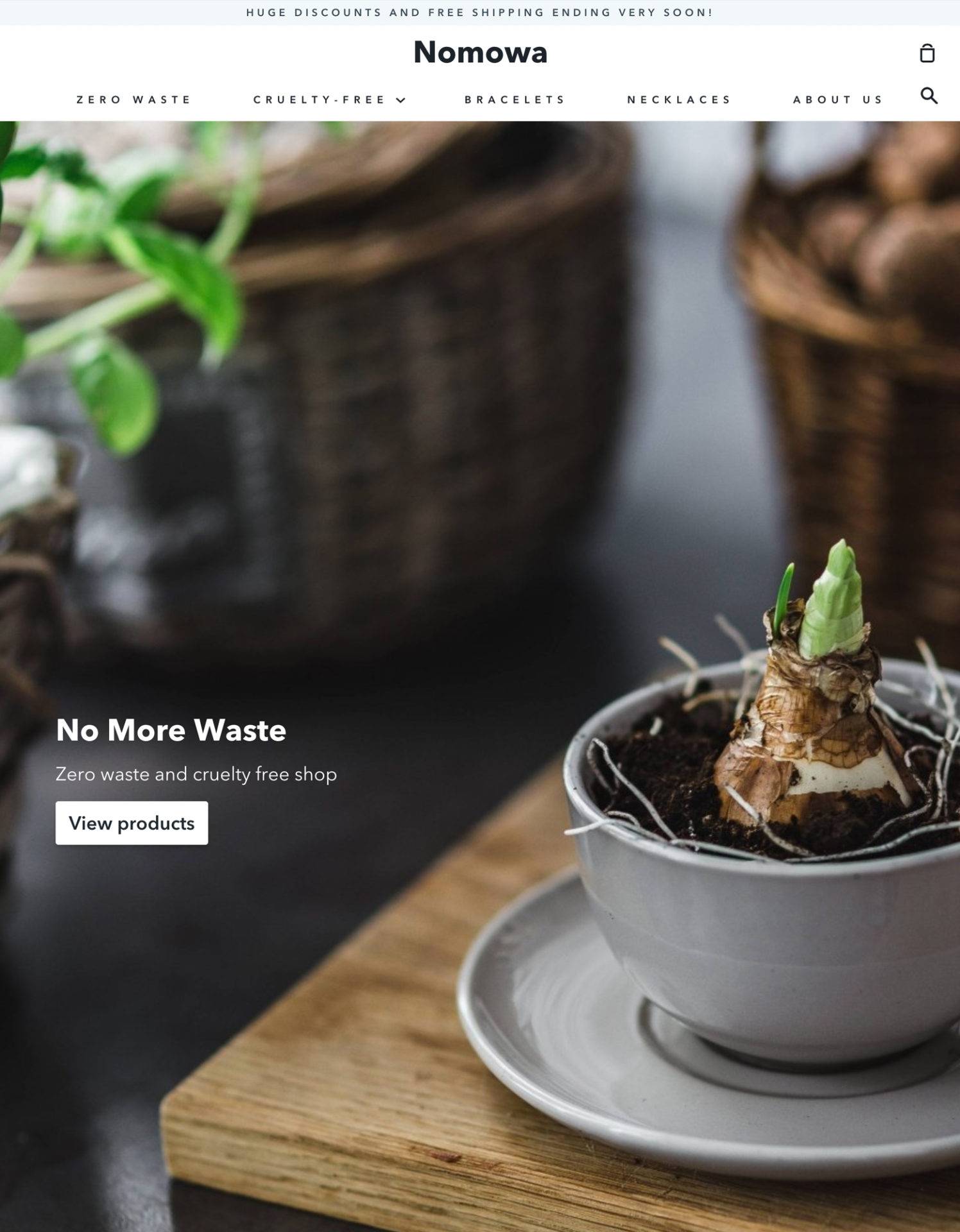 One of the more interesting fast loading Shopify themes on this list, Story has a unique way to display your brand and products to make your website a pleasure to visit. Once visitors land on your page, they can start looking through products using the collection filtering feature that in included within the sidebar. Customers can filter out products based on brand, prize and other options you can customize.
To show off your products, you can use the Lookbook feature that displays products in an editorial-style spread. All product pages are also done in a story-focused style, so audiences can become emotionally attached to the product, making it harder for them not to buy.
And the story-telling doesn't stop there. There is a built in timeline tool to help you tell your brand's story and you can feature your team in a showcase that allows people to see how passionate you are. Finally, should anyone need to ask a question, you can customize a form for contact, inquiry or to signup for email lists.
Story Highlights:
Great responsive theme that will allow your site to be viewed on any device or screen resolution.
Optimized for search engines, so audiences can find your site.
Story-focused website, tell the story of your brand, products and business journey.
Great for catalogs of all sizes.
Motion
Just because you want a site to load fast, doesn't mean you can't have great videos and storytelling content. We've already featured several on the list that give you this option, but Motion is certainly a great contender as well. It is a story-telling based theme that allows you to guide the visitor through the journey of your business and product to make them emotionally attached to your brand and offerings.
This is done through several engaging content types including animations. Animations can be done with text, images and even on whole pages. Once on the page, you can delve further into the backstory of the brand with the use of videos. You can multiple videos on your website's homepage that can auto-play from YouTube or Vimeo. Images of all products are also done with high-resolution photography.
To help convert customers there are great features such as quick product filtering and quick product view. Or if you want customers to focus on one product, there is the option to highlight your best product on the front page.
Motion Highlights:
Tell the story of your brand through social media, video, images and animations.
Optimized for search engines, so anyone can find your site.
Great responsive theme, so everyone can enjoy their experience on website, regardless of the device they're using.
Can auto-play videos from great video sharing websites, helping you to speed up your website.
Capital
This theme is built for large catalogs and has a great set of features to help you sell many products. With a multi-column menu, navigation between collections has never been easier and customers can also filter products based on brand, color, size or type on any collection page. There is also a live search facility that makes it easy for customers to find what they're looking for.
In addition, to help customers make product choices, information about the products can be displayed when they hover over them on the collections page.
So, if you have a large catalog and want to display them in style, this is a great option for you.
Capital Highlights:
Optimized for speed, so your site can load quickly on any device and look great.
Help customers find the products they need with navigational support and search facilities.
Free stock images provided by Burst.
Great for large catalogs.
Retailer Multipurpose Fastest Converting Shopify Themes -
Inactive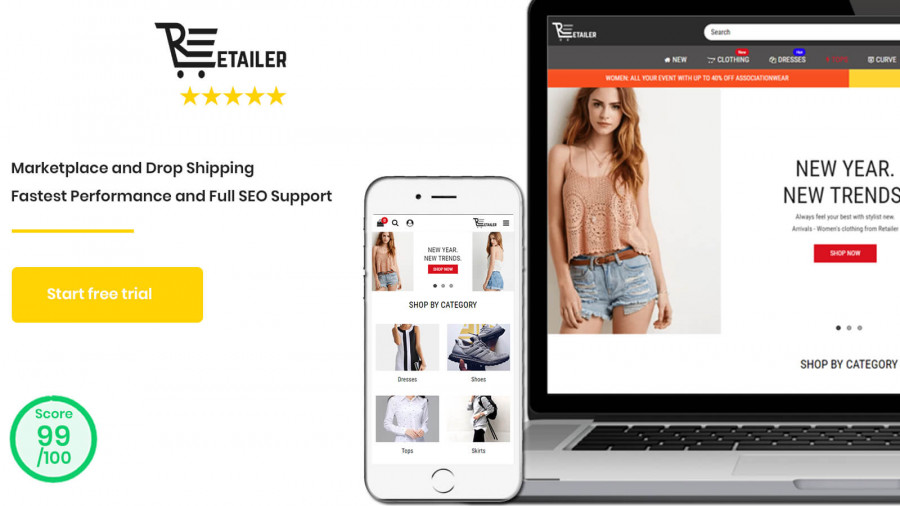 Retailer is a great little Shopify theme. It is specifically designed for those who operate fashion stores, however, it can also be used for other types of online stores like toy shops. There are four theme styles which are all based on famous fashion sites which add style and familiarity, making customers feel comfortable shopping with you.
Retailer can change currency, based on the location of the user, which is a nice feature if you want to sell worldwide.
To help design your website, there are several page layouts for products and you can drag and drop sections to create a unique look that will impress customers. To help with navigation, there is a great mega menu builder.
Navigation is one of the main reasons why visitors will abandon a store early in the purchasing journey. There are also three styles for your about us page, so you can tell your brand's story in style.
There are five header styles to choose from as well.
Retailer Highlights:
So many functions included with the theme that you can save money and speed up your website.
Upsell and cross sell products easily with great theme options.
Mobile friendly and clean code for fast loading and great ranking on search engines.
Lots of customization options, so you can create an awesome website that is unique to your brand.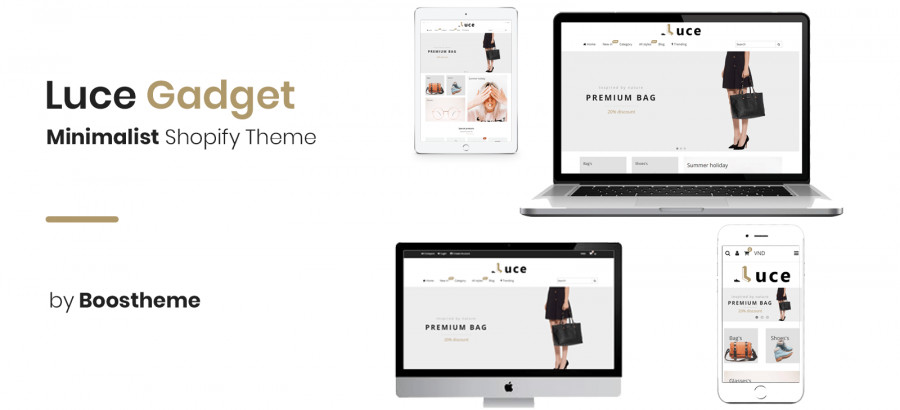 Minimalist website designs are a great for high performance and fast loading times. This is because minimalist themes have little code. Luce is a great theme that matches this. It is fast and has great potential for search rankings. In addition, like the other boostheme.com Shopify theme mentioned, it can handle an international audience with different currencies.
You can choose between multiple product page layouts and customize website pages with a drag and drop section in the customizer. This is easy to use and allows you to create a stunning website with very little experience. You can even create excellent banners using the Creator Pro that is included with the theme. Your website can also utilize one of five different headers.
You can showcase all your products on one page thanks to the infinity scrolling products feature. This can be done on your home and collection pages.
Luce Highlights:
A website with clean, minimal code to help you rank highly on Google and other search engines.
Fast speed, to keep loading times down and website abandonment low.
Use any color so you can match your website to your branding.
Don't need a swatches app, as functionality is included.
Final Word: Top 10 Fast Shopify Themes
With the potential revenue losses suffered when you have a slower theme, you certainly need one of the top 10 fast Shopify themes. The above themes offer not just powerful features, but also a speedy load time to impress audiences and give them an experience they won't forget. Which theme will you choose?
Avi Klein
Vast experience in the online world. SEO expert, Web developer and consultant to several online companies.
Read more...
. Read more about
our approach
to reviewing themes and plugins.