The 10 Best Mobile Shopify Themes
Last modified: May 26, 2023
One of the most important elements when it comes to websites is that they're responsive. This is when the website is able to adjust the design depending on the device that is being used to view the website. Being mobile-friendly is an important part of ranking on Google and other search engines. And there are some great mobile Shopify themes available.
What are you Looking for when Viewing Mobile Shopify Themes?
Technically speaking all Shopify themes are responsive and therefore are Mobile Shopify themes. That being said, there are still elements that you should be looking for when making a decision on which to use. For one, you should ensure there is good speed on your website. Website speed on desktops is one indicator about how a website will perform on a mobile device. Mobile device usage is often slower, so websites take longer to download.
Therefore, if you've got a website that takes 8 to 11 seconds to load on a desktop, you can often find that it can take 15-20 seconds to load on a mobile device. This is just too much for many users and therefore, you can be sure that you will lose out on rank, traffic and sales. In fact, for every second that your website takes to load, you will lose about 7% of your revenue. A 15 second loading time wipes out your revenue.
However, many of the themes that are included within the article will load well within 4 seconds and some in as little as 0.6 seconds.
Another thing that you need to look for is the additional benefits that are there for selling. This can include currency conversion, popups or more.
So what are the top 10 mobile Shopify themes we recommend for your new or existing store?
#
Image
Name

Get a Free Custom Shopify Store
1

Woodstock - Electronics Shopify Sections Theme

2

Booster

3

Polaris

4

Express

5

Symmetry

6

Empire

7

Loft

8

Expanse

9

Beyond

10

Prestige

Show More
Filter between free and paid
Woodstock - Electronics Shopify Sections Theme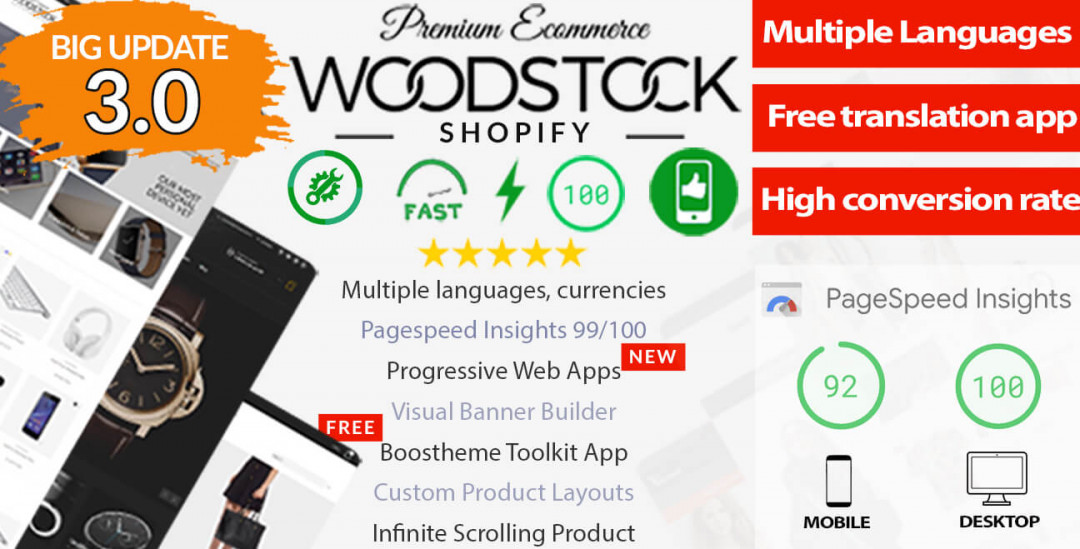 Woodstock is a fully mobile and responsive retina ready Shopify theme. This is one of the best themes that's available when you would like to create a Shopify website. The theme has been tested across not just Shopify, but also WordPress to check that is converting well and good for mobile devices. Therefore, you're going to get one of the most tested themes available on the market.
To help you with the design of your website there are 12 homepage designs that you're able to choose from. This allows you to get the look for your website just right. And this theme is one of the fastest available, allowing you to have a good rank on search engines and to reduce the bounce rate that can happen on your website.
There are also additional designs for shop pages, product pages and other pages. Customization of any of these pages is really simple.
The theme also has numerous functions that are included. For instance, there are mega menus and products sliders. These normally have to be paid for with apps, but by using this app, you can save a lot of money,
Users will also be very impressed with the look of your website.
Woodstock – Electronics Shopify Sections Theme Highlights:
This is a fully responsive theme that has the potential to perform across all devices and screen resolutions.
Optimized for search engines to help you be found on Google and other search engines.
There are lots of functionality that has been included to help you save money and convert more on your website.
There are 12 homepage designs to help you get your website started.
Booster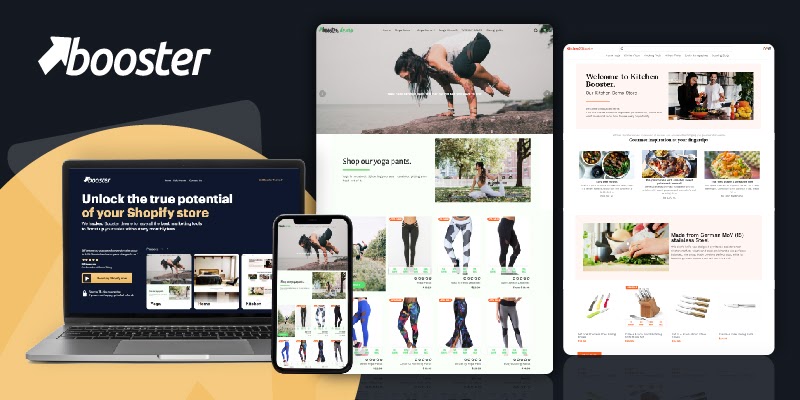 Booster is one of the most impressive themes that's available for Shopify users. This is partly because it isn't just a theme, it is a complete toolkit to help you improve the design of your website and it is completely responsive, allowed to be used by visitors on any device. If you were to use the features within the theme, you can also save lots of money. The developers reckon that you can save about $3000 a year on app subscriptions. This is a lot for any business.
Some of the features that you can benefit from with Booster are the countdown timers, social proof, popup creators and live chat. All these features are known to help improve conversions on your website. Those that want to sell internationally can also benefit from the currency converter. You're also able to use the included features to help grow your mailing list.
Booster is one of the fastest themes available on the Shopify website. Website speeds are often less than a second, which is very impressive and customers will be pleased by the experience. This should help you to maintain high sales and improved business performance.
Booster Highlights:
The coding in this theme has helped it to become one of the fastest themes that can be used for your Shopify website.
Perfect for SEO with some of the best improvements to help you rank high.
It is a completely mobile-friendly website, allowing your site to be seen on whatever device customers are using.
Save up to $3000 a year on apps by using the included features.
Polaris
Minimalist themes are one of the best types of themes to use if you're looking for a website that will perform well on mobile devices. Why? Because they have limited coding and are therefore able to adjust easier than those that are heavy on code. Polaris is one of the top minimalist websites that's on offer and is perfect for businesses from many different industries. This theme is also good because it helps you build a sales funnel.
Polaris has some of the best features that you will need if you want to grow sales. The first is a fantastic product filtering system that allows customers to reduce the number of products displayed based on numerous choices. This can help customers reduce decision fatigue and improve conversions on your website. The filter can be customized to include any identifiers that you would like.
There are also ways to build long term relationships with customers. You can use the newsletter popup system that can turn visitors into long-term subscribers. There are also ways that you can build trust with audiences with great review features. And there are social media sharing tools that you can use.
Polaris Highlights:
One of the best minimalist designs that can be used on your site.
Loads very fast on any device and can adjust the design to fit perfectly on the screen that is being used.
Can use Google Maps to help customers find your physical location whether it is an office or a store.
Perfect for those who don't have much experience with website design.
Express
This free theme has been optimized for one-page stores that are wanting to sell just a few products or services. The one-page design is perfect for those who want to rank well for a mobile design because it will mean customers don't have to load different pages to see everything on your website.
When it comes to buying on your website, the theme includes a slide-out cart and a quick buy feature. These help with the experience for those who are using a mobile device.
The theme can be easily customized for an aesthetic appearance that matches your brand's identity. The finished website will be completely optimized for all search engines, helping you to attract more of your targeted audience.
Express Highlights:
For those on a tight budget, Express is one of the most perfect themes.
Slide-out cart and quick buy options to help your customers shop online.
There are aesthetically pleasing designs that can be used for those who want to make a positive statement on their website.
Great for those businesses who have small catalogs.
Symmetry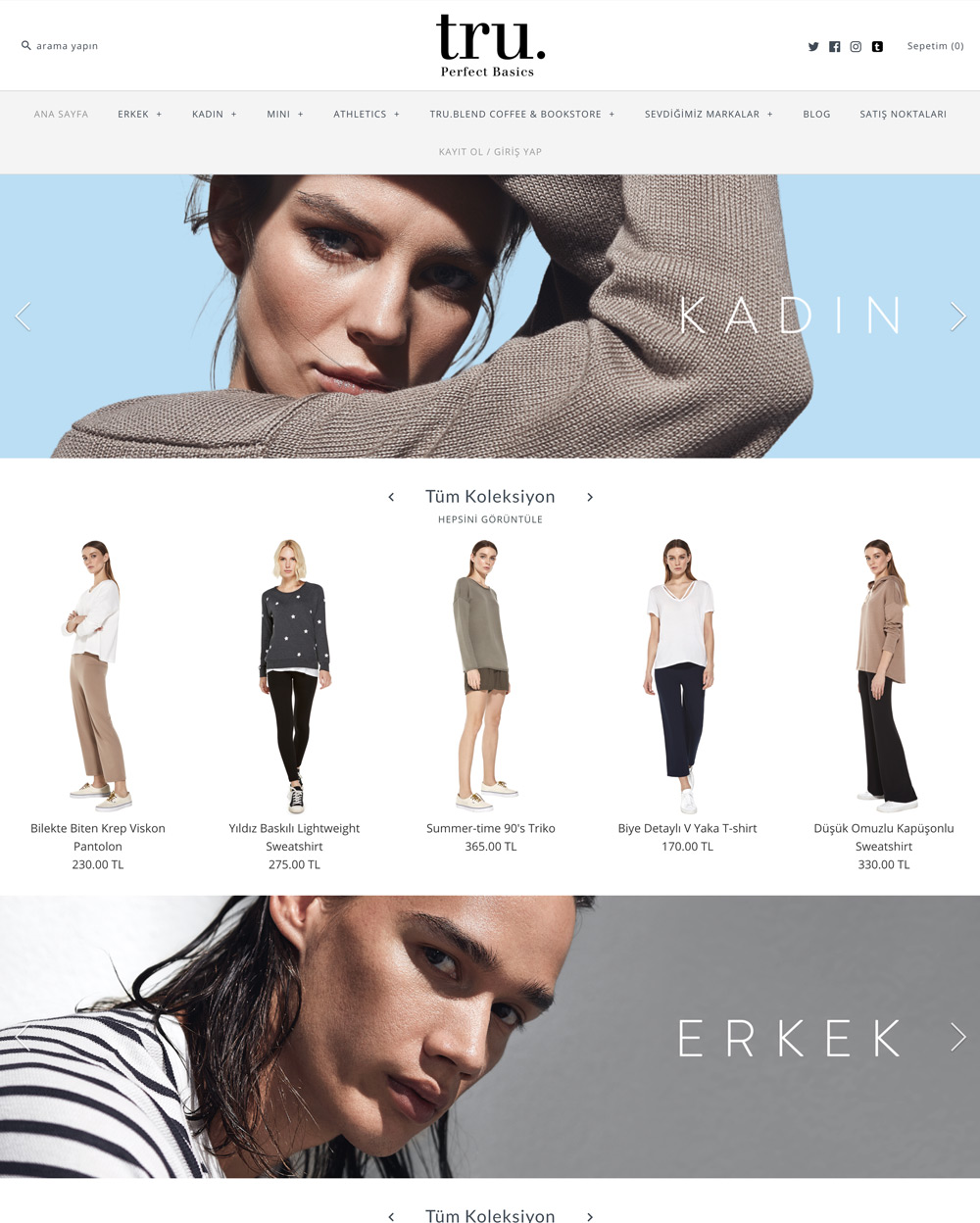 Symmetry is one of the most responsive themes that you can use to make your website look sleek, modern and trustworthy. Visitors to your website can be impressed by the general design and you can expect to see some great returns. This theme is perfect for those that want to create a fast website that will also rank on Google and other search engines. And when customers find their way to your website, their experience will be second to none as they explore with great speed and a visual appearance that is pixel perfect on any device.
There are lots of features that have been added to the coding of this theme to help you convert more of the visitors to your website. For example, there is a multi-level menu option that allows you to build a website that looks aesthetically pleasing while being easy to navigate. Customers will be able to get anywhere on your website with just a few clicks. The experience can be further enhanced with a fantastic 'quick buy' function. This is very similar to how Amazon works.
There are lots of options that can help you integrate your store into social media. For instance, there is an Instagram feed that will list your latest posts on the social media channel to your website. This is a great way to attract the attention of users and get them to follow you on social media.
Symmetry Highlights:
This is a mobile-friendly theme that will look perfect for customers and others.
There are free stock images that are available from Burst for you to use on your website.
Advertise your products on social media with lots of integrated social media apps and functions.
There are four styles that you can use when you're building your website for the first time.
Empire
Empire is another great theme that has a lot to offer those who want to have a highly responsive website for their business. There are three great theme styles that can be used to create the basic design for your website. These can then be customized with lots of available options available. The finished result can be a mobile-friendly website that will impress guests and earn you sales. You'll also be able to match website design with that of your offline branding.
The theme was built for stores that have numerous products and it can help customers to find the right product for them. Features that help this include a predictive search feature that can help customers as soon as they start to type. In addition, there is a product filtering system that can help improve the shopping experience.
There is also a quick buy option that allows customers to move from the product page to the checkout page seamlessly. This little feature can really help reduce abandoned carts.
Empire Highlights:
This theme has been optimized for both mobiles and search engines, allowing you to attract the best traffic.
There are free images available via Burst to help you give a professional image to your website.
Use the quick buy option that can help speed up the shopping experience of your customers.
There are lots of great options to help customers find the products they want including filtering and predictive search.
Loft
Loft is one of the best options if you're looking to start a new Shopify website that will be friendly to mobile devices. This theme has the capacity to handle a large catalog with ease and you can have varieties with those products without affecting the performance of the website. The theme is based on a storytelling mode, this allows you to build a strong emotional pull with the audience. Part of the brand's story can also be shared through the embedded Instagram feed.
There are lots of options to help you sell more on your homepage. For instance, there are special promotional tiles that allow you to highlight the best products on your website. This can include products that are best selling or are on offer. There are also multi-level menu options that can help visitors to find their way around your website.
The theme is one of the best for designing as well. Changes can be made with ease as you rank highly on Google and other search engines. The theme also includes great high-resolution image capacity, allowing you to showcase your best products.
Loft Highlights:
One of the top themes for those who want to host a lot of products on their website.
Create a store that can build an emotional pull with the Instagram feed.
You can use high-resolution images that can help give more detail about products.
This is one of the best themes for mobile users and ranking on Google.
Expanse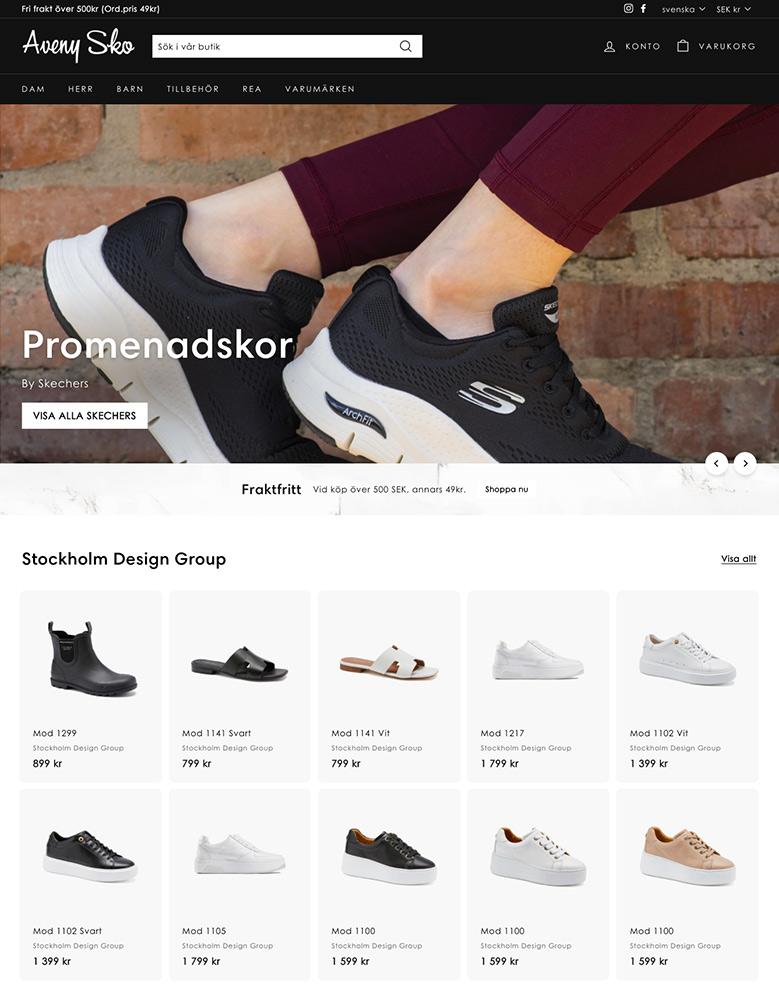 Expanse is one of the best options for those that want to list and sell their products direct from their homepage. Customers can see a product on the first page they land upon and then use the intuitive and easy-to-use quick buy button to add the products to their cart. They don't need to visit the product description at all.
The theme also enables you to cross-promote collections by using custom collection tiles within other collection pages. This is great for growing the average cart order value on your website. It can also be used for promoting sales, discounts and highlighting the best products on your website.
Navigation and product discovery is also really important on the theme. There is a homepage menu list that can help customers navigate around your catalogs and website. There are also custom collection sidebar filters to help customers making purchasing decisions.
The theme also helps customers to arrange collections from your store.
Expanse Highlights:
Is perfect for those brands that want to have a mobile-friendly website.
Promotes sales, discounts and more products within a promotional tile design.
Allow local pickup of orders on your website.
Is perfect for brands who want to have an easy-to-customize website.
Beyond
Beyond is one of the top themes that is great for mobile use. There are numerous features that can help brands of all sizes to find and sell to customers. You're able to build a brand around a story that features a video right on your homepage. You're also able to use videos on your product pages. This has been found to help improve website conversions.
To help sell there are also collection page promotions. This allows you to create custom promotional content on a collection page. This can draw the attention of your visitors to specific content you would like them to see. This should improve the sales of specific products that you would like to sell. When customers do want to make a purchase, then can use the 'quick buy' option.
The theme includes a predictive search. This will display the live search results and also provide quick links to help customers get to the right product they would like. Navigation is also important with a multi-level menu that has a dropdown design.
Beyond Highlights:
There's a multi-level navigation support on your website for better movement across your website.
Customers can easily find the products that they want with the predictive search.
Perfect for many different brands and industry niches.
Is completely mobile-friendly.
Prestige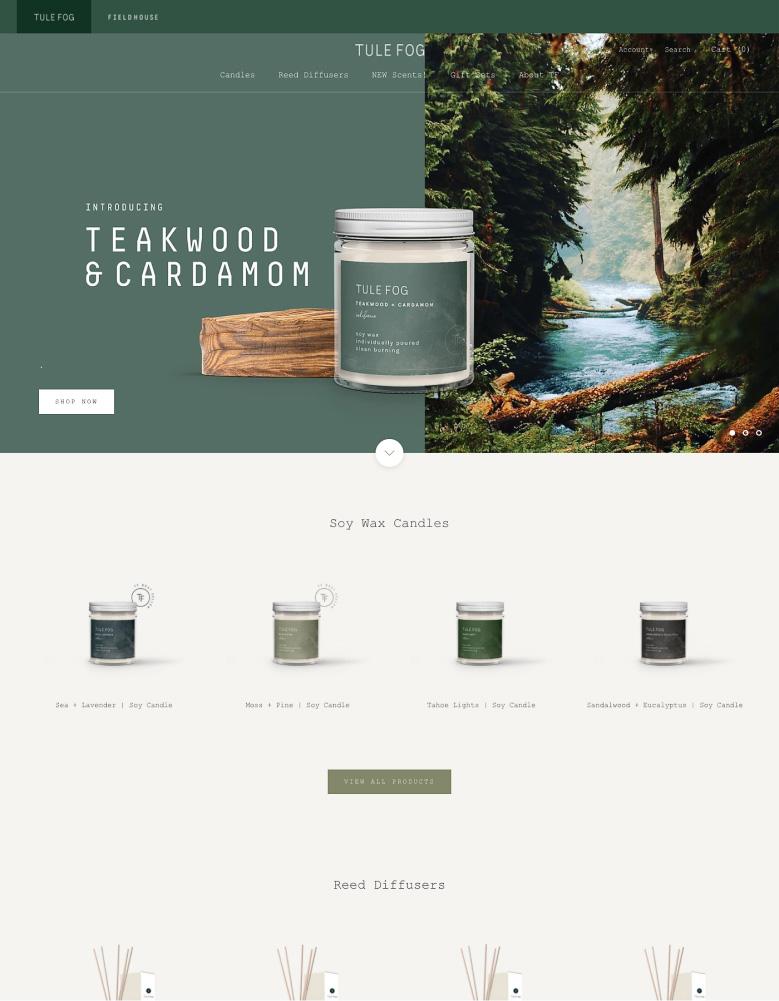 This is one of the top themes for those that want to have a good mobile-friendly website. It will work with all the best Shopify features and the latest ones that are released. The theme will also remain up-to-date. The theme itself has been tested for speed and it's responsiveness and has passed well, according to Shopify. Therefore, you should be able to rank high on Google and other search engines.
The design is very traditional, but that doesn't matter as the aesthetic appearance is really nice. It also allows you to showcase your website's products in great detail. Customers can be automatically drawn to your best products and they can see more details about them from the homepage. There are also great product/shop pages that can be utilized to help customers shop on your website.
Prestige Highlights:
Use free images supplied by Burst to help you populate your store with professional media.
A rather traditional design that is perfect for many niches.
Promote the best products you have to offer on your homepage.
Perfect for ranking on Google and displaying on any device.
Final Word: The 10 Best Mobile Shopify Themes
If you want your website to rank well on Google and to be seen by all customers, then you will want to be using one of the best mobile Shopify themes. Above are ten of the best that you can use. Which of the themes will you use? Let us know in the comments below.
Avi Klein
Vast experience in the online world. SEO expert, Web developer and consultant to several online companies.
Read more...
. Read more about
our approach
to reviewing themes and plugins.