The 10 Best Digital Products Shopify Themes
Last modified: September 14, 2021
Digital products are very hard to sell on the internet because there can be a lot of competition and customers can sometimes not trust the sellers. There are several ways that you can improve the conversion rate on your website with several tactics about improving trust. However, there is one element that is often forgotten and that is using one of the best digital products Shopify themes.
What are you Looking for with Digital Products Shopify Themes?
There are many elements to the digital products Shopify themes that make them perfect for a website. The first is the optimization of the content for search engines. You want your website to be found on Google and other search websites and this can't be done without a good theme being used.
There are numerous elements that make a website more optimized than others. The first thing is the coding. Those sites with more streamlined code will have a better rank than those with bulk code. Other elements can include speed as well.
A good rank is important because the higher you are in search results the more traffic you will get. The websites in the top three page results will get 80% of the traffic whereas those in the 5-10 slots will get just 2.5% of the traffic. This is a significant drop in traffic and one that you should be wary of.
Another problem that you might want to look at is whether or not your theme is fast. Speed is very important when it comes to conversions. Research has shown that for every second that it takes your website to load, you will lose about 7% of your revenue. The average website will take about 8-11 seconds to load, so some people are losing out on 77% of their revenue.
Finally, you want to have as many elements on your website as possible. The more content and functions on your theme, the less you have to pay for apps. For instance, you can get countdown timers, product filters, product searches and more.
So what are the best digital products Shopify themes? Here is a shortlist for you to consider.
#
Image
Name

Get a Free Custom Shopify Store
1

Booster

2

Polaris

3

Plain

4

Startup

5

Trademark

6

Empire

7

Blockshop

8

Highlight

9

Express

10

Expanse

Show More
Filter between free and paid
Booster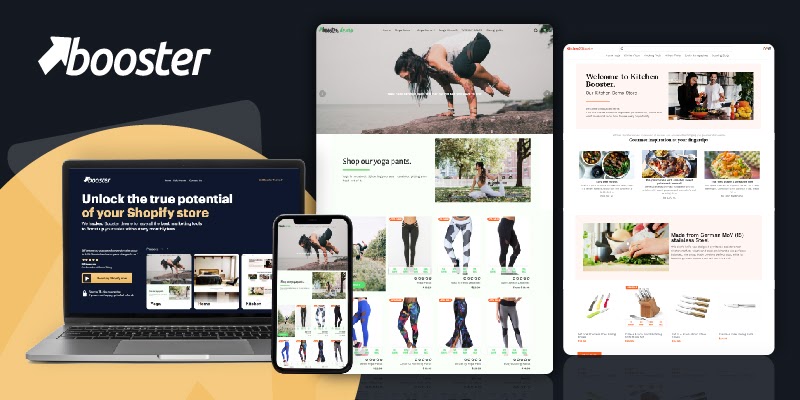 Booster is one of the top themes on offer for Shopify. It is more than a theme, it is a marketing and website toolkit that allows you to have numerous functions and business building elements built into your store to help you make more of your website and earn more revenue. With all the features that are included, the developers reckon that you could save about $3000 on app subscriptions.
Some of the features that have been added to the theme include a currency converter, countdown timers, popup builders, social proof, live chat and much more. The theme is also very fast. Loading times are said to be less than one second, allowing your customers to view your website without noticing the loading times. A great way to grow sales.
The appearance of Booster is also very impressive. And the added SEO features make it a great way to be found on Google and other search engines.
Booster Highlights:
You can save more than $3000 a year on apps with the additional functionality.
This is one of the fastest themes, loading pages within one second.
Perfect for SEO, so you can get more traffic to your website.
An excellent option when you want to attract lots of mobile customers to your store
Polaris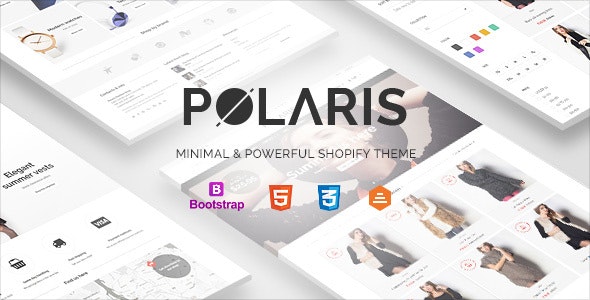 Polaris is one of the best minimalistic themes that allows you to focus the attention of the audience on one key aspect: your digital products. Therefore, you can improve the store's conversion rate and increase revenues on your website, something that is very important for your website. This theme also has a strong focus on the sales funnel, allowing you to have long term sale prospects for your website.
If you're selling lots of digital products, like films, music, software, images, etc. then this theme has a product filtering system that allows your website to have an easy to access shop page. Customers can reduce down the product options available based on several factors that you can customize to help speed up the purchasing journey of your customers. This can help reduce the abandoned cart rate and improve user experiences on your website.
You can also utilize the quick shop feature on your website. This can, again, improve the purchasing journey of your customers. There are also ways, like popups, that can help keep customers interested in your brand, should they wish to exit the journey before completing it.
You're also able to build trust with audiences thanks to the review system that is incorporated into this theme.
Polaris Highlights:
A minimalist Shopify theme that is designed to offer speed to your website loading times.
Lots of features make this a great theme for selling products online and attracting audiences.
Is perfect for SEO optimization so you can attract larger audiences to your website.
The theme is completely responsive, allowing your customers to view your website on any device.
Plain
Plain is one of the most aesthetically pleasing themes that you can use on a Shopify store. It has a perfect design that is high converting, super responsive and can display your website perfectly on any device or screen resolution.
To help you establish the branding on the website for your business, then you can upload your existing logo. Or you can use the logo builder that allows you to create a text-based logo. This can also be used as a custom favicon that can help you rank higher on Google.
Customizations for the theme are very easy. You can match the background to almost any color. This can help you brand your website with ease. You're also able to customize the color of the buy buttons. This can help you convert more customers.
Plain Highlights:
There are lots of menu options that can help your audiences to find their way around your store.
Use the numerous social media integrations that allow audiences to engage with you across all platforms.
The theme has been optimized for search engines, allowing you to attract more people to your website.
There are numerous features to help you improve order values.
Startup
If you're looking to promote just one digital product then Startup might be the best Shopify theme. The theme has been designed for small catalogs and has an easy-to-customize modular-style homepage that allows you to have a good looking website in no time at all. To start with you can use any of the four styles that are included. Then all you need to do is to customize them.
To help build trust and rapport with your audience, you can use the customer testimonial section. This is vital for most digital product businesses as it is the only way that customers can see how your product has performed.
To help showcase your brand you can use the wide layout or large images. You're also able to use videos on your home page. Videos are hosted on a popular sharing website like YouTube or Vimeo and then displayed on your website. This can help you market your website on two platforms with just one piece of content.
Startup Highlights:
This has been optimized for all devices, so your audience can be on their mobiles and still see your website perfectly.
Be found on Google and other search engines with this theme as it has been optimized for SEO.
There are free, professional images that you can use to populate your website.
Choose from four different styles to start the basic design of your website.
Trademark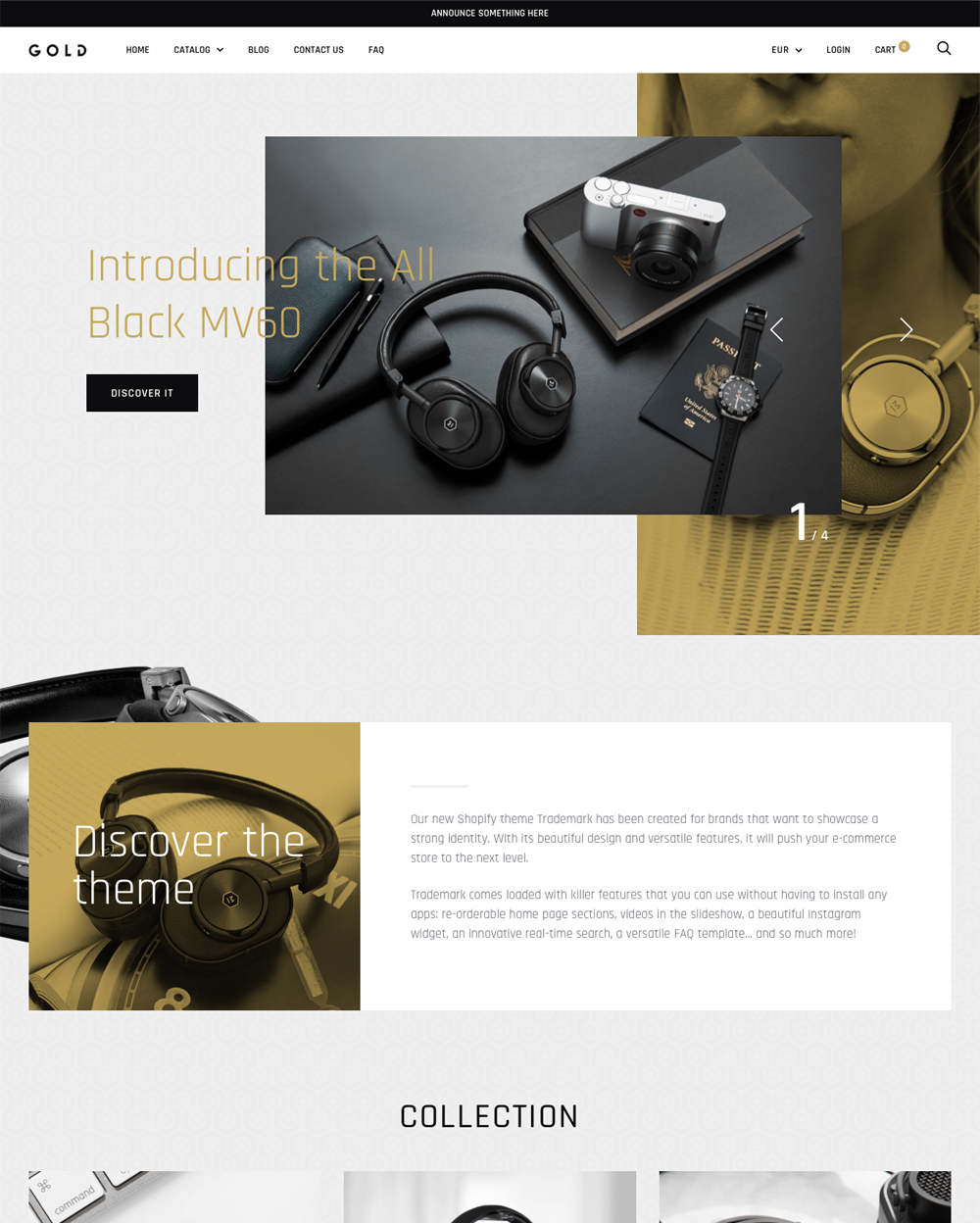 Trademark is one of the most fantastic Shopify themes that you can use for your website when you're selling digital products. It can be used to market to many different audiences with ease, customizable to your specific brand colors and styles for a perfect combination of conversion design and branding.
Visitors will be impressed with the final design of your website. You start with a choice of two aesthetically pleasing styles. These can then be customized for your specific needs. You can change the text, images and colors. This can turn your website into a selling powerhouse that can help your business grow.
You can add a live search feature to your website. This can improve the user experience for your customers. There is also a multicolumn menu option that allows you to promote your products and there are some great slideshow options that can help you sell discounts, deals, featured products or brand messages. The slideshow can be enhanced with animations too.
You can also have a versatile blog slider. This is great for promoting your blog, which can help with SEO and building sales.
Trademark Highlights:
Fully optimized for all the popular search engines and attracting customers through better ranking.
Is a fast theme that allows you to have better revenue and happier customers.
There are elegant designs that can help you stand out in a crowded marketplace.
Use videos, images and text to promote your website.
Empire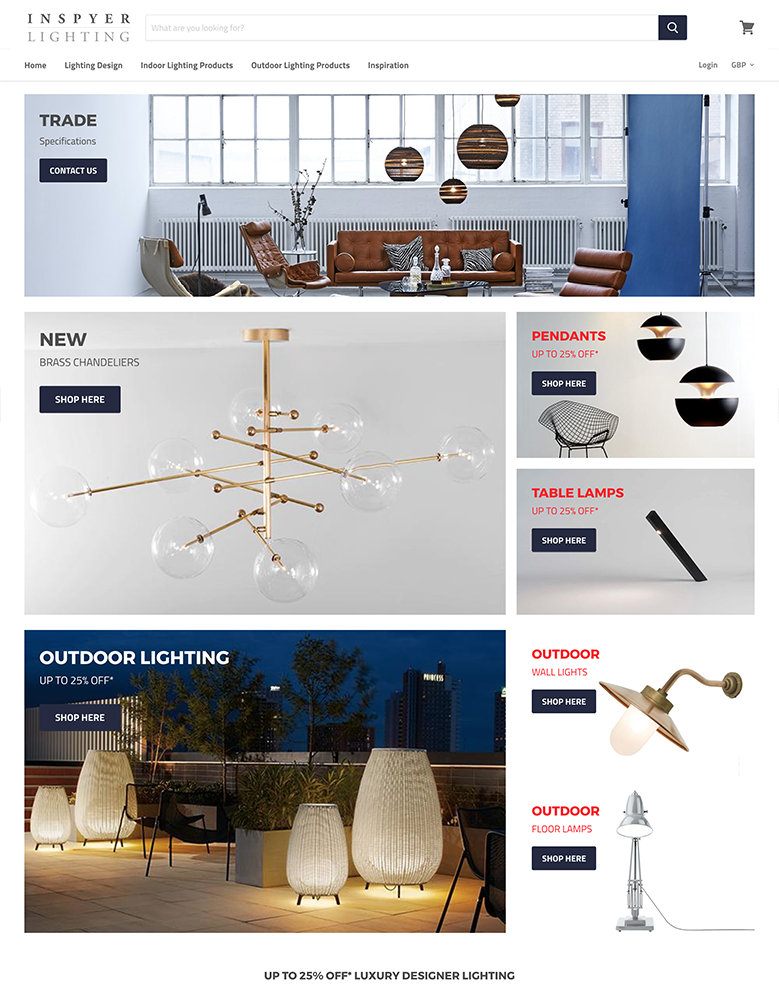 Empire is one of the best themes to use if you want to sell software online. There are three included styles and lots of customizations available. You can build a website with ease with lots of great options that can make the experience on your website really good that can improve the average order value.
The theme was specifically built for those with large catalogs, but it can be useful for smaller catalogs too. To help customers find products, however, there is a predictive search to help you build a better experience.
You can also have a great experience when speeding up the purchasing journey. You can utilise the quick buy option to move customers from the product page to the checkout page.
Empire Highlights:
Is optimized for search engines and mobile devices. Helping you attract more traffic to your website.
Use free images via Burst.
There is a quick buy option to speed up the shopping experience.
There are lots of great customizations options for your website's design.
Blockshop
Blockshop offers you the chance to create an aesthetically pleasing design that will impress guests to your store. You can use any of the four unique and beautifully rendered styles of the theme to start building your website and then add the perfect customizations to make the theme suit your brand better.
This theme has a lot of video qualities to it. You can host a video on your homepage to tell the brand's story. The video is hosted on YouTube or Vimeo and then broadcasted on your website. This prevents you from losing out on your website's speed and losing SEO potential on your website.
The theme also has a wide layout that can support most imagery. This can be brand images, brand messages, product images and more. The stunning images can look big, bold and beautiful on your website and encourage audiences to complete a purchase with you.
You can add a slideshow feature to your homepage and a social media feed to help engage audiences across several platforms at the same time.
You can add great navigational options to your website. For instance, there are options for the multi-column menu and a dropdown menu. This can help customers find the pages that they're looking for.
Blockshop Highlights:
Completely optimized for search engines, so you can improve the flow of traffic to your website.
Is a completely responsive theme, allowing visitors from any device to your website.
Perfect for businesses who want to have lots of engagement across lots of different platforms.
Add a homepage video to your website for better conversion.
Highlight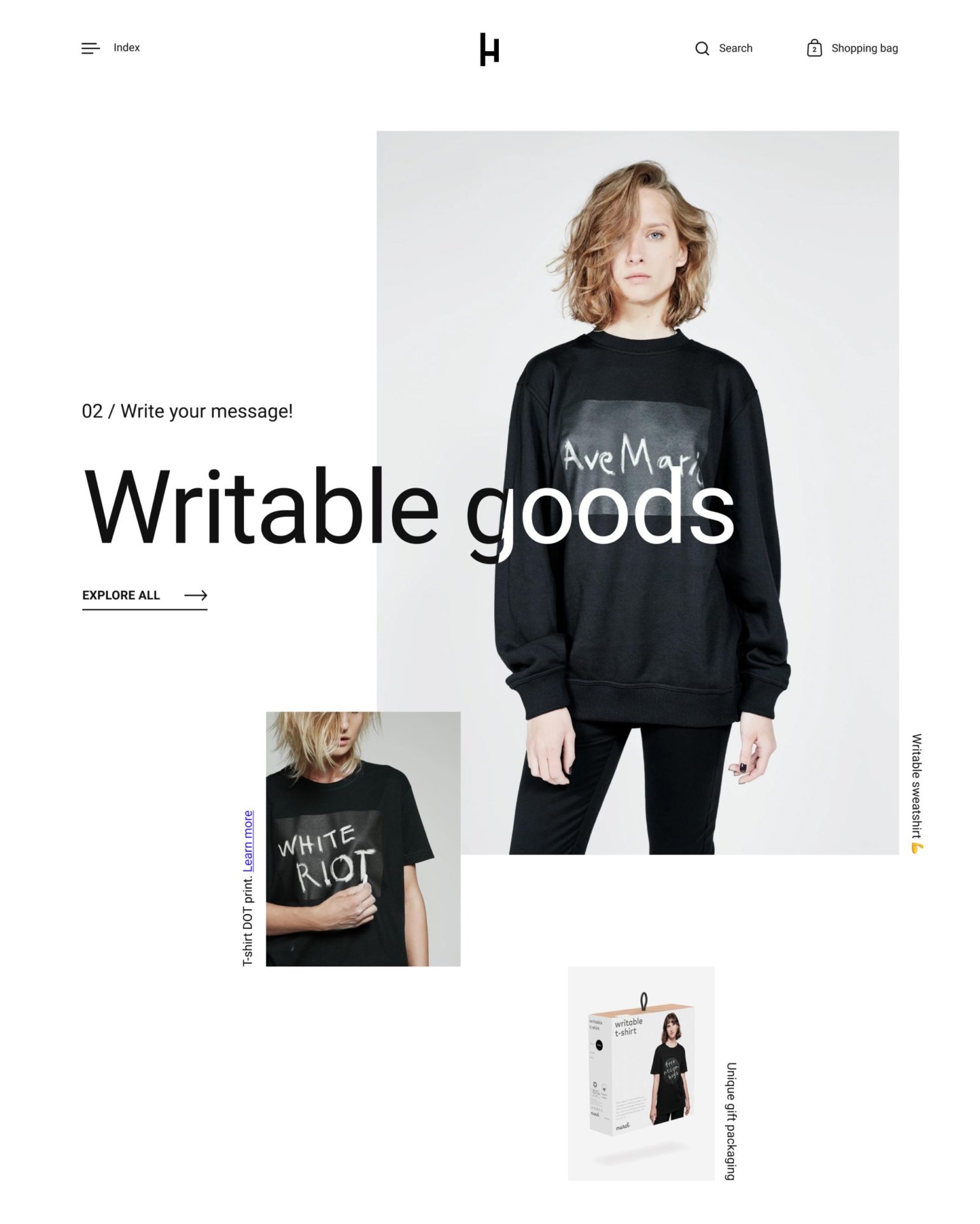 Highlight is one of the best options for those who want to sell software online. There is plenty of design potential with this theme that can add great interaction and touchpoints to your website to help you get more out of your business. The theme has been designed for those brands that have one or two software packages to sell rather than those brands that want to sell lots of software products.
To help with the design, there is a parallax vertical slider that can look creative and interesting. It also ensures that customers can see all of the content with ease and they don't miss important information that can help convert them.
You can also use an asymmetrical product grid to display your products. This layout can help you look more professional and deliver key information about the products to visitors on your website. In the descriptions, you can add key product features, benefits etc. with an image slider and more.
Highlight Highlights:
Has a minimalist design that allows your website to have lots of white space to concentrate your audience's attention on what is important.
There is an asymmetrical product grid that can help you promote key product information on your website.
Has been optimized for all search engines to help you get more traffic.
Is a fast website, for better loading times.
Express
Express is a free theme that has been optimized for those websites that want to have a one-page design, perfect for those brands that want to sell one piece of software. The theme has been designed with a mobile-first style, ensuring that anyone can visit your website and see it as you intended.
There are great options with this theme. For instance, there is a slide-out cart and a quick buy feature.
The theme is also very aesthetically pleasing. While there are standard theme styles you can use, you're also able to customize them to make them match your brand. Any final design you come up with will also be optimized for speed and for search engine optimization.
Express Highlights:
Is perfect for any brand that is on a tight budget.
There is a slide-out cart and quick buy options for a better customer journey.
Has lots of aesthetically pleasing designs that can be built using this theme.
Great for brands that want to sell just a few, select digital products.
Expanse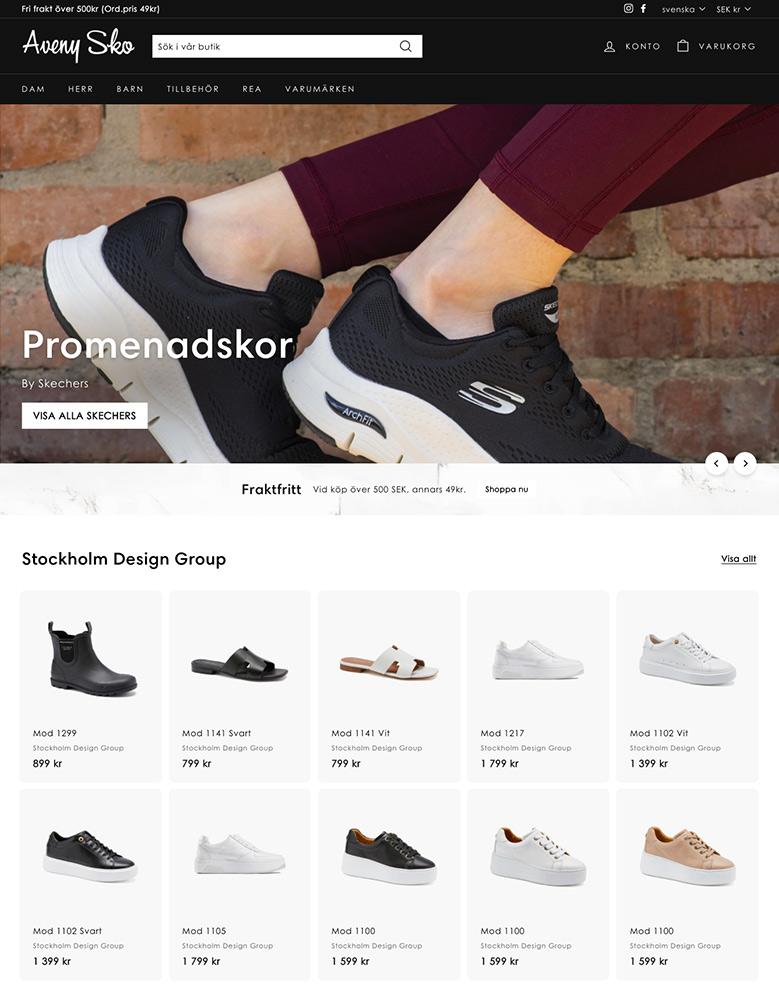 Expanse is one of the top options for those that want to sell products directly from their homepage for a more streamlined selling experience. Customers can see the product you're selling on the first page and then they can use the 'Quick Buy' button to add the product to the cart and go to the checkout. They don't need to visit the product description at all.
The theme allows you to cross-promote products as well. This is great when you have software in different niches or you want to sell equipment or insurance at the same time. You'll also be able to use this feature to grow the revenues for your store.
Expanse is perfect for navigation and product discovery. Customers can use the custom collection sidebar filters to make purchasing decisions as well as a great menu list to find their way around your website with ease.
Expanse Highlights:
Perfect for brands that want to have a mobile-friendly website.
You can promote sales, discounts, products and more with a promotional tile design.
Allow local pickup of orders that can be arranged on your website.
Is perfect for brands who want to have an easy-to-edit website design.
Final Word: The 10 Best Digital Products Shopify Themes
If you're looking for one of the best digital products Shopify themes, then you have ten of the options above. These can help you sell digital products with ease and get your website ranking well. So which one of the ten will you choose?
Avi Klein
Vast experience in the online world. SEO expert, Web developer and consultant to several online companies.
Read more...
. Read more about
our approach
to reviewing themes and plugins.