10 Best Shopify Computer Store Themes
Last modified: June 15, 2023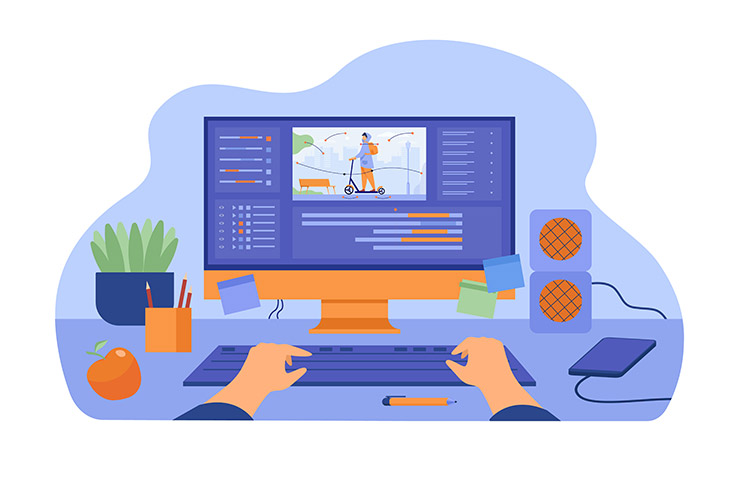 #
Image
Name

Get a Free Custom Shopify Store
1

Warehouse

2

Booster

3

Loft

4

Polaris

5

Handy

6

Plain

7

Symmetry

8

Empire

9

Trademark

10

Woodstock - Electronics Shopify Sections Theme

Show More
An online computer store has so much scope with the constant innovation of new products, software and apps. But if you want to sell online, whether you have a physical shop or not, you need a platform that will help you sell. For this, you need one of the best Shopify Computer store themes available. With the right shop, you can make your store thrive.
What To Look For When Looking at the Shopify Computer Store Themes
When looking at what Shopify computer store themes are available, you need to find the look that offers you a presence online. You also need to have something that can highlight the best features of your products. This might mean you need something that has a lot of potential imagery or videos for the product page/home pages.
Videos sell to customers. Those who have videos on their site will have higher conversions. Customers trust them more and have stated in surveys that they're more likely to make a purchase if there is a product video. However, that doesn't mean that you don't need written product descriptions either.
Your website should have all the elements to help you be found online at the same time. A good SEO strategy can bring in 70% of your traffic. If you're in the top three of Google, you're going to get the majority share in traffic. Those who are 10th on page one, only get 2% of those people searching.
Being mobile-friendly is important too. Google uses this as a ranking factor and you can be sure that your customers will notice. Almost half of your traffic will be using a mobile device. This could be a tablet or mobile phone.
So what are the best Shopify Computer Store themes? Here are 10 of the options we think might suit your next project.
Filter between free and paid
Warehouse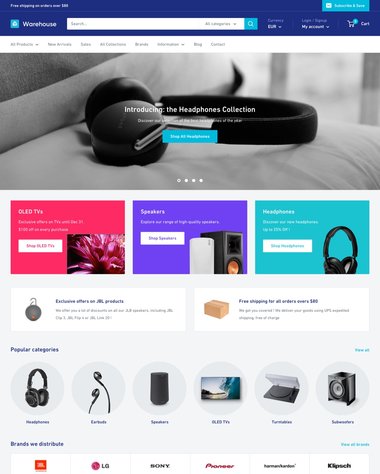 Warehouse is a great theme for any technology-minded business. Whether you're selling TVs or computers, this theme can really help you sell a large catalog in style. There are two main styles that you can use and showcase your inventory. The usual store information is also available on these sites with stock levels, security, payment trust badges and an exit popup to subscribing visitors to a mailing list. A mailing list is really important as it will help you sell to customers over a longer period of time.
To help refine the shopping process for customers, there are custom promotional tiles that can help promote sale items, discounts, key products and more directly on your homepage. This will help get customers from your home page to the specific item you would like them to see. It helps speed up the buying process and improves the user experience.
There is also a live search option that can help customers find the products they're looking for. There are quick links that can get them to the right product within seconds.
Warehouse Highlights:
Is suitable for brands who carry a large catalog of computer products.
Utilizes live search functionality for great user experience.
Is fantastic at ensuring your website has high traffic levels with great SEO potential.
An exit popup feature that can help you grow a mailing list.
Booster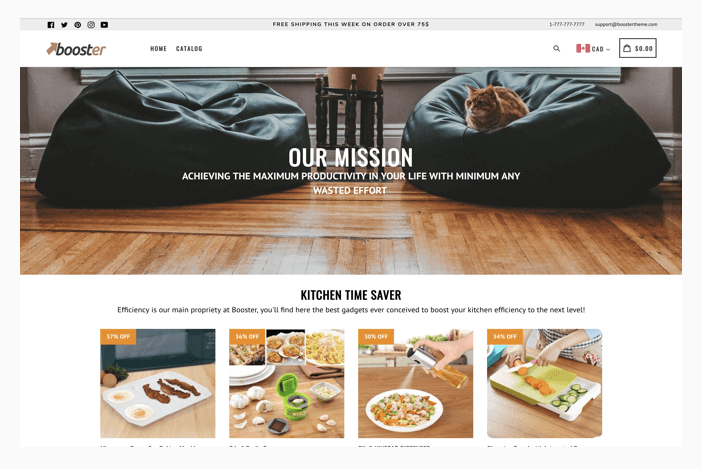 This is one of the most impressive themes that is available for Shopify. But that is partly because this them isn't just a theme, it is a marketing suite that has all the tools you need to make your online computer shop a real success. The number of functions that are included within the app are estimated to be able to save your business about $3000 a year in app subscriptions. This is a lot and there is nothing missed out of this theme.
Some of the features included within the Booster app include countdown timers, social proof, currency converter and popup creators. These can help you improve trust on your website with ease, add urgency to increase conversions and build a mailing list.
At the same time, Booster is one of the fastest themes available. Website speeds are often less than a second, which improves customer experiences and increases revenues. For every second it takes for a website to load, you lose about 7% of your revenue. The success of the speed is down to the development and coding of the theme.
Booster Highlights:
Has one of the best development teams behind it, coding it in a way that makes it fast.
Perfect for SEO with great SEO strategy aspects and perfect speed.
Is mobile-friendly and so can be used by all users regardless of what device they're using.
You can save up to $3000 potentially on apps per year using this theme.
Loft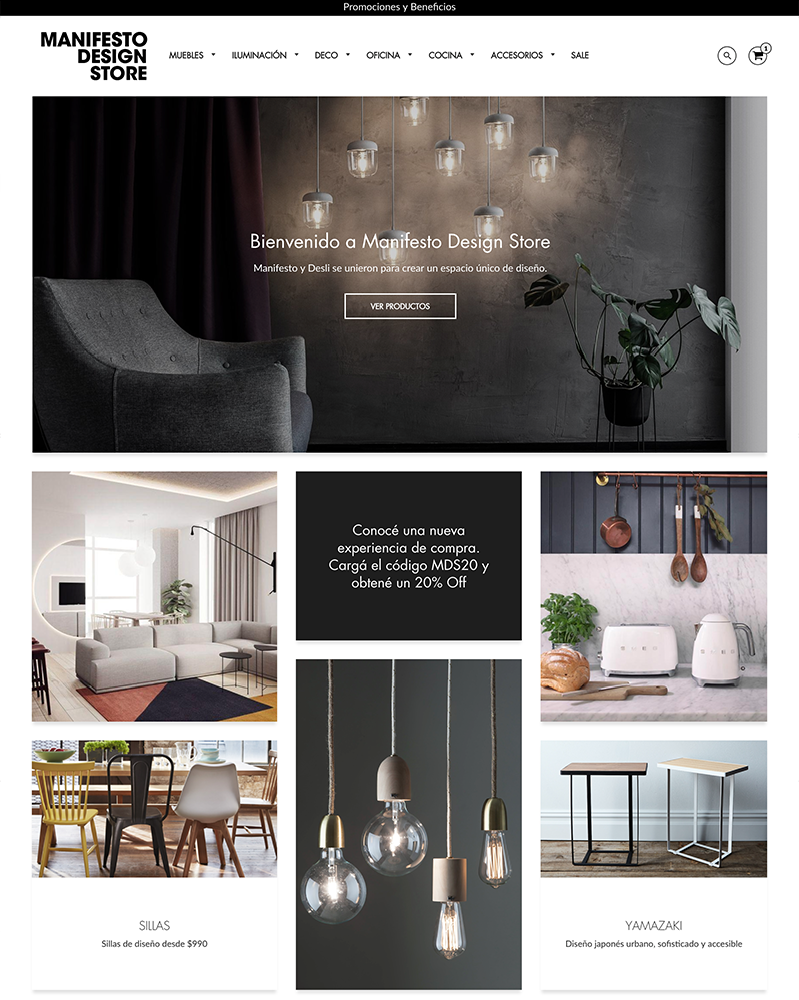 Loft is one of the top options if you're looking to start an online Shopify computer store. This is a theme with the capacity to have a large catalog with lots of varieties. Loft will also be able to help you tell your brand's story through an embedded Instagram feed and this can help you develop an emotional link with your audience which can only help with conversions.
There are lots of options to help you sell direct on your homepage too. For instance, you can use special promotional tiles to highlight your favorite products or just those that are on special offer. There are also multi-level menu options that can help your visitors to navigate your store with ease.
The theme is one of the best for use as well. Changes can be made with ease as you rank your website highly on Google and other search engines with great SEO features. The theme also includes the capacity to use high-resolution images to showcase the products to the customer.
Loft Highlights:
This is a great theme for those who have a large catalog.
Create a store to build emotional pull with a great inbuilt Instagram feed.
Can use high-resolution images that can help give more detail about products.
Is perfect for viewing on mobile devices and ranking on Google.
Polaris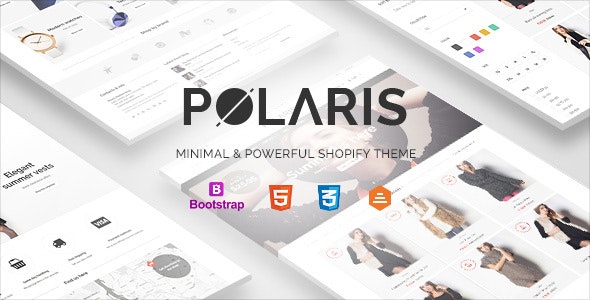 Polaris is one of the best options when you want to create a sales funnel on your website. It is a minimalistic theme that allows you to focus the attention of the audience on the one thing that matters: your products. This can help improve your conversions and also reduce the number of abandoned carts on your website.
There is a theme product filtering system that is great for those with large catalogs. Customers can use this to help reduce the number of products that they're looking at allowing them to feel more relaxed and less overwhelmed by the choices available.
There are also ways that Polaris can help improve the user experience for customers. The first is through the quick shop feature. This can help customers choose on the shop page and add to the cart without actually seeing the product. And there are options that can help with reducing cart abandonment on the website. The theme includes newsletter popup systems that can you build marketing lists and there are trust factors with review systems.
Polaris Highlights:
This is a minimalistic Shopify theme that is designed for your website to sell more products.
Lots of great features to improve the user's experience on your website.
Has lots of potential to rank highly on Google and other search engines.
Is fully responsive and can help you get customers using their mobiles while on your store.
Handy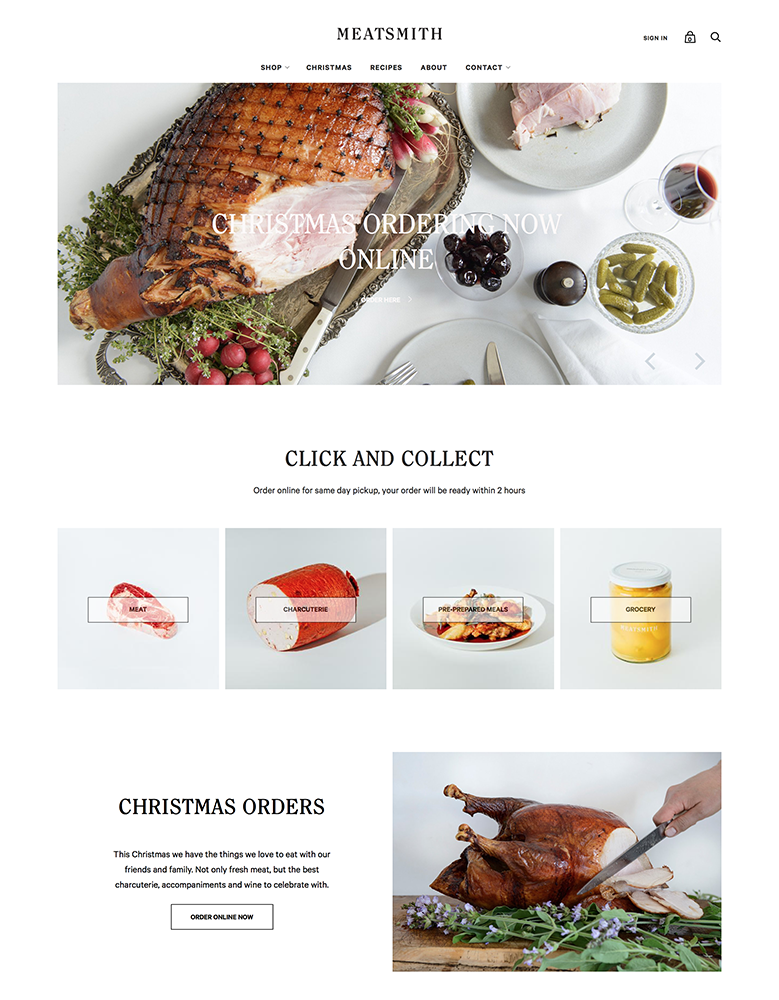 This theme was specifically designed to cater for mobile users. Therefore, it will be great for a modern audience who spend more time on their mobile phone than their desktop.
You're able to utilize a search focused menu to allow customers to find the specific products they want. There's also the great multi-column menu, allowing you to organize your computer store website with ease.
To help customers keep in contact with your brand, there is a great contact bar accessible from any page. This can include store hours, location and a stylish set of contact icons.
Handy Highlights:
Numerous menu options available to support visitors browsing your website.
Optimized for mobile devices, allowing you to attract a larger audience.
Use any of three aesthetically pleasing styles when building your store.
Search focused menu allows customers to find specific products they want.
Plain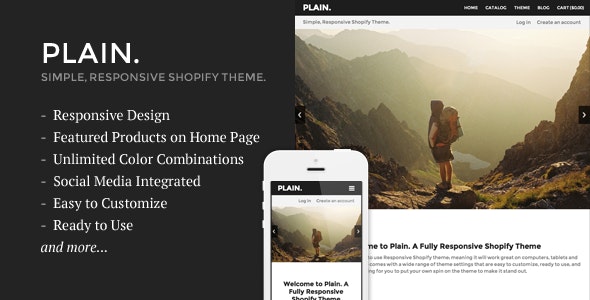 Plain is a great option if you're looking for an aesthetically pleasing Shopify theme that can impress guests to your website. It is perfect for almost any kind of shop, but it really does suit the computer market with ease. It is perfect for converting website visitors into customers with its super responsive design. No matter what device your customers are using, they will be able to see your website perfectly.
The theme allows you to upload an existing logo to start building an online brand. There is also an inbuilt logo builder that can help those new businesses get started straight away. The logo design will be text-based. You can also further improve your branding using a custom favicon.
The website's customization tools are really good. You can match the background of the theme to your brand's colors. And you can convert customers by using the customization of buy buttons. There are so many options available to you, you will be spoilt for choice.
Plain Highlights:
Numerous menu options can help your users to navigate around your store.
Lots of great social media integration that can help you build a better engagement with audiences.
Optimized for search engines to help you build more traffic and great audiences.
Lots of features to help you improve the order values that are made on your store.
Symmetry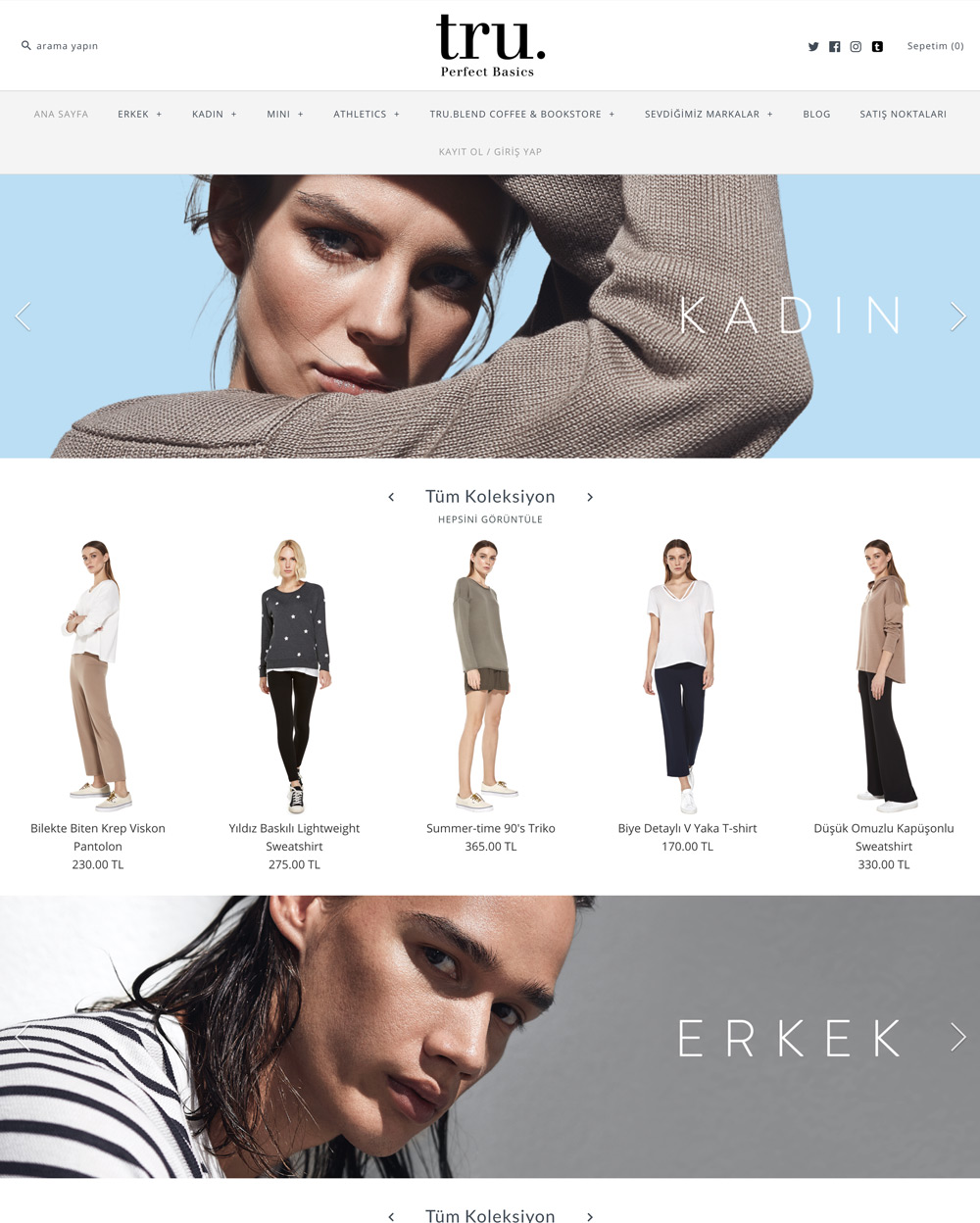 Symmetry is one of the best themes available for Shopify computer stores. It deserves its place on this list with the highly responsive nature of the theme that allows your customers to browse your store regardless of the device that they're using. It can also be useful in improving conversion rates and is great for bringing more traffic to your website with great SEO features.
To help with conversions that are lots of features for you to use. There is a multilevel menu option that improves the navigation across your store. This can also help with the indexing of your website with Googlebots. There is also a fantastic 'quick buy' option that reduces the shopping time that customers need to spend on your store. This can help you improve your website's conversion and the average cart total for orders made.
There is also help with social media campaigns. There is a fantastic Instagram feed that can help you engage with audiences. And this reduces the need for you to have your website use an Instagram app. This can prevent your website from being overstuffed with apps.
Symmetry Highlights:
This is a mobile-friendly Shopify theme design that can look amazing on any device.
Use free stock images provided by Burst to help you get the perfect, professional-looking website.
Advertise your brand on social media with Instagram feed features and social media buttons.
Four styles can help you match your website to your brand.
Empire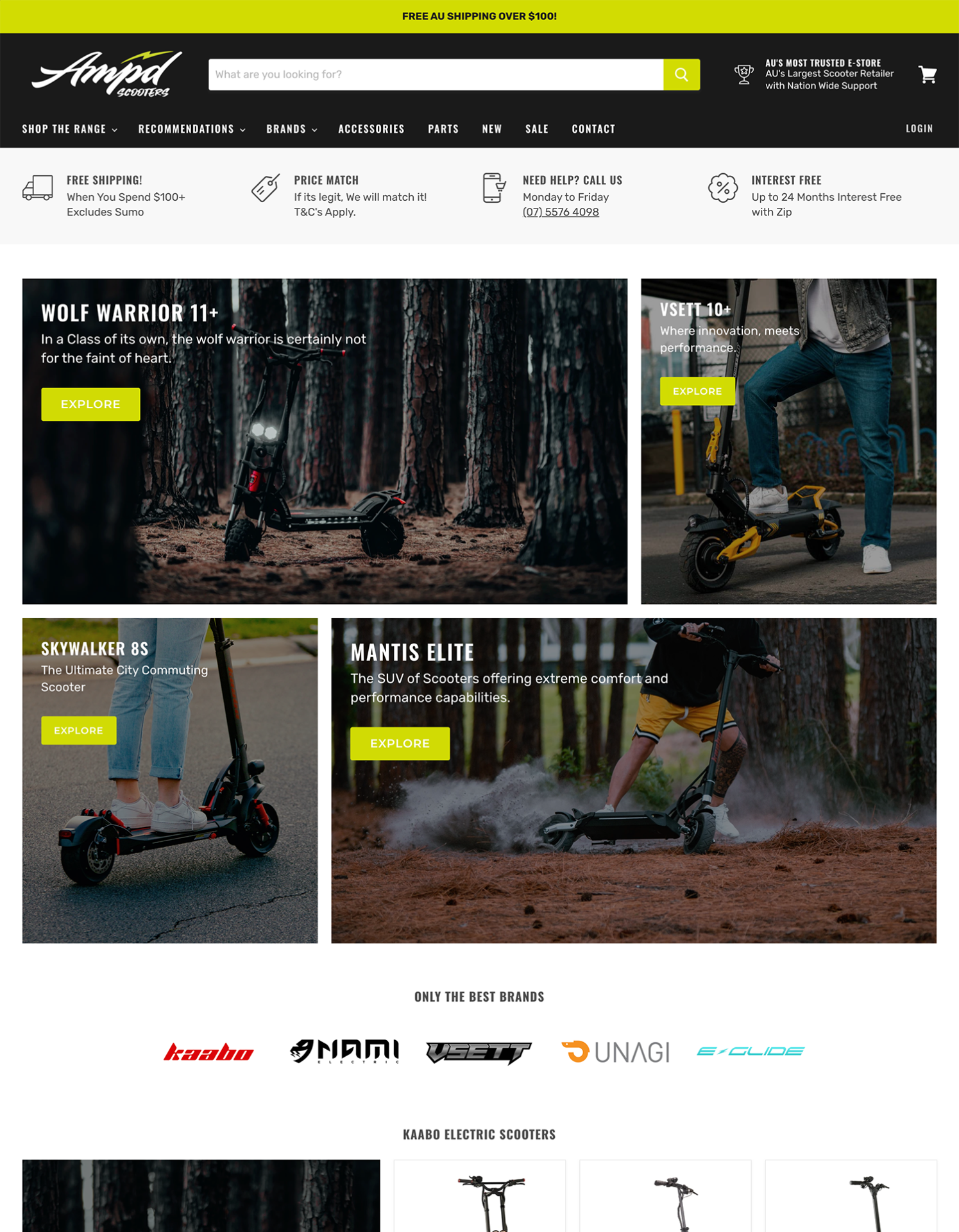 Empire allows you to be the next Amazon for computers. This could be the theme for your computer store. The design is great for matching some of the most popular eCommerce sites and customers will feel at ease over the design. The theme is elegant, beautiful and easy for customers to navigate around. If customers are searching for a specific product on a large catalog, the live search facility on the theme is a great option. There are also some great product filtering options.
As with many stores, you can promote your top products with several different promotional tools. One of these is product tiles that can be featured on your website's home page.
The customer can also be encouraged to purchase items quickly with a 'Quick Buy' button. Customers don't even need to see the product description page. Instead, they can just add the product straight to the cart.
Empire Highlights:
Optimized for search engines and every device whether it is mobile or desktop.
An elegant design that matches the minimalistic and simple Amazon store design.
There is live search and product filtering on the theme to help your customers get a better experience on your store.
It is built for brands with large catalogs.
Trademark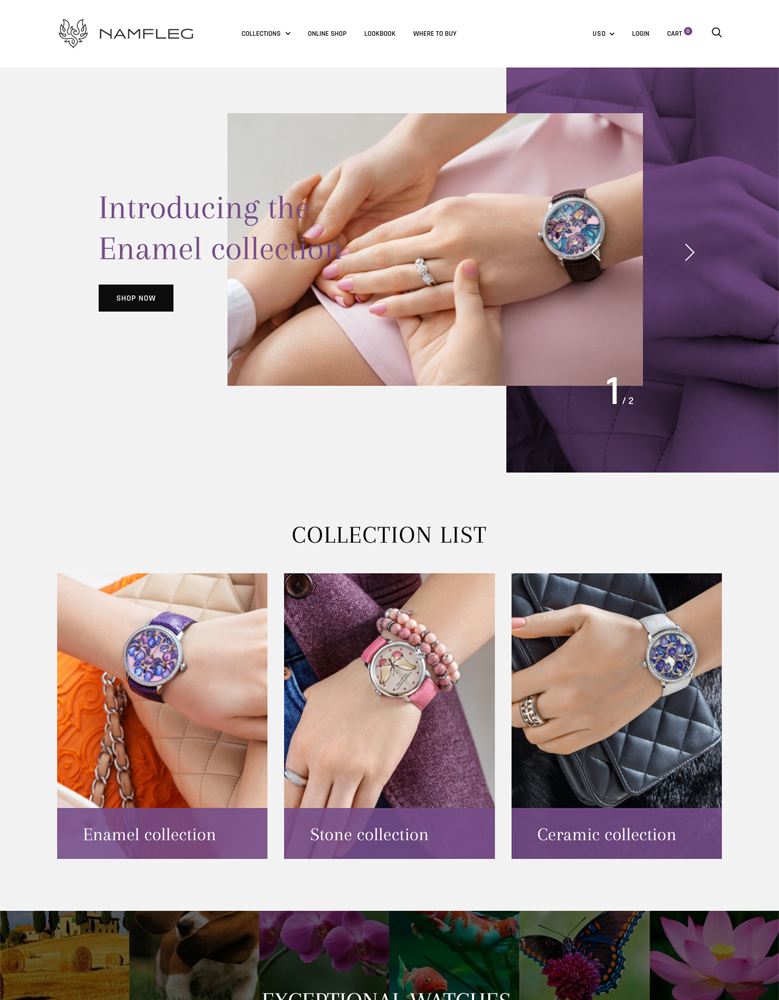 Trademark is one of the best Shopify themes that's perfect for any computer product store that you build. There are two style options that have lots of great features. Any visitors to your website will be impressed with the elegant fashion and the design. The theme includes a live search feature that is perfect for helping customers to find products on your website.
You can promote your brand with great images, videos and texts that can be added to a slideshow. The slideshow can be animated and this can be added to your home page. And there is also a versatile blog slider that is great for advertising your website's article. Websites with more blog content will rank and convert better.
Trademark Highlights:
Have a full-width Instagram feed to showcase the latest posts on your website.
The theme is fully optimized for search engines, helping you to get more traffic.
Perfect for those selling computer products.
This is a fast theme.
Woodstock - Electronics Shopify Sections Theme -
Inactive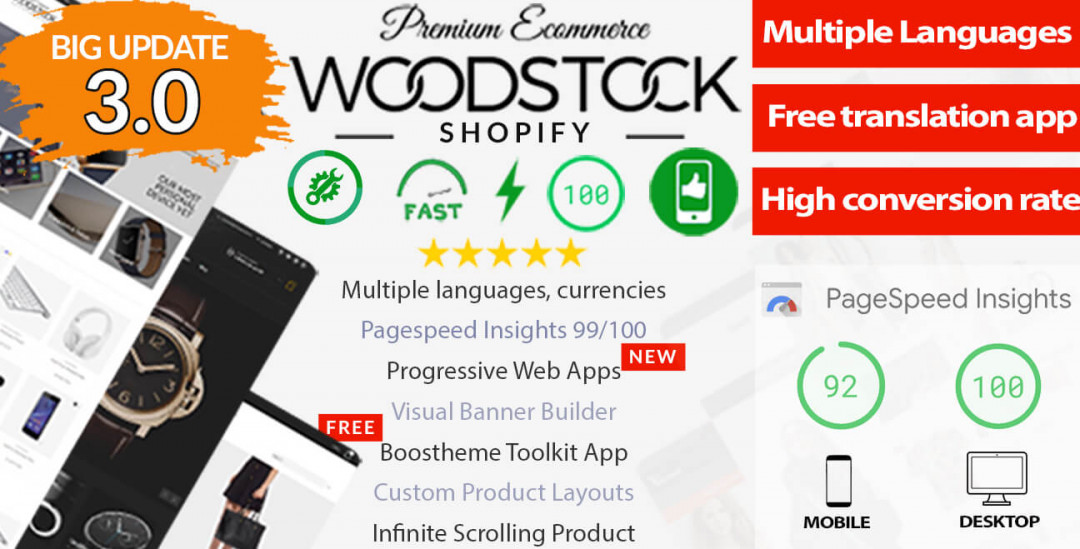 This is a modern, fully responsive, retina-ready Shopify theme that is one of the best themes if you're a new business. It has been tested not just on Shopify stores, but there is also a version on WooCommerce stores. Therefore, this one of the most tested stores and there is plenty of experience behind its development that can confirm the success you can have with this theme.
There are 12 home page styles that you're able to choose from, so you can design your website with just the right branding for your site. And because the theme has been designed with the Boostheme.com team, you can be sure that the website is fast and has the potential to rank highly on Google and other search engines.
The theme has lots of features that have been embedded within the code. Therefore, you can save money by not paying for subscriptions you don't need. It can also help you speed your website up as more apps will equal to more code and a slower website. Some of the features included within the theme are product sliders and mega menus.
Woodstock – Electronics Shopify Sections Theme Highlights:
This is a fully responsive theme that has a great potential for a Shopify computer store.
Can be viewed perfectly on any device.
Optimized for Google and other search engines for improved ranking potential.
Lots of functionality has already been added to the theme for a better experience for you, the website owner.
Final Word: The Top 10 Shopify Computer Store Themes
If you run an online computer store with either a few select products or an extensive catalog, then you need to have one of the best Shopify computer store themes. They will help you to attract visitors and convert them. This can help your business to succeed. Which theme will you use?
Avi Klein
Vast experience in the online world. Shopify Expert, SEO expert, Web developer and consultant to several online companies. Read more about
our approach
to reviewing themes and apps.