12 Best Shopify Contact Form Apps – [2023]
Last modified: October 26, 2023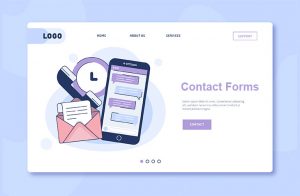 #
Image
Name

Get a Free Custom Shopify Store
1

Powerful Contact Form Builder

2

Sticky Floating Contact Form

3

Easy Contact Form

4

Improved Contact Form

5

Free Contact Form

6

Form Builder | Mailchimp Forms

7

Contact Us Form with Captcha

8

Form Builder ‑ Contact Form

9

Contact Us Form ‑ Contact Form

10

Form Builder with File Upload Highlights

11

Easy Contact Form Builder

12

Contact Form ‑ Contact Us Form

Show More
When you have a website that sells products or services, you're going to have loads of people who will want to ask questions. While many will be happy to speak to you using live chat, or to look through FAQs to get their answers, others will just want to email you. That is why all websites should have a contact page with a form to help customers get in touch. With Shopify, you'll need one of the many Shopify contact form apps to help make this happen.
What Do The Shopify Contact Form Apps Do?
Simply put, Shopify contact form apps add a form to a page, of your choice, where the user can write a message with contact details and then send this to the store owner. At your end, you'll receive messages in your email inbox with contact details.
All the best Shopify contact form apps should allow you to design the form to your needs. You might want to add requests for more information, such as order numbers or products they're speaking about. This can be vital in servicing your customers more efficiently.
There are some problems with contact forms in that you can get spam. For this, there are ways you can protect your inbox. Some Shopify contact form apps include this but at other times you might need to have a security app installed on your store.
Contact forms can really help your business grow. Research has shown that a contact form can be part of your lead generation and many businesses see a 10% growth in sales within 6-9 months of adding a contact form to their website. To convert more of their leads on a website, brands should use about five fields. This is the optimal amount according to studies.
While it varies depending on the industry, the average conversion of an online form is about 21.5%. Using a multi-step form can increase conversions by 300%.

Key Takeaways
1
Shopify contact form apps facilitate customer communication via email.
2
These apps allow customization to gather specific information like order numbers.
3
Contact forms can boost sales, with a potential 10% growth in 6-9 months.
Best Shopify Contact Form Apps – Here's Our List:
Filter between free and paid
Powerful Contact Form Builder

Without the knowledge of coding, you can build a contact form that will collect data, queries and more from your audience. This app doesn't create a contact us page or specifically adds the form to a specific location. Instead, you create a form and have a shortcode to enter anywhere into your website.
Building your form is easy. It uses a drag-and-drop function that is like many page builders. The finished form can have any font and you can add as many input fields as required. The form can be added to any part of your website just by adding the shortcode provided. Once on a page, it will be fully responsive, so can be viewed on any device/screen resolution.
There are lots of options with this app. You can tell the app where to send an email with all the form data to speed up serving customers. You can also create an email that is send to the person entering the data or just develop a 'Thank You' page for sending a message to you.
However, this is all optional as all data submitted is stored in the backend of your website. You can export this data with a CSV file.
Powerful Contact Form Builder Highlights:
Collect emails from your customers when they submit information.
Collect lots of information about where they were on your site before sending you a message.
Build a form using a drag-and-drop builder.
Place the contact form anywhere on your site with the help of a shortcode.
Sticky Floating Contact Form
Most contact form apps place the contact form on a specific page or static location on number pages (like right margin). However, this app allows you to increase sales and capture more leads by having the contact form available at all times. The contact form floats on the screen, this can be located on the bottom, left or right of the screen. This means that when the customer has a question, they can simply fill out the form right where they are and not need to find the contact form.
You can also customize the contact form with different background colors, fonts, the size of the contact form and many other options. You can add custom fields, which can include numerous different data entry options including text, numbers, dropdown, dates, etc..
For those working with people inside the EU, you can add a GDPR consent checkbox to your form. This means that the visitor can agree to terms and conditions before they submit data through the contact form. You can also track the URL from where the message was sent. And the app supports Google Analytics.
You can also give control to your audience. If they don't want to see the floating contact form, they can minimize it.
Sticky Floating Contact Form Highlights:
Contact form always available to customers.
Is GDPR compliant.
Can add custom fields.
Customization options for you.
Easy Contact Form

This responsive contact form is embedded directly into your store. It allows visitors to your website to quickly, easily and securely contact you. You can add fields and mark them as required or optional with ease.
To make the contact form look aesthetically pleasing, you can add a beautiful background image. This can impress customers and it can also help you to establish brand presence throughout your website. You can also add custom fields and departments and add auto-responders to make sure customers know that you've got their message and will be dealing with their enquiry.
You can use templates, included with the app, to create some forms that allow you to collect reviews and feedback. And you can be sure that the app won't slow down your website, the form will load asynchronously and it's mobile friendly.
Easy Contact Form Highlights:
Use templates to create stunning contact forms.
Mobile friendly, so will display well on any device plus it won't slow down your website.
Add custom fields.
Easy to install and use, no coding knowledge required.
Improved Contact Form

This app is full of great features. The core of the app is free, but there are some premium features which can only be accessed via the dashboard when you install the app. Once installed, you can have a contact us page with a working, optimized contact form and you can also have a popup form for your shop.
The app allows you to add a contact us button in the corner of each page on your site and this becomes an inpage contact form when clicked. You can customize the fields you want submitted and there is built-in spam protection for your website that will keep annoying spam bots from flooding your inbox with unhelpful messages.
The app is fully optimized for mobiles, so it won't slow down your website and will help with ranking.
The smart contact form can allow you to see lots of information about those who use your contact form. For instance, they will give you the submitter's location, IP address, how they discovered your site and what pages they viewed before contacting you.
Improved Contact Form Highlights:
A free app that allows you to have a contact form and popup.
See more information about the sender so you can deal with their query better.
Optimized for mobile devices.
Secured against spam bots.
Free Contact Form

This offer allows you to have all the fundamental tools to quickly setup a contact form. There's no coding or developer needed. The form builder is intuitive and really easy to use. You can use advanced fields, including Dropdown lists, multiple choices and checkboxes. This enables you to not just build contact forms, but also feedback and booking forms.
There are a lot of style options available for your contact form, so you can really design your site's contact form to match your brand's style. You can change the contact form to make it embedded on a page, a popup or a bubble. Likewise, you can change it so it will only display on certain pages or display on certain user behaviors.
To make the most out of your site and the contact forms, there are analytics that can tell you which are performing better. Therefore, you can find ways to improve conversions, sales and more with this app.
There is a premium option available for this app, the free is good enough for most store owners.
Free Contact Form Highlights:
Can use the free version to keep costs down.
Analyze which contact forms make the most impact on your site.
Develop sophisticated contact forms.
Use your contact forms in many different ways.
Form Builder | Mailchimp Forms

This app doesn't just allow you to build a contact form without any coding knowledge or developer help. The form can then be added onto your site. What makes this app really useful is that you can add those who send you a message to your MailChimp mailing list to use later in email marketing campaigns. With just a few clicks, this can be easily implemented and you can be on your way to better sales.
You can also sync the app with Google Sheets to record data on who is sending you contact requests and what they're saying. This can really save you time. Every time that someone sends you a message, you can have an automatic email notification sent to you.
When building your contact form, you can collect files (great for customer service) and develop your autoresponder email sequence to save on time. This app is also great for revenue generation. You can collect PayPal and Stripe payments.
You can create very sophisticated contact forms using this app. You can split up a form into multiple steps and add Captchas to make your contact form and protect you from spam. You can also protect against spam by using features such as limiting the number of uses of the contact form per user.
Form Builder | Mailchimp Forms Highlights:
Build your MailChimp marketing list and accept payments via PayPal and Stripe.
Protect your contact form against spam.
Sync your data with Google sheets for keeping data.
Split contact forms into several steps for better collection of data.
Contact Us Form with Captcha

This app allows you to develop a simple contact form within just a few minutes and with no coding knowledge. This app does have a pro version, which is paid, but this app is free and is all you need. The app won't slow down your website and is secured with the help of Ajax and HTML5 technology. You can add security to your app with the help of Google Captcha.
The contact form will be fully responsive and therefore perfect on mobiles and other devices. Once the contact request has been sent, you can deliver a thank you message to the sender. This can be customised in the dashboard.
You can also customize your form header with images, custom formatting and more. You can also customize the contact form with Advanced CSS. This app can support any language.
All submission data is kept by the app, so you don't lose it. If you need to find a past submission, you can search past contacts to find messages.
Contact Us Form with Captcha Highlights:
Create a contact, feedback or booking form with ease.
Secured against spam with latest technology.
All data stored for easy retrieval.
Collect online payments with Stripe or PayPal.
Form Builder ‑ Contact Form

You can create lots of different contact forms with this app. You can include numerous fields and elements within the forms thanks to the versatility of this app. For instance, you can create contact, feedback, surveys, booking forms, job applications and more. These can include text fields, select data, dropdown options etc.. Therefore, the final form you build can be anything you need.
The look of your form can be customized as well to suite your needs. You can adjust the size of the contact form and how it appears on your site having it static on a page or floating, moving as your visitors move across your page. You can also change the color, text, background images and more in the design of the form. The end result is a seamless integration of the form with your website.
Form Builder ‑ Contact Form Highlights:
Send data to a specific email address so immediate customer service can be rendered.
Versatile app for building your contact form.
Secure your contact form against bots with reCaptcha.
Show a thank you message or redirect the visitor to a specific page once the user has submitted a response in the form.
Contact Us Form ‑ Contact Form

Impress customers with this form builder. You can use this simple form to build a contact form that will create a contact us page and a popup for your shop. It doesn't edit your theme and it is versatile that it will seamlessly integrate with your store. The contact form can be previewed in the backend, so you can see what the form will look like to your customers before you make it go live.
The app can also be used to request customer reviews and feedback. And it is secured from spam bots with Ajax and HTML5 technology.
Contact Us Form ‑ Contact Form Highlights:
Secure your site from bots.
Customize the look of your contact form.
Easy-to-use app.
Low-cost app.
Form Builder with File Upload Highlights

With this app, you can create forms on your website to increase business by getting potential customers to fill in submission forms on your website. You can customize the forms so they fit into your brand such as color, layout and font etc. There are different options for your fields such as dropdowns, multiple choice etc.
Form Builder with File Upload is SEO friendly and will help you collect email addresses to increase your sales. You will also get notified of each form submission and get weekly or monthly reports.
Form Builder with File Upload Highlights
Lots of options for font, layout etc.
Create lots of different forms.
Track where customers come from.
An annual plan that comes with 2 months free!
Easy Contact Form Builder

One of the top free apps available on Shopify, this app can help you add a contact now or contact form to your website with ease. The form can be displayed in numerous formats including popup, bubble or embedded. You can also set any button in your theme to trigger contact forms.
There are lots of uses for this theme. You can use it to build basic fields, get customers to upload files, add multiple choice and more.
When customers have sent over a form, you can manage their data more efficiently. Therefore, you can improve your CRM database and also improves sales. All data can also be imported into MailChimp.
Easy Contact Form Builder Highlights:
Easy to use app that allows you to add contact forms to anywhere on your website.
Add data straight to your website's MailChimp account.
Improve sales with ease.
Lots of customization options for your contact form.
Contact Form ‑ Contact Us Form -
Inactive

This easy-to-use Shopify contact form app allows you to create a form for many different operations on your site including: contact, feedback, booking and more. You don't need any experience in coding, there is a simple interface that allows you to design and publish the contact form in minutes. No need to hire a developer either.
The app allows you to create the forms in the back end and see the results in a preview of the form before publishing online. You can add custom fields which can include numerous types of data (text, numbers, dropdown, radio button, date, checkbox, etc.) and you can add a department field to organize the emails better. You can also allow for file attachments.
There are 99 customizable font styles you can implement within the design and you can place the contact form in four different positions on a screen.
What makes this app really good is that it is secure. There is anti-spam technology using Google reCaptcha and the data sent through the contact form is secure thanks to Ajax and HTML5 technology.
Contact Form ‑ Contact Us Form Highlights:
Secure contact form that allows customers to send messages to you.
Can be used for numerous purposes including booking meetings, feedback and a simple contact form.
Optimized for mobile use.
Can reposition in four locations on the screen.
Top Qualities of Effective Shopify Contact Form Apps
Intuitive User Interface
A top-quality contact form app should offer an intuitive user interface. This ensures that store owners can easily set up and customize their forms without any technical hurdles.
Spam Prevention Features
Spam can be a significant issue for online stores. Effective contact form apps incorporate features like CAPTCHA or reCAPTCHA to filter out automated spam submissions, ensuring only genuine customer queries get through.
Responsive Design
With a majority of users accessing websites via mobile devices, it's crucial for contact forms to be mobile-responsive. This ensures that the form looks and functions well, regardless of the device being used.
Data Collection and Management
Collecting customer data is only half the battle. Effective apps offer features that allow for easy management, storage, and export of this data, facilitating better customer relationship management.
Why Every Shopify Store Needs a Contact Form
Enhancing Customer Communication
Contact forms bridge the gap between store owners and customers. A well-structured contact form ensures that customers can easily reach out, enhancing their overall shopping experience.
Building Trust with Shoppers
A visible contact form can instill confidence in shoppers. If they know they can easily reach out with queries or concerns, they're more likely to trust the store and make a purchase.
Overcoming Limitations of Default Forms
While Shopify themes often come with built-in contact forms, they can be basic. Leveraging specialized apps can provide more advanced features, ensuring that the contact form meets all the store's needs.
Setting Up and Optimizing Your Contact Form
Easy Setup Process
Adding a contact page on Shopify is straightforward. Navigate to Online Store > Pages in your dashboard, then click "Add page". Name your page and select "contact" from the Theme template field.
Choosing the Right App
Several apps can help create an attractive contact page. When selecting an app, consider factors like ratings, reviews, and specific features that align with your store's needs.
Customizing for Better Engagement
Customization is key. Whether it's adjusting the form's colors and fonts or adding specific fields, a tailored contact form can enhance user engagement and ensure you receive the information you need.
Conclusion: Top 12 Shopify Contact Form Apps
Make sure that you have one of the best Shopify contact form apps that will allow you to service your customers best. At the same time, protect yourself from spam with the right app. The above ten all have features that make them excellent choices, the decision on which you use is up to you. Which will you install?
FAQs
Are there any monthly limits on the number of submissions I can receive with contact form apps?

It depends on the app. Some apps may have submission limits based on the plan you choose, while others offer unlimited submissions.

Can I set up automated responses for submissions received through the contact form?

Yes, many apps allow you to set up automated email responses, ensuring customers receive immediate acknowledgment of their queries.

How do I handle spam submissions on my contact form?

Some contact form apps come with built-in spam protection. Additionally, you can integrate CAPTCHA or other security measures to prevent spam.
Avi Klein
Vast experience in the online world. Shopify Expert, SEO expert, Web developer and consultant to several online companies. Read more about
our approach
to reviewing themes and apps.