Which are the 12 Shopify Feedback Apps? – [2023]
Last modified: April 23, 2023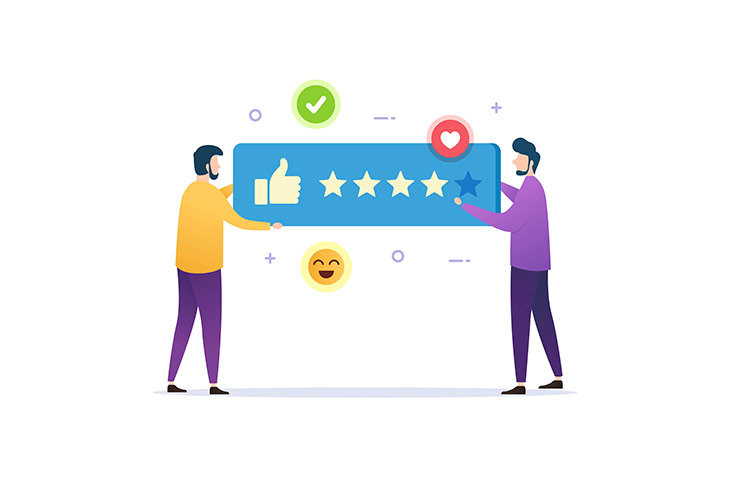 Feedback is a very important part of running a business. Without it you can't make improvements to your website, business operations, products and more that can help you improve store conversions. To help you collect feedback, you can use some of the many Shopify feedback apps available.
What Can Shopify Feedback Apps Do?
Shopify feedback apps can work in numerous ways. They can ask the customer for some feedback in a popup. This can be displayed after the customer has made a transaction on your website, has visited a specific page or is about to exit.
Alternatively, you can have feedback collected via emails/SMS sent from an app to your customers. This can include an inbuilt survey that asks the customers for their thoughts or directs them to an online survey.
Some feedback apps will offer customers a reward for giving their opinions. This can be a great way to encourage engagement with audiences and improve the quality and volume of feedback you get. The more feedback you collect, the greater the accuracy of your findings and this can lead to better business decisions.
The choice of what style you have is up to you. And the choice depends on several factors, including how you want to interact with your customers. You should also make sure that your Shopify feedback app is GDPR compliant, as you'll be handling customer information, this is a vital component.
Feedback apps are perfect for improving sales. A good set of reviews can increase sales. About 93% of customers will want to read reviews before making a purchase. This isn't just about reviews of products either, customers want to know what delivery is like, your customer service and even how you process refunds. Reviews detailing this information can make a significant difference to your sales.
You might also be interested to know that a solid five-star rating isn't always the best. Customers find this fake. So they're looking to buy from companies that have a 4.5 star rating, rather than 5 star.
So, what are the top Shopify Feedback apps available? Here's our list of the 10 top choices.
#
Image
Name

Get a Free Custom Shopify Store
1

Popup

2

Free NPS Survey Feedback Poll

3

Survey & Poll | Feedback Forms

4

Reputon Customer Reviews App

5

Free Product Review with Photo

6

VITALS | 40+ apps in one

7

Feedback Rebates

8

Checkout Comments

9

Zigpoll ‑ Survey & Form Popup

10

Okendo: Product Reviews & UGC

11

Testimonial Master

12

Tok Reviews - TikTok Reviews

Show More
Filter between free and paid
Popup
This app isn't the most versatile Shopify app. However, it does have some wonderful features that make it a great choice when you're looking to collect feedback or want to host an exit-intent popup. The setup for the app is really simple. Just install the app, design a popup and place the code on the page you want the popup to display on. There are numerous messages that can be added to any popup, including collecting feedback.
You can also have the popup display on your website with different behaviors. For instance, you can have a popup activate as soon as a customer lands on a specific page. This can include landing on a custom thank you page, which would be a great place to promote a feedback form for those who've just made a purchase.
You can hide the 'close' button on the popups. This encourages more visitors to engage with your popup. You can also support any language, so if you're running a multilingual website, then you can use this app without any issues.
Popup Highlights:
An easy to use popup app for your Shopify store that can collect feedback from your website visitors.
The popup designs are responsive, so they can be displayed and activated on any device.
Choose your popup to activate on any page on your website, customizing the popup to the specific need of that page.
Collect visitor emails with a popup that can display based on numerous behaviors on your site, including exit-intent or landing on a specific page.
Free NPS Survey Feedback Poll

This app allows you to get feedback from customers by asking them to complete a survey immediately after they've made a purchase on your website. This information can be used then to improve the customers' experience on your website. This can help you maximize conversions and improve revenues for your store.
The app allows you to customize your survey questions. Or you can use default ones that are listed on the app. You can then log all results from the survey on your website or export the feedback for analysis later.
Surveys are branded with your own branding, therefore, the customer doesn't see any of the app's imagery or information. And when you get a survey you will get an email notification. For help there's also a database of information, tips and help for you to maximize the results of your website.
This app is also fully compliant with GDPR regulations, keeping you protected and reassuring audiences that their data is safe.
Free NPS Survey Feedback Poll Highlights:
Get customers to complete a survey as soon as they've completed a transaction.
Track the results of surveys so you can see how customers feel about you in real-time.
Export survey results to share with co-workers.
Brand the surveys and customize them to exactly how you want them to be.
Survey & Poll | Feedback Forms
Collect the information you need to get better results in the future with this app that allows you to add a survey or a poll to anywhere you like on your Shopify store. Or you can send them the request for the survey in an email, that allows you to ask a question about their experience on your store and whether they like your product. This app also allows you to add a feedback form through the Shopify POS to ask customers who are interacting face-to-face at your physical stores about their experiences.
All surveys or polls can be edited using the powerful POWR editor. Any survey question can have several different formats. You can have dropdown, multiple choice, checkboxes, optional input, required input and more. When the data has been collected by your team or on your website, you can then have the information collected within the inbuilt dashboard and the reports that can be exported for ease of reading or to be shared with others in your company.
To help you see the results of the survey, when you get started you might want to see the results as they come in. This app allows you to set up numerous email addresses to receive a notification of a new entry.
Survey & Poll | Feedback Forms Highlights:
You can limit submissions for your surveys and polls so users can only complete them once.
Get notifications when a customer completes a feedback form.
Send automatic follow-up emails and autoresponders to customers who've completed a survey.
Can hide/show questions depending on previous survey or poll responses.
Reputon Customer Reviews App

Customers like to know the reputation of your store before they make a purchasing decision. If you have a bad reputation online, or worse, no reputation, then you can lose trust and custom with your audience. That is why you need to have an app like this one that can help you get the reviews to all the major review sites.
This app will send customers a survey to their email once they've received a product from you. If the customer is compliant, you can then redirect them to a review site of your choosing. This can include all the top review pages such as Yelp, Google reviews, Trust Pilot, Facebook, Feefo and more. You can send customers to several review sites and choose which are the most important for your brand.
If customers have indicated that they've been unhappy with the service they've got from you, they can be directed to contact you directly. Therefore, they can be offered better customer service and your reputation can be saved.
The app has several features to make it more effective. For example, all emails can be designed, have trigger conditions setup and automated to your specific needs. And you can add numerous review sites that the customer can be sent to.
Reputon Customer Reviews App Highlights:
Improve your reputation on all the major review sites across the internet.
Avoid bad reviews by redirecting these customers to communicate directly with you.
Automate the entire feedback collection process.
Signal which review sites you want to prioritize.
Free Product Review with Photo
This app allows you to collect social proof and build trust with your audience by collecting the opinions and feedback from other customers. This app works by asking customers what they thought of your products and then this can be added to your product pages to showcase the professionalism of your brand and the quality of the product.
This app allows you to import reviews of the products for free and you can also add an unlimited number of product reviews, free of charge. Reviews can be text based or image reviews. Photo reviews can be really effective at showcasing exactly how customers feel about your website.
You can also list all the authentic reviews on one page, to improve your word-of-mouth marketing success. All images submitted by customers can be auto-rotated so that the pictures look like they should.
Free Product Review with Photo Highlights:
Collect text and image reviews for your products via email.
A free app, helps you to keep the cost down of your website.
Images can be auto-rotated for better display.
Add reviews into rich snippets.
VITALS | 40+ apps in one
Vitals is a collection of more than 40 apps that can help you take your website to the next level. One of the important aspects is that it is a review app. It can collect reviews directly from customers after they've bought a product from you. Or you can import reviews directly from AliExpress, perfect for those dropshipping and looking to get a site that looks active and busy already.
The app has lots of other features as well that can really help you. For instance there are live chat features, a 'frequently bought together' function and a wheel of fortune to help with gamification and keeping customers on your site.
The SEO features of Vitals is also great. You can get your site to rank highly thanks to the many features of this app collection.
Vitals Highlights:
More than 40 functions included within one app collection helping you to build a better website.
Offer discount, freebies and other stuff to engage customers.
Use Facebook live chat to talk directly to customers and improve customer service.
Collect, import and display reviews to tell visitors how great your products are.
Feedback Rebates
When it comes to review collection, you can use the lure of a partial refund to collect more reviews faster. This app works by sending the customer an email after they've made a purchase offering them a partial refund if they click on a link. The link can have a deadline which, if passed, exempts the customer from receiving the discount.
The app works really well and can help to increase sales and create reviews for your site. It also acts as a trust indicator for your website. All reviews can be displayed on your product and collection pages.
The developers for this website have stated that none of their customers have ever spent a penny over the rebate offers. So, as long as you have the right price for your products, you can really make a lot of profit with this app. And not all customers accept the rebate either.
Feedback Rebates Highlights:
Sends customers an email that allows them to collect a rebate if they leave a review.
Set an expiry date for the email.
Reviews can be displayed on your product and collection pages.
Can collect all reviews onto one page.
Checkout Comments

This app allows you to add an input field for comments next to each product that the customer has purchased. This allows you to increase conversions on your website by having real reviews next to your 'Add To Cart' button. The review request will also be included within the confirmation email sent out to customers.
This app helps you to identify where your brand is performing better than competitors or where there is room for improvement. It can also help you to perfect your product descriptions with ease by matching what the customer has thought about a product against reality and the product description. If a customer thought a dress was going to be darker, for instance, perhaps the product description needs a slight change.
The app is super fast, so the experience for customers won't be changed due to the use of the app.
Checkout Comments Highlights:
Build a catalog of reviews by having customers review products as soon as they've bought them.
A free app that helps you to keep costs low.
Moderate all reviews before they're published on your website.
Request for review can be seen on the order confirmation page as well as within the confirmation email.
Zigpoll ‑ Survey & Form Popup

Zigpoll allows you to quickly communicate with customers so you can collect their feedback about your business from products to store design. This allows you to make informed business decisions that can be used to make changes to help you convert more customers.
You can embed the polls and surveys onto any page and the look of the surveys can be customized so they can seamlessly integrated into your website. There are also multiple input types from multiple choice to long text answers. This allows you to collect all kinds of data for your research.
When a poll is completed, the information can immediately be seen.
Zigpoll ‑ Survey & Form Popup Highlights:
Numerous input types that can be used on your website's surveys.
Add surveys to any page.
Information immediately available.
The look of the survey can be customized with ease.
Okendo: Product Reviews & UGC
Built specifically for high-traffic and performance Shopify eCommerce stores, this app allows you to capture and showcase reviews and feedback from customers. It has lots of features that help you improve your social proof including photo/video reviews, Q&A sections and more.
The app allows you to send review requests via email and display any reviews on your website. These can be placed at strategic places throughout the website to help improve conversion rates.
Okendo: Product Reviews & UGC Highlights:
Built for sites with lots of traffic.
Can host photo and video reviews for your website.
Add review content anywhere on your website to help with sales.
Easy to use and displays perfectly on your website.
Testimonial Master
The testimonials on your website are vital. They help you to build trust with your audience and can help you to improve the average order value that is made on your website. The app is great for showcasing your website's reviews to new customers.
There are numerous sliders, layouts and color themes. You can also upload images to showcase your testimonials in a new way.
It takes just one click to install the app. After this, it takes just 30 seconds to set up. Detailed customization takes about 2-3 minutes.
Testimonials Master Highlights:
Installs in just a couple of minutes.
Displays your reviews to build trust.
Improve your AOV.
Add more value to your website and improve ranking.
Tok Reviews - TikTok Reviews
TikTok is a popular social media platform that can be useful for business. Short films are becoming more and more popular. You can showcase your products on TikTok and then use  Tok reviews to allow customers to review your products on TikTok.
Having lots of reviews of your products can improve trust and increase revenues. If your customers leave reviews as a TikTok video then they will spread awareness of your brand. You can use this app to send your customers requests for TikTok reviews following their purchase.
This app is easy to install and there is a customer service team to help you should you need it.
Tok Reviews ‑ TikTok Reviews Highlights
Add TikTok reviews of your products.
Limited offer of 'free forever'.
Language options.
Compatible with all Shopify themes.
Final Word: Top 10 Shopify Feedback Apps
Feedback is an important part of building your website and brand. Use these Shopify Feedback apps to collect feedback, reviews and more for your store to improve your success and grow your brand. Which of the apps will you choose to install? Let us know in the comments.
Avi Klein
Vast experience in the online world. SEO expert, Web developer and consultant to several online companies.
Read more...
. Read more about
our approach
to reviewing themes and plugins.