Top 10 Shopify Flash Sale Apps – [2023]
Last modified: April 1, 2023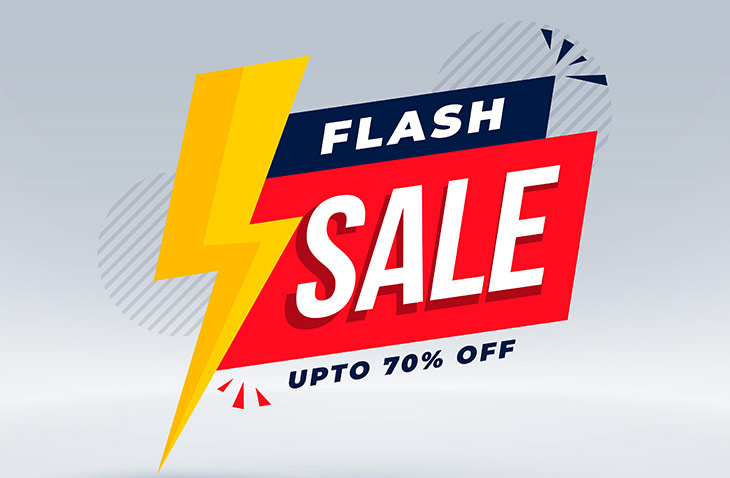 One of the most successful ways to generate revenue for your brand is to host flash sales. Flash sales are when you have a promotion for a product for a limited amount of time and often for only a few customers. This often also results in promotions that are bigger than standard promotions. Many industries have flash sales, but it is very typical with digital media like software. Flash sales can be very successful because it encourages impulse buying. On Shopify, to host a successful promotion, you're best having one of the many Shopify flash sale apps?
What Can Shopify Flash Sale Apps Offer Your Business?
There are numerous advantages of using one of the Shopify flash sale apps on your store. First of all, it can help to create urgency and promote the campaign. At the same time, it can create a better, more defined purchasing path for customers that is particular useful for brands.
There are many different types of Shopify flash sale apps that are available for your business. You can have apps that can create bulk changes to prices and reset them after a specific period. Or you can have countdown timers that highlight the limited amount of time that customers have for the sale.
Finally, there are push notification apps that can inform subscribed members of your community that a sale is taking place. This can also be done through email marketing. In fact, if you want, you can actually compare several of these apps together to create a complete flash sale campaign that is almost guaranteed to build some revenue for you.
All these apps work with all themes, including Impulse and others.
So, what are the top Shopify flash sale apps? Here is our list of our favorites.
#
Image
Name

Get a Free Custom Shopify Store
1

PE (Discount & Price Editor)

2

Bulk Discount & Sales Manager

3

BD (Bulk Discount Manager)

4

Announcement Bar + Web Push

5

Sales Countdown Timer Bar 2.0

6

Promotion & Free Shipping Bar

7

Ultimate Sales Boost

8

Daily Deals: Flash Sales Tools

9

Disco: Flash Sales & Urgency

10

Droparoo Flash Sale

Show More
Filter between free and paid
PE (Discount & Price Editor)

This app allows you to save time when adjusting prices/discounts for flash sales on your store. You can set price/discount levels on individual products/collections with ease or apply them to the entire store for a store-wide sale. This can be done in minutes and you can do via a percentage amount of a set value. Do help you manage sales, there are different operations to change the product prices (add, subtract, divide or multiple). To check pricing levels of a specific product, you can use the easy to use search bar.
The app makes it simple to run flash sales. You can set a certain period of time when discounts are applied with a click of a button and then reset the prices back automatically to their original level when the sale period is up.
Install the app onto your store will be simple. You don't need to know any coding or have much technical skill.
PE (Discount & Price Editor) Highlights:
You can add discounts to your entire store, or a select a specific collection/product for the flash sale.
Reset prices at the end of a specific period automatically.
Installation is really simple, you don't need to know any coding or have technical skills.
Free plan available, but there is also a premium version.
Bulk Discount & Sales Manager

This app will allow you a professional and time-saving way to manage discounts across your store and help improve conversions. You can manage prices for any upcoming sale with just a few clicks, changing the discount available for anything from a single product to an entire catalog with just a few clicks. You can also add sales badges to products to make the offers on the products more obvious. Sales badges can be created easily with the app.
All sales can have a specific start and end date added to them. This allows you to tie in discounts and flash sales to holidays, etc.. And to help with management of prices, you can round the sale prices to the nearest denomination. And when the sale is over, the prices will revert to the correct level automatically.
Sales can be based on a specific amount or as a percentage of the product's price. There are also functions that allow you to set lots of different rules for your discounts, so customers can't take advantage of your good nature and make selling unprofitable for you.
The app is easy to install and you don't need the skills of a developer to add it to your website.
Bulk Discount & Sales Manager Highlights:
Apply your product discounts across your entire store with just a few clicks.
Can reset discounts to the presale levels.
Sequence the importance of sale prices so customer gets the best deal without leaving you short of profit.
Set the discount for a specific sale period, great for flash sales.
BD (Bulk Discount Manager)

This app allows you to offer storewide discounts to your catalog within just a few seconds. This can help customers save money, improve conversions and introduce new audiences to your store. The app helps with setting specific rules into your system and apply them at once to a range of specific products, entire collections, or to the whole catalog on the store. This is great for a special holiday sales or flash sales.
When the sale has been completed, the prices can be reset to their original levels. There is no manual step to do this, this is all automatic for you. And you can also schedule in the start of sales to make it easier for you.
All discounts on your store can be set as a fixed amount of a discount. You can also enable/disable rules as you need them with a simple click.
BD (Bulk Discount Manager) Highlights:
Manage sales on your website without much trouble at all.
One click and discounts can be applied across your store or to specific products.
Reset pricing at the end of a sale without having to touch a button.
No technical or coding skills required.
Announcement Bar + Web Push

This app is an announcement bar and web notification app all in one. Therefore, customers can signup to notifications from your store and then when you list a flash sale on your store, everyone who subscribed will be informed. They will also be given a link that will take them to your store. By alerting customers of the flash sale you can almost guarantee that there will be a higher uptake of your offers and you will see an increase in sales, without too much effort on your part.
There is also an announcement bar and timer section of this app. This allows visitors to your site to see important information within seconds of landing on your website. You can create urgency with the timer function that can tell the customer how long is left until the flash sale ends. The app can also be used to create a cookie notification bar.
Announcement Bar + Web Push Highlights:
Improve the number of customers who return to your store with push notifications.
Advertise your use of cookies that help you comply with GDPR rules.
Alert customers to the start and end of flash sales. In addition, advertise other events on your store.
Showcase the important information in the announcement bar as soon as the customer lands on your website.
Sales Countdown Timer Bar 2.0

This app improves the urgency felt by the customer by displaying how long there is left for a flash sale. Whether you hold a flash sale for one hour or three days, you can have a countdown timer at the top of your website. The countdown timer can be scheduled for when you want it, or you can have it fixed to appear at certain times every week with certain start and end dates.
To engage audiences on your website, you can have custom messages added to the countdown timer. This can include what is currently available in the flash sale and what discount they can claim. You can also locate the banner anywhere on your website. This includes in the header, as a button countdown bar or as a widget on your page. It is very simple to do.
When the timer runs out, the timer can be restarted automatically. But this is best used when you have set delivery dispatch times, not for flash sale notifications as it could harm trust with audiences.
The bar is very easy to customize and there are lots of options. You can change the size, color, text and more. You have complete control with the appearance and the bar is completely compatible with any theme and all devices/screen resolutions.
Sales Countdown Timer Bar 2.0 Highlights:
Increase the sense of urgency and build FOMO with customers by adding a countdown timer on your website.
Use for flash sales to build a strong uptake.
Timer can be set for each individual guest to the website.
Is compatible with every Shopify theme and is responsive to mobile devices.
Promotion & Free Shipping Bar
This app is often used for highlighting free shipping. However, it can also be used as a promotion bar at the top of your site. This will alert customers to the current flash sale that you're running on the store. This can help improve average order values and site conversions. It can also direct customers to the relevant pages.
In addition, you can use the free shipping element to build cart values by setting a specific minimum order the customer has to have to qualify for free shipping. As they add items to their cart, the bar fills up. The customer will be notified as soon as they qualify.
The app is easy to install and setup on your Shopify site. The settings can be customized for ease. You can match the bar to your brand colors and fonts within seconds. And there is no need to have any developer or coding skills yourself.
Promotion & Free Shipping Bar Highlights:
Promote flash sales with ease using this bar app.
Match the appearance of the bar with your branding.
Has several functions to make it a very versatile app.
A free app, so keeps the costs of running your store low.
Ultimate Sales Boost

This app is designed to help you improve conversions on your website with great effect. There is a perfect Shopify countdown timer that allows you to point out the number of hours or minutes that are left until the end of the sale. Therefore, regardless of the niche you're in: whether you're selling technology or fashion items, this app can be useful.
The countdown timer can be added in numerous places across your store. This includes the homepage, collections page, product descriptions and other areas. This addition increases urgency and improves conversions. You can also add featured products (like those in the flash sale) onto your home page, text images labels on any page and add sales stickers to products that are on offer.
You can also add trust badges and seals to your website to increase confidence in your brand.
Ultimate Sales Boost Highlights:
Inform customers of the length of time left for a specific flash sale.
Don't lose sales by building trust between you and the customers on your website.
Set expectations with a get it by timer on all product pages.
Upsell to generate more revenue for your business with a BOGO system.
Daily Deals: Flash Sales Tools

Daily Deals allows you to use a set of features that help you to increase your sales, order values and customer lifetime values by having flash sales on your website. You can schedule sales that will automatically run for you, lowering the price of the applicable products/collections or the entire store.
You will also have a countdown timer that creates a real sense of FOMO. The app can also help with improving revenues by enticing customers with post purchase offers that can create additional sales for you. The app also helps you collect phone numbers and emails from customers who are on your site. This allows you to send them messages about future flash sales and other marketing information that can help you build your website.
Daily Deals: Flash Sales Tools Highlights:
Create a sense of urgency with countdown timers and limited time for sales.
Build a contact list with phone numbers and emails.
Schedule sales to automate your website.
Send messages to customers about future sales on your store.
Disco: Flash Sales & Urgency

This app allows you to schedule your flash sales ahead of time and automate the whole process. The app allows you to apply discounts to each product in the app at the specific time, so customers don't miss out on the opportunity. And you can announce your flash sales with ease thanks to the header bar and tell customers how long they have left with a neat countdown timer that can be customized for your branding.
Sales can be created that cater for specific collections, vendors, product type, product tag or the entire store. Sales can be a percentage or specified amount off. The app will show the price now and the original price to show the customer how much they're saving.
The app allows you to start a sale within just five minutes and it doesn't require any coding or technical knowledge.
Disco: Flash Sales & Urgency Highlights:
Setup a sale within five minutes without any coding or technical knowledge.
Sales can be based on percentage of specific amount off.
Schedule flash sales for your website within minutes.
Advertise flash sales with notification bars and countdown timers.
Droparoo Flash Sale

This app allows you to create a dedicated sales page and then rotate products that are for sale. Product rotations can be done every 60 minutes, so customers really get a flash sale. You can add products to a queue, to make the whole process automatic and set the price that the products are to be sold at when they're on sale.
You can queue in as many products as you want and as soon as the product sale goes live, the price is set for customers adding their cart. However, when the time is up, the price reverts to the original price. This limited time really does create a sense of urgency and can reduce the amount of time that a customer is on your site.
The app supports foreign currencies, a countdown timer and social sharing functionality. And, if you're struggling with installation, there is free installation available.
Droparoo Flash Sale Highlights:
Have products on a regular queue for flash sales that last for just 60 minutes.
Prices revert to normal when the product is not on sale.
Supports foreign currencies.
Has a countdown timer functionality built into the app.
Final Word: The Top 10 Shopify Flash Sale Apps
Build sales with a flash sale. There are plenty of Shopify flash sale apps that can help you support your sale and improve your revenues. Which of the apps will you install? You could have a few to help you support your next campaign. Want to learn more about customer management? How about managing your customer's passwords.
Avi Klein
Vast experience in the online world. SEO expert, Web developer and consultant to several online companies.
Read more...
. Read more about
our approach
to reviewing themes and plugins.