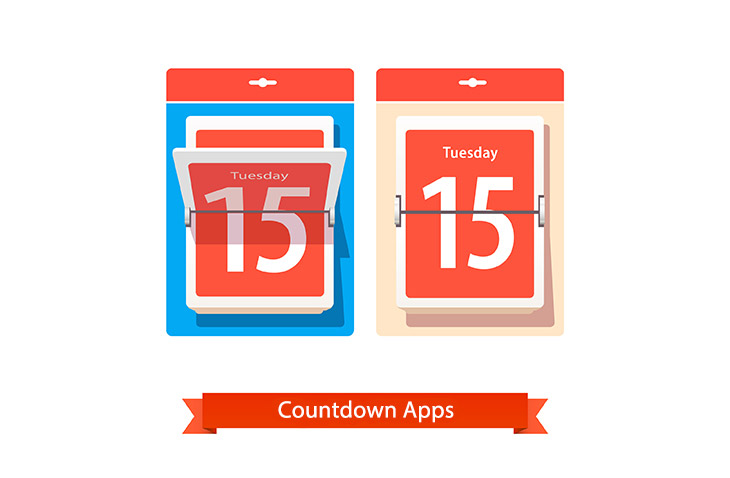 The Top 11 Shopify Countdown Timer Apps
Last modified: November 14, 2019
Countdown timers are a great asset on your website. They create a sense of urgency that can help push conversion on your website. There are many ways that you can use Shopify Countdown timer apps on your website. The main examples are:
To showcase when a website will be active or finish being built.
To tell customers how long they have to pre-order products from your website.
When you have a sale that is going to run for a limited time.
Signal when the next dispatch time is and how long customers have to get their order delivered the next day.
What To Look For In Shopify Countdown Timer Apps
When you're choosing from the many Shopify Countdown timer apps you have to know you've got the functions you want. This means you have to ascertain what you're looking to do with the app. If you're looking for a new website countdown timer you're obviously going to need different functions from those that are there for your store sales.
So here are some of the best Shopify Countdown timer apps for you to consider.
Keep Reading
* This button will show the rest of the post and open up an offer from Shopify
Filter between free and paid
Sales Pop Master ‑ Countdown

This app is a great starter point for those looking to add a cart onto their Shopify store in order to generate more revenue. It helps by creating a sense of urgency on products that are in a sale with a time left to buy them before the discount runs out. This has been proven a number of times to improve conversion rates and is better than relying on exit intent emails.
In addition, this app offers numerous other features to help you increase sales on your website. For instance, there is a quick view mode that allows customers to see products in a popup when the visitor clicks on a product name. Or you can have a stock countdown element to warn customers when there is low stock to increase urgency even more.
There are also social proof elements added to this app. This includes detailing to visitors how many times products have been added to a cart or bought recently. Finally, you can be compliant with all GDPR laws with an aesthetically pleasing GDPR cookie banner that can be closed with a click.
Sales Pop Master – Countdown Highlights:
Give customers due notice of how long they have to claim discounts.
Tell customers when there is low stock and how many items are available for purchase.
Be compliant with all GDPR laws.
Add social proof to improve conversion rates with your website visitors.
Countdown Timer Ultimate

A great and simple app that can help you increase the sales on your website. There are 12 clock designs that can be customized with different colors and fonts. When customers see the ticking clock on your website, it will lead to higher conversions as customers will become concerned that they will miss out on a great deal. This Shopify app allows you to operate the timer for mobile visitors as well, making it a great option.
This app is perfect for small websites that want to also host flash sales, special day sales, seasonal sales, limited time promotions, clearance sales or daily deals. It might also be used for dispatch times.
There is a free and paid version. The free version has lots of the features available, but does have the developer badge on the clock design. To remove this, you have to pay a small monthly fee.
Countdown Timer Ultimate Highlights:
A free version that allows you to have a ticking clock on your website.
Great for numerous types of sales on your website.
Can customize the font and colors of the clock.
Mobile friendly programming, so looks great on all devices and doesn't reduce speed.
Countdown Timer by POWr
POWr offer a lot of different apps, and this is one of the best ones they offer. This app will allow you to display the number years, days, hours and minutes that are left for a special deal or sale event. There is a free version of this app; however, that doesn't allow you to hide any aspect of the timer, so whether you are hosting a sale for a year or a day, the number of years (even if 0) will still display.
In addition to counting down to the end of a sale, you can also build excitement for an upcoming event including a new product launch or end-of-season sale. This can help you to generate a lot more excitement that you would otherwise. In addition, you can add custom text and a button to a counter to offer codes or direct customers to a sales page.
And if you want to use the countdown timer to showcase when the next set of orders is due for dispatch, there is a great feature that allows you to automatically repeat a timer. This means you never have to remember to set a timer up again.
Finally, if you want visitors to have their own timer, for instance, if you offer a discount for customers who checkout within 30 minutes of landing on your site, then you can set a timer for each individual guest. A great way to gamify your website.
Countdown Timer by POWr Highlights:
Show custom messages and buttons to redirect website visitors during and after countdowns.
Timers can run on a website or event basis or for individual guests on your site.
Times can display events that can last years.
A free version is available, but the paid versions are better.
Ultimate Sales Boost
Improve conversions on your website with this great Shopify countdown timer app. The Ultimate Sales boost app has lots to offer eCommerce stores regardless of your niche, whether you're an affiliate marketer, dropshipper or a toy shop, you can use one of the functions within this app to ensure that you are driving sales to maximize revenues and sales.
This app allows you to add a countdown timer in many places on your website, including on the homepage, collections page, product pages and other areas. This increases the urgency and pushes more sales for your brand.
At the same time there are lots of other features that this app provides. For instance, there are featured products on the home page, text image labels on any page and sales sticker images that can be used. You can also use a get-it-by timer on product pages to really improve conversions.
And if you're struggling for trust, there are lots of trust badges and seals that can be showcased on your website.
Ultimate Sales Boost Highlights:
Tell customers how long they have to take advantage of key sales on your website.
Build trust with badges and verification logos that customers know, recognize and feel comfortable using.
Set expectations with a get it by timer on product pages.
Upsell to generate more revenue for your business with a BOGO system.
ULTIMATE Countdown Timer
This simple, and free Shopify app will allow you to have a real-time countdown timer on your website. It will help to improve awareness of sales on your website and increase the urgency to purchase with customers. Therefore, more people will take advantage of special offers, improving website urgency.
No coding is necessary for this app, it is installed easily and within a matter of seconds you can start using it on your website. The look and feel of the app can match your store with just a few customization options.
ULTIMATE Countdown Timer Highlights:
A completely free app, there is no premium option available.
Customize the look of the timer to match your store.
Schedule the start and end dates/times of your timer, so you can start the timer when you're not available and in the future.
Great for all kinds of sales on your website.
Hurrify ‑ Countdown Timer
Add that element of scarcity to your website with this simple to use, but highly effective Shopify countdown timer app. With text above the countdown timer, you can tell customers exactly what you're counting down to. This text has some preset values that can be customized or you can create your own text to entice customers to complete purchases.
There are lots of nice features on this app. There is a great progress bar that has a sold amount instead of the plain custom text. With this option, you can showcase how many units have been sold in your sale. This number automatically increases.
There are two aesthetically pleasing designs to choose from. And the developer has promised that there are more styles being developed.
Hurrify ‑ Countdown Timer Highlights:
Two day trial period so you can see how it works on your website.
Two styles to choose from, see which matches your branding the best.
Custom text to let customers know what the countdown timer is related to.
Developer is adding new designs to the app for extra options.
Countdown Timer Bar by Hextom

This is an easy to install and setup app that will add a sense of urgency for shoppers on your site. The initial setup takes less than a minute and requires no developers at all. There are multiple types of countdown timers that can allow you to match the needs of the campaign to the specific timer you want. For instance, there is a periodic countdown or a daily countdown that is great for delivery or dispatch times.
There are also great timers for sales such as holiday promotions, time limited offers or even product launch events. In addition to these great timers, there are call-to-action buttons in the bar that allow you to take customers directly to the relevant pages, improving the sales funnel on your website.
And if you're global, you can geo-target the countdown based on the visitor's country.
To make this app more relevant to your audience, the app support emojis in the message bars. You can place this message bar anywhere on the website, so it gains maximum visibility.
Countdown Timer Bar by Hextom Highlights:
Customize the timer and the message bar to make it match your branding easily.
Lots of different timers you can use for specific needs.
Use regular timers, so you don't need to schedule in timers every time they need to reset.
Geo-target audiences with specific messages and timers.
Conversion Plus

Conversion plus adds a cart reservation timer on your website that tells a customer how long they have to place their order before they could miss out. You can change the display text and you can define what happens after the timer expires. The app can be modified so the timer can match your theme perfectly, great for branding.
The app can support numerous languages and is optimized for all screen sizes and devices. Great for those who are looking to encourage sales from users from numerous devices.
Conversion Plus Highlights:
A free app that allows you to increase conversions on your website.
Set what happens when the timer runs out.
Works across devices and screen sizes.
Can support numerous languages.
Countdown Timer Bar Ultimate

This Shopify app has a countdown bar that can be used on desktop and mobile. It is easy to install and can be customized by anyone, regardless of the experience they have with developing websites. The global countdown timer helps to create a great sense of urgency on your website.
There is a live preview, so you can see the customization changes you've made on your timer.
Countdown Timer Bar Ultimate Highlights:
Low cost countdown timer that is great for brands with limited budget.
Can be used for lots of different types of sales that can improve conversions.
A global countdown timer that will tell visitors how much time is left.
Lots of customization options, including a configurable button.
Sales Countdown Timer by Revy
The Revy Timer, as the developers like to call this countdown timer, can be used to create great timers for your whole website or just a single product. There are lots of developments that have been added to this product regularly. For instance, it is easy to pick specific products to have a timer for doing product-specific sales. You can also customize text on timers and add lots of different fonts and effects like italic and bold.
This app has been improved so it is super fast. That means your website won't be slowed down by its use.
There are also great features that allow you to set dates when timers should be used. This is great when you're running sales on specific dates/holidays.
Sales Countdown Timer by Revy Highlights:
Create timers for specific products and dates.
Customize the timers for your specific needs.
Super fast, so your website isn't slowed down.
Constantly updated, so there are new features added regularly to improve performance.
Ultimate Scarcity Pro

This scarcity app allows you to not just add a countdown timer, it can also help you to add other elements that will help improve conversions on your website. For instance, you can add real stock levels to show visitors that they should complete a purchase before the product is sold out.
The countdown timers are extremely effective to generate scarcity on a website. There are lots of different styles and templates that you can use on your website for maximum effect on your site. Timers can disappear when the timer reaches zero, or it can restart. This is your choice and is easy to set up.
There is also a great cart reservation option. This gives a timer for how long the customer has to complete a purchase before the cart expires. This can help to improve conversions quickly and add revenues to your website.
Ultimate Scarcity Pro Highlights:
Add scarcity to your website with lots of features for your website.
Timers can restart or disappear when it has reached zero.
Add social proof elements to your website to add urgency to your website.
A cart reservation option that allows your customers to keep their carts only for a certain length of time.
Final Word: What Is The Top 11 Shopify Countdown Timer Apps?
There are lots of Shopify countdown timer apps available through the Shopify app store. The vast difference between the various Shopify countdown timers allows you to select an option that is suitable for your specific needs. Will you choose a cheaper option with less features or a more expensive option that has lots of different features that can help you improve your brand's revenues? The choice is yours.
Recap:
Offers & Promos