The Ultimate Guide to Starting a Shopify Dropshipping Site
Last modified: May 30, 2022
The way the internet has developed over the past few years has seen a rise in a number of brand new business concepts. One of the best for new entrepreneurs who have great online marketing but don't want to get involved in handling products is the dropshipping model.
This is where a website sells products that are then dispatched by a third party. The website never handles the products and usually the dropshipper is the one that has selected the products themselves.
During the last few years many new businesses have been making a decent living from dropshipping. And there are several reasons for this.
In this guide, we will look at what Shopify dropshipping is, what the advantages and disadvantages of dropshipping are and how you can establish your own Shopify based dropshipping business. As you will find out, this is an incredibly easy process and you could sell products within hours of starting.
Recommended: 20 Best Shopify Dropshipping Apps – 2022
| # | Name | Image | |
| --- | --- | --- | --- |
| | Shopify | | More Info |
| 1 | Spocket-World Wide Suppliers | | More Info |
| 2 | Syncee - Global Dropshipping | | More Info |
| 3 | Printful-Sell Printed and Embroidered Items | | More Info |
| 4 | Sup Dropshipping | | More Info |
| 5 | DropCommerce | | More Info |
| 6 | Modalyst-Sell Brand Name Products | | More Info |
| 7 | Ali Orders-Fulfill Orders Easily | | More Info |
| 8 | Blanka - Private Label Beauty | | More Info |
| 9 | Dropified-Automate Your Dropshipping Business | | More Info |
| 10 | ProductPro-Improve Your Dropshipping | | More Info |
| 11 | Spreadr App-Dropship Amazon Products | | More Info |
| 12 | Importify-Get Products from Tons of Suppliers | | More Info |
| 13 | Inventory Source-Sync Thousands of Dropship Products | | More Info |
| 14 | BigBuy EU Dropshipping-Dropship High End Brands - Inactive | | More Info |
| 15 | MXED-Pop Culture Goods - Inactive | | More Info |
| 16 | Fulfillbot: Dropshipping Agent | | More Info |
| 17 | KakaClo | | More Info |
| 18 | Roxie | | More Info |
| 19 | Shopoo | | Inactive |
| 20 | Oberlo-Get the Best Produtcts for Your Site | | Inactive |
How Does Shopify Dropshipping Work?
Dropshipping is a simple process. You create a website and promote products that are stored and dispatched by a third party (your supplier). The customer buys the products on your website and the supplier sends the products directly to your customer. You never have to handle the products yourself.
You pay for what is ordered and the postage. Depending on the supplier, this can be on an order-by-order basis or a monthly invoice. It is as simple as that.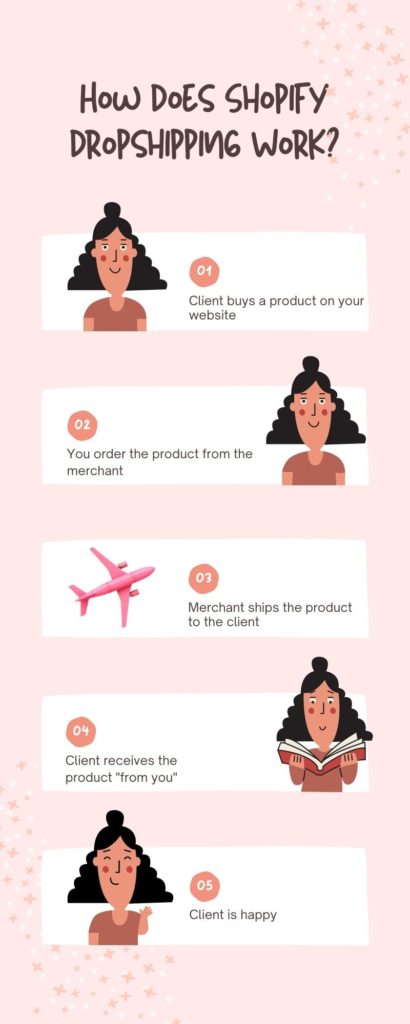 The Advantages Of Dropshipping
There are many advantages of dropshipping. These can include:
Limited infrastructure needed to startup
The first advantage is that it is a great way for you to start your first business without heavy investment. The only startup costs that you really need are the computer, website and marketing. All the product costs and everything can be covered when the items are bought, because the third party, who holds and sends the stock for you, will cover those costs initially until you've made an order. When an order has been made, you pay for you've used.
What you spend on those startup costs can also be negotiated. You can have a small website package to start with and upgrade as your visitor numbers grow. Plus, you can start slow with your marketing, relying on free marketing avenues, such as search engine optimization and social media.
Then as you start generating revenue, you can put some of the profits into expanding your business.
You can build numerous dropshipping businesses
If you have some skill at digital marketing, or can build a great team to support you, then there's no need to stop at one dropshipping store. You can continue to build dropshipping businesses until you have an income and a workload that is satisfactory to you. When building your new website, there is no need to change themes, styles and tactics; just keep what you've got already and repeat your success.
You can concentrate on what you're good at
Succeeding in business is about ensuring that you have the skills to complete a task. If you're great at digital marketing, then you can use that to build a great dropshipping business without ever touching a product and dispatching them.
They are fairly easy to manage
Because you don't have to manage stocklists, or dispatches, the processes involved in your business are much simpler. You can run the business around other commitments or you can build your business full-time but not have the hassle of having to manage marketing, buying, dispatching and other activities.
Setting up your store can be very easy. Some suppliers can allow you to have a product on your store within minutes. It allows you to create a new business within just a few hours. This can be a huge benefit if you're trying to start up a new business while you're working full time or have other responsibilities.
You can use this to grow your business
You might not want to be dropshipping forever. Or you might want to add products that you ship yourself to the list of products that you dropship. These aren't bad aims, but you might need to establish yourself first with a low-risk approach, and that is through dropshipping first.
The Disadvantages Of Dropshipping
As well as advantages mentioned above, there are a couple of things that are important to note that might want you to think about before starting a dropshipping business.
You're responsible to the customer
While there is a supplier for your products and they're the ones dispatching orders, you're still responsible to the customer for faults and returns. This is important because this can be hard to manage. Be sure that you have good processes to handle this and set time aside every day to ensure that you have the time to deal with customer complaints.
One of the biggest concerns with this aspect is that you have limited control of the quality of the product. You never see them so you can't check items before dispatch for faults.
Your reputation is partly dependent on your suppliers
There are certain aspects that can affect your reputation with customers that is not under your control. If your supplier can't send out items in a good condition and on time, or loses items, your business can be ruined. That is why selecting a good partner is important.
You're not the only seller
A result of dropshipping is that you are probably not the only seller of the products. This is a bonus for customers as it often results in competition that can lower prices. However, it can mean that there are smaller margins for your business.
However, there is a trick here that many small dropshippers miss, and that is selecting popular products with little competition. If you can find that niche, you can make a lot of money and establish your business as the best in the industry. This will enhance your reputation and help you build a strong business foundation.
Why Should You Use Shopify To Build Your Dropshipping Business?
There are many website options available online. Some of them are marketing really well, but Shopify is probably one of the best for a Shopify business. There are several reasons for this, and these include:
The platform is dropshipper friendly
There are many things about Shopify that make it great for dropshippers, however, one of the best aspects is that there are features that make it perfect for selling via the dropshipping methodology. It can connect with dropshipping solutions like Oberlo, AliExpress and Printful with ease. Shopify even have categories just for dropshipping to help you make the most of your website and earn money without ever needing to touch the product.
Shopify has lots of great features
While there are other ecommerce packages that have some great features, you'll be hard pressed to find the variety and quality of solutions available on the Shopify apps store. Some are free apps that can help you without more investment, others are with one-off payments, and some require a monthly subscription. And there are solutions for everything, from having reviews, to search engine optimization.
Easy to use
Another great aspect of Shopify is that it is easy to use. Shopify has lots of tutorials and support to help you, but the user-friendly interface is normally intuitive for even the most novice of website builders. Shopify is also adept at guiding merchants on how they can use the solution to improve sales.
Building Your Shopify Dropshipping Store
Now that you understand more about dropshipping, the benefits of using Shopify for that business, and have committed to combining the two together, lets look at how you can build your Shopify store.
Step One: Finding Your Niche
When you first start out in dropshipping, you need to find a niche. There are lots of different strategies for this, so we will look at each one of these and you can determine what works best for you.
Use your passion
The first strategy is to use your passion. This is a fairly easy strategy to find your niche because you're using your knowledge and passion to select products. You probably know the industry very well, know what products are the best quality, sell well and perhaps even the best prices you can find.
These are all good points. Plus, you'll find it easier to market your products as you'll have the enthusiasm you need for great content marketing.
However, your passion isn't always where the money is. And sometimes there might be a lot of competition for a small niche. This can reduce the reward that you'll get from your business. But, if you're looking for a small niche business, then this strategy might work for you.
Think about a festive period
Sometimes you want to be really niche and this can be set around a specific holiday time. There are whole businesses that are established on selling Christmas or Summer products. While not in season, you can use the time to build other dropshipping businesses or refine your processes so that you are selling the products later.
Also, in many countries, the festive selling period can start early. In the UK, some stores start promoting Christmas products in September. And the Christmas sales can go right through January.  This is five months of selling, which can be a great length of time.
In the US, Christmas is often delayed until after Halloween, although there are numerous holidays, such as Thanksgiving, that can delay some stocking on Christmas goods.
Choose a trendring niche
Another way to find your niche is to choose a niche that is trending – a significant growth industry that people are suddenly interested in. This can be a great way to earn lots of money if you're one of the pioneers in the niche. However, these tend to attract lots of people and this can make an industry crowded very quickly.
That being said, early adopters can often make a fortune and charge more before others have caught up.
Choose a high profit niche
Another way to choose your niche is to find a high profit niche where products are cheap but margins are high. There are only a few of these around, but when found can be worth the investment. Another problem is that often, when the secret is out, it becomes a more crowded marketplace.
A mixture of the above tactics
Finally, the last tactic is to use a mixture of the tactics mentioned above. By using a combination of them you can find products that you're passionate about, can easily supply and have good margins on. For this to work there are several stages to consider.
Stages To Find The Best Niche
1. Choose your passion
The first step is to choose your passion. Say for instance you love dogs. This is great, the US pet market is worth $72 billion annually in the US and just under half of that is spent on pet food. You could specialize in food or accessories or both.
There is also lots of content that can be written about this passion, something that will become very useful later on. You should always consider writing blogs for your website. Research has shown that the frequency of blog posts corresponds to the revenue of the company. A blog post a day can make you very successful.
2. Create keyword list
The next stage is to choose a list of product keywords you can use for your market. You can start by making a list of the keywords that you think are important for your products. For instance, for the dog food market, I would use search terms like: "dog food", "pet food" and "puppy food".
3. Discover keyword usage
Next you need to look at the usage of the keywords. Many people use Google's Keyword Planner for this, but Uber is by far one of the most accurate. It doesn't just tell you the volume of searches, on a monthly basis, it shows you user behavior such as which websites have the most clicks and what pages are ranking for that keyword.
Another addition is the price of a click if you ever want to try PPC and the search difficulty for SEO purposes.
This can be very helpful because you can see what content is performing well on particular terms.
To start using Uber, go to their website.
Then enter in the first keyword that you want to test into the keyword box and select the territory. If you're selling in multiple countries, choose the country where you want the most sales or the US as a default. Once entered you'll get general statistics.

Below that is a diagram to show the performance of the keyword over the year and under that is a list of suggested keywords with their key statistics. Looking at these results, 'dog food advisor' is a great choice of keywords as it has a high search volume but low competition. At the same time, you can use keywords like 'dog food royal canin' because it has a relatively high search volume, but moderate competition.
When you click on any of the keywords, you can see more details of that keyword and related keywords and their performance. This can help you create a strong list of keywords for you to use in your marketing, on your website and when searching for products.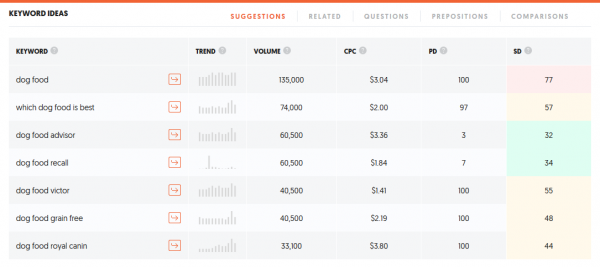 4. Check keyword trends
However, next you need to determine keyword trends. You're looking for keywords that are becoming more popular and not losing popularity. This is where you can go to Google Trends and search for how keywords are performing.
This can be interesting because you can find trends that can be disruptive to your business. For instance, one of the top performing keywords was 'dog food grain free', however in the past year, Google Trends shows that this is because of health concerns. Therefore, this product might not be so useful to sell.
To use Google Trends, go to the website and enter in your keywords. From there you'll get results showcasing exactly how popular that keyword is at the moment compared to the past 12 months. It will also give you more details about the search terms that are being used associated with that keyword.
Generally speaking, dog food is rather stable. There are periods when there is a spike of interest, but this is connected to things like medical reports that detail health risks or recalls of certain products. But by using Google Trends, I would say that investing in grain free dog food at the time of writing would be a bad idea.
However, there is a stable market for other dog food.
Some quick research and I found that cats were a more stable and even slightly growing market. And snake keeping was performing significantly better than it was a year ago.
5. Check product profitability
The last stage is to check that there is a profit to be made from the products you're going to sell. In dropshipping you want to make a margin of about 40-70%. Anything under 40% would not offer you a good enough return. When looking on Oberlo (it's free to join), I found one product that cost $36 for 1500 grams of premium dog food.
I also found that shipping was free. Looking at other stores, I found an equivalent product that sold for $116. So, selling the product for $100 would allow for a 64% profit margin. This price point is also less than others of similar products.
This can be done for numerous products. For instance, dog bowls can cost as little as $0.08 to $380. However, the most popular product was $3.93 each with $3 delivery and sold on other stores for $19. This offered a 63% profit margin. Through statistics, you can determine that there are more than two orders per day for the product.
Doing this repeatedly can help you build up a good catalog of products to add to your store. And you can save these to a spreadsheet to speed up the process later. It also validates that your business is profitable. It also provides useful marketing information. You know what budgets you can spend and which products to promote the most.
Step Two: Develop Some Branding
Now you need to start developing some branding. Branding is important for your business because it is what's going to turn visitors to your website into lifelong customers. Branding goes well beyond a logo, although this is helpful. It incorporates how you speak to audiences, what is important to you and the colors used in all communications.
Remember that color is very important to customers. Subconsciously, they will associate certain niches with particular colors. For instance, a lot of pet food has pale colors involved, they include browns, greens and cream a lot in branding. This is because these resemble nature and food.
If you look at sports, you often get very active colors like yellows and reds. Water sports tend to have blue somewhere.
You have to also look at the language used. Different audiences have their own 'language'. Writing for female fashion is vastly different than writing to DIY enthusiasts for instance. If you're selling something that you know very well and are passionate about, then this shouldn't be too much of a challenge.
However, if you are new to the niche, you might need to spend time researching the language used by audiences in that niche.
Lots of ways to build branding
There are lots of ways to build branding options. There are online logo makers or you could hire people on places like UpWork, Fiverr or another freelancer website. At the end of the process, you should have at a minimum:
A brand name.
A logo.
Business card designs.
Letterheads.
These can be very useful. Business cards are essential for marketing offline, which can be a great source of initial visitors to a site. You can often leave business cards in local cafes, restaurants and business centers. They might charge you a nominal fee, but it can help.
Also, if people ask what you do at a party, producing a business card is a great way to get people to know more about you and perhaps become lifelong customers.
You should also look at what messages you want to create on social media. This is where your knowledge can be very helpful. Research has shown that promoting blog posts can be very useful. Those that create more content on their website usually have higher results that lead to more revenue.
But you have to have a consistent voice. For instance, are you looking to generate excellent content to help people overcome their problems. Or, are you going to be reporting on the latest industry trends? Or, perhaps you just want to create some cute/funny posts to make people smile? The choice is yours, but make sure you've planned for it.
At the same time you might want to create some social media accounts. There are numerous different social media platforms you can use. It is really recommended that you use at least Facebook, Instagram and Twitter. These have large audiences.
You can even start promoting your branding on these before the launch of your website. This way, you can have a small audience when you launch your site. This might yield some quick results, but that isn't always guaranteed.
Step Three: Building Your Dropshipping Site On Shopify
This is the step-by-step guide on how you can setup your dropshipping site on Shopify. In this section of the article, we will provide you with every step that you need to build your Shopify store. We will also give you tips on how to optimize it for better results, after all, it is easy to build the Shopify store, but harder to get it to work.
By this time you should already have a niche, product(s) and branding developed. Now you need to create your store and start selling your products. So, let's get started.
1. Create A Shopify Account
The first thing you need to do is to register an account with Shopify. The first thing you need to do is to head over to their website. There you will be asked whether you would like to start with a free trial.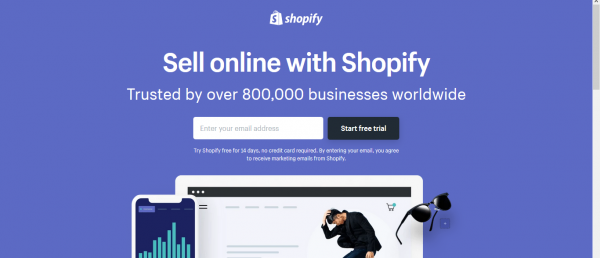 All you need to create an account is to have an email address. Enter this in the box and click on the start free trial.
Then you'll be taken to another box that asks you to add a password and your store name. Your store name is what you're going to be called for the lifetime of your business. So, it has to be memorable. Though you probably have a name already created if you've done your branding.
For our example, we've done:
Awesome Pet Food Plus.
It is vital that you create a strong password. This makes you more compliant with GDPR laws and makes it harder for hackers to get access to your store. All passwords should contain at least:
One lowercase letter.
One uppercase letter.
A number.
A special character.
Be between six and eight characters long.
Not resemble any word like using Petf!#$d1.
Now Shopify will start setting up your store for you.
The next step is to answer more questions about you as an entrepreneur. For instance, you'll be asked for your current business stage. If you're starting a new business, this will be the option "I'm not selling products yet".
You'll also have an option on your current revenue. As you're not selling yet, you need to select the $0 amount. Don't lie at this point. There is no shame in starting out, all businesses start out with no revenue and Shopify doesn't hinder you because of this. If anything, you're going to get more support.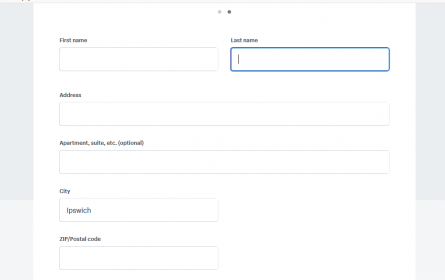 Then you'll be asked for more personal information. This will include your name, address, telephone number, address, etc.. Enter these in as accurately as possible. This is a legal requirement. Once you've finished entering in your details, click on the button that says "enter my store".
2. The Backend Of Your Store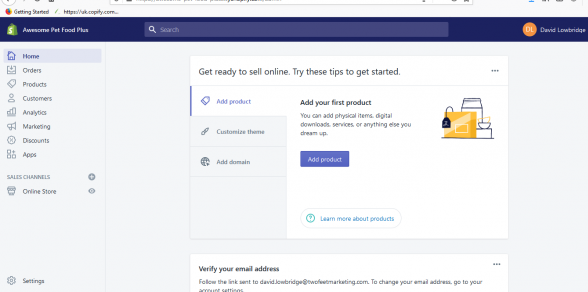 Now you're in the backend of your store. This is where all the management of your website goes on. Unlike with WordPress where the backend can be accessed with a simple URL extension like WP-admin, on Shopify, the backend is at a subdomain of Shopify.
While Shopify will send you an email with this, it is useful to know the general log in for your store. This would be:
YOUR-STORE-NAME.myshopify.com/admin
It is highly recommended that you bookmark this page. It makes it easier to access and quicker to start work.
Once in the backend, you should take a few moments to familiarize yourself with the dashboard. There are lots of areas here that are going to be important for your business as you go forward. In the immediate future, we're more interested in the design of the store, the domain name and the products.
However, we will also be looking at ways we can improve the search visibility of the store and ease of access.
So, take a few minutes to look around the dashboard. Click on a few areas and explore what options you have. But don't change anything just yet. Before you get started, you should also look at verifying your email address.
3. Add Products
You can't have a dropshipping business without products. Which is why you need to look at adding products before you start doing anything else. After all, you can tweak the design of your website for months but if you don't have products on your site, it will never make money or seem worthwhile.
If you're dropshipping, there are also other benefits. First of all, it takes just moments for you to setup products as most can be imported from their original seller. Then all you need to do is to edit the content sent from the original seller to make it better for your audience.
Another benefit of setting up products now is that it can be a great motivator. It also makes the design process easier and more fun. A few products on your website will allow you to see what your store will look like with products in it. This is far better than having to manage it.
3a. Adding Products From Oberlo (or another dropshipping solution)
Thankfully, it is incredibly easy to add your selection of products from Oberlo, which Shopify acquired.
To start with you need to install the Oberlo app onto your store. You can do this by clicking on the 'Apps' option on the left hand menu. The Oberlo app is normally on display there, because it is so popular and owned by Shopify.
Click on it to be taken to the app page and then click on the 'Add to Store' button.
You will then be asked to confirm installation. Click on the 'Install App' at the bottom of the page. This will take you to the setup page of the app. This is where you can enter in vital details that will help you. I suggest you go through these and see which are applicable to you. It all depends on your industry, income, territory and other aspects.
Once you've done that you can start adding products.
Go to the left hand side of the page and select the 'search products' option. This will take you to the Oberlo database. Now you can enter in a search term in the top bar and look for products to sell. I suggest starting out with between five and ten. This is a low number to get used to the Shopify system.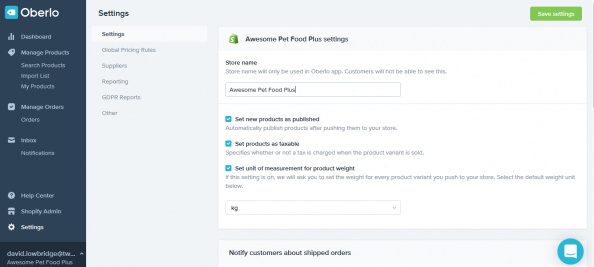 For our example, we entered the term 'dog food'. Then all you need to do is to go through and find the products you want to sell. If you made a list of the products earlier, like suggested, you could search directly for them and then add them in one at a time.
To get a product to be imported to your store, simply click on the 'Add to import list' button.
When you've found your products, you can then move to the 'product lists' tab and then click on the button that says 'import to store'. This needs to be done for every product.

Then you can go back to the dashboard of your store and look in the 'Products' tab. Then you should see all of your products. From here you can change aspects of the product description, price and everything else to make your store experience more personalized.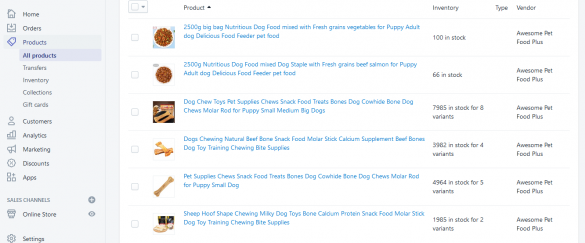 3b. Editing Product Details
Editing products is important for a number of things. Firstly, it allows you to brand your products with your own stamp. If, for instance, you've got a more fun branding than others, you can add some of that humor into the product.
It also allows you to stop receiving Google penalties for duplicate content. Add to this that the products imported are probably overstuffed with keywords which can also lead to Google penalties, then changing details on your products is important.
Each product should be edited individually. Change everything you can about the product. And try to stick to one keyword at a time. We'll delve more into SEO later on, but generally speaking each product should have one keyword that is mentioned two times throughout the description. For instance, for this product:
2500g big bag Nutritious Dog Food mixed with Fresh grains vegetables for Puppy Adult dog Delicious Food Feeder pet food
I would change to:
2500g Nutritious Dog Food with fresh grains & vegetables
I would also change the description so it would read:
A nutritious dog food mix that includes fresh grains and vegetables. Your dog will really appreciate the flavor and you'll see your dog live a long and healthy life.

This nutritious dog food mix comes in 2.5Kg bag that is suitable for both puppies and adults.
You should also look at your pricing. There are lots of different pricing strategies. I pe
rsonally prefer to end a price at .99, just because it traditionally performs well. However, other people have found that ending the price with .95 works best.
Remember to look at the markup. You need to be sure to have a markup of 40% or higher. Ideally, something that is around 70% is better. However, consumables, such as dog food, have lower return rates than say clothes, so for some products you can get away with the smaller markup price because there are going to be less returns and replacements.
Add some tags to your product as well. These are terms that group products together based on common attributes. For instance, you could include tags for our product as: 'puppy food', 'adult food', 'dog food'.
Try to be specific and consistent with your tags. A good series of tags can help you increase order values, profits and increase user experience. This can lead to a healthier business in the long-term.
You can also assign products to collections, which are like a group of products which can have their own page. For a small store I don't recommend them. However, if you're looking to have a store that has dozens of products on it in the long-term, it is highly recommended to start this early.
3c. SEO Your Products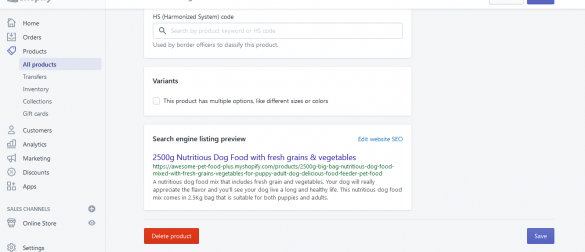 The next stage is to add some SEO elements to your product. This is done at the bottom of the product option. There you will see an option to edit the product's SEO option. Click on this and you will be given several options.
The first option is the product title. You can have this the same as the product name, or you can customize it. As long as you have one keyword in there, you should be okay.
Next you have the meta description. This should be about 160 characters. It should contain at least one keyword. For instance, for this product I created this:
Give your dog a great meal to power their day. This 2.5kg bag of nutritious dog food comes with fresh grains & vegetables. It is suitable for adult and puppies.
You should also look at the url. The URL is often long on product pages. This should be shortened so it contains only the keyword and a couple of other unique identifiers. At most, it should have five or less words in the URL.
To make it more searchable, you should not use underscores (_) but use dashes (-) to separate words.
You can then save the product.
3d. Creating collections
I don't recommend collections for small catalogs (less than 10-20 products) but when you have a lot of products, then it is certainly a good idea. Collections help customers to find products they want based on a specific quality that groups the items together, for instance: purpose, color or current status on your store. For example, you could have a collection that is currently for on-sale products.
To create a new collection, you have to go to the collections page and then select the 'create collection' button. From there, you'll be taken to the collection creation page. Simply give your collection a name (i.e. Dog Food) and a description.
Then you can choose a picture if you want. Adding a picture to your collection will make it appear higher in search results as long as you follow the basics of SEO. That is, that a keyword is inserted in the image title and alt text.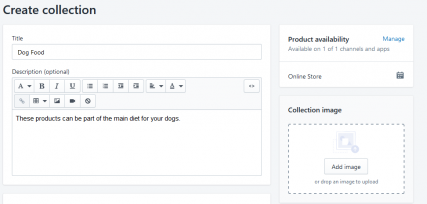 This is where Shopify doesn't do a great job because you can't change the title after uploading. So always be sure that you're uploading an image with the right title. You can change the alt text by clicking on the 'edit' option above the image and then selecting the 'edit image alt text'. Then just enter the keyword with a little description somewhere in the appropriate box.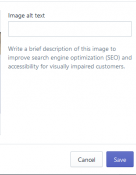 You can then place products in collections either manual or automatic. If you want more control, then choose manual. However, this means that every time you add a new product, when you're editing it, you need to choose what collection that product is in.
To make your life easier, it is highly recommended that you use automatic. This is when products are added based on the tags that you add to your products. This can be rather complex. For instance you could have a collection that is for puppies. To show this, we've included the image of what the conditions should be.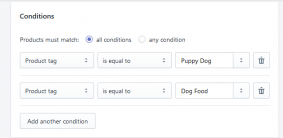 Notice that we've included both 'dog food' and 'puppy dog'. This is because we might, in the future, offer products for puppy training or puppy treats and would need to differentiate between treats, products and food on the store.
You could also create collections for certain branded products. For instance, if you're selling sport clothes, you could have Nike, Adidas and Puma as collections.
There isn't a set way to create collections: it's purely your own creative choice. But try to think about how your customer will think. The easier you make it for your customers, the better the experience they are going to have and the more they will spend on your store.
You can then edit the SEO of your collections page exactly the same way as you edit a product's SEO.
4. Set Up And Design Your Store
Once you've edited all your products, set up collections and are confident in what products you're going to sell, you're ready to start designing your store. This is a really fun part of the process, but it is also the most important aspect.
Research has shown that the look of your store can improve or decrease sales. There are a lot of aspects to this and it is why there are lot of articles on this site about the best themes to have on your store. The best themes are known to convert visitors to your website into customers.
As mentioned previously, different audiences are going to react differently to themes. There are lots of themes on Shopify that are suitable for certain tasks like those for single products or large catalogs.
The vast array of options is both exciting and daunting. There are many themes that are free, however, which is great for those who are on a tight budget.
To get there, you need to first click on the 'Online Store' option on the left-hand menu.
Scroll down to the bottom of the page and you'll be taken to two options. One is asking you to consider looking at free Shopify themes. The other is asking you to look at the marketplace. If you're on a tight budget, free themes are good.
5. Customizing Your Theme
Once you've selected a theme, you can go back to your store's backend and click on the customise option. This is where you can change aspects of your store to make it more unique for your brand. You don't technically have to do this, but a store that is unique is going to perform better.

To start customizing your theme, you should go to the 'online store' and then 'themes' section in the backend. From there you will see the current theme selection and button that has the 'customize' option. Click here and you will go through to the editing page.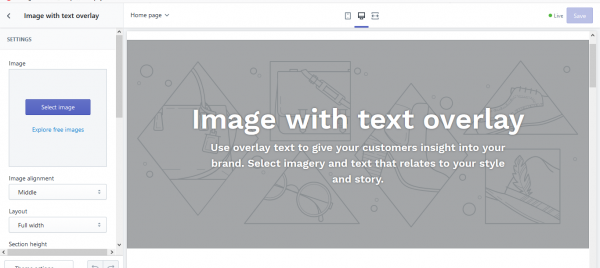 Then you can click on different sections on the left hand side to make changes. Images can be a tricky element when designing a website. You need to make sure that you have the rights to use them. A Google search is not enough. You can be sued for using content that you don't have permission to use.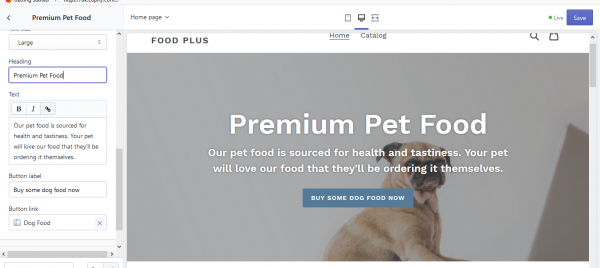 With all Shopify themes, you get access to loads of free-to-use images through Burst. These are accessible by selecting 'explore free images'. You can then add in text and other elements as you want.
Remember that for SEO purposes you want to include the keyword for the website at least two or three times across the front page. It should be included in the top section, in the header and subheading.
In most themes there is an option for a slideshow. These are great because they are fantastic for engagements and improving the amount of content on a website. For a slideshow, you want to add at least five images. Try to focus each image on a different product/collection.
Every change you make can instantly be seen in the right of the screen in a preview. This is a great aspect.
Don't forget to change the color of your website to match your branding and the best for your niche. Customers who see websites with poor color choices often leave the site quickly.
When you've finished the creation of your page you can press 'save'.
6. Additional Pages
In addition to doing the homepage, you should look at creating the other pages your website needs. At a bare minimum you should have the following pages:
A homepage – for general information about your brand and bringing content to your customers that will convince them to continue shopping with you.
An about us page – important for telling your brand's story. This should detail why visitors to your website should trust you.
A shop page – for showcasing products.
Contact page – this is important, customers who have questions will need a way to contacting you.
Terms & Conditions page – this is for you to specify important terms for doing business with you. You should also have a privacy policy on this website.
FAQ page – some questions don't need a personal response from you. Customers will try to find this to answer questions from you first.
To add a page you need to go to the 'Pages' option of your Shopify dashboard. In the top right of the screen you will see an option that says 'Add Page'. Click on this and you'll be taken to the page setup section.

From here you can add the page title, some content and then change the SEO options. Each page you create should have different keywords than those of other pages. Otherwise you might harm the ranking chances of each page. This is where many websites go wrong.
So, for instance, I would have pages that have the keywords: Pet Food, Online Pet Food Supplier and so forth.
When you're happy with the page, you can click on save and repeat for additional pages. This could be done several times.
7. Setting Up Your Navigation
Navigation is vital on a website. It helps customers find what they're looking for and makes it easier for them buy products and convert. There are several aspects to the navigation on the website. I like to call these tiers, but other web developers use different terms for this, it all depends on who you're working with. You probably use the term 'levels' with some menu options.
The reason why I call it tiers is because you want to prioritize website pages differently. Certain pages you want more customers to go to, like your About Us page and Home page. These should be on the top tier. This should at least also include a checkout, shop and contact us page.
On the next tier you want more specialized content. For instance, this could be specific collections like Dog Food, Cat Food. Then you might need another tier for really specialized tiers like grain free, puppy food, adult food, etc..
These multi-tier selection can be a great way to direct customers who have specific needs to particular products to give them limited choice. It can increase conversions, but it can also lower order value. So, there is a strong need for balancing the tier approach to ensure you're not offering too much specialism and too small a selection when it comes to your navigation.
Navigation is also an important part of your website's SEO ranking with Google. Better navigation is associated with improved customer experience and therefore, a good menu is going to get you to rank better.
Adjust main menu
To adjust your menu, you need to head to the 'navigation' tab. This is found on the left hand side of the menu. Then you should select the correct menu. The first to adjust is the 'main menu'. This is the menu that sits at the top of the page. It is the most used menu on a website and will have the greatest impact on your search ranking.

When you click on this option you will be taken through to a page where you can make changes. On the page you can add pages to the menu (using the 'add menu item' option) and move them.
To add an item, press the 'add menu item'. You will then be shown a screen where you can give the menu option a title (what the user will see) and a place to enter in the website's URL or search for the page on your website. When everything looks good, click on the 'Apply changes' button.
To move items, hover your pointer over the six dots on the page, click and drag the item to the correct place. If you want it to appear in a sub-menu as a second (or third tier) you need to slightly indent the menu item by dragging it slightly to the right.

Don't have too many items in your first tier. This looks ugly and clumsy and makes it hard to navigate. Plus on some devices, it can mean that your website's content is pushed down the page and this reduces conversions. About 5-6 items is more than enough.
Ideally, you should have: Home, About Us, Store, Contact Us, Blog and Basket as top tier options. After this you can make other pages second tier options.
8. Edit The Site's General Preferences
This is the main section of the whole Shopify site building experience. Why? Because if you don't get this right, your site will never be found. This is where basic SEO is built into your site and you can add other marketing aspects that will allow you to attract audiences to your site.
To find the site's preferences, you have to click on the 'Preferences' link on the left-hand menu. There you will be presented with two boxes: Homepage Title and Homepage meta description. These are two essential elements for search engines. This tells them what your page is about and is vital in your ranking.

You need to use your main keyword for your website. For our example, I am going to use Pet Food. So the title will be:
Pet Food: Order Online For Happy, Healthy Pets.
The description should be about 160 characters long and should include the keyword once as well. Don't use it more than two times as this counts as keyword stuffing. For our example website I have used this:
Our Pet Food is made from top quality ingredients that help you keep happy, health pets. Order online now for fast, low-cost delivery that will wow you.
Always try to add a reason why someone wants to visit your site in your meta description. You should also include a click through. These two points have been shown to increase the number of clicks through to the site from a search engines. It also informs the search engine exactly what you're about and treats you accordingly.
9. Add A Domain
Now you can add a domain. This is a great step, because it means your site is almost ready to be published and start selling. Without a proper domain, your site will be seen at https://your-store-name.myshopify.com/. This isn't a great searchable site and results will suffer. It will harm your professionalism and break trust with customers.
To add a domain to your store, go to the 'domains' option from the left-hand menu.
Then you have three options.
Connect to an existing domain: If you've had previous projects and want to have a domain to be the host for your new website, this is what you need to select. Any website connected previously will not now display. But instead this one will.
Generally speaking, if you're reading this, you probably don't want to use this option.
Connect to a third party domain: This is when you have a domain that has been bought through another provider like Bluehost, Dreamhost or GoDaddy. The process for this differs depending on the team you bought the domain from, so check with them first on the exact process.
Buy a domain from Shopify: Prices can differ on Shopify, but you can buy and use a domain directly from Shopify.
Once you've got your domain connected to your store, you should change the primary domain so that it is your custom URL. This will look much more professional.
10. Set up Payments
Finally you have to set up payments. The settings for this can be found on the 'settings' payment on the left-hand menu. Then select the 'Payment Providers'.
You can use numerous payment providers. Shopify Payments and PayPal are automatically enabled. To add others, you need to follow the instructions on the screen. The process is different for different solutions.
To take payments from Shopify Payments, you will need to complete your account set up and provide numerous details to the company. If you want to use PayPal, you don't need to do anything in particular. As soon as the first sale has been made, the company will email you with instructions on how you can set up a PayPal Merchant account.
Step Four: Your (In)Complete Shopify Dropshipping Store
Now you've completed your Shopify dropshipping store, or at the least the basics for it. There is actually so much more that you should be doing in order to make it a profitable site. However, if you want to experiment on your own, you can do that from this position, in theory.
All you really need to do is disable the password. This is protection for customers who might otherwise land on your store before completion and make a purchase. It also protects you as a business from making a sale at the incorrect price point.
Basically, only those with the password can access your store. To remove the password, and allow customers from around the world to buy products, you need to choose a Shopify plan.
To look at the plans go to the 'Settings' option on your left-hand menu and then account. From there you will see an option that says 'compare plans'. This will take you through to a website that offers you three account levels. As a dropshipper, you will want the basic. It is the most effective. It will limit your income (it comes with a higher transaction fee per sale) but you don't need the locations or the extra staff, and the extra cost per month means that you will have to sell a lot in order for it to be worth your while.

Once you've selected your plan, you can open your store up to the world. But you might not want to stop there.
Step Five: Optimizing Your Site For Search Engines
The next stage is to optimize your site for search engines. We've discussed throughout the article about keywords and meta titles, descriptions and all. But that doesn't mean that your SEO work is done there. More than two-thirds of your traffic should be generated by search engines.
For that you need to rank highly, and what we've mentioned in the parts of the article before don't give you that – they just give you a foundation.
Now you need to look at other elements that will help you rank well. This is where other Shopify apps come into play. SEO apps are probably the first set you should be looking at. A good SEO app could do numerous things and you might need a few working together in order to get your site to rank highly.
For instance, you might want some of these aspects:
An image optimizer – Speed is everything when it comes to user experience and website ranking on search engines. Images take up a lot of memory and you need to have them optimised in order for you keep load times to a minimum and to see bounce rates on your site lower. Good image optimizers will also help with descriptions and other aspects.
A link builder – While link strategy is less important than it was before, it is still a ranking factor. Therefore, having something that can help you build internal and external links is vital.
On-page elements – From heading tags to SEO titles, there are many elements that can help you get a good rank on Google and other search engines. Sometimes you just need a little help in building those links. That is why it is good to have an app to help you out.
Structured data – This is a form of search result where more data is applicable. This is taken from structured data or rich snippets that are created in the backend of blog posts and other elements of your website.
Recommended SEO Apps
There are a lots of recommended SEO apps that could be mentioned. We've done a blog post about them before. But for those who want to add a few quickly, here are some of the top recommended SEO apps we have.
This SEO app has a free option that makes it great for those on a budget. It is also for someone who wants to have a lot of control over their SEO or has some knowledge of SEO already. What it basically does is it scans you site for potential errors or fixes that can be implemented and then tells you what they are.
If you like the suggestions, there is a paid version of this app. This can mend these problems automatically. There is also better support and structured data that can help you even more with rankings.
With 20 features, 15 of them which aren't found on the majority of SEO apps, this is one of the best options when it comes to SEO Shopify apps. One of the best features is its integration with Google Trends that allows you to switch meta tag focus when a new trend is taking the world by storm. The app also allows for a redirect when items are out-of-stock, 404 fixes and mobile friendly testing.
The app also has some great step-by-step tutorials to help you get your rankings better.
Image optimization is an important factor when it comes to your website's ranking. That is why this app is really useful. What it does is that it reduces the size of the images so they are smaller, making them faster to load and your page more user-friendly. In addition it looks at the meta data for the images and informs you of changes that are needed.
The app can also provide you with SEO scores for the whole site. The Pro plan offers you more functions including automatic fixes for your website.
From experience, you can't underestimate the importance of SEO apps on your website. Without a good SEO element to your site you can't have a successful website. About 70% of all searchers will visit the top result on a search results page and only 1-2% will visit the tenth on the first page.
Step Six: Recommended Email Marketing Apps
Moving on to email marketing is the next step. Sometimes it takes more than one visit to convince a customer to purchase from you. You've got to build trust with them. That is where email marketing comes in. Sending regular emails is one way to build trust with new customers and it is a great way to sell to existing customers.
Research has found that for the past 12 years, email marketing has yielded the highest return on investment for digital marketers than any other digital sales platform. In 2018, it offered a $38 return on every $1 spent.
Not having an email marketing list on your website is throwing money away. At the very least, you should be sending out content once a week. But you could send out content two or three times a week if you have enough products and a good enough reputation. There are some companies that will send out content via email every day and earn a lot of money from it.
For email marketing you need to have two aspects: email collection and email sending. Email sending can be done with applications like MailChimp and Aweber, or it can be done through certain Shopify apps.
The collection of emails needs an app. There are several of them and sometimes they can be very interesting.
Spently is a great way to send marketing emails to past customers. It allows you to promote current deals, new products and other marketing material with templates you can design within the app. You can use Spently to offer customers discount codes that are unique to their purchasing behaviors and drive repeat purchases. There is also the opportunity to improve upsells and cross sells to customers.
You can create some great automatic follow-up emails that will allow you to sit back and promote your store through other platforms and earn a decent amount of sales. Spently also connects with social media so you can attract new audiences to your store and grow your email marketing list.
Pixelpop is not just great at building your email marketing list, it is brilliant at getting customers to visit more of your store. You can use it to direct them to featured products, collections, blog posts and other content. And use it to collect email addresses with software solutions like MailChimp and Constant Contact.
There are seven types of popups you can utilize with this app, including the mail signup, announcement, page promotion, coupon, social follow, cookie disclaimer and a custom option. These can be customized via appearance, content and even their behavior.
There are a lot of options with this app, but it isn't free after the first 500 impressions in a month.
This is a free option for the email subscription popup and it does a good job. You can limit the display of the promotional popup so customers only see it on certain pages or when they have a certain number of products in their cart. There are lots of different styles of popup that this app supports too, including newsletter, video, countdown, product and coupon.
So, if you're on a tight budget, this might be an app that you could use.
Step Seven: Recommended Apps For Building Trust With Visitors
Another key aspect you're going to need to do is to build trust with your audience. The more trust you can build with an audience the higher the order value and the more conversions you'll get. There are several ways you can build trust with an audience. This includes:
Live chat – live chat allows you to speak in real time with visitors to your website. This can be done through a chat client, like a Skype chat, or through social media chat functions, like Facebook messenger. Live chat offers lots of bonuses for your business including great customer service and a higher level of professionalism.
Reviews – reviews are a great way to build trust with an audience. This is because they tell customers exactly what others have thought about the products. When you're a new business, you might think that reviews aren't something for you, but if you use sites like AliExpress to import reviews left with other sellers for your products. This can increase sales.
Trust Badges – trust badges are images that show you have security and other essential aspects. Trust badges often include what payment cards you take, what security you have and other key systems that make your site secure.
To cover these elements you would probably need to have several apps. Here are some of the best options.
This app allows you to instantly import product reviews for the relevant products from AliExpress. This allows you to showcase why customers should be buying your products. This free app enables reviews to include ratings, text and images. Therefore, if you are new to dropshipping, this is one of the best apps to start with, especially if you have products hosted on the AliExpress website.
Make live chat a part of your website with this app. The app sits on your website, but utilizes the Facebook messaging system as a live chat system. This allows for conversations to be saved for later use.
Chat has been shown to improve trust with audiences which leads to more sales and increased order value. This chat system doesn't impact your website's speed or performance, which can happen with some of the other chat systems available.
This app has more than 280 free premium badges that can build trust with audience with little work. There are two levels of this app, the free version adds badges to your product pages. The premium version allows you to place those trust badges on any page to build trust quicker.
This app also allows you to align the badge to your branding with customized messages, colors and other elements. This can make the trust badges seem more naturally integrated into your website's design.
The One App To Install
If there is one app you should be installing on your new dropshipping website it is the Vitals App. While technically we call it an app, it is really forty apps all within one neat package. It actually has many of the elements that we've mentioned above.
The bonus of having one app do everything, is that it reduces the memory that would potentially be taken up by the individual apps, and therefore your website will be faster.
Vitals has some of the best features and then some to make your site a selling powerhouse. For one, it has the ability to collect reviews from AliExpress. The app also allows you to collect reviews from new customers that can be published on your site and not seen anywhere else on the web.
The app also allows for live chat functionality. This is provided via the FB messenger app. So you can get all the benefits of the live chat system without having the chat software directly on your website, but hosted with the social media channel. This can also help in improving your social media follower numbers.
You can also have trust badges installed on your website. Some of the trust badges that can be included on your website can include PayPal, Mastercard and VISA. There is also a currency converter option for those that want to sell internationally.
There is also gamification options on the apps that can help you improve your email list. This app is so good, that is has been included in many of the app reviews that we've published.
Final Thoughts: The Ultimate Guide To Starting A Dropshipping Site With Shopify
Building a new business is a challenge in this day and age. It can be expensive and that can put many people off. However, Dropshipping offers those new to business a relatively inexpensive way to start their own. You don't need to worry about the stock, storage of products or dispatching of orders.
Instead, you can focus on marketing your products and selling to customers. So, for those new to business and eCommerce, this is an excellent training ground. And for serial entrepreneurs and others, it can turn into a long-term opportunity to earn a living.
Shopify is the perfect platform for you to start your new business on. It is specifically designed for eCommerce and is very supportive of those who want to dropship. They have bought businesses who help dropshippers find and sell products.
Use the guide to help you get started. And good luck with your new venture.
FAQs
How to Dropship on Shopify

Dropshipping is a great way to earn money on Shopify. But it is also complex. You need to find a supplier of the products, build your website and then advertise your brand across Shopify. This isn't easy to do for those new to your website. However, most stores that perform this task will start to see sales after 14 days.

What Is Shopify Dropshipping?

Shopify Dropshipping is when you sell products on your website, under your branding, to customers. However, the products are manufactured, stored and shipped from a merchant who uses your branding when dealing with your customers. You split the revenues between you and the merchant. Shopify is one of the best options for dropshipping because of all the support that you can get from the platform and the apps available.

How to Start Dropshipping on Shopify

Dropshipping on Shopify is easy to get started on. The first thing you need is to build your website on Shopify. Then you can connect your website to a dropshipping program and then start marketing the products that you want to sell to customers online. Then, when a customer makes an order, to complete the fulfillment the merchant sends out the order under your branding.

How to Dropship on Amazon Using Shopify

If you want to dropship on Amazon using Shopify, then you need to set up your website on Shopify then use an Amazon connection app to import your products to Amazon. This can help you import products from Shopify to Amazon with prices and more. It can also help you manage all orders through Shopify.

Why Use Shopify for Dropshipping?

Shopify is one of the best options for dropshipping because it allows you to connect with dropshippers across the world, automate the process and build the best website with quality SEO and email marketing options. In addition, you can use speed and popup apps to help you get your website converting more traffic.

Can You Make Money Dropshipping With Shopify?

There are many benefits to Dropshipping with Shopify. Firstly, there is no need for large premises to help you store products and you can reduce staff overheads by having just a sales team. Therefore, you can offer the same products at lower prices. This often means that you can make a good income from your dropshipping business. To help you do this, keep profit margins between 40 and 70%.

Do You Need a Business License to Dropship on Shopify?

No. Unless the items you are selling in a territory require specific licensing, then you are not subject to any licensing requirements on dropshipping with Shopify. For instance, if you were selling alcohol on Shopify, you might need a licence depending on the country you were selling to. But otherwise, you're free to sell using dropshipping companies.

How Much Money to Start Shopify Dropshipping?

There is very little investment that you have to put into your Shopify store if you're looking to dropship products. The first thing you need is the domain name and a Shopify plan. Then you might need to pay for a subscription to a few apps, including a dropshipping app. However, some dropshipping apps are free.

Does Shopify Have Dropshipping?

Shopify is one of the premium options when it comes to dropshipping. There are numerous apps, guides and support for those that want to start their first business on Shopify and earn a revenue through this business model. Shopify even has its own free app, Oberlo, that allows you to sell products through dropshipping methods.

How to Become a Dropship Supplier on Shopify

There are very few options when you want to sell your own products through a dropshipping product on Shopify. However, this is a common problem. The best option is to use an app called Mothership that allows you to sell your products as a dropshipper but only with other Shopify merchants. It has good reviews and can help you streamline your processes.

What Is a Shopify Dropshipping Store?

A Shopify dropshipping store is a brand that sells products on a storefront, like a regular shop, but the products are manufactured, stored and shipped by a third party. The third-party uses the seller's branding on all packaging. The customer doesn't know about the third-party. The seller pays for the goods directly to the third-party after collecting payment from the customer.

How to Dropship on Shopify With AliExpress

It is really easy to dropship on Shopify with AliExpress. All you need to do is to build your website on Shopify, use the Oberlo app, which is free, and then you can import products from AliExpress to your website. You can use other apps, like Vitals, for importing product reviews from AliExpress as well that can help you improve conversions.

How to Make Money Dropshipping on Shopify

There are three things you need to have to make money on Dropshipping with Shopify. The first is quality products that customers want. You can sell products that nobody is looking for. The second is to have a pricing point that is a balance between good margins and good pricing for the customer. Aim for a profit margin of between 40 and 70%. Finally, you need to be smart with marketing.

Do You Have to Dropship on Shopify?

No. You don't have to dropship on Shopify. There are many stores and brands that are regular online brands that don't dropship any products. However, dropshipping can be an excellent way to improve revenue streams without increasing investment costs and some brands do mix dropshipping with their own products/services.

How does Dropshipping with Shopify Work?

It is relatively simple. Dropshipping apps connect a store to a dropshipping product. Store owners can then import products to their website and the customers can add these to the cart and complete the purchase with ease. The store owner then tells the merchant to fulfill the order on their behalf and with their branding. The process is that simple.

How to Start a Shopify Store Dropshipping

Starting a Shopify store for dropshipping couldn't be easier. All you need to do is to get a domain, build your website on Shopify and then connect it to a dropshipping program. There are numerous ones available on Shopify, with AliExpress being one of the top options. Then you can import products and start selling on your store.

How to Set Up Shopify for Dropshipping

To set up Shopify for dropshipping you need to use one of the numerous Shopify dropshipping apps. There are many available that can help you to connect with dropshipping operations across the world. For instance, you can connect to AliExpress and Walmart with ease. Once connected, you just import the products you want to sell and set the price.

Must-Have Shopify Apps for Dropshipping

There are numerous Shopify apps that are highly recommended for dropshipping. Oberlo is one of the top apps that you must have if you want to sell on AliExpress. You should also have a good SEO app for your store. You should also look at buying abandoned cart software to sell to those who've abandoned a cart. This can help you increase revenues by about 20%.

Can I Dropship From Alibaba to Shopify?

Yes. You can dropship from Alibaba to Shopify. This is an easy option and there are numerous apps that can be installed through the Shopify app store that allows you to search for and import product information from Alibaba. However, it isn't always the best option and there are other dropshipping options that might be more recommended.

How to Dropship From Dhgate to Shopify

When it comes to dropshipping from Dhgate to Shopify then you just need to visit the Dhgate website. Then find the product that you would like to have on your store and visit the product page. On the page, there will be an 'Add' button on the top left of your browser. You will then be given the chance to customize the product and then you can click the 'add product' option.

How to Dropship From Ebay to Shopify

There isn't an easy option when it comes to dropshipping from eBay unless you're going to use an app. There are numerous apps that allow you to import and synchronize products from eBay to your Shopify store. You can also change product descriptions and have automatic fulfillment buttons to help you manage your store and orders with ease.

Can You Dropship Amazon Products on Shopify?

Yes, there are numerous apps that allow you to dropship products that are being sold on Amazon onto your Shopify store. This can be an effective method to get started with dropshipping, but it does mean that you're often competing on price with Amazon. Install an app and you can import, synchronize your products and even fulfill orders with ease.

Is Shopify Dropshipping Legit?

Many people are concerned that Shopify dropshipping is not legit. This is because the business model is relatively new. However, there are no laws that prevent you from dropshipping. In some places, you might be required by law to state where products are shipped from or that you use third parties to fulfill orders to help service customers.

Can I Dropship From Etsy to Shopify?

Yes, you can dropship from Etsy to Shopify. There are some Etsy sellers that offer this as a good option. You will need an app and choose the best products for you to dropship. Again, you're looking to ensure that you can compete on price with your Etsy supplier but service also might be a good option. There are numerous apps that can also help you.

How to Dropship From Walmart to Shopify

Walmart allows dropshipping operating from its store. To do this you will need to have one of the Shopify dropshipping apps. Then you can choose the products from Walmart website and import them into your store. Then you can change the products to fit your branding better and start selling. You can also get an app that can automatically fulfill orders for you.

Do You Need Shopify to Dropship?

While you don't need Shopify to dropship, it is one of the best platforms for your dropshipping website. It has the apps that can help you bring products to your store, customize them for your audience, market them on various digital channels and fulfill orders. This can all be done cost-effectively, allowing you to earn more money.

How to Find Shopify Dropshipping Stores

There are numerous ways to find Shopify dropshipping stores. The first is to find products that are being dropshipped and then search for those products on Google. This will yield a list of stores that sell that product. You can then use this search to look at delivery times, many dropshipping stores will have shipping times that are about 1-2 weeks at least.

How to Fulfill Dropship Orders on Shopify

There are numerous ways to fulfill orders on your Shopify store for dropshipping. The first is to manually complete the orders, inputting the address and customer details. Alternatively, you can use an app that can automatically or semi-automatically input all the details and order for you. This can be the most cost and time-effective option for you.

Can I Have More Than One Dropship Shipping on Shopify?

Yes, you can more than one store that dropships on Shopify. This can be a great option if you would like your store to build a larger income with different niches but not want to confuse customers. Therefore, one store could sell one niche (pet products) and another could sell in another niche (sports products). This is more costly but can build your customer base.
Offers & Promos