The Top 10 Shopify Blog Themes
Last modified: March 19, 2023
Blogging is an effective pursuit for many businesses. Mainly because it offers businesses a chance to draw attention to their brand, products and other aspects through social media, SEO and email marketing.
According to research, those who blog regularly are more likely to generate leads, with blogging more than 15 times per month likely to generate 70% more leads and sales. Further research has found that regular blogging can improve ranking on Google and other search engines.
However, blogs have to look professional. If visitors don't think your site's blog is well maintained, then this can be a negative aspect. That is why you need to look at Shopify blog themes.
What To Look For With Shopify Blog Themes?
There are many aspects to look out for with Shopify blog themes. You want one that has editorial options to help you shape the look of your blog posts. You also want want ways to improve your communication with audiences. Blogs with lots of comments can generate better results.
You also have to make sure that your website is able to rank well on SEO. Plus you have to make sure you have a site that sells products, after all, Shopify is an eCommerce package. Luckily, there are potential Shopify blog themes that can support large and small catalogs.
So, what are the top 10 Shopify blog themes that we recommend?
Filter between free and paid
Kinder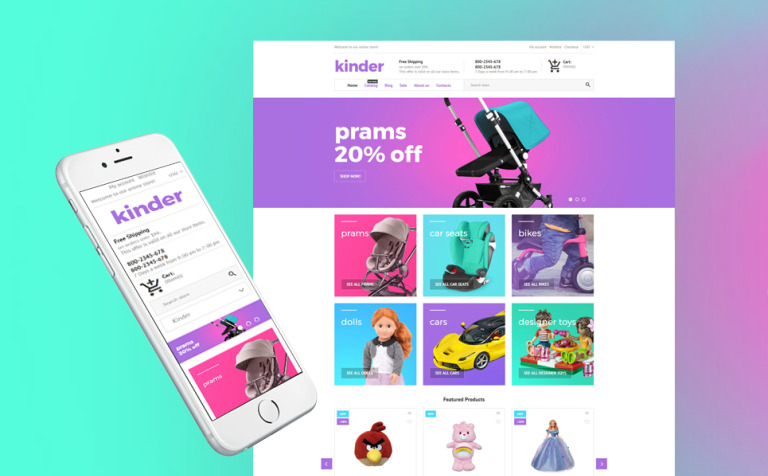 Kinder is a great starting place for blog themes. It is specifically designed for selling products related to children, and so it has bright colors and interesting designs. However, this niche is also a perfect setup for blogging. Parents often read blogs to help them with parenting and other aspects of home life, so a child-centred blog is a great option.
The blogging additions to Kinder are simple but effective. And there are other ways to engage your audience such as online chat facilities.
To improve the shopping experience of your customers, there is a fantastic slider function that allows you to promote numerous products, sales and blog content within the smallest area of space. The theme also comes with a currency converter for those looking to create a global brand.
Another great benefit is the product sorting functionality that can help customers rank products to highlight what is most relevant to them. When you implement this, you are bound to see your revenues rise and less cart abandonment.
Kinder Highlights:
Blog aspects to help you improve engagements and better SEO ranking.
Online chat facilities to engage audiences who have issues.
Responsive website theme, so your site will look great on any device.
Great SEO potential, so you can be found on Google and other search engines.
Ira
Ira is designed for visual storytelling, which is a great option for blogging. Blogs with images attract more attention and get the reader to stay longer on the page. With either of Ira's two styles, you can showcase brand imagery with the high-quality images and these can be done with large, unique image panels.
There are also great slideshows and video options that allow you to extend the story you set out in your blog posts and home page.
To help you manage your social media profile, there is a full-width Instagram feed, perfect for those who are selling fashion or are in similar niches. This allows you a way to connect to audiences on the platform and sell more products. And to help you collect comments there is the Disquis comment option for your blog.
Customers can add to their cart without leaving the page their on with a beautifully rendered slide-out cart.
Ira Highlights:
Two great menu options, either a slide-out sidebar menu or a horizontal menu.
With a well-maintained blog, the SEO potential for this theme are immense.
Lots of fantastic visual-story telling options to make your brand more tangible to audiences.
Free stock images from Burst to help you tell stories on your blog.
Maker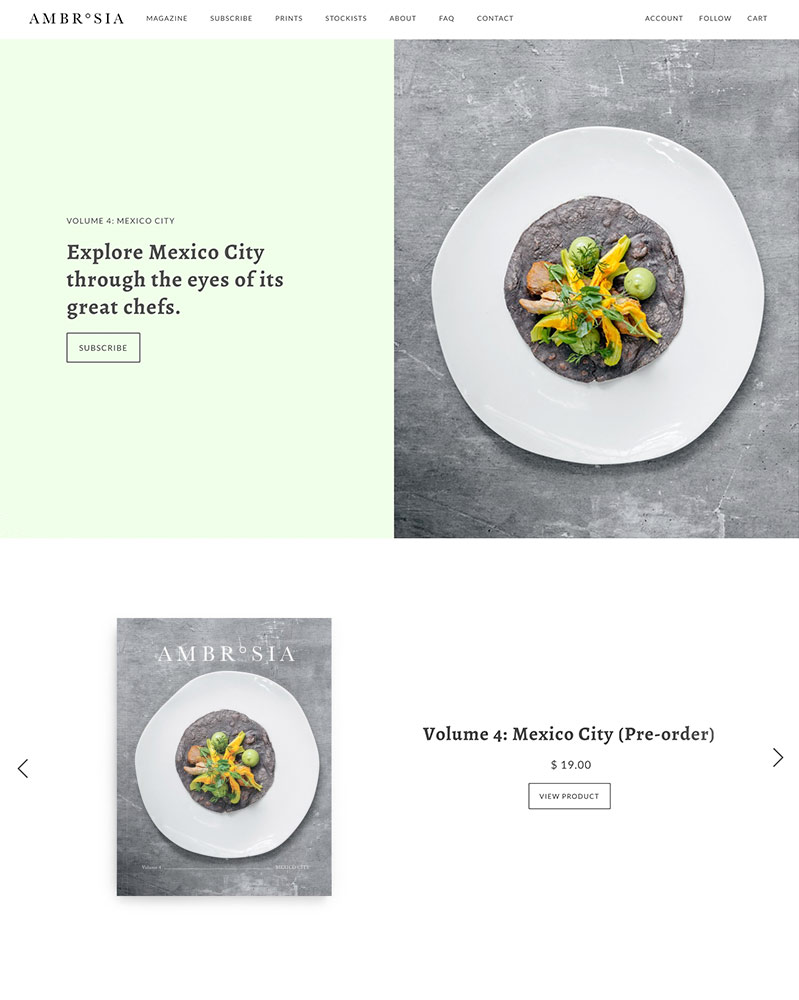 This theme was designed for those who like to tell stories through images and blogs. It is also ideal for those stores with small catalogs. The quality of the published artwork on this theme can be immense thanks to the way the publishers have designed the image aspects of the theme. And with the editorial-style layout, you can be sure to impress visitors with your beautiful website.
To attract the attention of audiences, there is the option to having a home page video on your front page. This is the perfect place for you to tell your brand's story; including what makes you the best seller, manufacturer of the product and what makes your products the best. Videos can be hosted on YouTube or Vimeo, so your site is not slowed down.
You can also add to the visual storytelling of your brand with featured brands and product slideshows. You can have numerous slideshows on your website, an excellent way for you to attract the attention of your audience.
Maker Highlights:
Lots of visual storytelling capability, so customers can feel connected to your brand.
Users can comment on your blog posts using Disqus.
SEO-friendly, so you can be found on Google and other search engines.
Highly responsive, so will look good on any device or screen resolution.
Parallax
One of the most beloved themes on Shopify, 99% of users recommend this theme for their stores. One of the main reasons for this is that it offers a high-quality experience for selling products and blogging.
The parallax effect is also very popular at the moment and the animation is really stunning. As your users scroll down the page, they will be very impressed. In addition, you can add engagement options for your audience including the highly-rated Disqus blog comments option. This has been linked to a higher number of blog comments which is also linked to better performing blogs.
To promote your brand further, there is a full-width home page video that allows you to expand on your brand's story. You can also showcase your Instagram feed to customers and followers to gain more followers and sell products.
For navigation, there is a beautiful drop-down menu that can help customers to easily navigate your store. This also helps with your page rank on Google.
Parallax Highlights:
SEO friendly theme that can help your store be found on Google and other search engines.
Social media icons to help connect your store with social media channels.
Clean, very easy to use design.
Lots of engagement options with audiences to tell your brand's story and get them emotionally involved.
Booster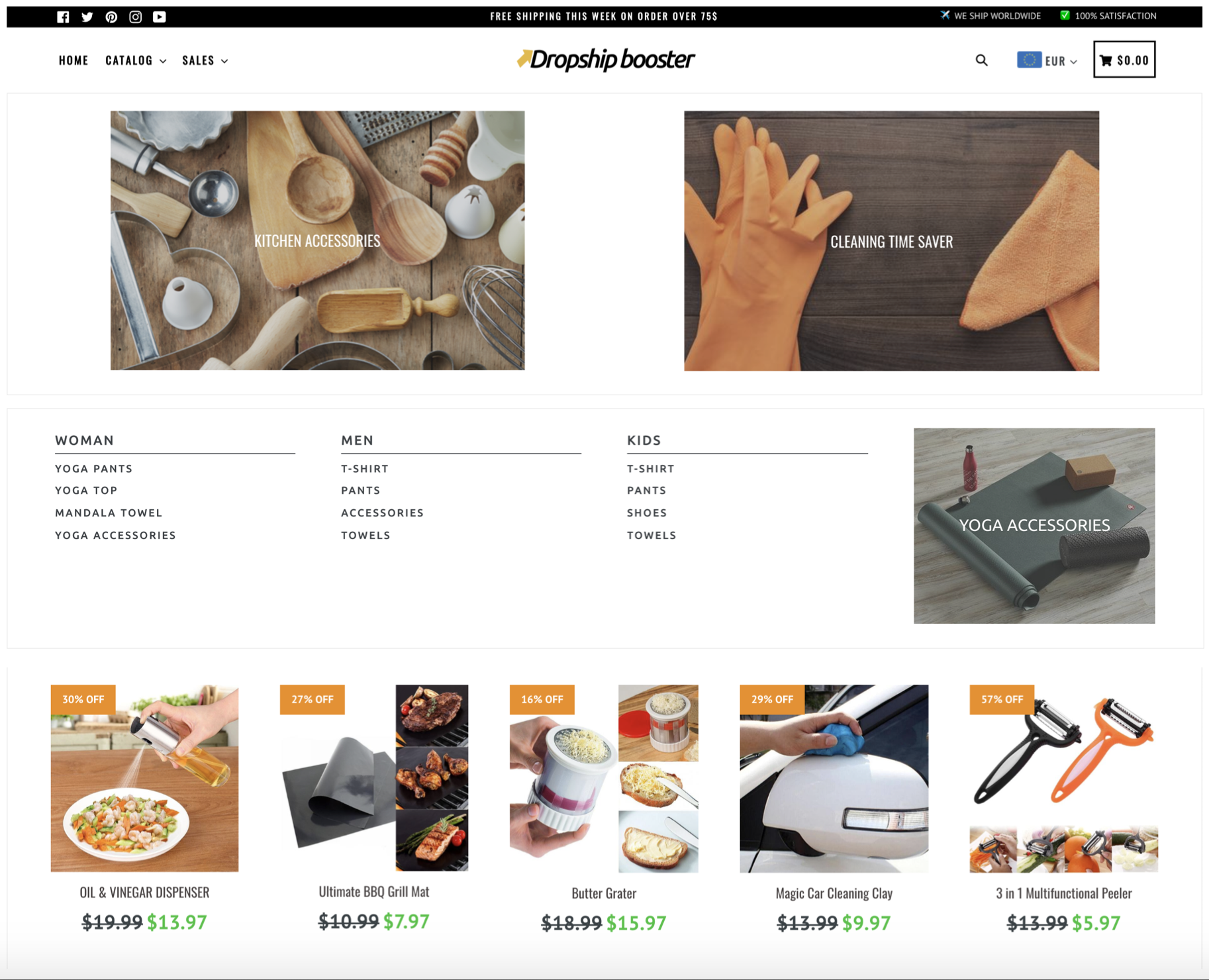 This theme is one of the best options when you're looking for a great Shopify store, regardless of whether you're blogging or not. This is because Booster isn't just a theme, it is a collection of features and functions that make your store a powerhouse and yet still attractive. A lot of the added on functions save on apps and their associated costs. The developers estimate that businesses can save more then $2,000 a year from the functions included within the theme.
Examples of the functions include countdown timers, social proof and currency conversion. However there are more functions that are perfect for selling online and even building email marketing lists.
Therefore, if you want a cost-effective way to start your new business' website, this is a great option. The design elements are great and it can help you create a colorful and visually striking website.
Finally, you'll find that your website will perform well. Its speed can be up to 2.1 times faster than other options and the SEO features allow it to rank higher on Google and other search engines.
Booster Highlights:
Save more than $2,000 on apps with all the functionality.
Fast theme, so your pages will load quicker than it would with other themes.
Good for SEO, so your site can be found on search engines, including Google.
An excellent option when you have a lot of mobile customers.
Blockshop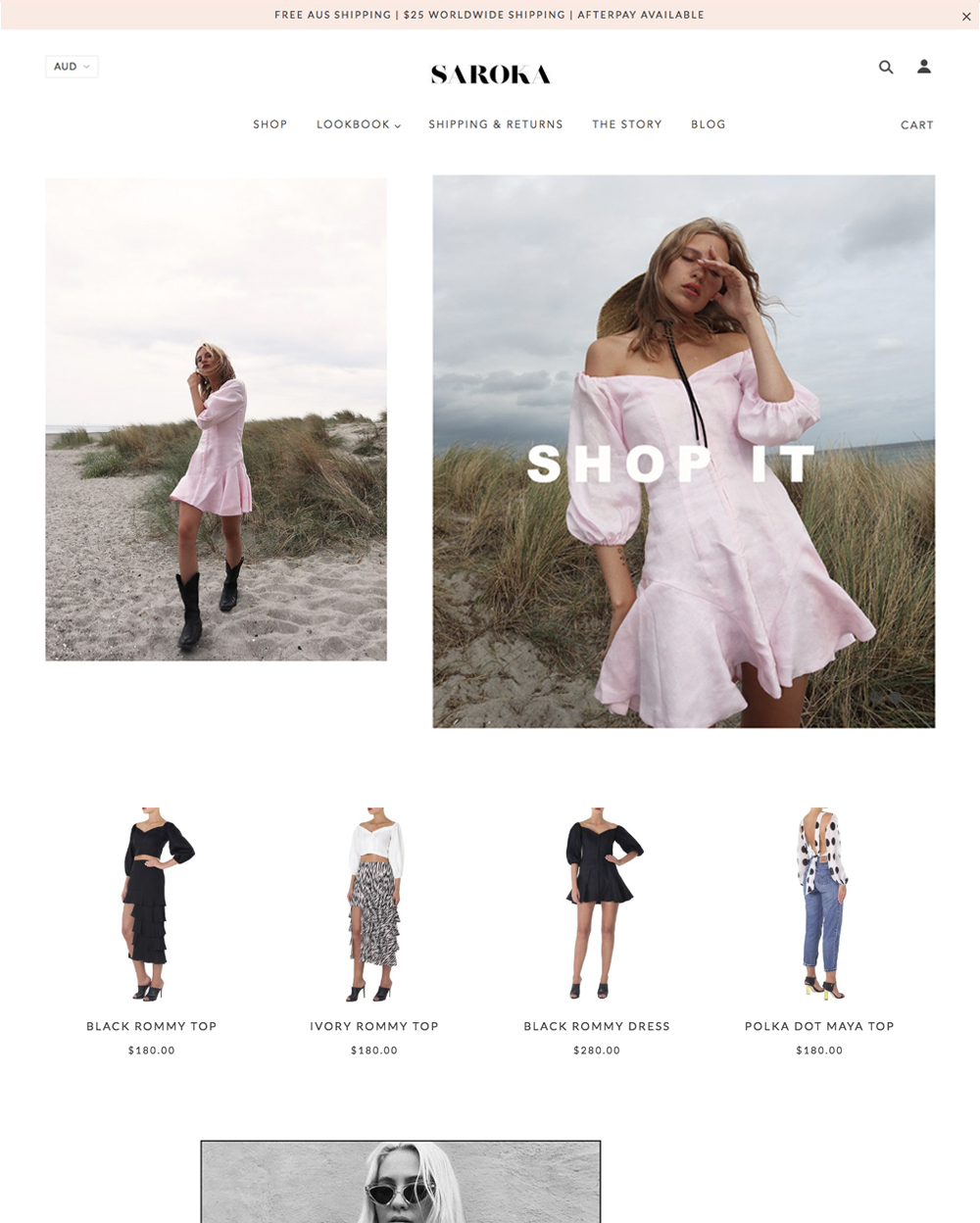 Blockshop comes with four fantastic styles to help shape the look of your blog with incredible ease and lots of features to help you promote your store. A lot of the features are image and video based, which are really good aspects of blogging as well as selling online. For instance, you can have a home page video that can tell your brand's story. The video can be hosted on YouTube or Vimeo platforms, so you don't lose out on server speed.
There is also a wide layout that can help you make the most of imagery associated with your brand. Stunning images can look big, bold and beautiful and this will improve their attractiveness.
In addition, you can have multiple slideshows on your home page. This allows you to promote your products and brands easily throughout your store, but especially on your home page. You can also use the Instagram feed to market to customers and followers.
For navigation, there is a great multi-column, drop-down menu that can help customers find what they're looking for. This can also help you to bookmark important articles on the menu and get more people reading vital blog posts.
Blockshop Highlights:
Optimized for search engines, so you can be found on Google and other search engines.
Mobile friendly, so your site will look beautiful on any device or screen resolution.
Perfect for those looking for high engagement with lots of touchpoints on your website.
Free stock images provided by Burst to help you populate content on your store.
Retina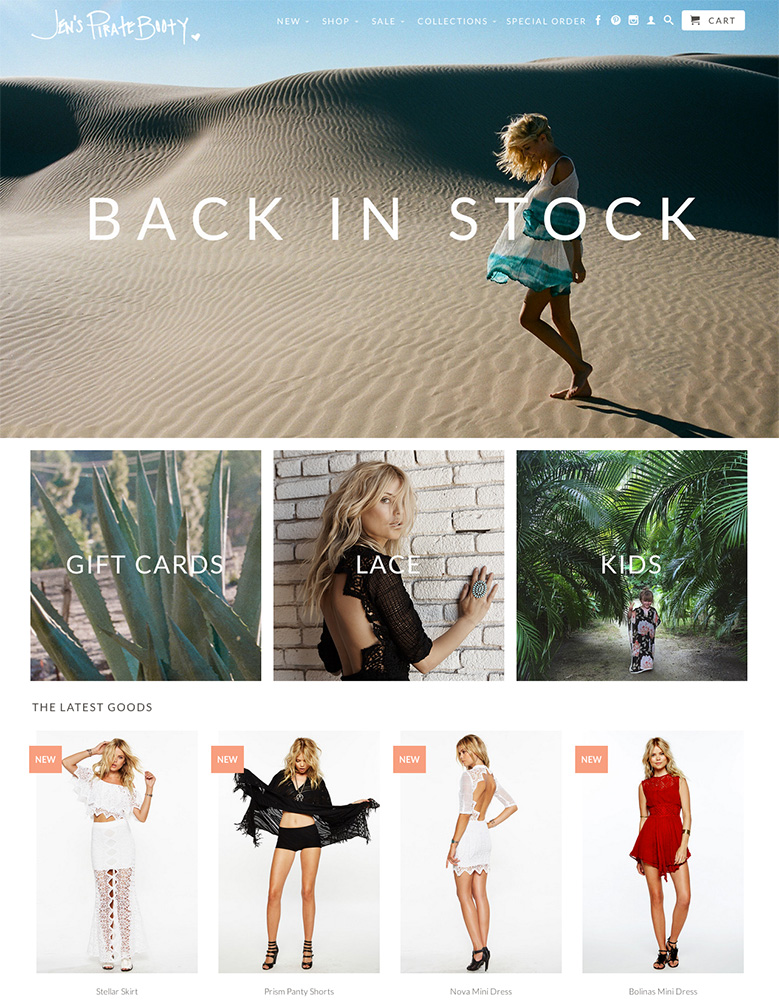 Another one of the top rated Shopify blog themes, Retina has everything you need to create a website that is powerful and highly engaging with audiences. There are four beautiful styles that really standout and there are great features that help you tell your brand's story. For instance there is the full-width home page video that can put your brand right in front of the customer as soon as they've landed on your store.
Videos can also be hosted on product pages. This can help sell more products and with the addition of the quick buy option, it has never been easier to make sales on Shopify.
You can also engage with audiences through your Instagram feed, that shows you're active and successful. And there are Disqus blog comment support to create an engaging blogging experience for your visitors.
To help with navigation, there is a beautiful, store-wide customizable sidebar that can display multiple menus and custom content. Perfect for helping customers to find what they want and promoting your brand's blog at the same time.
Retina Highlights:
Create a highly engaging site that can help you keep in close contact with customers and prospects.
Highly visual design, helping to impress customers as soon as they land on your site.
Video usage helps you tell the brand's story.
Optimized for Google and other search engines so you can be found online.
Mobilia
Mobilia was designed for a mobile market and you can tell with the unique design that pops out at you as soon as you land on a website with this theme. It is bold and it demands attention. There are lots of elements that help you here, most of which are visual ways to tell stories. For instance, there is a full-width home page video option, allowing you to tell your customers the story of your brand. You can also add videos to product pages. In addition, product images can have zoom enabled, to allow customers to see the finer details of your products.
To help with engagement, there is the option to enable Disqus blog comments, so visitors to your site can leave their impressions upon your blog titles. And you can add further engagement with a full-width Instagram feed.
There is a customizable sidebar to help your visitors navigate around your collections with ease and a multi-level menu for the rest of your site.
Mobilia Highlights:
A stunning design that can be used for any industry or niche.
Mobile friendly, so it will look good on any device or screen resolution.
Lots of ways to visually tell the story of your brand.
Lots of engagement opportunities to improve the connections between you and your visitors.
Supply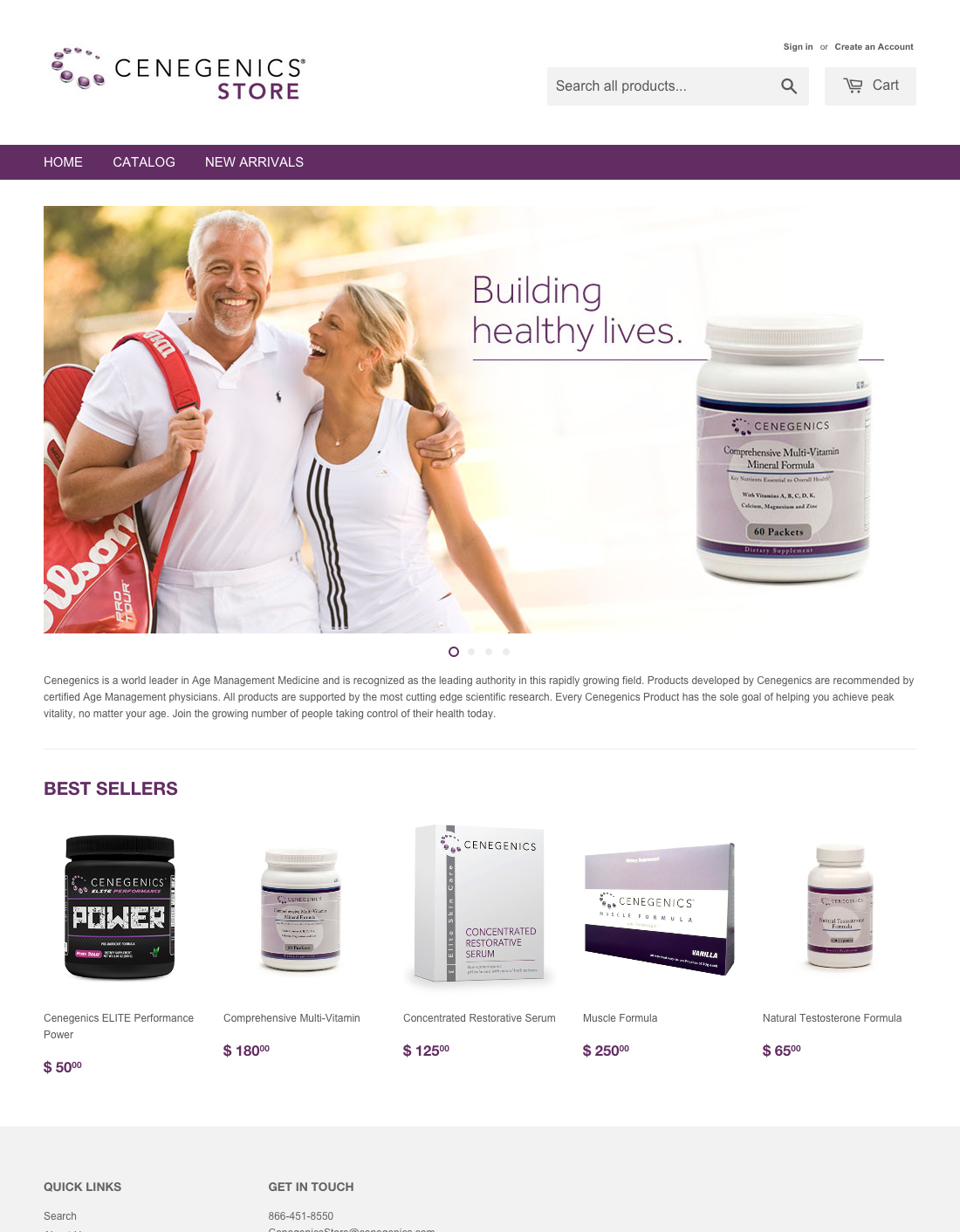 This free theme was built specifically for large catalogs. While it doesn't have a great deal of features, it does have enough to make it worth while for those who are on a very tight budget. There is a collection filtering sidebar that allows customers to see only the products they want. This is done by filtering products by collections, brand, price or other customizable options.
You can also build your brand through the slideshow option. This can also be used to showcase best selling products or featured collections on your home page.
Supply Highlights:
A free theme, great for those who are on a tight budget.
Showcase your products on your home page through excellent slideshows.
Filter products through various options.
Optimized for mobiles, so your site will look good on whatever device the visitor is on.
Broadcast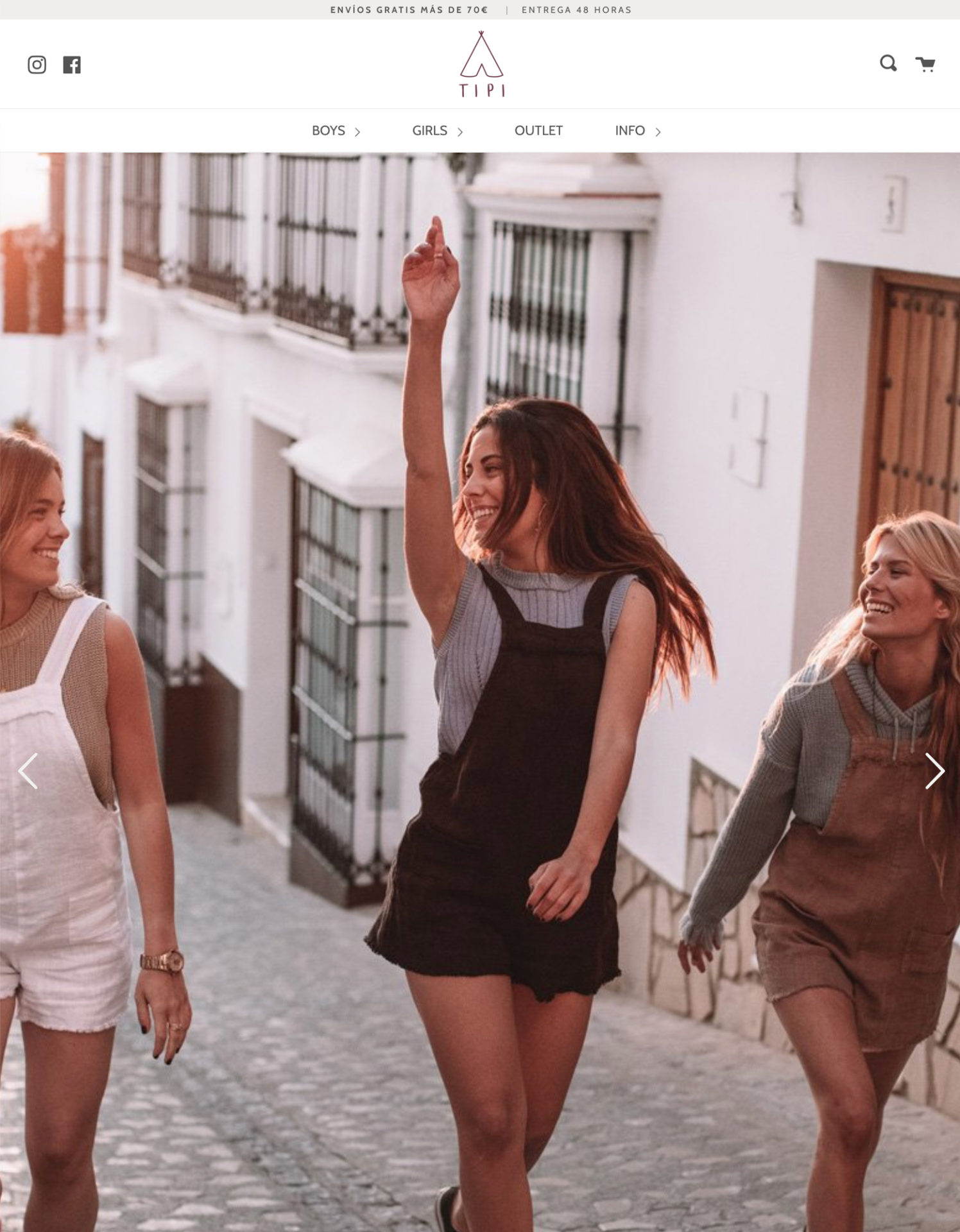 If you're looking for a Shopify blogging theme that will help you connect with audiences, then this might be the best option for you. There is a lot of engagement options built into this theme that make it one of the best for blogging centered organizations and those with lots of images to tell their brand's story.
The Lookbook feature is great and allows you to connect your store to your Instagram account to highlight top pictures and products right on your homepage. You can also video on your homepage for highly engaging brand promoting content. This can be done either through a featured video setting or an auto-playing background video.
To help build trust with your audience you can showcase what others have said about your brand through customer testimonials settings that look like a Twitter feed.
The product pages can be enhanced with a quick view option, that allows audiences to see everything about the product without leaving their current page and swatches that can help you sell product variants on one page.
Broadcast Highlights:
Offer a great blog experience with enabled Disqus commenting.
Optimized for mobiles, so your site will look good on every device and screen resolution.
Lots of ways to promote your products with quick view and color swatches.
Video options help to sell your brand's story and the products on your store.
Final Word: The Top 10 Shopify Blog Themes
When it comes to the best Shopify blog themes, you're spoilt for choice. While Shopify isn't known for blogging, there are some great themes out there that can help you blog, attract audiences and sell products. You just have to choose which theme is best for you. So what theme will you select?
Avi Klein
Vast experience in the online world. SEO expert, Web developer and consultant to several online companies.
Read more...
. Read more about
our approach
to reviewing themes and plugins.