14 Best Shopify Print On Demand (POD) Apps – [2023]
Last modified: July 4, 2022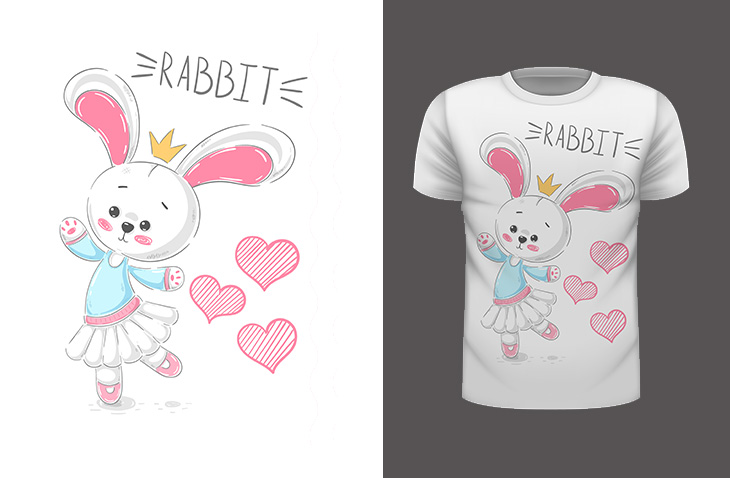 If you own a brand and want to sell products that contain your branding or sell customized items, then you're going to need one of the top Shopify Print On Demand apps that are available. These can not only help you to offer unique products not available elsewhere on the net, but also expand your revenue streams and increase brand awareness at the same time.
In this article, we will list some of the top Shopify Print On Demand apps available. But first, we look at what print on demand is and why you should use it.
What Is Print On Demand?
Print on demand is when products are customized using preset or unique designs. When an order is made, the product has the design printed on it to create the unique finish. Therefore, there can be unlimited numbers of finishes for one product (like a red t-shirt or white mug).
Normally the printing and shipping is handled by a third-party known as a fulfillment center. They act like drop shippers, but they also offer the additional service of printing the products as they are required. However, some businesses may opt against this and instead do the printing themselves.
Print on demand products are very popular. It went from a new business niche in 1993 to being worth approximately $187.7 billion in 2018. And it can be very profitable as well. About one-fifth of customers are willing to pay more for customized products. In 2022, the most requested product is a customized hoodie.
The Advantages Of A Print-On-Demand Business
There are many advantages of a print on demand business. For one, if you use a fulfillment center, there is no stock for you to handle. All the stock and shipping is handled by the supplier. This can offer you better prices for products, printing and shipping. In addition, it means that you can focus one hundred percent on marketing your brand, creating new products with a mockup tool and improving your revenue streams.
In addition, it allows you to operate your business from any office or even at home. This can help you reduce costs significantly, while maintaining quality products and customer service.
Print on demand is also great if you don't anticipate a high number of sales, but look at it as an additional revenue stream. This is great for YouTubers, bloggers or podcasters.
What To Look For In The Shopify Print On Demand Apps?
There are many things that you should look for when you want to use one of the Shopify print on demand apps. The first thing you need to decide is whether you want to print yourself or not. If you want to do it yourself, then there is little need for a specialist app.
However, if you want the fulfillment center to look after the printing and shipping, then you should look at several aspects to choose the right app. Many apps are specific to particular fulfillment centres, so you need to make sure you're happy with the print on demand suppler.
The first thing that you need to consider is location of the printing suppliers. Some printing is done in just one territory. However, others will have multiple centers across the world. This can allow you to service customers across the world. However, if you're concentrating in a specific country/region, then you might not want to have a supplier who services a wider area.
Another consideration is whether you want your audience to customize the items themselves. Some Shopify print on demand apps have functionality that allow customers to customize their products. However, others don't.
You might also want to have an app that can offer a digital mockup on the screen. This can help you perfect your designs, before you order proofs of your products. Some of the most popular items that are requested for print on demand is stickers.
So, what are the best Shopify print on demand apps? Here is our list of the best apps for your next website.
Filter between free and paid
Printful

Printful offers user customization on a lot of different products, from t-shirts to hats and posters to beanbags. They offer fast shipping from locations in the US, Mexico and Europe, giving you plenty of geographical area to sell your products cheaply. The printing is all done in-house with their own expert team.
Developing products on Printful isn't as easy as it is on other Shopify print on demand apps, but many users find it still intuitive.
Printful Highlights:
Shipping of products within three business days.
In-house printing, fulfillment centers across North America and Europe.
Over 160 products you can customize.
20% discount on sample products offered.
Printify

Printify offers you the chance to customize more than 250 products and get them printed in more than 90 locations across the world, including the US, UK, China, Germany and Australia. Therefore, you can be selling globally with a service that offers you very competitive prices.
Products can be designed with the easy-to-use mockup generator. Products you can design include t-shirts, shoes, accessories, hoodies and more. The range of the products are amazing and certainly one of the best.
Printify highlights:
See product designs in the mockup generator.
Printing partners across the world offering lower cost production and shipping.
Can integrate with WooCommerce and Etsy.
Printify takes care of production and shipping.
CustomCat

With 15 years of experience offering print on demand service, CustomCat can offer a business like yours a lot of potential revenue. This service provider is very quick at printing and shipping items. Some products can be printed and shipped on the same day, but you should be looking at lead times of about three business days.
CustomCat have a wide variety of products you can customize and their catalog includes 550 items from mugs and posters to t-shirts and hoodies. Therefore, whatever you're looking for, you can easily create a wide range of custom products available on your store.
One of the best aspects of CustomCat is that they offer DTG, Embroidery & Dye Sublimation for all print-on-demand products. These can also be customized by the customer, so they can add a name to any product to create a really unique product. They don't need a special app for this, this can be done on your store.
CustomCat Highlights:
Fast turnaround times, products can be sent out on the same day as order.
Offers DTG, Embroidery & Dye Sublimation print-on-demand.
Allow customers to add further customization to your store.
Great pricing on all products.
SPOD

SPOD offers you a great turnaround, less than 48 hours for most orders to be printed, packed and shipped. To help you get started, there are 50,000 free designs that can be added to other products. Or you can use your own images to add to products. When you want a sample, you can get 50% off your first two items.
SPOD prides itself at a low return rate, so you can be sure that customers will be happy with their purchases. SPOD has over 16 years of experience in this industry.
SPOD Highlights:
Get 50% off your first two items when you want samples.
16 years experience in drop shipping.
Create designs with your own images or use any of their 50,000 images for your products.
Turnaround times are less than 48 hours.
teelaunch

Teelaunch offers you a great experience to get your custom products to customers. They have over 170,000 feet of print on demand production facilities which are located all over the world. Therefore, you can be sure that products ordered can be produced and shipped effectively from their network of global facilities.
You can offer a lot of products available through the app including dinnerware, clothing, accessories and drinkware. Therefore, your catalog of custom products can be full and very inviting to customers.
Teelaunch are also great at servicing all your revenue streams. If you have a physical store, you can take orders in person and manually order the products from teelaunch. The products can then be delivered to you or your customer's home address. If you also sell on Etsy, there are integration options for you.
Teelaunch Highlights:
Printing takes about three or four days for orders.
Integration with Etsy.
Locations across the world.
Lots of different products to customize and sell to your customers.
JetPrint

JetPrint was originally a supplier of custom watches. Now they offer not just 50 types of watches to customize, but also other products such as tote bags, t-shirts, door mats and other items that can allow you to create a large catalog of excellent products customized with your branding. If they don't offer what you're looking for, you can always request new product lines.
Your sales can be worldwide, thanks to their worldwide drop shipping supply network. About 97% of the deliveries can be tracked, giving reassurance to your customers that products have been shipped.
JetPrint Highlights:
Track up to 97% of your orders.
Lots of different products to customize and sell.
Request new product lines.
Global supply chain. Sell across the world.
AOP+ Easy Print on Demand

With operations across the world, like the UK, US and Europe, you're getting high quality products at a good price with the customization. AOP+ specializes in giving YouTubers, bloggers and other creative artists a way to sell merchandise to audiences. The company promises that all their printing is done in-house and everything is also manufactured in-house.
There are numerous products available to customize and sell from them. Including the traditional clothing but also flags, doormats and other items. According to the print on demand supplier, it is easy to start selling products with them. Designs can take as little as 30 seconds to create.
AOP+ Easy Print On Demand Highlights:
Takes 30 seconds to create product designs.
Easy integration with numerous other apps.
All manufacturing and printing is completed in-house.
Lots of great products you can customize.
T-Pop

Located in France, T-pop is an easy to use, print on demand service provider, that offers quick set up and good profits. You only pay for what your customers order and the quality of the products are of a high standard. When orders are to be sent to Europe, there is a tracking facility available so you can keep on top of all deliveries. Customers are updated regularly with shipping notifications. All of these are white labeled, so customers think everything is coming from you.
There are lots of great products on offer from the supplier, including clothing, accessories and even drink flasks.
T-pop Highlights:
Items printed and shipped from France.
A large range of products that can be customized.
Pay only for what you order.
All items are while labeled, so customers have an experience just from you.
Two Fifteen
Two Fifteen handle everything from printing to shipping. Their fulfillment team is based in the UK and will send out any orders within five days. All items that are printed are checked by a quality control team that ensure that returns are minimized.
For those looking to have a large catalog, you won't be disappointed by Two Fifteen. They have over 200 products that can be customized with multiple designs offering you a unique way to fill an online store. Some of the most popular item include hoodies, cushions, mugs and tote bags.
Two Fifteen Highlights:
Worldwide shipping from London base.
High quality products with individual item quality check.
Five day turnaround time.
Lots of customer service options including live chat, phone and email.
WC Fulfillment
If you're looking for an experienced team to offer print on demand products to your customers, then you should certainly add the team behind WC fulfillment to your shortlist. They offer to print and ship your customized products direct to your customers within three days. Their prices for the product production is at a great price, allowing you to improve profits for print on demand products.
WC Fulfillment offers three to five product mockups for you, these can be used on your website to help convert customers. They also offer great customer satisfaction, if customers aren't happy with their product, the team will replace it free of charge.
WC Fulfillment Highlights:
Automatic creation of three to five digital product mockups for you to use on your business' website.
Shipping within three days.
Great customer service.
Great low prices for products.
Factory4me

If you want to start selling products that you've designed on basic products, like t-shirts and hoodies, then Factory4me is a great choice. This print on demand service means you don't have to stock items and you can use their range of ready-to-use templates to create excellent products to sell. There is also a great mockup generator so you can see what your products will look like before you put them on the store.
Factory4me offers you the chance to brand everything about the product. Even the care label and the packaging label will contain your brand's mark. Therefore, customers won't know there is a third party involved in creating and shipping your product.
Factory4me Highlights:
Full branding of print on demand products.
Mockup generator so you can see products before placing them on your store.
Easy to use online designer to create your products.
Ready to use templates to help you get started.
Pixels

There are more than 100 products you can customize with Pixels and they are well known for their quality and ease of customization. They have 15 fulfillment centers across the world from the US to Europe to Australia, so shipping times and costs are reduced, offering you and your customers the best prices to succeed.
They have a lot of products on offer, including wall art, clothing and other accessories. The pricing for each product is set, so you can easily calculate your profits. Plus, you can change the prices you charge your customers at any time. There are no minimum or maximum prices to limit the prices of your product.
Pixels Highlights:
There are 15 fulfillment centers across five countries.
More than 100 products to customize.
Products are printed within two or three days of order.
Used by some of the biggest brands including Marvel, DC Comics, Vogue and others.
Riverr

This is an app that will help with the workflow of your print on demand Shopify apparel business.You will be able to keep track of customer orders and their customizations. There's inventory management, a product customizer, and automatic PO generation. You can organize products based on their type such as white t-shirts.
With this app you can have automatic image processing for Brother or Epson printers. If you can't keep up with orders then this app will process your order for you under your branding. All of the products are pre-made so you can get started with your print on demand store in minutes!
Riverr Highlights
Works well with your Shopify store
Sort your inventory by product or how you choose.
Support with order fulfillment if demand is too high.
Easy to set up.
Print Partners

Is an app that will help you run a clothing print on demand store and have your own apparel line. Print Partners handles production and distributions so you can focus on your brand and marketing. It is easy and simple to set up your account and orders are fulfilled and shipped usually within 48 hours.
You can arrange to have your branding added to the packaging so the customer will not know that their product has come directly from the printer. There are lots of different clothing styles, types, sizes and colors to choose from, including hoodies, canvas tote bags and activewear.
Print Partners Highlights
No inventory costs required with print on demand.
Advice on making a success of your business.
Simple order payment.
Shipping times (after processing) are between 2-5 days.
Final Thoughts: The Top 12 Shopify Print On Demand Apps
If you're looking to sell print-on-demand products, then you're best to have one of the top Shopify print on demand apps that are available. There are numerous options available and many of them have similar features. However, there are some small differences that can really make one stand out as the provider for you. For instance, are you looking for one that can process orders in a day or a week.
Be sure of what you want from the supplier can make all the difference. It will help you be sure that you're servicing your customers exactly as they expect, which can make all the difference when you're looking to expand your company.
Avi Klein
Vast experience in the online world. SEO expert, Web developer and consultant to several online companies.
Read more...
. Read more about
our approach
to reviewing themes and plugins.