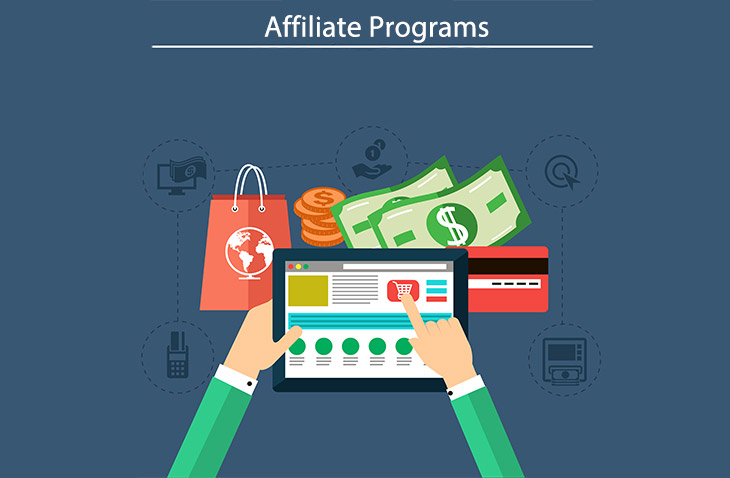 The Top 10 Shopify Affiliate Program Apps
Last modified: October 3, 2019
Sometimes your marketing is just not enough to entice customers to your website. It doesn't matter how many times you optimize your SEO, send out email marketing campaigns or post updates on social media, customers don't find you. This is because there is strong competition online. So, what you need is to reach out to influencers and affiliates and market through them. For this, you need to start using one of the many Shopify affiliate program apps.
What Do Shopify Affiliate Program Apps Do?
Shopify Affiliate Program Apps are pieces of software that allow you to manage influencers and affiliates who want to promote your website and products. For referring customers to your brand, they make a commission on the sales that are made. This can be a very lucrative partnership.
The Apps help your influencers apply, collect links and monitor campaigns results. This can help those in your affiliate marketing know exactly how they are performing. It can also help you to manage your programs automatically, allowing you to do what you do best: service your new customers.
So, which Shopify affiliate program apps made our shortlist?
Filter between free and paid
Secomapp: Affiliate Marketing
With this app you can build multiple programs that can have their own commission structure. You can also tier commissions manually. This can be related to the performance of the affiliate marketer or by the products that they're promoting. You can also set specific rates for products.
Recruitment is easy with this app as you can ask anyone to join your affiliate program. This can include influencers, professional affiliates and even customers. Customers can be asked to join with a simple post-sale popup. Once in the program, affiliates can gain access to store media to make their campaigns blend in with your brand for better conversions and more sales. These campaigns can then be tracked both through affiliate links or coupon codes. Analysis is done through visuals such as graphs and pie charts. Both you and your affiliates can see this.
Finally, payment is made easily. It is done manually, but you have the option to make payments with money or store credit.
Secomapp: Affiliate Marketing Highlights:
Set commissions based on performance, grouping or product.
See results of campaigns.
Set coupons to individual affiliate marketers for tracking.
Pay commissions with money or store credit.
Pro Affiliate Marketing

Set yourself up with a great custom branded affiliate portal with this great app. The app provides your potential partners with a partner portal to register, provide details, analytics and information about future payments. The primary focus of this app is to turn your current customers into affiliates. This allows them to share information about products, and offers, on your website through social media, like Instagram.
As with other solutions, you can set commission levels based not just on the program, but on the affiliate and the product. This means that you can reward high-performing affiliates with better rewards or products with higher margins with higher commissions.
There are two ways that you can track affiliate orders: referral links and coupon codes. Coupon codes can be assigned to specific affiliate marketers or they can be grouped for a campaign you're running. Coupon codes can even be automatically created. When an order is made, you are notified that an affiliate has made an order.
There are lots of options for affiliates to share their links. For instance, they can share them in emails, web pages and even on social media with Facebook, Twitter and Instagram all supported. Finally, you can make payments via PayPal Payouts, which is included within the app. Or you can set up your own custom payment mode.
Pro Affiliate Marketing Highlights:
Create coupon codes for campaigns or affiliate marketers.
Partners can share codes and links via websites, email or social media.
One-click setup with sensible defaults that help you setup your affiliate program within minutes.
Payouts can be made via PayPal, which is very easy.
Affilo: Affiliate Marketing
Affilo is an all-in-one affiliate marketing management app that has everything you need for a great scheme. The problem is whether or not you will utilize all the benefits within the system. The system allows for you to have unlimited affiliates, traffic, orders, links, clicks, offers, banners, banner impressions and discount codes. With most other apps, there are usually some sort of limits.
There are lot of features that can help you reward your affiliates. For instance, there are product level commissions, flat rate commissions for each customer referred or product sold. Or you can have percent based commissions for order/product value. You can also pay just once for a sale, or you can do recurring commissions when someone sells a subscription.
The app allows you to change the commissions of affiliates at anytime. Therefore, you can adjust commissions as market economics demand. Or you can give performance based commissions, so you can reward your best performing marketers better.
There are lots of ways you can monitor the performance of your affiliates. For instance, you can see the statistics for the number of customers brought to you or products sold. This can help you push for promotions in the affiliate scheme on products that aren't getting enough attention. Or improve commission schemes for products that aren't being marketed as much.
To help make the payment system better, there is an automatic system that allows you to pay affiliates through PayPal payouts. Alternatively, you can give your affiliates store credit. This can be good if you're using customers as your referral traffic source.
Affilo: Affiliate Marketing Highlights:
Use PayPal to automatically pay your affiliates in bulk.
Lots of great templates to help signup and manage your affiliates from your website.
There are so many commission scheme options, that you can customize your affiliate marketing programs for your brand's need.
Use links and coupon codes with your partners to entice audiences to your website and to make a purchase.
Refersion: Affiliate Marketing
This is a fully functioning affiliate and influence marketing management platform that will help your brand grow and succeed, with the help of some affiliate marketers. The start guide is a great way to connect your store, add the necessary branding and adjust your commission within just ten minutes. During this time you will also be setting up payment details to ensure your referrers get paid.
What is great about this app is that it is connected to a group of affiliate marketers already. These people can signup to your particular program. Then they can go forth and promote your brand. With more than 5,000 potential partners to market your partnership program to.
Any new affiliates can quickly register with a great signup page that is designed to fit into your current branding. The custom form fields allow you to collect any more information you think is necessary for running your affiliate program.
Once signed up, affiliates get their own personalized dashboard. From there, they can assess their performance, create links for campaigns, update their own details and run reports. This is a great feature because it allows them to see how well they're performing and whether they need to make any changes to earn more commission.
In addition to referral link tracking, there are conversion triggers that allow tracking across numerous platforms online. One of the top methods is using coupon codes. Coupon codes can be automatically created by the system when requested by the affiliate marketer and the request accepted by you.
Refersion: Affiliate Marketing Highlights:
Set different commissions based on the product. So products with higher margins can have higher commissions.
Allows affiliate marketers to see their results.
Easy to sign up new affiliates with access to more than 5,000 already subscribed partners.
Automatically generate coupons for affiliates so they can get on with their campaigns without bothering you too much.
Bamboo · Referral Program

Create a new referral program that rewards customers when they promote your products and brand to their friends and wider community. Your customers get a referral link that they can share. When someone makes a purchase through one of these links, the corresponding customers can collect on a reward. This can be something like store credit or coupon for their next purchase.
This simple to use app allows you to reach out to new customers and take advantage of not just affiliate marketing but word of mouth marketing, which is a great way to attract new customers.
There is a free and a premium version. The free version only allows for thirty referrals per month, whereas the paid version allows for 400.
Bamboo · Referral Program Highlights:
Easily reach new audiences by marketing with your current customers, who new audiences will trust more.
Offer store credit for referrals.
Have 400 referrals a month.
Integrate your referral campaign with emails and popups.
ShoutOut - Affiliate Marketing

Instantly upgrade your standard Shopify store into an MLM store where you can acquire new customers and reward those who are actively marketing your brand. You can select a flat commission rate or vary the reward depending on the product. Or you can reward those who are helping you the best by giving specific affiliate marketers higher amounts of commission. The commission amounts can be adjusted automatically based on triggers.
You can create long term associations where there's no need for customers to use referral links or coupons for the partner to be rewarded. You can use an unlimited number of coupon codes. These can automatically created for your partners, so you can concentrate on servicing your customers. In addition, there are no limits on the number of referral orders you can take. No extra charges will applied either to your account, nor will there be charges on your payment processing.
Affiliate marketers will enjoy using this app as they get a personalized dashboard and accounting ledgers. These are branded to your store, for more consistency and excellent loyalty between you and your partners. It also provides them with an excellent area where they can track their results and see how well they are performing and the earnings they can expect to see.
ShoutOut – Affiliate Marketing Highlights:
Have an unlimited number of affiliate sales.
No hidden fees or costs to the app.
Personalized and branded dashboards for great branding.
Lots of data available and training to help you perfect your affiliate marketing programs.
Affiliatly

There are no limits on the number of referral orders that are available on this app either. However, this app does limit you to the number of partners that you can have. This means that you should carefully manage the number of people in your program and shed any of the deadwood that you have acquired. If someone is not earning you money, they can be removed from the program.
There are lots of tracking methods for you to keep an eye on your program. For instance, they can use a link, coupon code, QR code, client's email and product SKU. Each of your partners get access to their own admin panel that can help them see their statistics. In addition, you can have more control over the payments. If a customer has a refund or partial refund, you can make adjustments to the affiliates payments.
To help your affiliates market your products/services, you can upload banners for them to use as well as other content. All affiliates can be paid through PayPal or via store gift cards.
Affiliatly Highlights:
No limit on the number of sales that can be made.
Provide all the marketing that affiliates need to sell your products.
Limit the number of partners in your program.
Pay affiliate marketers through PayPal or via store credit. You can also claim money back if there are partial payments.
LeadDyno Affiliate Marketing

There are numerous ways that this app can help you run an affiliate marketing campaign. For one, you have access to their eCommerce affiliate network. This is a group of experienced and expert marketers who can help you grow your business. These affiliate marketers can benefit from a mobile app to help them see their statistics and collect all the information they need to promote your brand.
There is also a great one-click social media sharing functionality. This can help you reach a wider audience through the vast network that your partners have grown. There are also great recruitment and management tool.
LeadDyno Affiliate Marketing Highlights:
Connect with a large audience of established affiliate marketers.
Lots of tools to help you grow your marketing program.
One-click social media sharing tools.
Mobile apps can help you manage your program on the go.
GrowthHero Affiliate Marketing

Let your business soar with this affiliate marketing app for Shopify. There are lots of ways to build not just a referral network, but to optimize the purchasing path. There are A/B testing facilities where you can test the locations that customers are sent to in a referral link. This can help you to maximize conversions.
There is a great, customizable panel that can track events and showcase the best statistics to help you improve your results. You can also recruit new affiliates with one-click registration.
To help you build a strong campaign, you can group specific people together for a group reward system. This could be the best performing affiliates or those who have marketed certain products. These groups can then be given their own commission rates and rules.
You can pay your affiliate marketers through PayPal.
GrowthHero Affiliate Marketing Highlights:
Customize everything from the signup form to the dashboard. Choose a color and change text in minutes.
Create groups of affiliate marketers who have a different set of rules and commissions.
Maximize conversions with A/B testing.
Lots of data analysis possible.
Affiliate & Referral Marketing
This is a great way to create an affiliate marketing program in Shopify. You can offer custom rewards to your affiliates. This can either be cash or store credit, depending on what you want to offer that specific person. You can customize a lot including the commission rate, cookie tracking period and how the registration and admin dashboard looks. Brand your program, so that your affiliates can be sure they know who they're dealing with. There is a referral review period, that allows you to delay payment until you're sure that a sale has been complete. This is a great option, because sometimes returns can happen.
Affiliate & Referral Marketing Highlights:
Set the cookie duration. Not everyone completes their purchase on the first visit.
Customize signup pages and other pages associated with your affiliate marketing program.
Delay payments to ensure that sales have been made.
Offer in-store credit or cash payments.
Final Word: What Are The Best Shopify Affiliate Program Apps?
When it comes to growing your business, an affiliate marketing program might help. There are several systems out there to help you, but nothing does as much as running your own. Luckily, there is a great series of Shopify Affiliate Program Apps that can help you manage your affiliate programs so you can recruit, manage and reward those willing to promote your products/services. So, which of these Shopify Affiliate Program Apps will you use?
Offers & Promos