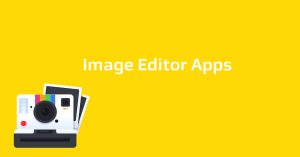 The Top Shopify Image Editor App: 10 To Choose From
Last modified: September 2, 2019
Images are an important part of selling online, especially as customers can't have a physical connection with products or services. However, the images that you take and place online might not be optimized for the purpose you want. This is why it is highly useful to have a Shopify Image Editor App.
A Shopify Image Editor App doesn't just make your images look better for buyers, it can also help you to rank better. Images often require high amounts of memory. This can lead to a slower website that results in poorer user experiences. It can also result in your site being ranked lower on search engines. Therefore, ultimately, images that aren't edited properly can lead to poorer traffic and revenues for your website.
The Benefits Of A Good Shopify Image Editor App
There are many different benefits for having a good Shopify image editor app attached to your website. Firstly, you can reduce the file size of your images. This improves website speed and revenues. It can also result in a much better reputation online. You might also be able to edit the meta information of your images on the website. This can help you rank better on Google and other search engines.
You might also be able to add watermarks to your images. This is an important aspect if you've paid to take images of your products and want to keep them to just your website. Sometimes, competitors might try to steal your images in order to use them on their own website. While this is against copyright laws, there are many small business owners who don't follow the laws and will use images on other sites under the 'fair use' system. A watermark will stop these images being stolen from your site.
The Best Practices For Product Images
There are a few best practices for product images. Here are some of the best tips for your business:
Use backgrounds that are plain, white and have limited distractions.
Images should have strong lighting.
Products should fill approximately 85% or more of the image.
You should have multiple angles of a product.
So, which Shopify image editor app should you use? Here are some of our favorites. All of them are different and many complete different jobs. But we're sure there is one here for you and your website.
#
Name
Image
Shopify

More Info

1

PixPix: Simple Image Editor

More Info

2

Bulk Image Edit - Image SEO

More Info

3

Swap Photo Editor

More Info

4

Photo Editor + Stock Images

More Info

5

Image Optimizer

More Info

6

SEO Image Optimizer ‑ SEO

More Info

7

Smart Image Optimizer

More Info

8

Crush.pics - Image Compression

More Info

9

On Demand Photo Editing

More Info

10

Retail Ready Photos by Pixc

More Info

Show More
Filter between free and paid
PixPix: Simple Image Editor

When it comes to editing your image and making it better for search engines, PixPix is certainly a great choice for your store. It has a simple, intuitive interface and features that make it an amazing tool for your website. With the Shopify admin links integration, you don't even need to find the product image you want to edit in the backend of the website, you can access the image directly on the product page and edit it from there.
This app has plenty of features to optimize your images for customer satisfaction and search engines. For instance, you can improve the look of your image through image crop and resize. You can also fix lighting and color issues. Or add some style by changing color photos into black and white. So, put your image at the forefront and improve the perception your customers have of the products on the site.
In addition, you can orientate your image so it looks better on the screen. This is important if an image has been uploaded in the wrong orientation.
PixPix: Simple Image Editor Highlights:
Auto-compress images so they take up less space and load quickly.
Edit images to make them look more appealing to customers.
Remove branding elements you can get from supplier images.
Upload and delete images in bulk.
Bulk Image Edit - Image SEO
Improve SEO of your website with this little app that can make a real difference to your store's performance. The app allows you to optimize image sizes and add alt-text and file names that will help your site perform better on Google and other search engines. The changes will also help with website speed and visitor experiences. The images edited will all comply with social media image standards, making it easier for you to share your products online.
In addition, this app allows you to add Watermarks to your product and site images, in bulk. This helps to protect your images from being stolen from competitors.
All images that you edit can be previewed so you can be sure you're happy with the final edit. Therefore, you can make changes to just perfect that image to make it a revenue generating part of your website.
Bulk Image Edit – Image SEO Highlights:
Add watermarks to your website's images in bulk to protect them from being stolen.
Resize, crop, trim and change images to make them standout more and generate you more revenue.
Revert or undo any changes that have been made to your site.
Improve images so they help your sites rank better.
Swap Photo Editor
Swap Photo Editor is a great Shopify image editor app that allows those who dropship to do photo editing to make their photos standout, look good and sell products. If you have hundreds or thousands of products on your site, this is a great option for your site. It works perfectly with Oberlo, Dropified and AliExpress systems and has an advanced interface that make product images easy to edit and perform much better across your marketing channels.
This app includes the Easy Photo Editor function, that allows you to crop edges, enhance colors and add text/logos. Just one click and you can apply changes across numerous photos on your website. This image editor doesn't just change your product images. Those on your blog articles, collections and other pages can also be edited for better performance across your entire website.
Finally, you can make any product standout by removing backgrounds from images. This focuses the attention of the audience on your products and not something happening in the background.
Swap Photo Editor Highlights:
Edit hundreds of images in just a single click.
Optimize images for your website so they perform better for visitors and search engines.
Remove watermarks and logos from images.
Excellent support with perfect live chat available.
Photo Editor + Stock Images

Ranking your site higher on Google with quality images with this Shopify image editor app. You can edit, resize or filter single images to make your site's images look impressive. If you don't have a suitable image for some of your website, you can also use the free stock images that are provided with this app.
Interest and engagement with images can be improved with link behavior editing tools and advanced hover effects and animations that can be added. You can also make changes by adding filters such as grayscale, sepia, contrast, blur, brightness and more.
To protect your photos and images from being stolen, you can add watermarks or by disabling right-click on your site.
Photo Editor + Stock Images Highlights:
Instantly make changes to your website's images to make them more appealing to website visitors.
Improve engagement with images with link directions when customers click on a link.
Add filters, hover effects and animations to images to make them more stylish.
Protect images from being stolen with watermarks and other features.
Image Optimizer

We've stressed before the importance of speed on your Shopify website. Customers want a fast website. If it is fast, then they are more likely to make a purchase. Sites that take longer to load lose revenue. Research has shown that for every second it takes to load a page, you'll lose 7% of your revenue. Just a four second delay could lose you a quarter of your revenue.
One of the biggest issues with website load speed is images. They are large files and can slow down a website significantly. Many SEO apps, and image editor apps, therefore take a lot of effort to compress images to make them better for website speed.
The image optimizer app is a Shopify app that edits images so they take up less space. This app compresses the image so it minimizes the file size, without lowering the quality of the image. In addition, you can add alt text tags to your images so that Google can understand what the image is about and rank your pages better. You can also give the filenames the same treatment.
Finally, you can turn all PNG files into JPG files easily and simply. PNG files take up more size, even when compressed and are generally only necessary when you have a transparent background. Just this simple change can reduce files sizes by around 80%.
Image Optimizer Highlights:
Great app for optimizing the meta tags for images to get you ranking better.
Optimize file sizes for better user experiences and search rank.
Change PNG files into JPG for better results.
Doesn't lower the quality of images on your website.
SEO Image Optimizer ‑ SEO

If you want to increase your site's ranking on Google and other search engines, then this app should be able to help you. This app can be installed within one minute and takes less than thirty seconds to start making improvements to your store to help ranking on the site. The site's SEO improvements are automatically applied, so you never have to manage them again.
The app quickly makes changes to your images, optimizing their size and meta tags. It is a smaller image editor, but one that can help you rank fast.
SEO Image Optimizer – SEO Highlights:
Set up once and forget technology.
Rank higher on Google and other search engines.
Great for those who are very busy but want to rank high.
Generate more traffic to your site through image searches.
Smart Image Optimizer
If you want to improve your website's ranking and engagement with audiences, then this free app can be one of the best investments you make. It helps you optimize your images to speed up your website. To help you get started, and to make sure that you maximize the benefits of the app, you can use the setup instructions included with the app.
The app includes a lovely visual dashboard that displays the usage of the app, including what is currently in the compression stage and how much space you've saved on your website. This image optimization tool offers you two compression styles, one that maximizes compression but does compromise on image quality and another that compresses file size, but not image quality.
If you don't like the compression, there is an option to restore any image to the original size.
Smart Image Optimizer Highlights:
Uses both JPEG and PNG compression standards to make your website fast and better.
Improve Google rankings and user experiences.
Restore any image to the original settings.
Can optimize four images every second.
Crush.pics - Image Compression
By editing your images so they are faster can make such a difference to your store. This is where this app can help you. It optimizes your images quickly and efficiently, so that you can be sure that your website's speed is fast and the user experience is top. This will improve revenue and greatly improve the site's performance on search engines.
This image editor is fully optimized and you can also change all meta tags so you can tell Google exactly what your images are related to. This doesn't just improve your ranking, it helps ensure that your site displays in relevant Google searches.
Just for security, all original images are kept in the background of your website for thirty days. Therefore, if you change your mind about the image optimization, you can revert to the old images quickly.
Crush.pics – Image Compression Highlights:
Optimize images so they take up less space and load quicker.
Improve SEO meta tags to rank better on search engines.
Can optimize all images across your website.
Lots of support available to make the most of the app.
On Demand Photo Editing

This app is great for optimizing images for sales, allowing you to edit them so they are perfect for visitors. You can edit images so they are more aligned to the best practices across the net for making sales. Then the images are optimized for search engines so they rank better on Google and others.
The app is free to install on your site. However, you must pay for every image you edit on your site. So, if you have thousands of images on your website, this can be a very expensive.
On Demand Photo Editing Highlights:
Edit images one at a time.
Optimize images so they match eCommerce best practices.
Images are changed so they are perfect for search engines.
Free app, per image charge.
Retail Ready Photos by Pixc

Create professional product images so they can become important parts of your sales. This app is more of a service than a product as you take the picture and then upload it for being edited by the Pixc team. The developers of the app will return your image, edited and optimized for search engines within twenty-four hours.
This system is really effective as the team can apply some of the best practices for eCommerce stores. The app is free, but the cost for image editing is done on a per image basis.
Retail Ready Photos by Pixc Highlights:
Spend less time editing images and get professionals to do it instead.
Images returned within 24 hours.
Images will comply with best industry standards.
When returned, images will be optimized for search engines.
Final Word: What Is The Top Shopify Image Editor App?
When you want a top Shopify image editor app, there are many choices. Some will just edit the app so they appear better in search results, while other apps will improve the images so they can convert more visitors to your site. What your site needs depends on your current business requirements. Which Shopify image editor app will you use?
Recap:
Offers & Promos