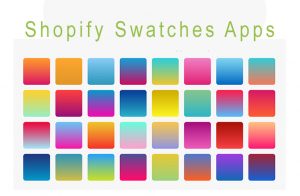 13 Best Shopify Swatches Apps
Last modified: August 24, 2021
When you have products that customers can customize, you need a way for them to select the color, text or image they want. This can be done with simple dropdown menus that offer the customization options. However, this isn't always great for converting visitors.
That is why it's always good to use a Shopify swatches app. This is where there are images to demonstrate differences between very similar products. These images are displayed as thumbnails.
This small change can help increase conversions and reduce returns when customers aren't happy with the variation. It also improves customer experience as customers don't need to endlessly switch between different products to compare them.
What Makes The Best Shopify Swatches App?
There is a lot to consider when choosing a Shopify Swatches app. You need to know what functions you require. Do you need just color swatches, for example? Or do you need to display different text for certain products that might be available? Alternatively, do you need an option where the customer can submit their custom details (i.e. their own image/text)? Finally, the app should have limited impact on your theme files. Otherwise, if you change your theme you might have to re-install the Shopify Swatches app.
So, here are are our favorite Shopify swatches apps for your store.
#
Name
Image
Shopify

More Info

1

Collection Swatch Pug

More Info

2

Best Custom Product Options

More Info

3

Infinite Product Options

More Info

4

Swatchy

More Info

5

Vario ‑ Variation Swatches

More Info

6

Product Colors

More Info

7

Quick View And Color Swatch

More Info

8

Swatches by Webyze

More Info

9

Quick View And Color Swatches

More Info

10

Perfect Switcher

More Info

11

Switch To Swatches

More Info

12

Swatchify By Seller Panda

More Info

13

Bold Product Options

More Info

Show More
Filter between free and paid
Collection Swatch Pug

The Collection Swatch Pug app is one of the most popular Shopify swatches apps available. It is used by many brands to add color and pattern variations to products with its simple to use integration. It has three different icons that can label the customizations and the developers have promised that they can add more on request. In addition, their excellent support team are willing to help you install the app on your store, for free.
The development team have worked hard on this app, and as such, there is limited coding or snippet changes. Therefore, your sites speed performance shouldn't be affected.
Collection Swatch Pug Highlights:
Easily display customization options on your product pages with thumbnails.
No performance problems so your site won't slow down.
Free installation and setup for you.
Seven day trial.
Best Custom Product Options
This app has a lot of features that will make your customers' experience seem so much better and help convert them into loyal customers. This doesn't just cover image and color swatches, it can also provide text boxes, checkboxes and file upload options for your customers. Therefore, it is very versatile and highly useful for all your store.
It includes some great features like conditional logic, so the website will only display options that are applicable to what the shopper has already picked. For instance, if you have two colors of shirts, but only the large comes in black, if the shopper picks medium, black won't be displayed to them. In addition, the app can hide products that are out of stock.
Shopify does offer you variations, but you're limited to three options with one hundred variants. With Best Custom Product Options, there are no limits. Plus, when you have options that are similar for numerous products, you can use the duplication tools to speed up applying swatches across products.
Best Custom Product Options Highlights:
Match the swatches to your theme's style.
Can personalize products to the customer's liking with file uploaders.
No coding experience necessary.
A 14-day free trial.
Infinite Product Options

If you're looking for an app that has a lot to offer your Shopify store, then Infinite Product Options is certainly a good option for your website. It allows you to customize product options with unlimited variations.
There are two versions of this app: a free plan and a premium version. The free plan is a great choice as it has many features that allow you to run your business' product variations with ease and no additional cost. For instance, if you have variants that have different prices, these can be implemented. In addition, you can add discounts at checkouts, or even add surcharges for gift wrapping, or other additions that can add that special touch to your service.
This app allows you to communicate in any language with your key audience. It also allows for price differences between the different options. And if customers get in difficulties with their selection, you add a tool tip or help text to guide them along their purchasing path.
Infinite Product Options Highlights:
Set maximum character length when allowing customers to add their own text to products.
Can help customers with tool tips and help text.
A free option with powerful functions.
Edit options in one screen and apply to all products in a single click.
Swatchy

Simple and easy to use, this app allows you to add color options to your products with just a few clicks. It is a free app that supports three styles of swatches. It can automatically transform written text color variations into image swatches so you don't have to do too much hard work.
The app is ready to use with any off-the-shelf themes. If your theme is customised, then the app development team offer an installation service to ensure it seamlessly installs onto your website.
Swatchy Highlights:
A free app.
Automatically converts texts into visual color option thumbnails.
Three styles of swatches to choose from.
Clean code so won't slow down your website.
Vario ‑ Variation Swatches
Vario is a Shopify color swatches app that is super easy to work with. Featuring a linear interface, it presents the variant swatch setup process in simplified options.
It's free to use for early adopters who wish to keep the store's branding consistent through a cost-effective solution.
When it comes to theme compatibility, this swatches app tops the list with almost a hundred Shopify themes. Vario can be integrated easily to your current themes including free, premium, and custom themes.
With Vario, you'll be able to enhance your online store appearances, while getting a higher page quality score.
Vario Highlights:
Automated color and variant images: auto populate standard colors and image swatches based on your existing product variant images
Customizable button swatches: design the variant picker buttons to match your store color schemes
Great color swatches design: you can customize the swatches with different styles of shape, border, background color, positioning, and more
Lightning performance: optimized server and caching technique
Product Colors

With a user-friendly interface that makes this app a simple addition to your website, you can make sure all your product color variations are included on your website. This app works differently compared to other sites. Instead of using variants to create color choices, you can create colors as separate products and the app will combine the products within the swatches. It sounds complicated, but it does allow you an easy way to manage stock and offer deals on specific product variations.
The app auto-installs, so if you don't have the technical knowledge or coding skills, you don't have to worry at all. If you decide that this app isn't for you, then you can simply uninstall. There's no residual code left in your theme's files.
Product Colors Highlights:
A free seven-day trial to help you decide.
Add as many different colour variations as you would like.
There are a variety of swatch themes to choose from.
Low cost monthly fee if you like the Shopify swatches app.
Quick View And Color Swatch

An app that solves two problems here, this one offers your visitors a quick way to view your products, without having to load additional pages. This is a great way to improve the customers' experience, and this should help with conversions.
However, the real value of this product is within the swatches element. This app will visualize the varieties of your products with great looking swatches. It is fast and easy-to-use. You can have swatches for color, material or manufacturer, which means you can have lots of options and there are many different applications for this software. The app will even display what the customer's choice will look like, all you need to do is upload and assign the image correctly.
Quick View and Color Swatch Highlights:
Fancy box pop-up that quickly displays the product so customers can shop quickly.
No coding knowledge required for the app.
Within a couple of clicks, add color variations to your products.
Have three options you can add variations to (color, material and manufacturer).
Swatches by Webyze
Swathes is a dedicated Shopify swatches app that is easy to use and can handle both images and colors. This app replaces the typical drop-down menu that contains your color variations and replaces them with beautifully rendered swatches. There are several styles you can choose from, so you can match the branding of your store. This is the perfect app for any store that sells fashion, electronics or gifts.
The app has an auto-install feature that means you don't have to be a tech genius or have any experience to use it. The easy-to-use features make it perfect for those just starting out with an eCommerce website and don't know how to run a website. And for those who do have issues with the app, there is a support group who can help you solve any problem you might have.
Swatches by Webyze Highlights:
Seven-day free trial to help you decide if this is the app for you.
Replaces the drop-down text options with elegant swatches.
Great customer support for the app.
No coding experience required.
Quick View And Color Swatches

Don't confuse this app with the one mentioned earlier. They are similar with very similar names, but they have different developers and there are some distinctions between the two. The app is essentially two apps in one with customers able to quickly view products in a popup window on the main shopping page. This does help to improve customer experience, discouraging customers from abandoning your website due to load times.
The swatches are elegant and look great. The swatches can appear in the quick view, which also allows your customers to add products, in the specific quantities, to their cart. To manage your swatches, you don't need to use anything else but the normal Shopify admin area itself. There are numerous layouts for swatches, so you can find one that matches your current store's theme.
Quick View And Color Swatches Highlights:
Great customer service for this app. Contact the support team with any problems you might have.
A 14-day free trial so you can try it out on your website, risk free.
Lots of customization options for your products.
Quick view can help to improve customer experiences.
Perfect Switcher

This might be a simple app, but it adds powerful swatches to your website. It can change any existing product drop-down options with swatches of your choice. Swatches can be color or image based, depending on your needs. You can also add multi-colors, sizes and materials. All it takes is one click and the swatches are live on your website.
Installing the app on your website is simple. It doesn't require any coding and should you decide that it isn't the app for you, uninstalling won't leave any unnecessary code behind. This makes the two-week trial a great, no-risk, opportunity.
Perfect Switcher Highlights:
A 14-day trial so you can test the app on your store before committing to the subscription.
Great customer support. Just email them your issues and they'll come back to you with a solution.
Create swatches for numerous variations.
Easy to install and use without the need of any coding knowledge.
Switch To Swatches

A dedicated Shopify swatches app, this creates a great shopping experience for your website visitors. The swatches interface is quick and easy interface for your product color options. Colors can be standard, two colors or even custom color options. There are also variant image swatches you can utilize as well.
To closely match your store's branding, there are nine different layouts you can use. This can be a great way to also direct customers to the swatches that are more popular/more cost-effective to supply.
To help you get started on the app, there is free support available. This can help you install and start using your app. The quick loading of color swatches is great for customer experiences and your website's performance and SEO won't be affected.
Switch to Swatches Highlights:
Great customer support for this app to help you install and get started.
Quick loading of product swatches.
There are nine different layouts for your swatches.
A 14-day free trial to help you get started.
Swatchify By Seller Panda

Seller Panda offer this unique Shopify swatches app that will help you provide a great experience for customers. The app shows realistic colors to store visitors, so your product is more likely to match their expectations on arrival. The app also helps to display the appropriate picture when the visitor clicks on the variant.
These swatches are fast loading, your customers won't even notice the time it takes to switch between variations. And with the numerous customization options available with the app, you can start selling your product's variants with ease and confidence.
The app is easy to install and use. But, should you run into any challenges, there is a friendly support team to help you out.
Swatchify Highlights:
Monthly updates that add new features and optimizations to the app.
A great support team for any challenges you might have.
A 14-day free trial to help you decide whether this is the right app for your Shopify store.
Developers claim these are the most customizable swatches available on Shopify.
Bold Product Options

This is one of the biggest product customization tools available on Shopify. There are numerous options to make products customizable to offer unique and varied options to your website visitors. The app itself can also help increase revenues as you can add on charges with certain selections.
The app can even make the experience more user-friendly by showing/hiding options when other options have been selected. Once the order has been placed, the customer's picks are displayed on the order summary.
The app offers great color swatches which look vibrant and elegant. This will help customers to make choices on what variation they would prefer.
Bold Product Options Highlights:
Add costs for items such as express delivery, gift wrapping or different variations of products.
Easy to install and use.
Can be integrated with numerous other brands from the Bold development team.
Color swatches look nice.
Final Thoughts: Which Is The Best Shopify Swatches App For Your Store?
If you have products in different sizes, colors, materials or even images, then swatches are the best way to ensure that they are being seen. They give customers a great experience and this can improve conversions, revenues and even your business' success. The selection above means you can find the perfect Shopify swatches app for your store and help take your eStore to the next level. Which one will you choose?
Recap:
Offers & Promos