13 Best Shopify Swatches Apps – [2023]
Last modified: March 25, 2023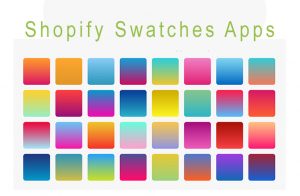 #
Image
Name

Get a Free Custom Shopify Store
1

Best Custom Product Options

2

Infinite Product Options

3

Vario ‑ Variation Swatches

4

Product Colors

5

Quick View And Color Swatch

6

Swatches by Webyze

7

Quick View And Color Swatches

8

Product Color Swatches

9

Cogitari Swatch

10

Swatchify By Seller Panda

11

Bold Product Options

12

Swatchy

13

Collection Swatch Pug

14

Switch To Swatches

15

Perfect Switcher

Show More
Much research has found that customers like to have choices. However, this might not always be true. An experiment by the Harvard Business Review is that customers prefer choice depending on the need of the product. If customers are looking for a leisure product, then they are looking for more choice. If their shopping is more of an essential, they will prefer fewer choices. Whatever you decide, you will need to have some ways to display these options.
Another problem is that when you have too many product choices, there can be decision fatigue. This problem can mean that customers fail to make a purchase and will abandon their cart. You need a way for them to select the color, text or image they want. This can be done with simple dropdown menus that offer the customization options. However, this isn't always great for converting visitors.
That is why it's always good to use a Shopify swatches app. This is where there are images to demonstrate differences between very similar products. These images are displayed as thumbnails.
This small change can help increase conversions and reduce returns when customers aren't happy with the variation. It also improves customer experience, along with other features like merging orders, as customers don't need to endlessly switch between different products to compare them.
What Makes The Best Shopify Swatches App?
There is a lot to consider when choosing a Shopify Swatches app. You need to know what functions you require. Do you need just color swatches, for example? Or do you need to display different text for certain products that might be available? Alternatively, do you need an option where the customer can submit their custom details (i.e. their own image/text)? Finally, the app should have limited impact on your theme files. Otherwise, if you change your theme you might have to re-install the Shopify Swatches app.
So, here are are our favorite Shopify swatches apps for your store.
Avi Klein
Vast experience in the online world. SEO expert, Web developer and consultant to several online companies.
Read more...
. Read more about
our approach
to reviewing themes and plugins.