13 Best Apps For Shopify Popups – [2023]
Last modified: March 2, 2023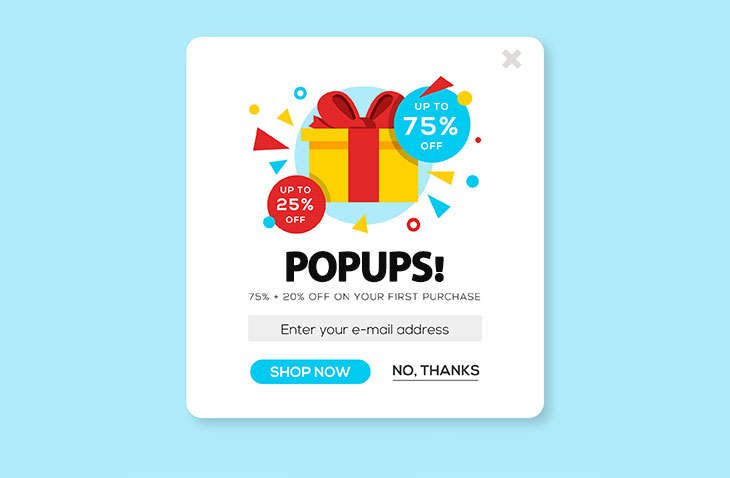 #
Image
Name

Get a Free Custom Shopify Store
1

Pop ups - Emails & Surveys

2

Pixelpop Popups & Banners

3

Promotion Popup

4

Aiva

5

Smart Popup

6

Proper Popup

7

Spin Wheel Email Pop Up

8

OptiMonk

9

Privy

10

Popup

11

Free Shipping Popup

12

Easy Popup

13

WooHoo - Gamified Email Popups

14

Sales Pop ‑ Popup Notification

15

Buy Now Upsell Popup

Show More
Apps for Shopify popups can have many functions that can help your business. Common popups can request email details for email subscriptions, offer discount codes, or provide vital information customers might want to know. There are so many functions that it is hard to include them all within one single popup.
This can be of benefit for store owners who want Shopify popups to perform essential, but limited tasks on a website. The more tasks an app does, the more code it has and this can negatively impact load times. In addition, too many popups on your store can result in negative consumer experiences.
What Shopify Popups Do You Need?
There's no single type of Shopify Popup that you need for your business' website. There are many different functions they can perform and it depends on your current website design. So, you will need to confirm what areas of your website you need to perform better and whether a popup is the solution you're looking for.
For instance, if you want to sell more via email, then you need to add subscribers to your list. This can be done via exit intent popups and others that request the details of the website visitors to subscribe to your mailing list. Another option is to have a popup that collects email addresses when items are added to the visitor's cart. Then, if they abandon, they're sent an email to try and get them to come and complete the purchase. Reclaiming abandoned carts can add significant revenue to your business.
Alternatively, you could have one of the many Shopify popups that provides discounts, coupons and other details that can help to boost conversions right on your store. You can even use popups to inform visitors about your GDPR compliance and other legal requirements as soon as they land on your store.
Popups can have varying degrees of success too. In general, a good performing popup will have a conversion rate that is about 3%. The top 10% of popups only ever got a conversion rate of 9% and very few (3 in 100 websites) ever got a conversion of more than 10%. Therefore, popups is a strategy that has long term implications.
The best performing popup was 28% according to one study. Though other studies have found a popup that converted nearly 50% of website visitors.
So, what are the best Shopify popups for your website? Here is our top ten for your consideration.
Avi Klein
Vast experience in the online world. SEO expert, Web developer and consultant to several online companies.
Read more...
. Read more about
our approach
to reviewing themes and plugins.