Which of These 10 is the Best Instagram App for Shopify?
Last modified: March 31, 2023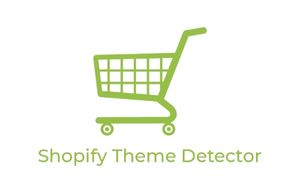 #
Image
Name

Get a Free Custom Shopify Store
1

Onollo | Social Media Manager

2

Social Rabbit

3

Covet.Pics

4

Instafeed ‑ Instagram Feed

5

InstaPlus - Instagram Feed

6

Showcase

7

Gleam

8

Snapppt

9

InstaShow

10

Flightplan

Show More
If you have a Shopify store you're going to want to connect your website with your Instagram account. There are various features available through these apps to enhance your Instagram feed such as adding social proof to your website and promoting your products. To do this you will need one of the best Instagram Apps for Shopify.
Why Use an Instagram app for Shopify?
There are benefits to having an Instagram app on your Shopify store. You can use apps to help you schedule content and promote your Shopify store. There are Shopify Instagram apps that will enhance your Instagram posts with various features, like graphics and help with stories.
Some Shopify apps enable you to turn your Instagram feed into a shop so people who see your products can easily see the details and price and make a purchase. Some of the apps have A/B testing and reporting and you can then keep a check on how useful they are. Some of the apps have good support and others you might need more skill to use.
Another important use of Instagram is to get word-of-mouth marketing and some of the apps available can get people to share their photos of your products as part of their lifestyle on your website. You can also use apps to help you with your advertising, they can help you target the right audience and make the most of your campaigns.
In this article, we share many best Instagram apps for Shopify. They offer a variety of different ways to enhance your Instagram feed, which ones will you choose to use?
Onollo | Social Media Manager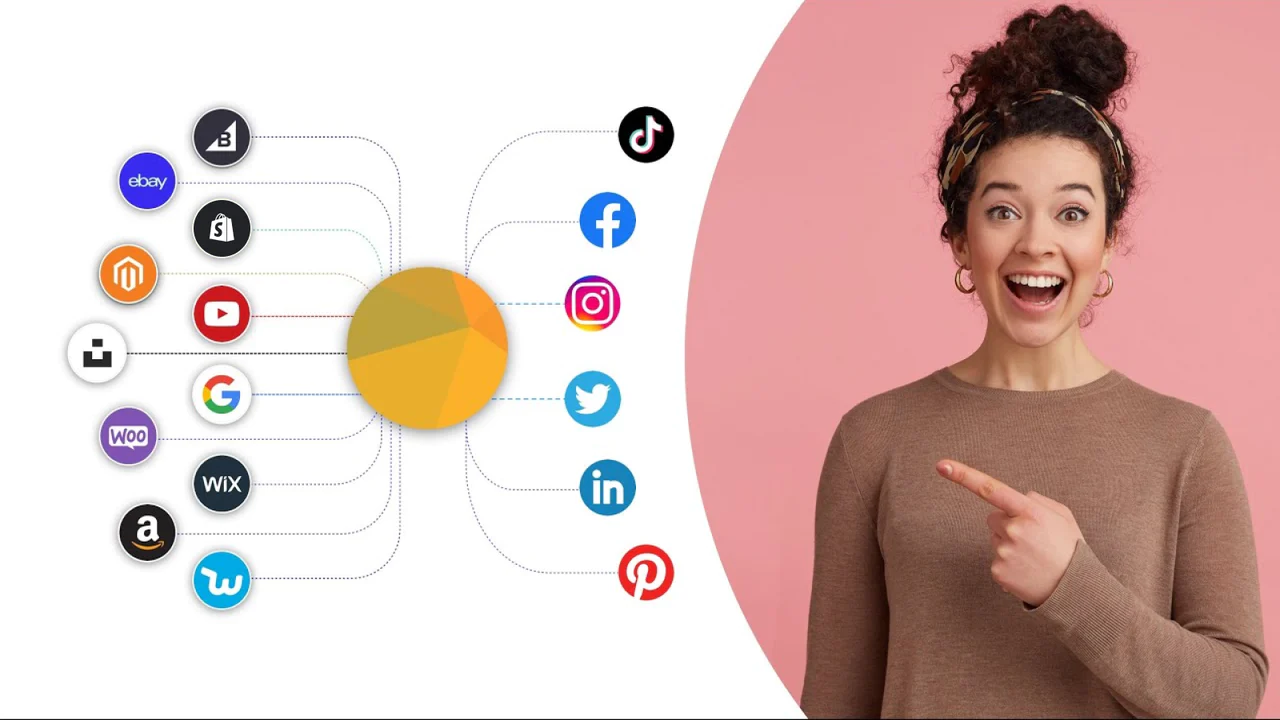 This social media app tool can help you manage updates on your social media channel, like Instagram. You can do this either manually or automatically. There is great AI included with this app to help you schedule and publish your Instagram content. You can also link accounts to your products on your store for promotions. You can use an auto-post option to help you keep on top of your posting schedules. This app is also free and takes only a few minutes to get started with the app.
Onollo Highlights:
A social media marketing tool that is free to use.
Manage your updates across social media channels.
Can be synchronized with your store's product catalog.
Create lots of content quickly and publish it within minutes
Social Rabbit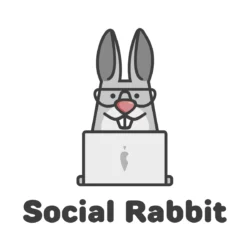 This app allows you to auto-publish content to your Instagram account and others. It's easy to use and will enable you to reach your audience no matter the time of day and will help you grow your engagement. You can create custom captions, build updates and use AI to help you create professional promotional content. You can get help with graphic design and edit images to make them suitable for social media. You can use Pixabay to get free stock images. This app can create engaging Instagram stories to help maintain long-term engagement. It can also shorten your URLs so content is easier to share.
Social Rabbit Highlights:
Create custom captions for posts from scratch.
AI that can help you have promotional content.
Will shorten your URLs so they take up fewer characters.
An easy to use app that allows you to reach audiences across social media.
Covet.Pics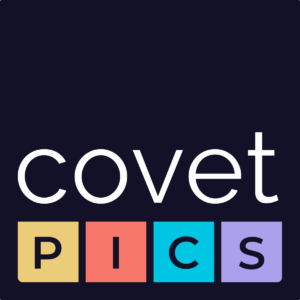 When you sell products on your Shopify store you'll want to consider this app. It has lots of great features to create galleries and you can use lifestyle images on Instagram. This app gives customers the chance to purchase inside the gallery reducing the checkout time which is a frequent reason for abandoned carts. You can showcase your products on your Instagram feed and you can also run photo contests. There is also a good support system for this app and you can also do A/B testing. You can also upload your photos manually, you don't have to rely on your Instagram feed.
Covet.pics Highlights:
Run photo contests that improve engagement rates.
Lots of powerful features.
Customers can showcase your products on their Instagram feeds.
Great customer support with this app.
Instafeed ‑ Instagram Feed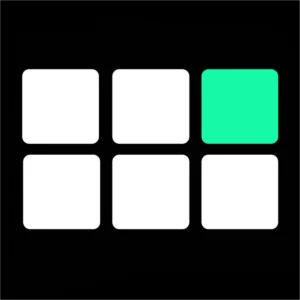 This Shopify Instagram app is an app that works on all devices and with all themes. There is an automatic adjustment to fit the device that images are showing on. It enables you to share videos on your website on Instagram. You can add product tags when you update to the Instafeed Pro so your Instagram becomes an extension of your store when they click on the item they go straight to your store. Your Instagram feed will look great on your website. You can display likes and comments to build social proof. You can customize your feed with hashtag filters.
Instafeed Highlights:
Compatible with all themes and devices.
When you update to Instafeed Pro, you can add product tags to your posts.
Supports videos that you host on your website.
Display the number of likes and comments on your posts.
InstaPlus - Instagram Feed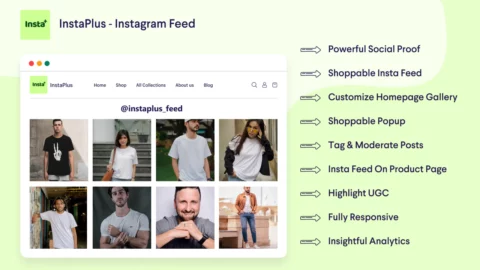 You can connect with audiences on Instagram and they can shop instantly by tapping on a picture of your product to go directly to the product's page with product details and price, they can then buy from you easily. This app will provide social proof. It will help you reduce the number of lost orders and build a strong brand and connection with your audience.
InstaPlus – Instagram Feed Highlights:
Connect with audiences on Instagram.
Customers can shop instantly.
Customers can buy from you without any fuss.
Instagram feed leads directly to the product pages.
Showcase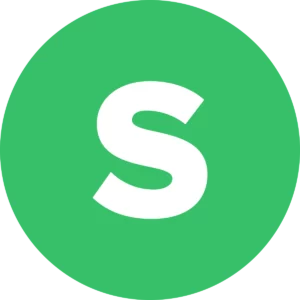 Turn your Instagram content into shoppable galleries. You can tag products in video and photo Instagram posts. This app enables customers to quickly see and buy products from your Instagram store. You can also encourage your customers to share everything about your product to improve revenues and attract new customers.
This app is customizable to match your brand and you can also hand-pick your content to prevent negative content from entering your stream. There is a free 14-day trial to see how you get on with this app.
Showcase Highlights:
Turn your Instagram content and content generated by users into shoppable galleries.
Prevent negative content from entering your stream.
Fully customizable to match your brand.
Free 14-day trial.
Gleam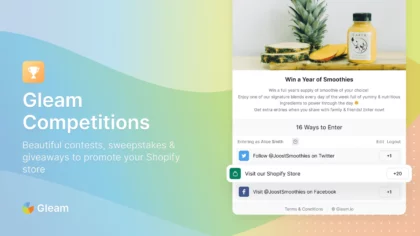 This app enables you to run photo competitions between Instagram and your website. There is a simple drag-and-drop interface and marketing software integration with over 30 providers. This app provides different ways for people to interact with your brand.
Gleam Highlights:
Run a competition through Instagram and on your website.
Simple drag-and-drop interface.
Email marketing software integrations.
More than one way to allow your audience to enter the competition.
Snapppt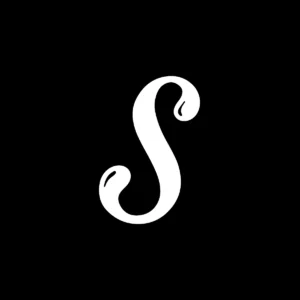 This is a great free Shopify Instagram app. It allows you to embed shoppable galleries and also embed user-generated content in your store. It will allow you to sell products quickly to visitors. This is a powerful app but is also limited in the number of accounts you can link on. There are also limitations in generating sticking power and hosting competitions however the reporting is brilliant so you can see which product images are the best performers. This way you can make more money from your Instagram account. This app is used by many top brands and is also approved by Instagram.
Snappt Highlights:
One of the best free Shopify Instagram apps available on the market.
Helps you to embed shoppable galleries.
An approved Instagram App.
See which images on your feed are performing best.
InstaShow
This Instagram app is great if you don't have any coding knowledge as there is a free installation service where the developers will install the app and get it working. You can then collect content for your Instagram gallery from different sources. You can customize your gallery too and choose from 12 colors. You can adjust your feed title so people know exactly what the feed is specifically showing. There are also pop-ups and other features to make your content stand out. It also supports 24 languages.
InstaShow Highlights:
A free installation service.
Collect content for your Instagram gallery.
Customize the gallery.
Install pop-up elements.
Flightplan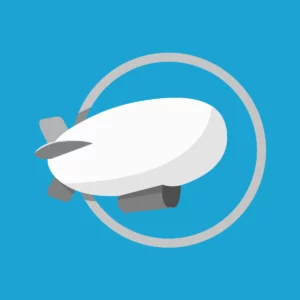 This app can help you reclaim abandoned carts, up to 50 to 80% of your carts can be abandoned. It is free to download and offers automatic ad optimization. You can target specific audience groups and promote products in stock. This app can be easily installed without any technical knowledge. There is Pixel tracking software in the app.
Flightplan Highlights:
A free-to-download app to claim back abandoned carts.
Automatic ad optimization.
Promote products currently in stock.
Serves Instagram as well as Facebook.
Final Word: Which of These 10 is the Best Instagram App for Shopify
In this article, we show you ten of the best Instagram apps for Shopify. There are lots of different features that the apps can offer, from turning your feed into a shop to automating your posts. With a good Instagram app, you'll be able to enhance your Instagram feed, reach a greater audience and hopefully increase your revenues! Which one will you choose to use?
Avi Klein
Vast experience in the online world. Shopify Expert, SEO expert, Web developer and consultant to several online companies. Read more about
our approach
to reviewing themes and apps.