Shopify Judaica Dropshipping
Last modified: September 13, 2023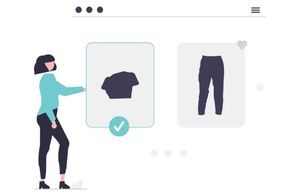 In the expansive world of online commerce, dropshipping has emerged as a highly popular business model. This approach allows entrepreneurs to sell products directly to consumers without the necessity of maintaining a physical inventory. Instead, upon a customer's purchase, the order is relayed to the supplier who then dispatches the product directly to the customer. This model significantly reduces risk and overhead costs, making it an attractive option for many.
Among the diverse range of products suitable for dropshipping, Judaica items have seen a notable surge in popularity. Judaica refers to items associated with Jewish life and culture, encompassing a variety of objects such as menorahs (candelabras used during the Jewish holiday of Hanukkah), kiddush cups (special cups used for blessings), and tallitot (prayer shawls).
The Amplification of Judaica Sales
In recent years, there has been a visible increase in the sales of Judaica items. This trend can be attributed to several factors. Primarily, there is a consistent demand from the Jewish community, as these items are integral to their religious observances and cultural traditions. However, interest in Judaica extends beyond the Jewish community, with collectors, historians, and those intrigued by religious artifacts also seeking out these items.
Furthermore, the rise of online shopping has made Judaica items accessible to a global audience, contributing to the increase in sales.
Projecting the Future of Judaica Dropshipping
Looking to the future, we anticipate a continued growth in the sales of Judaica items. As the trend of online shopping continues to expand, so too does the market for Judaica items. Additionally, the cultural and religious significance of these items ensures a consistent demand, providing a level of market stability.
The Opportune Moment to Enter the Judaica Dropshipping Market
Given these trends, the present moment offers a prime opportunity for new entrepreneurs to consider entering the Judaica dropshipping niche. While the market is growing, the competition in dropshipping these items is not yet overly saturated. This presents a window of opportunity for those looking to establish a presence in the market.
Moreover, with platforms like Shopify, initiating a dropshipping business has never been more straightforward. Shopify's comprehensive platform provides a range of tools and features that simplify the process of launching and managing a dropshipping business, making it an ideal choice for budding entrepreneurs.
In this article, we will guide you through the process of establishing a successful Judaica dropshipping business on Shopify. Drawing from our extensive experience in digital marketing and development, we will provide insights and tips to help you navigate this promising niche.
Recommended: 24 Best Shopify Dropshipping Apps [Sep, 2023]
#
Name
Image

Get a Free Custom Shopify Store
1

AutoDS

2

Spocket-World Wide Suppliers

3

Syncee - Global Dropshipping

4

Printful-Sell Printed and Embroidered Items

5

Sup Dropshipping

6

DSers-AliExpress Dropshipping

7

Zendrop - Dropshipping & POD

8

Dropshipman: Dropshipping & POD

9

AO - AliExpress Dropshipping by FireApps

10

Trendsi - Fashion Dropshipping

11

CJdropshipping

12

DropCommerce

13

Modalyst-Sell Brand Name Products

14

Ali Orders-Fulfill Orders Easily

15

Blanka - Private Label Beauty

16

Dropified-Automate Your Dropshipping Business

17

ProductPro

18

Spreadr App

19

Importify

20

Inventory Source

21

Roxie

22

Fulfillbot: Dropshipping Agent

23

KakaClo

24

Oberlo-Get the Best Produtcts for Your Site

Show More
Understanding the Judaica Market
Exploring the Market Potential
Judaica is a term that refers to a vast array of items that are deeply rooted in Jewish life and culture. This includes a variety of items, each with its own unique significance and purpose. For instance, menorahs, which are seven-branched candelabras, are used in the celebration of Hanukkah, a Jewish holiday. Kiddush cups, on the other hand, hold wine for blessings during Shabbat and other Jewish holidays.
Shabbat candlesticks are used to hold the candles that are lit to usher in the Jewish Sabbath, while tallitot, or prayer shawls, are worn during prayer in many Jewish communities. Other items can include mezuzah cases, seder plates, and even Jewish-themed jewelry.
The demand for these items is steady and consistent, as they are not just used for religious purposes but also hold a deep cultural significance. They are often passed down through generations, making them cherished family heirlooms. Additionally, these items are also purchased for gifting during Jewish holidays and life events, such as weddings and Bar or Bat Mitzvahs.
Identifying the Target Audience
When it comes to the target audience for Judaica items, the first group that comes to mind is Jewish individuals and families. They are the primary consumers as these items form an integral part of their religious and cultural practices. Synagogues and Jewish institutions also form a significant part of the market, as they often purchase these items in larger quantities for communal use or for resale in gift shops.
However, the market for Judaica items extends far beyond just the Jewish community. Collectors of religious and cultural artifacts often seek out Judaica for its rich history and craftsmanship. Historians and scholars studying Jewish culture and history also form part of the audience. Additionally, there are those who, while not Jewish themselves, have an interest in Jewish culture or have Jewish friends and family members they wish to gift these items to.
In essence, the market for Judaica is diverse and multifaceted, offering a wide range of opportunities for a Shopify dropshipping business. Understanding this market and its audience is the first step towards creating a successful Judaica dropshipping store.
Getting Started with Shopify
Starting your journey with Shopify is a straightforward process. Here's a step-by-step guide on how to sign up for Shopify:
1. Visit the Shopify Website: Go to the Shopify website. Fill in your email and begin your journey.
3. Create a Password and Store Name: Next, you'll need to create a secure password and choose a unique name for your store. Remember, the store name you choose will form part of your store's URL, so choose wisely!
4. Fill Out the Setup Form: Shopify will ask you a few questions about your business to help tailor your experience. Answer these as accurately as possible.
5. Enter Your Business Information: You'll need to provide your business address, phone number, and other relevant details. This information will be used for calculating taxes and shipping rates.
6. Start Building Your Store: Once you've completed the signup process, you'll be taken to your Shopify admin dashboard. From here, you can start customizing your store, adding products, and setting up payment and shipping options.
Remember, Shopify offers a free trial, allowing you to explore and familiarize yourself with the platform before committing to a paid plan. During the trial period, you can set up your store, add products, and even make test orders without having to enter your credit card details.
Choosing a Shopify Plan
After your trial period, you'll need to choose a Shopify plan to continue using the platform. Shopify offers three main plans: Basic Shopify, Shopify, and Advanced Shopify. Each plan comes with its own set of features and benefits, so consider your business needs and budget when making your choice.
| Plan | Price per Month | Features |
| --- | --- | --- |
| Basic Shopify | $39 | Online Store, Unlimited Products, 24/7 Support |
| Shopify | $105 | Everything in Basic, plus Gift Cards, Professional Reports |
| Advanced Shopify | $399 | Everything in Shopify, plus Advanced Report Builder, Third-party Calculated Shipping Rates |
With Shopify, you can change your plan or cancel anytime you want. This flexibility allows you to scale your business at your own pace.
Setting Up Your Shopify Store for Judaica Dropshipping
Choosing the Right Shopify Theme
The first step in setting up your Shopify store is selecting a theme that resonates with your target audience. Shopify offers a wide array of themes, both free and premium, that can be customized to suit your brand's aesthetic and functionality needs.
Product Sourcing
Finding reliable suppliers is crucial for any dropshipping business. For Judaica items, consider either suppliers who specialize in these products to ensure authenticity and quality or go the easy route and choose a supplier that integrates into Shopify where you can choose any product you want within seconds. The Dropified app can help streamline the process of finding and adding products to your store, however it's not specifically for Judaica.
Shipping and Logistics
In dropshipping, shipping and logistics are handled by the supplier. However, it's essential to communicate with your suppliers about shipping times and costs, as these factors can significantly impact customer satisfaction.
Optimizing Your Shopify Store for Success
Search Engine Optimization (SEO)
SEO is a critical component of any successful eCommerce store. By optimizing your product descriptions, meta tags, and images with relevant keywords such as "Judaica dropshipping", "Shopify dropshipping," or "Jewish cultural items," you can improve your store's visibility on search engines.
Customer Service
Providing exceptional customer service can set your store apart from the competition. Shopify offers various tools for customer service, including live chat and email support options.
Marketing and Promotion
Effective marketing is key to driving traffic to your store and converting visitors into customers. Consider leveraging email marketing, social media advertising, and content marketing to reach your target audience. Shopify's built-in marketing tools can help you manage and track your campaigns.
Continue Building Your Brand
There are many things possible to add to any given dropshipping site. We have over 1,000 posts on this site with more than enough information about anything you would want to know about selling on Shopify.
Start with the basics and continue reading based on whatever your needs may be at any given time.
Conclusion
Judaica dropshipping on Shopify presents a unique opportunity to tap into a niche market with a rich cultural heritage. By understanding the market, setting up your store effectively, and optimizing for success, you can build a profitable dropshipping business. With our years of experience in digital marketing and development, we can confidently say that the key to success lies in a strategic approach, a customer-centric mindset, and the effective use of Shopify's robust platform.
Avi Klein
Vast experience in the online world. SEO expert, Web developer and consultant to several online companies.
Read more...
. Read more about
our approach
to reviewing themes and plugins.