12 Statistics of Shopify Dropshipping
Last modified: August 15, 2023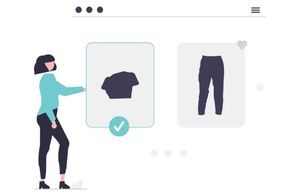 Dropshipping is one of the most popular new eCommerce business models. There are several reasons for this. And Shopify is one of the best ways that new business owners can start their dropshipping enterprise. However, there is no guarantee that you will succeed. In this article on Shopify dropshipping statistics, we provide information that can help you make better business decisions for improving your business.
Recommended: 24 Best Shopify Dropshipping Apps [Sep, 2023]
#
Name
Image

Get a Free Custom Shopify Store
1

AutoDS

2

Spocket-World Wide Suppliers

3

Syncee - Global Dropshipping

4

Printful-Sell Printed and Embroidered Items

5

Sup Dropshipping

6

DSers-AliExpress Dropshipping

7

Zendrop - Dropshipping & POD

8

Dropshipman: Dropshipping & POD

9

AO - AliExpress Dropshipping by FireApps

10

Trendsi - Fashion Dropshipping

11

CJdropshipping

12

DropCommerce

13

Modalyst-Sell Brand Name Products

14

Ali Orders-Fulfill Orders Easily

15

Blanka - Private Label Beauty

16

Dropified-Automate Your Dropshipping Business

17

ProductPro

18

Spreadr App

19

Importify

20

Inventory Source

21

Roxie

22

Fulfillbot: Dropshipping Agent

23

KakaClo

24

Oberlo-Get the Best Produtcts for Your Site

Show More
What is Dropshipping?
Dropshipping is when a seller advertises a series of products that they take payment for. When a customer makes a purchase, the seller will contact the merchant who will then ship the product directly to the customer. The merchant will then charge the seller for the cost of the goods and shipping.
The difference between what the customer pays and the merchant charges is the profit that the seller gets.
Creating a dropshipping website on Shopify is simple. There are lots of great apps that can help build a website. And there are different options available. Some apps allow you to just import the products into your website. Others allow you to import products, customize them and then bring in the reviews.
Some apps can help you automate a lot of the processes. Therefore, they make it easier and more cost-effective to run your business.
So here are some of the statistics for you to consider when you're starting to look into Shopify dropshipping.
1. Global Dropshipping Industry will be Worth $558 billion by 2025
By 2025, the expected value of the dropshipping industry will be $558 billion worldwide. This would be the equivalent of a 28.8% growth in five years. This review was conducted by Grand View Research.
Another study believed that the value of the dropshipping market will be approximately $476 billion by 2026, which is lower. But their study believed that the market was worth a lot less at the moment and predicted the market will more than double in five years.
So it is clear that dropshipping is going to grow. There are lots of reasons for this. Dropshipping is a very cost-effective and environmentally friendly option. Shipping direct to the customer allows for certain costs to be saved for the seller (i.e. shipping and storage) and because the product is only doing one journey, it is more environmentally friendly.
2. Between 10 and 20% of Dropshipping Businesses are Successful
Only 10 to 20% of dropshipping businesses will become very successful. That means that nine in ten Shopify dropshipping brands might close within a couple of years. However, that doesn't mean that the dropshipping business model is a failure. In fact, the dropshipping model can be claimed to be more successful.
Above 90% of eCommerce businesses fail within 120 days of starting. Therefore, for one in five businesses to still be active a couple of years later means that there is probably a greater chance of success for a dropshipping business.
There are many reasons why this might be. For one, other eCommerce business models require lots of investment, you have to buy in stock and storage space. This might require expensive leases and other costs. With dropshipping, those costs are gone. All that a dropshipper needs are a computer and the website. Therefore, they can keep the business going which allows them to build a business' reputation and SEO that other businesses don't have the time for.
There might be other reasons for this too. Dropshipping is known to be a higher efficient business operation. And research has shown that operational efficiency has a massive impact on the potential success of a brand. According to their research, a good operation process includes outsourcing warehouse operations (i.e. dropshipping) and they were 25% less reliant on paid traffic for getting new customers into the store.
Another factor can be that the time that is normally spent fulfilling orders can be put to other use. And when a dropshipper spends time building a brand and storytelling, they will have a competitive edge against their competitors. One study found that a good brand and story can improve success rates by 77%.
3. Nearly a Third (27%) of Retailers are Now Dropshipping
Dropshipping is one of the most popular modes of business now online. Nearly a third (27%) of online retailers are dropshipping products as their primary income source. Even some large brands like Walmart, Staples, and even Amazon are dropshipping products. In fact, Amazon has half of its sales now going through the dropshipping process.
Therefore, the number of brands that are dropshipping could be even larger as Walmart and Staples aren't dropshipping the majority of their products.
One of the advantages of this model has been that manufacturers and suppliers (merchants) are getting a great share of the profits, which they can invest in brand new products and services to improve the product. Also, there are fewer returns because products are kept in better conditions because they're not being transported around more and can almost be shipped immediately after being created.
There are also lots of different apps and platforms that are allowing dropshipping. For instance, Shopify has apps that can connect to Walmart, Amazon, and AliExpress to help with dropshipping. Though you can also take dropshipping to the next level and have Print On Demand products that allow you to sell customized products that can still be dropshipped directly to customers. For this, you can use apps like Printful and Printify among others.
4. The Biggest Markets are China, the USA, and the UK
One of the big advantages of dropshipping is that you can literally market to the world. Merchants are used to working in the global market. Therefore, they are going to have the contacts to get products to almost any country in the world. However, that doesn't mean that you should focus your marketing on the best markets.
Research has found that China is the biggest eCommerce market in the world. This is very interesting as many merchants for dropshipping are based in China, but not all of them. However, being based in China allows you to offer more cost-effective and timely deliveries.
The size of the Chinese eCommerce market is approximately $2,779 billion. On a per person ratio, that means on average, everyone spends $1900 online every year.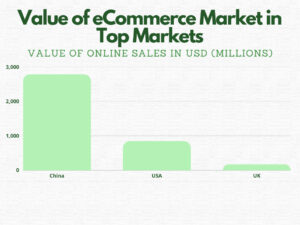 The next biggest eCommerce market is the USA which is worth $843.15 billion in sales per year. This means that on a per person basis, the average US consumer spends more than $2500, or 31% more than China. Then the UK is the third largest market with $169.02 billion. Their per-person value is $2522. Therefore, the US and UK are relatively the same but the US and UK customers spend more online per year.
These three markets should be the ones that dropshippers concentrate on because they're going to get more value out of them. However, there are some problems, because these are the three biggest markets, which also means that the three markets have the most competition. This can drive down prices.
One example of how hard the market can be, AliExpress has an eCommerce market share in China of around 47%. Therefore, getting into this market is going to be more challenging. In addition, to be found in China, you have to make sure that your website is available in Mandarin and you need to ensure you can be found on the Chinese search engines (which require a Mandarin version of your website).
5. Shopify is the Third Most Popular Dropshipping Platform
Many platforms are available to dropship from. It doesn't take that much to develop a website. Therefore, Shopify doesn't have the top spot as the platform that supplies dropshipping platforms. WooCommerce has that position, powering 27.86% of the world's dropshipping websites. Squarespace is the second, powering 21% of dropshipping websites.
Shopify powers only 11.80% of all dropshipping websites. This might seem low, but it is worth considering that WooCommerce is a WordPress system, and WordPress powers 36 to 42% of the world's websites, depending on which source you quote. So you would expect that they would power roughly the same number of dropshipping websites.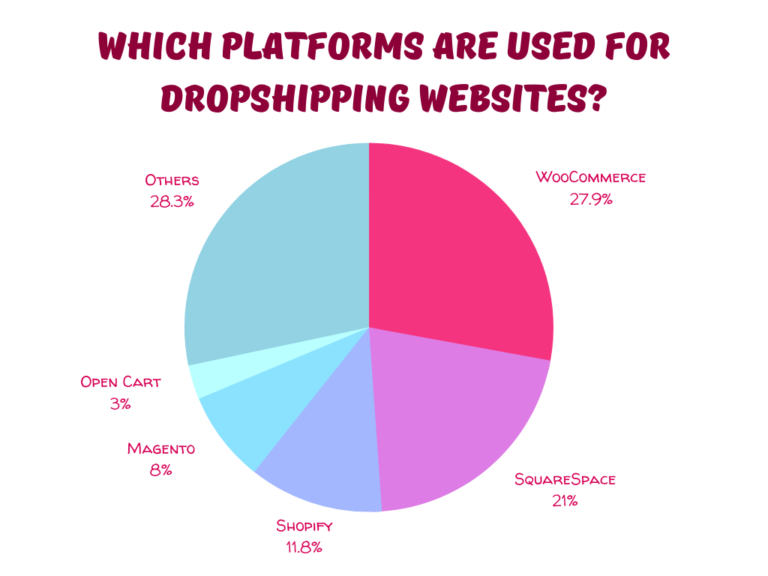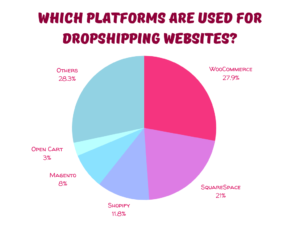 In contrast, Shopify powers only a relatively small number of websites. According to some studies, only about 1% of websites are powered by Shopify. Therefore, Shopify is outperforming expectations on Dropshipping by 1000% whereas WooCommerce is underperforming expectations by 33%.
One of the takeaways from this is that Shopify, therefore, has a better environment for building a dropshipping website. This could be for a couple of reasons. It could be because of all the apps that are available for Shopify. Also, it could be that Shopify offers a wider range of technical documents and support to help dropshippers to perform better.
Shopify also has better speed than the average WooCommerce or Squarespace website.
6. AliExpress is One of the Top Performing Dropshipping Suppliers
AliExpress is one of the best places to find products to dropship. There are free apps on Shopify that allow you to import, customize listings and automate orders for your store. AliExpress started in 2010 with a team of 18 people and just a $60,000 investment. Now it employs more than 100,000 people and ships across the world.
The platform is one of the best because not only does AliExpress allow you to pick products and ship them to your customers, they have their platform. They can ship across the world and are a great management system for smaller brands trying to get their products to market.
AliExpress doesn't have any products of its own and generates relatively low revenue. Amazon charges sellers between 8% and 45%. And Amazon also charges $0.99 for every unit sold. Therefore, smaller brands tend to be found on AliExpress.
In addition, Amazon doesn't allow you to use reviews they've collected on your website. AliExpress does.
7. About 7.1% of Products Available on All Shopify Stores are Dropshipped
One of the most interesting facts about Shopify is that out of every product, service, and download that is available on all the stores hosted on them, 7.1% of the products are available via dropshipping. This figure sounds low, but that is because many stores will sell the same product via dropshipping. Therefore, there isn't a lot of variety in what is being offered via dropshipping.
There are some problems with this. For one, if there are lots of products that are offering dropshipping products that are the same, customers can sometimes choose based on a couple of factors: cost and delivery times.
Customers are willing to wait longer for free shipping and international shipping. But if you're offering the same dropshipping product, then offering a slower delivery is going to hurt your sales. Therefore, the price might be the major factor that determines the success of your brand (that or reviews).
Therefore, those sellers that can offer products at a lower rate are going to benefit more. For instance, for a dropshipper to earn the average salary in India they have to earn just $437 but in the US it is $4000. Therefore, the Indian dropshipper selling to the US market could technically sell products and undercut US competition by adding profit at 10% of what the US dropshipper can.
In real terms, if the product sold cost $10 and the US dropshipper wanted $4 profit per product sold they would charge $14. In contrast, the Indian dropshipper could sell the product at $10.40 and still earn a relatively similar income to the US dropshipper.
This could mean that the Indian dropshipper could sell more than the US dropshipper because they can offer the same product at lower amounts.
To avoid this there are two options. The first is to ensure that customer service, reviews, and branding are better. Another option is to improve the brand's offerings. Many YouTube videos tell dropshippers about the top-performing products for the month. But staying away from these and using tools like Google Trends, news, and other options can help you choose better products that allow you to differentiate your branding and shop.
8. Dropshippers on Shopify Earn Between $1000 and $2000 per Month
The average income for dropshippers on Shopify earn about $1000 and $2000 per month within the first 12 months of operations. This can be a good income. As mentioned before, only about 20% of dropshippers are successful.
However, Shopify has found that the average Shopify dropshipping website can earn $1000-2000 per year within the first 12 months. This can be a good amount for those who are running their business as a side hustle. And Shopify reckons that the average dropshipper is only working 10 to 15 hours per week.
There is nothing that prevents you from running two or three websites at the same time on Shopify. You can therefore specialize websites so that they are for certain products. For instance, you can have one dropshipping pet supplies and other dropshipping clothes. This allows you to be more specific in your marketing and make more ROI on the advertising.
Two websites mean that you can work closer to 20-30 hours, which is still less than the average US employee (37.5 hours per week), and yet earn roughly the same amount as the average US employee.
This allows many people who will open a dropshipping site to have a better work-life balance.
9. The USA has the Most Dropshipping Store
The US has the highest percentage of Shopify dropshipping stores compared to other countries. About 62.8% of Shopify dropshipping stores are in the US. Canada has the second highest amount with 8% of all dropshipping stores and Australia has the third highest amount with 7.4%. This is interesting because apart from the US, these countries aren't performing well when it comes to eCommerce.
However, many dropshipping suppliers are based in the US. Some brands dropship throughout the US and Canada. Therefore, the US and Canada make sense. At the same time, due to laws and the relative geography, Australia also has a high level of dropshipping suppliers and therefore, Australia having a lot of dropshipping stores makes sense.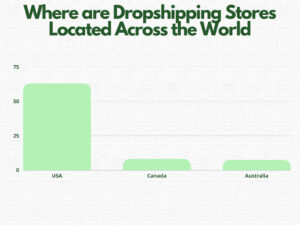 What is interesting is that the UK has a relatively low number of dropshipping stores despite being one of the top eCommerce markets across the world.
China is also not on the list. But this is because getting a website in China can be very challenging. AliExpress has a huge market share which makes it difficult. Also, Google is not the dominant search engine in China and to get listed on the Chinese equivalent requires your website to be Mandarin you need to invest in the search engines because the position of the website can be heavily based on how much you pay for the listing.
In comparison, Google provides more on organic search results.
10. The Average Shopify Website Lists up to 200 Products on their Website
Shopify has found that the average Shopify dropshipping website lists between 50 and 200 products on their website. This is a lot of products to manage which is why an automated system manages the orders when you have lots of different dropshipping suppliers. Even if all the orders are coming through big listing sites like AliExpress.
One of the things that you need to do is to continuously monitor the sales of dropshipping products. You should be rotating products regularly. Those products that aren't selling anymore are just taking up space on your website and are causing consumer decision fatigue. Remove products that aren't selling more than a couple of units per month, unless they are very high-ticket products.
You should also look at your products and introduce new products. You can improve the uptake of new products by using bundles and discounts to get them started. You can also take advantage of products that are listed on sites like AliExpress by importing their reviews. Reviews can help improve your website's sales quickly.
If you're using Print On Demand services, like Printful and Printify, you can also buy a video service where your products have a promotional video taken of them. This can help increase sales on your website by 80%, helping you to earn more revenue.
11. Clothing Products are the Most Popular Product Dropshipped on Shopify
About 20.8% of products that are dropshipped on Shopify are clothes. This makes it the most dropshipped product via Shopify stores. There are several reasons why clothes are a great option. For one, you can have customization of the products with products from Printful and Printify. Or you can dropship ready-made clothes. There are brands in the US that allow US-made and shipped clothing lines.
Some clothes are available from manufacturers from China and other locations across the world. Clothes are also always in hot demand and the change of season means that new lines and new season clothes can offer plenty of excellent product options.
After this, Jewelry and watches are the next biggest category for dropshipping followed by home/garden, and finally fashion accessories.
This does not mean this is where the most money is to be made. Research has found that the niche which has the most profit to be made is the home décor niche. This includes dropshipping items that include pictures, posters, decorations, and more. Jewelry is the next most profitable niche and then health and beauty.
In recent years, fitness has been a great product to dropship. There are some high-ticket items that you can dropship in this niche including exercise equipment, accessories, and clothing. Finally, the fifth most profitable niche is pet products.
12. It Costs Less Than $50 to Start Dropshipping on Shopify
When it comes to starting a dropshipping business, the costs can be relatively low. After all, you don't need to have a facility, buy in stock or even hire staff. A good dropshipping business can be set up with a Shopify website, domain name, and a few apps for just $50.
However, keeping costs down can be a disadvantage at times. It doesn't provide you with much marketing budget and that is one of the most important aspects if you want to make a success of your brand. You will want to put some marketing into your website's SEO, email marketing, and social media.
There is also the theme that you need to purchase. A theme can cost somewhere between $120 and $1000. Though a custom theme can cost up to $10,000.
For SEO, you want to get a good SEO app and then add in some excellent descriptions and meta details. For social media, you might want to create profiles and then promote them to potential audiences to build some likes. You want to aim to get about 800 to 2000 likes on a Facebook page. This can cost somewhere between $800 and $1000.
Finally, you want to connect your website to a good email marketing program. Email marketing has the best conversion rate on Shopify, converting more than 4% of the audience. In comparison, the average conversion rate on Shopify is only about 1.5%.
Therefore, if you're looking for an excellent budget to create your Shopify dropshipping store, then you want to have about $2,500. If you have more, then you can push harder.
Those that spend more money on their websites tend to make their first sale within 14 days.
In comparison to other business models, most at-home businesses are started for about $5000. However, some businesses require lots more investment with some businesses starting with $40,000 to $50,000.
Even micro businesses often cost more than $3000 to start in the US. So a dropshipping business is much more cost-effective to start and get going. And you can include a healthy budget to start with.
Final Word: 12+ Statistics of Shopify Dropshipping
There are lots of brands that dropship on Shopify. Above are 12+ Shopify dropshipping statistics and lots of advice on how you can make the most of your Shopify dropshipping store.
FAQs
What is the average annual earnings of a Shopify Dropshipping store?

The average dropshipping store can earn about $1,000 and $2,000 a month from dropshipping. For this, the dropshipper needs to work about 10 to 15 hours per week. However, some dropshippers can earn more by having more than one store or promoting their store more.

Can you run a dropshipping store with a full-time job?

Ideally, you want to put your full energy into a business. Not being around all the time means you can only offer limited customer service. However, the average dropshipper on Shopify works only 10 to 15 hours a week. So you can run a dropshipping business with a full-time job.

How many dropshipping businesses can you run at the same time?

You can run as many dropshipping businesses as you would like at the same time. This can be one of the best options for your brand as you can specialize your websites so that they are for specific audiences. For example, you can have one website selling pet supplies and another selling baby clothes.

What is the best-selling dropshipping niche?

The clothing and fashion niche are the most popular items to be dropshipped based on the number of units sold. There are lots of brands that offer dropshipping, including white-labeled products where your brand can be added to them. There is also Print On Demand clothing that can be dropshipped.

What is the most profitable dropshipping niche?

Home décor is the most profitable dropshipping niche available. There are very few brands that try this niche, which means that you can charge a higher rate for them. Other profitable options include health and fitness, pet products, and clothing accessories.

What country is a good audience for a new dropshipping business?

One of the advantages of selling via dropshippers is that you can target an audience across the world without having to worry about shipping. As long as the supplier can ship the products you can usually sell in those countries. However, for the highest spending audiences, China, USA and UK are great audiences.

Is dropshipping free to start?

Dropshipping is not free to start. However, it is one of the most cost-effective ways to start a business. You don't need to have a facility or staff or even buy in stock. Therefore, you could, in theory, start a dropshipping store with just $50. Though a better budget would be about $2500.

Can you have a ready-made dropshipping store?

Yes, some people offer a service where you can have a ready-made Shopify dropshipping store service. The whole website is built, and optimized for SEO and all the products are searched and uploaded to your website. This can be a great option for those who are new to website building.
Avi Klein
Vast experience in the online world. SEO expert, Web developer and consultant to several online companies.
Read more...
. Read more about
our approach
to reviewing themes and plugins.