The 13 Best Shopify Themes For Dropshipping
Last modified: July 23, 2021
If you're looking to run an eCommerce store but don't want the hassle of having to pack and send orders to customers, then you might want to try dropshipping. Dropshipping is the process where a retailer tasks another business with fulfilling customer orders, so they don't keep stock of the products. This can be a great way for some retailers to save money.
While there is a lot of work that can be saved by dropshipping, it does need some initial investment. One of the first things you need to ensure is that you have one of the best Shopify Themes for dropshipping. There are many different options on the market that can give eCommerce owners an impressive website.
What Do The Best Shopify Themes For Dropshipping Have In Common?
There are many different aspects you should be looking at when shopping for Shopify themes for dropshipping businesses. The first is the ease of use. Then there are the technical aspects of the theme. This should be kept to a minimum as you have enough work to do without having to manage the technical aspects of your website.
You should also make sure that you have a responsive website that has good SEO potential. Online retail is really competitive and the majority of stores don't make a lot of revenue.
Those that perform well have one thing in common: good search rankings. This is a combination of keywords, inbound links and site performance. For every second your site takes to load, you'll lose about 7% of your revenue. In addition, it will harm your rankings if you site isn't mobile friendly or takes a long time to load.
With these points in mind, what are the best Shopify themes for dropshipping? Here is our selection.
#
Name
Image
Shopify

More Info

1

Universe

More Info

2

Palo Alto

More Info

3

Korando

More Info

4

Everything

More Info

5

Vendy

More Info

6

Multifly

More Info

7

TeePerfect

More Info

8

Gecko

More Info

9

Dropshipping

More Info

10

Sonata

More Info

11

Simple

More Info

12

Supply

More Info

13

DropShip

More Info

Show More
Filter between free and paid
Universe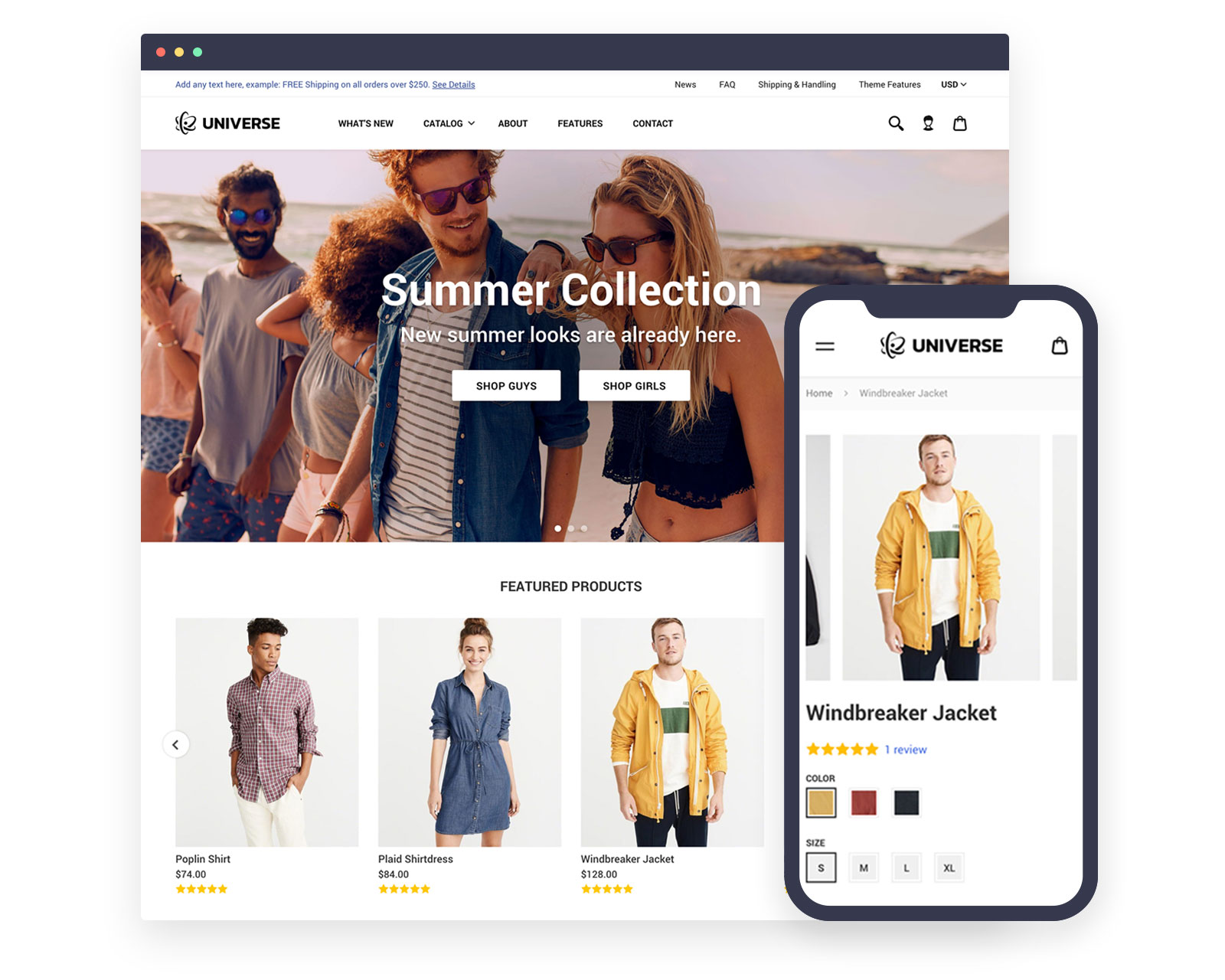 Universe is a fully-responsive multi-purpose Shopify theme. It's a modern and complete all-in-one solution that you can use to launch a professional-looking Shopify store in minutes. The large number of built-in Shopify sections and customization tools will let you easily adapt it to any niche or purpose, no coding skills required.
The theme has a well-structured clean design focused on showcasing your products and your brand in the most elegant way on any device. It includes 3 preset styles that you can choose from in order to get started quickly and launch your online business.
Universe includes many cool advanced and useful features, such as: powerful mega menu, cookie notice bar, coming soon template, color swatches, slide-out cart and many more. So you don't have to worry about installing additional apps to provide these kind of functionalities.
Universe Highlights:
Amazing shopping experience on mobile
Advanced functionality and a vast number of Shopify sections
Elegant design aimed at the highest conversion
Perfect for dropshipping
Palo Alto
Palo Alto is the perfect dropshipping theme for stores with a small catalog. The theme comes with three basic styles which look great for those hoping for a contemporary feel to their website. All the sections on the website are fully customizable and the theme is fully responsive and optimized for SEO. So you can be sure that your site can be found on Google and will display well on any device.
When looking at your products, visitors can get up-close to your products as the theme is built for those with high-resolution images. These can be applied throughout the store.
You can showcase your brand with a hero video that can tell visitors to your store exactly why they should buy from you and why your products are great. Videos on pages can increase conversions significantly. You can further improve conversions with the excellent customer testimonial features.
Palo Alto Highlights:
Highly responsive theme that will display well on any device.
Great for stores with few products on sale.
Promote your best product on the front page to make more sales.
Features numerous products, promotions or posts in a masonry-style layout.
Korando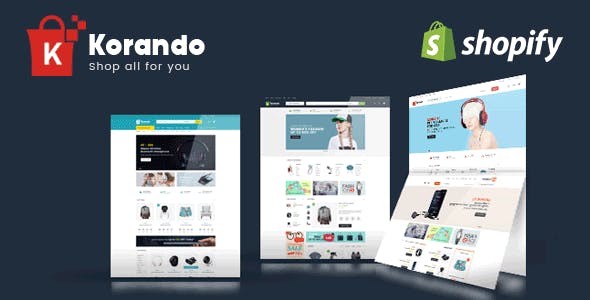 Korando is a modern Shopify theme that allows you to setup an excellent eCommerce Dropshipping business without any technical issues. Its responsive design allows you to create a website, safe in the knowledge that it will appear great on any device or screen size. The theme has been designed so that it is suitable for any eCommerce niche including fashion, electronics and digital products.
The theme itself comes with more than five homepage designs to help you get started. You can have sidebars for a blog and shop on either the left, or right, of the screen. If you don't want a sidebar, there is that option too.
To encourage customers to return to your store, you can use the newsletter popup that can help grow your mailing list. To improve visitor engagement there is also a notification bar. Finally, you can improve customer trust through the use of testimonials, which are included within this theme.
All products on your store can have a carousel to help you showcase products from different angles.
Korando Highlights:
Fully responsive Shopify theme that has been tested across browsers and devices.
Product search facility.
Specifically built to allow those looking to dropship.
Includes a wishlist facility for your visitors.
Everything
This highly-responsive theme is mobile friendly and is verified by W3C standards. The theme includes more than 100 different designs that can be used within a few clicks. To help with visitor navigation, the theme includes a dropdown mega menu that is easily translated for tablets and mobiles.
Promoting products and brand messages is easy on Everything. There is an advanced product filter that allows visitors to find the products they want quickly and effortlessly, helping to decrease cart abandonment. In addition, there is a beautifully crafted slideshow that can have many different effects and other features.
For those who want to operate international stores, the theme is compatible with the Shopify Language Editor so you can translate it into any language you want.
To help brand your store, this theme allows you customize the background and color scheme used for your header, content, footer and other areas of the website. In addition, you can upload and use your own favicon and logo across your website.
Everything Highlights:
Social media sharing functions included on all products.
Integration with Google Web Fonts Library.
SEO-optimized so your website can appear high on Google and other search engines.
Can show a popup message when a product is added to the visitor's cart.
Vendy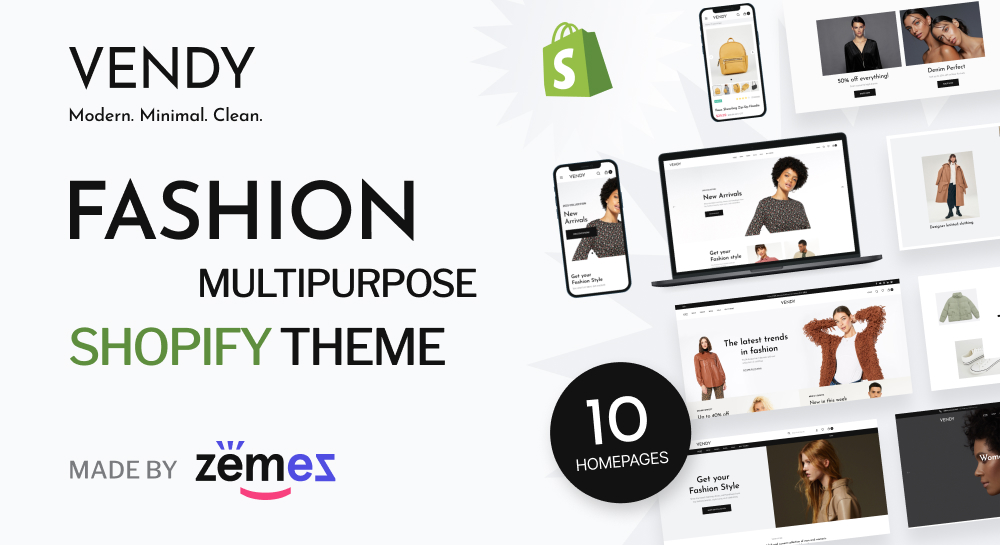 Get a Shopify theme that requires a minimum of customization. Moreover, it requires no coding and technical skills. How can it be possible? First of all, Vendy is a multipurpose Shopify theme for fashion which design covers lots of modern business niches. You can apply it to sell clothes, shoes, accessories, beauty and health care products, and fare more. And, the number of pre-made page sections will be handy for achieving this. As well, Vendy goes with the one-click possibility of displaying your selling items differently. To do this, just look through the listed product filters and choose the best for your needs.
Secondly, the Vendy Shopify theme is developed to let your future online store win the loyalty of your visitors. Rest assured, the more people visit your shop based on Vendy, the more of them will make a purchase. And, there is no surprise, as Vendy is fully SEO- and mobile-friendly. It corresponds to any browser and boasts of pre-styled easy-to-edit layouts for lookbook pages, wishlists, shopping carts, booking and subscription web forms.
Vendy Highlights:
Extreme user-friendliness backed by live technical support and detailed documentation.

The cost-justified price for the variety of templates for home, product, lookbook, blog, and other pages.

The super-clean responsive and retina-ready design for any retail, dropshipping, and other business purposes.

Adjusted for any social activities, like blogging and social networks integration.

Vendy guarantees your online store high speed and stable performance.
Multifly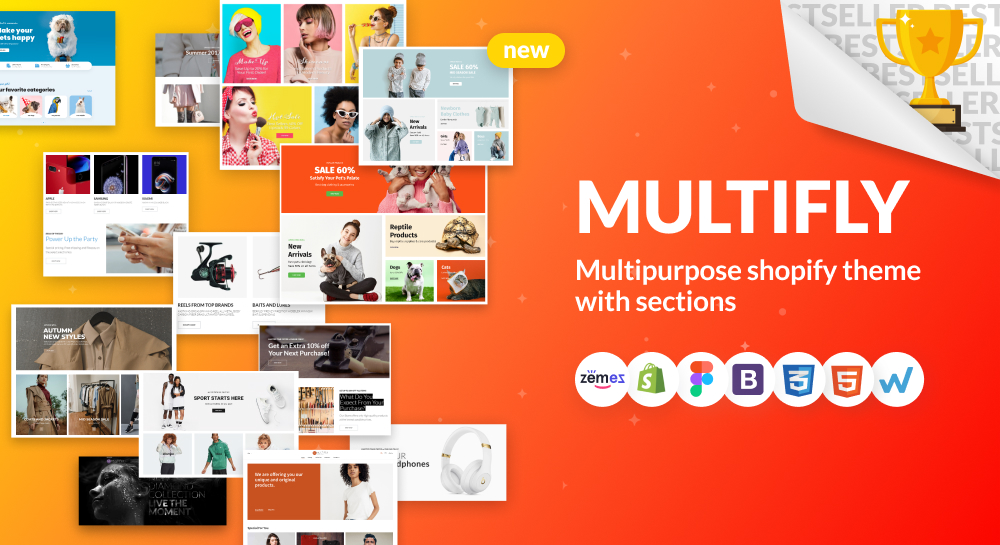 Multifly is a versatile and stylish premium Shopify theme that shows incredible performance and high speed. The theme is especially popular among those who are looking for multifunctional solutions and responsive design. Plus, Multifly is suitable for large stores with a wide assortment of goods. For this, it's provided with diverse product pages and filters that allow owners to customize their shop easily.
Moreover, the Multifly Shopify theme goes with 15+ multipurpose skins for selling jewelry, cosmetics, electronics, fashion and sports clothes, pet care supplies, and more. They all are packed with a number of ready-made page sections, web forms, and catchy UI elements. As you see, it's very easy to create an online store when you work with Multifly. 
Multifly Highlights:
Drag-n-drop customization with the Shopify Visual Builder.

Caring online support and comprehensive documentation.

15+ multipurpose demos with responsive and retina-ready design.

The Multifly Multipurpose Online Store Shopify Theme is developed with SEO in mind.

Compatible with the official Shopify apps.
TeePerfect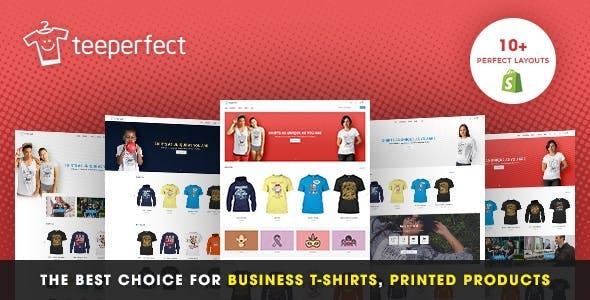 A great theme for those looking to sell printed products, t-shirts and dropship products, this theme was built by developers with experience in this market. The modern design looks inspiring and there is a great interface that will delight visitors to your website as they navigate around the your fully functioning website. You can customize your website thanks to the unlimited Google Fonts and colors available through the customizer.
Items on your website will look great with the product video features built into the theme. Searching for products is also simple with the live search facilities.
Those looking to share their work on social media will be amazed by the Instagram integration that eliminates the need for a different Instagram Shopify app. There are also other social networking options for you to use. You can also promote your site using the newsletter features.
For a great shopping experience, this theme includes a drop down shopping cart, so users can see exactly what they have in their basket at any time.
TeePerfect Highlights:
Excellent responsive theme so will look great on any device or screen size.
Good, clean code so will load quickly for visitors.
Lots of customization options when building your website.
Can include extra information tabs and customer reviews on products.
Gecko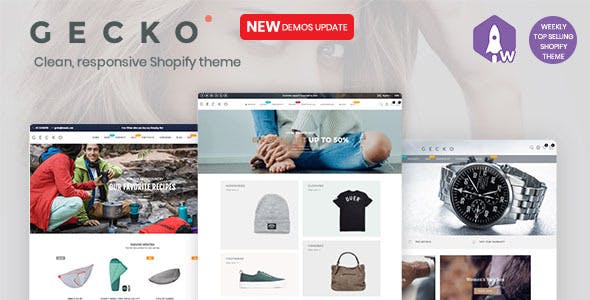 Gecko is a great Shopify theme that allows you to build a beautiful Shopify store without the need of code. It includes more than 15 demo sites that you can use to help create your store. These demos include some nice features built in that will make your store very functional. Once you've imported the data, all you need to do is to make the changes you want to create the store of your dreams.
There is a powerful theme options panel that removes some of the complexity of building a website and integrating apps like MailChimp and Instagram into your new website. All this can be done via drag and drop customization so you don't need to learn any code.
If you're moving your website from WooCommerce to Shopify, that isn't a problem with this theme. The theme can accommodate WooCommerce products with the Wootify app.
Finally, you can use this app as a way to move away from the standard layouts that are within standard, free, Shopify. There are lots of ways to customize the way that products are displayed and the amount of information included.
Gecko Highlights:
Mobile and retina ready Shopify theme so will look good on any device or browser.
Excellent SEO-friendly theme, so your store can be found on any site.
Many options for your brand's products to be displayed.
Can transfer WooCommerce products to your new Shopify store.
Dropshipping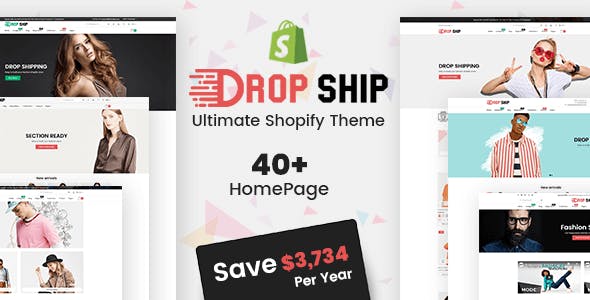 The Dropshipping Multipurpose Responsive theme is one that is specifically designed for dropshipping businesses. It gives you flexibility when creating your store with all the potential elements that you can add to your website. To change the design, all you need to do is to drag and drop elements to where you want them on the page. To help with customization, there are four different header styles that you can choose from for your website.
To help sell your products, there are several features to help you. Firstly, there is a random sold number with text option that is proven to sell more products. You can also add related products to others so you can improve cross selling. Product pages can also have a thumbnail image slider on the product setting.
To speed up your website, the theme utilizes lazy loading. Therefore, you can increase revenues across your site and improve search rankings for your eCommerce store.
For engagement with your audience, you can install Facebook live chat on your website. Live chat is a trust factor that will help sell more of your products.
Dropshipping Highlights:
Can toggle many options for your own preferences like breadcrumbs, product page content and other elements.
SEO-friendly theme so your site can be found on the top search engines.
A hover image effect option to allow visitors to look closely at products on your website.
Many features to help you sell more products on your website, including product videos.
Sonata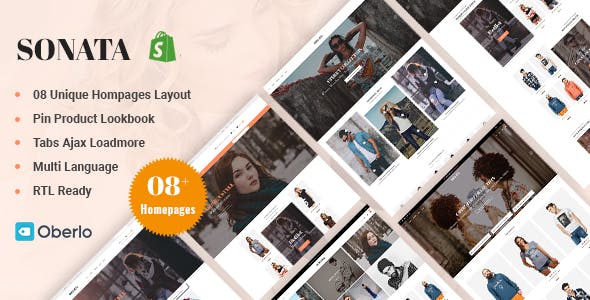 One of the most beautiful fashion Shopify themes available online is Sonata, this can certainly be classed as one of best Shopify themes For dropshipping. There are many great features that allow you to build a store that will rank well on Google and be functional on all devices. The theme is easy to customize, and there are demos that can be installed with just one click to make it easier for you to get started.
To help you out, there are also several home page designs to choose from that can really help you develop your website.
To help visitors with navigation around the site, this Shopify theme for dropshipping includes sticky menus. Therefore, however far down the page they go, the menu will remain there for easy access to other parts of your online store.
Sonata Highlights:
Is continuously updated so it uses the most up-to-date bootstrapping protocols.
Fast loading time so your website's visitors won't be left waiting for your pages.
RTL ready, so if you want to translate the page into other languages, you can do this easily.
Great site for responsiveness and SEO.
Simple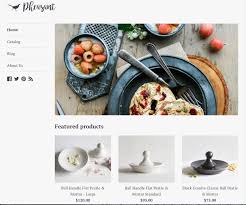 This free Shopify Theme is a great choice for those website owners who are looking for something on a limited budget. The standard Shopify theme rules apply such as being optimized for mobile devices and good code for search engines. All themes downloaded from Shopify also include free stock images from Burst.
This particular theme has many options that make it a good choice for dropshipping. This includes a great looking sidebar menu that can help visitors to navigate your store quickly. Products also get special treatment on the site with zoom features, related product options and image animations to bring pages to life.
When designing your theme, there are two core styles: Light and Fashion. Both look great and are professionally developed to create a look that will help you sell products.
Simple Highlights:
A mobile-ready theme that is free on the Shopify store.
Two styles to choose from.
Free stock images from Burst.
Lots of features to bring product images to life on your website.
Supply
Supply is a free Shopify theme that comes in two styles: Blue and Light. Both of these styles are professionally designed so your store will impress visitors when they first land on your site. This is a great theme for those who have a large catalog but top sellers don't have to be lost on pages, you can highlight your best options on your front page in a featured collections section.
You can use slideshows to highlight and communicate brand messages easily to your visitors. When they visit the shop page, then can limit the view to collections they are interested in with the collections filter built-in to the theme.
As with other themes sold on Shopify, this has clean code and is considered great for SEO. It's also fully responsive and includes free stock images supplied by Burst.
Supply Highlights:
Social media icons included with theme so you can start promoting store across social networks.
SEO and mobile friendly Shopify theme.
Two styles to choose from to give your website the look you want.
Lots of customization options for your store's home page.
DropShip
This modern theme looks beautiful and is a great option for those wanting to create a new Dropshipping business. You can make this site a parallax site and with the Shopify builder you can customize the look of the site so there are endless possibilities for the look of the website. There are also other options to add that finishing touch to your website including banners, Instagram feeds, blog articles and more.
The theme includes Oberlo that allows you to find and products available on dropshipping and sell them on your website. To help improve your site's sales there are many features. This includes testimonial sections that can improve the trust between your store and visitors. There is also a product countdown option that adds urgency to any promotions you're running on your site.
Finally, you can expand your reach by selling products listed on your Shopify store on stores like Amazon and eBay with just a few clicks. This can help you grow profits and legitimize your eCommerce store.
DropShip Highlights:
Highlight responsive theme that has been tested on numerous devices and browsers.
SEO-friendly so your site can be found on Google and other major search engines.
Excellent features to help promote your store including email marketing and social media marketing.
Sell products on Amazon and eBay.
Final Thoughts About The Best Shopify Themes For Dropshipping
Dropshipping is one of the best ways to get into eCommerce when you don't have lots of resources or time. However, you need to ensure that you have a professional website for customers to trust your brand. The best Shopify themes for dropshipping we've mentioned in this article will do exactly that. You just have to choose the right theme for your website and needs.
Recap:
Offers & Promos