10 Best Shopify Google Maps Apps – [2023]
Last modified: December 8, 2023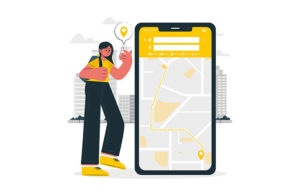 #
Image
Name

Get a Free Custom Shopify Store
1

Store Locator Map

2

Maps by Develic

3

Reputon for Google Reviews

4

Dealer & Store Locator

5

Maps ‑ Store Locator app

6

Store Locator by Storemapper

7

Google Reviews by Omega

8

Local Delivery Routes Manager

9

Lifter Store Locator

10

Store Locator ‑ Dealer Locator

Show More
Google Maps is one of the most visited map sites on the internet. Customers will use it for all kinds of reasons such as looking for businesses that are near them, directions to premises of businesses or to check out reviews on businesses. By using Shopify Google Maps apps, you can bring the power of the search engine's maps to your online store.
What are the Benefits of Using Shopify Google Maps Apps?
There are many benefits of using Shopify Google Maps apps on your store. For one, it prevents customers from leaving your website to find directions to your store. If customers do leave your site, they could abandon a cart or perhaps find a competitor who is nearer or has better online reviews.
Another option is offering social proof on your website. Google Maps has reviews integrated into them that customers can see. If you have great reviews on the search engine, then integrating Google Maps into your website can be a great option.
It can also help you get customers to find their local store and therefore to click and collect more. This can help you deal with more customers, as organizing a collection can be easier than arranging a courier.
Key Takeaways
1
Shopify Google Maps Apps display multiple store locations, enhancing customer's in-store visit experience.
2
Shopify Google Maps apps offer map customization, real-time store information, and easy navigation for customers.
3
Integration between Shopify Google Maps apps and Google Reviews boosts trust and local SEO for Shopify stores.
Best Shopify Google Maps Apps – Here's the List:
Filter between free and paid
Store Locator Map

This app allows you to have a simple way to add locations to a map on your website that shows customers where your stores/dealers are located. You can enter any number of locations into the app and display them with ease, and customers can enter in their current location, and they will be shown the nearest store/dealer to them. They can then click on another button to get directions to your store and see the distance to the store.
If customers are looking for something specific, like a service or product that is only at certain stores, you can use tags to distinguish stores. Customers can then filter the stores to show only those that have the services they're looking for.
Every store location can have lots of information about it imported. This can include, address, telephone number, email address and opening times. For creating store locations, you can import them, in bulk, from a CSV file that means that you can have your store locations uploaded into the website within minutes.
You can also add images of the stores, so customers recognize the area if they're visiting for the first time. To help with other styling options, you can change the color and map style to match your theme. You're also able to change the search box, location list and the map itself.
Store Locator Map Highlights:
Import and export an unlimited number of stores from your website.
Include as much information as you want about your stores.
Promote stores with custom pins, banners and more.
Have pin clusters when numerous stores are close together.
Maps by Develic

This is a simple, but powerful, store locator app that allows you to show customers where the nearest store to their location is. It can help them know where they can collect orders or shop in-store from your brand easily. It is a simple app to install, taking less than 15 minutes to get working on your website, without the need to know any coding or have developer experience.
This map app can handle stores that have fewer than 1000 locations, and they can show that number on the map at one time. While their app can handle more than 1000, the performance of your site is likely to decrease. But that doesn't mean that you can't have more than one map. The development team have made it so you can more than one map, each with 1000 or fewer stores on it.
The app owner has made this app free for developers on test or development sites. So, if you're looking for a map to use on an example site, this is a great option.
With great support as well, there is no reason why this app should not be considered.
Maps by Develic Highlights:
Responds to questions about the app and technical support requests within three days.
Add numerous maps to your store's website.
Add up to 1000 locations to each map.
Easy to install and configure.
Reputon for Google Reviews

Google Maps isn't just about locations and directions, it can be an important social trust factor too. Many people use Google Maps to share their experiences and opinions about the businesses on their website. This can be hugely beneficial for your brand. Customers are more likely to trust your brand if there are positive reviews about your business from their peers. This app allows you to harness that power on your store, allowing customers to see what is going on.
If customers trust your brand more, then you can dramatically improve your conversion ratio on your website. This will increase your revenue and profitability without needing to increase costs by driving more traffic to your website.
The app works very simply. You register with Google My Business, add your Google Place to the Widgets settings, choose widgets of your choice, choose the page and location for the review widget and then enjoy the reviews being on your website.
There are numerous types of widgets that you can use on your website, including a compact badge that displays your Google rating and link to your Google Business. There is also a reviews list or a testimonials' carousel.
Reputon for Google Reviews Highlights:
Use Google Maps reviews to build trust with your audience.
Connect with Google Maps and display your rating with confidence.
Allow customers to see your brand's reputation online while also boosting your SEO performance.
You don't need coding experience or skills.
Dealer & Store Locator
This app allows you to have a user-friendly, easy setup shop and dealer locator on your store. With bulk import features, you can add as many stores as you want to your website with just a CSV within minutes. Add tags to your stores, so customers can filter the stores to display those that have specific features, like those that have a café, sell particular products or have better disabled access.
To help customers get from their devices to your store's front door, display directions. This prevents them from getting lost and provides a more positive experience for your customers. You can also improve your experience by having the locator update as the customer scrolls around the map. The customer can also see address suggestions as they type in their current location in to the map.
The app allows you to have drag and drop map pins to have store locations more accurate. You're also able to add detailed addresses for each store, and you can add an image and a description of the store with what services they have to offer. You can also add opening times for each of the stores.
To improve the styling of the app, there are two layouts and 10 map styles.
Dealer & Store Locator Highlights:
Build an improved map experience on your website with ease.
Add lots of details about each location.
Show a beautiful image of your store and embed it into the listing.
Is mobile-friendly.
Maps ‑ Store Locator app
Build a map on your store that showcases your brand's locations with ease. This is an interactive map that is easy to navigate. You can manually mark the locations on a map that you wish to point out, which makes this a great map for those businesses that might be more mobile, like a food truck or mobile hairdressers.
You'll make it easier for your real-life visitors to contact you or your teams by having info cards on all store locations that can display key information. For instance, you can include an address, phone number, email, working hours and a picture of your store. This is a very attractive option that can build your footfall in physical stores with ease.
To help get the customers to the front door, you can have the app calculate the route to your website. This will include defining the current position of the customer and then showing them the directions.
The app allows you to customize your website's map with ease. You can use whatever color you would like and change other elements. If you want a more simplified editing process, you can choose one of the four predefined color schemes for your map.
Maps ‑ Store Locator app Highlights:
Free installation service available for the map on your brand's website.
Change the color of elements to get them to be more branded.
Display key information about your stores with ease.
Allow customers to find the best route to your store with ease.
Store Locator by Storemapper

This app allows you to synchronize your data from a Google Docs document to your Shopify account (or from another store) that allows you to add thousands of locations to your website with ease for a map display. You can have each location have a pin where you can change the look and style of the pin, therefore, your customers can find it easier to discover the locations of your store.
The app is really useful as you can add a store locator or product map to the Facebook page. You can engage with audiences with beautiful map color themes that can be aligned to your current branding.
Google Maps is central to this app. You can embed the maps into your pages and display any number of locations on your website. With the CSS and/or JavaScript, you can add lots of customization to your maps to make them more beneficial for you.
Store Locator by Storemapper Highlights:
Display lots of stores on a map.
Import store locations from Google Docs.
There are ways to customize the color of your maps for better branding.
Easy use store locator for the customer.
Google Reviews by Omega

Reviews are vital for success on your website. You need to integrate reviews with your store to build trust and increase conversions on your website. By improving the conversions on your website, you can earn more revenue and profit without increasing costs to get more traffic. This app is perfect for that. It allows you to take the reviews that are displayed on Google Maps and display them on your store. This can be done on a separate page, sidebar or embedded in a post.
You're able to make the reviews more user-friendly. If someone has published a long review, you can trim it down, so it is easier to review. You're also able to place a minimum rating filter on your website.
However, you're only able to display five reviews on your website.
Google Reviews by Omega Highlights:
Improve confidence in your brand by using reviews from Google.
Edit reviews to make them easier to read.
Have a minimum filter rating on your website.
Display up to five different reviews on your website.
Local Delivery Routes Manager

Google Maps isn't just about getting your customers to your stores, Google Maps can help you reach your customers if you offer a delivery service. This can be a great option for those who operate takeaways or local stores that can deliver locally. This app can take up to 25 orders, with delivery addresses, and then create the best possible sequence for you to make those deliveries. You can also add stops manually should you need them.
The app works across navigational aides like Google Maps, Apple Maps and Waze. You can also use the Google Plus Codes for more precision when you're building routes to your customers for drop off. You're also able to collect proof of delivery and store it within the app as you make deliveries across the region. Drivers will also be able to add notes for each stop.
Orders can be sequenced with different attributes, like what time deliveries need to be made or how big the parcels are. If you don't agree with the order of the route, you can re-order the stops to create a more personalized route. And then you can send the route to a driver for them to follow.
Local Delivery Routes Manager Highlights:
Have more efficiency in your delivery routes to improve profitability.
Manually change routes.
Collect proof of delivery within the app for records.
Connects with Google Maps, Apple Maps and Waze.
Lifter Store Locator

You can easily add an aesthetically pleasing store locator on your Shopify website that allows customers to find your physical stores with ease. This app has a balance between features and ease of use to make it a powerful addition to your website that will help you take your stores to the next level. The store locator app is automatically added to the page once installed. There is no coding knowledge required.
To help with location of the stores, you can bulk import them with ease. This can be done with a CSV spreadsheet with ease, and the development team will even help you if you have your stores locations saved on another type of spreadsheet. Once on your website, you can allow your customers to find your stores with powerful search options.
The app is fully responsive. Customers will be able to find their nearest store whether they're on a desktop, tablet or mobile. There are advanced geolocation features that will pinpoint their position very accurately.
Lifter Store Locator Highlights:
Lots of customization options available for the map.
No coding knowledge required for installation.
Can get support in uploading your locations.
Easy for the customers to search locations.
Store Locator ‑ Dealer Locator -
Inactive
This app will allow you to add the physical addresses of your retail stores to a website within just a few clicks. The app will then allow your customers to see all the locations, as many as you would like, on a page that embeds the locations on a Google Map. The customers can then search for stores using store name or the product.
Contact can be made with the store through a popup form that allows customers to speak directly to your store's team. The customer can also use a 'Find My Location' feature that will show where the customer currently is and what is the nearest location of your brand to them. The customer can restrict the radius of the search area quickly. As the customer quickly starts to type on the website, Google Maps will make suggestions of where they are based.
The app will allow you to share lots of information about the store. This can include the address, phone number, email, website, images, videos and descriptions. Customers can also see longitude and latitude from the store address and this can be calculated for you with ease. If you've got a list of stores already, you can import them in bulk with ease. And you can easily delete stores with a click of a button.
Store Locator ‑ Dealer Locator Highlights:
Customers can contact stores directly with popup contact forms and other details.
Easy to use on all devices and browsers.
Quick import of current store locations, all you need is a CSV.
Allows you to improve traffic in your physical stores.
Conclusion: 10 Best Shopify Google Maps Apps
When it comes to building a store where you have an online presence and physical presence, then you should be installing a map on your store. Use one of the Shopify Google Maps Apps for your store to make it easier. Which app will you install?
FAQs
Do Shopify Google Maps Apps support international locations?

Yes, most Shopify Google Maps Apps support international locations. They allow you to add and display map markers for stores or locations worldwide.

How do Shopify Google Maps Apps impact the loading speed of my website?

Generally, reputable apps are designed to have minimal impact on loading times, but it's essential to choose what is optimized for performance to ensure a seamless user experience.

Can I track store visits originating from the map in Shopify Google Maps Apps?

Yes, many Shopify Google Maps Apps offer the functionality to track and analyze store visits originating from the map. This data helps in optimizing customer behavior and marketing strategies.
Avi Klein
Vast experience in the online world. Shopify Expert, SEO expert, Web developer and consultant to several online companies. Read more about
our approach
to reviewing themes and apps.