The 10 Best Shopify Pricing Table Apps – [2023]
Last modified: June 4, 2023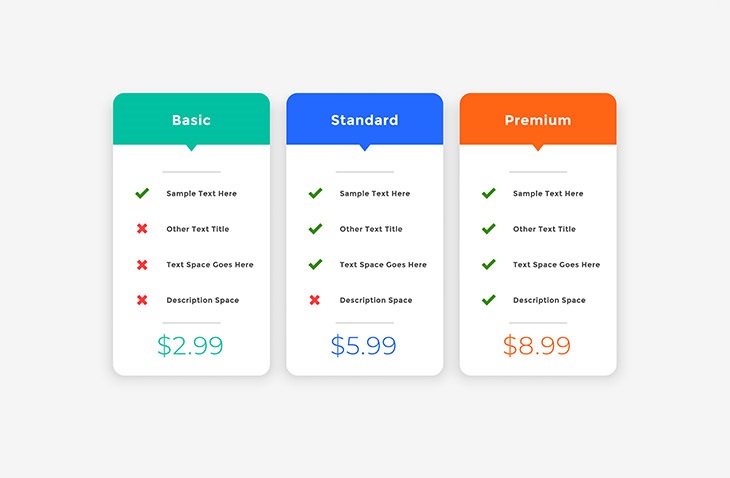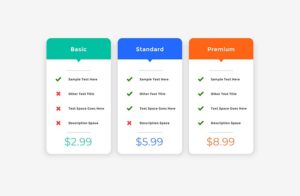 #
Image
Name

Get a Free Custom Shopify Store
1

Hooked Pricing Table

2

Elfsight Pricing Table

3

Pricing Table - Pricing Plans

4

POWR Product Price Table

5

Table Rates Shipping

6

EasyList ‑ products list

7

QD (Quantity Breaks/Discounts)

8

B2B/Wholesale Solution

9

PE (Discount & Price Editor)

10

Buildify Drag & Drop Builder

Show More
Pricing tables are a great place for you to display the pricing for your website's products that are similar but have slight differences. A pricing table allows you to showcase your product's features as well as price. To get these on your store, you need one of the Shopify pricing table apps.
What are the Best Practices for Shopify Pricing Table Apps?
Shopify pricing table apps are great assets to your business. They can help you convert more of your customers to make a purchase. This can be for a product that has a lot of profit or one that is more expensive to help you increase the number of sales on your website. However, to make your pricing tables more effective, there are things you can do.
The first thing you can do is to place the items on your pricing table in the correct place. Research has shown that the middle option, regardless of the pricing point, is the one that most people go for. You can place your most profitable option there. Always try to have three columns for your pricing table to make it easier for you to place the most profitable option in the center.
In addition, you can try to add decoy pricing to your websites. This is when you price your products to entice audiences to buy the most expensive or profitable item by distancing the prices of the products carefully. You can read more about decoy pricing here and how it can help your business succeed.
Another thing that you should try to do is to only put the essential information about the product on your pricing table. Some studies have found that having too much information on the pricing tables can reduce conversions. So only have relevant information.
So, what are the 10 best Shopify Pricing Table Apps? Here is our list.
Filter between free and paid
Hooked Pricing Table
Hooked Pricing Table is a simple and effective pricing table app that allows you to build aesthetically pleasing pricing tables that can help you sell your products and services better. The tables can be created without any knowledge of code. Using the built-in themes, making designing and adding items quick and easy for your website. You can also include as many or as few products as you would like.
The pricing table is super fast, so your website's speed isn't affected. This is an important factor as your website's speed is linked to traffic and conversions.
The templates for the pricing tables are also fully mobile-friendly. Therefore they can appear perfectly no matter what device your visitors are using. They will also adjust to any screen dimension. The pricing tables can also be used on any page.
If there are any problems, then you can contact the support team. They're available to help you with any issues. And they welcome feedback whether it is positive or negative.
Hooked Pricing Table Highlights:
Lots of premade templates are available for you to use.
Takes less than five minutes for you to set up your pricing tables.
Can install the pricing tables on any page.
Great support if you need it.
Elfsight Pricing Table
Elfsight's Pricing Table is one of the top apps available for this purpose. You can choose column layouts to display pricing plans in separate areas. You can set any number of columns that you need for your pricing tables. And you can highlight the one that will have the best value for the customer. This could also be the one that offers you the most value.
The templates available for the pricing tables are of a modern design. They've been designed so that there is more chance for the customer to convert when they're viewing the table. Some design choices that you can including have round or sharp corners. You're also able to choose the color that is used.
The app also allows you to reorder column elements, set font size and weight. You're also able to choose button type, design, color and style. This allows you to build a pricing table that can match your branding on the website.
Elfsight Pricing Table Highlights:
Choose the order of many elements on your website.
There are six predefined skins to use on your pricing table.
Highlight the best option for your customers.
Improve conversions on your website with the use of good call to action buttons.
Pricing Table - Pricing Plans
This app is one of the easiest pricing table plans for your website. It gives you all the features that you need for your website to design aesthetically pleasing tables that highlight the features of your products and direct customers to make a purchase of your products with ease. There are 10 predefined designs that you can use with ease. These can be customized and you can drag and drop to sort out the order of what features go where on the website.
Color changes can be made to the designs so the pricing tables can be branded in your color scheme. Each column and feature can also have its own colors applied to them. Every product/service featured on your website can have its own button that links to the relevant page.
The pricing table supports text in any language and is mobile friendly. Therefore, your customers can see the pricing tables no matter what device they're on. Adding a pricing table is really simple, all you need to do is to add the shortcode to the page that you would like the pricing table to be on.
Pricing Table – Pricing Plans Highlights:
Use a shortcode to add pricing plans to any page.
Individual colors can be applied to the columns within your pricing tables.
10 predefined pricing tables on your website.
A mobile-friendly app, that enables customers to see the pricing tables regardless of the device they're on.
POWR Product Price Table

POWR Product Price Table is a free app that allows you to showcase products, packages, services or plans side-by-side for easy comparison. The free plan allows you to display as many products side-by-side as you would like with a simple interface that anyone can use, even if you have no coding experience. Within the design of the table, you can pick custom colors, fonts, adjust the size, add borders and more.
You can use the pricing tables for numerous products, services and even recurring products/services. It's perfect for membership websites or those with recurring order plans. The pricing table can be added to any page with ease.
The app can be viewed on any device with the pricing tables added to any page you would like. You're also able to use any of the 50 POWR apps in conjunction with this app.
POWR Product Price Table Highlights:
A free little app that allows you to build a pricing table.
Have custom colors on your pricing table.
Add to any page.
Can be used on mobile devices or with any of the other 50 apps from the developer.
Table Rates Shipping

This app allows you to build a shipping rates table for your customers. It will allow you to specify the costs of shipping down to what country, state or postal code your customers are in. You're also able to provide special rates to your customers with customer tags and product tags to add excess charges to some customers.
All your data can be manually inputted into the app, or you can import the prices from a Google Sheet or CSV. Then all these rates can be displayed on your Shopify shipping calculator.
While this is technically not a pricing table, it can be useful in a similar manner and so is mentioned here. It is also used by Shopify to find the correct shipping charge for your customers' orders and so it will prevent you from losing out because you've undercharged a customer their shipping rate.
Table Rates Shipping Highlights:
Upload your costs from Google Sheet or CSV.
Rates can be displayed on the Shopify shipping calculator.
Add additional costs to specific products in your catalog.
Offer discounts to loyal customers.
EasyList ‑ products list

This app allows you to display all your products in a single pricing table for ease of viewing for your customers. It allows you to save time by not having to create a resellers price list table for your website.
The app allows you to create a price list and upload a logo image, contact data and any detailed information you would to have about the products. The spreadsheet for the price list will contain all the product names, variants, the SKU and the current price for each variant on separate lines.
You can add this as a standalone page with a price list. You can also share this with your customers, service staff and partners with ease. You're also able to update, edit and print the sheets for anyone to use. This is great for online stores that are wholesalers or have a large catalogue for use.
EasyList ‑ products list Highlights:
Create a pricing table for all your products.
Can have variants within the pricing tables.
Add as a standalone page for your pricing list.
Share with various people including your staff and partners.
QD (Quantity Breaks/Discounts)
While this isn't technically a pricing table, it does have some of the features that allow you to have a table that shows how much an item will be, per unit and as total, when the customer buys in bulk. This can help you improve the conversions on your website and can help you increase your order value. Therefore, you can increase revenues with ease.
The app allows you to do numerous quantity breaks for your website. You can have them for one product, multiple products without customers being able to share quantities between products and mixing products to get revenues.
You can also provide numerous discount types. You can offer fixed price, percentage and fixed sum discounts. There's easy management of automatic discount options and you can quickly make updates to your pricing table updated.
The app is perfect for starting loyalty programs, wholesale programs or attract audiences for special sales.
QD (Quantity Breaks/Discounts) Highlights:
A perfect app for starting loyalty programs, wholesale programs or attract bargain hunters.
Offer fixed price, percentage or sum of discounts.
Offers a pricing table to showcase discounts.
Easy management of all your discounts.
B2B/Wholesale Solution
This app allows you to set up tier discounts based on what quantities of the products are within a customers cart. These discounts can be applied as a fixed discount, percentage reduction or as a fixed amount reduction for any discounts that you offer. All this information can be displayed within tier-pricing tables to display on product pages and cart pages.
This app also allows you to run a very effective wholesale business. You can manage your customers from the moment they register on your website. This is done in several ways, including collecting more information about the new customer including adding EU VAT validation, checkboxes and dropdown buttons. You can also manage the registrations, approving or rejecting those who request a customer account.
To help with your website's management of customers there are several things that you can do. You're able to add tags to your new customers, orders and more.
B2B/Wholesale Solution Highlights:
Displays new pricing within a pricing table.
Offer wholesale customers a wide range of discounts.
Control registrations on your website.
Collect all the information you need on your website.
PE (Discount & Price Editor)
This app is a Bulk Price editor with a difference. It allows all users to save time on product price editing by doing price changes in bulk. You can do this by having prices increase by a set amount, a percentage or a combination of the two.
There are no coding skills required to make this work on your website and it is very convenient to set up your website's new prices. It also works with all pricing tables, ensuring that you have less work to do.
The app works across variables and can handle any number of SKUs on your website, making it one of the most effective options available for you. You can also do product searches for your website collection, vendor and tags for targets bulk price editing.
PE (Discount & Price Editor) Highlights:
Can handle numerous processes at the same time.
Improves conversions on your website by enabling you to make sale discounts.
Can search for products across your store using collections, vendors and tags for applying discounts to.
Can change the price by set amount, percentage or a combination.
Buildify Drag & Drop Builder

This app isn't a pricing table on its own but has the features that allow you to build a mobile-friendly pricing table that can be used on your website. The page builder itself allows you to customize the look of your website with 50 free pre-made page templates for you. These can be edited with ease using more than 80 widgets that help you make your pages completely unique.
There are several different widgets on your website. This can include basic, typography, buttons, media and icons. There are also specific pricing elements that can help you make tables and pricing lists for your website. There are also social media elements that can be added to your website.
All the website designs that you develop will be completely mobile-ready. Allowing anyone, on any device, to see your website.
Buildify Drag & Drop Builder Highlights:
Build beautiful pricing tables on your page with the page designer.
Create unique and stylish website pages for your brand within minutes.
More than 50 pre-made page templates can help you get started.
More than 80 widgets can help you customize the designs of your website pages.
Final Word: The 10 Best Shopify Pricing Table Apps
Pricing tables are an excellent way for you to improve conversions for your most profitable products. This doesn't have to be the most expensive or the one with the most features. The pricing tables will add comparisons to your site that allow customers to see on one page what they're getting for their money. Then they can make an informed decision on their purchase.
Above is a list of ten Shopify pricing table apps. Some of them are used in specific ways, others are more generic. Whichever you choose, there are opportunities for you to build your website's performance to make your online store more successful.
Avi Klein
Vast experience in the online world. SEO expert, Web developer and consultant to several online companies.
Read more...
. Read more about
our approach
to reviewing themes and plugins.